Have you ever had a delicious European-style hot chocolate on your travels and thought: 'I just have to find out how to make this'? Me too! Luckily, this thick Italian hot chocolate is super easy. Grab 4 store cupboard ingredients and in just 5 minutes you'll have the best hot chocolate ever.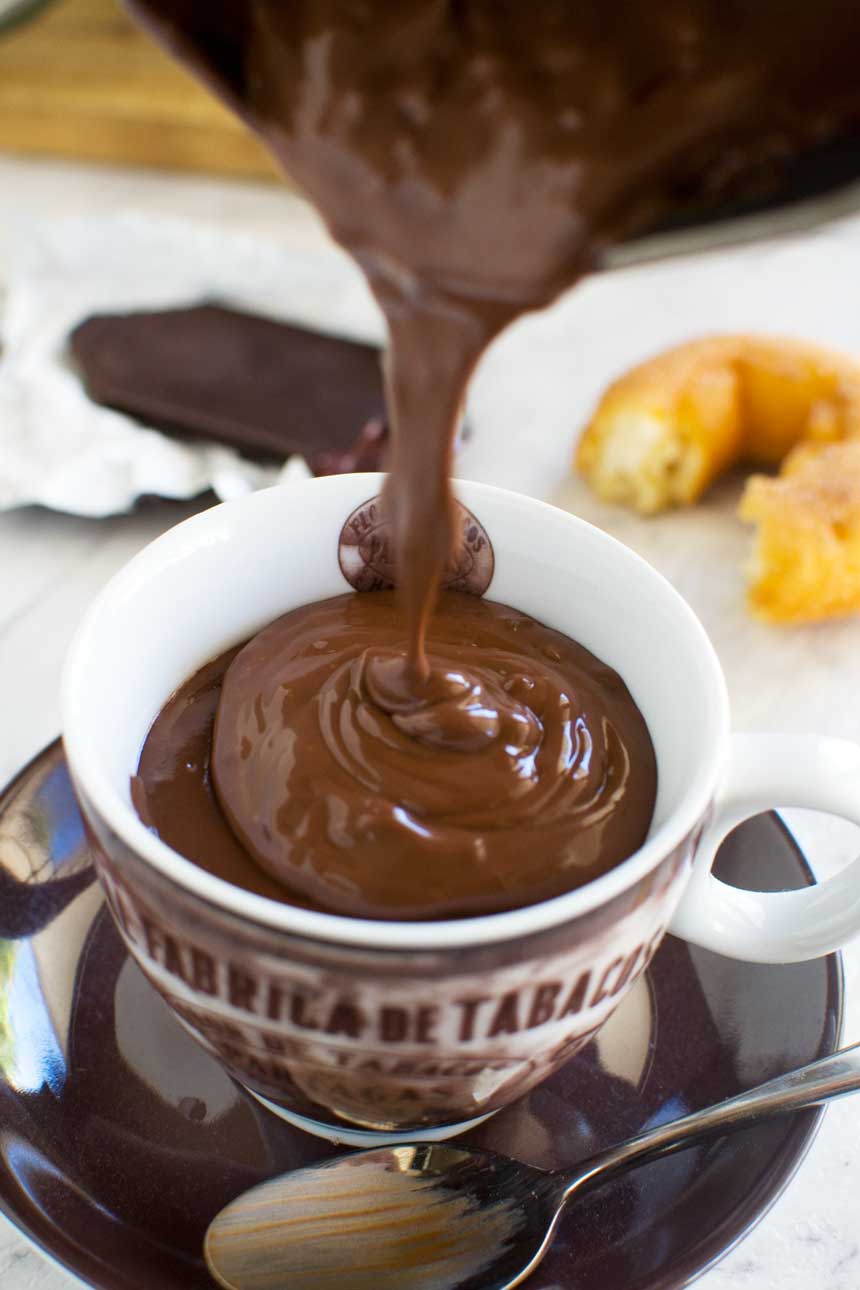 Naughty but nice chocolate recipes!
I used to have a little tradition here on the blog of posting naughty recipes in January when everyone is trying to diet after the holidays.
Some of my naughty New Year chocolate posts include these 5 minute chocolate pots (there's a reason they're one of the most popular recipes on the blog).
These strawberry and angel cake skewers with chocolate dipping sauce are slightly naughty too, but feature fruit too to fool people into thinking they're healthy.
Then there's this 30-minute healthy chocolate cake. You might like to head on over and check out this post instead if you're trying to be good.
What's Italian hot chocolate?
This thick Italian hot chocolate recipe is one of those recipes I've been wanting to master for YEARS, ever since I first dunked a churro in a cup of thick Spanish hot chocolate when I was studying in Spain.
Wait a minute – Spanish or Italian? [imagine big shoulder shrug]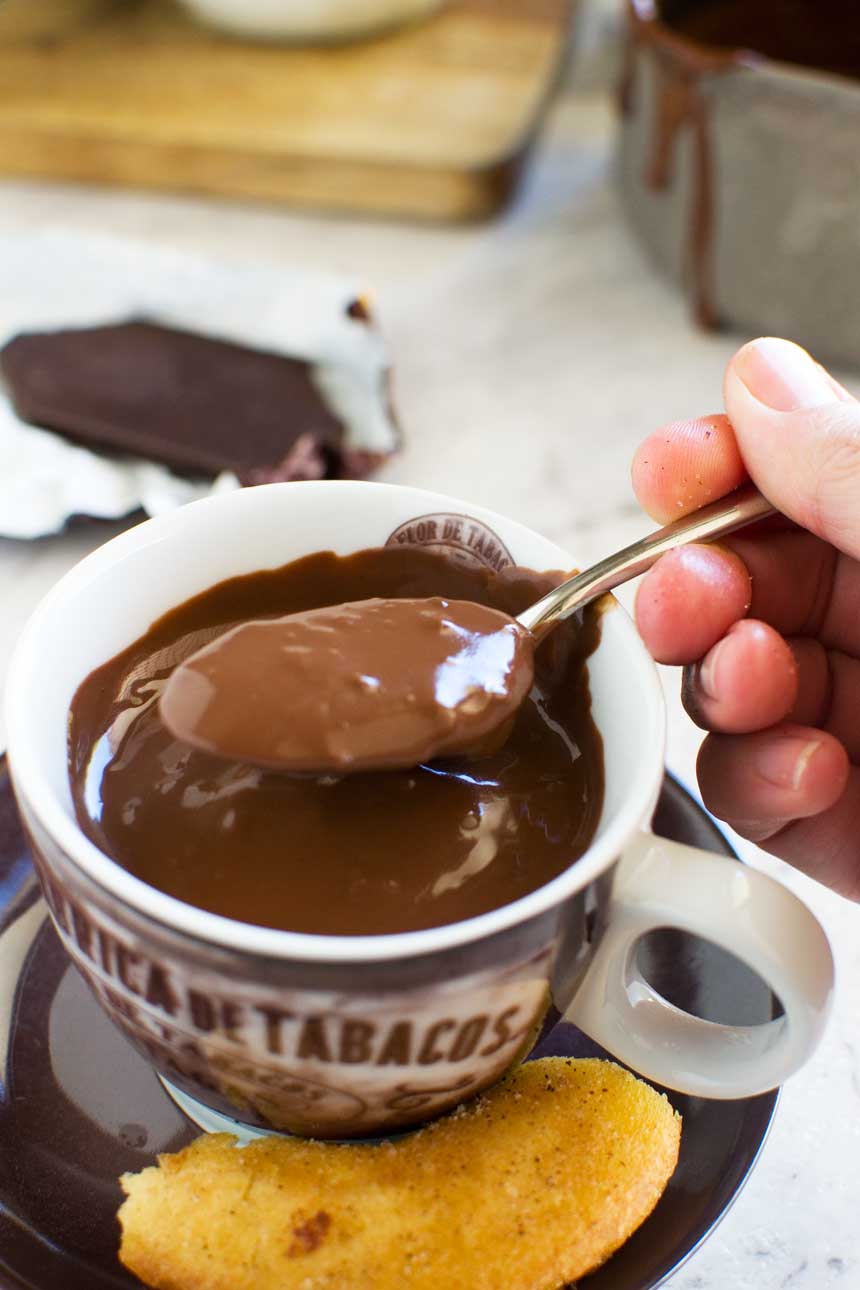 You may find this going by several names: Italian hot chocolate (cioccolata calda), Spanish hot chocolate, or just simple thick hot chocolate, which is what I like to call it.
Actually, you can find it in several European countries.
Best of all, this hot chocolate is good for you
Most importantly, I understand that some Italians (and Spaniards no doubt) see cradling one of these thick hot chocolates in your hands with a group of friends or family an important ritual that's good for your health [imagine big thumbs up].
Millions of Europeans can't be wrong. So this easy chocolate treat is officially good for you.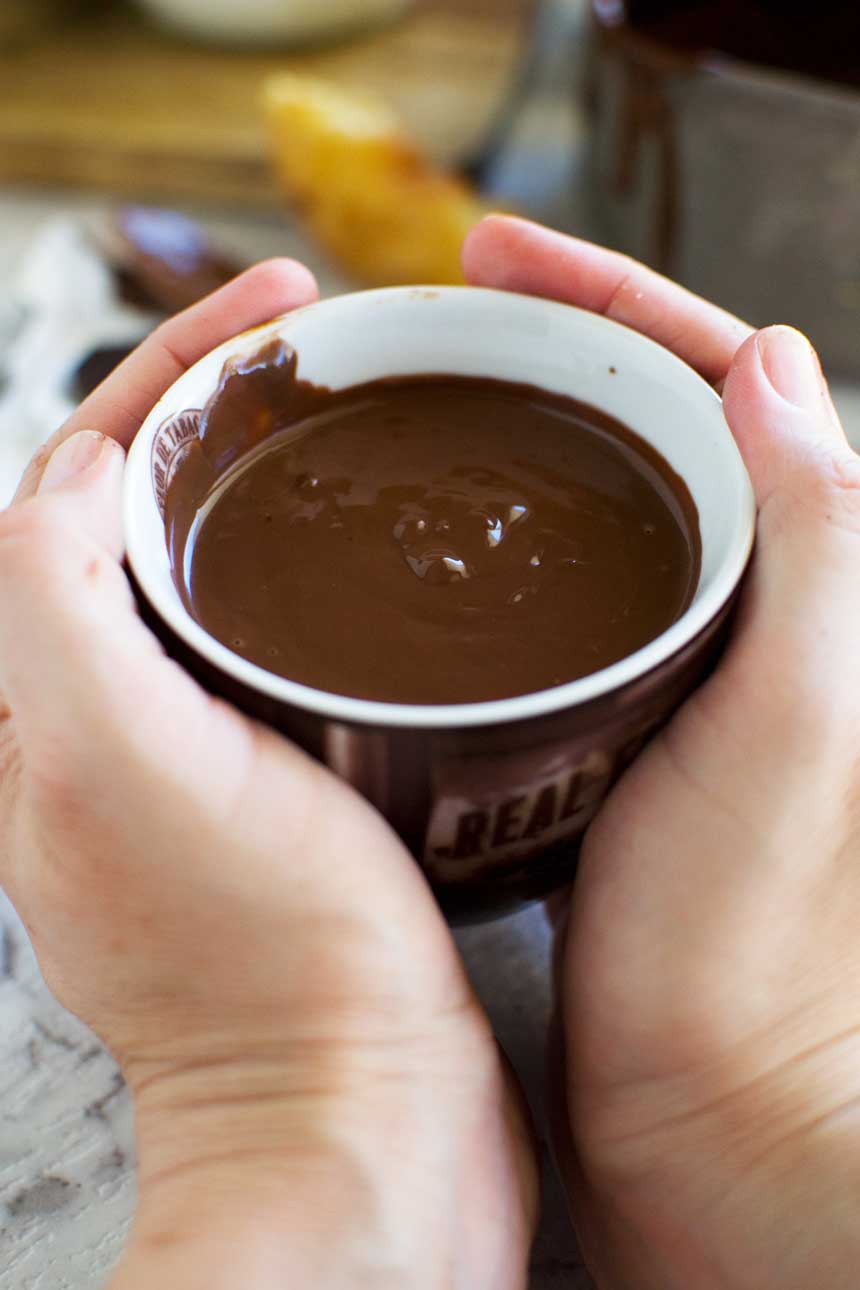 Ingredients in cioccolata calda
Whatever you want to call it, one thing is clear. This hot chocolate is rich and decadent and yet quick and easy to make with just 4 simple store cupboard ingredients:
chocolate
milk
sugar
corn starch / corn flour
You can use any kind of chocolate you like but I like to make it with a high cocoa content dark chocolate – around 70%. That makes it 'healthy' hot chocolate too, right?
So it's fine to make it in January after all – or any time!
How to make Italian hot chocolate
You're just 5 minutes, 4 ingredients and 3 steps away from the most delicious hot chocolate of your life.
Step 1: Heat the milk and sugar together in a saucepan, then break the chocolate into it and whisk until it melts in.
Step 2: Add the cornstarch/cornflour and cook for a few minutes until the hot chocolate starts to get thick.
Step 3: Pour into small cups, grab a churro, donut or spoon (!) and… enjoy!
How to serve thick hot chocolate
This thick hot chocolate is a delicious treat as it is or of course you can put some cream and marshmallows on the top.
I'm not a big cream and marshmallows fan (crazy, right?) so I like to have a donut or some churros handy for dipping instead.
I've received a complaint or two about this recipe – too much chocolate. But of course, we all know this is impossible.
If truth be told, this is more of a dessert than a 'hot chocolate' that you curl up next to the fire with. I can live with that if you can.
Delicious as this Italian hot chocolate may be, I can never finish a whole regular cup of it. I need to remember that my eyes are bigger than my tummy when it comes to this recipe and serve it in an espresso cup.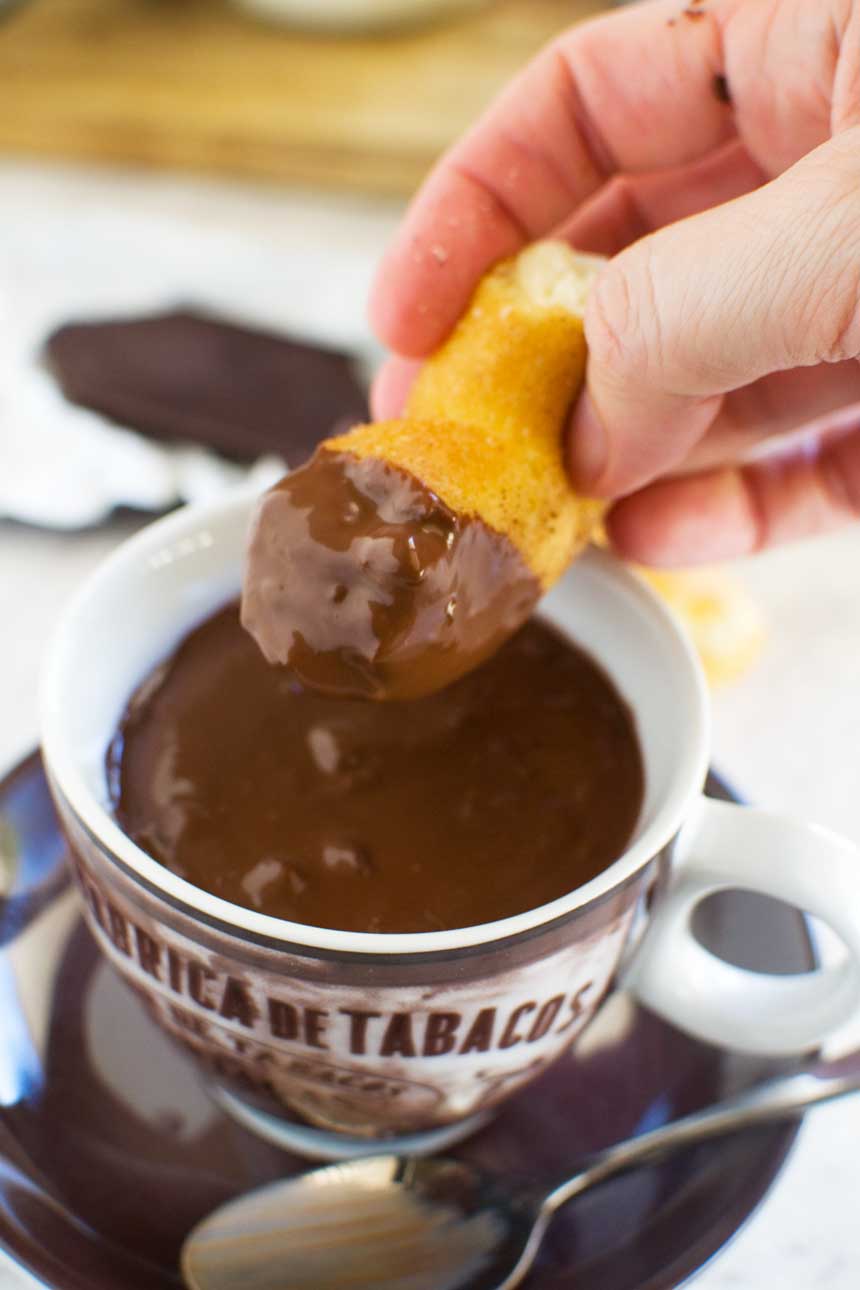 What to do with the leftovers
If there are any leftovers, you can pop them in the fridge.
They thicken up even more when refrigerated and make the most delicious chocolate pudding you can imagine.
Hot chocolate, pudding, or sauce?
In fact let's be honest here. This makes a delicious thick hot chocolate and chocolate pudding, but it could also make a fine chocolate sauce for cake or ice cream.
Entertaining and not much time to make dessert? I'm sure no one would complain if you served them a little cup of this thick hot chocolate with a pile of fresh donuts on the side.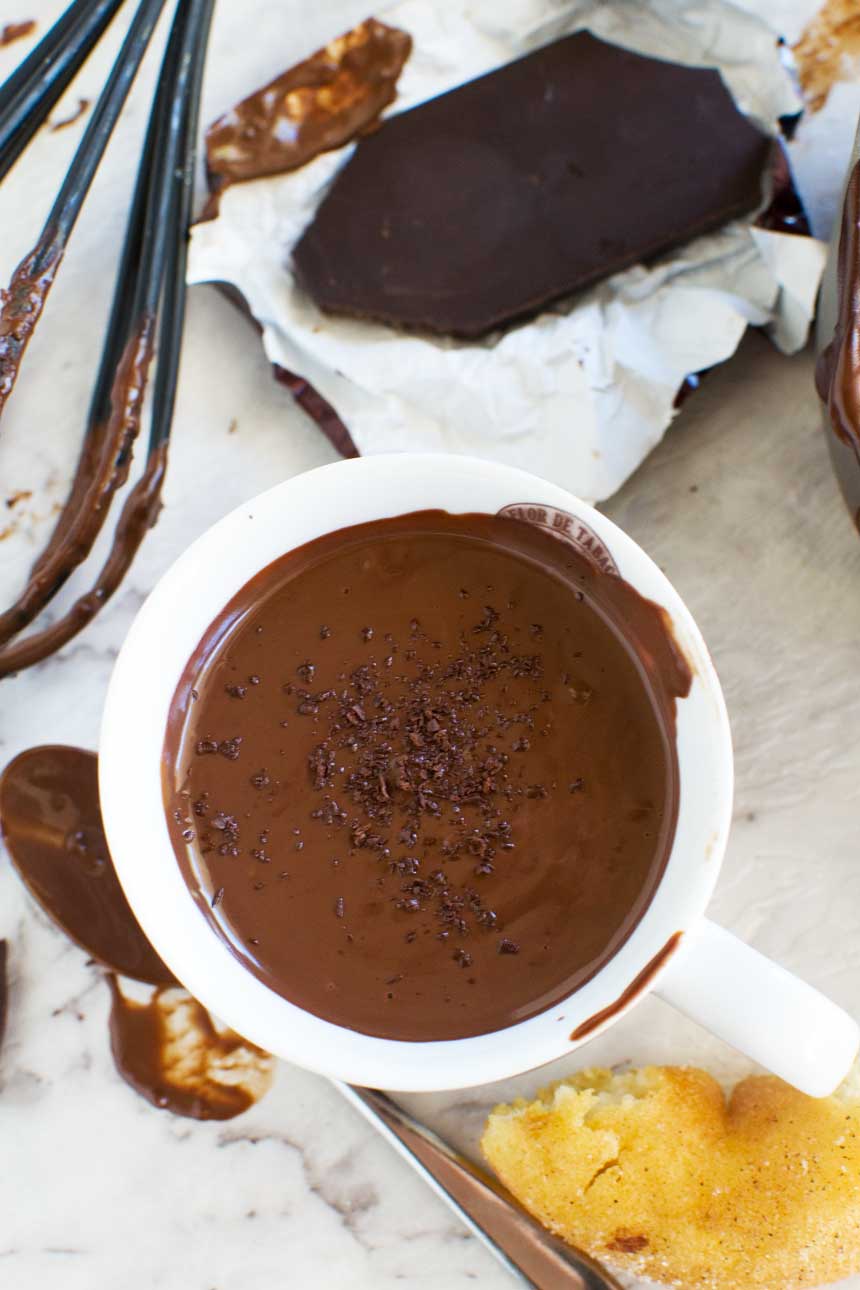 P.S. I love these cute cups for serving this thick Italian hot chocolate in! (affiliate link)
More really easy desserts
If you'd like 11 really easy dessert recipes (6 ingredients or less) all in one place, check out the list! They include some of the easy desserts listed above and more.
IF YOU MAKE THIS RECIPE, LET ME KNOW HOW YOU GET ON BY LEAVING A COMMENT AND RATING BELOW… AND DON'T FORGET TO SIGN UP TO RECEIVE ALL MY NEW RECIPES BY EMAIL!
FOLLOW ME ON FACEBOOK, INSTAGRAM, PINTEREST AND YOUTUBE.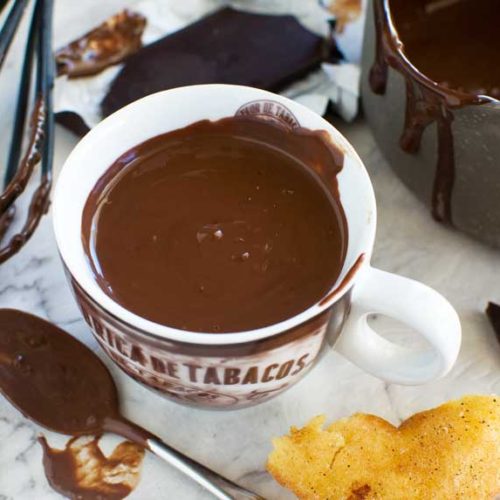 Thick Italian hot chocolate
This thick Italian hot chocolate is the best hot chocolate you'll ever have, and you only need 4 ingredients and 5 minutes to make it!
Ingredients (UK/Australia? Click below for grams/ml)
7

ounces

chocolate

good quality (I like 70% dark), plus a little extra for sprinkling (optional)

1

tablespoon

sugar

optional

1

cup

milk

1

teaspoon

corn starch

cornflour (UK), mixed with a little milk
Instructions
Heat the milk and sugar together in a small saucepan and whisk, then break the chocolate into it.

Continue to heat while you whisk until all the chocolate has melted into the milk.

Add the constarch / cornflour and cook for 2 to 4 minutes until the mixture has thickened a little (it should coat the whisk).

Pour into cups and sprinkle with a little grated chocolate (if you like).
Notes
I don't like cream, but go ahead and top your thick hot chocolate with whipped cream and marshmallows if you're in the mood for a bigger treat than usual!
The hot chocolate might still seem quite thin when you pour it into your cups, but bear in mind it will thicken up more as it cools.
Pop the leftovers in the fridge to make a delicious thick chocolate pudding – just for you!
This would also make a delicious chocolate sauce for ice cream or cake.
Nutrition
Calories:
604
kcal
Carbohydrates:
72
g
Protein:
7
g
Fat:
37
g
Saturated Fat:
22
g
Cholesterol:
12
mg
Sodium:
68
mg
Potassium:
448
mg
Fiber:
5
g
Sugar:
63
g
Vitamin A:
200
IU
Calcium:
162
mg
Iron:
2.7
mg