Ice cream for breakfast, anyone? You can make this healthy chocolate banana ice cream AKA nice cream in minutes. All you need is a food processor and THREE nutritious ingredients!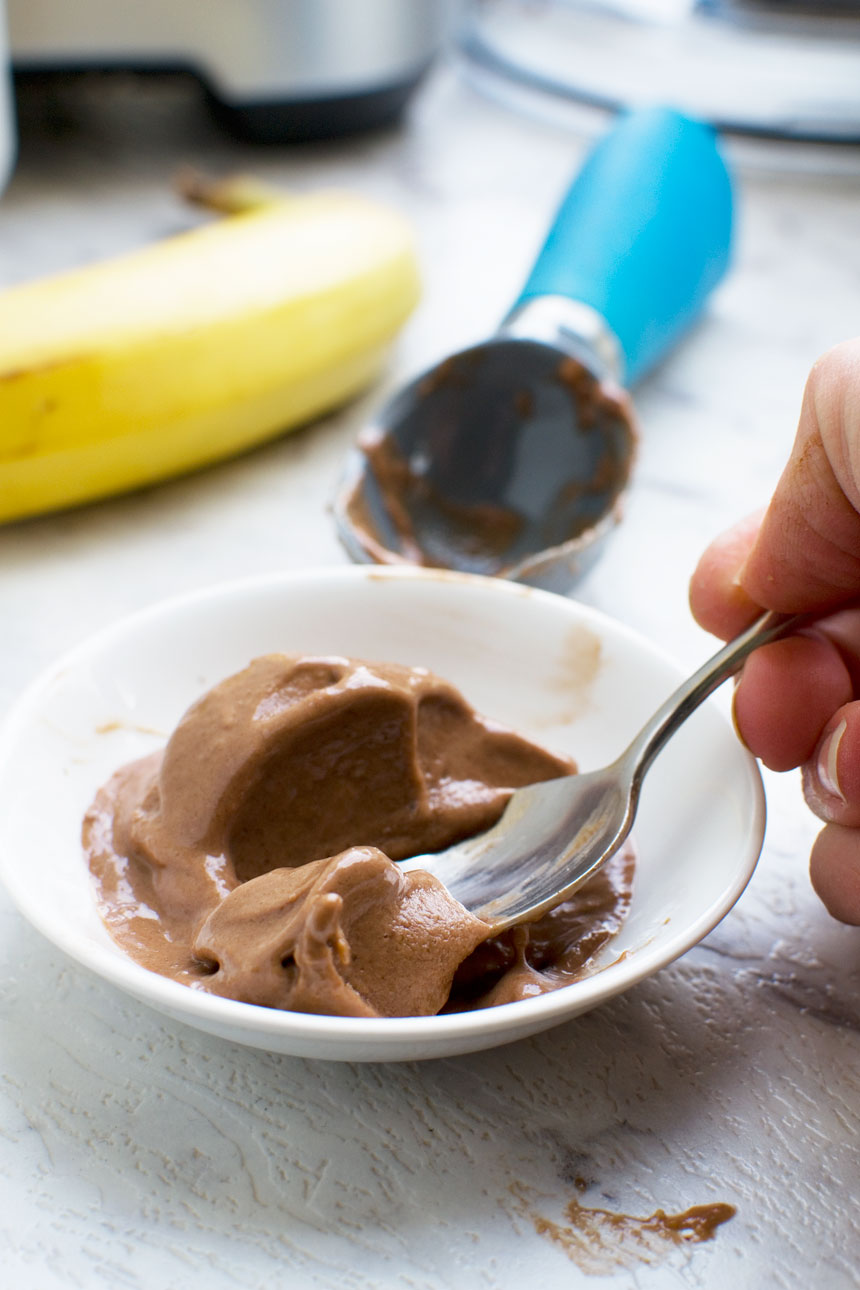 Quick, healthy, delicious, and no ice cream maker!
You know when you hear about something, and it just doesn't call your name? That's how I was with nice cream.
I finally caved and tried it after a lady at my favourite farmer's market banana stall told me how she makes it – and how delicious it is!
I have other quick and healthy desserts on the blog – two of my favourites are this AMAZING 30 minute healthy chocolate cake, and this ridiculously easy 2-minute peanut butter healthy mug cake. Or if you want to eat healthy cake for breakfast AND use up some ripe bananas, try these life-changing banana bread breakfast waffles (I mean it when I say 'life-changing').
But there's something missing. Maybe you need some ice cream to go on top of them? (you DEFINITELY need some to go on top of the peanut butter mug cake! Not optional!)
You need just THREE ingredients if you're going to make this classic banana peanut butter chocolate nice cream.
Healthy ice cream without an ice cream maker? Sign me up!
So, erm… what exactly is nice cream?
In its simplest form, nice cream is made of… frozen bananas! Nothing more, nothing less.
But I like to give my nice cream a chocolaty, nutty kick. So I use these 3 ingredients to make my healthy ice cream:
frozen bananas
cacao
peanut butter (another type of nut butter works just as well)
You can easily make other healthy ice cream flavours by adding different fruits and mix-ins, such as berries, biscuits/cookies and nuts. I've listed some concrete ideas at the end of the post below to get you started, but the possibilities are endless!
It's kind of like healthy soft-serve (Mr. Whippy to you Brits!).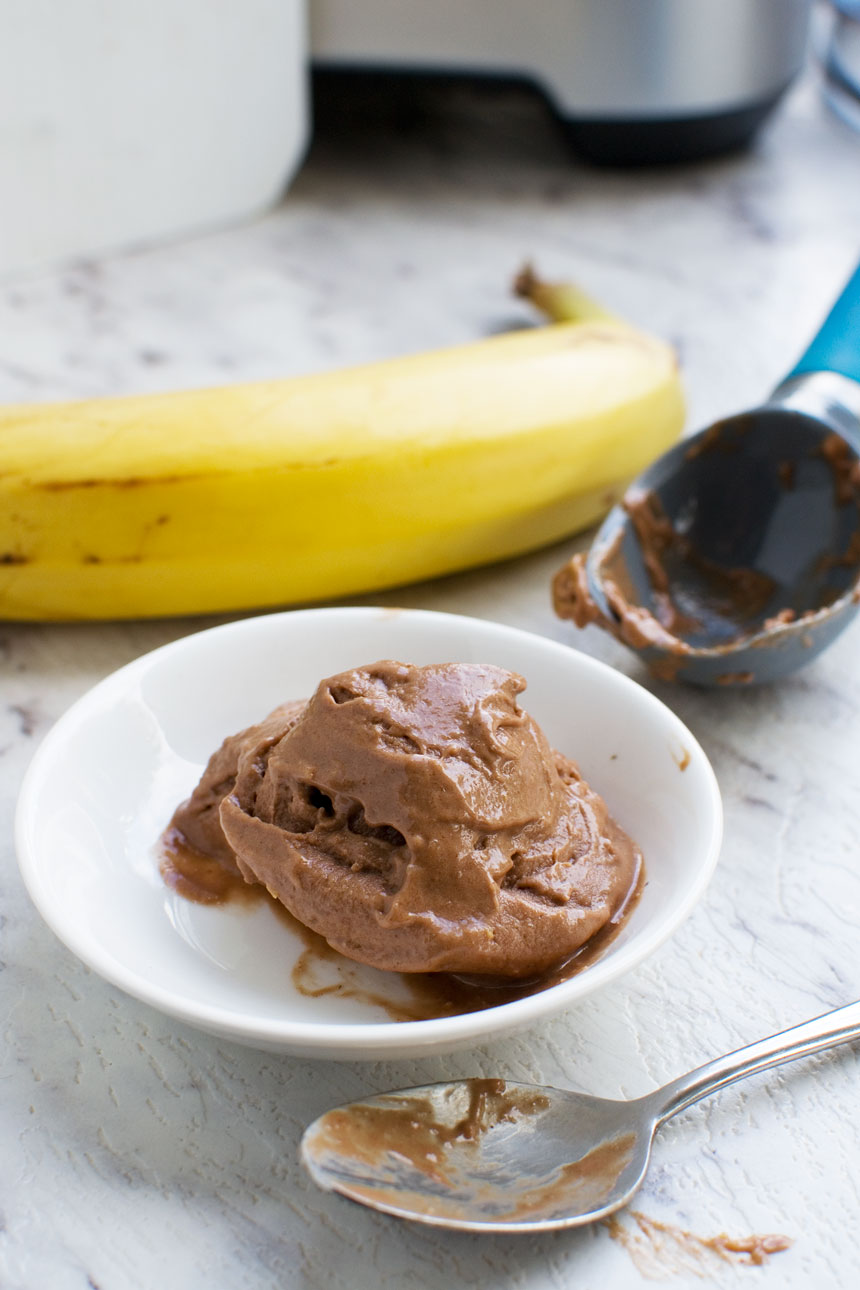 What does nice cream taste like?
Although nice cream does taste like bananas, to me it tastes more like… ice cream!
I assumed that the texture would be… wrong. Stringy, slimy, way too banana-y. But it isn't. It really isn't. At least I don't think so.
The key to getting a deliciously creamy nice cream that doesn't taste a whole lot different from regular ice cream? The nut butter and cacao!
If you make it this way, it's a bit like praline in both taste and texture. It's delicious!
All in all, I think it does taste like a banana flavoured ice cream, but not like 'just' frozen bananas, if that makes sense!
But try some banana nice cream and decide for yourself!
How long do the bananas take to freeze?
About 2 hours!
I usually chop my banana or bananas into medium sized chunks, pop them into a small freezer bag, and throw them into the freezer.
You can make your banana nice cream after a minimum of 2 hours. Alternatively, just store your bananas in the freezer for however long you like until a crazy ice cream craving strikes.
How to make banana nice cream step-by-step
Chop a banana (or bananas!) into chunks, throw them into a Ziploc bag and freeze for a minimum of 2 hours. (photo 1)
Tip your bananas into the bowl of your food processor and add a tablespoon of cacao powder and a tablespoon of nut butter per banana you've used.
Make sure you use the SMALL BOWL of your food processor if it has one. If not, it's best to make a slightly larger batch (double or triple the ingredients) so that it's 'enough' for your food processor to blend properly. (photo 2)
Blend! You can use your high speed blender instead if you like, but make sure your bananas are chopped well and add a really good drizzle of non dairy milk to keep things moving. (photo 4)
You may need to stop a few times and scrape down the sides, whether you use the small bowl of your food processor or a high speed blender. You will see what looks like chunky crumbs at first, but be patient. You'll eventually end up with something that looks like soft-serve ice cream. (photos 5-6)
Does banana nice cream keep well in the freezer?
I'm not going to lie – nice cream is probably best eaten immediately (it'll be like soft-serve ice cream straight out of the food processor). Or if you like you can pop it into the freezer for about 30 minutes to harden up a little more.
However… I often eat a bit of my chocolate banana ice cream straight after making it, then pour the rest into a small container with a lid and put it in the freezer for later.
It does become quite hard, but I just take it out of the freezer a little before I want to eat it so that it can soften slightly. It still tastes fantastic!
Can you make nice cream in a high-speed blender (like a Nutribullet or a Nutri Ninja)?
Yes, absolutely! I prefer to make my banana nice cream in the small bowl of my Breville food processor (affiliate link). It turns out nice and thick, kind of like soft-serve ice cream. If your food processor doesn't have a small bowl, I'd recommend doubling or tripling the amount of ingredients stated in my recipe to make sure it's 'enough' for your machine to keep things moving.
But you can make it in your high-speed blender (affiliate link) if you prefer. Just chop your bananas really well and add about a quarter cup of almond or other non-dairy milk per banana you've used so that it all whizzes up more smoothly.
Pulse the ingredients for about 30 seconds at a time, then stop and scrape down the sides. You can even add a little more milk if you think you need to.
I'd also recommend doubling my recipe if you choose to use your high speed blender!
You may also have to pop your nice cream into the freezer to firm up for 30 minutes if you choose this method, but the clean-up will be a bit easier.
Pro tip: This recipe is for a small batch of nice cream, but you can easily double, triple or quadruple the recipe if you want more!
More nice cream recipe ideas
I like to make my nice cream with bananas, peanut butter and cacao (because I'm addicted to peanut butter and chocolate!). But the possibilities for adapting your nice cream recipe are endless!
Try:
plain 1-ingredient banana nice cream. Simply blend frozen bananas and… ta da! You have your nice cream! Leave it at this, or add a teaspoon of vanilla extract.
berry nice cream. Add a small handful of fresh or frozen berries – strawberries, raspberries, blueberries, cherries… Add a few chocolate chips to take it to next level delicious!
pure peanut butter nice cream. Leave out the cacao/cocoa and replace with a bit more peanut butter for peanut butter ice cream heaven!
cookies and cream nice cream. Stir in a crumbled biscuit/cookie. Oreos work particularly well, and they're vegan too if that's important to you.
mint chocolate chip nice cream. Add a tiny drizzle of peppermint extract with the bananas, then stir in some chocolate chips after blending.
a nice cream sandwich! Sandwich your nice cream between 2 biscuits/cookies to make an ice cream sandwich. Not so healthy, but hey, it's been a hard day! 😉
What other flavours can you think of? Do let me know in the comments if you try an idea of your own!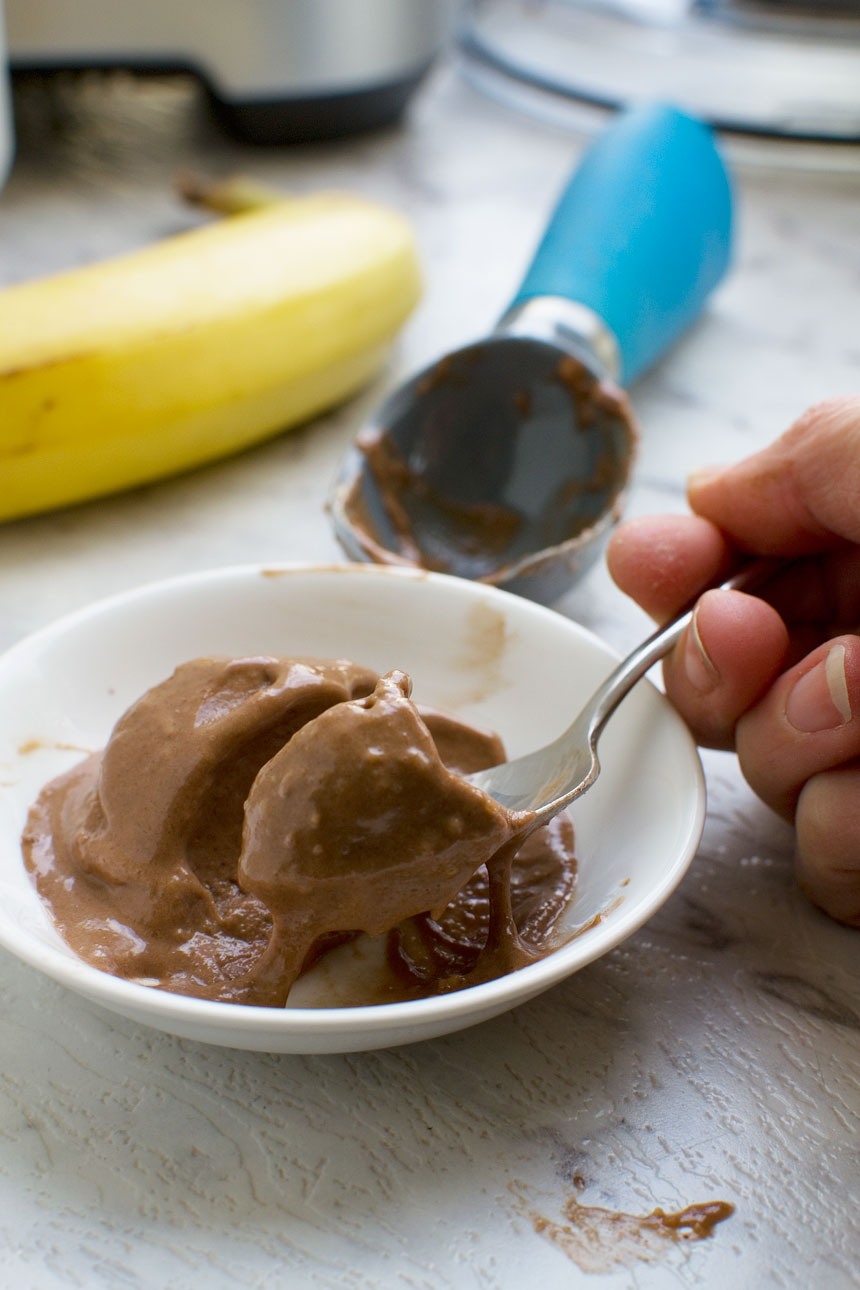 Healthy snack box subscriptions
So… you love this idea and will try it soon, but… you'd also like to have some awesome pre-packaged snacks on hand. I get it. Sometimes I just want to grab something yummy and healthy that someone ELSE has prepared.
The solution? Get healthy (and exciting!) ready-to-eat snacks delivered to you with Urthbox! They have Classic, Gluten free, Vegan or Diet box options, and a bonus free snack box offer, too.
Or browse more snack subscription boxes at Cratejoy to choose your own.
In love with smoothies? You can get read-to-blend organic smoothie packs delivered to your door from Smoothie Box , with $22 off your first order! (These are affiliate links!)
More easy and healthy desserts
Looking for more healthy snacks? You have to check out this list of 50+ healthy sweet snacks that don't taste boring! I also have an awesome list of 21 5-minute no bake desserts, with many healthy options included.
IF YOU MAKE THIS RECIPE, LET ME KNOW HOW YOU GET ON BY LEAVING A COMMENT AND RATING BELOW… AND DON'T FORGET TO SIGN UP TO RECEIVE ALL MY NEW RECIPES BY EMAIL!
FOLLOW ME ON FACEBOOK, INSTAGRAM, PINTEREST AND YOUTUBE.
5-minute chocolate banana ice cream (nice cream!)
Like ice cream… erm, a bit too much? Nice cream is the perfect solution! Simply throw frozen banana chunks, peanut butter (or other nut butter) and cocoa and cacao into a food processor and whizz until smooth, creamy and delicious! Why not try it today? You know you want to! This recipe is for a small batch, but is easily doubled or tripled to make more.
Ingredients (UK/Australia? Click below for grams/ml)
1

banana

chopped into medium chunks and frozen in a small freezer bag for at least 2 hours.

1

tablespoon

peanut butter

or other nut butter

1

tablespoon

cacao (affiliate link)

or cocoa

about 1/4 cup almond or other non dairy milk

(only really necessary if you're using a high speed blender instead of a small food processor bowl)
Instructions
Put all of the ingredients into the SMALL bowl of a food processor (or blender: see note) and blend until combined and smooth (a minute or two). Stop the motor once or twice to scrape down the sides.

Either serve immediately, or pour into a container and freeze for around 30 minutes to make it a little firmer.
Notes
Ingredient amounts
This recipe is for a small batch that serves 1 (hungry!) to 2 people. Simply double/triple/quadruple to make more! If your food processor doesn't have a small bowl or you want to make this with your high speed blender, I'd recommend doubling or tripling my recipe.
Can I use a blender to make nice cream?
Yes! Simply add about 1/4 cup of non-dairy milk per banana you're using. Make sure your bananas are chopped into small pieces. You may have to stop the motor every 30 seconds or so to scrape down the sides.
You also may have to freeze your ice cream for a while before serving to help it to firm up.
The ingredients aren't combining well…
When you first start the food processor, you may think the ingredients are taking too long to combine. They may look like cookie crumbs for a while. Just be patient and blend for longer, or stop the motor and scrape down the sides with a spatula.
Nutrition
Calories:
105
kcal
Carbohydrates:
16
g
Protein:
3
g
Fat:
5
g
Saturated Fat:
1
g
Sodium:
38
mg
Potassium:
301
mg
Fiber:
3
g
Sugar:
8
g
Vitamin A:
38
IU
Vitamin C:
5
mg
Iron:
1
mg