These quick and easy Greek yogurt banana muffins might be on the healthier side, but that doesn't mean they can't still taste like a treat! Lower in both refined sugar and oil than an average banana muffin, they contain a whole cup of protein-packed yogurt. But you'll also get a little surprise – caramel chips for extra flavor and pizzazz!
Light, fluffy, and moist on the inside and lightly crisp on top, these muffins will have you hooked after the very first bite!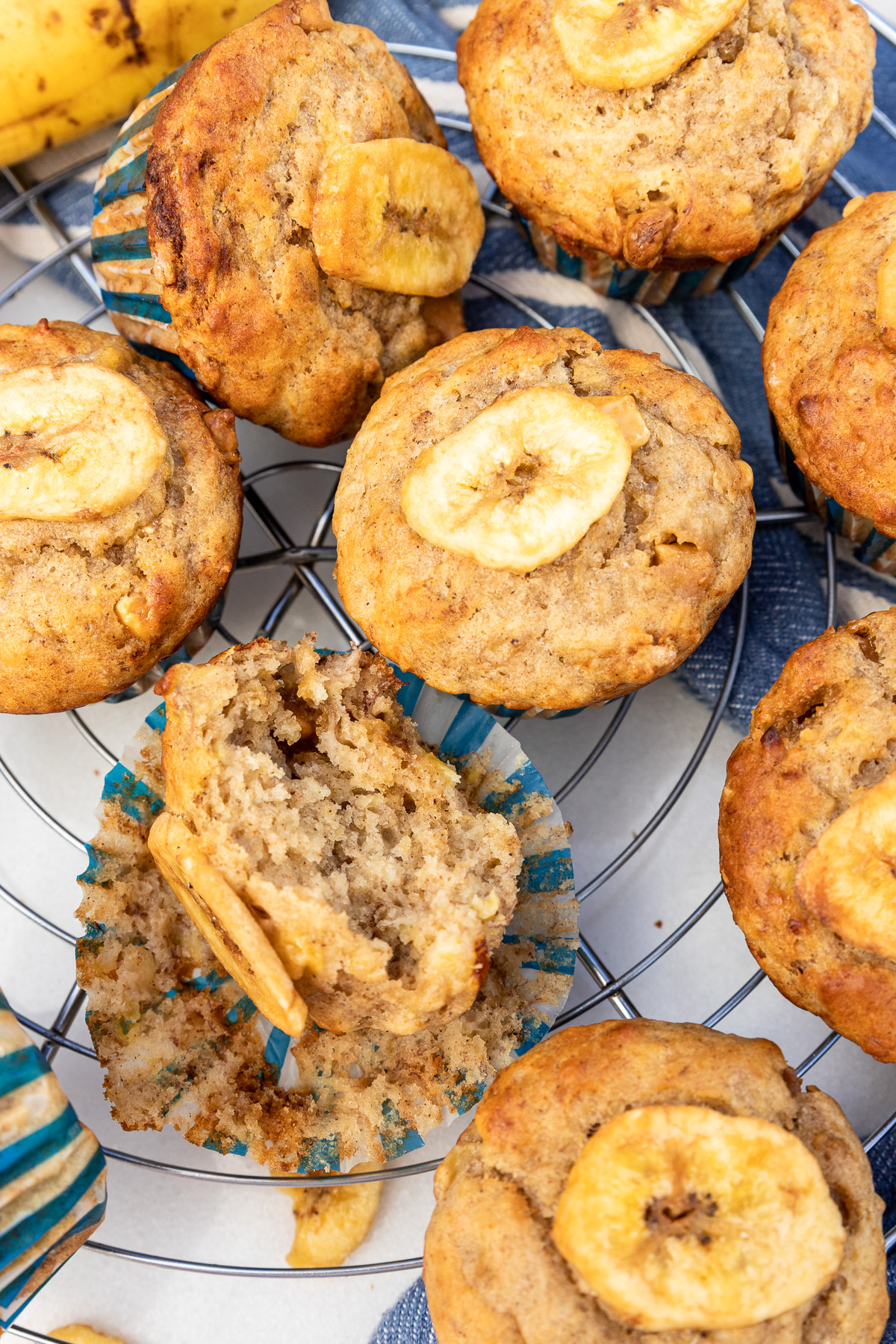 You can never have too many ideas for ways to use up overripe bananas, right? Especially in the summer when you buy green bananas one day and within a few days they're already speckled and brown!
These yummy banana yogurt muffins with caramel chips are just that little bit different to a standard banana bread recipe!
They also come hot on the heels of two other popular Greek yogurt muffin recipes: these super moist and fluffy Greek yogurt blueberry muffins (with their hundreds of 5 star reviews!), and these healthier chocolate chip muffins.
Why you'll love them
✔ Great flavor and texture. Light, fluffy and melt-in-your-mouth delicious on the inside, and lightly crisp on top. The plentiful mashed ripe banana and a few caramel chocolate chips add just the right amount of sweetness so the cakes still feel like a treat.
✔ Made with a whole cup of Greek yogurt. Hello, added protein! Also, since the yogurt adds moisture, you're able to cut the amount of oil.
✔ Less sugar. This banana muffin recipe is healthier than average with just a quarter cup of brown sugar and a quarter cup of either honey or maple syrup (your choice).
✔ Super easy to make. No mixer or food processor required. Just stir the wet ingredients into the dry, spoon the batter into a muffin tin and bake!
✔ Ready in 30 minutes. All you need is 10 to 15 minutes to make them, followed by 17 minutes in the oven!
✔ The recipe makes around 18 standard sized muffins. It's perfect if you want to enjoy some now for an afternoon tea and freeze the rest for lunch boxes and afternoon snacks.
Got an air fryer? This air fryer mini banana bread recipe is another popular recipe around here. I hope you give this a try too!
Ingredients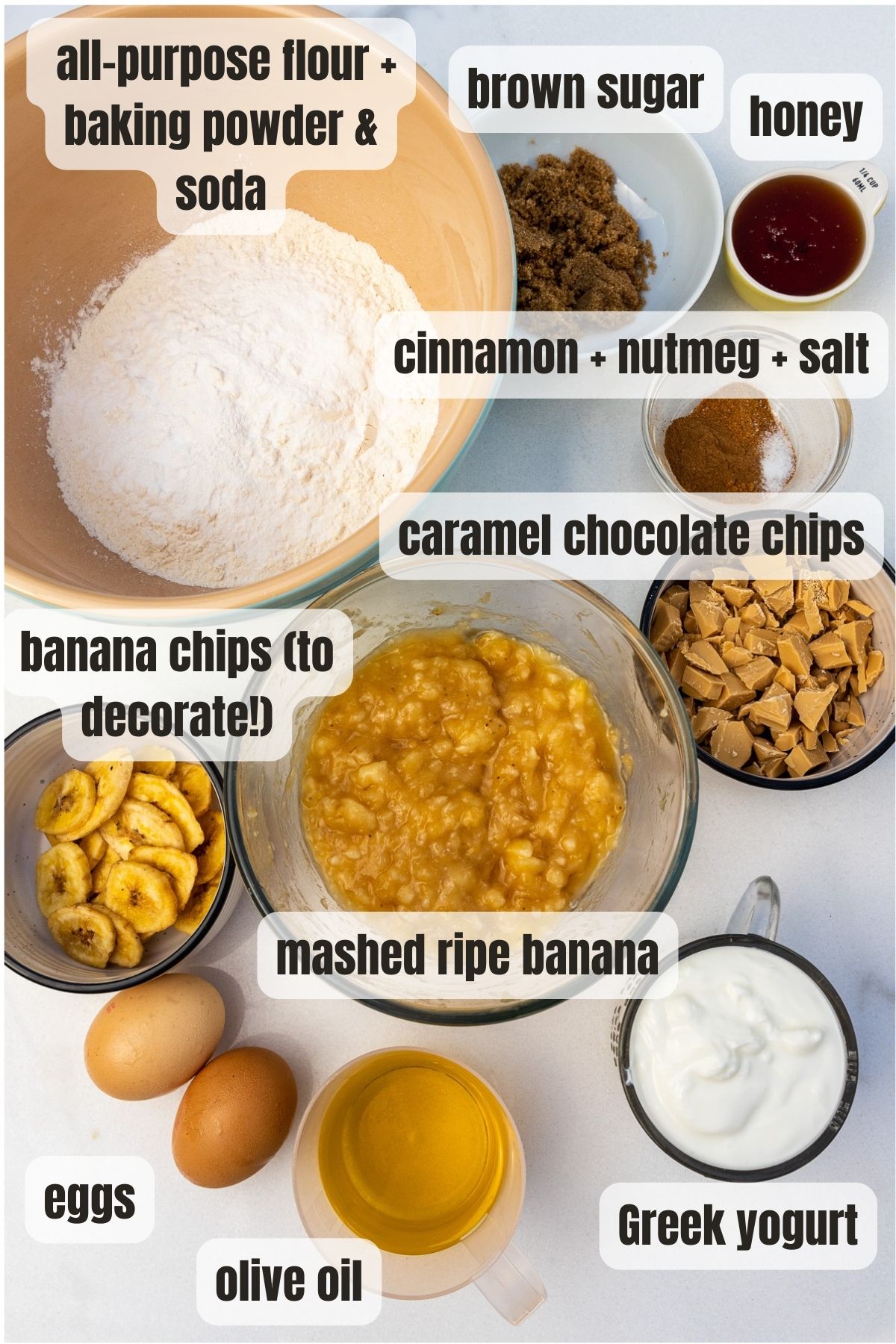 All-purpose flour: Use white whole wheat pastry flour or gluten free if you prefer.
Baking powder, baking soda and salt
Cinnamon and nutmeg: These spices go perfectly with the banana flavor in the muffins.
Ripe bananas: The riper the better, really (within reason!), for better banana flavor in the muffins.
Brown sugar and honey: Just 1/4 cup of each. The brown sugar adds a subtle caramel flavor, and the honey keeps the recipe very low in refined sugar. It's fine to use pure maple syrup or another liquid sweetener instead of the honey if you like.
Ripe mashed banana: You'll need 1.5 cups of mashed banana, which is usually 3-4 medium to large bananas. So this recipe is perfect for when your fruit bowl is overflowing with overripe bananas!
Eggs: 2 large.
Oil: Just half a cup. I often use a mixture of olive oil and canola, to keep the recipe fairly economical. Melted coconut oil or even melted butter work, too.
Greek yogurt: My favorite kind is authentic plain Greek yogurt made of just milk with yogurt cultures. Feel free to use vanilla flavored Greek yogurt instead.
Caramel baking chips: I love to add just a few (around 1/3 to 1/2 cup) caramel flavored chocolate chips to give the muffins a little extra sweetness. Caramel goes perfectly with banana (try these caramelized banana pancakes if you don't believe me). White chocolate chips work well, too.
Banana chips: Just a few (18 to be exact!) to decorate the tops of the muffins. Optional, of course, but highly recommended.
Top tip: I've started to throw all my overripe bananas into a large bag in the freezer. Then, every time I'm in the mood to bake with bananas, I simply grab a few out of the bag, let them defrost, and away I go! Just remember to drain off any excess liquid before mashing the defrosted bananas.
How to make them
The step-by-step guide below should help you make the recipe perfectly first time. Scroll down to the end for the full recipe including ingredient amounts.
The first thing you do is mix together all the dry ingredients in a large mixing bowl – so the flour, baking powder and soda, salt, and spices.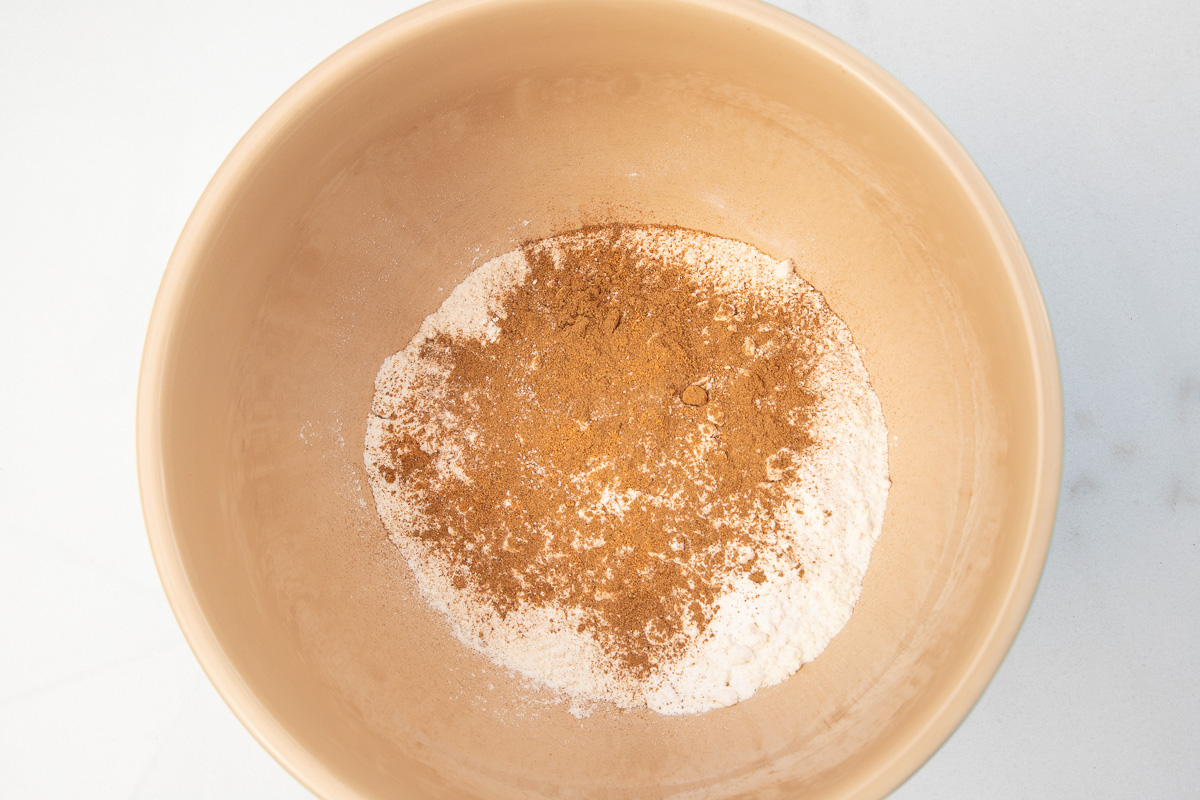 Then second (very easy) step is to mix together all the 'wet' ingredients in either a medium bowl or a jug – so mashed banana, lightly whisked eggs, oil, and Greek yogurt. It doesn't look very appetizing, but trust me it will all make sense when mixed into the flour!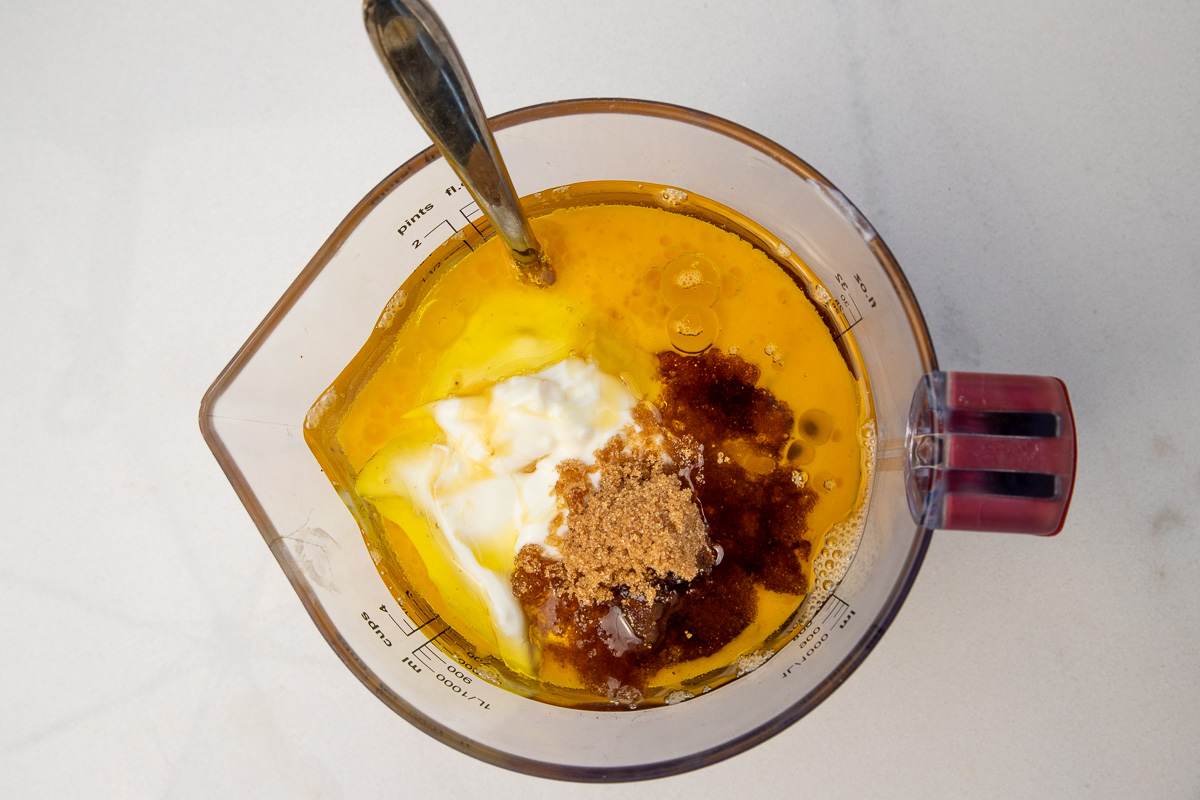 From here, your banana yogurt muffins couldn't be easier to make! Just mix the wet ingredients briefly into the dry, until everything is JUST combined. You definitely don't want to overmix, which can result in dense, chewy muffins.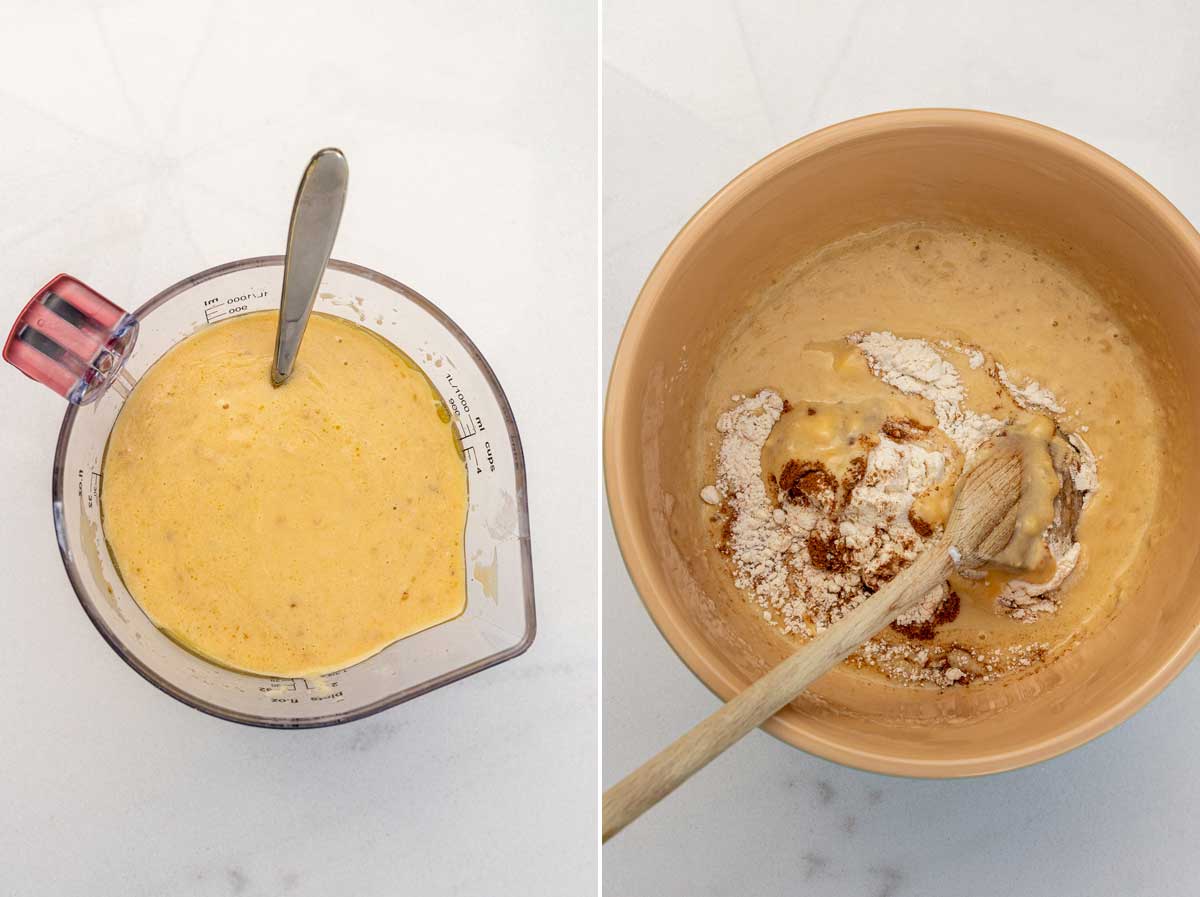 Fold the caramel chips into the batter. As you can probably see, this time I ran out of chips, so I roughly chopped some caramel chocolate instead.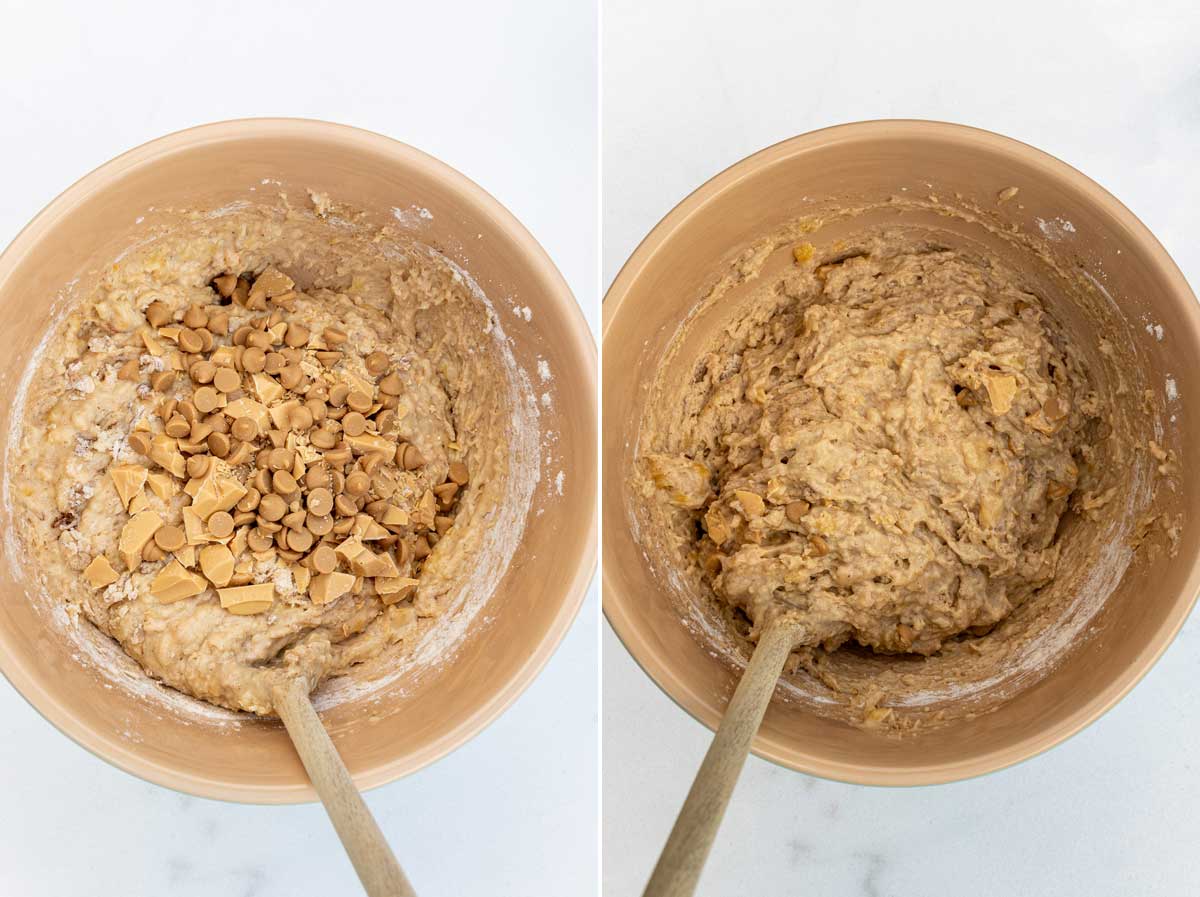 Then fill some standard sized muffin cups with the muffin batter (I usually just use a metal spoon). It's OK to fill them almost right up to the top. They won't overflow in the oven.
Pop a dried banana chip on top of each muffin, then bake! They'll be ready before you know it, in around 17 minutes. The muffin tops should be nicely risen and browned, and a skewer poked into the center will come out clean.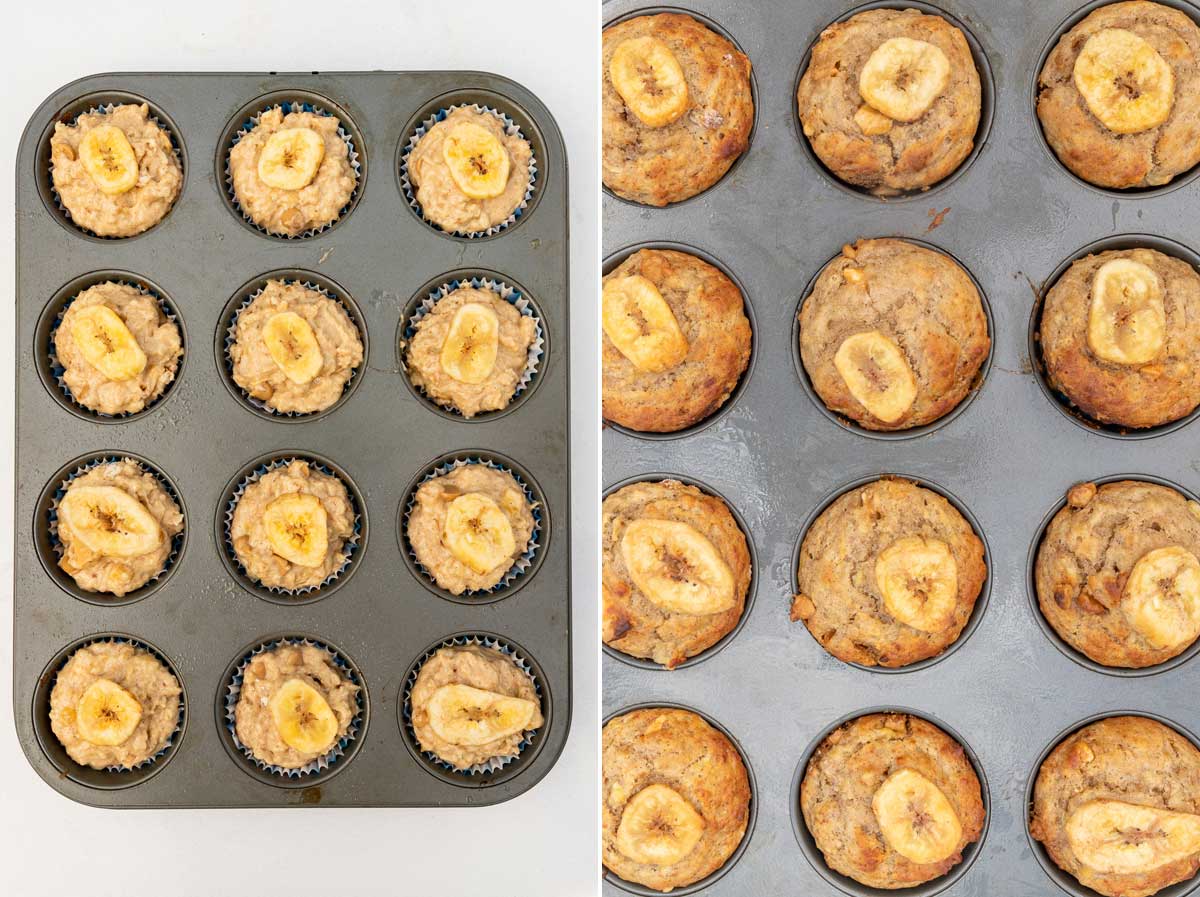 Variations
I do love these healthy banana muffins with yogurt just as they are. But you can certainly personalize them a little with the following:
No caramel baking chips? Simply use white, milk or dark chocolate chips instead for chocolate banana muffins. Or how about peanut butter chips?
Use vanilla flavored Greek yogurt for a subtle hint of vanilla. Or how about another flavored Greek yogurt that plays well with banana? I'm thinking mango, apple, or pumpkin spice!
Add 1/3 to 1/2 cup nuts or dried fruit! How about chopped walnuts or pecans, sultanas or dried cranberries?
Add a few fresh berries if you like, such as blueberries or raspberries.
Skip the dried banana on top, and sprinkle over some flaked almonds instead.
Serving tips
Serve warm or cold for a morning or afternoon tea with a hot cup of tea or coffee.
Why not slice in half while still warm and enjoy smeared with a sneaky bit of peanut or almond butter? Mmm!
Freeze for quick and nutritious lunch box treats, afternoon snacks and make-ahead breakfasts. Just grab and go! (Freezing instructions below.)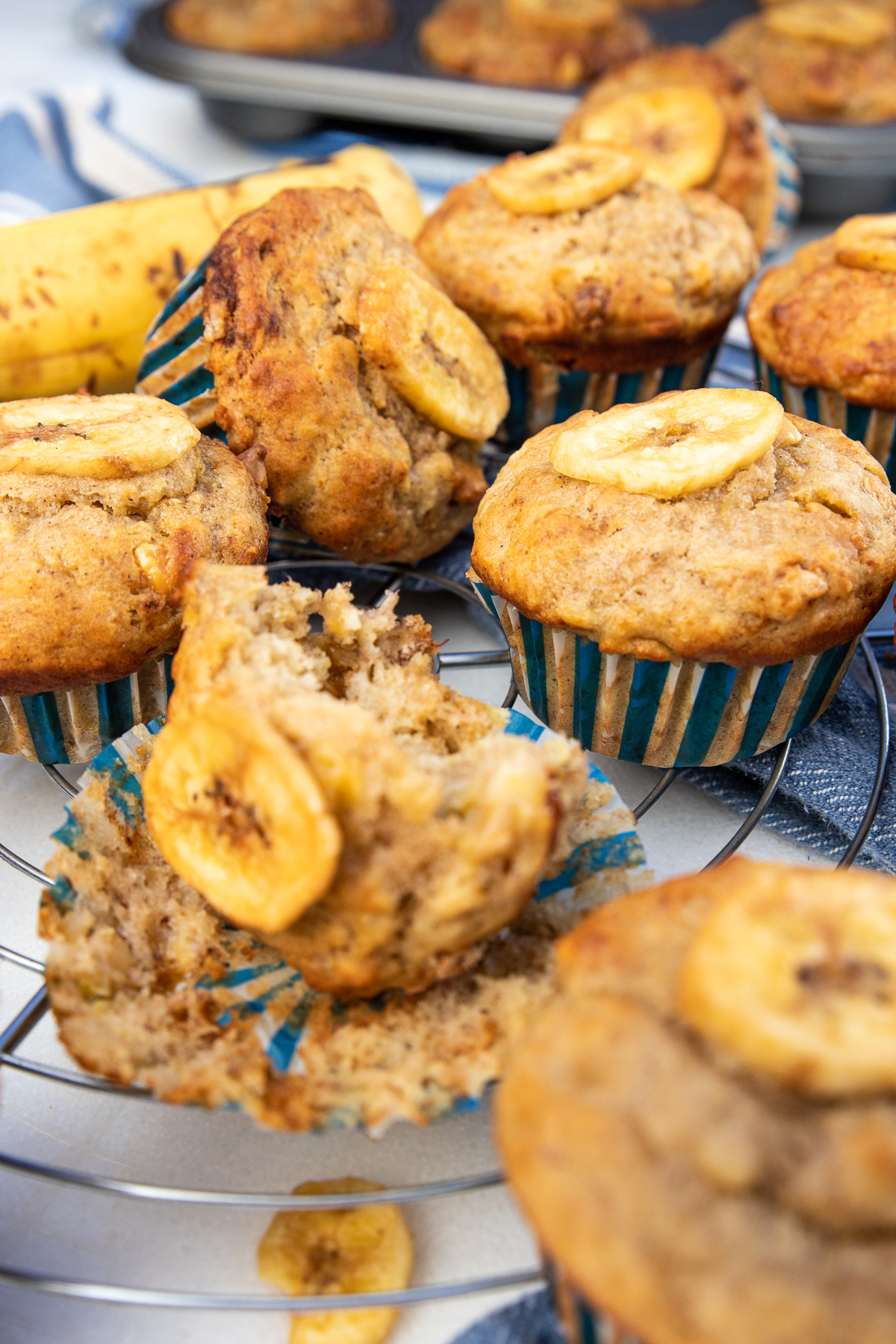 Recipe FAQ
Can I make banana bread from this recipe instead?
Actually, yes, I've tried it! You can easily make the batter into a large Greek yogurt banana bread (for 10 large slices) by baking it in a loaf pan instead for around 60 to 65 minutes or until a skewer comes out clean. If the top starts to brown too much, just cover loosely with a piece of aluminium foil while it finishes baking.
How long will these banana yogurt muffins keep?
They'll keep moist and tasty in an airtight container for up to 4 days, although they'll taste best the first couple of days. You can keep them fresh for longer (up to a week) by keeping them in the fridge.
Can I freeze them?
Absolutely! Simply let them cool completely, then freeze either in large freezer bags or in an airtight container. They'll keep well for up to 2 months. Let them defrost at room temperature, then warm in the microwave for around 20 seconds if you wish. They'll keep well for up to 2 months.
More healthier cakes
Healthier cakes are becoming a bit of a speciality here on Scrummy Lane! here are some more of my favorites.
Or see all my healthy desserts.
Great news! If it's banana cakes you love, this pineapple banana cake AKA easier Hummingbird cake is on the healthier side, too!
Also check out this list of 25 low sugar cakes (that still taste great!).
IF YOU MAKE THIS RECIPE, LET ME KNOW HOW YOU GET ON BY LEAVING A COMMENT AND RATING BELOW… AND DON'T FORGET TO SIGN UP TO RECEIVE ALL MY NEW RECIPES BY EMAIL!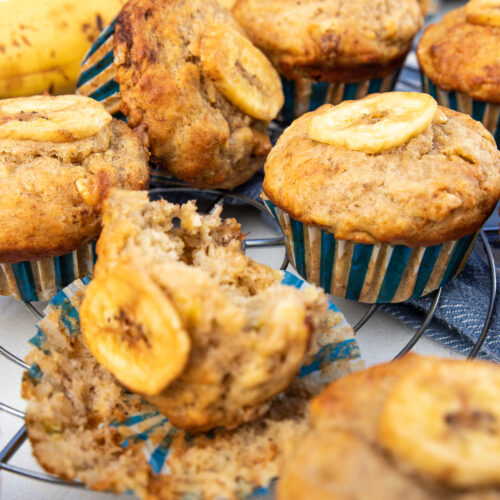 Greek Yogurt Banana Muffins (With Caramel Chips!)
These protein-packed Greek yogurt banana muffins are made healthier with a whole cup of yogurt and a lower amount of sugar than in an average banana muffin. But they're moist, fluffy and super tasty with a great banana flavor and some sneaky caramel chocolate chips for something a little different. So simple to make in just 30 minutes, and great for morning teas, lunch boxes and afternoon snacks.
Ingredients (UK/Australia? Click below for grams/ml)
Dry ingredients
2.5

cups

all-purpose flour

also known as plain flour or baking flour

2.5

teaspoons

baking powder

½

teaspoon

baking soda

1.5

teaspoons

ground cinnamon

½

teaspoon

ground nutmeg

¾

teaspoon

salt
Wet ingredients
1.5

cups

mashed banana

Use overripe (spotty and brown!) bananas. 1.5 cups is usually around 3 large bananas or 4 medium.

2

large eggs

¼

cup

brown sugar

¼

cup

honey

If thick, warm slightly in the microwave so it combines easily with the other wet ingredients. Alternatively, use maple syrup or another liquid sweetener.

½

cup

oil

I usually use all olive oil, or a mixture of olive oil and canola oil. Melted butter or melted coconut oil also work.

1

cup

Greek yogurt

I use authentic strained Greek yogurt (full fat or reduced fat both work).
To add
⅓

cup

caramel chips

Add up to ½ cup to taste.

⅓

cup

banana chips

Or about 18 banana chips.
Instructions
Preheat the oven to 355F/180C and line a muffin pan with muffin liners. Spray lightly with oil.

In a large mixing bowl, combine all of the dry ingredients (flour, baking powder & soda, salt, spices).

2.5 cups all-purpose flour,

2.5 teaspoons baking powder,

½ teaspoon baking soda,

1.5 teaspoons ground cinnamon,

½ teaspoon ground nutmeg,

¾ teaspoon salt

In a separate medium sized bowl or jug, combine all the wet ingredients (mashed banana, whisked eggs, sugar, honey, oil, Greek yogurt).

1.5 cups mashed banana,

2 large eggs,

¼ cup brown sugar,

¼ cup honey,

½ cup oil,

1 cup Greek yogurt

Pour the wet ingredients into the dry. With a wooden spoon, stir just until everything is well combined (a few lumps are OK – don't overmix).

Briefly fold the caramel chips into the batter.

With a metal dessert spoon or cookie scoop, fill the muffin cups with the batter. It's OK to fill them to the top.

Top each muffin with a banana chip. Then bake for 17 minutes or until a skewer comes out clean (a few sticky bits are OK but no raw batter!).

Transfer to a wire cooking rack. Enjoy warm or cold, then store in an airtight container for up to 4 days (or freeze for up to 2 months).
Notes
Sweetener: Feel free to use any liquid sweetener instead of honey e.g. maple syrup.
Bananas: You'll need 3 large ripe (brown and soft) bananas or 4 medium (roughly) to equal 1.5 cups of mashed banana. The amount doesn't have to be precise.
I usually have some ripe bananas stashed in the freezer in a freezer bag. Throw them in any time you have overripe bananas!
If using defrosted frozen bananas, drain off any excess liquid before mashing.
Oil: To make the recipe more economical, feel free to mix olive oil with another, cheaper, oil e.g. canola. You can also use melted coconut oil, melted butter, or another type of oil.
Caramel chocolate chips: Feel free to replace with white chocolate chips or milk or dark chocolate chips. Alternatively, skip the chocolate and add dried fruit, chopped nuts or fresh berries. Or skip the add-ins altogether!
Storing/Freezing: These muffins stay moist and delicious for up to around 4 days in an airtight container at room temperature – a little longer in the fridge. Or freeze in a large plastic bag or airtight container for up to 2 months. These healthier Greek yogurt banana muffins make great lunch box or after school snacks!
Making a large banana bread instead: Yes, you can do this! Simply pour the batter into a loaf pan lined with baking paper. Then bake for around 60 – 65 minutes at 355F/180C or until a skewer poked into the center comes out clean. If the top starts to brown too much, simply tuck a piece of aluminium foil loosely over it.
Nutrition
Calories:
202
kcal
Carbohydrates:
28
g
Protein:
4
g
Fat:
9
g
Saturated Fat:
2
g
Polyunsaturated Fat:
2
g
Monounsaturated Fat:
4
g
Trans Fat:
0.03
g
Cholesterol:
19
mg
Sodium:
174
mg
Potassium:
178
mg
Fiber:
1
g
Sugar:
12
g
Vitamin A:
42
IU
Vitamin C:
2
mg
Calcium:
49
mg
Iron:
1
mg