This healthy peanut butter mug cake is the perfect solution to those pesky after dinner sweet cravings. It's vegan, gluten free, dairy free, refined sugar free, and egg free. The best part? It's hassle free, taking just 2 minutes to make!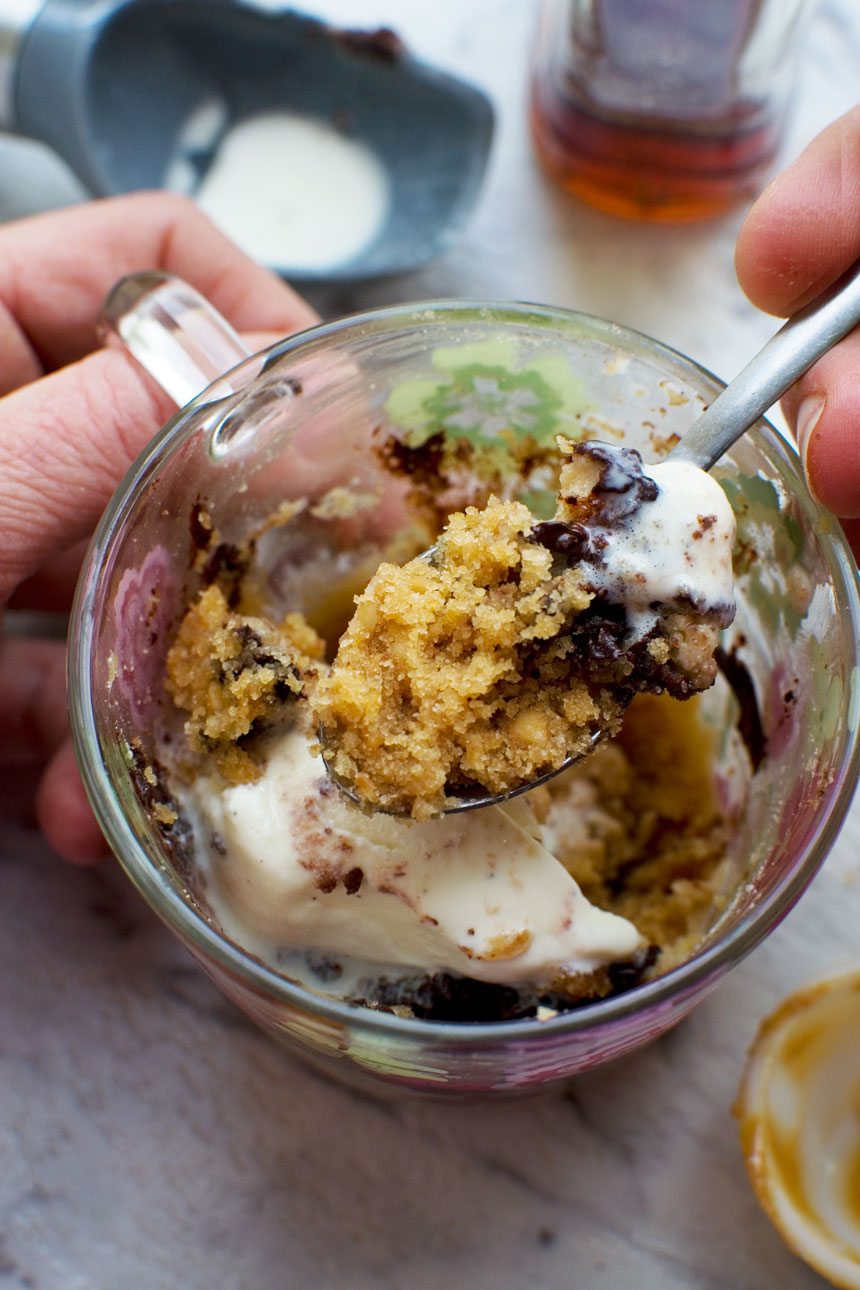 My go-to 'emergency' healthy dessert!
Please tell me I'm not the only one who needs 'emergency' desserts sometimes?
Usually the 'need' strikes on random evenings when the day's jobs are done and I finally get to sit down and chill.
I have my cup of tea and Netflix controller in hand, but there's something missing…
I need something sweet, and I need it now!
That's where this wonderful invention called a mug cake comes in.
Like many of us these days I try not to eat too much sugar. So one day I literally threw some peanut butter into a mug with a little coconut flour, date syrup and almond milk and microwaved it. The result was a gooey peanut buttery dessert for one that I've since stank out the kitchen (!) with on more occasions than I'd like to admit!
But it's been worth all the moaning from Mr. Scrummy – who thinks it's a disgusting idea! This healthy peanut butter mug cake recipe has come to my rescue time after time.
I sincerely hope it becomes one of your go-to 'emergency' desserts too, oh fellow peanut butter lovers.
Ingredients for this healthy mug cake:
1 tablespoon coconut flour
2 tablespoons crunchy peanut butter (I like to use natural and organic)
1 tablespoon maple syrup OR date syrup OR honey (my favourite is date syrup!)
2 tablespoons non-dairy milk (I use almond)
a sprinkle of 70% cocoa or higher chocolate chips
Yep, just 5 ingredients, and that's including the chocolate chips which strictly speaking you could leave out. Although I don't recommend it!
And not only does this healthy peanut butter mug contain NO REFINED SUGAR, it's also accidentally GLUTEN FREE, DAIRY FREE, EGG FREE, AND VEGAN!
How to make a healthy mug cake (peanut butter flavour!)
Grab your favourite mug and add a tablespoon of coconut flour, 2 tablespoons of peanut butter, a tablespoon of your favourite healthy sweetener (date syrup, maple syrup, honey…), and 2 tablespoons of almond milk (or other non dairy milk). (photos 1-4)
Give it all a really good stir (make sure you mix in all the sneaky bits of coconut flour at the bottom). (photo 5)
Press a few chocolate chips (or small pieces of chocolate from a bar) into the top. (photo 6)
Microwave for 1 minute. Your cake won't look like it's changed or risen very much, but don't worry – plunge in your spoon and you'll soon see that it's cakey, gooey, and totally yummy! (photos 7-8)
Either eat just by itself, or – my favourite – plop a scoop of ice cream, or healthy nice cream (instructions below!) on top!
Pro tips
You can take this healthy dessert to next-level delicious by throwing a scoop of ice cream on top. But you thought this was supposed to be a healthy dessert, right? No worries, freeze a chopped banana, throw it in a food processor with a tablespoon of cacao/cocoa and a tablespoon of nut butter, and make some healthy 'nice cream'! (full recipe for nice cream here)
Try substituting the coconut flour with cacao – or a half-and-half coconut flour and cacao mix. This gives you a deliciously gooey, splodgy chocolate mug cake. Don't skip adding a scoop of ice cream (nice cream!) on top of this one!
If you don't mind de-healthifying (did I just make up a new word?) your mug cake a bit, you can make it with ordinary plain flour and a tablespoon of brown sugar. It's still a fairly innocent dessert!
More things to know (Recipe FAQ)
Can I use another sweetener instead of maple syrup?
Yes! I've tried it with both honey and date syrup and it still worked well. I think it would work with any liquid sweetener as it only contains a little.
Can I use almond butter or tahini instead of peanut butter?
Yep. I've made it with almond butter and it was good. I haven't personally tried tahini but a reader has and said it turned out well so go ahead and try it. I think any nut butter or alternative would work. Give it a try and let me know how you get on!
Argh! I burnt my tongue!
Oops. This mug cake is very hot when first cooked. Leave it for a minute or two to cool down before eating, or add a scoop of healthy ice cream on top! 😉
Can I make it with a different kind of flour?
I've made this with almond flour before instead of coconut flour and it was very good. I've also tried using ordinary flour… hmmm, not so good. It still works, but if you do this, I'd suggest using brown sugar instead of maple syrup (but then it's not a very healthy mug cake any more – but up to you). I just didn't like the texture with maple syrup as the sweetener.

One more crazy idea. Use unsweetened cocoa powder instead of coconut flour for an ooey, gooey chocolaty version!
Help! My cake turned out too dry/too gooey.
I believe that mug cakes are one of those things that you have to experiment with a bit to get 'just right' for your particular microwave. If your cake turned out too dry, try again but reduce the cooking time by around 20 seconds. If it was too gooey, cook for 20 seconds longer.
Can I make this as a dessert for more than one?
Absolutely! One reader has done this for gluten free dinner guests and told me it worked well. Just multiply the ingredients by the number of people, then pour into separate mugs or ramekins. Microwave one by one. Only mix the ingredients just before serving – otherwise the coconut flour will soak up too much moisture and the desserts might turn out too dry.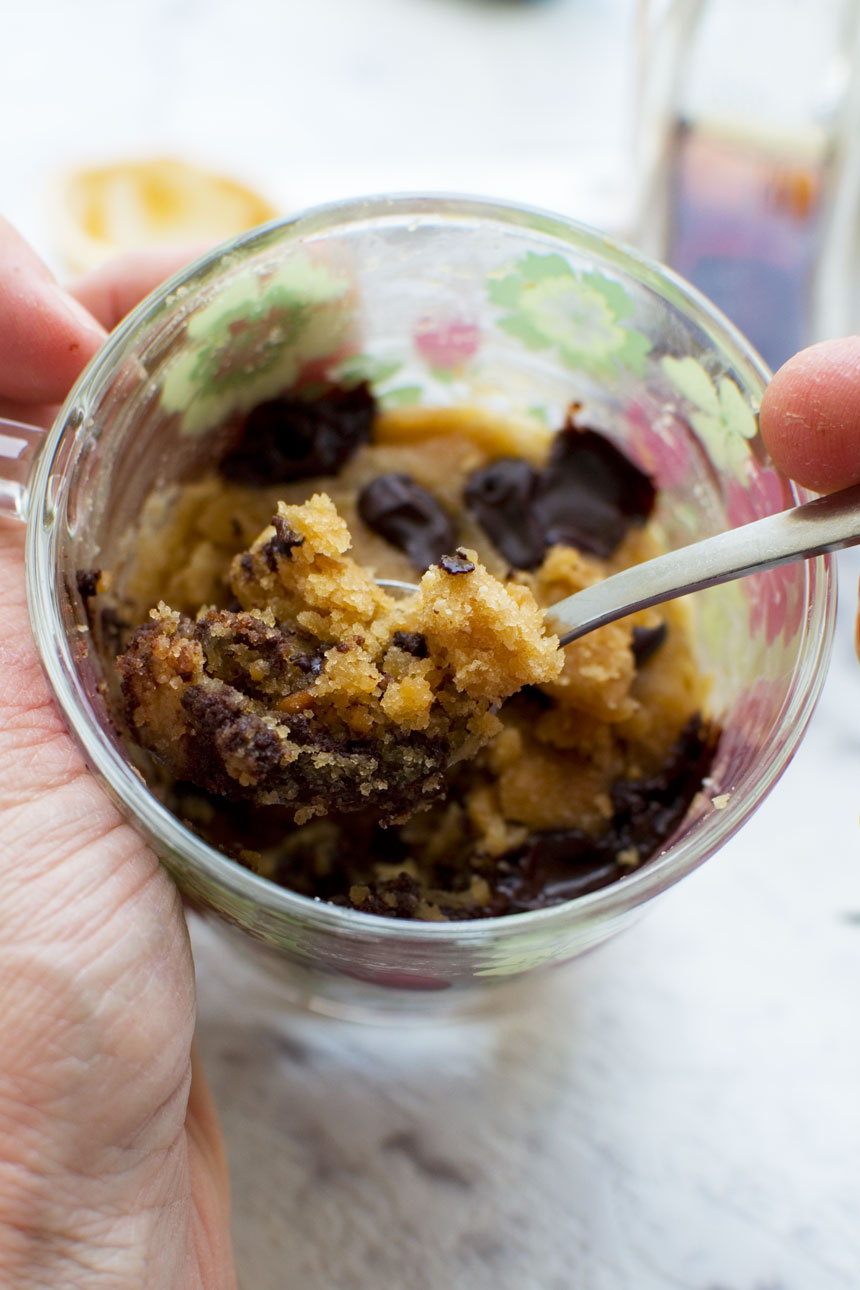 If you try this and like it, you might also like this gluten free mug cake for two. It's packed with banana, almond and white chocolate, and pretty healthy too 😉
More healthier desserts
Looking for more healthy snacks? You have to check out this list of 50+ healthy sweet snacks that don't taste boring.
IF YOU MAKE THIS RECIPE, LET ME KNOW HOW YOU GET ON BY LEAVING A COMMENT AND RATING BELOW… AND DON'T FORGET TO SIGN UP TO RECEIVE ALL MY NEW RECIPES BY EMAIL!
FOLLOW ME ON FACEBOOK, INSTAGRAM, PINTEREST AND YOUTUBE.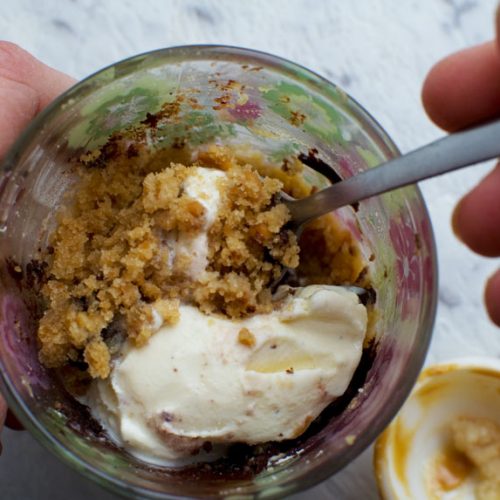 2-minute peanut butter healthy mug cake
Sweet craving? I've got you covered with this peanut butter mug cake. Throw peanut butter in a mug with coconut flour, date or maple syrup and almond milk, and you've got yourself a delicious healthy dessert for one.
Ingredients (UK/Australia? Click below for grams/ml)
1

tablespoon

coconut flour

2

tablespoons

peanut butter

1

tablespoon

maple syrup

or date syrup, or honey

2

tablespoons

almond milk

or other non-dairy milk – or ordinary milk

a few

dark chocolate chips

or a 10 gram piece of 70% dark chocolate
Instructions
Put all the ingredients apart from the chocolate chips in a small mug and mix really well with a spoon.

Press the chocolate into the top of the mixture. Microwave for 1 minute.

Enjoy immediately either by itself or with a small scoop of ice cream/nice cream on top!
Notes
A note on the coconut flour
Make sure you only add a level tablespoon of coconut flour. Coconut flour absorbs a lot of moisture so adding more might make your mug cake too dry.
If you don't have any coconut flour you can use almond flour instead. If you decide to use ordinary plain flour I'd use brown sugar as the sweetener. I didn't like the texture when I made this mug cake with plain flour and date/maple syrup.
You can also make a gooey chocolate version of this by using cacao or cocoa powder instead of the coconut flour!
A note on the cooking time
I find that 1 minute in my high-power microwave is just about right. Not too runny, not too dry. If your microwave is a lower power one, simply check your mug cake after one minute. Scoop out a spoonful of pudding. Too gooey for you? Microwave for another 20 seconds!
Can you make this as a 'proper' dessert for more than 1?
There is no reason why you can't make this in separate ramekins (or mugs!) for more than 1 person.
I would recommend mixing up the ingredients just before eating, however, so that the coconut flour (which is very absorbent!) doesn't soak up too much moisture.
Nutrition
Calories:
276
kcal
Carbohydrates:
24
g
Protein:
9
g
Fat:
17
g
Saturated Fat:
4
g
Sodium:
202
mg
Potassium:
253
mg
Fiber:
4
g
Sugar:
15
g
Calcium:
72
mg
Iron:
1
mg