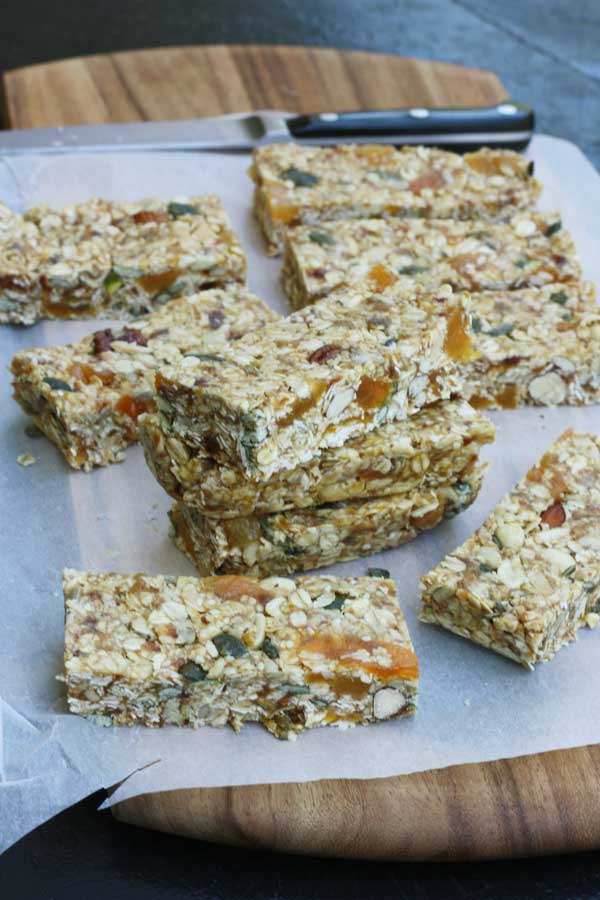 I don't know about you, but when I go on a plane journey, I sometimes get hungry before they wheel out the brekky/lunch/dinner/whatever meal it's supposed to be trolley! Because I got up at 3am. Or because my tummy's all funny and confused because I got up so early and from pre-takeoff nerves.
We all know air travel isn't usually the most comfortable and relaxing of experiences, and that the food is vaguely OK sometimes but certainly not what you'd be eating if you had the choice. Which is why recently I've decided to pre-empt this hour-after-takeoff snack attack I always seem to have by making myself and Mr. Scrummy some healthy homemade granola bars to take with us on our flight. Never mind that I haven't even packed one teeny tiny little thing into my suitcase yet!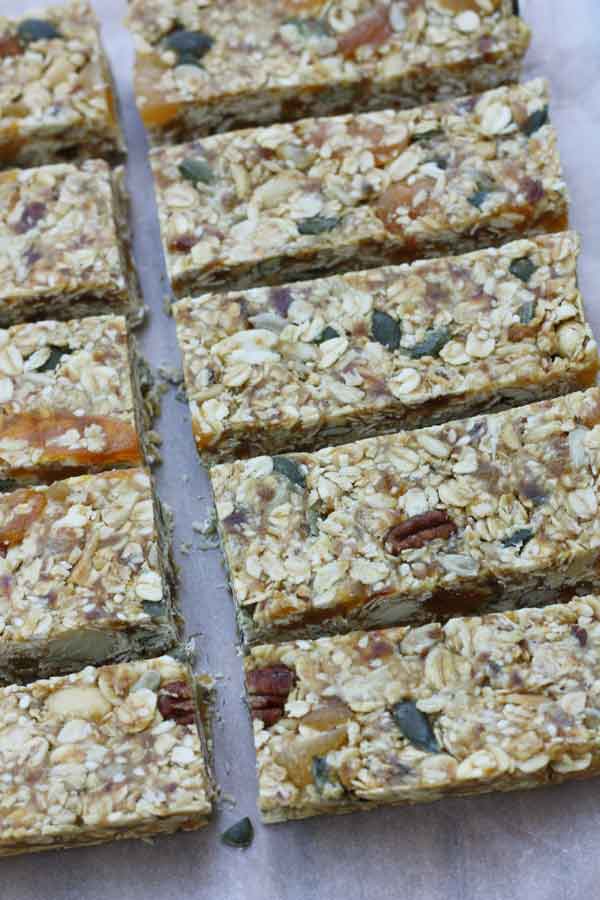 So, this Saturday, we're embarking on the next stage of our journey towards settling down in the UK. Strangely, this means going to Greece for up to 3 months, where I've lived my life for roughly the last decade, to sort of 'close things down' there. I'll go back to my office job while Mr. Scrummy works from my cute little flat with the view over the mountains and the city of Athens. In the evenings and at weekends we'll paint walls, repair tiles, close down bank accounts, throw out junk, pack up boxes, say goodbye to friends and do many other of the hundreds of things you have to do when you move home, and move country. It'll be interesting getting everything done, to say the least, and with no home or jobs as such (and as yet!) to go to in the UK.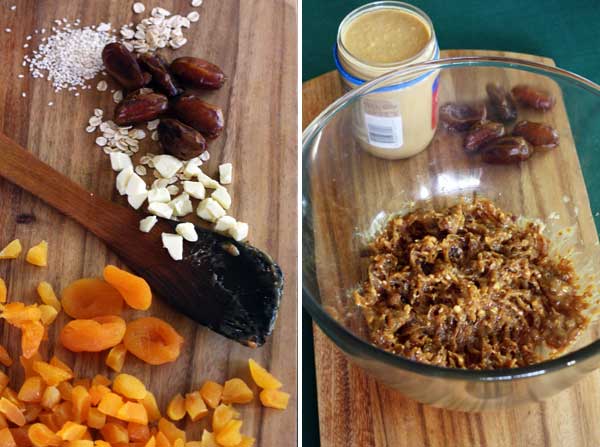 We might not know how things are going to work out, but at least we have the wonderful Greek food to console us over these 90 days allowed on Mr. Scrummy's Greek visa! Think the freshest feta and spinach filo pies. Cheap and cheerful chicken souvlaki pittas from my local take-out. Colourful Greek salads with a big wedge of creamy feta, Kalamata olives and the best olive oil. And perhaps best of all – crispy fried cheese 'saganaki' drizzled with honey and eaten with tiny pieces of fresh bread at a traditional little taverna on the slopes of the Acropolis. Washed down with a little ouzo, of course. I wish we could get settled in the UK right away, but I have to admit that these amazing foods are calling my name! The souvlaki is definitely calling Mr. Scrummy's name!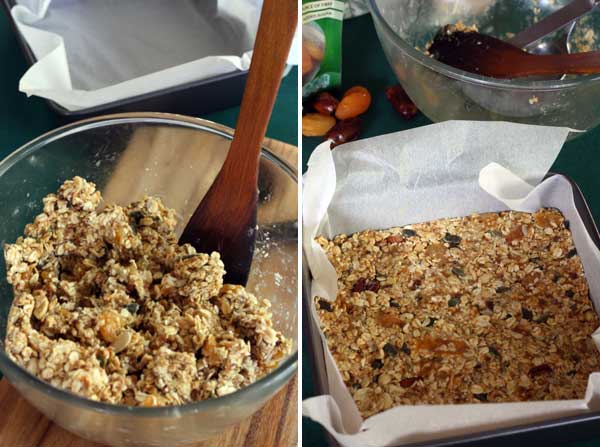 I hope to feature some Greek-inspired recipes on the blog over these months, but in the meantime, back to these granola bars I made for this weekend's journey from Nottingham to London to Athens! I called them Pecan, white chocolate & maple granola bars, but really they can be any kind of granola bar you wish. I found the basic recipe from an older post on the wonderful blog Minimalist Baker (love that blog! Just a few ingredients in most of the recipes – what's not to like?) while searching for the easiest no-bake granola bar recipe I could find. As Dana said in her post, the bars are SO easily customisable! Simply start with the pulverised date base and add oats, nuts and whatever else you'd like in your bars to the bowl. Then warm up some peanut butter with honey or maple syrup, or a combination of the two as I did, and pour over the mixture. Finally, stir, push and smash everything together. You'll have to use a bit of elbow grease and the mixture will seem quite dry, but don't worry, the bars end up having just the right consistency.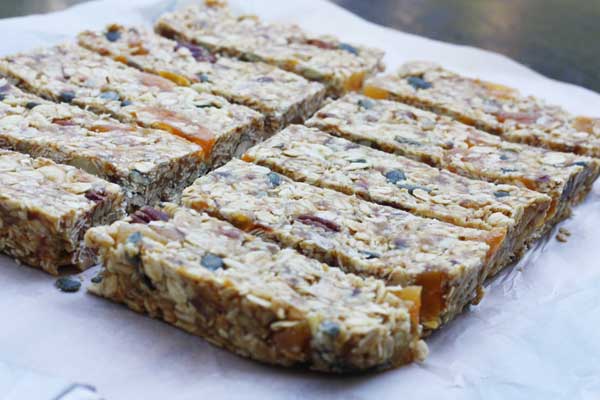 I was amazed how well these granola bars turned out and can't wait to make them again to take to work for snacks. Next time I think I'll add a little raw cacao powder in with the peanut butter and honey mixture, and maybe some orange zest and roasted flaked almonds.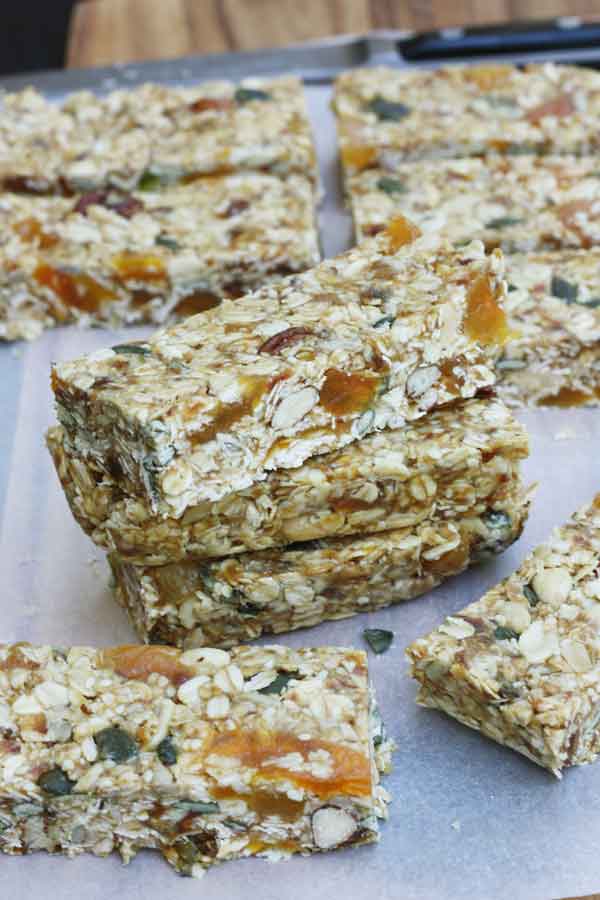 What I'm most excited about is that, presuming you already have the basic ingredients, it possibly takes more time to go to the shop to buy a box of preservative and sugar-filled commercial granola bars than it does to make some of these!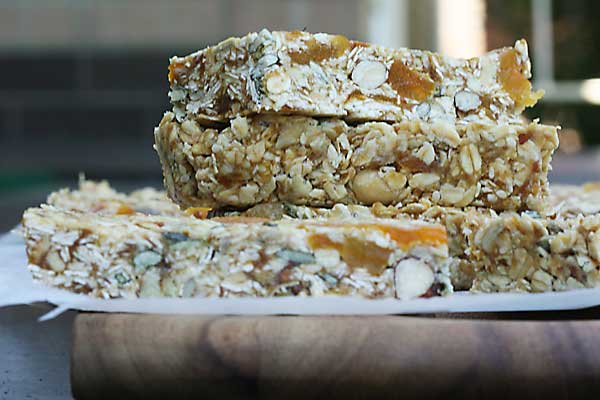 Pecan, white chocolate & maple no-bake granola bars
Easy-peasy no-bake granola bars made from pulsed dates, oats, peanut butter and honey or maple syrup. I also added pecan nuts, maple syrup, white chocolate and dried apricots, but you can add your favourite fruits, nuts, chocolates and seeds. These are perfect for a healthy mid-morning or afternoon snack!
Ingredients (UK/Australia? Click below for grams/ml)
1

cup

pitted dates

1 1/2

cup

rolled oats

1

cup

chopped pecan nuts (or other mixed unsalted nuts of your choice)

1/4

cup

honey or maple syrup (I used a mixture of both)

1/4

cup

peanut or almond butter

1/2

cup

dried apricots (optional)

chopped white chocolate, other dried fruit, banana chips, a tablespoon of raw cacao powder/sesame seeds/sunflower or pumpkin seeds etc. (I added dried apricots, white chocolate, sesame seeds & a few other seeds that I happened to have.)
Instructions
Put the dates in a food processor and process until they form a gooey ball (I didn't have a food processor when I made mine so I mashed them up with a fork – that worked fine!)

Put the dates in a large bowl and add the oats, nuts and any other dry ingredients you want to add. Smash everything into the dates with a wooden spoon.

Put the honey/maple syrup and peanut butter in a separate bowl and microwave in 30-second intervals until you can stir them together easily. (Alternatively, heat gently in a small saucepan.)

Pour the peanut butter and honey/syrup mixture over the dry oat and date mixture and squash everything together again really well.

Tip the mixture into an 8x8 baking tin lined with baking parchment. Spread out, push down and level off evenly with the back of a big metal spoon.

Put the bars into the fridge or freezer for at least half an hour to 'set', then cut into 10 equal bars.

Keep in an airtight container for up to a few days, or wrap them separately and store in the freezer until needed.
Notes
Basic recipe from Minimalist Baker. Thank you!
Adapt this freely from the basic dates-oats-peanut butter-honey/syrup recipe by adding dried fruits, nuts, seeds, chocolates etc. of your choice. Enjoy!
Nutrition
Calories:
235
kcal
Carbohydrates:
32
g
Protein:
4
g
Fat:
11
g
Saturated Fat:
1
g
Sodium:
31
mg
Potassium:
302
mg
Fiber:
4
g
Sugar:
20
g
Vitamin A:
240
IU
Vitamin C:
0.1
mg
Calcium:
25
mg
Iron:
1.2
mg
I hope you enjoyed this post! You can find more from Scrummy Lane on Facebook and Pinterest and you can also follow me on Bloglovin! Thanks so much for reading!