Have you seen dried orange slices in the shops lately? They're gorgeous, intensely citrusy, and make a great gift. But they're expensive, right? Luckily, it's ridiculously easy to dehydrate your own orange slices. Enjoy them plain or dipped in chocolate as a healthy snack, but there are many other fun ways to use them at Christmas… or any time! The best news? You don't need a dehydrator to make them.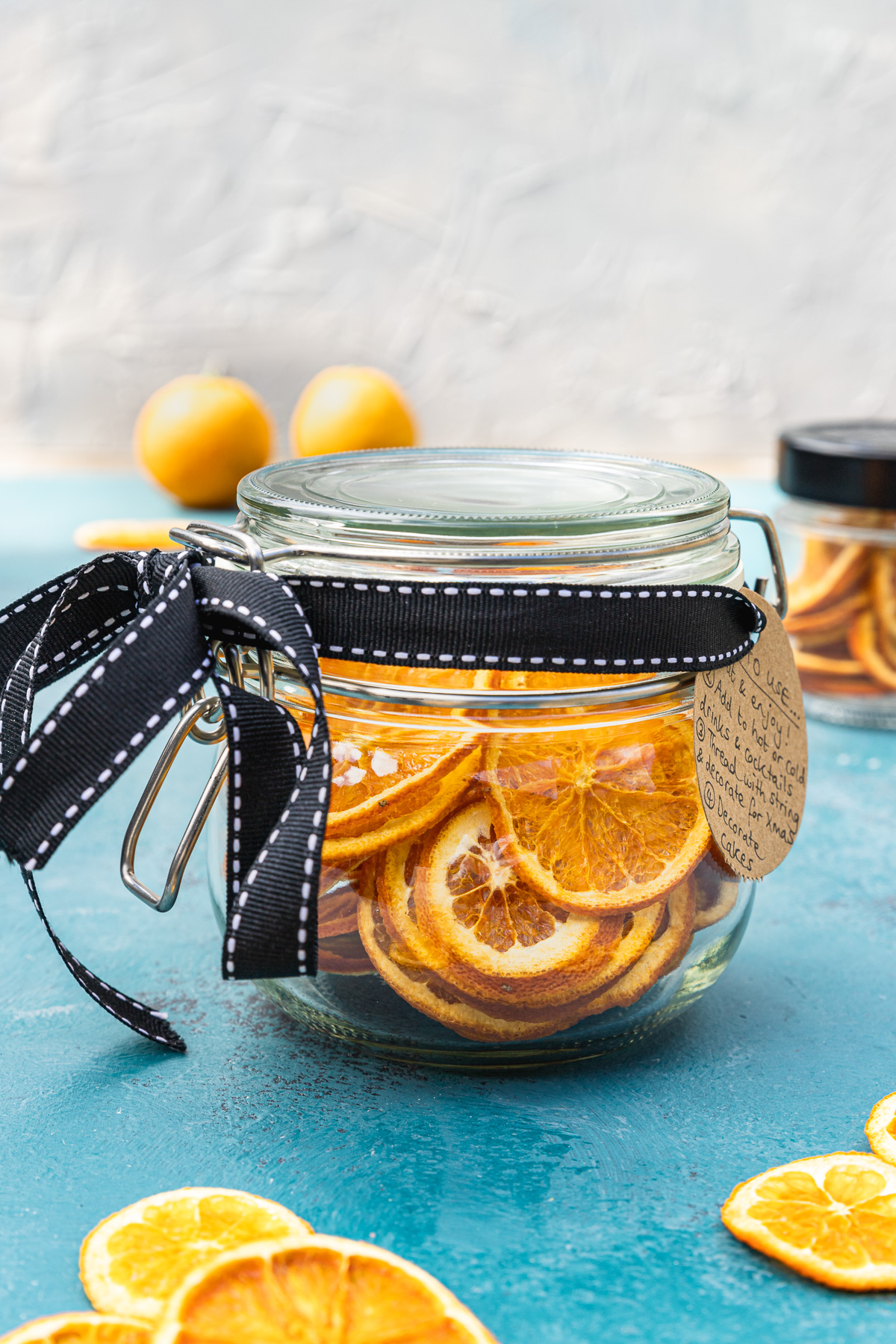 Why dry oranges?
I've always loved simple homemade food gift ideas. I have plenty on the blog already if you'd like to have a browse in my food gifts category.
I came across this idea of making dried oranges when looking for the best way to decorate my famous chocolate orange cake. Then suddenly I was seeing them everywhere. You know how that happens. But yes, they're 'a thing' right now. The only problem is, they're pretty expensive to buy.
That's one good reason to have a go at drying your own orange slices right there! But that's not the only reason:
You only need ONE ingredient. Yes, one – oranges, of course.
You don't need a dehydrator. Just use your regular oven.
You could say they're the easiest homemade gift ever. But they're classy, too.
They have LOTS of uses. Eat them straight, pop into a drink, use as decoration, and much more! (See below for loads more simple ideas!)
About the ingredients
I should say ingredient – singular – because all you need to dry orange slices is ONE thing – oranges, of course!
I use 4 oranges from our tree in the back garden. They happen to be medium sized navel oranges. You don't need to have an orange tree yourself though, of course!
What type of oranges should you use? Any, although for obvious reasons if you can get a seedless or low seed variety like navel oranges or blood oranges – great! The flavour is intensified a lot when they are dried, so the sweeter the better. Try to buy them when they're in season so that they're at their best.
If you can find organic or spray-free oranges then that's perfect. If not, wash them well before slicing and drying.
There are 2 more very OPTIONAL ingredients – dark chocolate for dipping the orange slices in if you so desire. And a tiny sprinkling of sea salt for sprinkling over the chocolate.
How to dry orange slices in the oven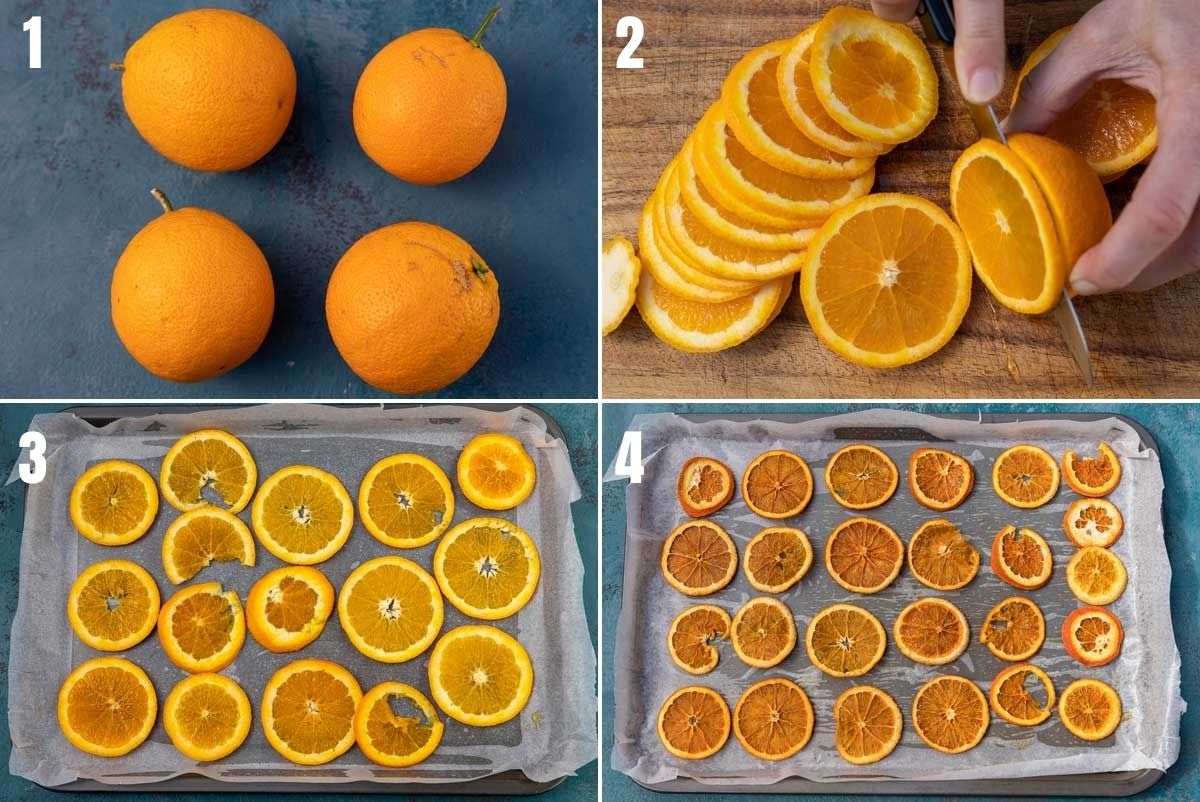 The process is SO easy you'll hardly believe it. But you do need some time. I like to choose a wet or cold day when I'm staying at home anyway. Your oven will be on at a very low heat for quite a few hours, which is great for warming up the house!
Step 1: Grab 4 oranges. Wash them and dry them well.
Step 2: Preheat your oven to 80C/175F.
Step 3: With a small, sharp serrated knife, slice the oranges into thin slices. The thinner the better, but I aim for 2-4mm thick (about 1/8 of an inch). The thicker the slices are, the longer they'll take to dehydrate. You can also use a mandolin or a food processor if you prefer.
Step 4: Pick out any seeds and blot the slices dry with kitchen paper. Lay them on baking trays lined with baking paper. You'll need 3 baking trays. You'll want to fit them in your oven all in one go as the oven is on for so long.
Step 5: Bake for 3.5 to 5.5 hours. Exactly how long will depend on the thickness of the slices. Turn every hour or 1.5 hours so that they dry evenly. They're done when there are no longer any moist spots.
How to use them
The great thing about these is that there are many ways to use them! Here are some of my TOP IDEAS:
1. HEALTHY SNACK. Eat plain or dip in chocolate. Perhaps sprinkle with coarse sea salt, too. A variation on this is chocolate bark! Spread melted chocolate over baking paper, top with the orange slices, let set, then break into big chunks.
Looking for healthy snacks in general? You have to check out this list of 50+ healthy sweet snacks that don't taste boring!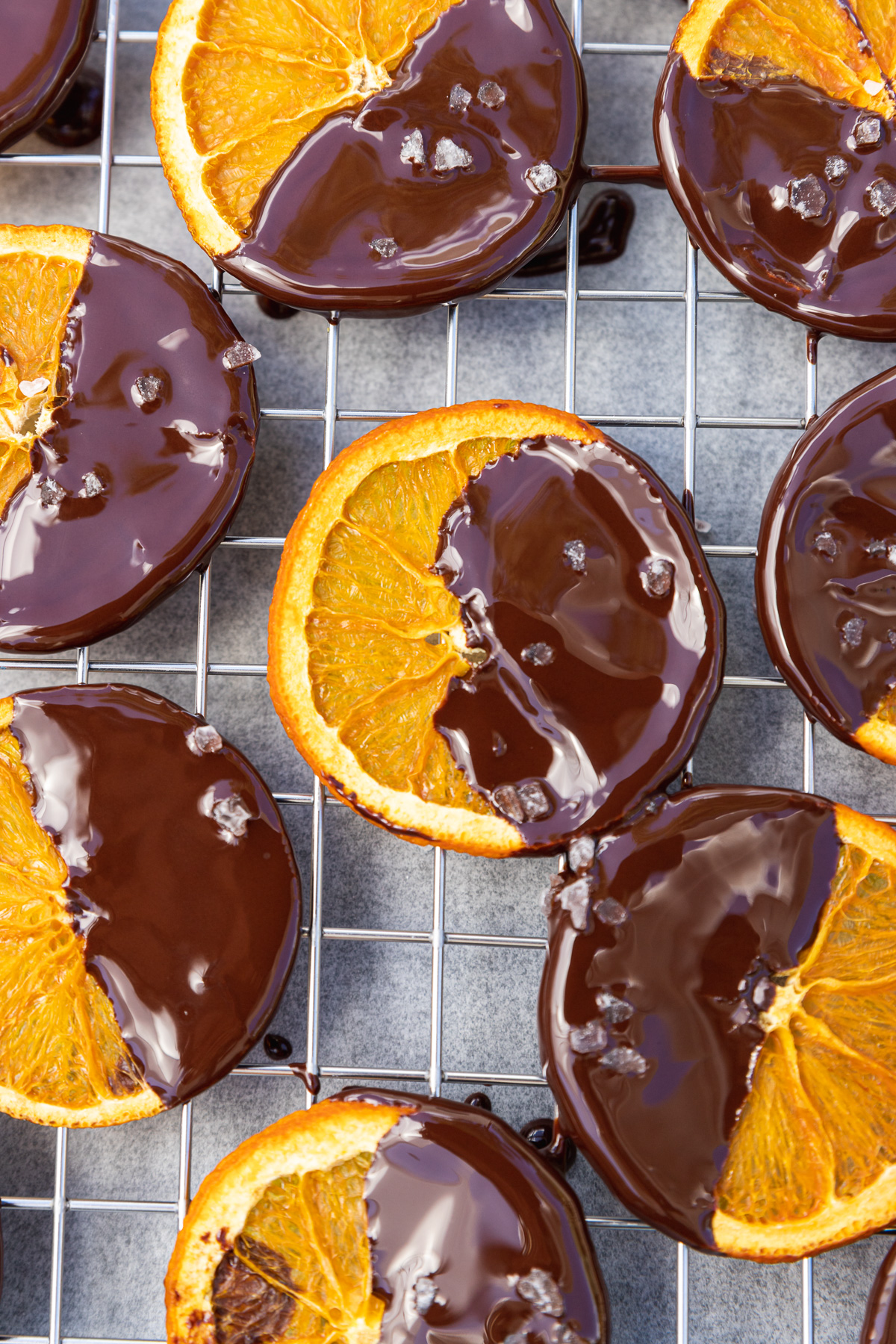 2. GIFTS (SIMPLE & CLASSY!) These make a fantastic easy gift for friends, family, kids' teachers etc. Grab some jars from a dollar store or similar, pile the slices inside and tie a nice ribbon around the top. I like to add a label with ideas for use on too.
You should get around 3 to 4 small jars of slices out of each batch.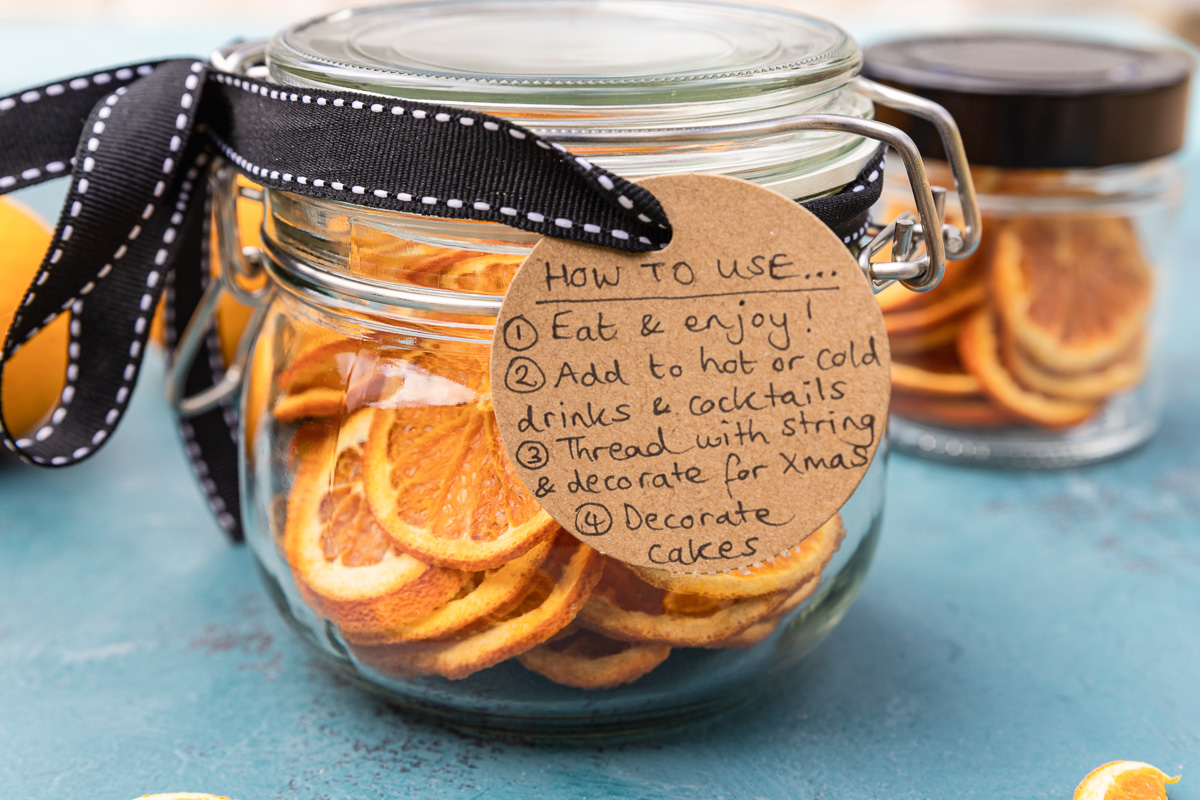 3. ADD TO HOT OR COLD DRINKS. Add flavour and colour to a tea or hot chocolate, a cocktail, glass of champagne, or soft drink such as soda water or cola.
4. CAKE DECORATIONS. I like to decorate my perfect chocolate orange cake and this very easy Italian orange ricotta olive oil cake with these. They'd also make great toppers for cupcakes!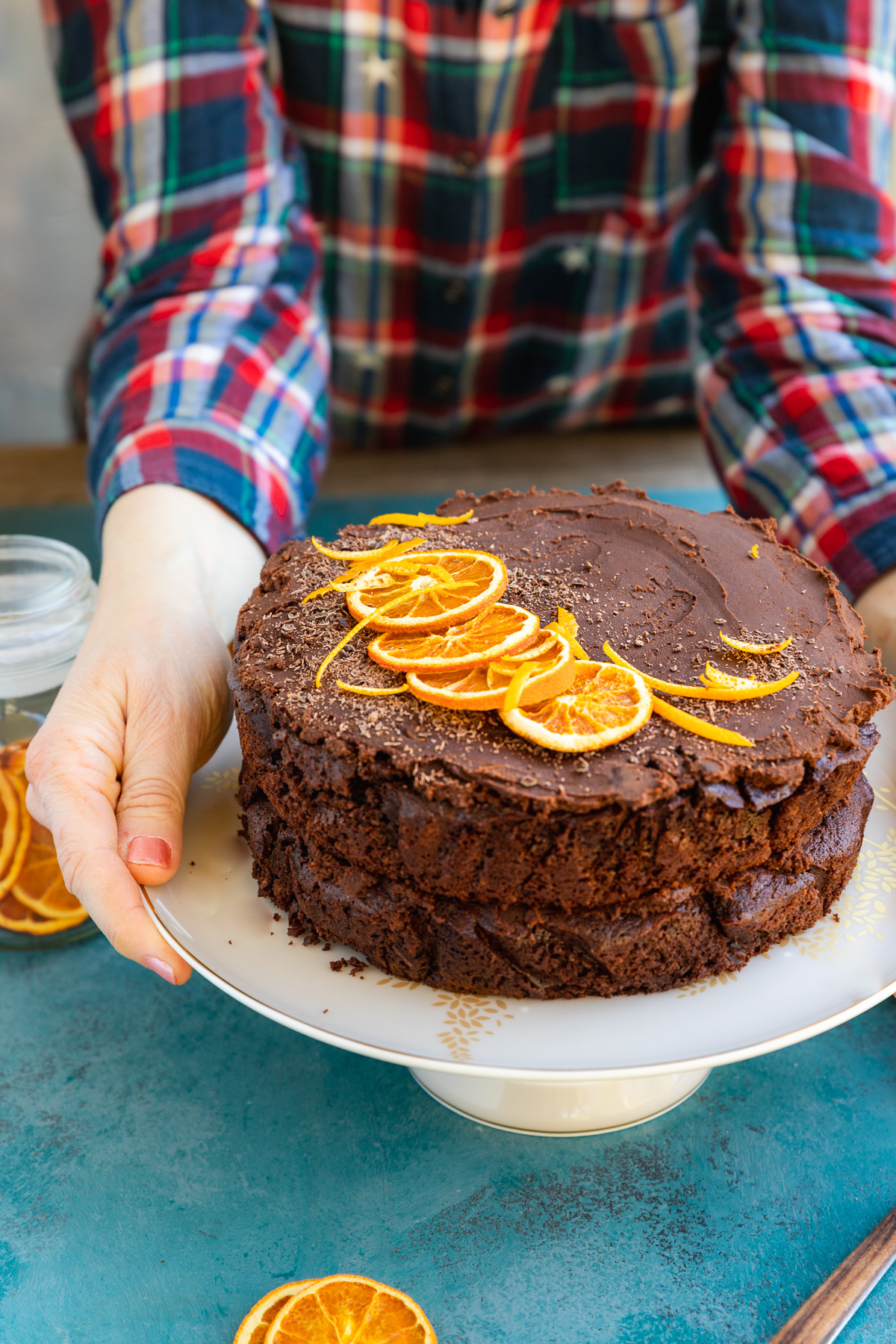 5. GARNISH FOR SHARE PLATTERS & CHARCUTERIE/CHEESE BOARDS.
6. DECORATIONS. Thread string through the natural holes in the slices to make a garland, or make the holes with a skewer or the tip of a sharp knife. Tie knots in the string to keep the orange slices in place. Drape them over your Christmas tree or table decorations.
7. TYING ONTO WREATHS. Add a few to your Christmas wreath for a beautiful splash of colour and citrusy aroma!
8. POT POURRI. Throw into a small decorative bowl with star anise and cinnamon sticks for a quick and easy bowl of natural pot pourri.
9. GIFT TAGS. Tie them onto gift tags – with a sprig of rosemary, maybe?
10. FLAVOURING FOOD. Add to stews, soups, oatmeal, granola or even smoothies (affiliate link!) for a tasty hint of citrus! If you're feeling adventurous, you can even use a grinder or food processor to grind some slices into a powder. Add to herbs and spices to make a citrus rub for meats or fish.
Helen's top tips
Choose bigger slices for dipping into chocolate, making into decorations etc. Use the smaller ones for adding to stews, soups, pot pourri or share plates, or tying to gift tags.
Make them on a cold day. Your oven will be on for a long time – albeit at a low temperature. Kill two birds with one stone and use the occasion to warm up your house as well! 😉
More things to know (FAQs)
How thick should I slice the oranges?
The thinner the slices are, the faster they dry in the oven. Grab a sharp knife (serrated is best) and confidently slice the oranges as evenly as you can. I slice them as thinly as I can, which is usually between 2 and 4mm thick.
Can I use a mandolin?
Absolutely, if you have one. The advantage of using a mandolin is that all your slices will be an even thickness. Then in theory they'll all be perfectly dried at the same time.

Some food processors also have an attachment that can slice. This will work, too!
Isn't it best to put the slices directly onto the oven shelves to let the air circulate?
In theory, yes. But I'm afraid of making a mess of my oven so I prefer to line baking trays with baking paper. The paper also stops the slices sticking. You do have to turn the orange slices every hour or so this way, but it's quick and easy to do that.
How do I know when they're ready?
The slices are ready when they're perfectly dry on both sides. There should be no moist patches left. Sometimes they look very slightly moist still but after a couple of minutes out of the oven they look and feel completely dry.

Experiment a little and you'll see that it's pretty easy to judge when they're ready!
Can I eat the rinds?
You can! However, depending on the type of orange, sometimes it's a little bitter so you may not want to. Unless it's covered in chocolate in which case you probably won't notice!
Can I dry other types of citrus?
Yes! Blood oranges, lemons, limes and grapefruit can all be dried and used in exactly the same way as oranges. It would be especially lovely to pile different types of dehydrated citrus slices into a jar and give them as a colourful, original gift.
How long can you keep dehydrated citrus?
Believe it or not, it can keep for up to 2 years – another reason why it makes such a great gift!

Just make sure that the slices are completely dried. Otherwise they won't last long at all and will quickly go mouldy. Also, they are best stored in an airtight container such as a mason jar.
Can I use a dehydrator instead?
If you have one – of course. Set it to 60C/135F and dehydrate for 3 to 7 hours, depending on the thickness of your slices.
Are dried orange slices healthy?
Does it get any better? Dehydrated oranges are a very healthy, completely natural treat. Dried foods also keep their nutrients for much longer than fresh foods. These are full of vitamin C and antioxidants!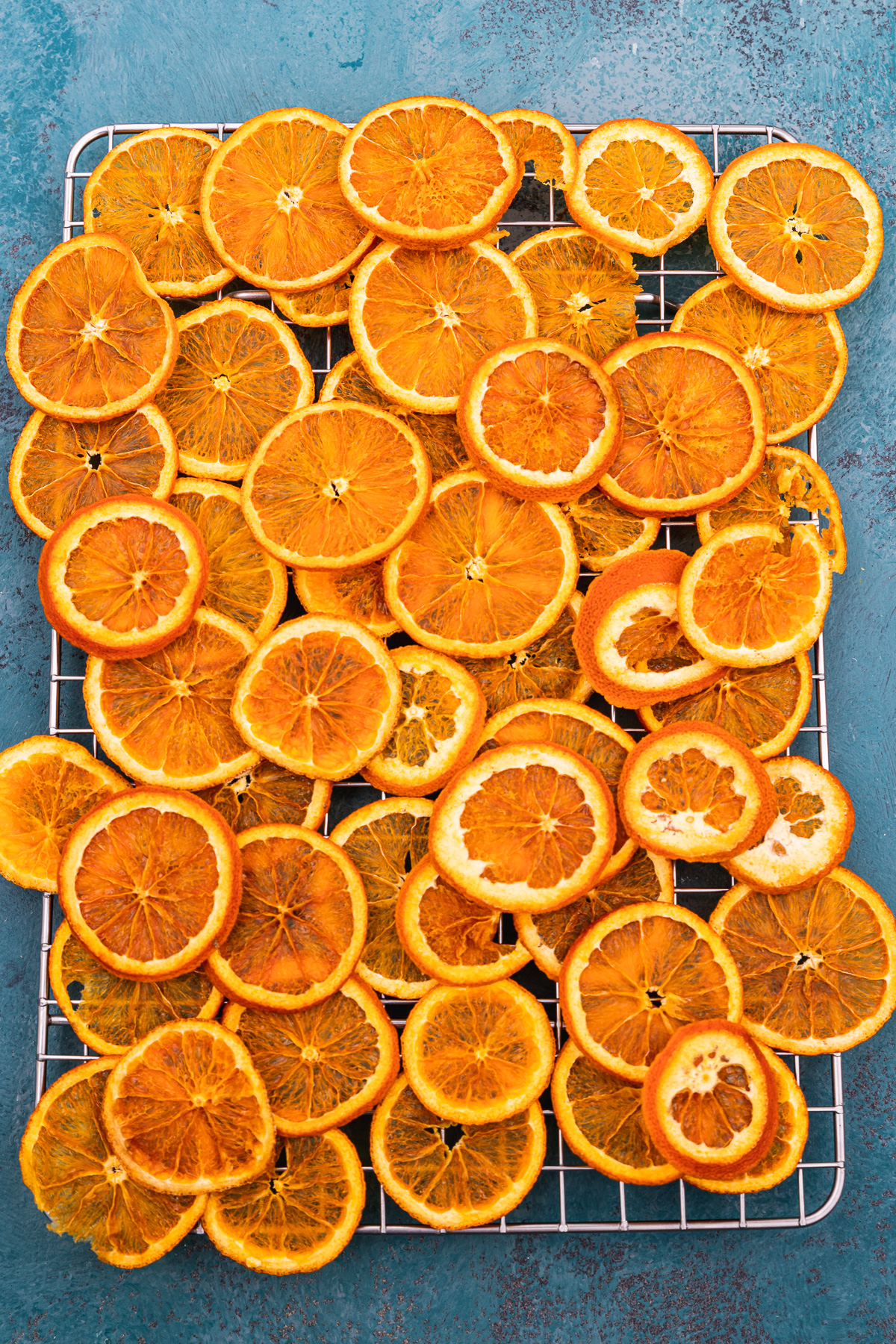 This perfect chocolate orange cake is the most delicious way to use your dried orange slices straight away.
More easy food gifts
Or see all my easy food gift recipes.
IF YOU MAKE THIS RECIPE, LET ME KNOW HOW YOU GET ON BY LEAVING A COMMENT AND RATING BELOW… AND DON'T FORGET TO SIGN UP TO RECEIVE ALL MY NEW RECIPES BY EMAIL!
FOLLOW ME ON FACEBOOK, INSTAGRAM, PINTEREST AND YOUTUBE.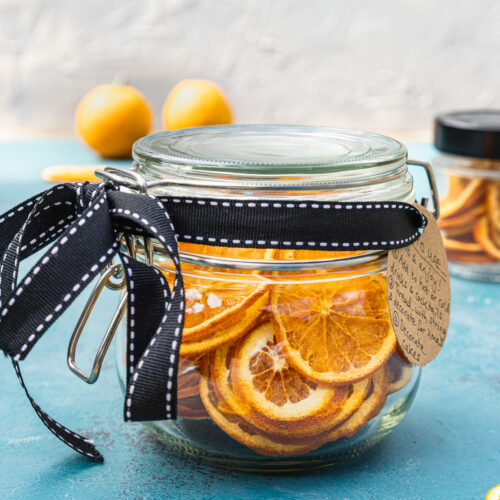 Dried Orange Slices (+ 10 Ways To Use Them)
Don't buy expensive dehydrated citrus slices. They're so easy to make at home. No dehydrator needed. Just slice thinly and dry in your oven at a low heat for several hours. Make a healthy snack out of them, or use in many other interesting ways. What a beautiful and very easy gift for friends, neighbours, teachers – anyone, really!
Ingredients (UK/Australia? Click below for grams/ml)
4

oranges

Ideally navel oranges, or another seedless or low seed variety
Instructions
Preheat the oven to 80C/175F. Line 3 large baking trays with baking paper.

With a small serrated knife, slice the oranges into thin slices 2 to 4mm thick. Blot with kitchen paper to get rid of any excess juice.

Arrange the slices on the baking trays. Make sure they aren't overlapping.

Bake for 3.5 to 5.5 hours until completely dry. Turn over every 1 to 1.5 hours for even drying. The exact drying time will depend on the thickness of the slices. Some may be done before others.

Let cool completely. Store in small airtight jars for up to 2 years. Add a ribbon and gift tag with ideas for use if giving as a gift. Alternatively, dip into chocolate and sprinkle with coarse sea salt.
Notes
Slicing the oranges: Slice the oranges as thinly as you can (2 to 4mm). Any thicker and they'll take much longer to dry (too long!). I find the best approach is to slice quickly and confidently with a small sharp serrated knife. If any slices are too thick or not whole slices, just discard (or try slicing the thick ones in half).
If you have a mandolin, that can work well too. Some higher end food processors also have a slicing attachment.
Why use baking paper? Baking paper avoids making a mess of your oven. It also stops the oranges sticking to the baking trays. You can use a reusable silicon baking mat instead if you prefer.
Dipping in chocolate: If you'd like to dip some of the oranges in chocolate (because why not?) I'd suggest 100 grams or 3.5 ounces of dark (50 – 85% cocoa) chocolate. Simply melt in a small bowl or jug in the microwave in 30-second bursts, dip half of the orange segment in and then let dry on baking paper or a wire rack. Sprinkle on a little sea salt before the chocolate is dry if you like.
Ways to use: healthy snacking, giving as a gift, decorating cakes, garnishing drinks (hot and cold) and/or share plates, cheese/charcuterie boards etc., making pot pourri with cinnamon sticks and star anise, flavouring soups/stews/oatmeal/granola/smoothies, stringing into garlands for Xmas trees and table decorations, tying onto gift tags.
Storing: If you've dried the slices thoroughly, they can last for up to 2 years if stored in an airtight container.
Nutrition
Calories:
5
kcal
Carbohydrates:
1
g
Protein:
1
g
Fat:
1
g
Saturated Fat:
1
g
Polyunsaturated Fat:
1
g
Monounsaturated Fat:
1
g
Potassium:
19
mg
Fiber:
1
g
Sugar:
1
g
Vitamin A:
24
IU
Vitamin C:
6
mg
Calcium:
4
mg
Iron:
1
mg