Gluten-free baking doesn't always live up to its promises, but I don't think you'll be disappointed with these really good one bowl gluten-free brownies. Fussy about your brownies? You should be! With these, I went for melt-in-your-mouth rich and buttery brownies with a deep dark chocolate flavour. They're fudgy AND cakey, with a little chew on top!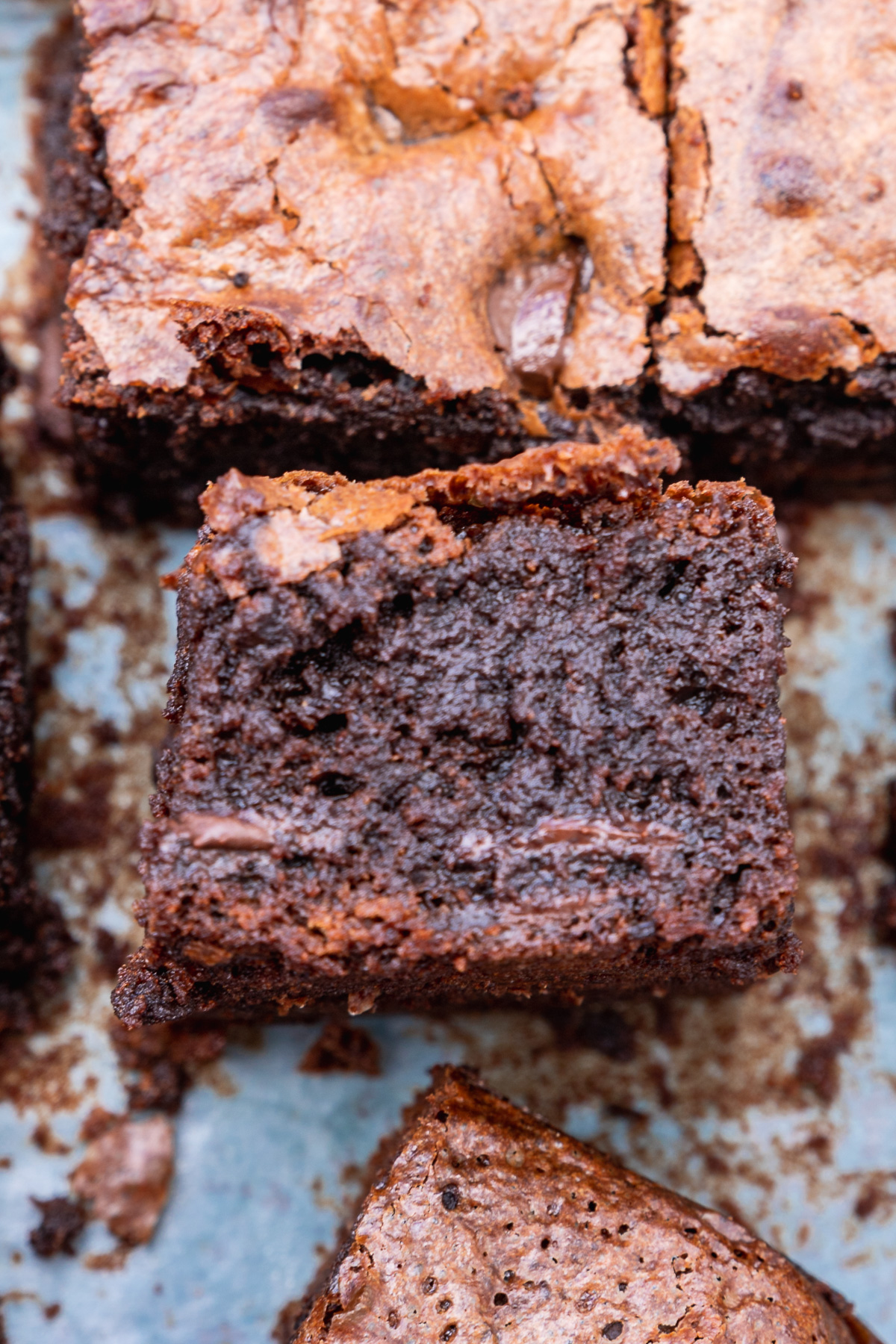 Why they're the best gluten-free brownies
Even if you aren't gluten-free yourself, we all have people in our lives who are. So of course it's a good idea to have an easy and fail-safe gluten-free brownie recipe up our sleeves!
Why the best? They're…
Fudgy, cakey, AND chewy. At last, brownie lovers of all kinds can unite!
Rich and buttery, melt in your mouth, with a rich chocolaty flavour.
Triple chocolate brownies with dark chocolate, cocoa AND chocolate chips. Mmm!
Not too sweet (as brownies go!) with just 1 cup of sugar in the whole batch.
Your friends who aren't gluten-free will love them too! I don't think these taste gluten-free. Without gluten, yes, but no less delicious. No need to make two different kinds.
About the ingredients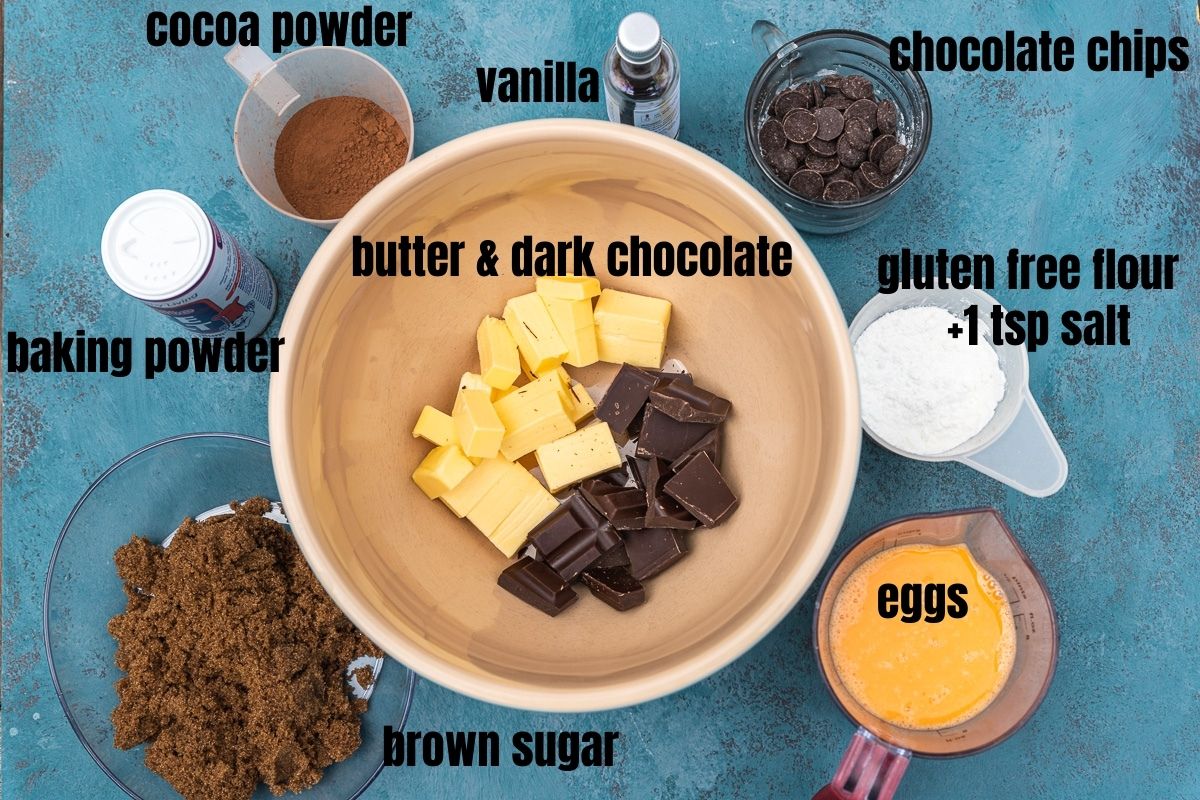 Butter: Use either unsalted or salted. If you use salted, just skip the teaspoon of salt. There's plenty of butter in this recipe for a delicious melt-in-your-mouth result!
Chocolate: I like to add a whole half of a big bar of dark chocolate to these brownies for a super chocolaty flavour. Use a good quality brand with anywhere from 45 to 70% cocoa solids. Milk chocolate will work too if that's what you have.
Dark brown sugar: Adds a hint of 'salted caramel'. Light brown sugar works, too.
Eggs: You'll need 4 – 3 large eggs plus an extra yolk. This helps with the 'cakey fudgy chewy' end result I was looking for.
Cocoa: Yup, real melted chocolate and cocoa powder, too. You can use regular cocoa, Dutch processed or even cacao – all work.
Salt: I add a teaspoon, unless I've used salted butter, in which case I skip the salt.
Vanilla: Add a teaspoon of a good quality vanilla essence.
Gluten-free flour: I use just a standard supermarket all purpose gluten-free flour. The one I use is mostly rice flour and maize and tapioca starches, but you'll find different ingredients in different brands. There's only 1/2 a cup of flour in this recipe, so any kind of gluten-free flour works well.
Baking powder: Just half a teaspoon does the trick for just a little extra rise.
Chocolate chips: Yep, I'm going for triple chocolate. Strictly speaking you could skip the chocolate chips, although I don't advise it! You can use either chips or melts – whichever you have.
How to make them
Scroll down for the full recipe and to print, but here's a quick summary of the steps you'll take to make your brownies.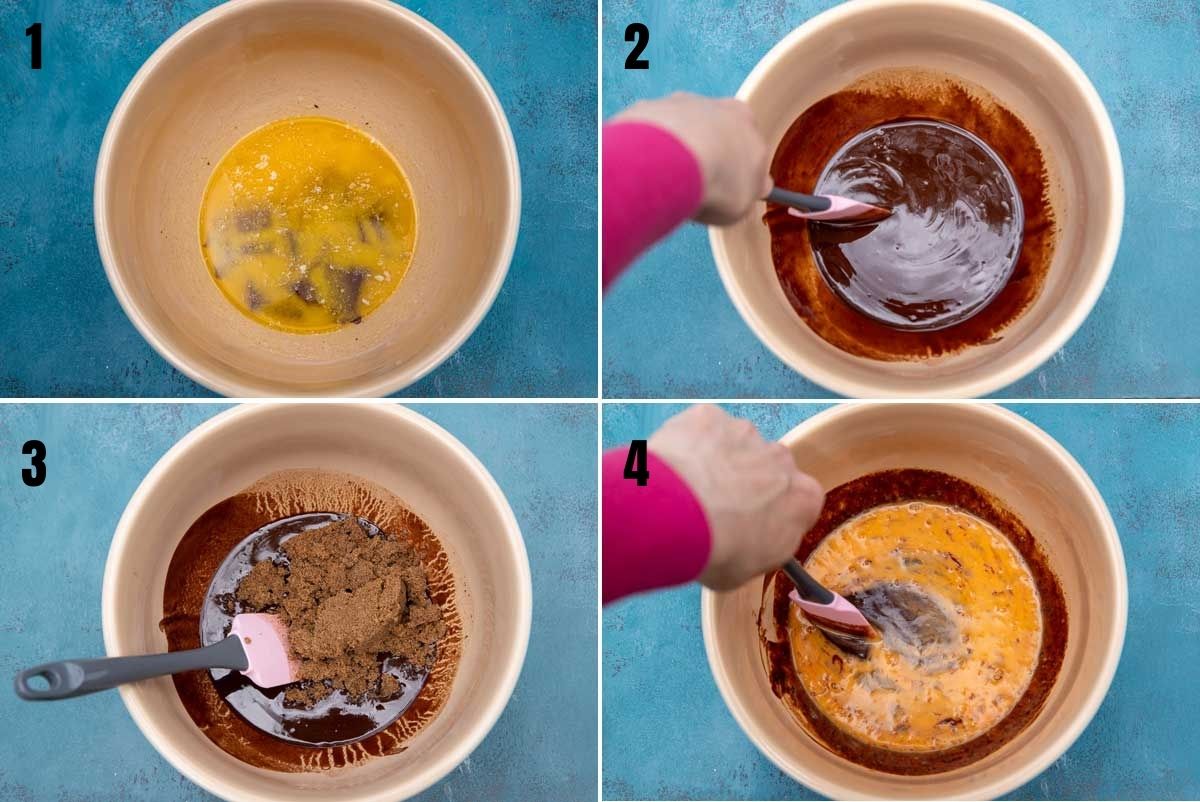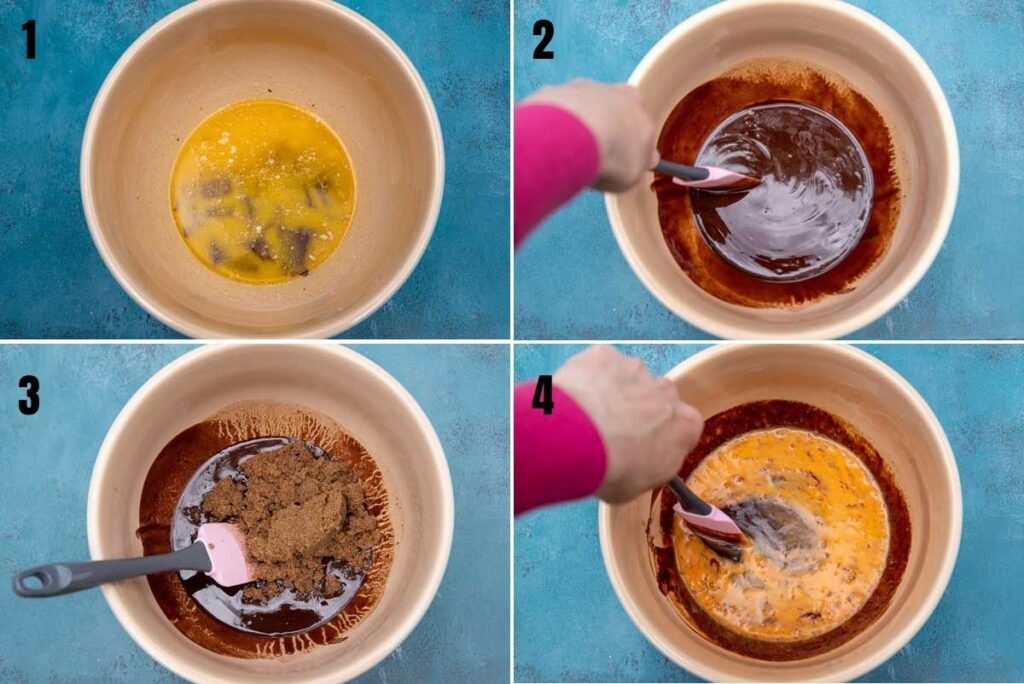 Steps 1 to 2: In a large bowl, melt the butter with the chocolate. I do this in the microwave. 1.5 to 2.5 minutes usually does the trick, depending on your microwave. Stir until smooth.
Steps 3 and 4: Stir in the brown sugar, followed by the eggs and vanilla.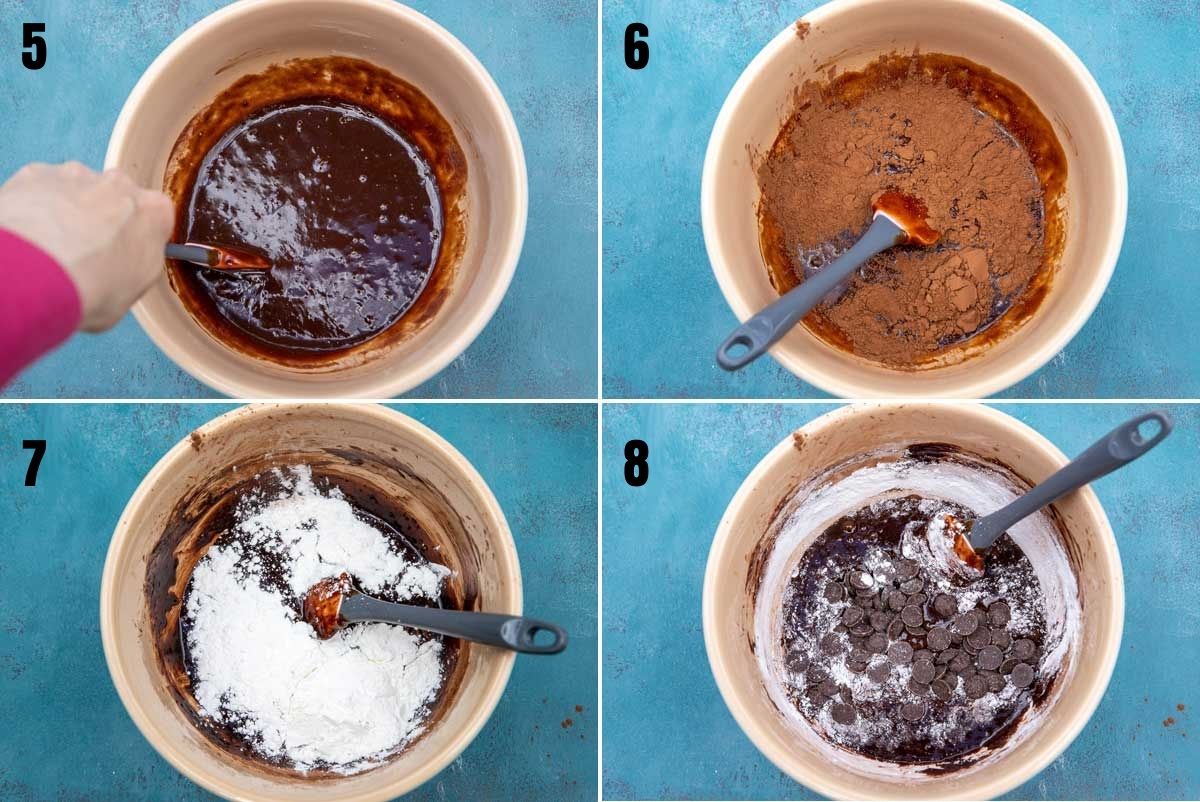 Steps 5 to 6: Give it another good stir. Then stir in the cocoa, baking powder and salt.
Steps 7 to 8: Fold in the flour and chocolate chips until they're just combined. Ready to rock and roll! (or at least to pour the batter into your pan and bake!)
Before and after baking:

Helen's top tips
Use a good quality dark chocolate with between 45 to 70% cocoa solids.
Line your pan with baking paper and spray lightly with oil (or grease with butter) to prevent sticking.
Fold in the flour and choc chips gently, just until there are no more white bits (for the best texture!).
Don't over bake! The brownies are ready when a skewer or the end of a knife inserted into the centre come out a little sticky but not with raw batter on. Better to slightly under bake than over bake.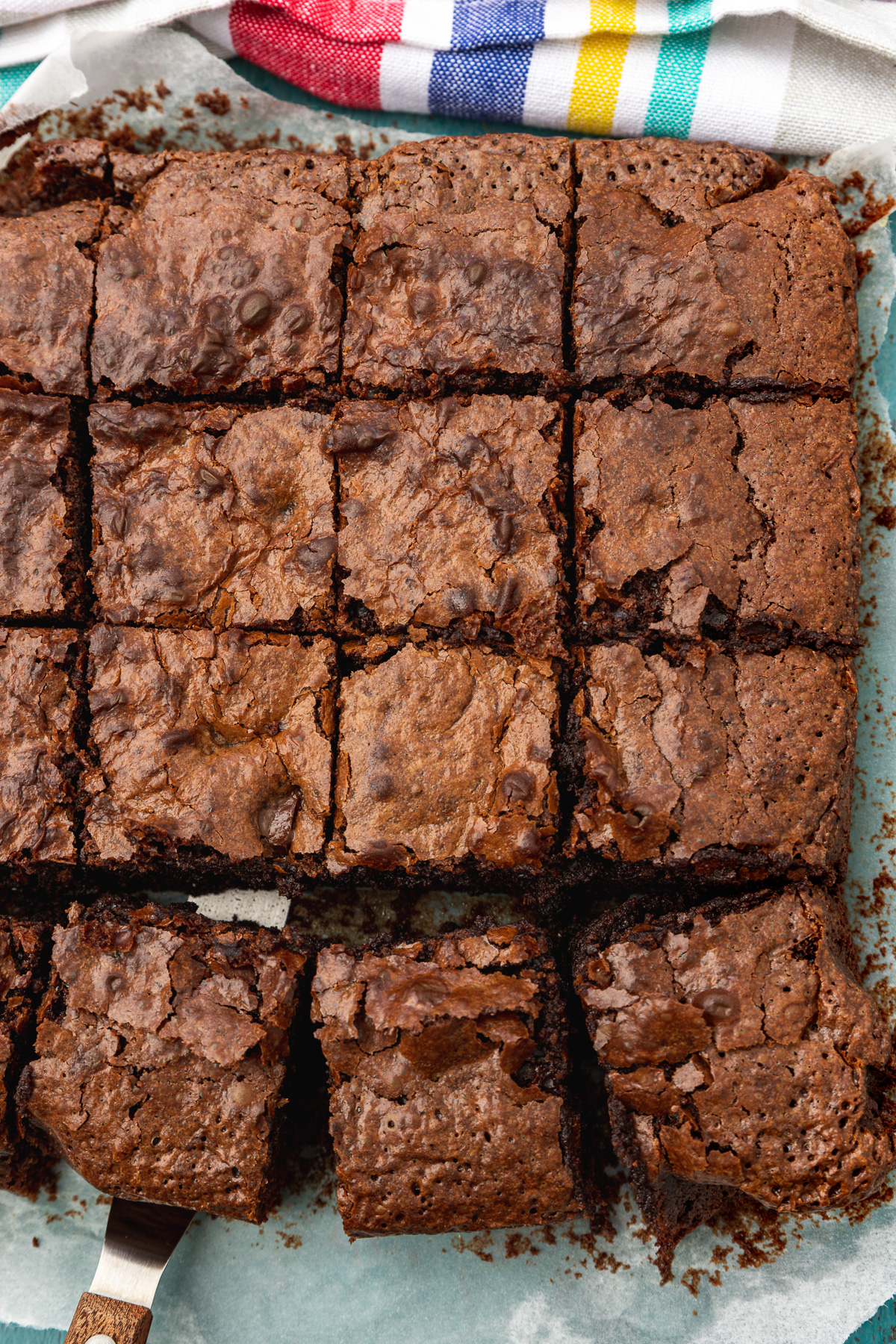 More things to know (recipe FAQ)
How can I make these dairy free?
You can make them dairy free by replacing the butter with an equal amount of melted coconut, canola, olive or avocado oil. Or use vegan butter!
Can I use other kinds of flour?
You can! As there's only a relatively small amount of flour in these brownies (just half a cup) it's easy to substitute in other flours without it changing the overall result too much. The texture may be slightly different, but the brownies will still be melt-in-your-mouth delicious.

You can use almond flour, buckwheat flour or whole wheat gluten-free flour. Coconut flour works too, but you should only use 2 tablespoons because it's highly absorbent.
Can you tell these are gluten-free brownies?
Erm… no, I really don't think so. You know how gluten-free baking can sometimes have that slight 'grainy' quality? Maybe because there's only half a cup of flour in these and so much chocolaty gooey-ness, I can't tell these are gluten-free.
Can I make these without eggs?
To be honest, while there are many possible substitutes for eggs in baking recipes, I haven't tried any of them in this recipe and so can't be sure that you'd get the same result. My suggestion is to search for a really good vegan brownie recipe instead of this one. There are many out there!

If you're on the lookout for good vegan baking recipes, may I suggest this 2-minute peanut butter healthy mug cake? It makes for a very quick and tasty 'emergency' dessert!
Can I reduce the sugar?
Actually… these brownies already contain less sugar than average. Reducing the sugar even more might affect the consistency too much. If you'd like them to be less sweet, I'd suggest just skipping the chocolate chips. Or just have half a brownie!

Just so you know, I also have some healthy brownies on the site – these healthier brownies with avocado. Or try this 30-minute healthy chocolate cake if it's healthy you're looking for.
How long do they last?
Not very long in our house! If you have more self control than we do, they should last well for 3 to 4 days in an airtight container at room temperature, or around a week in the fridge. Eaten straight from the fridge they'll taste more fudgy!

What I often do to 'help' us not eat all the brownies straight away is freeze some for later. Freeze them between layers of baking paper in a container with a lid, or well wrapped in plastic wrap and/or foil. You can freeze them for around 3 months.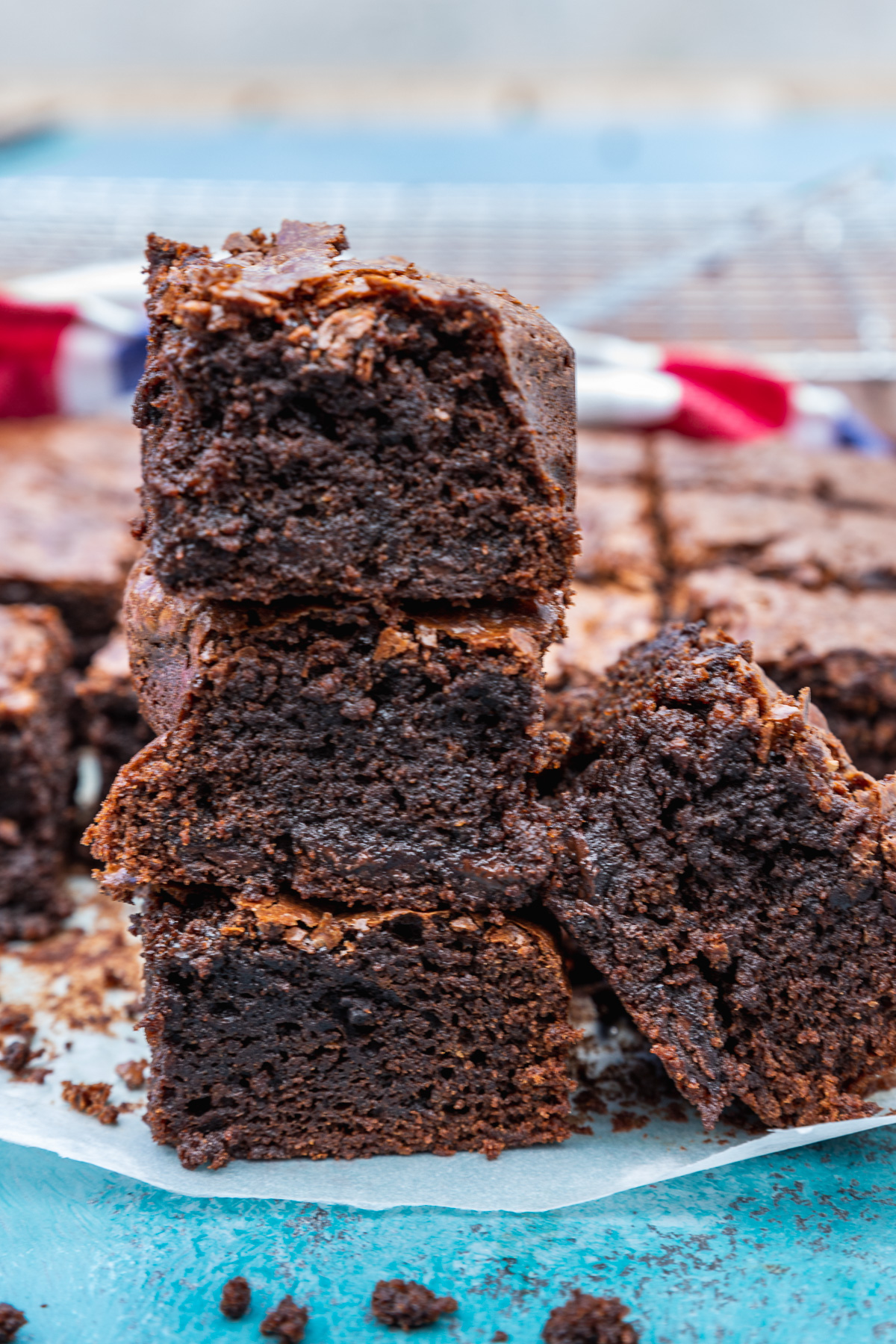 More gluten-free desserts
Here are a few more delicious gluten-free baking ideas:
IF YOU MAKE THIS RECIPE, LET ME KNOW HOW YOU GET ON BY LEAVING A COMMENT AND RATING BELOW… AND DON'T FORGET TO SIGN UP TO RECEIVE ALL MY NEW RECIPES BY EMAIL!
FOLLOW ME ON FACEBOOK, INSTAGRAM, PINTEREST AND YOUTUBE.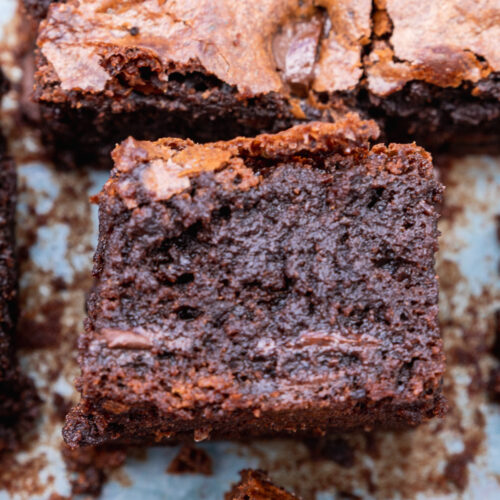 Best One Bowl Gluten-free Brownie Recipe
This is a gluten-free brownie recipe that everyone will love! Fan of cakey, fudgy, or chewy brownies? Somehow these triple chocolate brownies are all 3! Made all in one bowl and with just 25 minutes in the oven, these are a fail safe recipe all round.
Ingredients (UK/Australia? Click below for grams/ml)
150

grams

butter

= ⅔ cup or 11 tablespoons

100

grams

dark chocolate

= 3.5 ounces (broken into pieces)

185

grams

dark brown sugar

= 1 cup or 6.5 ounces

3

large

eggs

(In Australia I buy the eggs that are labelled 'extra large' or 700 grams. I believe egg sizes are the same as this in the US, but the equivalent in the UK is 'large' eggs.)

1

large

egg yolk

1

teaspoon

vanilla essence

30

grams

cocoa powder

= ¼ cup or 1 ounce

½

teaspoon

baking powder

1

teaspoon

salt

(leave this out if you use salted butter)

65

grams

gluten-free flour

= ½ cup or 2.3 ounces

95

grams

chocolate chips

= ½ cup or 3.3 ounces
Instructions
Prepare an 8 x 8 inch (20 x 20cm) square baking pan by lining it with baking paper and spraying lightly with oil (or greasing with butter). Preheat the oven to 180C/355F.

Melt the butter and chocolate together in a large bowl in the microwave in 30-second bursts (1.5 to 2.5 minutes, depending on your microwave).

150 grams butter,

100 grams dark chocolate

Stir well until the butter and chocolate are fully melted and smooth. Add the sugar and stir that in as well.

185 grams dark brown sugar

Let cool slightly. Then whisk the eggs and the egg yolk lightly and stir them into the mixture.

3 large eggs,

1 large egg yolk

Stir in the vanilla, then the cocoa, baking powder and salt.

1 teaspoon vanilla essence,

30 grams cocoa powder,

½ teaspoon baking powder,

1 teaspoon salt

Stir in the flour just until you can't see any more white bits. Then fold in the chocolate chips gently.

65 grams gluten-free flour,

95 grams chocolate chips

Pour the mixture into the prepared baking pan and smooth out to the edges. Bake for around 25 minutes or until the edges are set and a skewer/sharp knife inserted into the centre of the brownies comes out with a bit of sticky (but not raw) batter on it.
Notes
Melting the butter and chocolate: I usually use my microwave for this. If you don't have one or you prefer, you can melt in a bowl set over a pan of boiling water (don't let the bowl touch the water).
What kind of chocolate to use: I like to use a good quality dark chocolate with between 45 to 70% cocoa solids. A chocolate with a higher percentage of cocoa solids will make for a slightly darker and less sweet brownie.
Sugar: These brownies also work well with light brown sugar if you don't have dark.
Flour: My gluten-free flour is rice flour based. Other brands may contain different ingredients such as corn flour or garbanzo bean flour, which are fine. You can also use almond flour or spelt flour instead if you like. Your flour may or may not contain xanthan gum. No need to add any if it doesn't.
I can confidently say that most gluten-free flours will work in this recipe as it only contains half a cup! The texture may be slightly different with different flours, but the brownies will still be delicious.
You can even use ordinary plain flour in this recipe successfully if you don't need them to be gluten-free.
How to know when they're done: The brownies are done when the edges are set but a sharp knife or skewer poked into the centre comes out with sticky (but not completely raw) brownie batter on it. I find 25 minutes in the oven is perfect, but start checking from 22 minutes. Better to slightly under bake than over bake!
Storing/Freezing: In an airtight container, these brownies will keep well for 3 to 4 days at room temperature. Pop them into the fridge and they'll keep for around a week. You can also freeze the brownies in an airtight container or well wrapped for up to 3 months.
Nutrition
Calories:
212
kcal
Carbohydrates:
22
g
Protein:
3
g
Fat:
13
g
Saturated Fat:
8
g
Polyunsaturated Fat:
1
g
Monounsaturated Fat:
3
g
Trans Fat:
1
g
Cholesterol:
68
mg
Sodium:
235
mg
Potassium:
118
mg
Fiber:
2
g
Sugar:
17
g
Vitamin A:
316
IU
Vitamin C:
1
mg
Calcium:
40
mg
Iron:
1
mg