Last Updated on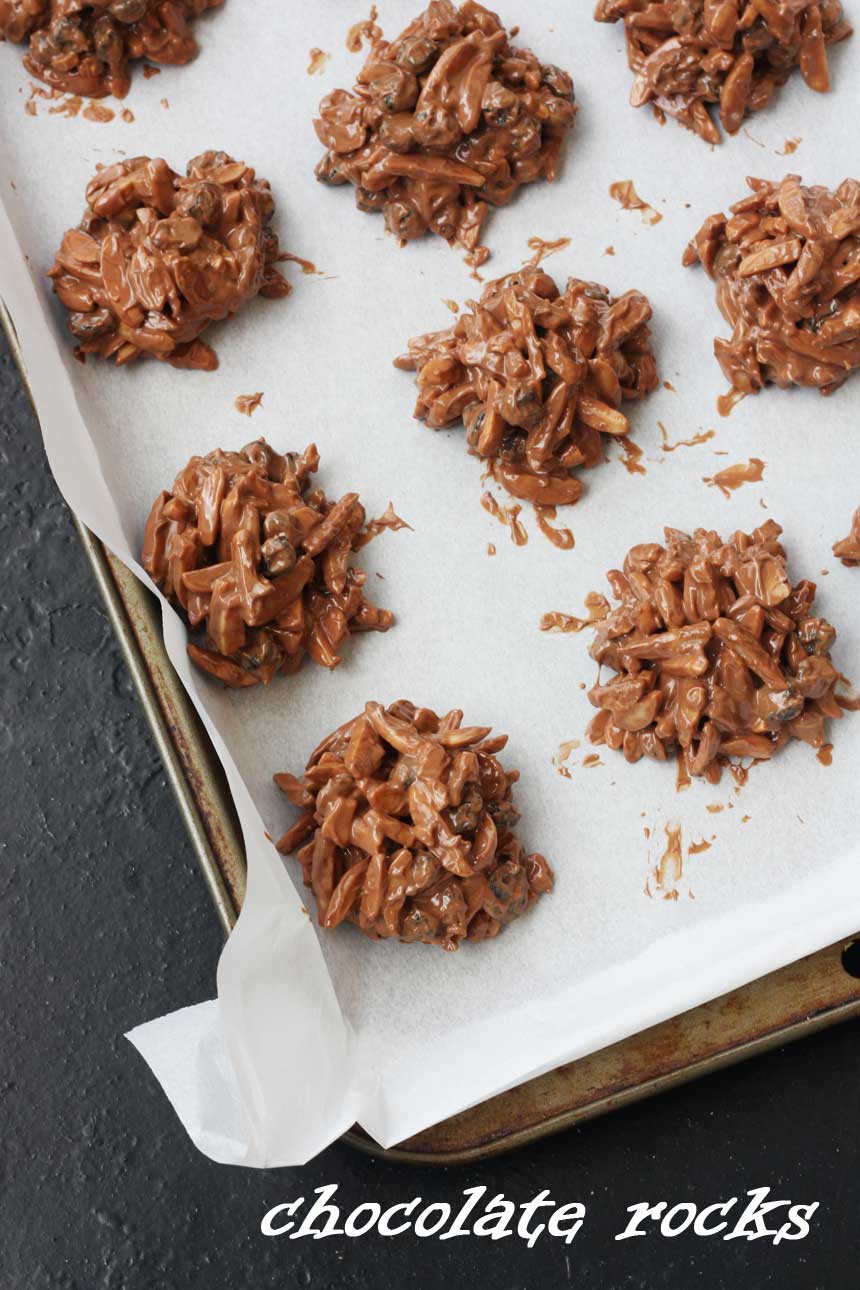 Sitting here in my semi-usual post-writing spot in the local pub, coffee by my side, I'm not really feeling myself. Thanks to a whopper of a cold, my eyes are watery and my nose is a tap and starting to do a very convincing Rudolf impression. Worst of all, my brain feels 'foggy', to the point that when I first sat down I could not for the life of me think of when and why I made these chocolate rocks. Great start, Helen! One reader suggested to me after my last post that maybe switching from coffee to beer in the pub might help with this kind of thing. Right now I'm seriously thinking that she might be right (thanks, Susan!)
You'll be happy to know that the reason for the chocolate rocks soon came flooding back to me, but this got me thinking about this thing we call 'brain fog'. Ever get that? I certainly do, and not just when I have a cold. Over the years it has caused me to do terribly in an exam, leave a laptop in an airport security area (remember that?), leave ALL of my makeup and toiletries at home when going to stay on a remote camp site with not a shop for miles (oh yes – that one borrowed lipstick was used to death on my eyes, lips and cheeks all week long), and just recently missing an emergency dental appointment that I was really lucky to get. And then of course there are the lesser kind of 'senior moments', if you like, such as losing my keys, forgetting where I've parked my car or spacing out at my desk.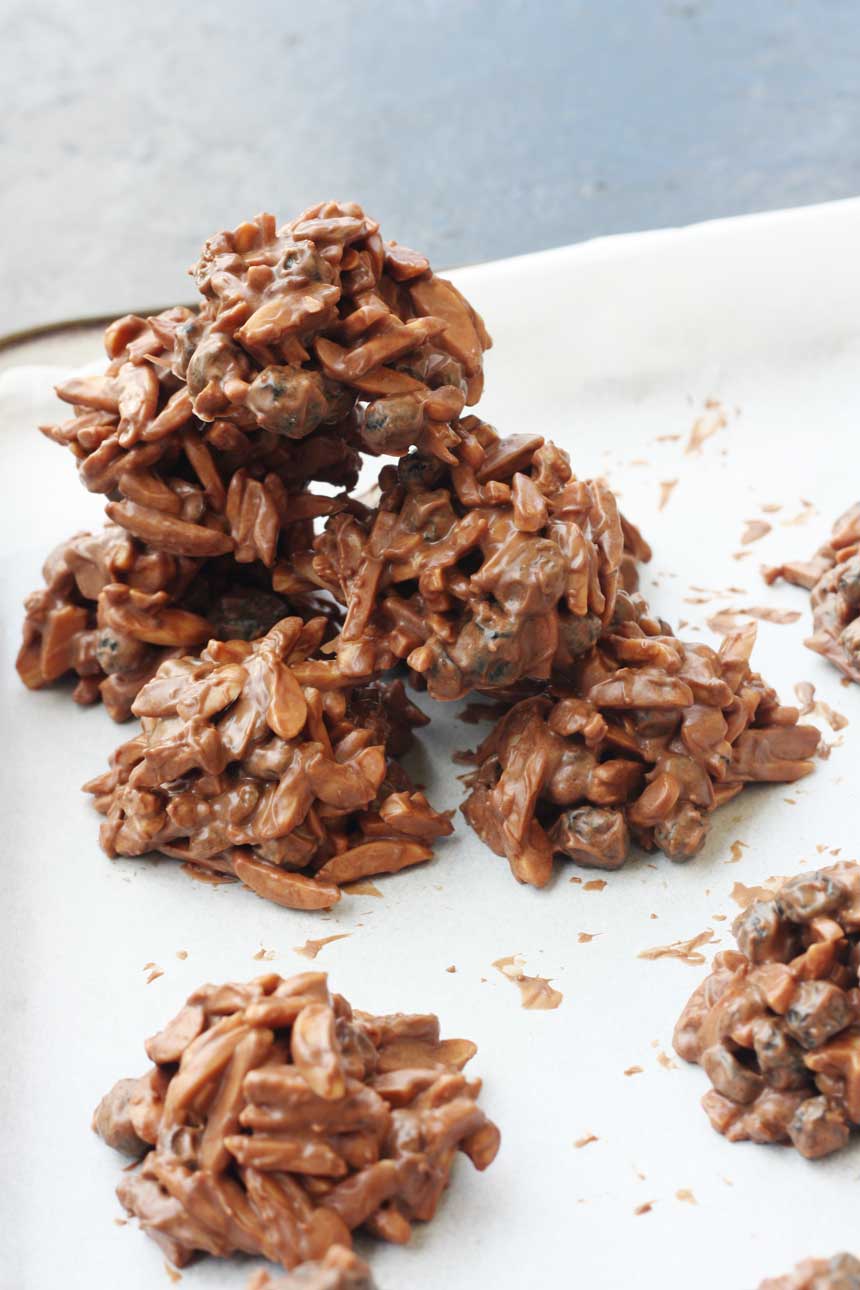 Some might say that all this just means I'm a forgetful so-and-so, but I'm going to choose to be a bit kinder to myself on this and keep insisting that it's simply a bit of occasional absentmindedness, otherwise known as 'brain fog'. Now, according to Mr. Google, this is an actual medical condition that is surprisingly common among people of all ages. Among other things, the symptoms are muddled thought processes, difficulty recalling things, poor memory, disorientation and tiredness. Yup, that was me a few moments ago and probably during all those forgetful incidences described above.
Aaanyway, you are going to love me for the way I'm going to link all this up with my recipe today. I also found out from Mr. Google that you can fight back against brain fog with good nutrition and digestion, especially foods that reduce inflammation such as green veggies, healthy fats and berries, controlling stress and making sure you get enough exercise. OK, no real surprises there, but here's the part that I found exciting. I just found a list of six foods that you can eat to 'clear up mental fog' and 'boost brain health':
Avocados (mmm … my favourite … great news!)
Blueberries
Beans
Nuts and seeds
Wild salmon
Dark chocolate
The article I referred to is here if you're interested in finding out more about the specific health benefits of these foods, but what I'm excited about is that all three of the ingredients in my recipe today appear on this list: blueberries, almonds and chocolate. OK, so I'm cheating a little on the chocolate part as I used milk chocolate in my version, but you could easily use dark chocolate instead if you'd like to keep these treats extra healthy.
So the recipe for these little chocolate rocks hardly needs any explanation at all. Simply melt chocolate, mix in your choice of nuts (and dried fruit if you like) and spoon out onto baking paper in little piles that look like rocks. Let them harden in a cool place and you're ready to 'rock' and roll. Like so …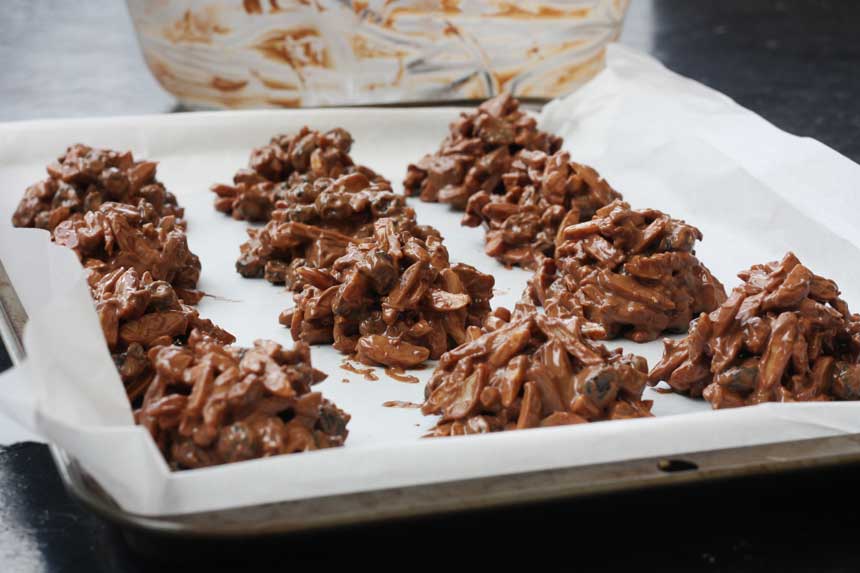 As you can see from this next picture, I put some of these into a little food gift bag and tied it up with a pretty ribbon and it made a simple but certainly very well received birthday gift for my sister-in-law.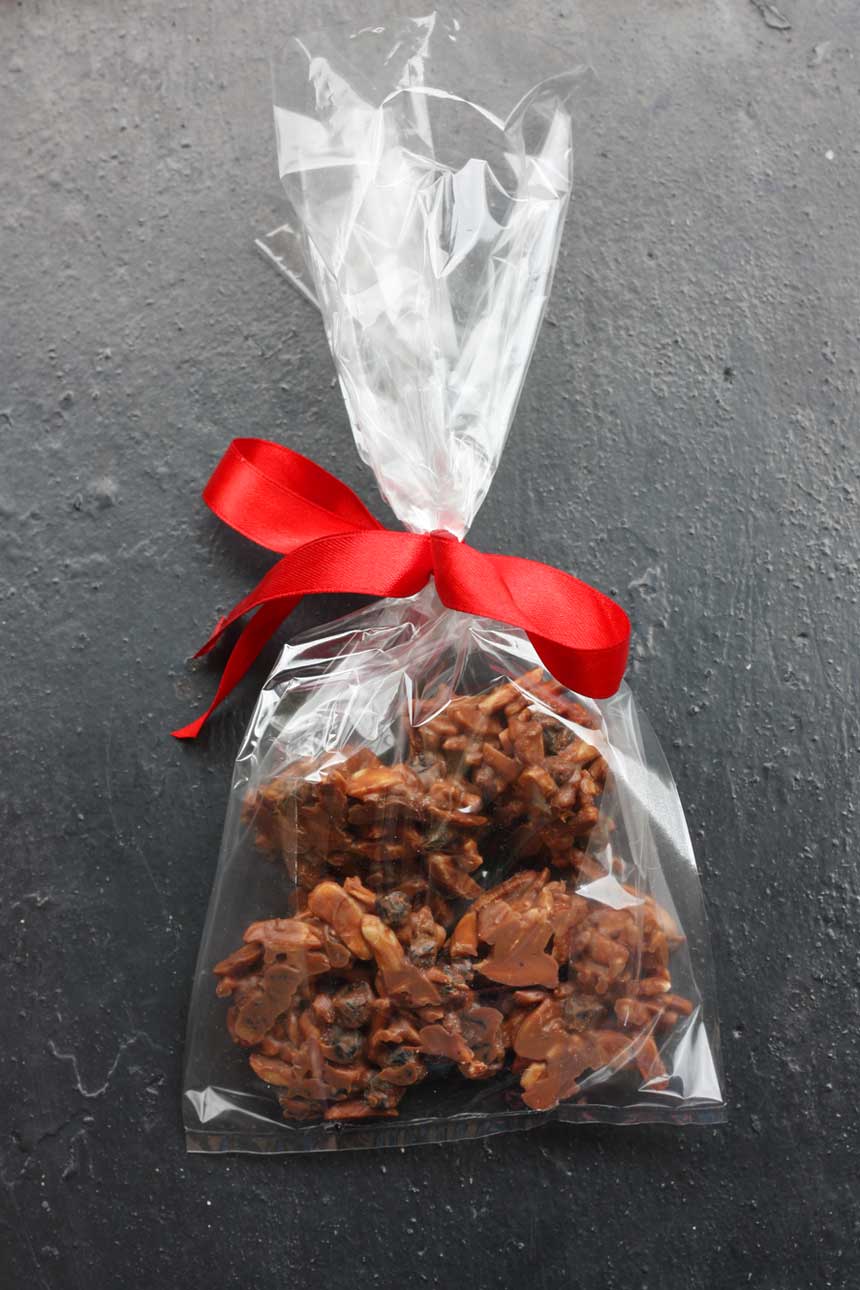 I used chopped almonds and dried blueberries for mine, but macadamia nuts and chopped apricots work well, as do cashew nuts and cranberries or even just mixed unsalted nuts and raisins. Any kind of nuts and dried fruit would work. Maybe you could even 'dare' to add in a smidgen of peanut butter or some caramel bits, although if you do this you might not be helping your brain fog quite so much.
I considered changing the title of this post to 'banish brain fog forever with this recipe' but I think that might be taking things a little too far. I can't claim that you'll never have another senior moment if you make these chocolate rocks, but it's certainly a great excuse to make some for yourself as well as give them away as a gift!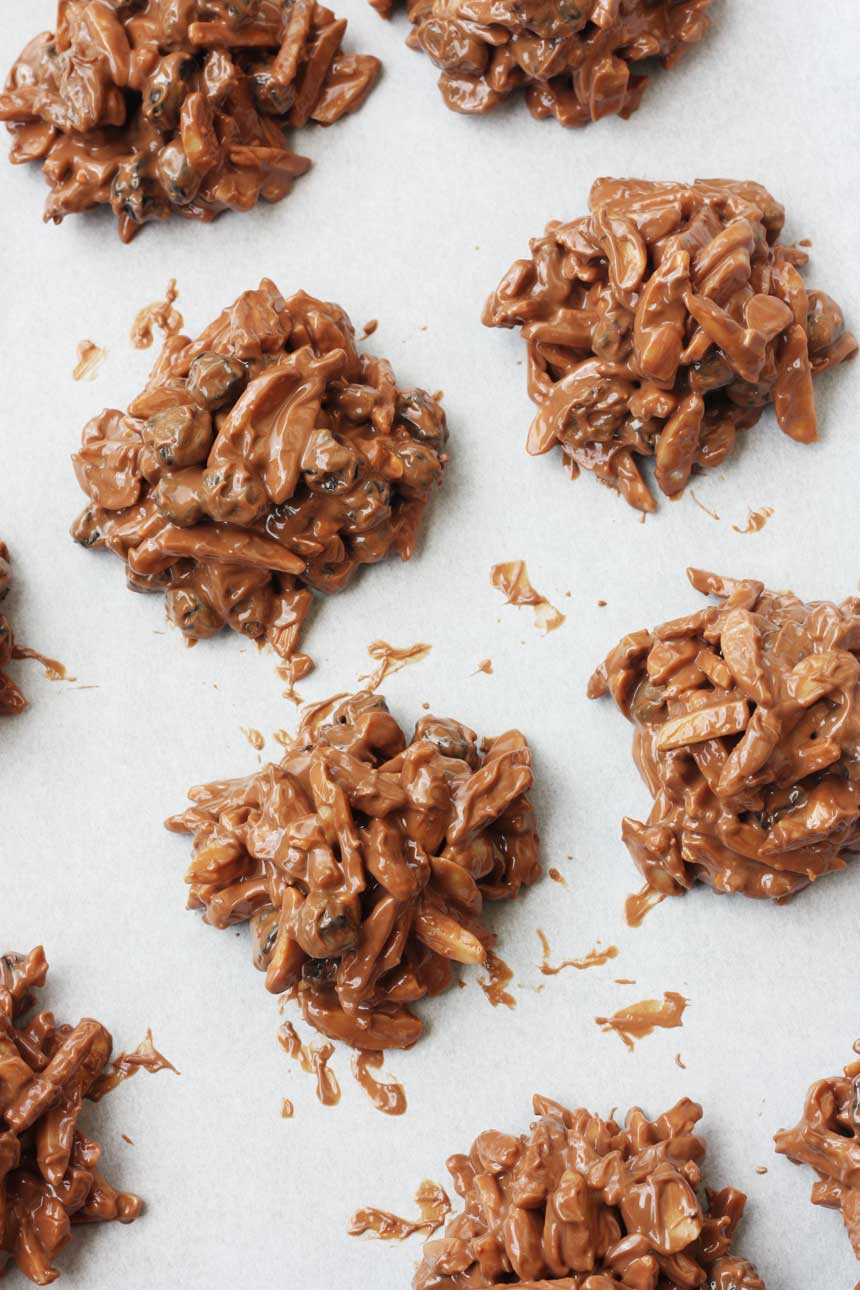 So I'm sure you can guess what question I'm going to leave you with today…
Had any senior moments lately?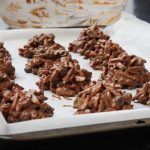 Print
Homemade food gift: chocolate rocks
Need a quick gift for a friend or relative's birthday or perhaps for a dinner party host? These simple almond and blueberry 'chocolate rocks' are perfect. You need just 3 ingredients and barely 5 minutes to make them.
Servings
10
to 15 little 'rocks', depending on the size you prefer
Ingredients (UK/Australia? Click button below for grams & ml)
7

ounces

chocolate

I used milk, but use dark or white if you prefer

2.5

ounces

dried fruit

I used blueberries

5.5

ounces

nuts

I used chopped almonds
Instructions
Line a baking sheet with baking paper.

Melt the chocolate in a microwave in 30-second bursts or in a bowl over a pan of boiling water.

Stir in the fruit and nuts until all of the nuts and fruit are well coated in the chocolate.

Scoop up spoonfuls of the mixture and place them in little piles on the baking sheet. Leave them to set in a cool place.
Notes
These 'chocolate rocks' are great with any combination of nuts and dried fruits. I've tried cashew nuts, chopped almonds and macadamia nuts and then the same with blueberries added in. These were all delicious, but really the world is your oyster ... be creative and try other combinations and let me know what you think!
Nutrition
Calories:
216
kcal
|
Carbohydrates:
21
g
|
Protein:
3
g
|
Fat:
14
g
|
Saturated Fat:
5
g
|
Sodium:
11
mg
|
Potassium:
154
mg
|
Fiber:
2
g
|
Sugar:
15
g
|
Calcium:
17
mg
|
Iron:
1.1
mg
Follow me on Pinterest!
Follow @scrummylane to pin more quick and easy recipes for later
I hope you enjoyed this post! You can subscribe to receive posts directly to your inbox by entering your email address in the box below or at the top of the sidebar on the right.
You can also find more from Scrummy Lane on Facebook, Pinterest, Twitter and Instagram and follow me on Bloglovin! Thanks so much for reading!
*This post may contain affiliate links which means that if you click on a link and make a purchase I get a small percentage of the amount you spend. At no extra cost to you, of course! Thank you!*