Have you ever wished there was a way to make frosted cupcakes a bit healthier? May I be bold enough to suggest that this is the best vanilla cupcake recipe? It's low in sugar and butter and contains Greek yogurt for extra protein, but it still tastes like a decadent treat. These party cupcakes are quick and easy to make, and there's no complicated frosting!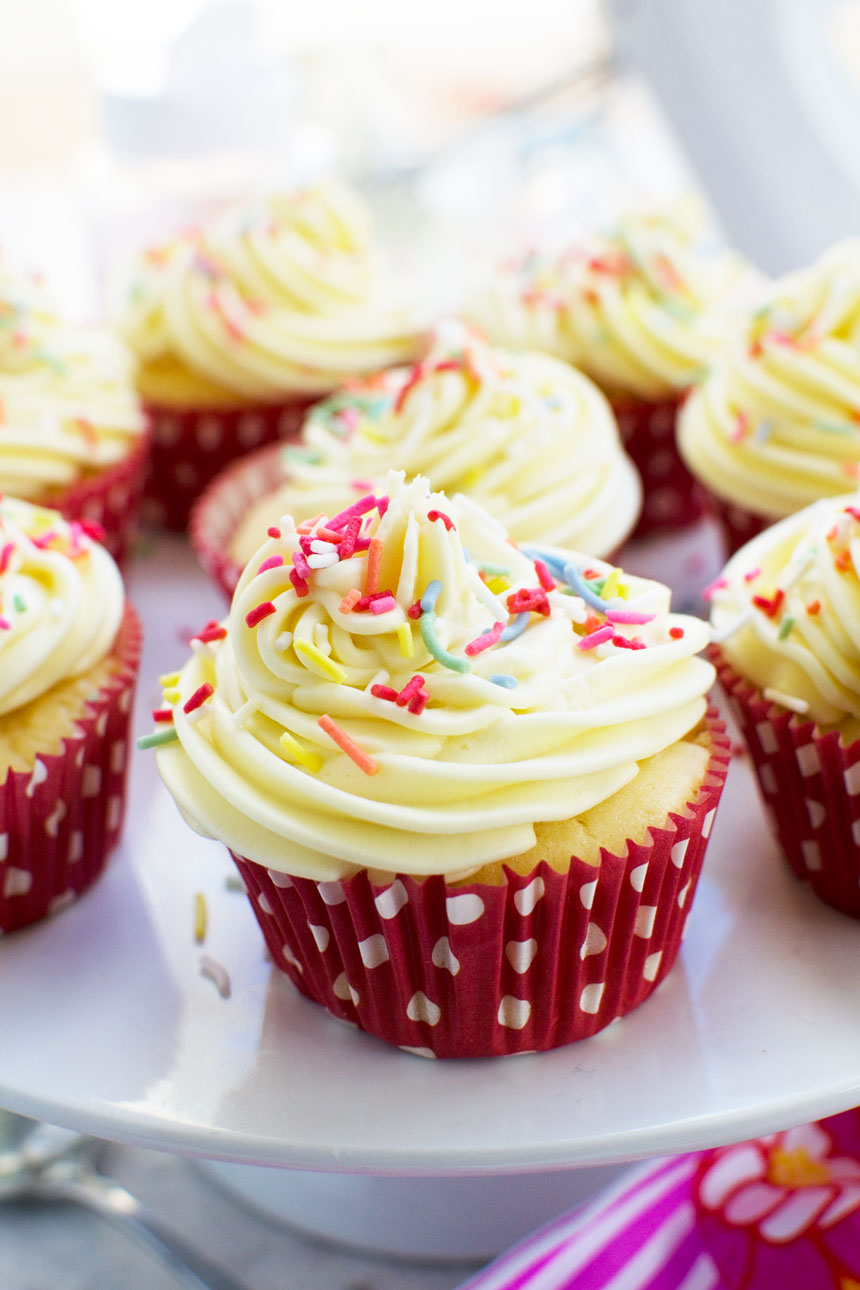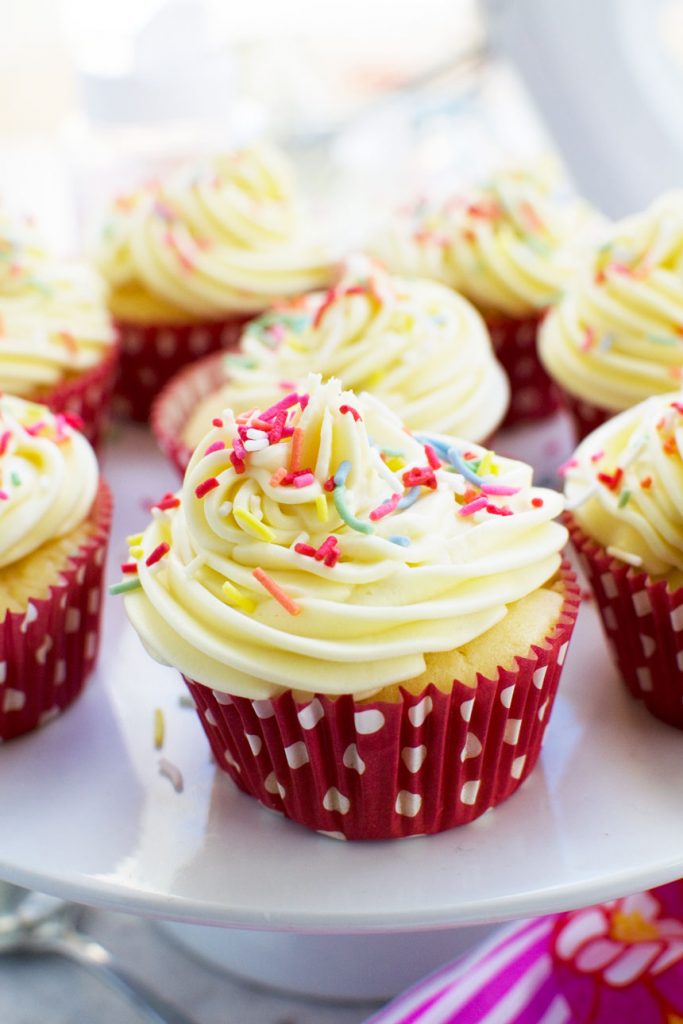 I consider it the greatest compliment when people enjoy a healthier cake I've made without realising it's been 'healthified'!
Without meaning to blow my own trumpet, I've never met anyone who didn't rave about these lower sugar Greek yogurt blueberry muffins. When I served the 'digger cake' made with this 30-minute healthy chocolate cake recipe at my son's first birthday party, no one could believe it was made with hidden veggies and no refined sugar.
Which is why I'm thrilled to have developed a healthier party cupcake recipe that still tastes like a treat.
I served them at my son's third birthday party and I don't think anyone noticed that they were healthier vanilla cupcakes than average 😉
What makes them healthier?
They aren't saintly. They still have a bit of sugar in them – half a cup of sugar in a batch of 12 to 14, to be exact. But they're nowhere near as sickly sweet as your average party cupcake, which usually contains a full cup of sugar.
They contain just 1/3 cup butter which is a little less than in an average cupcake recipe.
They also contain some Greek yogurt. Hello extra protein!
The frosting contains just 2 ingredients – cream cheese and white chocolate. Not saintly either, but there's no butter, and no icing sugar. The only sweetener is the white chocolate.
How to make them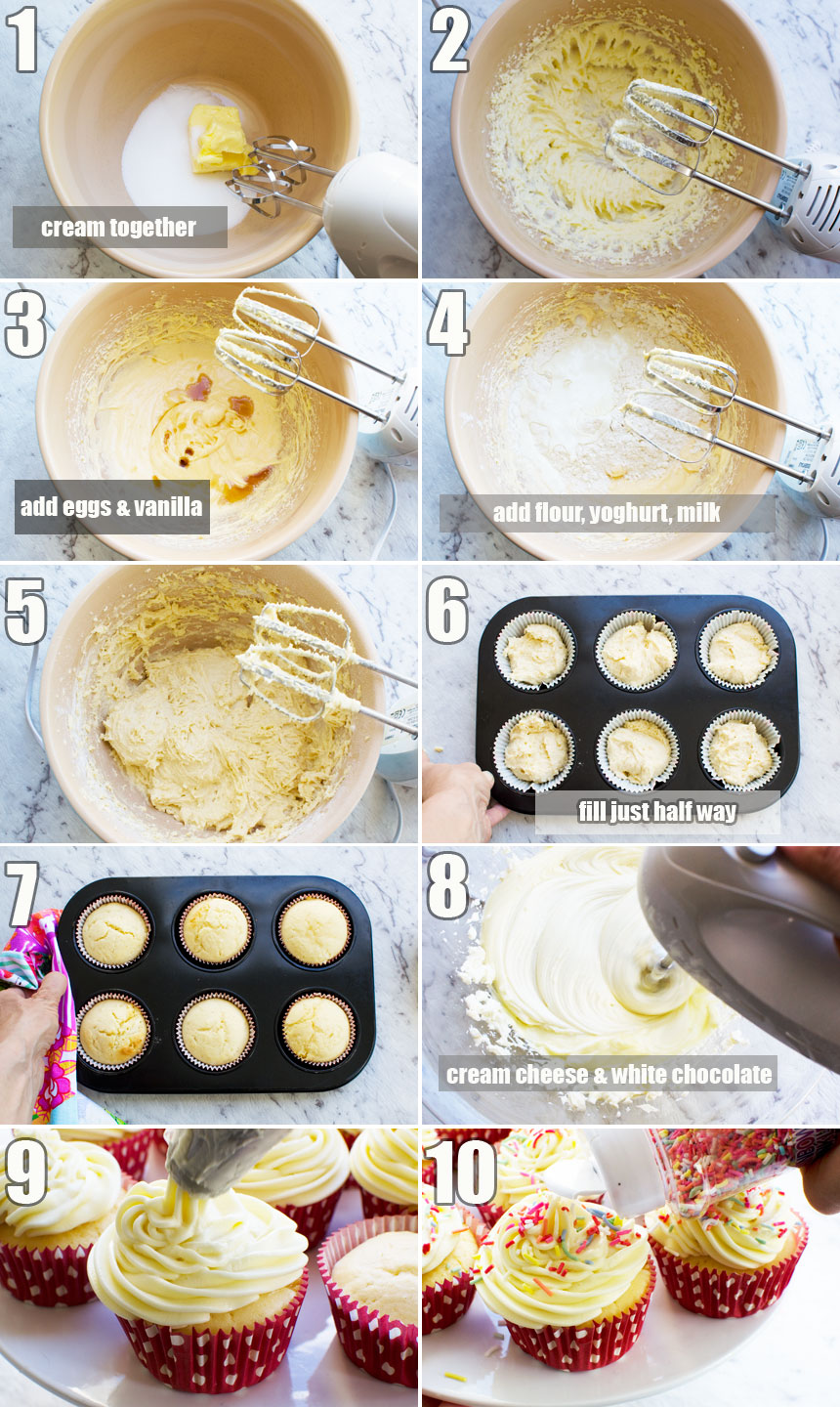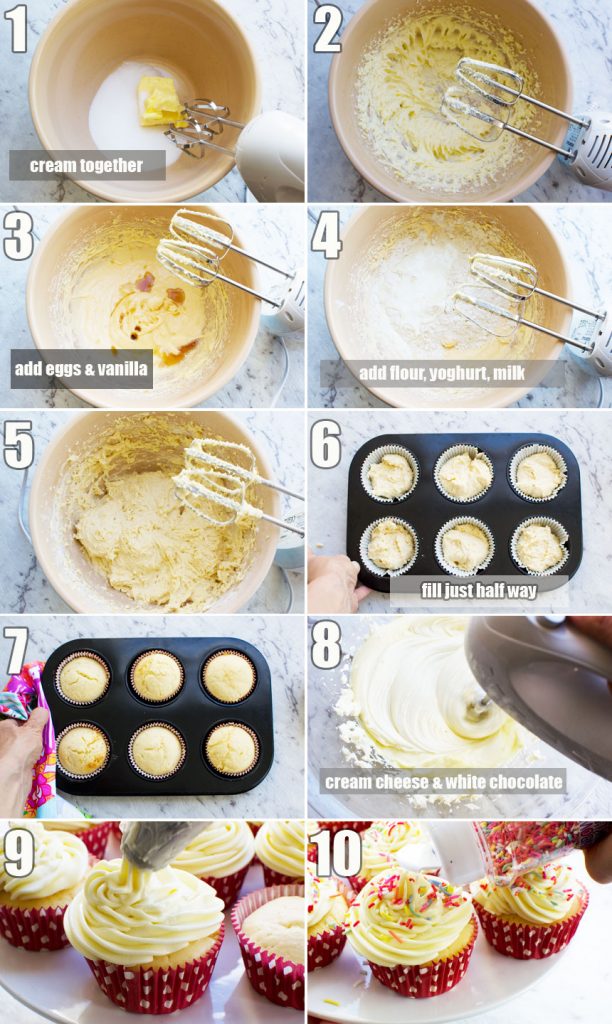 The batter
So here are the ingredients I use to make these healthier vanilla cupcakes:
creamed sugar and butter (not too much!)
2 eggs – beaten into the creamed butter and sugar
a decent amount of vanilla – so you can taste it!
flour, raising agents and salt, stirred in gradually along with Greek yoghurt and milk
There are a few keys to the perfect batter:
First cream the butter and sugar for a few minutes until really light and fluffy. Then beat in the eggs for another half a minute to a minute.
I like to add one and a half teaspoons of good quality vanilla essence so that you can really taste the vanilla. If you like you can add another teaspoon to the frosting.
Finally, I suggest folding in half of the flour mixture, then half of the combined Greek yoghurt and milk. Then fold in the rest of the flour and the rest of the yoghurt and milk. As always with cupcakes and muffins, don't overmix! Just until everything is well combined. Slightly lumpy is fine.
Pro tip: Fill the cupcake cases just half way so that the cake rises to just about the top. I prefer to make smallish cupcakes so I use small to medium sized cases (not mini!).
The cheesecake frosting
I'm not generally a fan of cake frostings because they sometimes take as long to make as the actual cake!
But a 2-ingredient frosting? I can cope with that. Again, it isn't saintly, but it isn't full of butter and icing sugar, either.
All you need to make it is:
a big bar of white chocolate
a tub of cream cheese (I've used light and full fat – both work)
And this is all you do:
Melt the white chocolate. The microwave method is fine. I just melt in 30 second bursts. 3 bursts is usually about right. If you have a very powerful microwave, you might want to reduce the power to 80% so there's no risk of the chocolate burning.
Slowly whisk the white chocolate into the cream cheese. A stand mixer or hand held whisk are both fine.
Scrape the frosting into a piping bag with the nozzle of your choice, and pipe onto the cupcakes. Try to work fast as it can become more difficult to pipe as the chocolate sets.
The end result is a bit like a very simple cheesecake. I could definitely eat it all by itself (and in fact some of the children at my son's birthday party did!).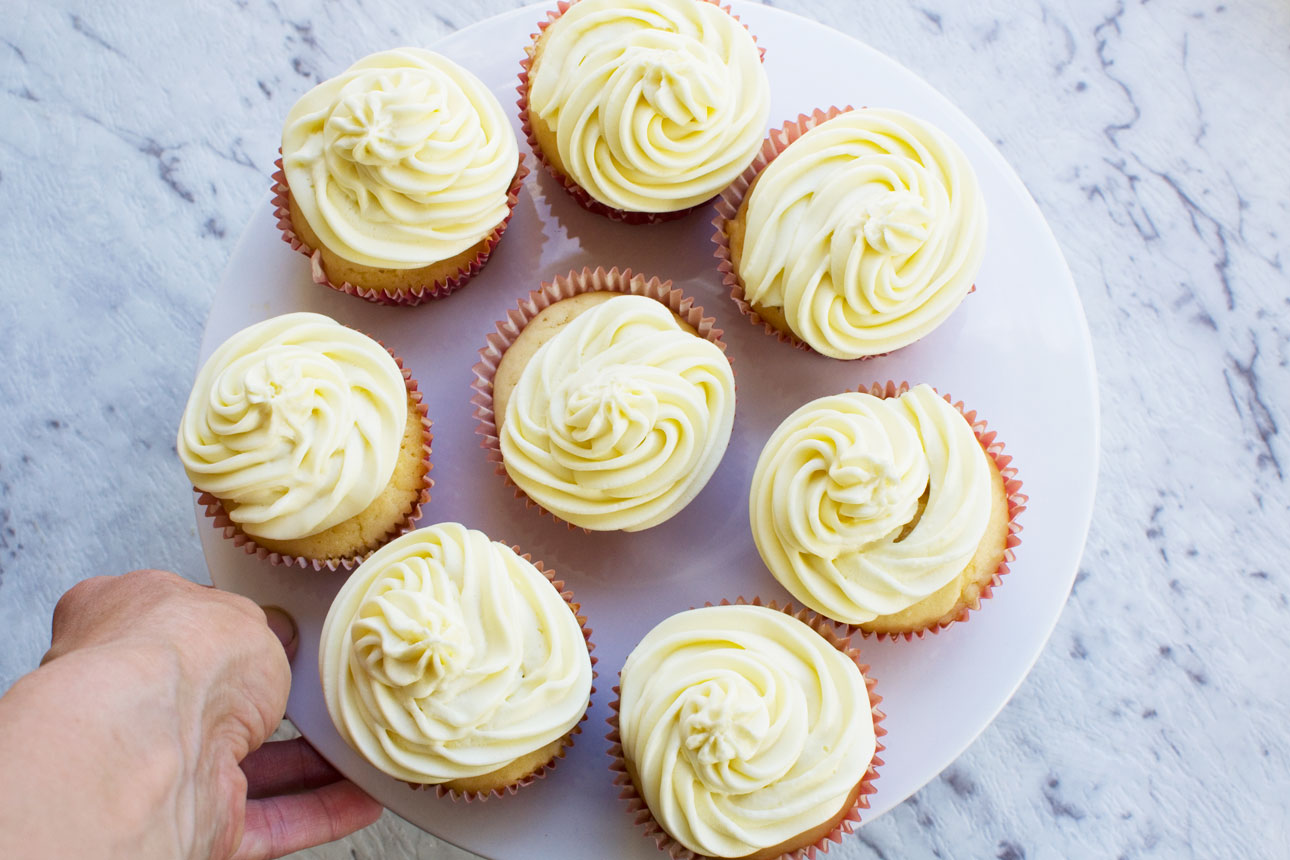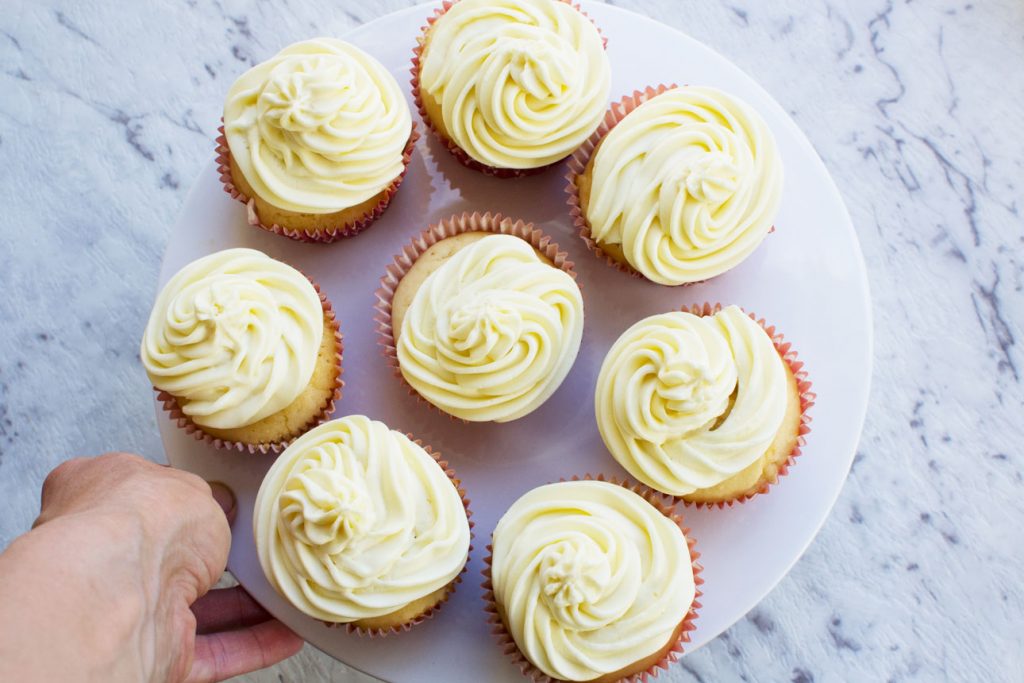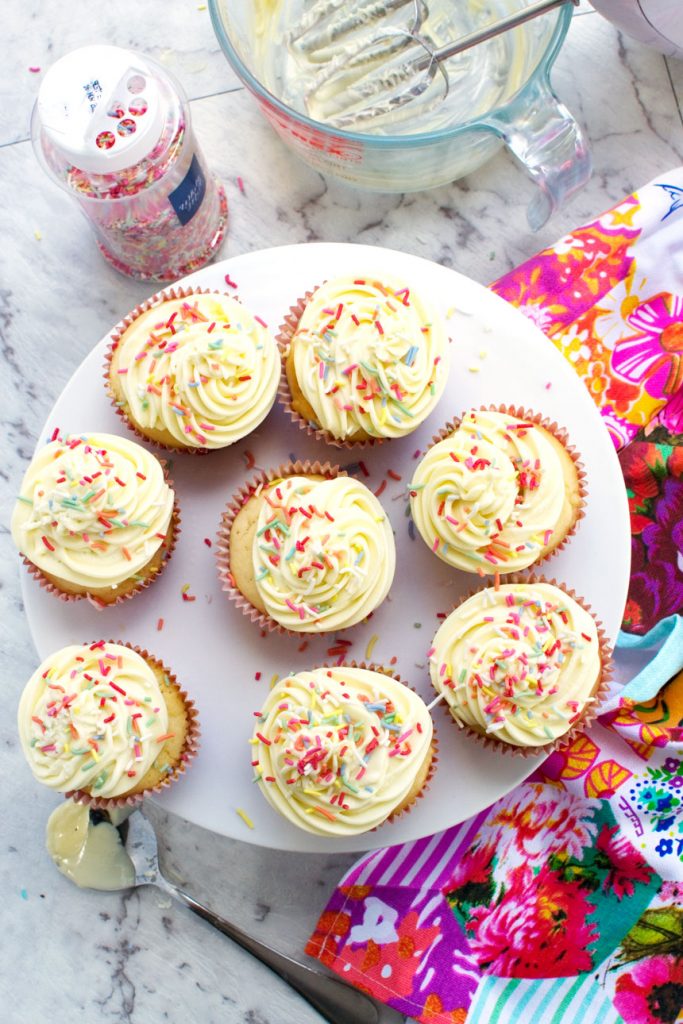 Prefer a dark or milk chocolate frosting?
The frosting is delicious made with white chocolate, but I have also successfully made the frosting with dark chocolate.
There's absolutely no reason why you couldn't use the chocolate of your choice to make this cream cheese icing – white, dark or milk.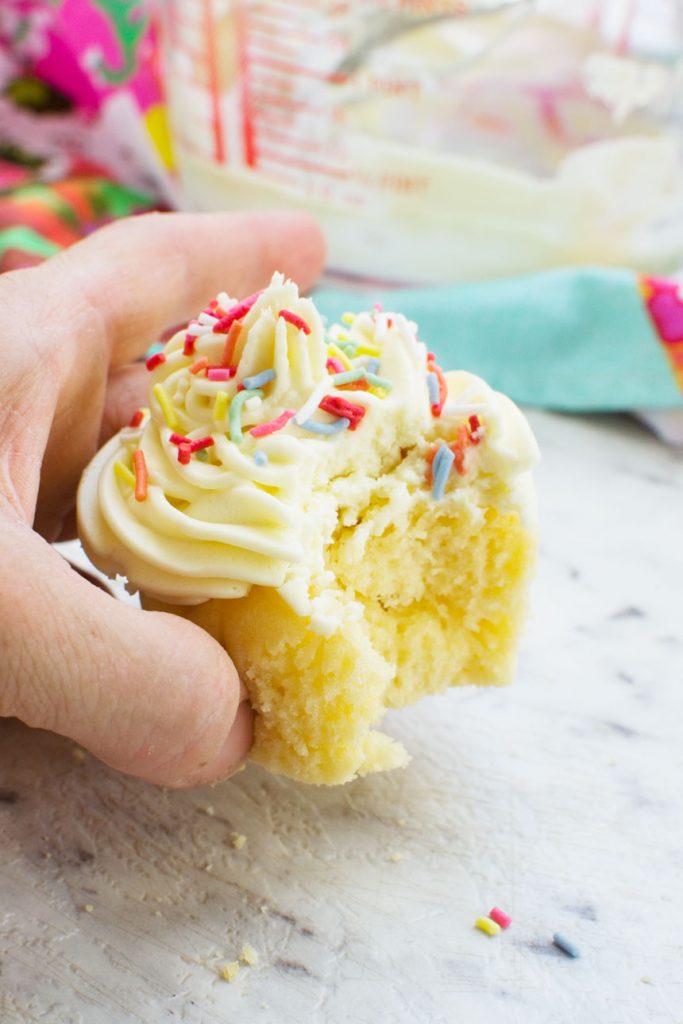 More healthier party food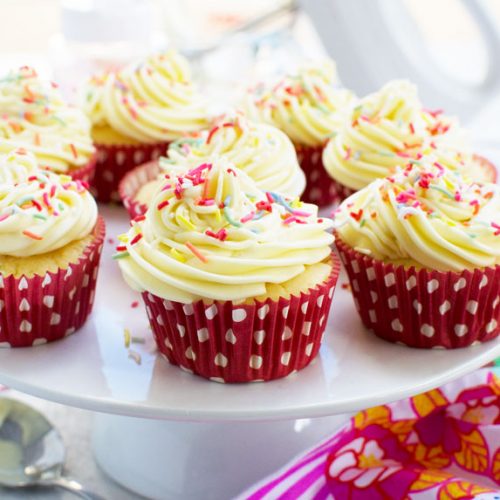 Healthier vanilla cupcakes with 2-ingredient frosting
Welcome to your new go-to vanilla cupcake recipe! These vanilla cupcakes contain a smaller amount of sugar and butter than an average cupcake. They're perfect for children's birthday parties or any special occasion. With their 2-ingredient white chocolate cream cheese frosting they're super easy to make, but look and taste impressive!
Equipment (affiliate links)
Ingredients (UK/Australia? Click below for grams/ml)
For the cake batter
⅓

cup

butter

(or 2.7 ounces)

½

cup

sugar

(or 3.5 ounces)

2

large eggs

1.5

tablespoons

vanilla essence

1.5

cups

plain flour

¾

teaspoon

baking powder

¼

teaspoon

baking soda

(UK/Aus: bicarb of soda)

¼

teaspoon

salt

⅓

cup

Greek yogurt

⅓

cup

milk
For the 2-ingredient frosting
9

ounces

cream cheese

(or 1 cup plus a little extra) I use full fat or light cream cheese at room temperature – both work

7

ounces

white chocolate

in the UK/Australia this is a standard large bar

sprinkles of your choice

(optional)
Instructions
To make the cakes
Pre-heat the oven to 355F/180C.

In a medium mixing bowl, cream the butter and sugar together with a hand held or stand whisk for 2 or 3 minutes until very light and fluffy.

Beat in the eggs one at a time for about another minute until well combined.

Briefly whisk in the vanilla.

In another smaller bowl, mix together the flour, baking powder, baking soda and salt.

Add half of the flour, half of the yogurt and half of the milk to the butter/sugar/eggs mixture and whisk again until just combined. Don't overmix.

Add the rest of the flour, milk and yogurt and whisk again until just combined.

Place cupcake cases in a cupcake/muffin pan. Fill each case about half way with batter.

Bake for about 15 minutes or until a skewer or knife poked into the centre of a cake comes out clean. Leave to cool completely on a wire rack.
To make the frosting
When the cakes have cooled completely, break the white chocolate up into a bowl or jug. Melt in the microwave in 30-second bursts (I find 3 bursts is about right). If you prefer, melt in a bowl over a pan of boiling water. Do not let the bottom of the bowl touch the water.

In another bowl or jug, beat the cream cheese with a hand held whisk. Slowly drizzle in the melted white chocolate and whisk until well combined.

Working quite quickly, scrape the frosting into a piping bag with a nozzle on it. Pipe small swirls of frosting onto the cakes. I usually start from the outside and work in. Add sprinkles if you like.
Notes
Creaming the butter and sugar
I find that creaming the butter and sugar for at least 2 or 3 minutes until really light and fluffy ensures that you get nice fluffy vanilla cupcakes.
Then whisk in the eggs one by one for a minute or so longer.
Piping
After you've made the frosting, you'll need to work quite quickly to frost the cakes before the chocolate sets too hard.
Ideally, ask someone to help you hold open the piping bag so that you can scrape it in more easily. I have managed to do it by myself but it was a bit messier than having someone help me!
You can choose any piping nozzle that you like. I usually pick a medium sized one. Pipe quickly and confidently from the outside in. Don't go overboard with the amount of frosting on each cake. Just pipe a smallish swirl onto each cupcake. This way you won't run out of frosting!
Freezing the cakes
I've frozen these cupcakes both frosted and unfrosted. Obviously though if you freeze them already frosted store them in one layer in a large container and store them upright so that the frosting doesn't get squished!
Nutrition
Calories:
319
kcal
Carbohydrates:
32
g
Protein:
6
g
Fat:
19
g
Saturated Fat:
11
g
Cholesterol:
69
mg
Sodium:
215
mg
Potassium:
146
mg
Fiber:
1
g
Sugar:
20
g
Vitamin A:
499
IU
Vitamin C:
1
mg
Calcium:
86
mg
Iron:
1
mg