You're only 5 minutes and 4 ingredients away from having a chocolate dessert up your sleeve that impresses every time!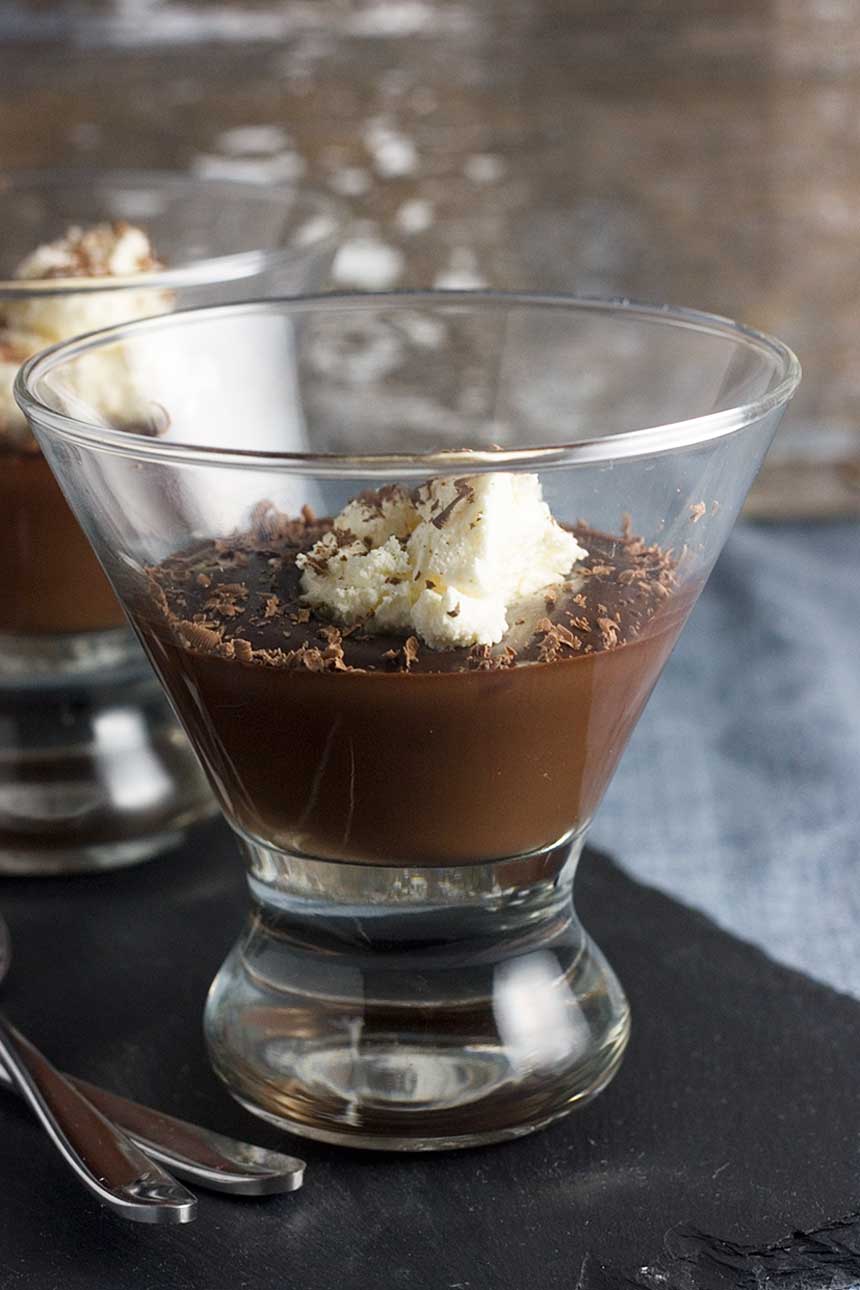 I know I probably shouldn't be posting a chocolate recipe the first week of January, but let's just put it down to the rebel in me.
It may even be that you've already got this 5-minute chocolate pots recipe up your sleeve. I don't mind admitting that I do tend to come a bit late to the party with these sorts of ideas. You've all been making something for years before I finally catch on. 😉
But now that's it with my excuses. I'm not going to apologise a moment longer for posting this today. Because really, who needs to apologise for posting a recipe that's going to make your (entertaining) life a whole lot easier from now on?
I love discovering and posting 'cheat' recipes that impress guests but take literally minutes to throw together. A couple of my personal impressive but super quick and easy dessert favourites on the blog so far are my 6-ingredient gooey Swedish chocolate cake and my lighter blueberry and white chocolate cheesecake in a glass. But I reckon these 5-minute chocolate pots will be giving them a run for their money.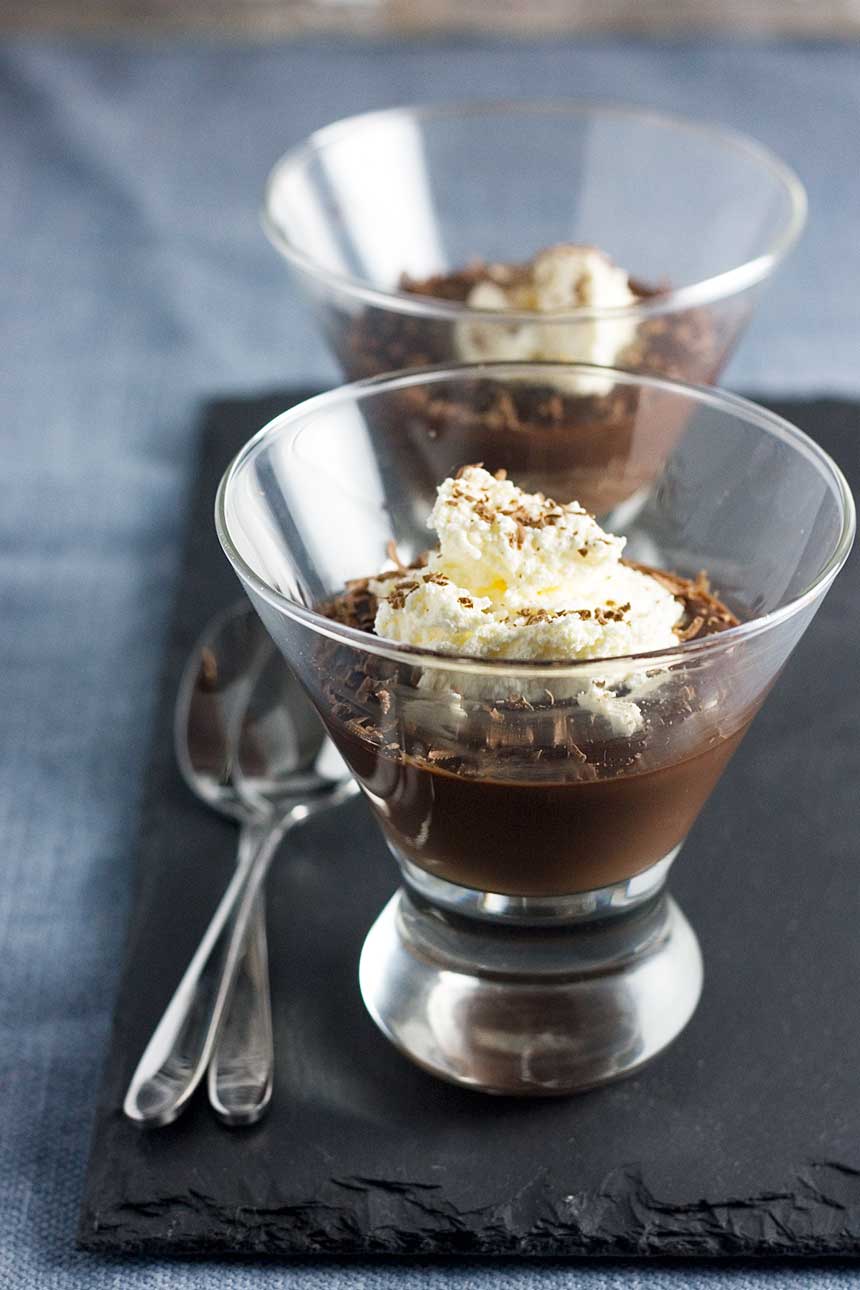 I spotted this recipe in a little cookbook by an organic chocolate company called Green and Blacks (beautiful chocolate, by the way). I thought about jotting it down, but didn't even need to. The recipe's so easy, I just remembered it. 5 steps, 5 minutes:
Step 1: Melt 200 grams (that's 7 ounces) melted chocolate (2 minutes tops).
Step 2: Stir 100 ml* boiling water into it (1 minute).
Step 3: Whisk in 125ml double cream (about half a minute).
Step 4: Pour into shot glasses or similar (1 minute tops).
Step 5: Leave to set and … enjoy!
*Don't worry, ounce measurements included in printable recipe below. It's just that we pesky Brits love our grams and millilitres!
These little chocolate pots are rich, as you can imagine. But honestly, not overly so. They're like a chocolate ganache, but with the bit of added water more like a luxury pudding.
I used a mixture of dark and milk chocolate for my chocolate pots, in a ratio of about 2 to 1, but you can use all dark chocolate or all milk if you prefer. I also served them with a dollop of whipped cream on top and a piece of shortbread (both of these optional of course).
Adding a teaspoon of vanilla essence works well too, but this is up to you. Next time I might try adding peppermint essence … or orange zest. Mmmm.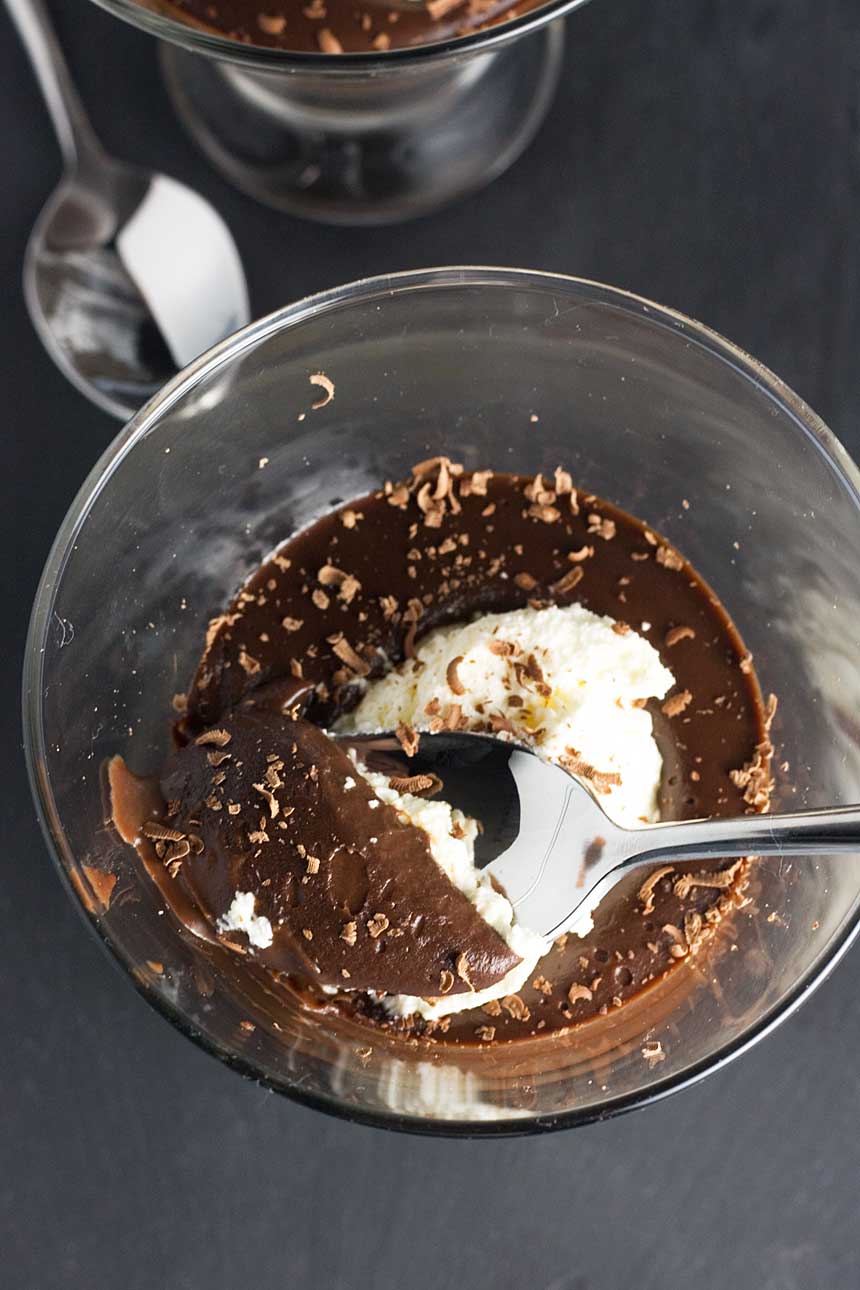 These chocolate pots are definitely going to become one of my go-to quick impressive desserts. There's no way your guests will realise they only took you 5 minutes, you sneaky thing.
HAPPY NEW YEAR! I'm starting as I mean to go on – with chocolate. Well, actually, I REALLY need to hide all the chocolate I've been given as gifts this Christmas before I eat myself into a chocolaty stupor. 😉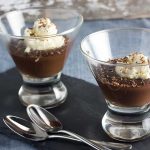 5-minute chocolate pots (only 4 ingredients!)
5 minutes and just 4 ingredients for a super simple chocolate dessert that will impress any guests. Enjoy!
Servings
4
or more if you use smaller glasses e.g. espresso cups, shot glasses
Ingredients
7

ounces

chocolate

plus a bit extra for grating over at the end

0.75

cups

boiling water

0.5

cups

heavy cream

(plus extra to serve – optional)

1

teaspoon

vanilla essence

(optional)
Instructions
Break the chocolate up into a medium bowl, then melt in the microwave in 30-second spurts*.

Add the water little by little, stirring until you have a smooth paste*.

Whisk in the cream and vanilla (if using).

Pour into shot glasses or similar and let set in a cool place*.

Just before serving, top each dessert with a splodge of whipped cream and a bit of grated chocolate (if you like).
Recipe Notes
Recipe by Green and Blacks.

*You can also melt the chocolate in a bowl over a saucepan of simmering water. Just make sure the bowl doesn't touch the water.

*The chocolate will go stiff and grainy when you first start pouring the hot water in, but don't worry. Just keep adding water and stirring until the mixture becomes smooth again.

The original recipe says to leave the chocolate pots to set for at least 45 minutes, but I found that they needed a bit longer than that. I would say it's best to prepare your pots a few hours before dinner to make sure they're properly set.

I used dessert glasses for my chocolate pots, because that's what I had, but shot glasses or even espresso cups work really well.
Nutrition Facts
5-minute chocolate pots (only 4 ingredients!)
Amount Per Serving
Calories 357
Calories from Fat 243
% Daily Value*
Total Fat 27g 42%
Cholesterol 40mg 13%
Sodium 19mg 1%
Potassium 166mg 5%
Total Carbohydrates 30g 10%
Protein 2g 4%
* Percent Daily Values are based on a 2000 calorie diet.