You're only 5 minutes and 4 ingredients away from a ridiculously easy no bake chocolate dessert that impresses every time. They're rich and smooth, and a perfect make ahead dessert for dinner parties!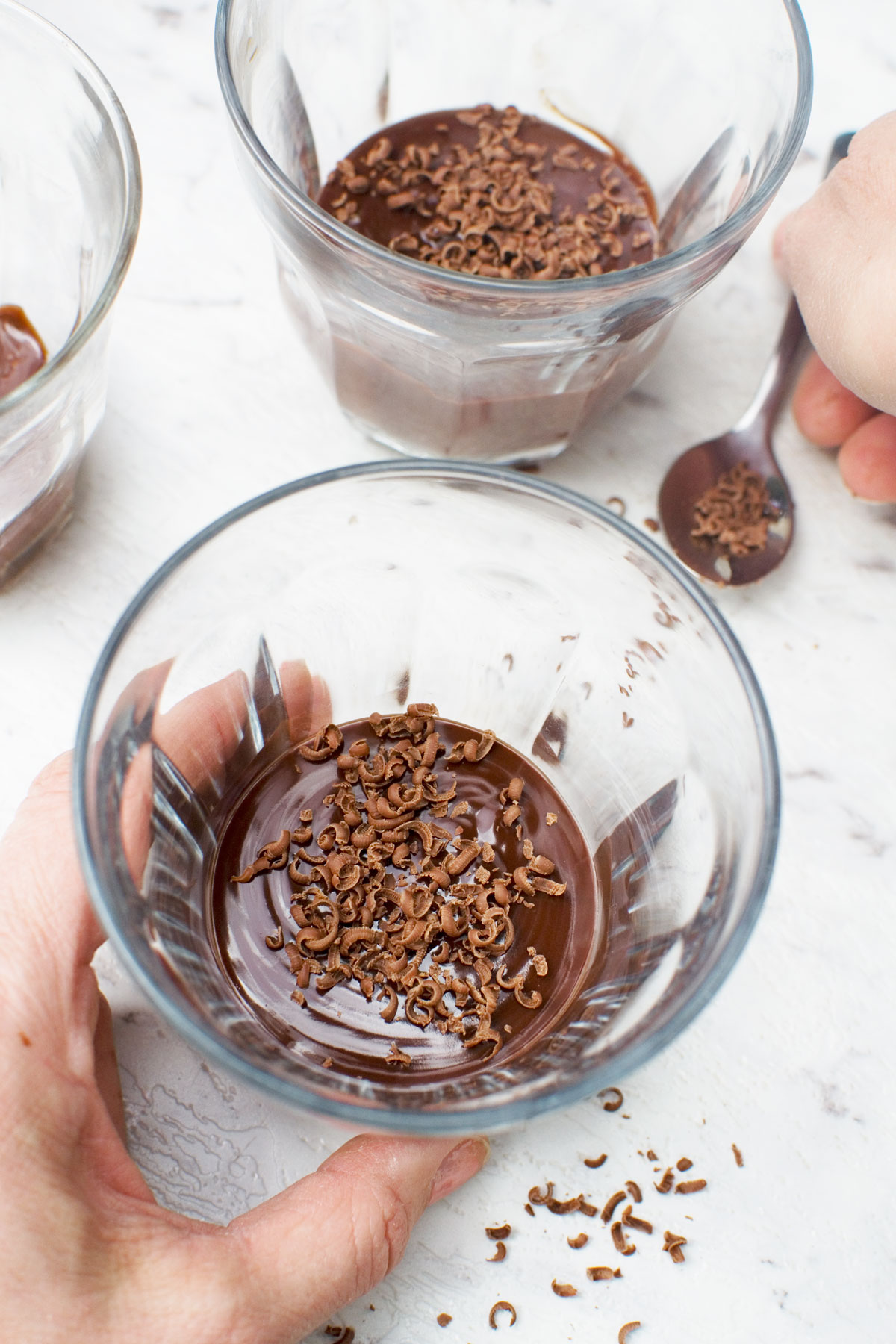 Why it's the best chocolate pots recipe
I love discovering and posting 'cheat' recipes that impress guests but take literally minutes to throw together.
Take these very quick and easy Scrummy Lane dessert favourites, for instance:
But I really think these 5-minute chocolate pots (otherwise known as pots de crème) give all of these a run for their money!
In fact may I suggest that this is the best recipe for chocolate pots de crème? Why?
It's a no bake recipe with no cooking required (apart from boiling the kettle and microwaving the chocolate, which doesn't count).
It's made in (literally) 5 minutes.
It's a perfect make ahead dessert.
With only 4 simple ingredients, it's also egg free and gluten free.
It's a rich and creamy crowd pleaser. But the added water reduces the actual amount of cream you need to add.
The 4 ingredients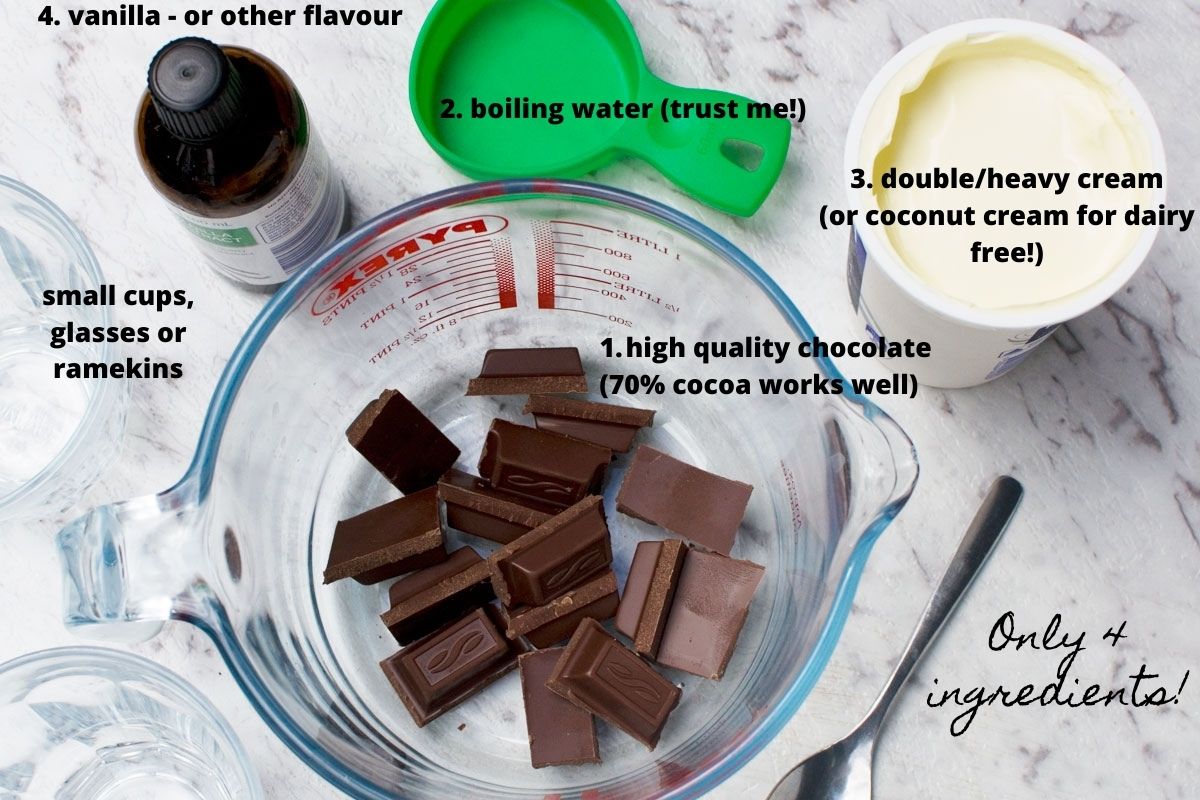 chocolate (of course!)
There's a lot of flexibility here.
My favourite thing to do is to use a mixture of dark and milk chocolate, in a ratio of about 2 to 1. But you can use all dark chocolate or all milk if you prefer.
On the whole it's best to use good quality chocolate with at least 40% cocoa solids in. If you use a poor quality chocolate there's a chance the desserts won't set as well.
The recipe even works with flavoured chocolate such as mint or orange. Just don't use white chocolate as you need a different recipe for that! (see below if you'd like it!)
Boiling water
Just less than half a cup (about 0.4 of a cup or 95ml). It might seem like too much as you're adding it, but just trust me. It's OK!
Cream
Use double or heavy cream, or even thickened cream if you're in Australia. If you use thickened cream, you'll find your desserts will set quite fast.
Otherwise just be patient. Make the desserts well ahead of when you need them – either in the morning or the night before. Cover and pop in the fridge until you're ready to serve dessert.
Note that you can even make a delicious dairy free version of these by using coconut cream! For a naughty and very luxurious version, how about Bailey's Irish cream? 😉
Vanilla or other flavouring (if you like)
Just a teaspoon. I usually add vanilla essence, but mint, orange or even a teaspoon of instant coffee added to the boiling water would work well too. But this isn't essential!
How to make them
I spotted this recipe in a little cookbook by an organic chocolate company called Green and Blacks years ago. I thought about jotting it down, but didn't even need to.
The recipe's so easy, I just remembered it.
5 steps, 5 minutes:
Step 1: Melt chocolate in the microwave (2 MINUTES at the most).
Step 2: Stir just under a half of a cup boiling water into it (1 MINUTE). It goes stiff and grainy when you first start adding the water. Don't worry! Just keep stirring until smooth.
Step 3: Whisk in just under a half of a cup double cream (about HALF A MINUTE).
Step 4: Pour into shot glasses or espresso cups or similar (1 MINUTE tops).
Step 5: Leave to set in the fridge and … enjoy!
These desserts are a perfect make ahead dessert for a dinner party. Ideally, make them in the morning for an evening dinner party. Or make them the night before. They'll keep well covered in the fridge for up to a week.
What do they taste like?
This is a rich dessert, as you can imagine. But not overly so. Chocolate pots are like a chocolate ganache, but with the bit of added water they're more like a luxury smooth chocolate pudding.
They're not super thick or super thin either – they're somewhere in between. How thick they are will depend on the exact type of chocolate and cream used. And that's completely OK!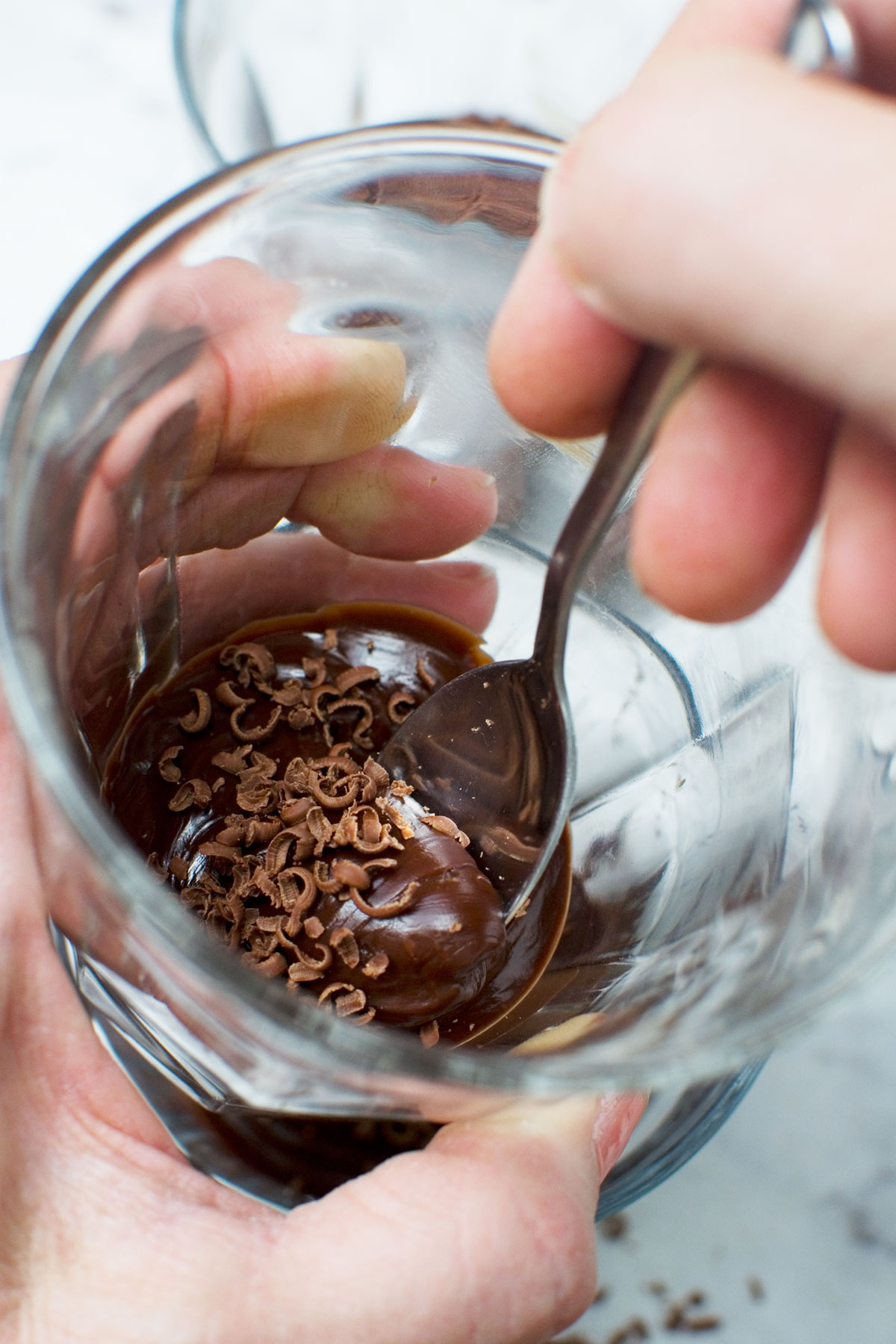 Variations
Keep them plain, or add flavours!
Adding a teaspoon of vanilla essence works well. Other flavours you can add include:
peppermint essence (or use mint flavoured chocolate)
orange zest (or use orange flavoured chocolate)
instant coffee (add a teaspoon into the boiling water)
a large pinch of sea salt
How to serve them
I usually keep things simple. When the desserts are set, I sprinkle a tiny bit of grated chocolate on the top, just to make them look pretty.
But if you like you can be a bit fancier:
Serve the desserts with a dollop of whipped cream on top.
Serve with a piece of fancy shortbread. Store bought is fine. Alternatively, there's a beautiful recipe for macadamia shortbread in this post for lemon posset!
Pile some fresh raspberries or blueberries on the top.
Sprinkle some crushed caramels and a little sea salt on the top.
The desserts are very silky and rich so they're best served in small portions. These whiskey shot glasses (affiliate link) would be perfect for serving! Cute espresso cups work well too.
What people are saying and FAQ
This is one of my older recipes that I've updated several times after feedback from readers.
Just made this recipe and it was amazing. Thank you so much, Helen. I used 70% chocolate, double cream, and a touch of satsuma zest. They set perfectly after a little while in the fridge and are absolutely smooth and wonderful.

Julie *****
This is a fabulous way to get a quick chocolate fix. Love the dark and milk chocolate combination. Perfect for a dinner party!

Sandra *****
More things to know (recipe FAQ)
Generally people love this recipe, but here are some commonly asked questions that might help you to make chocolate pots perfectly the first time… and every time after that!
Can I make these with Cadbury's Dairy Milk, Terry's chocolate orange, (insert type of chocolate) etc.?
I usually make chocolate pots with either good quality dark chocolate or a mixture of dark chocolate and milk chocolate. On the whole, these work with any kind of chocolate, but try to choose good quality with at least 40% cocoa solids. 70% is even better.
Can I use white chocolate?
No. The ratio of chocolate to water and cream is different. If you'd like to make some white chocolate pots, use this white chocolate pots de creme recipe instead.
Why aren't my chocolate pots setting?
Sometimes the chocolate mixture is quite thin when you pour it into the glasses or cups. Other times it's a bit thicker, depending on the type of chocolate and cream you use. Don't worry! Just leave them to set for longer. All day or overnight is perfect.
Help! They're too thick!
Once again, the 'thickness or thinness' can depend on the exact type of chocolate and cream. If they seem a bit 'too' thick when you take them out of the fridge, especially if you've let them set overnight, just take let them sit out on the counter for a while before serving. But remember they'll be delicious anyhow, even if a little thicker than you were expecting/hoping.
What kind of cream should I use?
Use double cream (UK) or heavy cream (US) for the best results. In Australia there's also a type of cream called thickened cream, which is perfect! Using this helps the desserts to set faster. For a dairy free version use coconut cream.
Can I make these as a last minute dessert for a dinner party?
Nope. They usually need time to set. Make them in the morning for an evening dinner party. This way they have all day to set in the fridge. Alternatively, make them the night before. just cover and leave in the fridge until you're ready to serve them. On the other hand, if you're a little short on time, cover well and pop into the freezer for an hour or two.
Can I freeze chocolate pots?
Actually, you can! Cover really well with plastic wrap and aluminium foil, and freeze for up to a month. Let defrost in the fridge overnight. In fact, frozen chocolate pots are also a thing so you could even try eating them frozen if you like.
Give them a try! There's no way your guests will realise they only took you 5 minutes, you sneaky thing.
More recipes using double cream!
More impressive but easy desserts
IF YOU MAKE THIS RECIPE, LET ME KNOW HOW YOU GET ON BY LEAVING A COMMENT AND RATING BELOW… AND DON'T FORGET TO SIGN UP TO RECEIVE ALL MY NEW RECIPES BY EMAIL!
FOLLOW ME ON FACEBOOK, INSTAGRAM, PINTEREST AND YOUTUBE.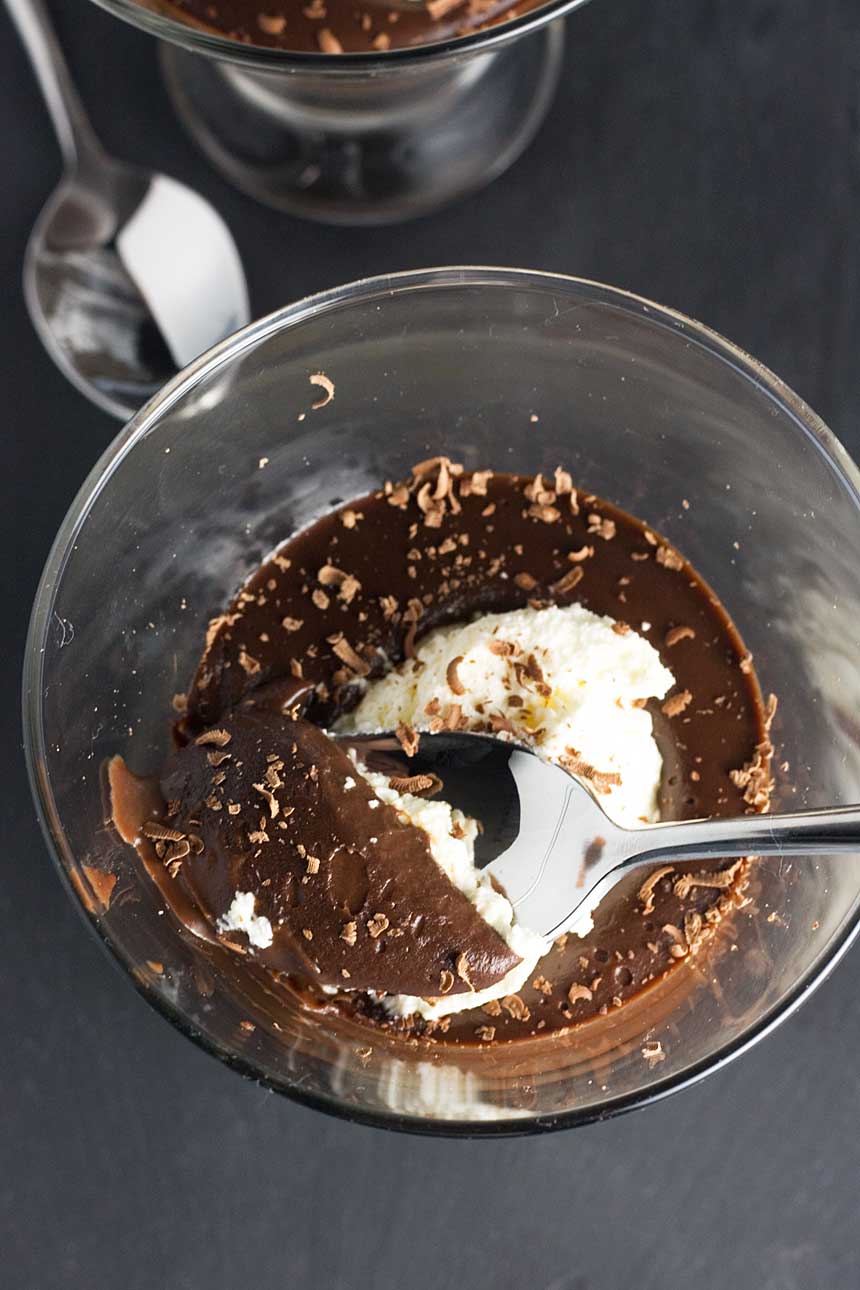 5-minute chocolate pots (only 4 ingredients!)
5 minutes and just 4 ingredients for super simple chocolate pots that will impress any guests. Enjoy!
Ingredients (UK/Australia? Click below for grams/ml)
7

ounces

chocolate

(save 1 piece to grate over at the end)

0.4

cups

boiling water

(just under ½ cup or 95ml)

0.4

cups

heavy cream

(again, just under ½ cup, so about 95ml) heavy cream = double cream (UK), thickened cream also works well (Australia)

1

teaspoon

vanilla essence

(optional)
to serve (optional)
whipped cream

just a little, for the top

fancy shortbread
Instructions
Break all of the chocolate except for 1 piece up into a medium bowl, then melt in the microwave in 30-second spurts. I find 1.5 minutes is about right.

Add the water little by little, stirring until you have a smooth paste.

Whisk in the cream and vanilla or any other flavouring (if using).

Pour into shot glasses or similar and let set in the fridge (for at least 6 hours or overnight). Take them out of the fridge for a while to 'warm up' a little before serving if they seem really solid. They'll keep in the fridge for up to a week.

Just before serving, grate the piece of chocolate you saved finely. Top each chocolate pot with a small sprinkle. If you like add a spoonful of whipped cream to the top of each chocolate pot, and then sprinkle over the chocolate (optional).
Notes
Adapted from an original recipe by Green and Blacks.
Melting the chocolate
I always melt the chocolate in 30 second bursts in the microwave in a glass bowl (3 bursts usually does it)
You can also melt the chocolate in a bowl over a saucepan of simmering water. Just make sure the bowl doesn't touch the water.
Adding the water
The chocolate will go stiff and grainy when you first start pouring the hot water in, but don't worry. Just keep adding water and stirring until the mixture becomes smooth again.
IMPORTANT: A note on getting the chocolate pots to set correctly!
The original recipe that inspired this post said to leave the chocolate pots in a cool place to set for 45 minutes. I find though that that's no way near long enough for them to set properly. I prefer to let my desserts set in the fridge for a few hours before serving.
To be honest… I've tested and tested this recipe over several years and I find that the results vary very slightly each time according to what kind of chocolate and cream is used (see below!).
If my pots are quite thick, I sometimes take them out of the fridge for a while before serving to let them 'warm up' a little for the perfect consistency.
What type of cream & chocolate to use
It's important to use heavy/double cream or even thickened cream and to use really good quality chocolate (at least 40% cocoa). Chocolate with less cocoa in tends not to set so well. If you do use milk chocolate with less cocoa, try reducing the amount of water and cream just slightly.
The important thing to remember is that whether your chocolate pots end up a bit runnier or thicker, they'll always taste delicious!
Use coconut cream for a dairy free version.
I use dessert glasses for my chocolate pots, because that's what I have, but shot glasses or even espresso cups work really well.
Nutrition
Calories:
337
kcal
Carbohydrates:
31
g
Protein:
2
g
Fat:
26
g
Saturated Fat:
15
g
Cholesterol:
33
mg
Sodium:
17
mg
Potassium:
163
mg
Fiber:
3
g
Sugar:
26
g
Vitamin A:
350
IU
Vitamin C:
1
mg
Calcium:
27
mg
Iron:
1
mg