Who doesn't love chocolate truffles? And that chocolate-orange combo… mmm! These easy and healthy chocolate truffles are made with just 5 raw ingredients including dates and cashews. This is a super nutritious (and vegan) snack, but you'll think you're eating a gooey brownie!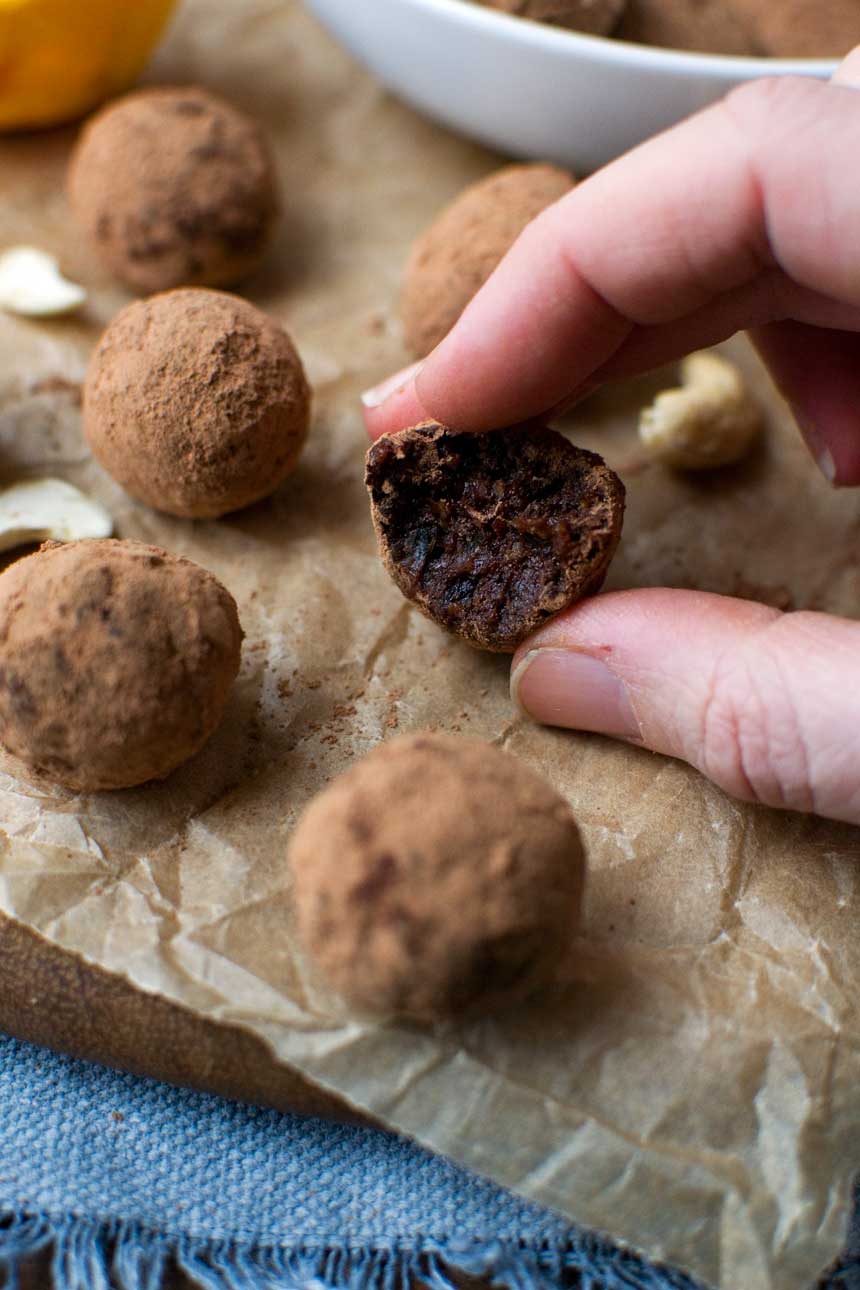 Why you'll love them
Given the 5 super healthy ingredients in these delicious date sweetened chocolate orange truffles – raw cashews, orange zest and juice, dates, sultanas, and raw cacao – you'll be amazed how much like a naughty treat they taste. They're like little no bake brownie bites!
And yet they are good (really good) for you. No refined sugar in sight. They also happen to be gluten free and vegan chocolate truffles, if either of these things are important for you.
They're actually very similar to these 5-ingredient chocolate orange bars, so if you think you need an excuse to scoff a whole bar of this unbelievable deliciousness then check out this recipe instead.
But I just love the idea of tricking myself into thinking I'm eating real chocolate truffles, don't you?
I LOVE eating these straight from the freezer. They don't really freeze, they just go a bit harder and colder. Try and see for yourself.
About the ingredients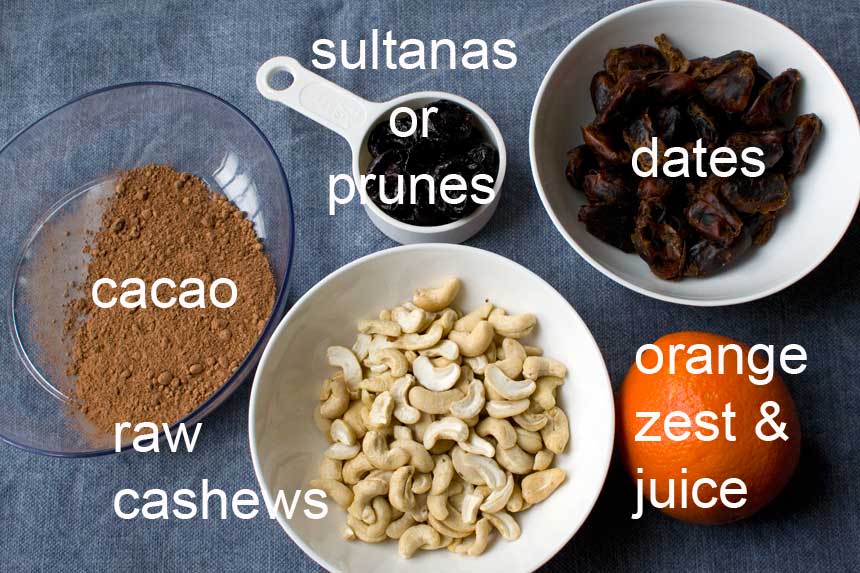 Dates: I use pitted dates for ease (you want this to be a quick recipe!). I've found some incredible dates locally that honestly taste almost like caramel, so if you can find similar – great. But honestly, any kind of dates are fine for this recipe.
An orange: You'll use both the juice and zest for maximum yummy orange flavour in your date truffles.
Raw cashews: Any kind, but they must be raw and unsalted, not roasted and/or salted. health food shops or bulk buy stores are great for these.
Raisins, sultanas or prunes: These add extra yummy sweetness to the truffles.
Cacao powder: This is completely different to cocoa powder. It's very healthy! You can find it in most good health food stores, and a lot of supermarkets, too. Can you substitute with cocoa powder? In a pinch, yes! Why not? Use unsweetened cocoa powder and you're good to go.
And that's it – there are your 5 ingredients. I told you this was going to be easy!
How to make them
Now you do need a food processor for this recipe. I really like this Breville Sous Chef Peel and Dice (you'll be amazed what it can do!), but of course any good food processor is fine.
Here are the few simple steps you need to make these these incredible energy bites made with dates:
Step 1: Pour the juice of half an orange over the dates for a while. This has two purposes – to soften the dates a little and to begin flavouring the truffles with orange.
Step 2: Put the cashews and the rest of the orange juice into the bowl of your food processor and process for about 2 to 3 minutes or until the mixture is all mashed up and forms a ball.
Step 3: Empty the cashew and orange mixture into another bowl.
Step 4: Now add the date and orange juice mixture and the sultanas (or raisins/prunes) to the food processor bowl (no need to clean it first) and process that until you have another sticky ball. This will probably happen faster than the cashew mixture.
Step 5: Now this is the fun part! Mash the two mixtures together in the large bowl with a spatula until you have something that looks like thick chocolate cake batter. Mix in the orange zest and cacao powder too. Mmm! Permission to pinch off bits of the mixture and eat them. Cook's treat!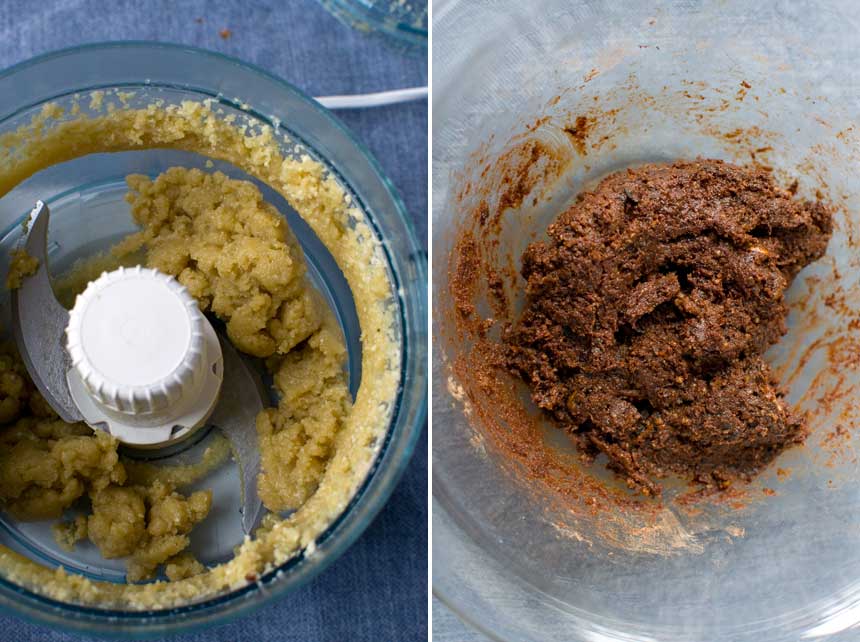 Step 6: Take teaspoonfuls of mixture and roll into small balls. Roll in the cacao or cocoa powder to make your chocolate orange truffles.
They will look just like ordinary chocolate truffles, except you know they're much healthier for you. How great is that?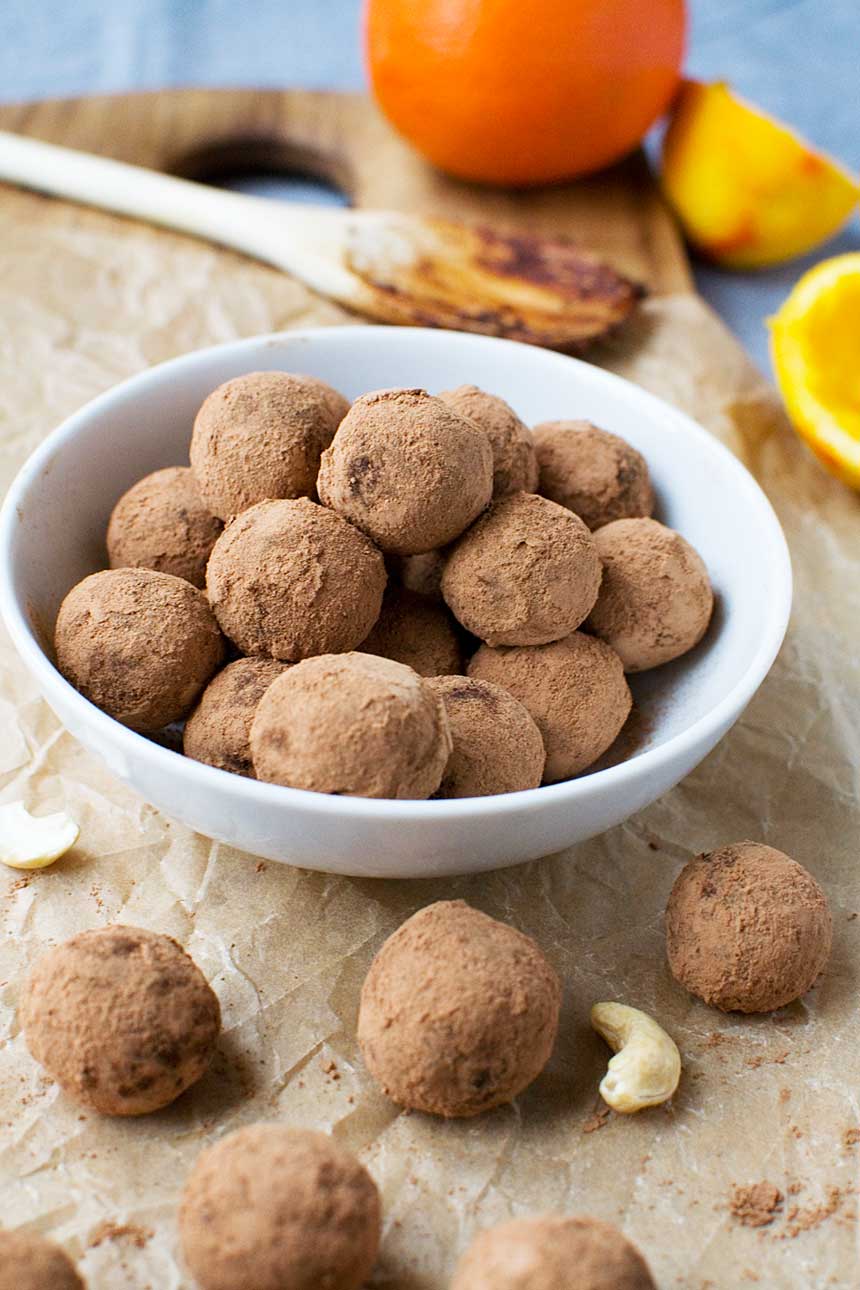 Variations
I adore this recipe as it is, but there are some possible ways to vary your yummy date truffles:
Instead of orange juice, use coffee! Instead of the orange zest, add a teaspoon of instant coffee for raw coffee truffles.
Add some chopped nuts to the mixture, or roll in chopped nuts instead of cacao.
Roll in coconut instead of cacao.
Roll in crushed freeze dried fruits. Mmmm!
Add a quarter cup of liqueur to your dates instead of orange juice!
How to eat
I know I don't REALLY need to tell you how to eat these! But I just wanted to remind you that this type of energy balls made with dates and cashews are great eaten straight from the fridge or even the freezer.
They make a fantastic nutritious snack (that tastes like a brownie!), perfect after school treat or a quick pick-me-up any time of day.
I also think they make a great healthy food gift! Just package them in a pretty box lined with baking paper or food bag. I think the recipient would be thrilled!
More things to know (recipe FAQ)
What type of dates are best to use for raw truffles?
The softer the better really, so look in the fresh food section of the supermarket or your local health food store.

Dates with pits in are usually the freshest and softest, but to be honest I prefer to use pitted dates for this recipe since it cuts out a step (pitting the dates!). If the dates are on the hard side, it doesn't really matter since you'll be softening them with orange juice before making the truffles.
Can you freeze date truffles?
Yep, you sure can! In fact I think they taste amazing eaten straight from the freezer as they don't really freeze – they just go wonderfully chewy and delicious.

Freeze in an airtight container for up to 3 months.
What can I use instead of cashews?
This is a great question, since an increasing number of people are allergic to cashews (including my son!).

If you know someone who has a cashew allergy or you'd just rather not use cashews, you can try substituting sunflower seeds for the cashews in this recipe! Let me know how you get on if you try this.
What can I use instead of dates?
Try dried apricots! Mmm!
Healthy snack box subscriptions
So… you love these and will try them soon, but… you'd also like to have some awesome pre-packaged snacks on hand. I get it. Sometimes I just want to grab something yummy and healthy that someone ELSE has prepared.
The solution? Get healthy (and exciting!) ready-to-eat snacks delivered to you with Urthbox! They have Classic, Gluten free, Vegan or Diet box options, and a bonus free snack box offer, too.
Or browse more snack subscription boxes at Cratejoy to choose your own.
In love with smoothies? You can get read-to-blend organic smoothie packs delivered to your door from Smoothie Box , with $22 off your first order! (These are affiliate links!)
More healthy snacks (that don't taste boring!)
Or check out this list of 50+ healthy sweet snacks. There's something here for everyone!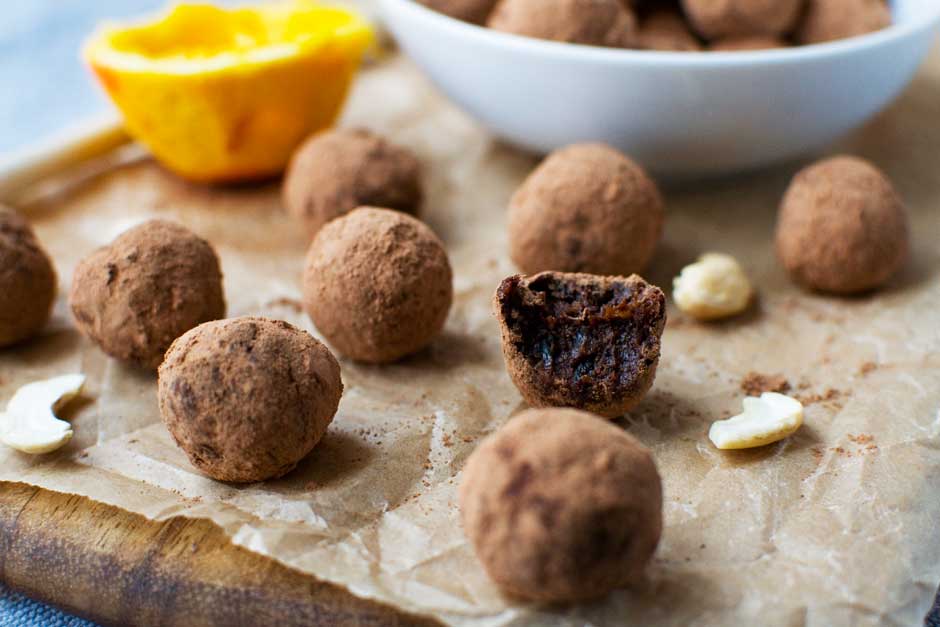 5-ingredient Healthy Chocolate Orange Truffles
Who's for a snack that taste like gooey brownie bites but have only 5 super healthy ingredients in it? These healthy chocolate orange truffles will satisfy your craving for chocolate, leaving you with none of the guilt!
Ingredients (UK/Australia? Click below for grams/ml)
1

orange

juiced and zested

1 1/2

cups

dates

(pitted)

1 1/4

cups

cashews

(raw)

1/2

cup

raisins

(or sultanas, I used raisins)

4

tablespoons

cacao powder

(raw)
Instructions
Put the dates in a small bowl and pour half of the orange juice over them. Put aside for a moment.

Put the cashews and the rest of the orange juice in your food processor and process until they are all mashed up and clump together in a ball (this took quite a while – at least 2 or 3 minutes).

Tip the cashew and orange mixture into a bowl. Then tip the dates/orange juice and sultanas into the food processor and process until they too are all mashed up and form a sticky ball (this probably won't take as long as the cashews).

Add the mashed up dates/sultanas to the cashew/orange mixture in the bowl, then add the cacao and orange zest and mash everything together well until it resembles a thick chocolate cake batter.

Take teaspoons of mixture and roll into truffles. Finally, roll in raw cacao powder.
Notes
Storage: Try storing the truffles in the freezer – they're delicious that way! Cacao: You can replace this with ordinary unsweetened cocoa powder if you wish.
Nutrition
Calories:
52
kcal
Carbohydrates:
8
g
Protein:
1
g
Fat:
2
g
Sodium:
1
mg
Potassium:
104
mg
Fiber:
1
g
Sugar:
4
g
Vitamin A:
10
IU
Vitamin C:
2.1
mg
Calcium:
7
mg
Iron:
0.5
mg