Need something for a picnic or party? Or just need treats stashed in the freezer for a chocolate craving 'emergency'? These 5-ingredient peanut butter Cheerio bars take mere minutes to make. And no, they aren't just for kids!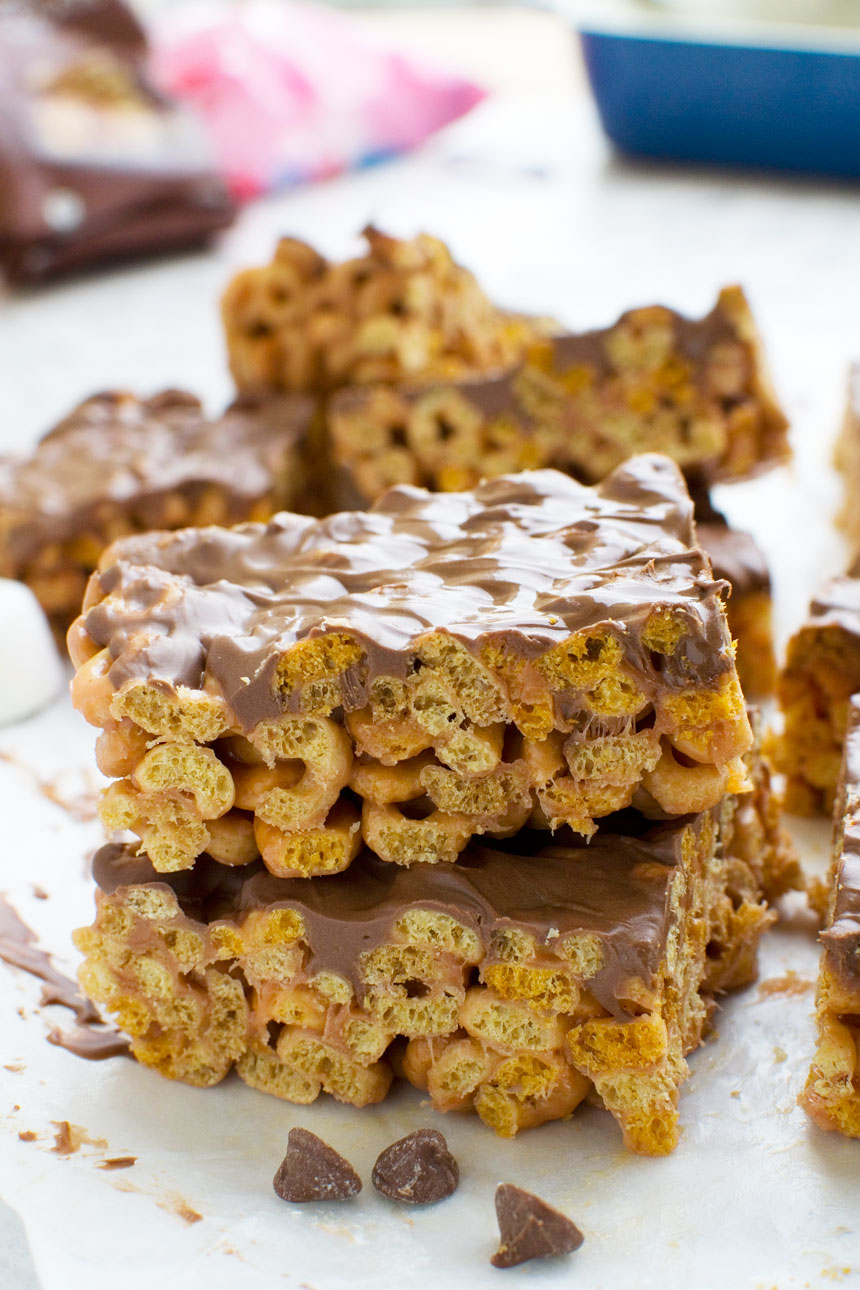 Not just for kids and… ingredients
When I asked Mr. Scrummy to taste test these peanut butter Cheerio bars, he said: "They're good, but aren't they a kids' thing?"
Er, nope. I've certainly never yet met an adult who turned one down.
And why would they? Just look at the list of ingredients:
Cheerios cereal: I like to use the ones made of wheat, oats and rice, but whichever type you like.
melted butter: I like salted which I think adds something to the final taste, but unsalted is just fine too.
peanut butter: I use natural and crunchy, but again, your favourite brand is fine.
melted marshmallows: Pink, white or pink AND white are fine.
melted chocolate: I always prefer dark chocolate, but milk or even white is fine too.
All the melty things. Nothing to argue with there. Essentially this is a 5-ingredient recipe.
Other than the fact that they're
what I particularly like about these peanut butter Cheerio treats is that they take mere minutes to make.
How do you make them?
You're just a few very quick and simple steps away from peanut butter Cheerio treats heaven:
Step 1: Melt butter, peanut butter and marshmallows in a saucepan over a gentle heat. No need to add more sugar, or corn syrup or even honey for that matter. They're sweet enough with just the marshmallows!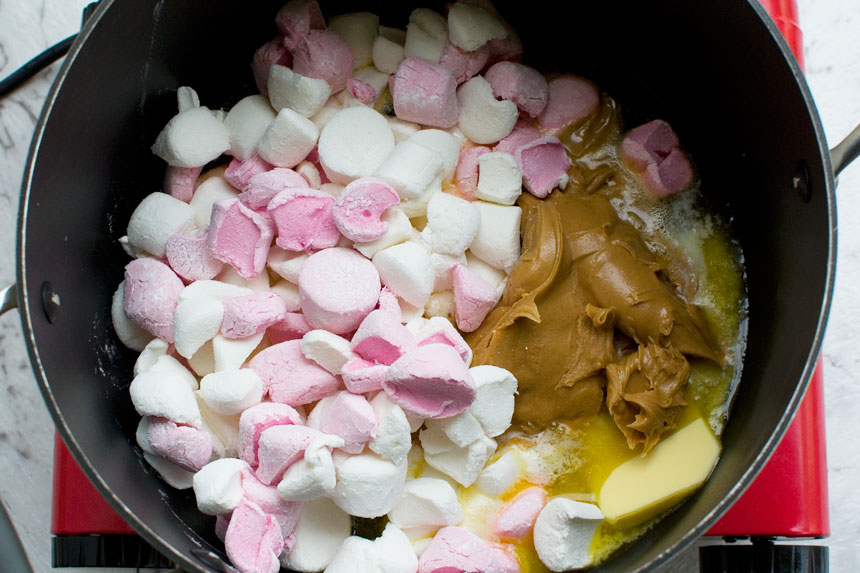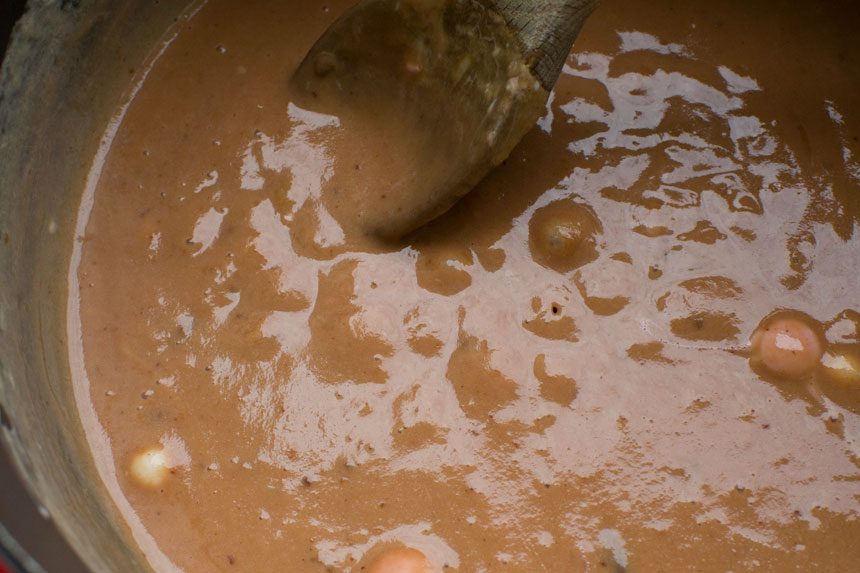 Step 2: Stir through huge amounts of Cheerios, then press into a big pan WITH WET FINGERS (this part is highly advised if you want to avoid a terribly sticky situation!).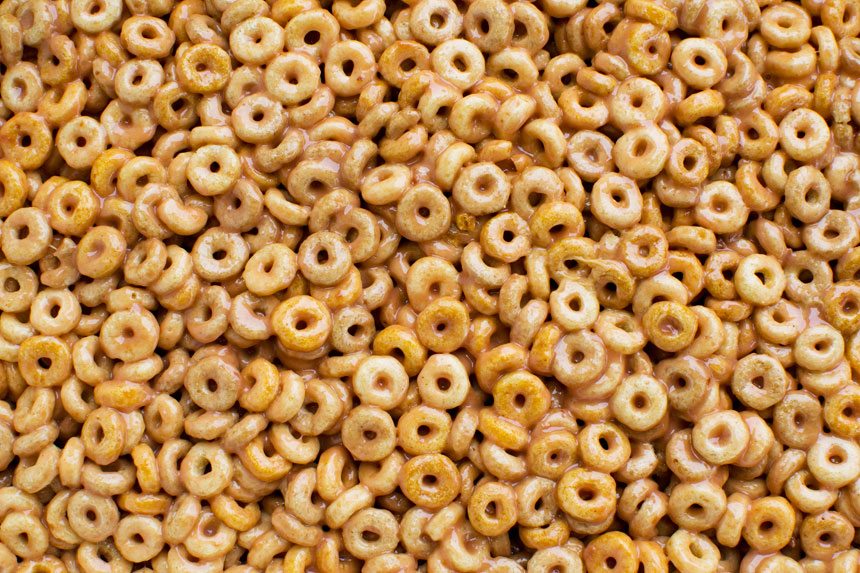 Step 3: Melt chocolate and spread over the top, then pop in a cool place to set.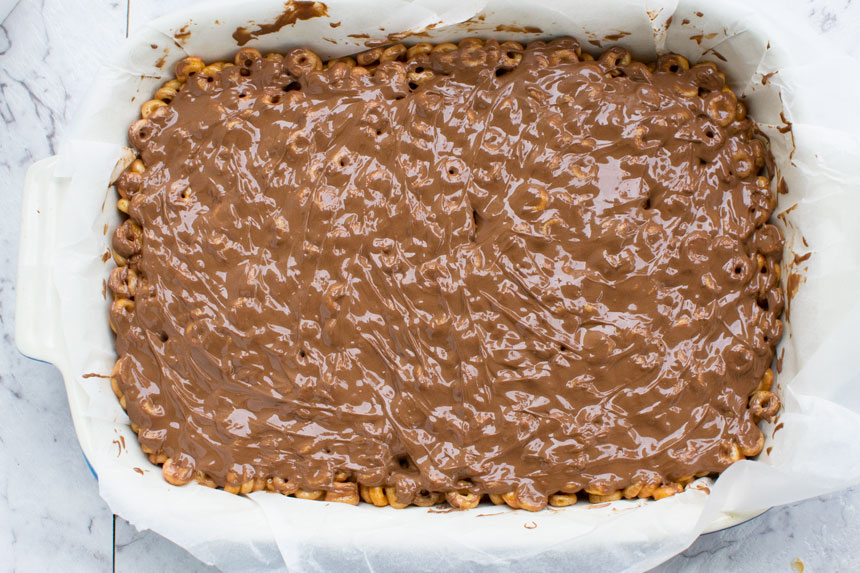 Step 4: Cut into bars and try to eat just one before stashing the rest away in the freezer!
Pro tips
The biggest advice I have for you is to make sure you melt the butter, peanut butter and marshmallows ON A LOW HEAT. If you heat them too vigorously, the caramel will be too sticky. You want to end up with softly chewy crispy treats, not a trip to the dentist with a broken tooth!
As mentioned above, when you press the Cheerios down into the pan, use slightly wet fingers to stop the mixture sticking. Work quickly and confidently and all will be well!
You might not need as much chocolate as you think. I put just 200 grams or 7 ounces of chocolate on the top of my peanut butter bars. There may be only a thin layer of chocolate on the top, but some of it oozes into the gaps on the top of the bars. When you bite into your delicious crispy peanut butter marshmallow treats, some bites are surprisingly more chocolaty than others. Yum!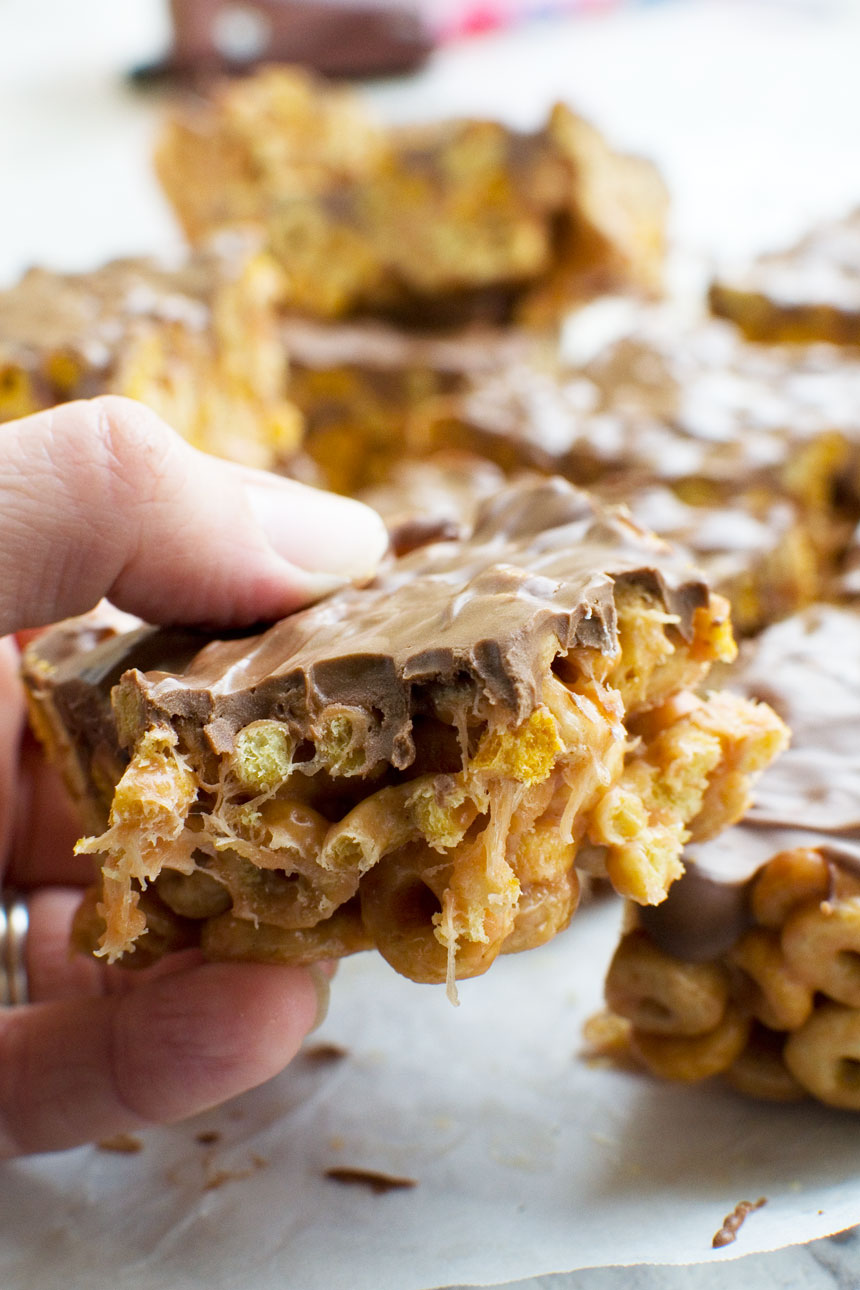 More things to know (FAQs)
Can you freeze Cheerio bars?
Yes, yes, yes! In fact I like to store these chocolate peanut butter Cheerio bars in the freezer in Ziplock bags. They don't exactly freeze, but they stay nice and crispy and chewy this way.

If they're a little too chewy when you first take them out of the freezer, just wait a few minutes before devouring. I usually can't wait, but this is my official advice!
How long do they last if you don't freeze them?
If you don't put them in the freezer, they last well for a couple of days in an airtight container. After this they'll still taste good, but the Cheerios will start to go a little soft.
Are they good for you?
Hmmm. I might have to leave it up to you to decide whether these crispy treats are good for you or not.

These aren't exactly healthy Cheerio bars, but they aren't too bad either. I figure you're eating fairly healthy cereal without the milk + protein full peanuts + a bit of sugary marshmallow + a smattering of chocolate. I can think of worse – and better. 😉

I sometimes treat myself to one of these after dinner and trick myself into thinking it's the equivalent to a bowl of cereal. A-hem.

If you're looking for healthier snacks, take a look at this 50+ healthy sweet snacks that don't taste boring!
How many calories are in them?
I've calculated that there are about 177 calories in each bar, depending of course on how big you slice them.

So… not too bad, really!
Are Cheerio bars gluten free?
Cheerios recipes can easily be gluten free. Just check the type of Cheerios you use. Also check that the marshmallows you use are gluten free – some are, but others aren't.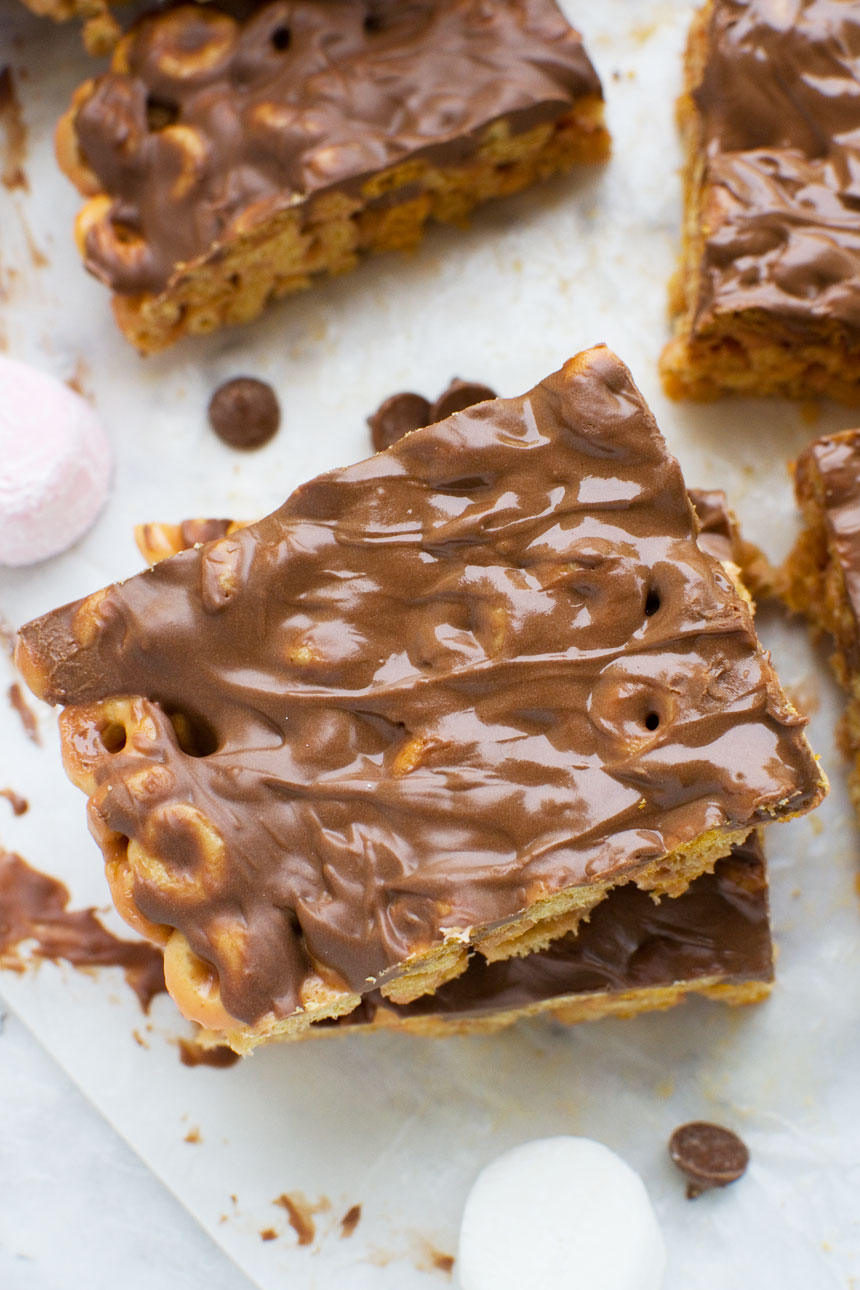 Variations
I love these Cheerio treats exactly as they are, but there might just be ways to make them even yummier.
Here are just a few ideas:
Add chopped chunks of your favourite chocolate bars/candy e.g. Snickers, peanut butter cups, M&Ms.
Replace around half a cup of the Cheerios with a combination of nuts, coconut and/or dried fruit.
Replace the milk chocolate on top with white chocolate.
Try replacing the Cheerios with another kind cereal such as Rice Krispies or Cornflakes.
Adapt for the occasion. Put Cadbury mini eggs on the top for the perfect chocolate Easter treats. Blue or pink sprinkles for a baby shower. Crushed candy canes for Christmas. You get the idea!
Completely mad about peanut butter? You just have to try this banana and peanut butter cake with chocolate chips. Great for birthdays! Your friends will want you to make it again and again. Don't say I didn't warn you.
More crispy treats
If you like these yummy Cheerios bars, you'll also love these marshmallow and swirly chocolate crispy squares. They're similar taste wise, but made with Rice Krispies and made to look veeeery pretty so you can give them as a gift!
More really easy desserts
If it's super easy you're looking for, check out this list of 5-minute no bake desserts. Or see all my quick and easy desserts.
IF YOU MAKE THIS RECIPE, LET ME KNOW HOW YOU GET ON BY LEAVING A COMMENT AND RATING BELOW… AND DON'T FORGET TO SIGN UP TO RECEIVE ALL MY NEW RECIPES BY EMAIL!
FOLLOW ME ON FACEBOOK, INSTAGRAM, PINTEREST AND YOUTUBE.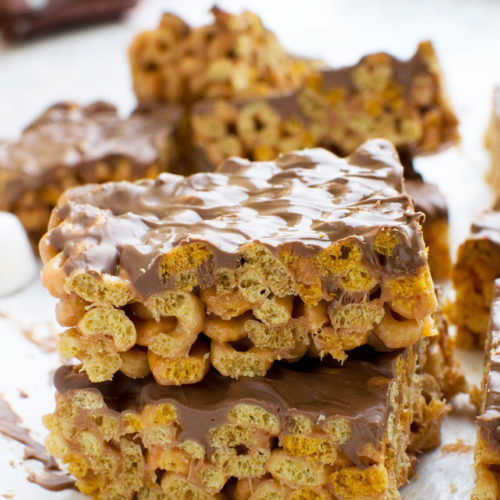 Addictive Peanut Butter Cheerio Bars
Need something to take to a party? Or just need treats stashed in the freezer for an emergency? These 5-ingredient peanut butter Cheerio bars take mere minutes to make. And no, they aren't just for kids!
Equipment (affiliate links)
Ingredients (UK/Australia? Click below for grams/ml)
2

ounces

butter

(about 3 tablespoons)

½

cup

peanut butter

10

ounces

marshmallows

6

cups

Cheerios

(use 5 cups if using UK cups)

7

ounces

chocolate

milk or dark
Instructions
Line a 9 x 13 inch pan with baking paper.

Melt the butter, peanut butter and marshmallows together slowly on a low heat.

2 ounces butter,

½ cup peanut butter,

10 ounces marshmallows

Combine with a wooden spoon, then stir in the Cheerios.

Press the mixture into the pan with damp hands to stop the mixture sticking.

Melt the chocolate in the microwave for 90 seconds, then pour over the Cheerio mixture, spreading right to the edges.

Let the Cheerio bars set in a cool place for a while (the fridge is fine), then cut into bars. Store in an airtight container for up to 2 days, or freeze in Ziploc bags.
Notes
*Note about measuring the Cheerios: If you're using UK cups (slightly larger than US cups), use just 5 cups of Cheerios (about 240 – 250 grams). Don't worry about being super precise – it won't ruin the recipe!
Remember to melt your butter, peanut butter and marshmallows ON A LOW HEAT. You don't want it to boil up into a super chewy caramel!
If you like, you can replace ½ cup of the Cheerios with ½ cup peanuts (I use unsalted but salted may work well too!).
These peanut butter Cheerio treats stay crispy for a day or two in an airtight container, but not too much longer. If you want to keep them longer, store in the freezer in Ziploc bags.
Nutrition
Calories:
177
kcal
Carbohydrates:
23
g
Protein:
3
g
Fat:
9
g
Saturated Fat:
4
g
Cholesterol:
6
mg
Sodium:
99
mg
Potassium:
111
mg
Fiber:
1
g
Sugar:
14
g
Vitamin A:
280
IU
Vitamin C:
1.3
mg
Calcium:
31
mg
Iron:
2.5
mg