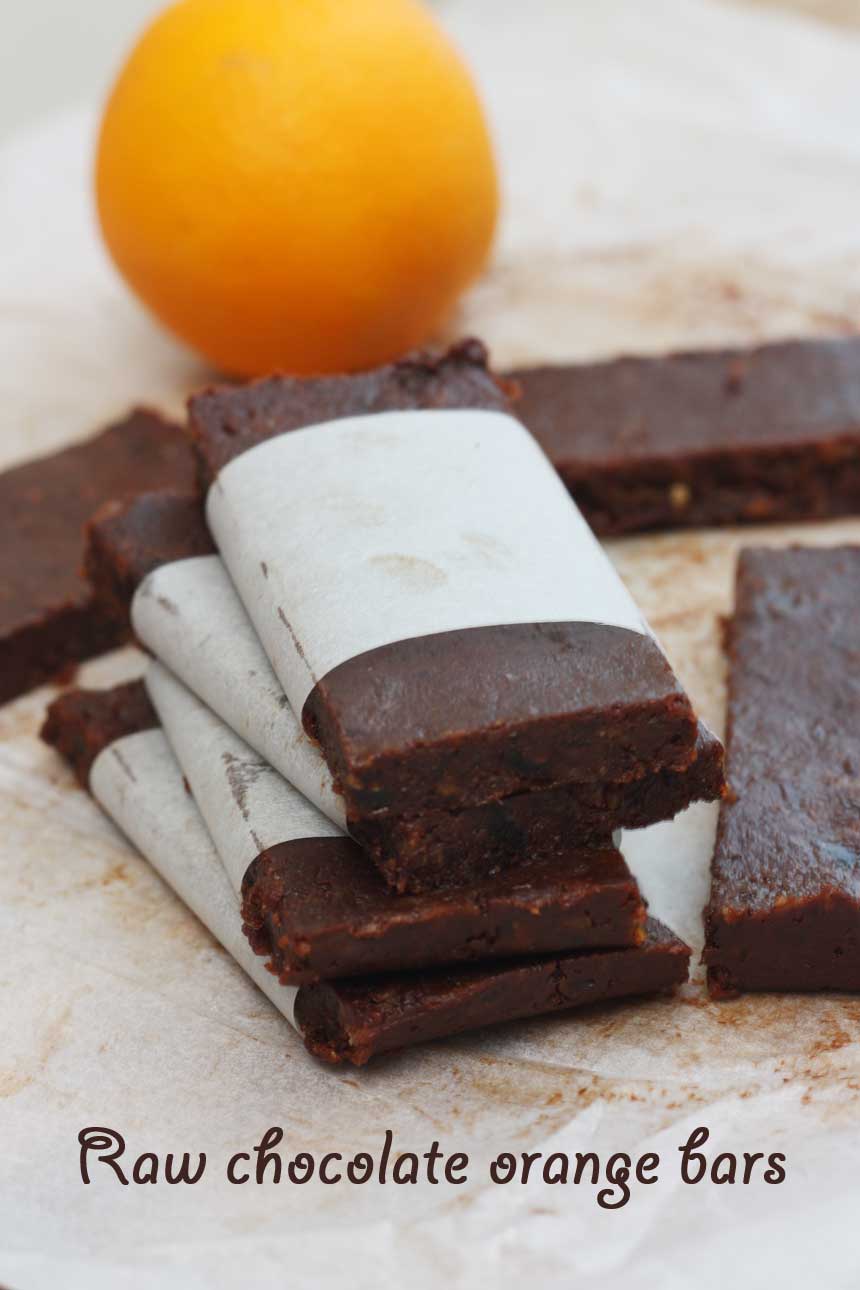 Over the last couple of weeks, Mr. Scrummy and I have somehow got ourselves addicted to old Seinfeld reruns. A family member mentioned it, we watched one episode soon after and then before we knew it we were totally hooked. At first, having never seen even one episode of Seinfeld before, I wasn't so keen. The first episode we watched ('The Hamptons', if you were ever a Seinfeld fan) seemed full of dated and, frankly, quite sexist, almost slapstick-style jokes. But I thought I'd give it a chance and watch a couple more episodes and then … bam, just can't stop watching them now. My favourite character is Elaine. She's so honest, fun and feisty!
So as I particularly enjoyed last night's episode, and as it began with a food theme, I thought I'd share the first few exchanges of the script with you. Just in case you don't know, Jerry Seinfeld is a comedian and the show always starts and ends with him on stage telling jokes. So here goes:
JERRY: You know, I tell ya, I gotta say that I'm enjoying adulthood. For a lot of reasons. And, I'll tell you reason number one: as an adult, if I want a cookie, I have a cookie, okay? I have three cookies or four cookies, or eleven cookies if I want. Many times I will intentionally ruin my entire appetite. Just ruin it. And then, I call my mother up right after to tell her that I did it. "Hello, Mom? Yeah, I just ruined my entire appetite … cookies." See, because as an adult, we understand that even if you ruin an appetite, there's another appetite coming right behind it. There's no danger in running out of appetites. I've got millions of them, I'll ruin them whenever I want!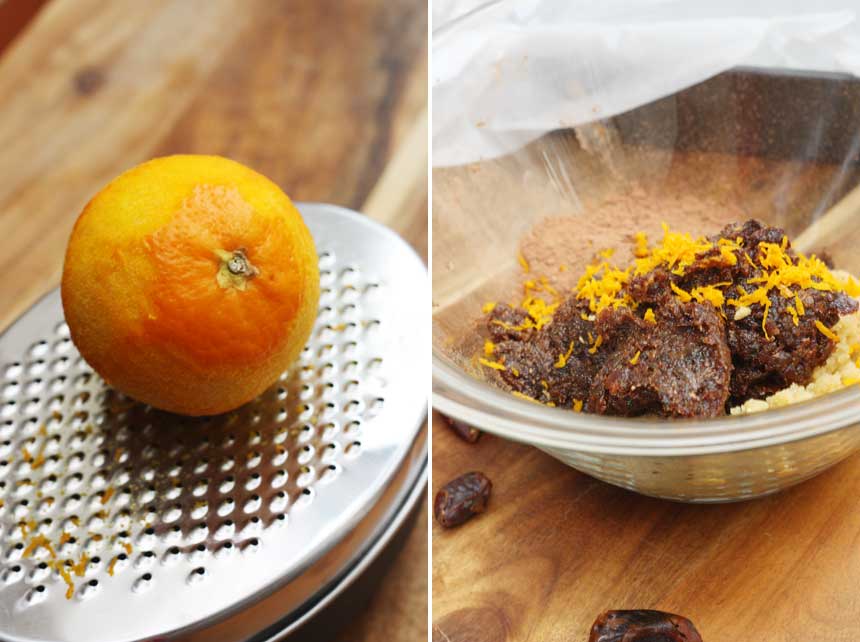 Now as I have a tendency to do this before dinner with things like chips and dips and crumpets and biscuits, I thought it'd be a great idea to come up with a healthier pre-dinner snack. Yes, I'll probably still ruin my appetite on occasion because I just didn't have enough self-control to wait until dinner, but at least it'll be ruined by something super wholesome like these 5-ingredient raw chocolate orange bars. I discovered some bars very similar to this in the supermarket a while ago and ever since have been meaning to attempt to re-create them at home. Although I say it myself, I seem to have got them right first time!
There are only five ingredients in these bars (I know, the name gave that one away) … dates, raw cashew nuts, sultanas, raw cacao powder and the zest and juice of one orange. They are also ridiculously easy to make, requiring just a few minutes of whizzing up in a food processor.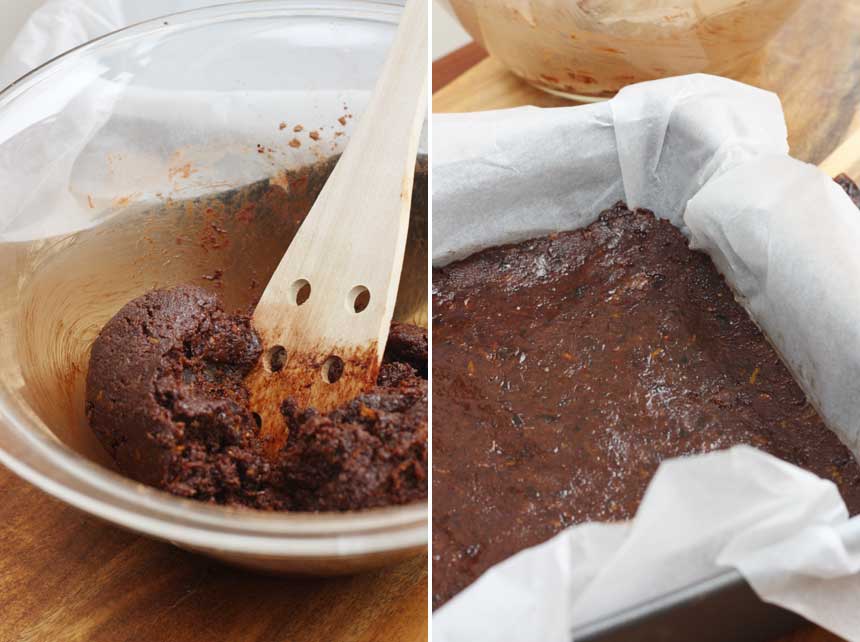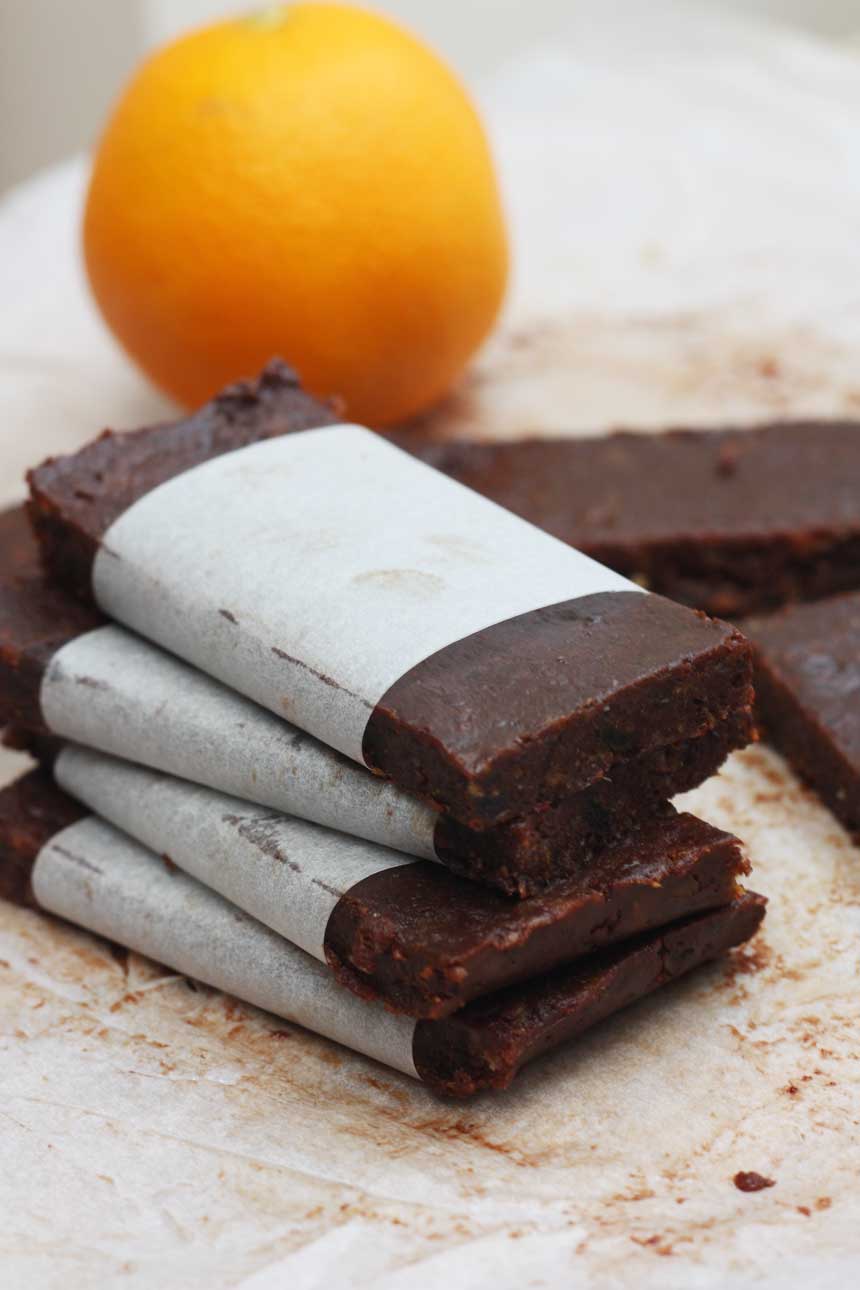 So that's the fabulous thing about these, but the miraculous thing is that they taste like the sweetest, most decadent dessert – like an extra gooey brownie or even soft chocolaty toffee or fudge – all with a fairly intense hit of orange flavour. You would never in a zillion years guess that there is NO refined sugar, chocolate, butter or oil in them. Just pure goodness. And they are even gluten free. Great news, no?
So next time I get a pre-dinner snack attack, I'm going to reach for one of these and feel all smug – even if I can't eat my dinner afterwards! 😉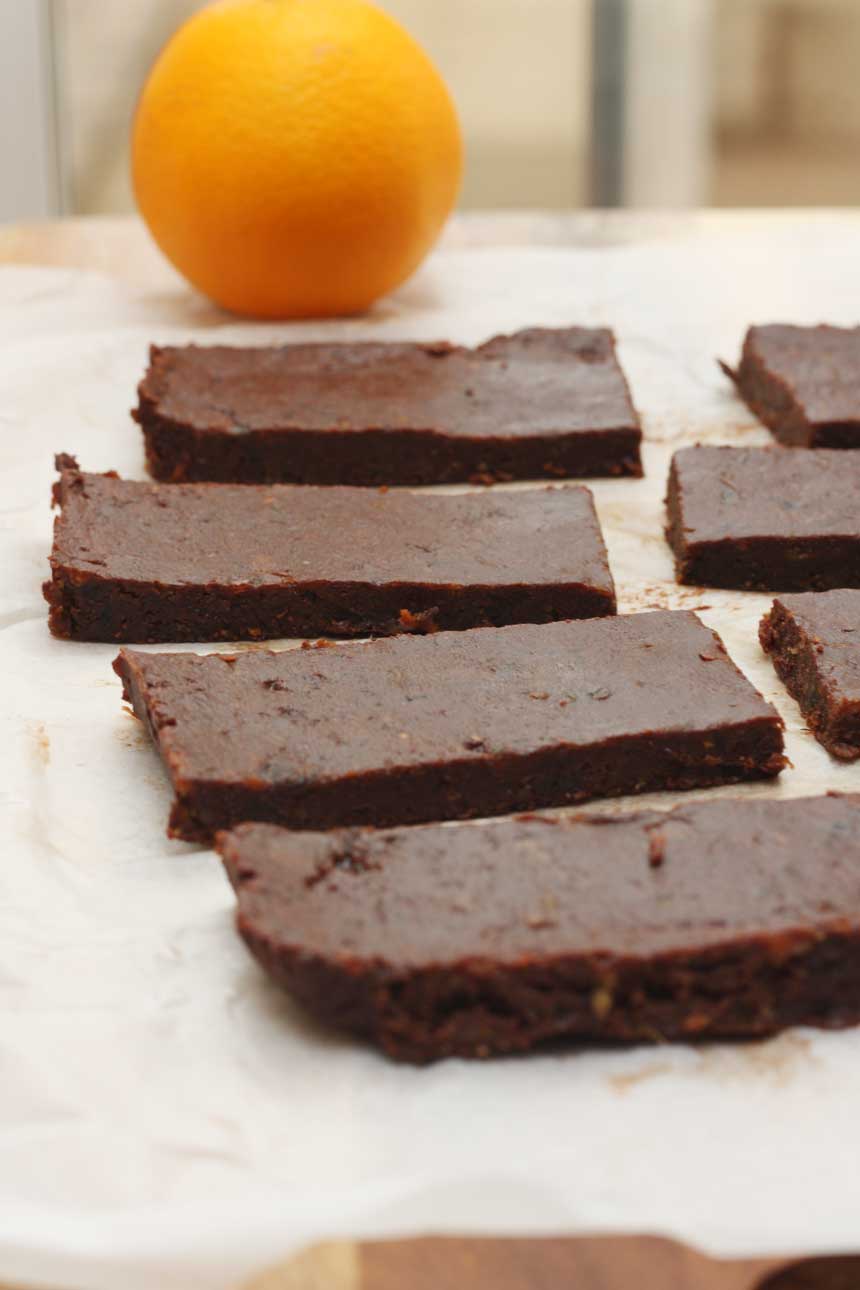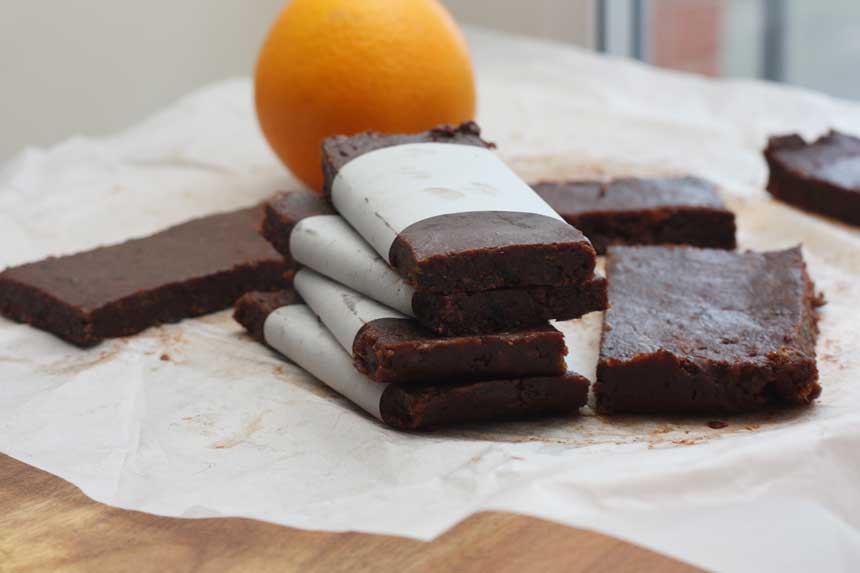 5-ingredient raw chocolate orange bars
Squidgy and super chocolaty chocolate orange bars. These taste like a gooey brownie, but are actually a healthy blend of just 5 raw ingredients - cashews, dates, sultanas, cocoa and an orange. A snack that you don't need to feel any guilt about.
Ingredients (UK/Australia? Click below for grams/ml)
1

orange

juiced and zested

6

ounces

pitted dates

2/3

cup

raw cashew nuts

1/3

cup

raisins or sultanas

I used raisins

2

tablespoons

raw cacao powder
Instructions
Line a fairly small square baking tin (I had 8x8 inch) with baking paper and set aside.

Put the dates in a small bowl and pour half of the orange juice over them. Put aside for a moment.

Put the cashews and the rest of the orange juice in your food processor and process until they are all mashed up and clump together in a ball (this took quite a while – at least 2 or 3 minutes).

Tip the cashew and orange mixture into a bowl. Then tip the dates/orange juice and sultanas into the food processor and process for a short while until they too are all mashed up and form a sticky ball (this won't take as long as the cashews).

Add the mashed up dates/sultanas to the cashew/orange mixture in the bowl, then add the cacao and orange zest and mash everything together well until it resembles a thick chocolate cake batter.

Tip the mixture into the baking tin and spread out and press down until it's evenly pressed in and smooth.

Cover and put in the fridge or freezer to harden a little, then cut into 8 to 10 bars (I cut mine into 8, but that makes fairly large bars).
Notes
Inspired by Nakd chocolate orange bars These store really well in the freezer. Just freeze and take the bars out individually when you want to eat them.
Nutrition
Calories:
147
kcal
Carbohydrates:
26
g
Protein:
3
g
Fat:
5
g
Sodium:
3
mg
Potassium:
308
mg
Fiber:
3
g
Sugar:
15
g
Vitamin A:
35
IU
Vitamin C:
9.1
mg
Calcium:
22
mg
Iron:
1.3
mg
I hope you enjoyed this post! You can subscribe to receive posts directly to your inbox by entering your email address into the box at the top of the sidebar on the right.
You can also find more from Scrummy Lane on Facebook, Pinterest, Twitter and Instagram and follow me on Bloglovin! Thanks so much for reading!
*This post may contain affiliate links which means that if you click on a link and make a purchase I get a small percentage of the amount you spend. At no extra cost to you, of course! Thank you!*