Whether you're looking for the best Anzac biscuit recipe, or you've never even heard of them, you're in for a treat. Australians and New Zealanders make these simple oat cookies every Anzac Day on the 25th April, or frankly whenever they're in the mood. This version is lower in sugar, but still gets full marks for sweetness, taste, crunch and chew factor. The best part? They're ready in just 30 minutes!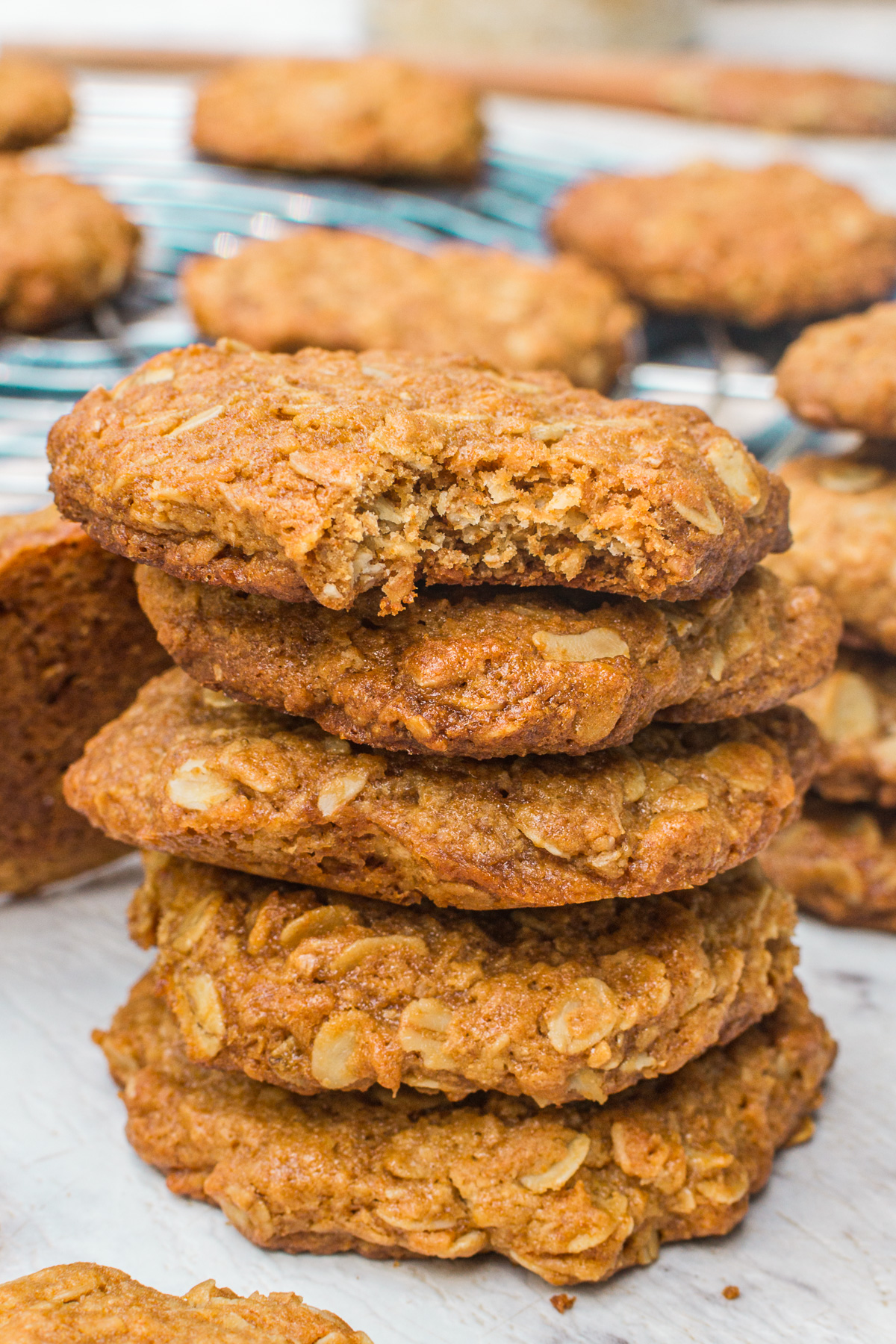 All about Anzac biscuits
Walk into any Australian supermarket, cafe or bakery, and you'll find Anzac biscuits. They're the most famous and popular biscuit here.
And for very good reason! Aussies (and New Zealanders) make them every year to commemorate ANZAC Day – 25th April 1915 – the date of the first major military action that Australian and New Zealand forces fought during World War I.
The story goes that wives used to send these egg-free biscuits to their husbands fighting overseas because they travelled well and didn't spoil easily.
So the history of this humble biscuit goes back a long way, but it also happens to be delicious – buttery, slightly caramel-y, oaty, coconut-y and crunchy and/or chewy.
Bonus – they're really easy to make and quite hard to mess up. Even if you do 'mess them up', you'll probably still end up with something quite delicious!
Pop them in the biscuit tin and they'll last for ages. Slip one into your family's lunchboxes and you'll make everyone happy.
The best Anzac biscuits?
Everyone has their preference when it comes to Anzac biscuits, but the basic recipe will always be the same – oats, butter, sugar, flour and golden syrup. Here's what I do to make the biccies to my liking.
Brown sugar adds chewiness and caramel flavour.
Half wholemeal flour ups the nutrition and adds a tiny bit of nuttiness.
Reduced sugar and added honey equals just the right amount of sweetness.
Salted butter (or unsalted plus a bit of salt) enhances the buttery, nutty, caramel-y flavours.
Cooking at 180C/355F for 15 to 18 minutes makes for the perfect crispy-on-the-outside chewy-in-the-middle biscuits.
The good news is that you can easily continue tweaking the basic recipe according to what you have or prefer (more on this later!).
For another go-to treat for morning or afternoon tea, try these incredible 1 hour homemade cinnamon scrolls. You won't believe how easy and gooey and yummy they are.
What you need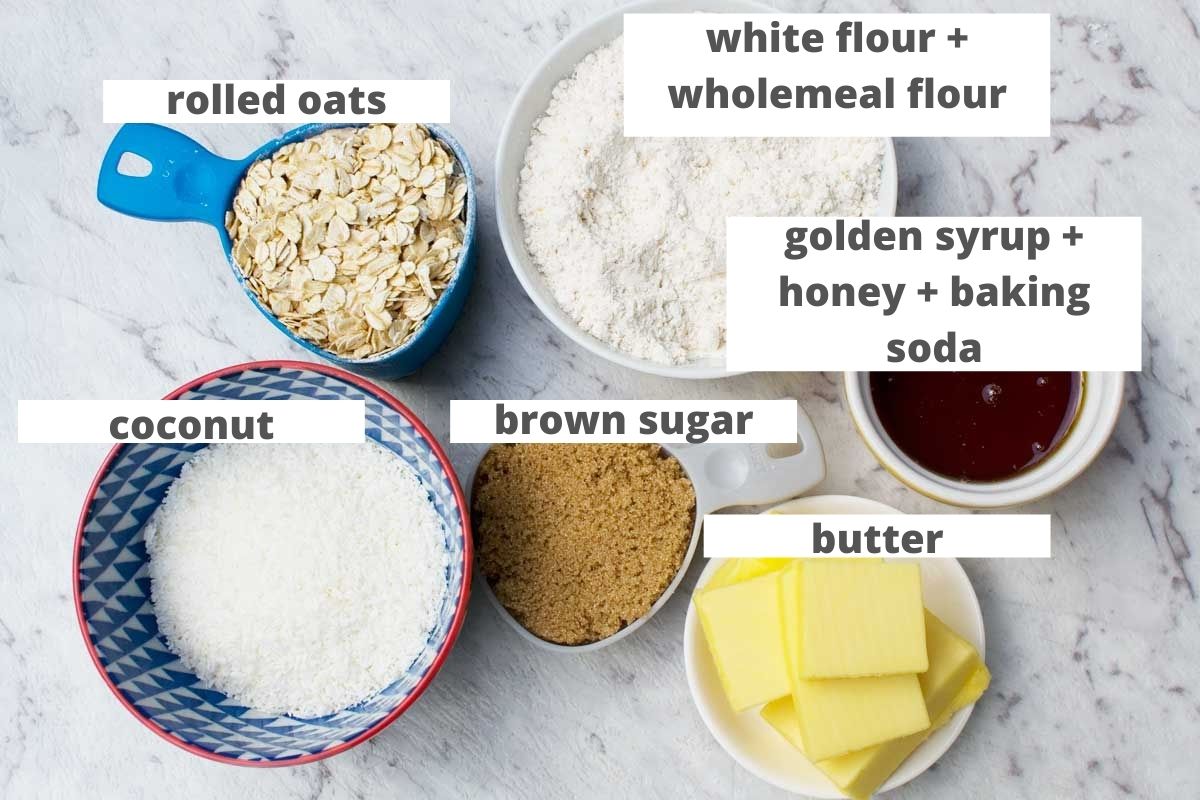 Happily, you only need 7 very basic ingredients to make these yummy biscuits. Add honey and wholemeal flour if you like, but neither of these changes are essential.
Butter: I use salted butter which enhances all the other flavours. It's fine to use unsalted though if that's what you have. Just mix a little salt into the flour instead. You can substitute with oil for a vegan/dairy free version, but don't use margarine. Too much water content!
Golden syrup is essential to the recipe, not only for an authentic taste but to create a perfect sticky, chewy result. Find it in all Australian and UK supermarkets. In the USA? You might be able to find Lyle's Golden Syrup at Trader Joe's Wholefoods or Walmart. Otherwise, you can substitute with 1 part molasses to 3 parts corn syrup, rice malt syrup or even honey.
Baking soda: Add half a teaspoon for a bit of 'lift'. Either stir it in with the golden syrup (and watch the fizz!), or dissolve it into the bit of water you're going to add. I've even added it in with the dry ingredients which didn't seem to make any difference to the final result.
Sugar: I prefer brown sugar for the taste and gooey-ness. But it's perfectly fine to use another type of sugar. Plain white sugar, caster/fine sugar, raw cane sugar all work.
I've reduced the sugar in my recipe to just half a cup but added a quarter cup of honey. If you don't have any honey, you can add another quarter cup of sugar instead. Or just stick with half a cup of sugar – the biscuits will just be slightly less sweet, that's all.
Rolled oats: I like to use rolled oats for a chunky texture in the biscuits. Honestly, though… as this recipe is so forgiving, go ahead and use any kind of oats you like! You will find that different kinds of oats will absorb liquid differently, but it's easy to add more liquid or flour to compensate. You'll still end up with yummy biscuits.
Flour: I use half white plain flour and half wholemeal flour. This is personal preference for better nutrition and taste. There's nothing wrong with using all white flour if that's all you have. Spelt flour works well too.
Coconut: Dessicated or flaked coconut – take your pick. If you'd rather go coconut-less, or don't have any in the pantry, just skip it altogether. If your mixture seems too wet, just sprinkle in a few more oats or more flour.
Got leftover golden syrup? Make sticky apple and ginger cake, Eton Mess fridge cake or gingerbread muffins!
How to make Anzac biscuits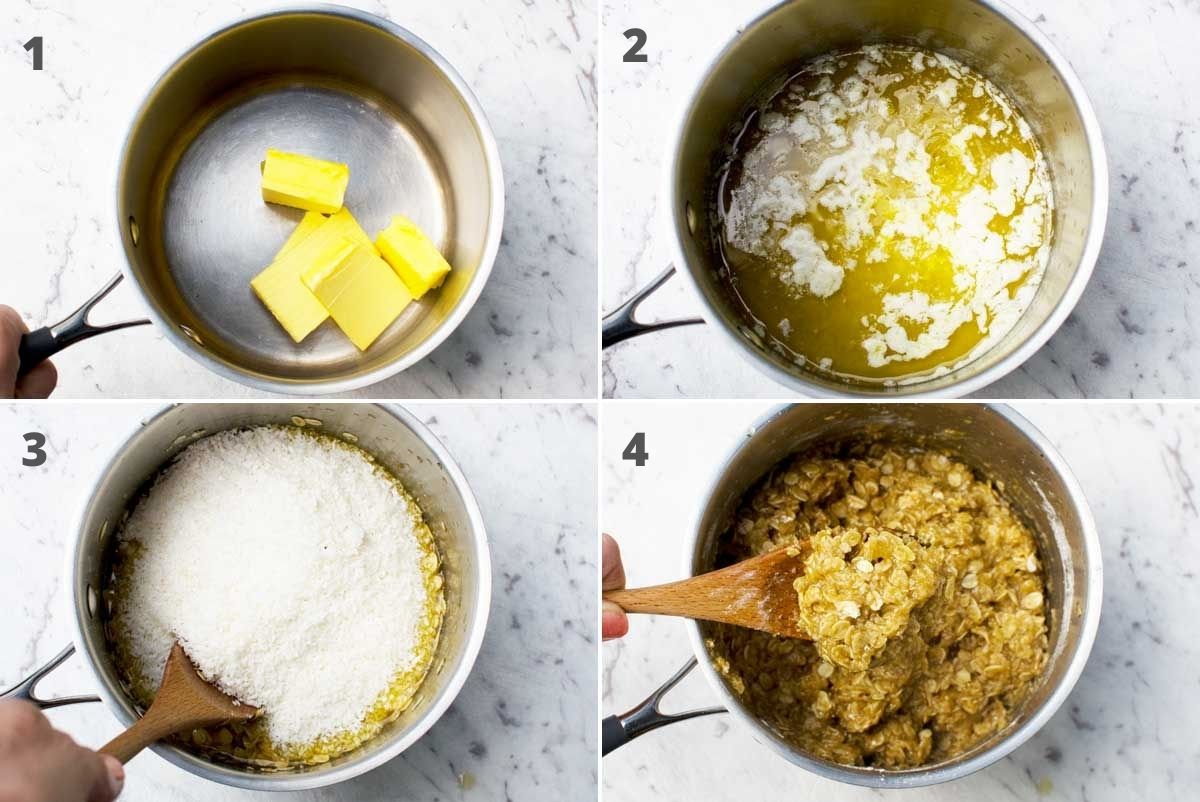 Anzac biscuits are SO easy to make in just a few minutes and a few simple steps. This makes them perfect for beginner bakers, fans of quick and easy recipes, or for making with children!
Step 1: Melt butter either in a saucepan or in a big bowl in the microwave.
Step 2: Add the rest of the 'wet' ingredients (golden syrup & honey and 2 tablespoons water. Also add the baking soda at this point and watch the fizz!
Step 3: Tip in all of the 'dry' ingredients (flour(s), sugar, coconut). Stir to make a wet – but not sloppy – dough. If the dough's too wet, add more oats/flour. If it's too dry, add a trickle more water.


Step 5: Place small balls of dough on a baking tray – spaced well apart. 8 or 9 to a tray is about right. Press down a bit with your hands or a fork.
Step 6: Bake for 12 to 18 minutes, depending on how crunchy or chewy you'd like your biscuits to be! Let cool on the tray for a few minutes before transferring to a cooling rack. The biscuits will crisp up as they cool.
Crispy, chewy, or crispy-chewy?
My favourite Anzacs are crispy on the outside, and chewy on the inside.
There's no 'right' way for them to be. Many have suggested tweaks to the basic recipe to achieve a crispier or chewier biscuit, but it's mostly down to the cooking time.
For crunchy Anzac biscuits, bake for 15 to 18 minutes, until dark golden – but not burnt of course!
For chewy Anzac biscuits, bake for just 12 to 14 minutes, until just lightly golden.
The thickness of the biscuits can make a difference, too. If you like crispy biscuits, flatten them a little more before baking. If you like chewier biscuits, don't flatten the balls of dough much – let them spread out by themselves. If you like you can even try refrigerating the dough balls first to keep the biscuits 'chunkier'.
You may need to experiment a bit with your exact ingredients and oven to get the perfect ratio of crisp to chew!
Store your biscuits in an airtight container (a metal tin is perfect). You'll find that even crunchy Anzac biscuits do get softer as the days go by. But there's a sneaky way to crisp them up! Just pop them in the oven for 5 minutes, let them cool, and hey presto you'll have crispy biscuits again.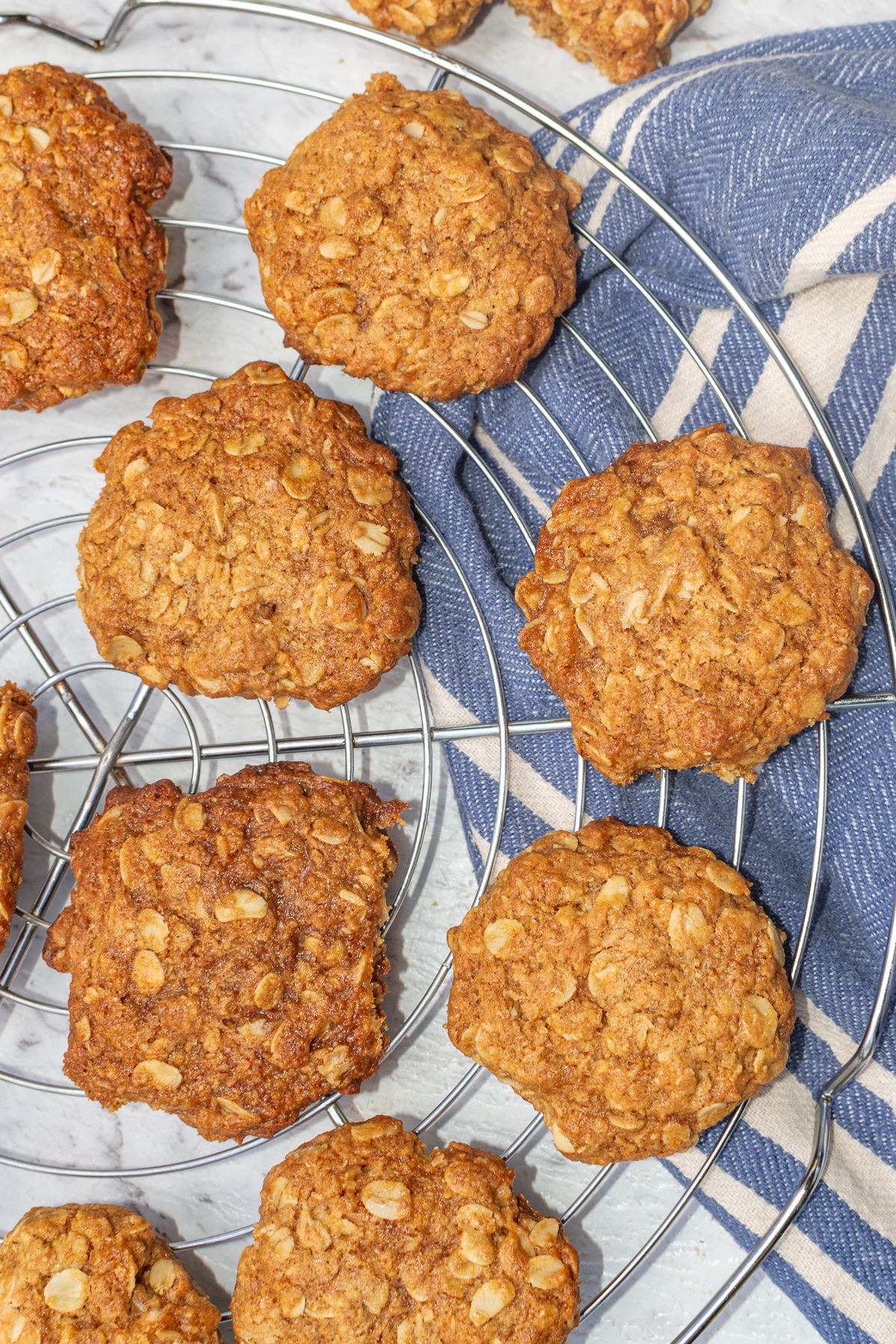 Fun ways to eat them
As with all classic recipes, you don't need to do anything to make Anzac biscuits better than they already are. But that doesn't mean you can't have a bit of fun with them. Here are some ideas:
Add a sneaky teaspoon of ground ginger to the mixture before baking. Ginger biscuit, anyone?
Melt some dark chocolate in a glass jug (microwave will do the trick). Dip the biscuits in so that half is covered with chocolate. Alternatively sandwich two together with chocolate or ganache.
Sandwich two biscuits together with your favourite ice cream and you have an Anzac biscuit ice cream sandwich. Don't mind if I do.
Crumble leftovers over halved stone fruit, apples or pears and bake until the fruit is soft and the topping browned.
Treat as a sort of fancy granola by crumbling over yoghurt and fruit.
Recipe tips & FAQ
What's the best way to store them?
Once the biscuits have cooled, store them in an airtight container. A metal biscuit tin is perfect. They should last for at least a week this way. They may lose a bit of their crispness eventually, but you can crisp them up again by popping them in the oven for 5 minutes.
Can I freeze them?
Yes, absolutely! Freeze the uncooked balls of dough for a couple of hours on a baking tray, then transfer to a Ziploc bag or sealed container.

When you're ready to bake them, let them defrost then flatten down on a baking tray and bake as normal. Alternatively you can freeze cooked biscuits for 3 months in sealed containers or bags. If using bags, try to squeeze as much air out of them as possible before sealing.
Can I make them dairy free/vegan?
As you may have already realised, these are egg-free biscuits/cookies. Replace the butter with oil (melted coconut oil works well) and they'll be dairy free and vegan, too. Use 100ml or 0.4 of a US cup of oil.
What can I use as a substitute for golden syrup?
If you're in the USA or another place where golden syrup can be harder to find, you can substitute with 1 part molasses to 3 parts corn syrup, rice malt syrup or even honey. The flavour will be a little different, but that's OK!
Are Anzac biscuits supposed to be chewy or crunchy?
Traditionally they were as crisp as possible. These days, sometimes they're chewier, other times they're crunchier.

To make crunchier biscuits, just increase the baking time by a few minutes until dark golden and crisp looking around the edges (15 to 18 minutes). Also flatten them more before baking so that they're nice and thin.

To make chewier biscuits, cook for less time, anywhere from 12 to 14 minutes. Don't flatten the dough balls too much, and you can even refrigerate them before baking so that they stay chunkier and chewier.

You might need to experiment a bit until you get the perfect biscuits – for you!
Can I make them in my air fryer?
You'll be happy to know that… you can indeed! The method is exactly the same as for the oven, except the baking temperature is a little lower. Bake at 160C/320F for around 15 minutes (or a little less or more depending on how crunchy/chewy you like them).

Depending on which type of air fryer you have – basket style or oven style – you may need to bake them in batches. The air fryer method is the best for when you only want to bake a few biscuits at a time. Bake a few and freeze the rest of the dough for later!
Curious about baking in your air fryer? Try this popular air fryer mini banana bread!
More Australian recipes
IF YOU MAKE THIS RECIPE, LET ME KNOW HOW YOU GET ON BY LEAVING A COMMENT AND RATING BELOW… AND DON'T FORGET TO SIGN UP TO RECEIVE ALL MY NEW RECIPES BY EMAIL!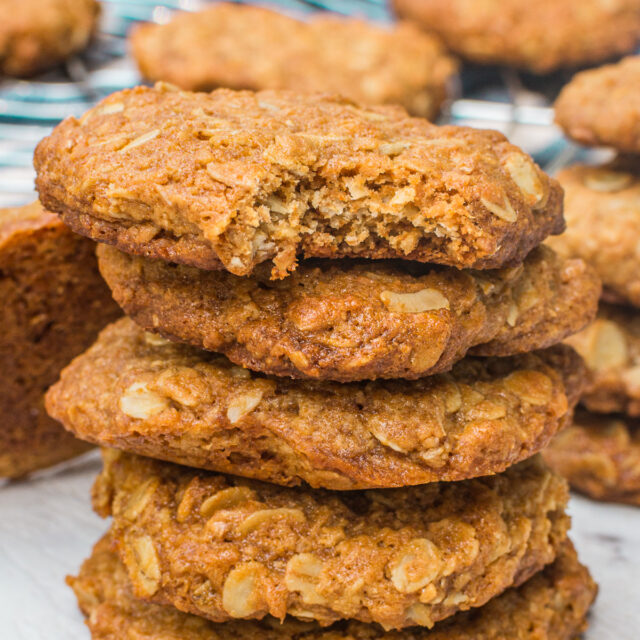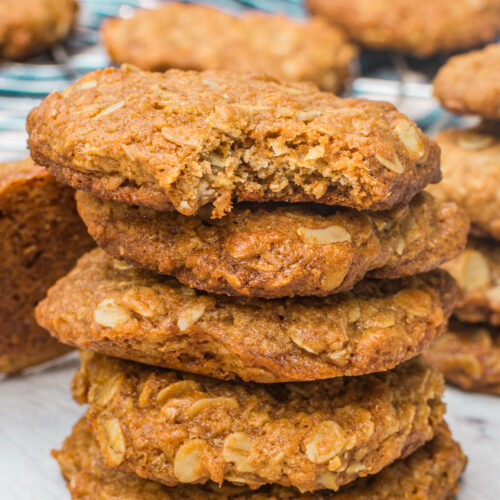 Anzac Biscuits (Low Sugar Recipe)
Australia's most popular biscuit recipe! Everyone loves Anzac biscuits, delicious oat cookies that can be either crunchy, chewy or anywhere in between. Take your pick! Eat them on Anzac Day – 25th April – or any day you like. They're so quick and easy to make. All you need is oats, butter, sugar, coconut, flour, baking soda… and 30 minutes.
Ingredients (UK/Australia? Click below for grams/ml)
4½

ounces / 125 grams

butter

melted (I prefer salted, but unsalted + ¼ teaspoon salt works too). See notes about how to make the biscuits vegan/dairy free.

2

tablespoons

golden syrup

(You can substitute with 1 part molasses and 3 parts corn syrup, rice malt syrup or even honey.)

¼

cup / 60ml

honey

(You can substitute with another ¼ cup of sugar – white or brown – if you like.)

2

tablespoons

water

½

teaspoon

baking soda

1¼

cups / 125 grams

rolled oats

(I use an Australian/UK cup. If you're using a US cup (slightly smaller), you'll need just over 1½ cups oats.)

1¼

cups / 185 grams

flour

(If using a US cup, use about 1½ cups) I like to use a combination of wholemeal flour and plain / all purpose flour.

½

cup / 120 grams

brown sugar

(⅔ US cups) White or raw sugar or a combination of brown and white sugars works well too.

1

cup / 80 grams

desiccated coconut

(1¼ US cups. You can use flaked coconut instead if you prefer.)
Instructions
Preheat the oven to 180C/355F. Spray two baking trays with oil and line with baking paper.

Melt the butter either in a large saucepan on the stovetop, or in a big bowl in the microwave.

Add the golden syrup, honey, water and baking soda and stir.

Stir in the oats, flour(s), coconut and sugar until you have a dough that's sticky but not runny. Add more oats/flour or water if necessary to get the right consistency.

Use a small ice cream scoop, metal spoon or just your wet hands to make small balls of dough. Place on the baking trays with at least 2 inches between each ball (about 8 or 9 on each tray). Flatten down with damp hands or a fork (flatter biscuits will tend to be crunchier).

Bake for 12 to 18 minutes, depending on whether you prefer chewier or crunchier biscuits. The biscuits should be light to dark golden brown, but not burnt of course.

Let cool on the baking trays for 10 minutes. Then transfer to a cooling rack and let cool completely before storing for up to 10 days in an airtight biscuit tin or sealed container. The biscuits may get softer as the days go by. To crisp up again, heat in the oven for 5 minutes at 180C/355F.
Notes
Ingredients variations: I usually recommend rolled oats, but any kind of oats work really. I prefer half white flour and half wholemeal, but again any combination is fine. I've reduced the sugar a bit in this recipe and replaced some of it with honey. If you prefer you can skip the honey and increase the sugar by 1/4 cup, or don't increase the sugar for even lower sugar biscuits. Brown sugar, white sugar, or a mixture works. White sugar may make for crispier biscuits and brown sugar chewier. Use salted butter, or unsalted plus 1/2 teaspoon salt.
Getting the dough right: First of all, these biscuits are very forgiving, so don't worry! The dough should be sticky and wet, but not runny. If it's too dry, add a bit more water. If it's too runny, add more oats/flour.
Cooking time: For chewier/softer biscuits, bake for 12 to 14 minutes, until light golden brown. For crunchier biscuits, bake for 15 to 18 minutes, until a deeper golden brown. Experiment with a few biscuits the first time you make them, until they're exactly as you like.
Air fryer instructions: Yes, you can make Anzac biscuits in your air fryer! Line your air fryer basket with baking paper (make sure it's just a small piece so it doesn't touch the elements). Air fry for around 15 minutes at 160C/320F. Different air fryers cook differently so keep an eye on them until light/dark golden brown but not burnt. I find the biscuits don't spread as much in the air fryer as they do in the oven so press down before air frying if you like crunchy biscuits.
Dairy free/Vegan instructions: To make these biscuits dairy free, simply replace the butter with coconut oil or another type of oil. You'll need 1/2 cup melted coconut oil/olive oil/other type of oil. To make the biscuits vegan, skip the honey and replace with another 1/4 cup of white or brown sugar.
Storing/Freezing: Anzac biscuits keep well for up to 10 days in an airtight tin or other container. Crisp them up again if you like by reheating in a hot oven (5 minutes at 180C/355F). Freeze either the uncooked dough or the cooked biscuits in well sealed containers or bags for up to 3 months. Let defrost and cook/eat as normal. Enjoy!
Nutrition
Calories:
181
kcal
Carbohydrates:
20.5
g
Protein:
2.5
g
Fat:
10.5
g
Saturated Fat:
7.5
g
Trans Fat:
0.5
g
Cholesterol:
15
mg
Sodium:
70
mg
Potassium:
56
mg
Fiber:
2
g
Sugar:
7.5
g
Vitamin A:
175
IU
Vitamin C:
0.5
mg
Calcium:
12
mg
Iron:
1
mg