Next time you need a (ridiculously) easy treat, food gift or party snack, grab a packet of pretzels and a big bar of your favourite chocolate. Melt chocolate, dip pretzels, pop into the fridge, and there you have it – 2-ingredient, 10-minute pretzels dipped in chocolate 'heaven'. Just like magic.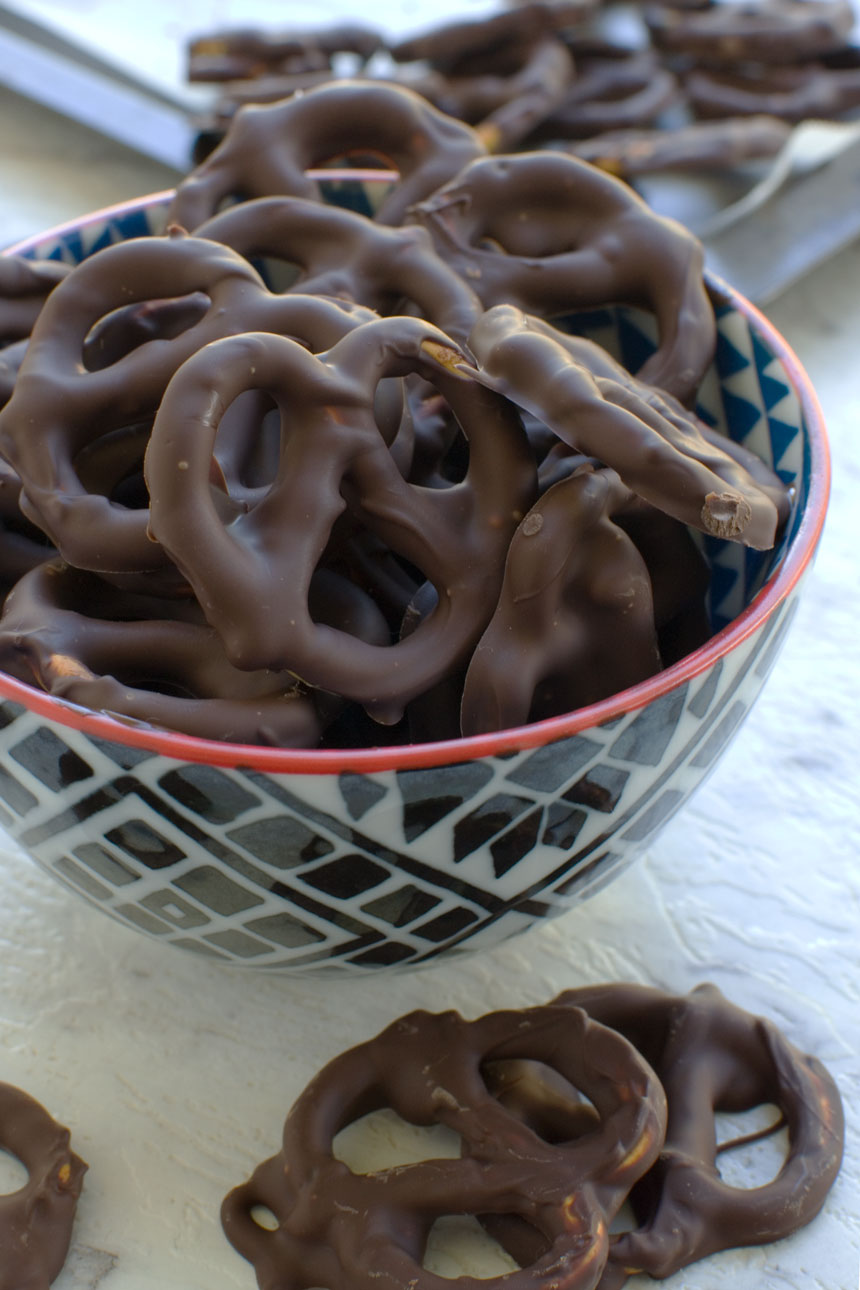 I know. I have a cheek calling this a recipe. It isn't one really. It's an idea. But it's a fabulous one, right?
I'm so addicted to these chocolate covered pretzels that I have to ration the amount of pretzels I buy. If I have them in the pantry, it's just too easy to make myself a big stash of these salty sweet gourmet chocolate biscuits… and eat them far too quickly.
Why you're going to love them
It's the easiest ever last-minute gift. But it can look so classy. Make, package in a small box or see-through food bag, tie with a ribbon and… done.
They're perfect last-minute treats or party snacks.
They're 'free from'. Check the packet, but they can be free from dairy, milk, eggs and nuts. Which means they can be suitable for vegans, or people with egg or milk allergies.
They're great for making with kids. The easiest ever cooking project!
About the ingredients
The amazing thing about this chocolate biscuit recipe is that you only need 2 ingredients:
your favourite chocolate
a bag of pretzels
I have experimented with A LOT of different types of pretzels and chocolate (oops).
My conclusion? Enjoy experimenting for yourself and find out which combo you prefer!
I usually use one particular brand of traditional twisted pretzels from my local supermarket. I slightly prefer the texture. And my favourite 70% cocoa organic chocolate when it's on special.
But seriously, just use any pretzels you can find and your favourite type of chocolate (rods, twists or something else is fine). In my local supermarket the pretzels are usually with the crisps/chips and other similar snack foods.

How to make them
See how easy it is:
Step 1: Melt chocolate. I usually melt a big bar (200 grams or 7 ounces) in a glass jug or small bowl in the microwave in 30-second bursts. It takes from 1.5 to 2.5 minutes depending on the type of chocolate. When it's nearly fully melted, just stir until the rest has melted too. This is a lazy but effective way of 'tempering' the chocolate!
If you prefer to melt the chocolate the traditional way, just place the glass bowl of chocolate pieces over a saucepan of boiling water until it melts. Don't let the bowl touch the water.
Step 2: Drop the pretzels into the chocolate a few at a time. Grab a teaspoon and give them a good dunk. My 3-year-old loves helping with this!
Step 3: Fish the pretzels out of the chocolate with the spoon or a fork. No need to wipe off any of the chocolate – the thicker the better! Place them on a baking tray lined with baking paper.
Step 4: Put the tray of chocolate dipped pretzels in the fridge to set. I find it only takes 5 to 10 minutes for the chocolate to set.
Step 5: Lick the bowl (of course). My son loves 'helping' with this part too.
A few top tips
Use a small spoon to dunk the pretzels and fish them out. When you've almost used up all the chocolate, it's easy to scrape around the bowl with the spoon and drizzle the last bits on a few more pretzels.
Don't throw away the broken bits of pretzels! I love to cover those in the chocolate too and pile them on the baking tray in little pretzel stacks. Mmm!
Keep your finished choccie biccies in small food bags in the fridge. I think they taste better cold.
Variations
This is one of those things where the variations are limited only by your imagination. Here are a few ideas:
While your 'chocolate biscuits' are still wet you can drizzle over a different kind of chocolate with a piping bag or even just a spoon e.g. white chocolate zigzags!
Sprinkle over coconut, finely chopped nuts or dried fruit, sprinkles, mini m&ms, or anything else tiny and tasty that you can think of.
Dip in the chocolate as usual. Let dry, then just half dip in a different kind of chocolate. Alternatively, melt two different kinds of chocolate together, say milk and white, then lightly swirl together before dipping for a fun swirly chocolate effect.
Add a few drops of food colouring to white chocolate to make fun colourful chocolate pretzels.
Sandwich two pretzels together with nut butter or cookie butter before dipping. Mmmmm!
Use the finished pretzels to decorate desserts like cupcakes, birthday cakes, cheesecakes or ice cream sundaes!
For a simple homemade food gift that anyone would love, make a selection of different kinds of chocolate biscuits. Put them in a clear food gift bag, plain glass jar or small gift box. Add ribbons and a gift tag.
More things to know (FAQs)
Do these keep well? How about freezing?
Yes! I usually keep mine in the fridge but an airtight container works too. It's hard to say exactly how long they last because I always eat them quickly, but I hear they stay fresh for around 2 to 3 weeks 😉
Perhaps surprisingly, these yummy chocolate covered biscuits even freeze well. Make sure they're in an airtight container and they will freeze for up to 12 months. You don't even have to defrost them to eat them!
Are they healthy?
I wouldn't say 'healthy', but if you use dark chocolate I think they're a pretty innocent treat. They can also be great for people with special dietary requirements, such as egg, milk or nut allergies. Check the ingredients to be sure, but pretzels usually contain just flour, oil and water. So they can be suitable for vegans.

Fan of healthy snacking? Check out this list of 50+ healthy sweet snacks that don't taste boring!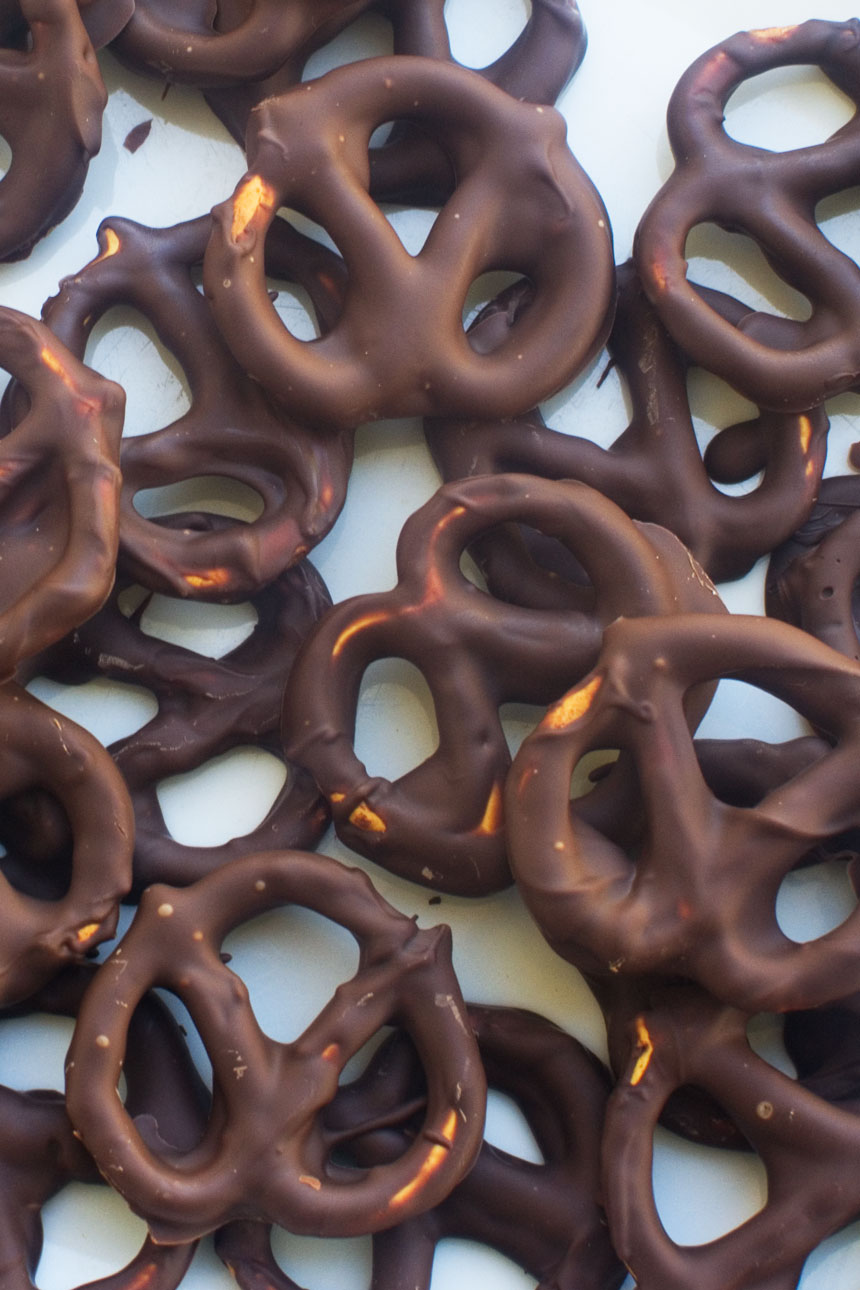 More easy homemade food gifts
IF YOU MAKE THIS RECIPE, LET ME KNOW HOW YOU GET ON BY LEAVING A COMMENT AND RATING BELOW… AND DON'T FORGET TO SIGN UP TO RECEIVE ALL MY NEW RECIPES BY EMAIL!
FOLLOW ME ON FACEBOOK, INSTAGRAM, PINTEREST AND YOUTUBE.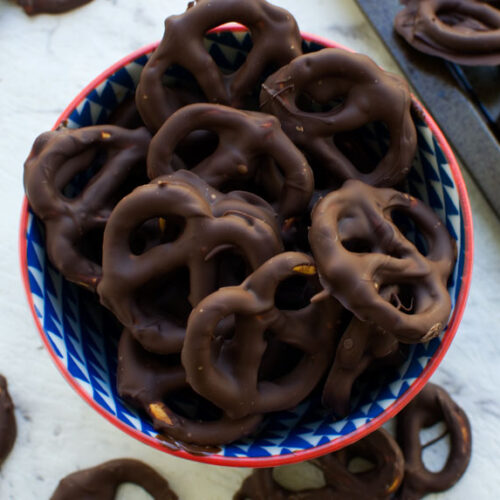 Pretzels Dipped In Chocolate
Need a last-minute gift, emergency treat, party snack or easy baking idea for the kids? This 10-minute 2-ingredient chocolate biscuit recipe is it! Otherwise known as chocolate pretzels, they're really just an idea, but they're a brilliant one to have up your sleeve! Delicious, easy and versatile. Get dipping!
Equipment (affiliate links)
Ingredients (UK/Australia? Click below for grams/ml)
7

ounces

chocolate

200 grams (any type: dark, milk, white, baking…)

3

ounces

pretzels

(between 3 and 4 ounces/85 to 120 grams, depending on type of pretzels and chocolate used)

decorations including extra chocolate for piping, nuts/dried fruit, shredded coconut, sprinkles etc. (optional)
Instructions
Line a baking tray (or two) with baking paper.

Break the chocolate into a glass jug or small bowl. Microwave on full power for 1½ to 2½ minutes in 30 second bursts until almost totally melted. The length of time depends on the type of chocolate. Stir until fully melted and smooth. Alternatively melt in a bowl set over a pan of simmering water. Don't let the bowl touch the water.

Drop a few pretzels at a time into the chocolate. Use a spoon or fork to dunk them until they're completely covered in chocolate. Fish out with the spoon/fork and place on the prepared baking tray.

Decorate if you like, then put the tray(s) in the fridge for around 10 minutes or until the chocolate is set. Store in small plastic food bags in the fridge or in an airtight container for 2 to 3 weeks, or freeze for up to 12 months.
Notes
What kind of pretzels and chocolate to use
Any kind you like. Experiment with different types until you find your favourite.
How to melt the chocolate
In the microwave in a glass jug or small bowl in 30-second bursts. 1.5 to 2.5 minutes altogether depending on the type of chocolate.
Alternatively, melt in a glass bowl over a bowl of simmering water. Don't let the bowl/chocolate touch the water.
How to dip the pretzels
Dip a few at a time using a small spoon or fork. Use a small spoon to scrape up the last bits of chocolate and drizzle over a few more pretzels!
Place on the baking tray and decorate if you like.
How to store
I always keep my 'chocolate biscuits' in the fridge in little Ziploc plastic bags for emergency snacks. They keep for 2 to 3 weeks. Alternatively keep in an airtight container.
To give as a gift, package in a clear food gift bag and tie with a pretty ribbon or string. Or line a gift box with baking paper and pile them in.
Freezing
Freeze in airtight containers for up to 12 months.
Nutrition
Calories:
332
kcal
Carbohydrates:
47
g
Protein:
4
g
Fat:
18
g
Saturated Fat:
10
g
Sodium:
277
mg
Potassium:
173
mg
Fiber:
3
g
Sugar:
26
g
Calcium:
16
mg
Iron:
2
mg