Need a sweet hit and need it now? Make yourself and a friend or loved one a microwave banana mug cake with a saucy white chocolate surprise inside! Ready in only 5 minutes, and it just happens to be gluten-free.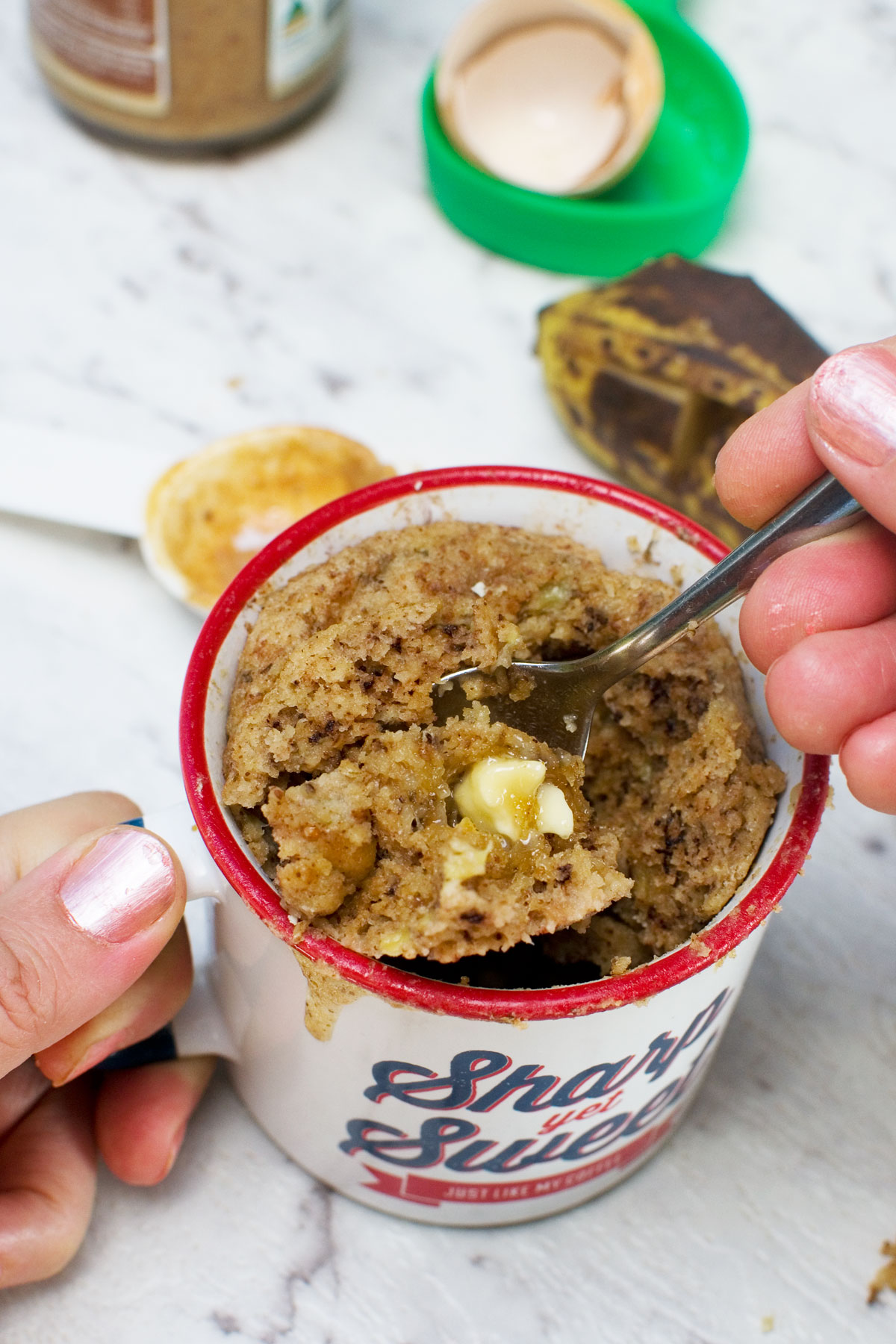 When you need a little treat, and you need it now, there's nothing that hits the spot better than a mug cake.
This 2-minute peanut butter mug cake (that happens to be pretty healthy) is already quite popular around here. So I thought it was time to add another quick and easy mug cake – this time a very yummy gluten-free banana mug cake made from simple (and healthy) ingredients.
What's so great about it
Got 5 minutes and a microwave? You need just a few minutes to make the batter right in the mug and around 2 minutes to cook in the microwave.
It's dessert for two! Grab two spoons and dive in. Alternatively, eat half and save the rest for later.
It tastes like a slightly nuttier version of a classic banana bread. But a classic banana cake takes around an hour to make…
It's made with almond flour, making it gluten free.
It tastes very yummy eaten on its own straight out of the mug (while curled up on the sofa with a good movie, of course). The melted white chocolate tastes almost like a sweet, creamy sauce. Add a scoop of ice cream and you'll be in quick and easy banana bread heaven!
It's pretty healthy, really. Apart from a little bit of brown sugar and white chocolate, it's made with pretty good stuff!
What you need
You're only 1 small banana and 6 pantry ingredients away from a very yummy (almost instant) microwave banana cake for two!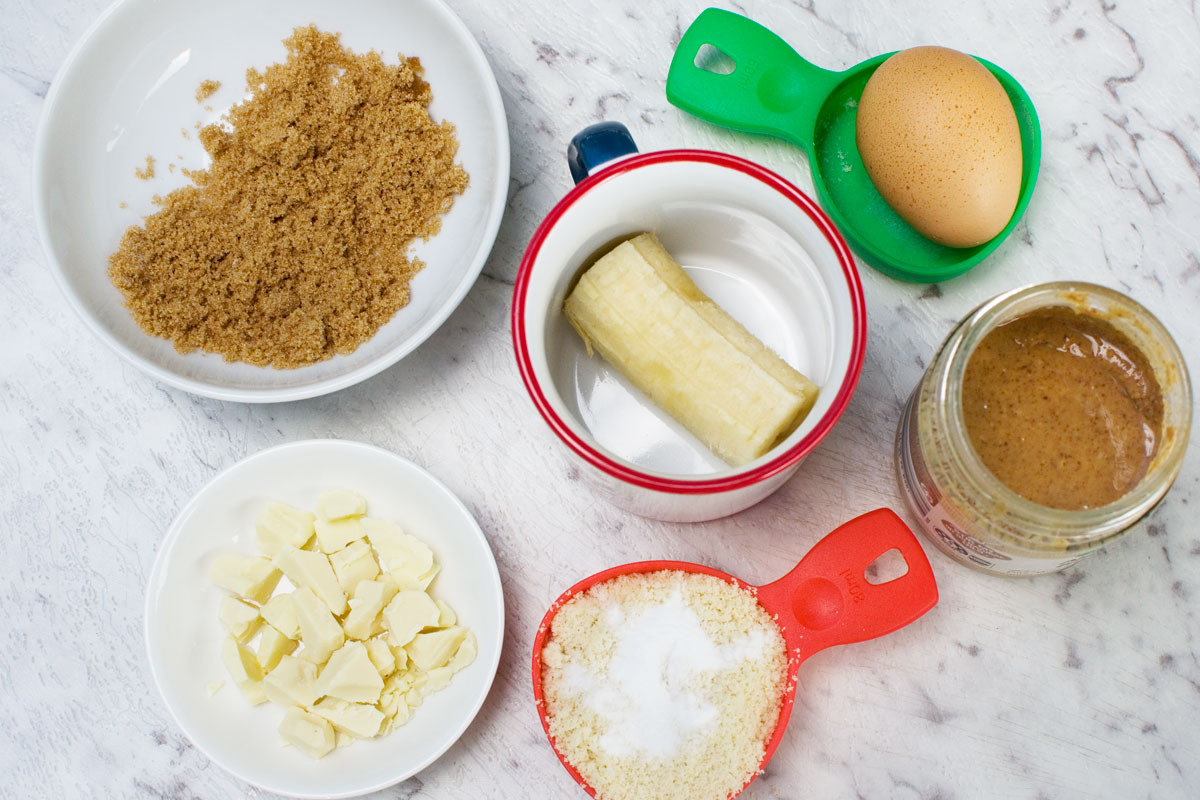 You need just half a small banana, as well as:
almond butter (peanut butter works too, of course)
almond flour mixed with a tiny bit of baking soda
No oil or butter is necessary as there's enough fat in the almond butter already.
How to make it
The great thing about this mug cake is that you mix up the ingredients directly in the mug.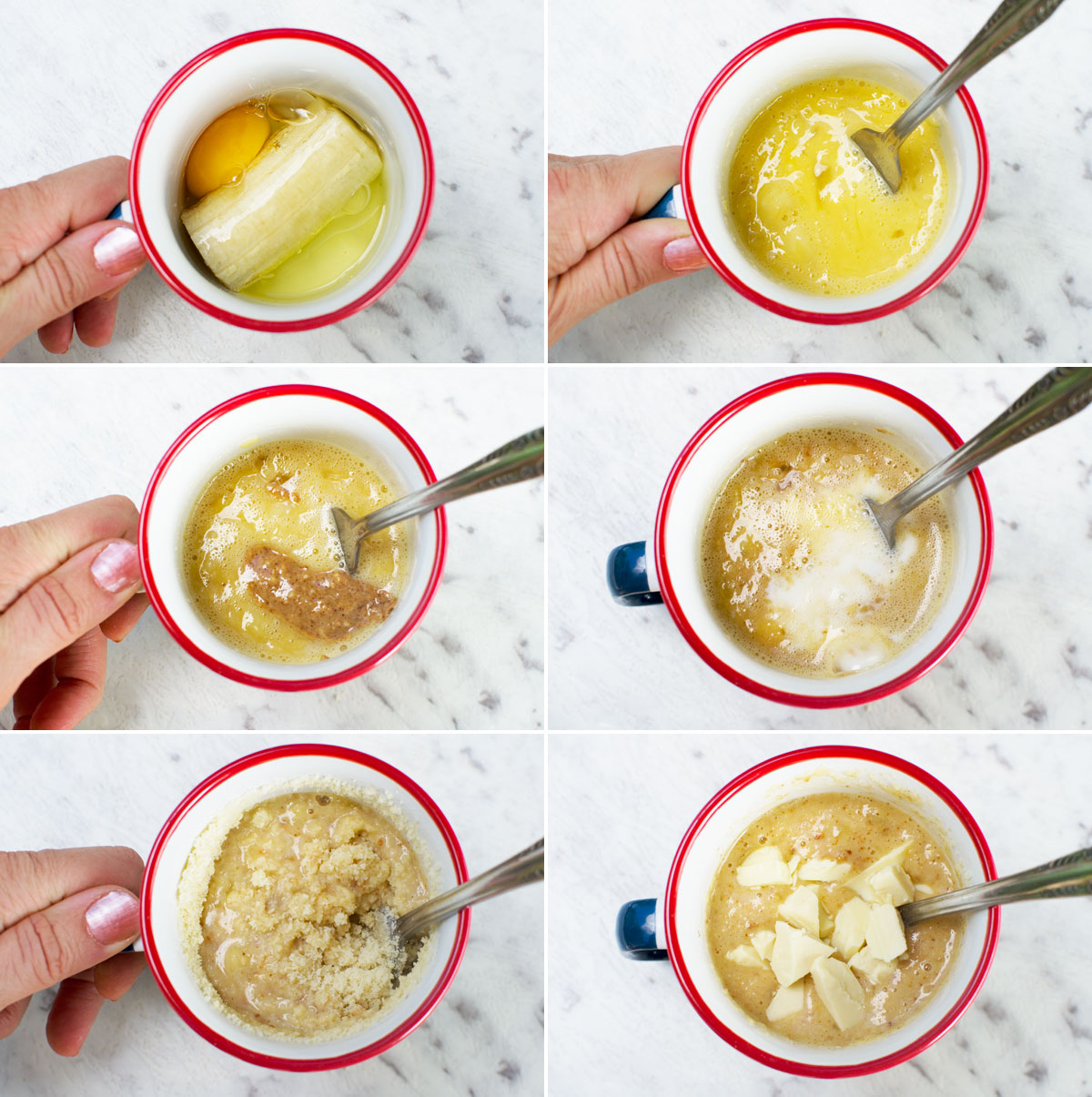 Step 1: Grab a mug – the largest one you have. Or a very small baking dish – let's say 5 to 6 square inches.
Step 2: Mash up half a banana with a fork. Make it a small one, and the riper the better.
Step 3: Whisk in a small egg, followed by sugar, almond butter, milk, and almond flour mixed with a little baking soda.
Step 4: Stir in a handful or two of white chocolate chips. I like to be quite generous with myself and save a few to sprinkle on the top!
Step 5: Microwave for 2 minutes. Let cool a little and enjoy!
Pro tip 1: It's fun to watch the mug cake rise up outside of the mug at an alarming rate! Don't panic! It actually doesn't usually overflow, but put a small plate under the mug just in case.
Pro tip 2: The cake is VERY hot when it comes out of the microwave. I've burnt my tongue a couple of times! I know it's hard, but wait a few minutes before you tuck in.
FAQs
Can I use ordinary white sugar instead of brown?
Yes, absolutely! Brown sugar gives the cake a slight caramel-y taste, but ordinary sugar is fine.
That doesn't seem like a lot of sugar. Can I add more?
Yes again. With the addition of the white chocolate 1.5 tablespoons is about right for me, but make it 2 tablespoons if you have a sweeter tooth.
What can I use instead of almond butter?
The cake will taste almost the same if you use a different nut butter such as peanut butter. If you like, you can even make a nut free mug cake by replacing the 2 tablespoons of almond butter with 2 tablespoons of oil.
Can I make it without almond flour?
If you like you can replace the almond flour with plain flour – gluten free or ordinary. Other types of flour should work too. You can even use coconut flour, but use 1.5 tablespoons only.
Are almond flour and almond meal the same thing?
Yes, they're virtually interchangeable. The only difference is that almond flour is a bit finer. In theory this makes it a better substitute for regular flour, but almond meal works in this recipe too.
Can you make a microwave mug cake in a small baking dish instead?
Yes, you can! Try a 5 inch by 5 inch baking dish or similar.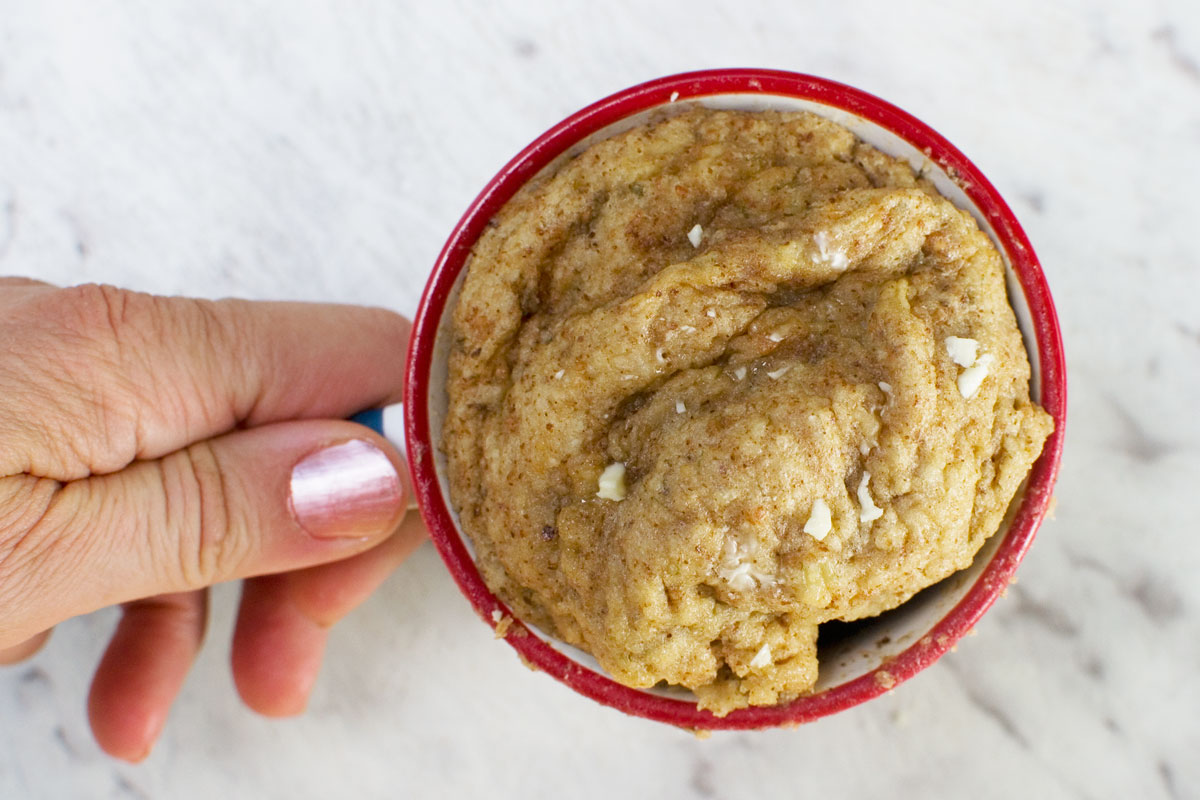 How to serve it
You might think this is a silly question. It's a microwave mug cake, right? Don't you just make it in a sweet snack attack emergency? Then you grab a spoon and eat it all to yourself on the couch.
You can do that if you like. The melted white chocolate makes it almost like a self-saucing pudding!
But this banana mug cake is a bit of a monster. Feel free to grab 2 spoons, add a scoop of ice cream and share with a loved one. If you prefer, empty the cake out onto two plates. It won't be the prettiest dessert you've ever seen, but hey, it's a dessert emergency. Do you care? 😉
I've also been known to put plastic wrap over the top of the mug and save half until the next day. It still tastes pretty good!
Need another gluten-free idea? You have to try these gluten-free brownies. Fudgy, cakey AND chewy, and made all in one bowl.
Healthy snack box subscriptions
So… you love this idea and will try it soon, but… you'd also like to have some awesome pre-packaged snacks on hand. I get it. Sometimes I just want to grab something yummy and healthy that someone ELSE has prepared.
The solution? Get healthy (and exciting!) ready-to-eat snacks delivered to you with Urthbox! They have Classic, Gluten free, Vegan or Diet box options, and a bonus free snack box offer, too.
Or browse more snack subscription boxes at Cratejoy to choose your own.
In love with smoothies? You can get read-to-blend organic smoothie packs delivered to your door from Smoothie Box , with $22 off your first order! (These are affiliate links!)
More ridiculously quick and easy desserts
Looking for more healthy snack ideas? Check out this list of 50+ healthy sweet snacks that don't taste boring.
IF YOU MAKE THIS RECIPE, LET ME KNOW HOW YOU GET ON BY LEAVING A COMMENT AND RATING BELOW… AND DON'T FORGET TO SIGN UP TO RECEIVE ALL MY NEW RECIPES BY EMAIL!
FOLLOW ME ON FACEBOOK, INSTAGRAM, PINTEREST AND YOUTUBE.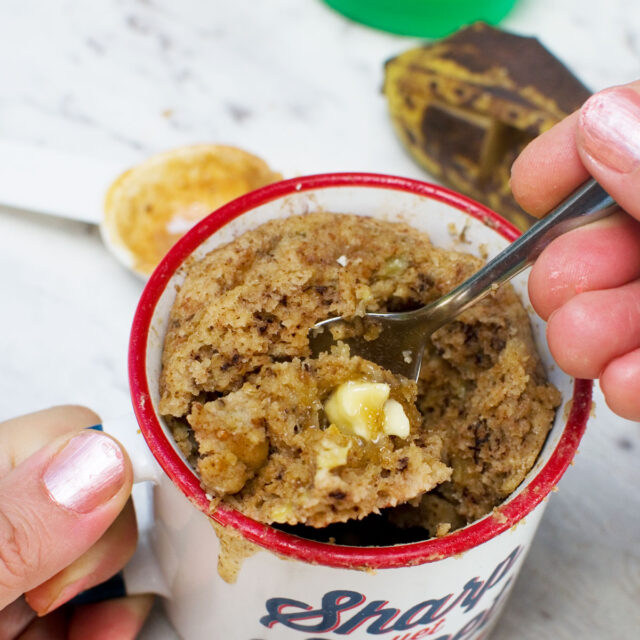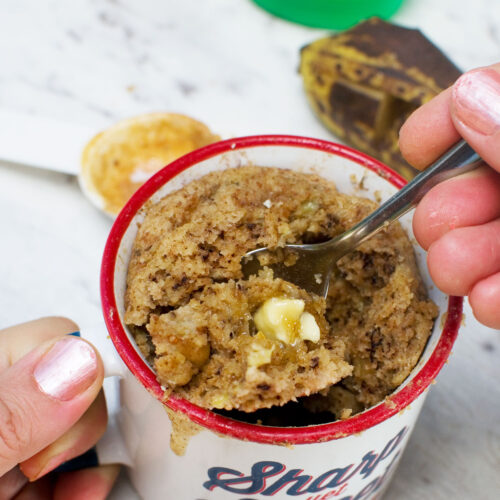 Banana Mug Cake Recipe (Gluten-free)
Got a craving for something sweet and delicious? This gluten free banana mug cake takes only 5 minutes to make and is a perfect little treat for one (or for two to share if you're feeling generous!). Tastes exactly like banana bread, but takes a fraction of the time to make it. It's even quite good for you!
Ingredients (UK/Australia? Click below for grams/ml)
½

small

banana

(ripe is best)

1

small egg

1½

tablespoons

brown sugar

2

tablespoons

almond butter

2

tablespoons

milk

(any kind including non dairy)

⅓

cup

almond flour

(or almond meal/ground almonds)

¼

teaspoon

baking soda

1½

tablespoons

white chocolate chips

(or to taste!)
Instructions
Mash the banana in a very large mug or small baking dish with a fork. Whisk in the egg.

Stir in the sugar, almond butter, and milk.

Stir in the almond flour/meal, the baking soda, and most of the chocolate chips. Sprinkle the remainder of the chocolate chips on the top.

Microwave on full power for 2 minutes. Let cool for a few minutes, then enjoy either plain or with a scoop of ice cream.
Notes
How to make: Start by mashing the banana in a big mug or small baking dish. Then whisk in all the other ingredients one by one. Sprinkle a final few white chocolate chips on the top. Cooking time: I find that 2 minutes is about right. You might need to 'test' this in your microwave the first time you make it, however, Start with 90 seconds. If it isn't quite done (a skewer comes out with raw batter on it still) microwave for 30 seconds longer. Substitutions: You can use regular gluten free flour instead of almond flour if you like. Coconut flour works too, but use just 1.5 tablespoons as it has a drying effect. If you don't have or don't want to use almond butter, any other nut butter works, including peanut butter. If you'd prefer a nut free mug cake, simply replace with 2 tablespoons oil. To serve: This is a BIG mug cake and easily serves 2. No judgment from me however if you want to eat it all by yourself. Alternatively, it keeps quite well covered in the fridge for a day or two.
Nutrition
Calories:
362
kcal
Carbohydrates:
29
g
Protein:
11
g
Fat:
24
g
Saturated Fat:
5
g
Trans Fat:
1
g
Cholesterol:
86
mg
Sodium:
189
mg
Potassium:
304
mg
Fiber:
4
g
Sugar:
21
g
Vitamin A:
163
IU
Vitamin C:
2
mg
Calcium:
155
mg
Iron:
2
mg
Note: I first published this recipe in 2014 as an individual banana and peanut butter pudding. I updated it in February 2021 as a gluten free banana mug cake however as I felt that the original recipe was a bit hit and miss (sometimes it worked and other times it was a disaster!). If you happen to have been a fan of that original recipe, however, I have a fairly similar one on the blog which I call a peanut butter healthy mug cake. There's no banana, but strangely it tastes pretty similar to the original recipe I published here!