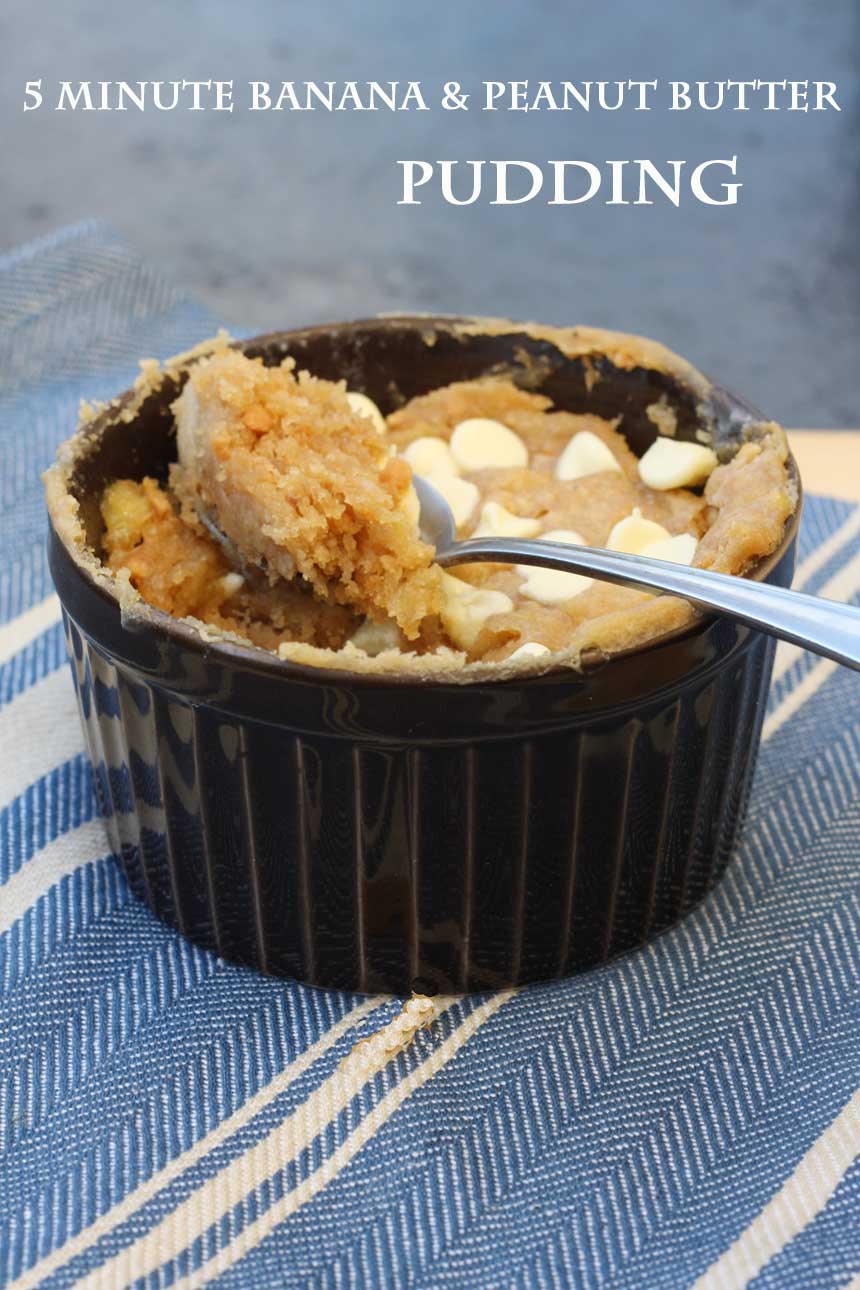 Just lately, Mr. Scrummy and I have been accusing each other of eating a weird breakfast. He insists that my toasted croissant with cheese, a whisked-up egg microwaved into a sort of omelette and a little smidge of tomato ketchup is disgusting and bizarre, while I insist that his banana and Greek yoghurt on toast is far more horrible and strange. Now come on, own up, I know you're on my side.
Yesterday we agreed to disagree, and also that it was really a question of whose breakfast is the weirdest because, let's face it, they could both be considered to be slightly out of the ordinary (his in particular … hehe).
Now don't go thinking I'm super weird or anything, but a great many things I eat would never in a million years end up on this blog – you'd think I was crazy and never come back here again! Lately I've been making myself a mid-morning snack of peanuts with tiny chunks of cheddar cheese thrown in, for instance. Strange? Maybe a little. I think an old friend of mine that I once shared an apartment with can definitely beat me at food bizarreness, though. She went through a phase of mixing a packet of ramen noodles with a can of baked beans in tomato sauce for dinner!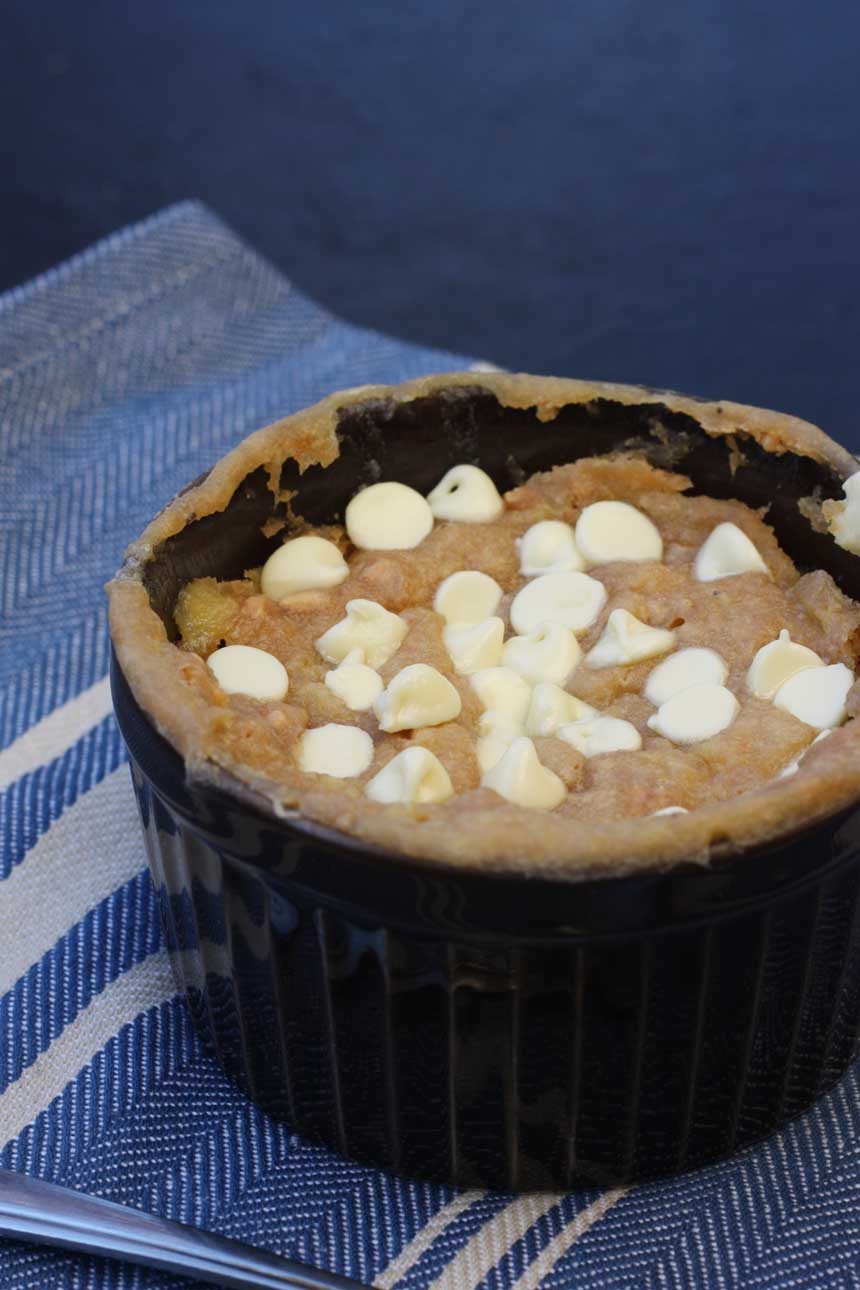 The fact is, I'd be willing to bet money on the fact that you all have cravings for 'weird' stuff every now and again, too – or maybe even every day. After all, it's hard to fathom food tastes out. I've always wondered how one person's food heaven can be another's food hell, but this is just how it is. Mr. Scrummy slathers a thick layer of butter on bread every opportunity he gets, for instance, whereas even a small smear makes me heave.
Anyway, it was this 5 minute individual banana & peanut butter pudding that got me thinking this way because it was born on a day that I had a terrible craving for something sweet and rich and peanut buttery. At lightning speed, I did a little online research and pulled together this pretty much heavenly little dessert (adapted from a recipe by Running With Spoons). With each spoonful that I shovelled in my mouth I ooh-ed and ah-ed and figuratively patted myself on the back for having made something so delicious in so little time.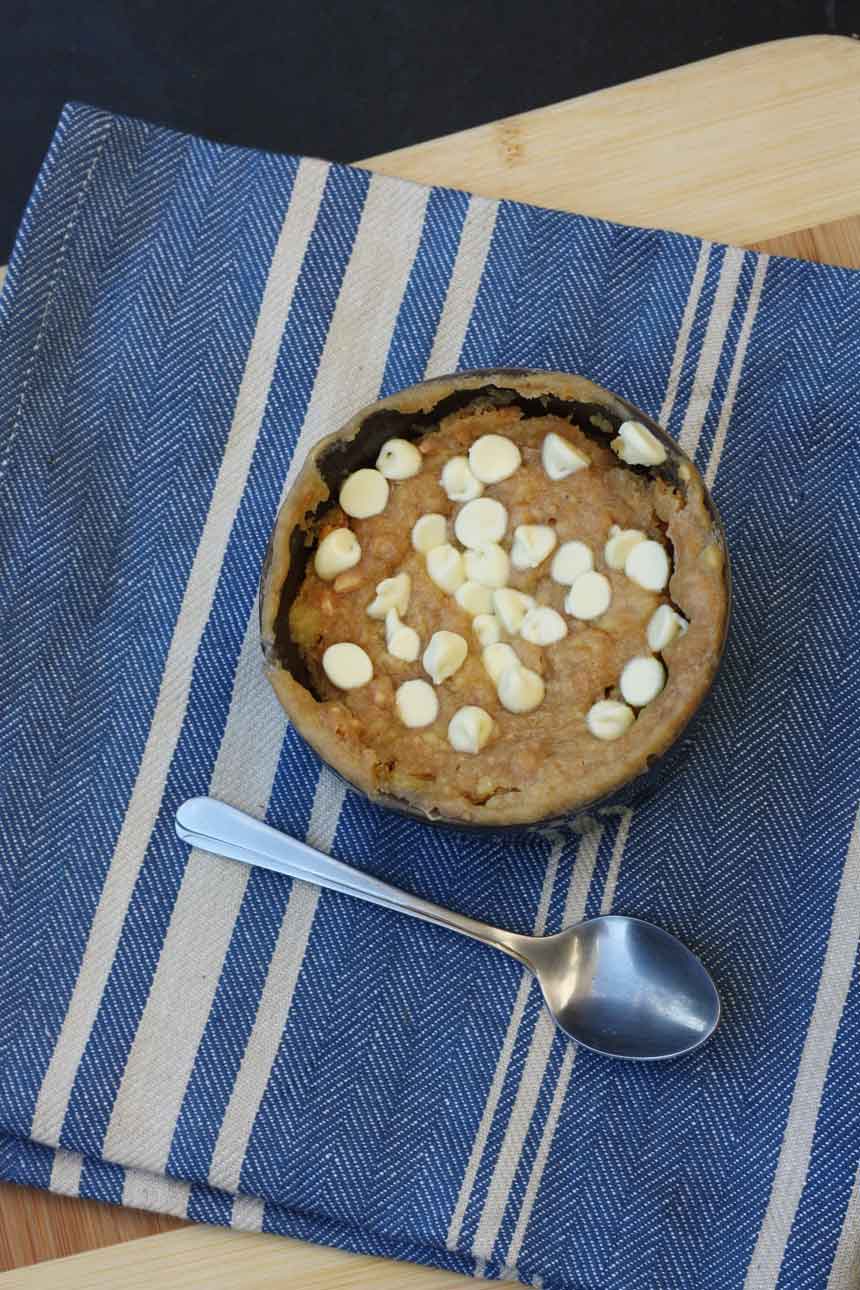 The best way to describe this pudding is probably a cross between a super moist banana bread, a soft peanut butter cookie and a gooey pudding. Honestly, it tastes divine, and the best thing is that it's actually pretty good for you. There are only 2 teaspoons (yes, teeny tiny little teaspoons!) of brown sugar in it and no butter or oil (there's just the oil in the peanut butter). As I used almond milk, it's totally dairy free, too. All you do is mix everything up in a little ramekin, bowl or mug, microwave for 2 and a half to 3 minutes and it's done!
This was wonderful exactly as it was (reminds me of Colin Firth's famous quote in Bridget Jones – "I like you, just the way you are." Awwwww.) BUT, if you want to make it even healthier (and vegan, actually) you could leave out the chocolate chips (although I'm not sure that's such a good idea because the little touch of melted white chocolate sent it soaring sky high into food heaven in my opinion).
While licking my lips after wolfing this down almost entirely to myself (although it's big enough to share between two), I thought about how ironic it was that a lot of my baking endeavours often flop, at least at my first attempt, but something as quick and easy and spontaneous as this ended up being one of my favourite sweet recipes yet.
In fact I have a major craving for this again as I write. I would run into the kitchen and make it again except I'm going out for dinner tonight and don't want to make this mistake again!
I'll make it again soon, though. And next time I think I'll eat it with a little scoop of ice cream!
Update: I just made this tonight and it overflowed over my ramekin. Lesson learned = use a large ramekin or mug for this!! 🙂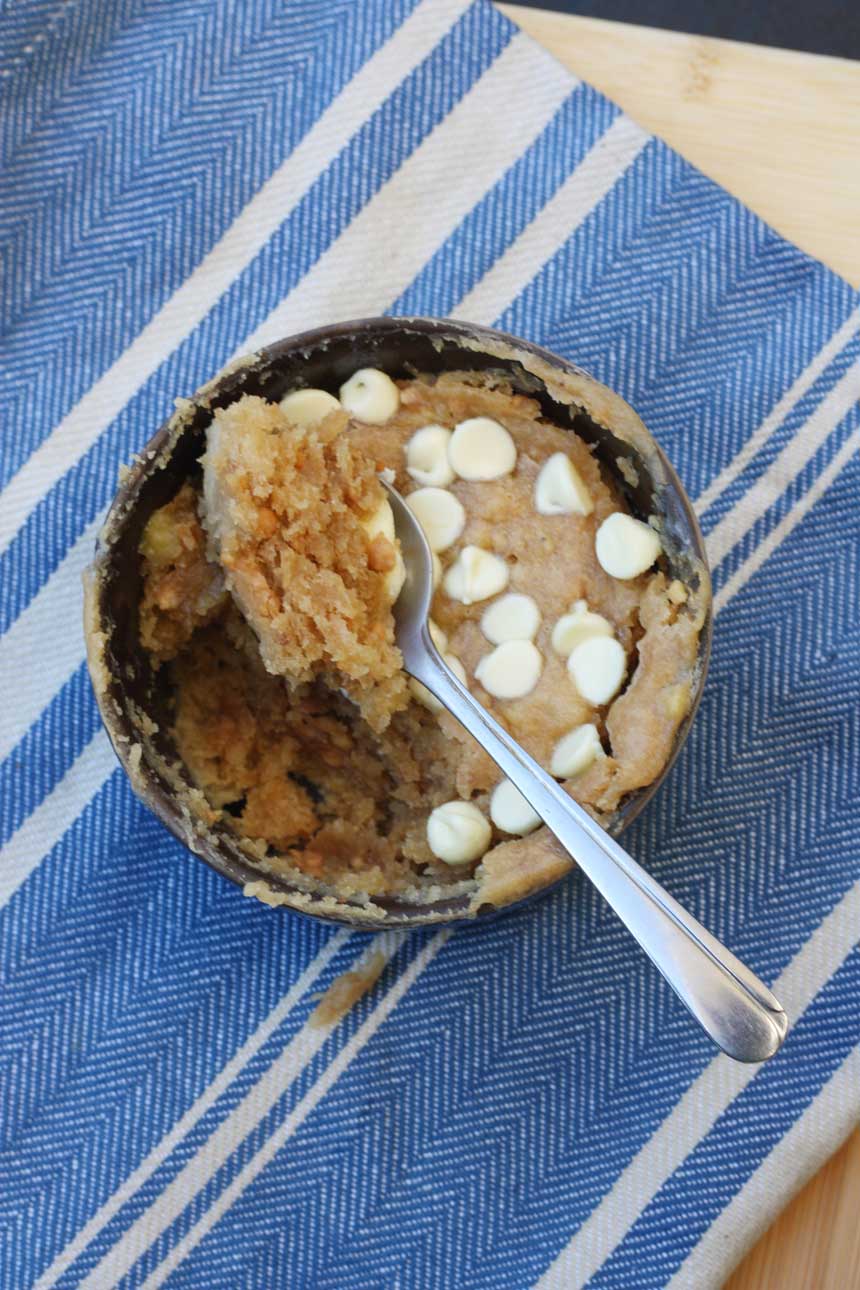 5 minute individual banana & peanut butter pudding
Got a craving for something sweet and delicious? This banana and peanut butter pudding takes only 5 minutes to make and is a perfect little treat for one (or for two to share if you're feeling generous!) Tastes like a cross between a moist banana bread, a peanut butter cookie and a gooey pudding ... and it's even quite good for you!
Ingredients (UK/Australia? Click below for grams/ml)
1

tablespoon

plain flour

medium heaped

1

tablespoon

almond meal

medium heaped

1/4

teaspoon

baking powder

2

teaspoons

brown sugar

1/4

cup

almond milk

1/2

ripe banana

mashed

1

tablespoon

peanut butter

a small handful of white chocolate chips
Instructions
Put the flour, almond meal, baking powder and sugar in a large ramekin (or a large mug if you prefer). Mix well.

Add the milk gradually and stir until there are no lumps. Then mash the banana and peanut butter together, then stir them vigorously into the mixture until well combined. Sprinkle the chocolate chips on top.

Microwave on full power for 2½ to 3 minutes (time depends on your ramekin/mug and microwave strength) and eat immediately straight from the ramekin/mug (don't burn your mouth!)
Notes
Adapted from this recipe from the blog Running With Spoons. Use milk chocolate chips if you prefer. You can also use a large mug instead of a ramekin and then this becomes a mug cake! If you use a ramekin for this recipe, make sure it's a large one!
Nutrition
Calories:
253
kcal
Carbohydrates:
32
g
Protein:
7
g
Fat:
12
g
Saturated Fat:
2
g
Sodium:
158
mg
Potassium:
416
mg
Fiber:
3
g
Sugar:
16
g
Vitamin C:
5.1
mg
Calcium:
133
mg
Iron:
0.9
mg