This is a smug chocolate dessert that has it all. It's quick and easy to make with only 6 ingredients, so it's perfect for easy entertaining, or for a bit of comfort food on a busy weeknight. It's super chocolaty, super gooey, pretty low in sugar, and contains no eggs. There's even a microwave mug cake version for one!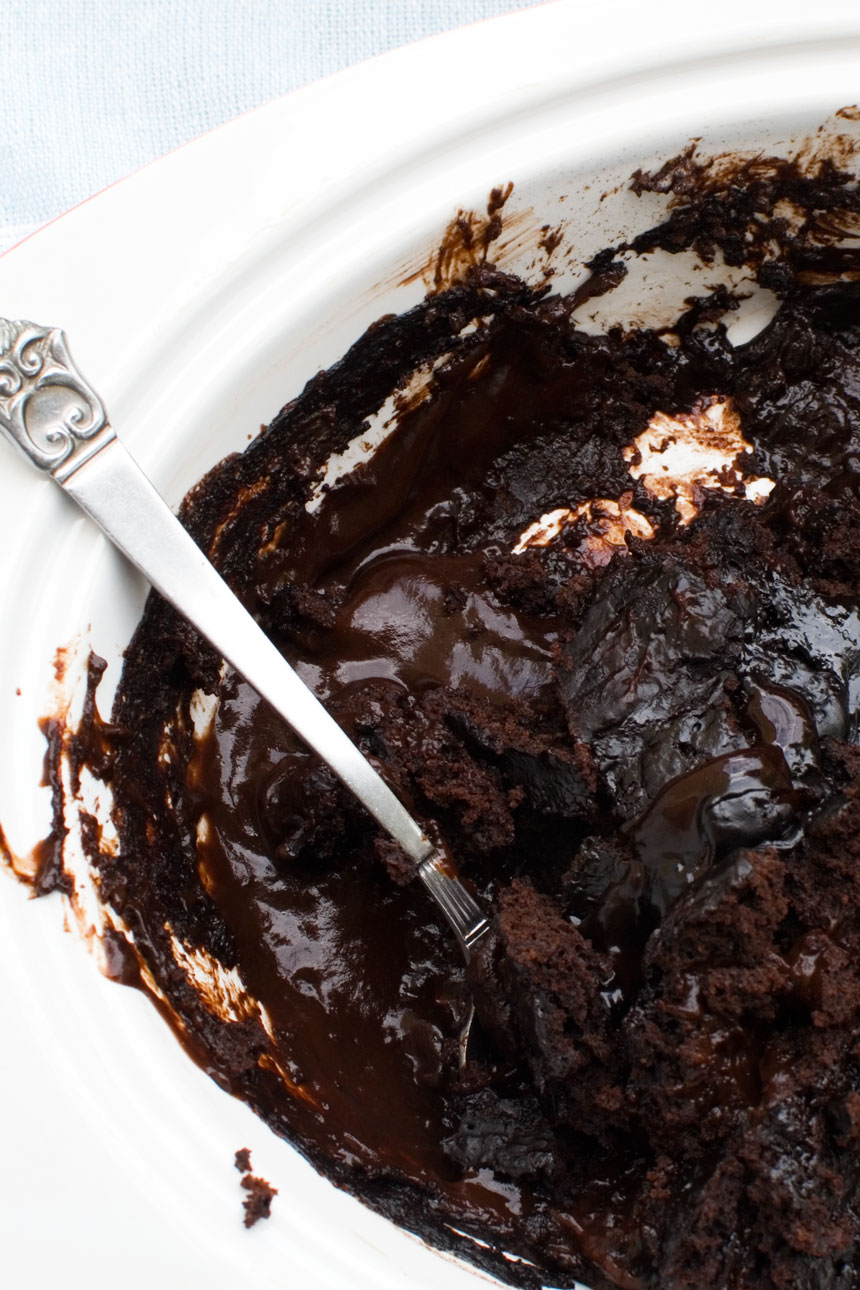 If like me you can get embarrassingly excited about easy chocolate dessert recipes, you've come to the right place!
I'm not one to blow my own trumpet, but this 6-ingredient gooey Swedish chocolate cake has become quite famous. And this 30-minute healthy chocolate cake or these no-guilt healthy double chocolate brownies are hot on its heels.
But for a long time there was an easy dessert recipe missing on Scrummy Lane, and that's a self saucing chocolate pudding. My lemon self saucing pudding (or 'magic' lemon pudding!) has rocked it around here for years, so I thought it was time for it to have some competition!
So, erm… what's a self saucing pudding?
Don't be embarrassed if you don't know what it is. I don't think it's that obvious, and I haven't always known how to make a self saucing pudding.
In its most simple terms, a self saucing pudding is a pudding that… makes its own sauce. It's a magic pudding, basically!
You make a simple cake batter. Then you sprinkle sugar and cocoa over the top. Finally, you pour boiling water over.
The chocolate batter bakes into a chocolate sponge cake. At the same time, the water you poured over combines with the sugar, the cocoa, and, I suspect, some of the flour from the cake batter, to make a gooey sauce. The cake rises to the top, leaving the delicious custardy sauce bubbling underneath.
It isn't necessarily the prettiest dessert you've ever seen. But it's probably one of the easiest and most delicious you've ever tasted.
Are you sold yet? 😉
The best chocolate self saucing pudding
This delicious gooey chocolate pudding was a while in the making because I wanted to get it just right.
I wanted it to:
be an egg free pudding recipe like my popular lemon pudding. (Yay, no egg beating necessary!)
taste very rich and chocolaty!
be low in sugar to make it a healthier chocolate pudding. I'm a big fan of healthy desserts that still taste amazing!
have a lot of the rich chocolate sauce. Mmmmm!
stick to just 6 basic ingredients – 5 if you don't count the boiling water. I wanted to keep this in the category of super quick and easy desserts that you can throw together in an emergency!
have a 'sister' microwave mug cake version for one! (Scroll down for this recipe, too!)
What are the 5 ingredients you need?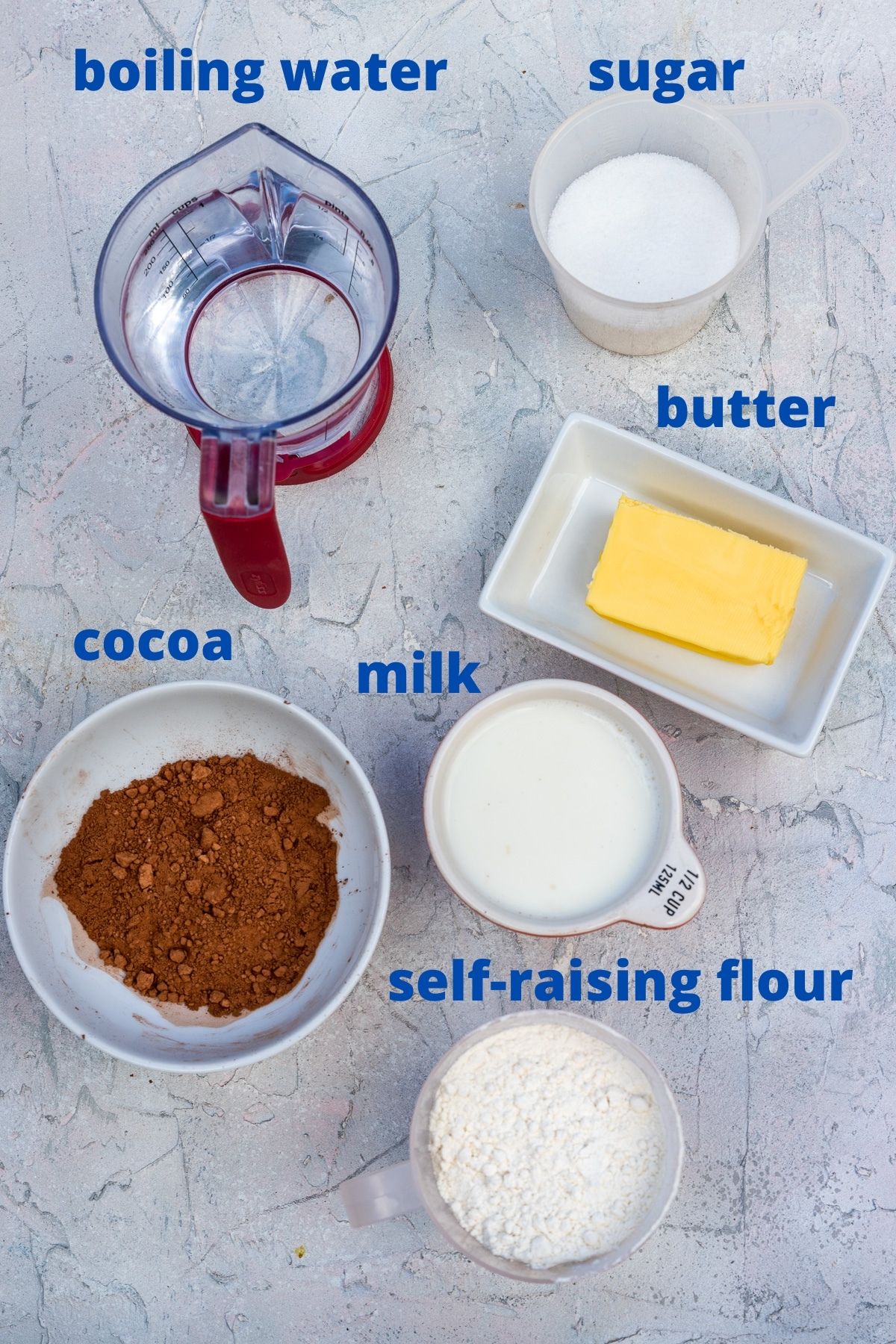 self-raising flour: for the cake-y pudding part – or you can use plain flour and baking powder
cocoa powder: quite a lot, since you'll use it both for the cake and the sauce
sugar: white for the cake part, and white or brown for the sauce – and not as much as you would think
warm milk: for the cake-y pudding part
butter, melted into the milk
boiling water (is that even an ingredient?): to pour over the top and form the basis of the delicious gooey sauce
How to make it in 5 easy steps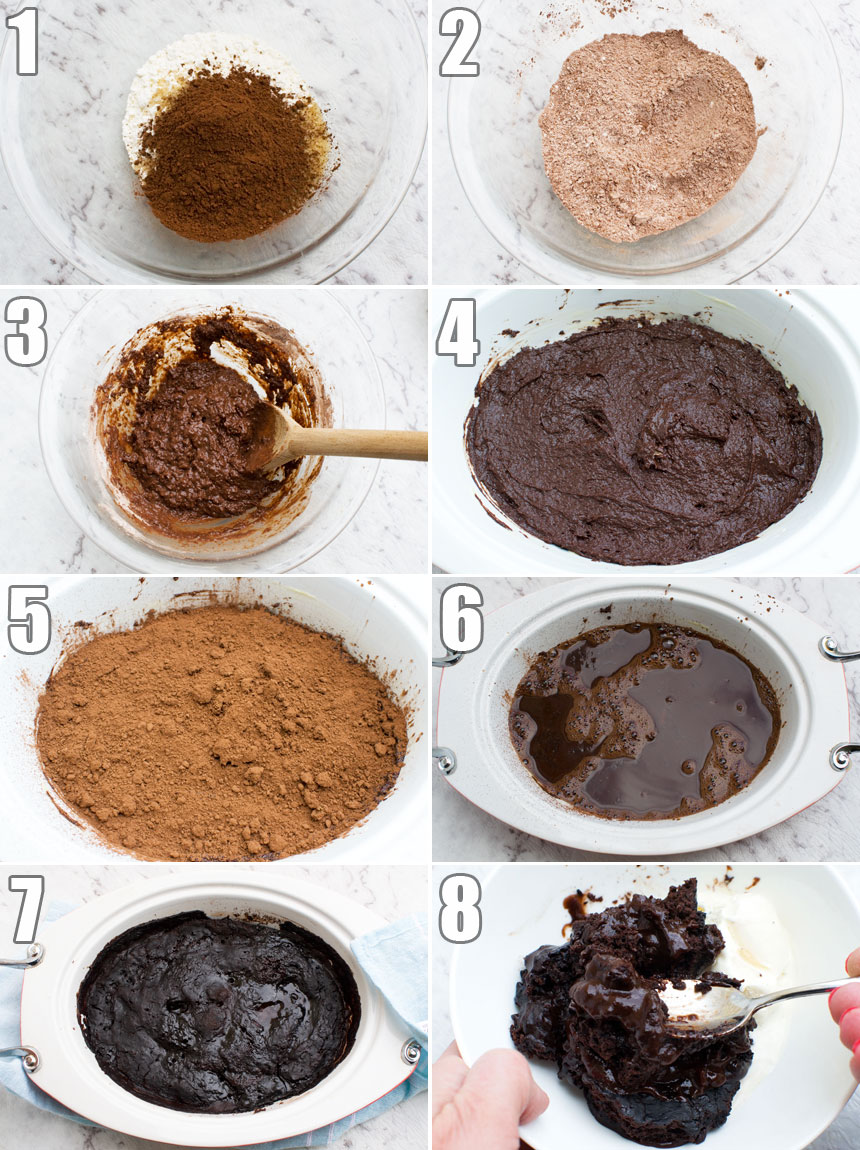 Make the batter:
Step 1: Mix together the flour, cocoa and sugar in a large mixing bowl.
Step 2: Warm the milk and butter together. Stir into the dry ingredients.
Assemble the pudding:
Step 3: Pour batter into an ovenproof dish (a souffle dish is perfect).
Step 4: Mix together more cocoa and sugar (I prefer brown sugar but white's OK too). Sprinkle over batter.
Step 5: Pour boiling water over the top and bake for 30 minutes.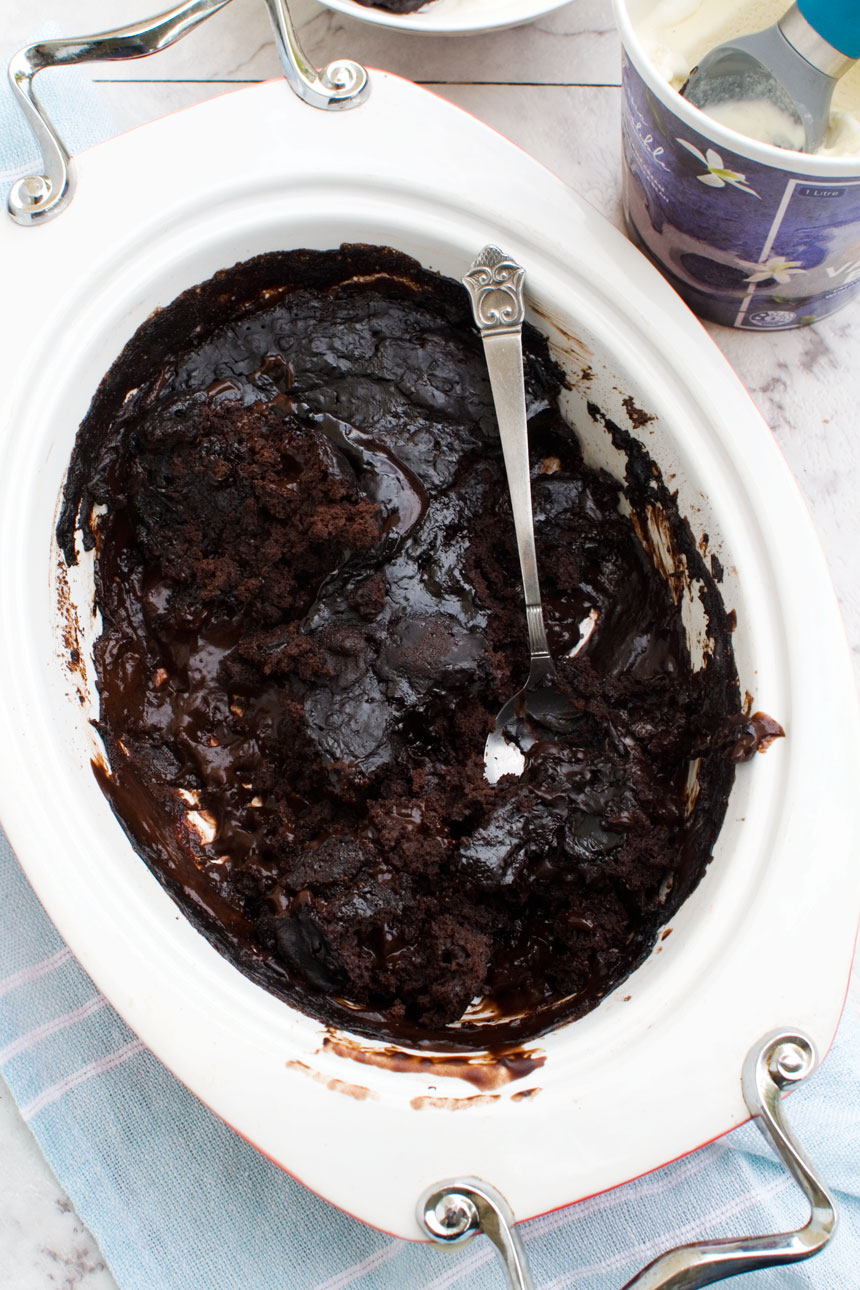 What does it taste like?
If you like chocolate cakes of the gooey variety, you're in luck. This easy pudding is a splodgy, half custard-y, half cake-y addictive chocolate heaven.
The cake part is both super chocolaty and light. The sauce is like a rich chocolate custard, but it's not too sweet. If you have a really sweet tooth just add a little more sugar to the topping, or sprinkle some icing sugar over at the end.
For me it's just right as it is!
How to serve it
Just in case you're unsure how to eat it (well, you never know, and we can't have that). Don't slice it like a cake. Serve a portion out into everyone's dish in big messy spoonfuls. Make sure everyone has a good amount of the gorgeous custard sauce.
This isn't supposed to be a 'pretty' dessert. It's supposed to be gooey and comforting and delicious.
Don't forget to add a big scoop of vanilla ice cream on the top! If you'd like to keep things on the healthier side, try this 5-minute chocolate banana ice cream (nice cream).
Alternatively, serve with cream.
Chocolate self saucing pudding mug cake (for one)
When you need a chocolate treat and you need it now, I've got great news for you. It's possible to make an individual sized self saucing chocolate pudding in a mug!
Here's what you do in 6 easy steps:
Step 1: In the microwave, melt half a tablespoon of butter into 1 tablespoon of milk in a mug.
Step 2: Stir in half a tablespoon of sugar and and half a tablespoon of cocoa.
Step 3: Stir in 1.5 tablespoons self raising flour to make a smooth batter. Make sure it's mixed in well.
Step 4: Sprinkle another half a tablespoon of sugar and half a tablespoon of cocoa over the top of the batter.
Step 5: Drizzle 2 tablespoons boiling water all over the top.
Step 6: Microwave on high power for 40 to 50 seconds. Sneak a small scoop of ice cream on top!
More things to know (recipe FAQ)
Can I make it in advance?
Erm… kind of. You can make the batter and pour it into the dish. Then mix together the cocoa and sugar and put it aside. Put the milk and butter in a small jug or bowl ready to heat and put that aside too.

When you're ready for your dessert, just sprinkle over the cocoa/sugar mixture, pour over some boiling water and bake!
Why isn't my pudding saucy?
For a delicious pudding with lots of sauce (the best!), serve immediately after it's baked. If you leave it standing for too long, the sauce will begin to thicken and soak into the cake.
Can you reheat a self saucing pudding?
Well, you can. But it won't really taste the same as when it's just baked as some of the sauce will have soaked into the cake, especially if it's been in the fridge.

But what it does taste like is delicious gooey, fudgy brownies. Or chocolate mud cake. It's worth trying to save some leftovers (hard, I know) just so that you can experience what I'm describing!
Like the sound of this pudding? Try the lemon version too!
Try my similar 5-ingredient magic lemon pudding as well. Some hate it, most love it!
This is what some of the 'lovers' have said about it. We won't mention the haters!
"The kids thought this was the best thing they ever had in their lives!" (Leah)
"For years, I've been looking for a lemon equivalent to my family's "hot fudge pudding cake." I occasionally make the version with eggs but don't like the consistency of the cake. Beating egg whites is too much work when you don't even like the result! So, I was excited to see your recipe. And, it's perfect! Exactly what I was looking for." (Jennifer)
"Loved this! So easy and so yummy. We made it two days in a row!" (Juanita)
More crowd pleasing easy desserts
You can never have too many easy desserts up your sleeve. Here are a few of my favourites:
Into healthier snacking? Check out this list of 50+ healthy sweet snacks that don't taste boring!
IF YOU MAKE THIS RECIPE, LET ME KNOW HOW YOU GET ON BY LEAVING A COMMENT AND RATING BELOW… AND DON'T FORGET TO SIGN UP TO RECEIVE ALL MY NEW RECIPES BY EMAIL!
FOLLOW ME ON FACEBOOK, INSTAGRAM, PINTEREST AND YOUTUBE.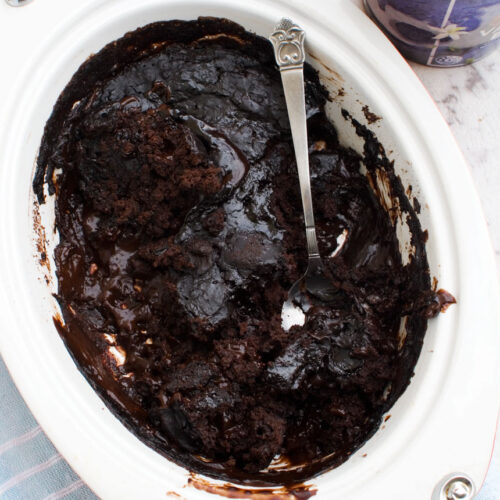 6-ingredient Chocolate Self Saucing Pudding (Low Sugar, No Eggs)
If you need a crowd pleasing dessert, make this quick and easy gooey chocolate pudding that separates impressively into 2 layers – a cake layer and a delicious custardy sauce layer. Bonus – it's fairly low in sugar and doesn't need any eggs!
Equipment (affiliate links)
Ingredients (UK/Australia? Click below for grams/ml)
for the cake batter
¾

cup

self-raising flour

(OR plain flour + 1.5 teaspoons baking powder / DON'T USE self rising flour that's commonly found in the US!)

⅓

cup

sugar

¼

cup

cocoa powder

½

cup

milk

warmed

3

tablespoons

butter

(melted and mixed in with the warm milk – I usually do this in the microwave)
for the sauce
⅓

cup

sugar

(white or brown sugar works)

⅓

cup

cocoa powder

1½

cups

boiling water
to serve (optional)
vanilla ice cream or whipped cream
Instructions
Pre-heat the oven to 340F / 170C and grease a 1.5 litre baking dish with butter.

Mix together the flour, sugar and cocoa in a medium bowl.

Pour the milk / butter mixture into the dry ingredients and stir until well combined.

Empty the batter into the baking dish and smooth the top.

Mix the sugar and cocoa for the sauce together, then sprinkle it evenly over the top of the cake batter.

Carefully pour the boiling water over the top. Bake for about 30 minutes or until the cake has risen to the top and the sauce is oozing and bubbling underneath and around the cake.

Serve immediately with vanilla ice cream or whipped cream (if you like).
Notes
What baking dish to use
There's a bit of flexibility on what baking dish you can use for this pudding.
I'd say you need to use a 'medium-sized' baking dish or pudding dish. Ideal is about a 1.5 litre capacity dish (just test by pouring this much water into the dish you plan to use!). I use a 10 inch by 8 inch oval baking dish just because that's what I have.
I prefer to use one that has a medium depth – not too shallow so that the pudding bubbles over the sides, but not too deep either.
What flour to use
Make sure you use SELF RAISING FLOUR and NOT self rising flour in this recipe. If you don't have any self raising flour, it's easy to make it from plain flour. Just add 1.5 teaspoons baking powder to your 3/4 cup plain flour.
Making it in advance
This dessert needs to be eaten as soon as it's baked, but you can prepare the components in advance.
Simply mix the dry ingredients together for the batter and put the milk and butter in a jug or small bowl. Mix together the cocoa and sugar for the topping in another small bowl. Cover everything and set aside for later!
Half an hour before you want to eat the pudding, assemble the pudding as you would normally.
Bake and enjoy!
What about the leftovers?
Leftovers? What leftovers?
But seriously… here's the thing. Pop any leftovers into the fridge and you won't have a self saucing pudding the next day. But trust me. That's OK. Instead you will have the most amazing gooey, fudgy chocolate cake – kind of like a super fudgy chocolate brownie. Equally as delicious cold from the fridge or warmed up a little in the microwave – your choice!
Fan of lemon desserts too?
After you've tried this you might like to try my easy self saucing lemon pudding too. It's been rocking the Internet for years already!
Nutrition
Calories:
336
kcal
Carbohydrates:
59
g
Protein:
6
g
Fat:
12
g
Saturated Fat:
7
g
Cholesterol:
26
mg
Sodium:
92
mg
Potassium:
255
mg
Fiber:
5
g
Sugar:
35
g
Vitamin A:
312
IU
Calcium:
57
mg
Iron:
2
mg