If you like your pancakes extra saucy, then these are for you. They're simple, they're fluffy and they're smothered in buttery caramel-y bananas … what a perfect weekend breakfast for two!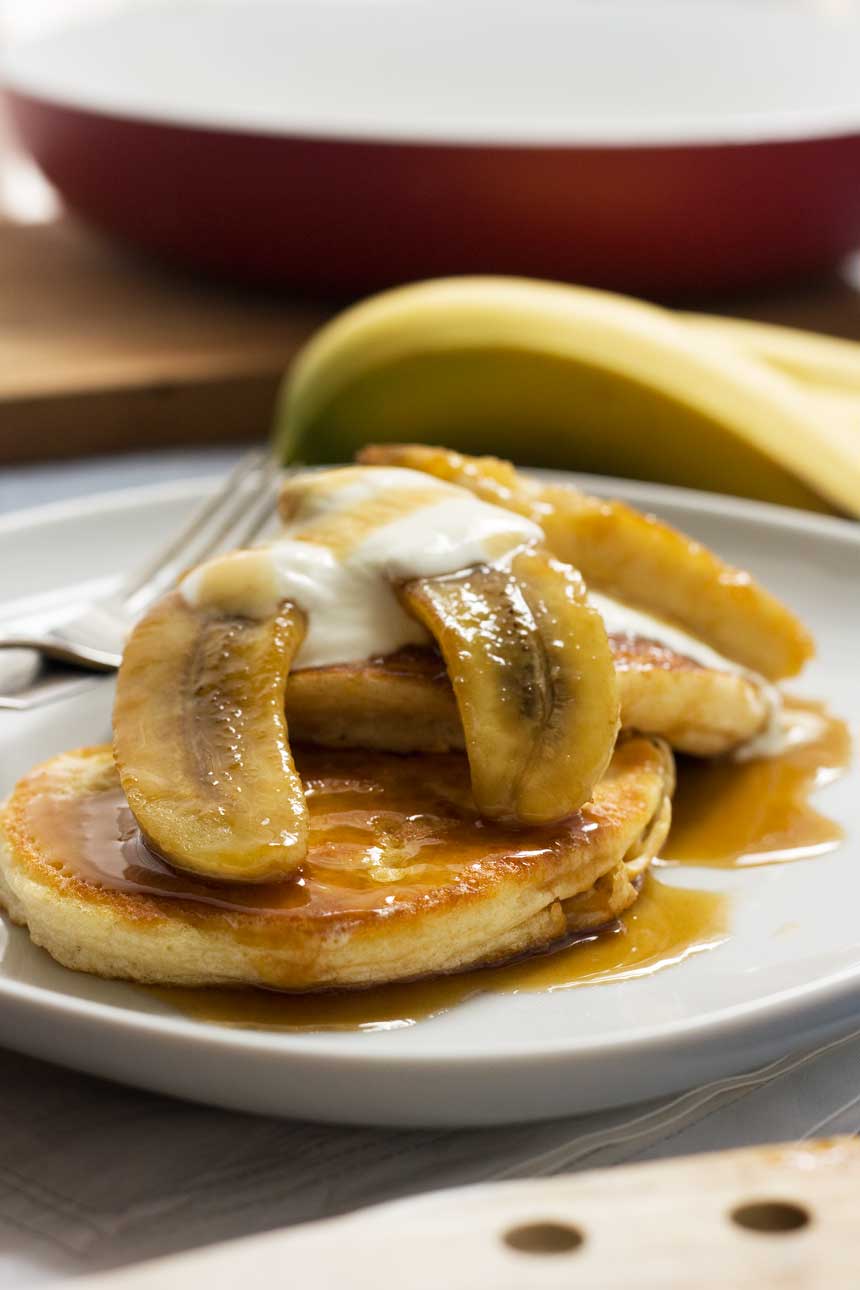 Mr. Scrummy is very saucy. Now before you whizz your cursor up to the 'x' in the corner of your screen and report me for inappropriate remarks, let me explain. His mouth turns down in disappointment and he sticks his lip out in a big sulk if his food is too dry. We're talking gravy on roast dinners, sauces in stir fries, custard and cream on desserts – whatever. It's even a standing joke with a sweet waitress in one of our favourite pubs that he always wants extra gravy with his steak and ale pie (mmmm … yes, it's as delicious as it sounds!).
So I had my eye on this recipe for banana caramel pancakes (slightly stolen and adapted from the ever-dependable Jamie Oliver) for quite some time, but then when I finally got around to giving it a go, I just knew that there wasn't nearly enough of the sticky caramel sauce for Mr. Scrummy. So the next time I made them, I scaled down the recipe to feed just 2 of us, but, ahem, 'forgot' to scale down the sauce. Mr. Scrummy said he could have drizzled over even more, but I'm sorry, I have to draw the line somewhere … according to the recipe, I had already made enough for 6 (although I suspect 6 with the appetite of a sparrow!).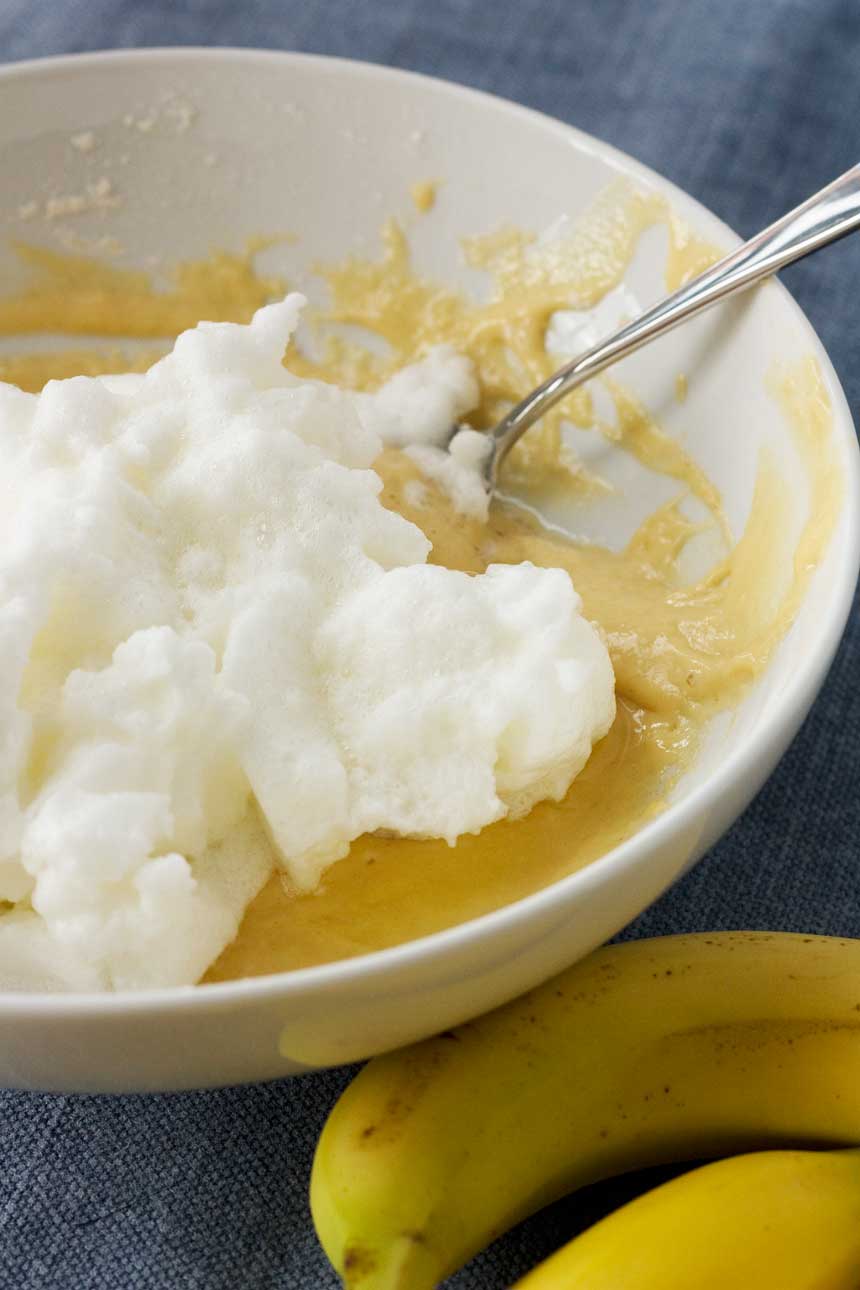 The brilliant thing about these pancakes (apart from the gorgeous sticky, buttery sauce) is that they are perfect for amateur pancake-makers like me. I can make crêpes with my eyes closed but to be honest haven't had much practice with thick, fluffy American pancakes like these. I think I did pretty well for a beginner, don't you? 😉
I particularly enjoyed whisking up the egg whites as you would if making meringue and then gently folding them into the batter. Very therapeutic on a Saturday morning, I must say! (doesn't take much to make some people happy, does it?)
The 'banana component' of this recipe is fun, too! After melting your butter and brown sugar into a pan for your sauce and letting it bubble gently for a little while, you just add your cut-in-half-lengthways bananas and let them cook down for a few minutes in the sauce. You end up with perfectly soft-but-not-too-soft bananas all drenched in the sticky sauce.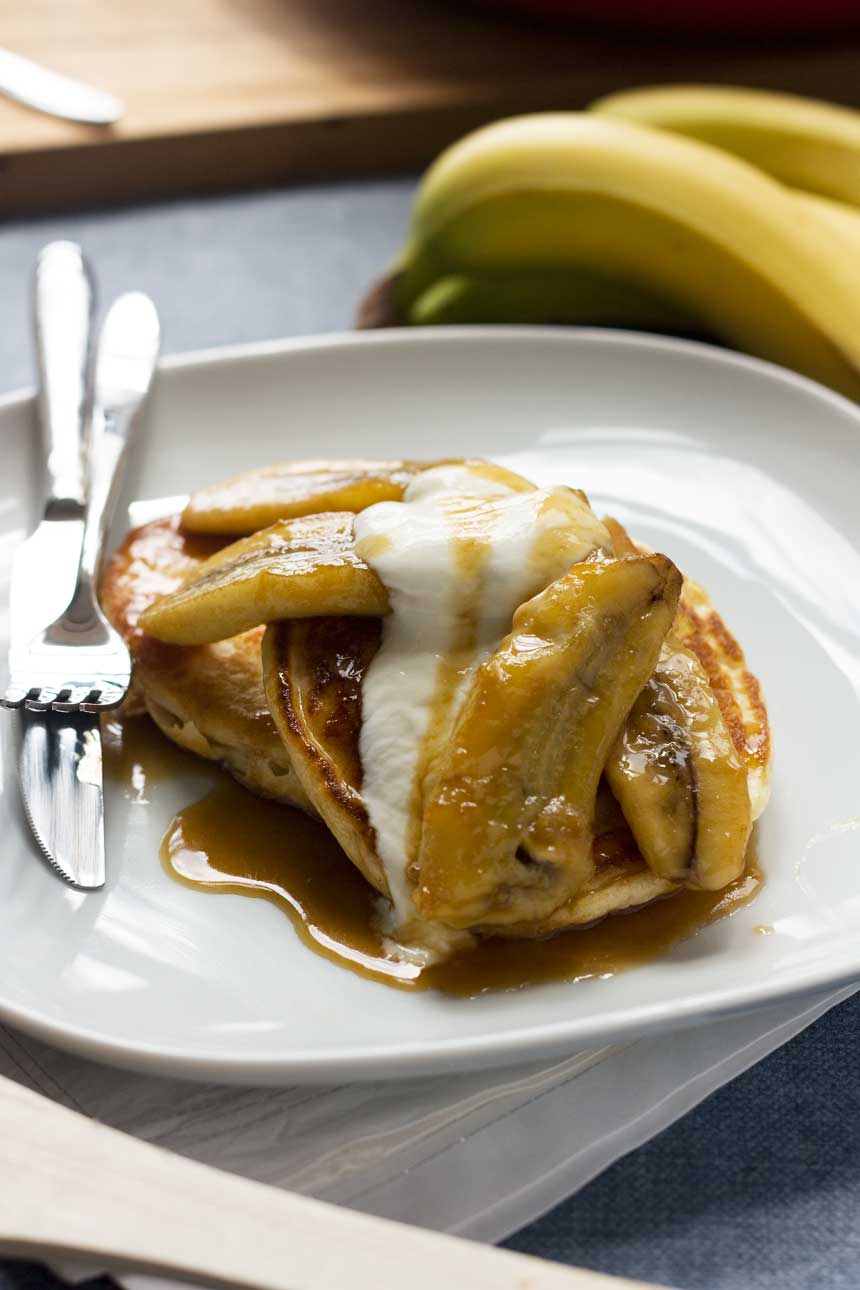 The splodge of Greek yoghurt (or crème fraiche if you prefer) on the top is the icing on the (pan)cake!
Now what pancakes should I try making next now that I'm no longer an amateur pancake-making girl? What are your favourite?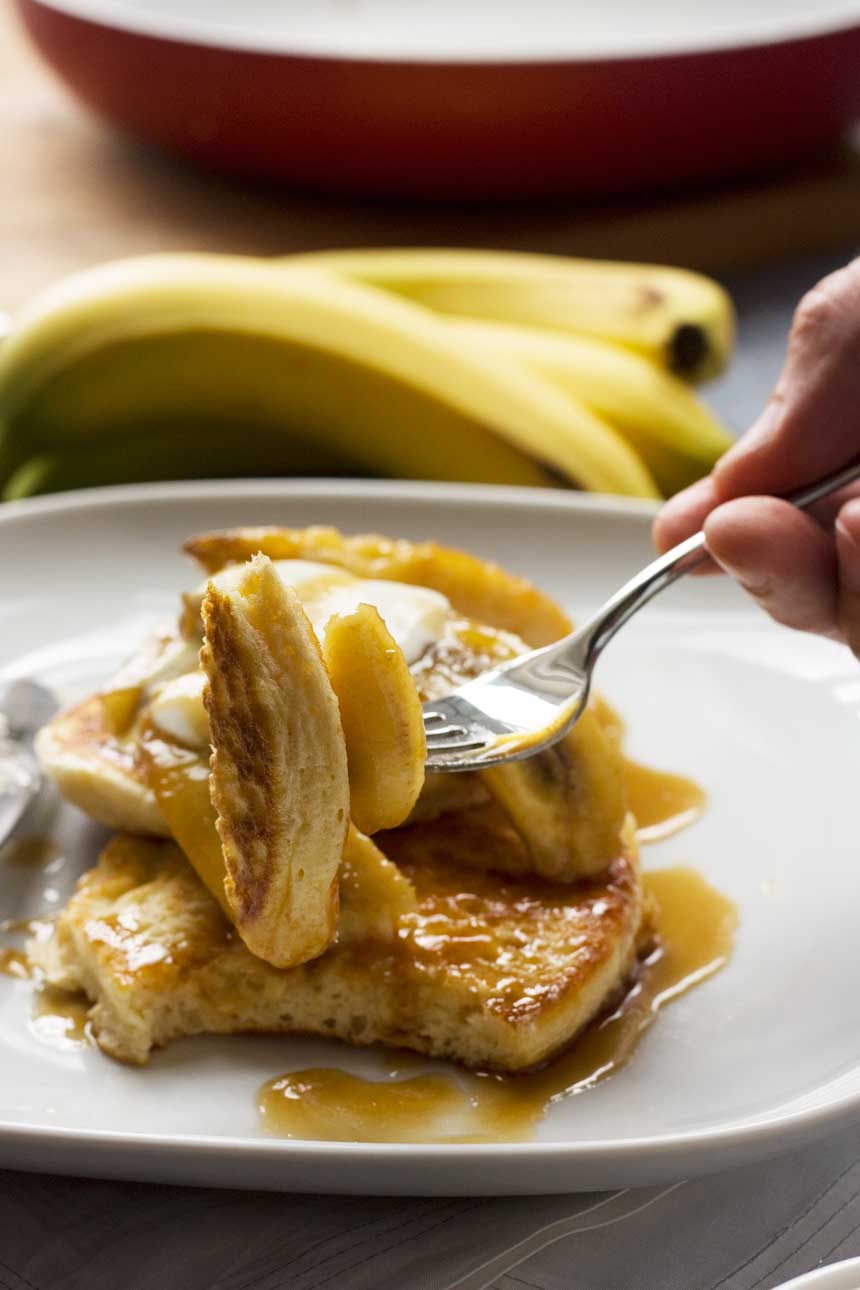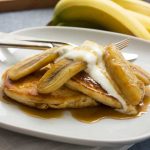 Sticky banana & caramel pancakes for two
Simple fluffy pancakes topped with bananas in a buttery caramel-y sauce.
Ingredients
2

large eggs

1/3

cup

plain flour

1/2

teaspoon

baking powder

1/3

cup

milk

small pinch of salt

a little oil for cooking

2

big knobs of butter

3

tablespoons

brown sugar

2

bananas

sliced across the middle lengthways

Greek yoghurt or crème fraiche

to serve (optional)
Instructions
Separate the eggs, putting the yolks in one medium-sized bowl and the whites in another.

Add the flour and baking powder to the bowl with the yolks in, then slowly add the milk, stirring well to avoid lumps.

Now whisk the egg whites with the salt until fluffy and thick with an electric handheld whisk. Gently fold them into the batter in the other bowl.

Drizzle a little oil into a frying pan on a medium high heat, then ladle about a quarter of the batter into the pan. Let cook for a couple of minutes until it's nice and golden, then flip over carefully and let cook for another minute or two on the other side. Slide onto a plate and keep warm in the oven while you cook the other pancakes.

Now melt the butter and sugar together in another pan and let cook on a lowish heat for a few minutes.

Add the bananas to the pan, cut side down, and let cook in the sauce for another few minutes. Then carefully slide the bananas over with a spatula to cook on the other side until they are nice and soft and golden.

Serve the bananas and sauce on top of the pancakes with the yoghurt or crème fraiche (if using).
Nutrition Facts
Sticky banana & caramel pancakes for two
Amount Per Serving
Calories 345
Calories from Fat 54
% Daily Value*
Total Fat 6g 9%
Cholesterol 169mg 56%
Sodium 94mg 4%
Potassium 684mg 20%
Total Carbohydrates 63g 21%
Protein 10g 20%
* Percent Daily Values are based on a 2000 calorie diet.

You can also find more from Scrummy Lane on Facebook, Pinterest, Twitter and Instagram and follow me on Bloglovin! Thanks so much for reading!
*This post may contain affiliate links which means that if you click on a link and make a purchase I get a small percentage of the amount you spend. At no extra cost to you, of course! Thank you!*