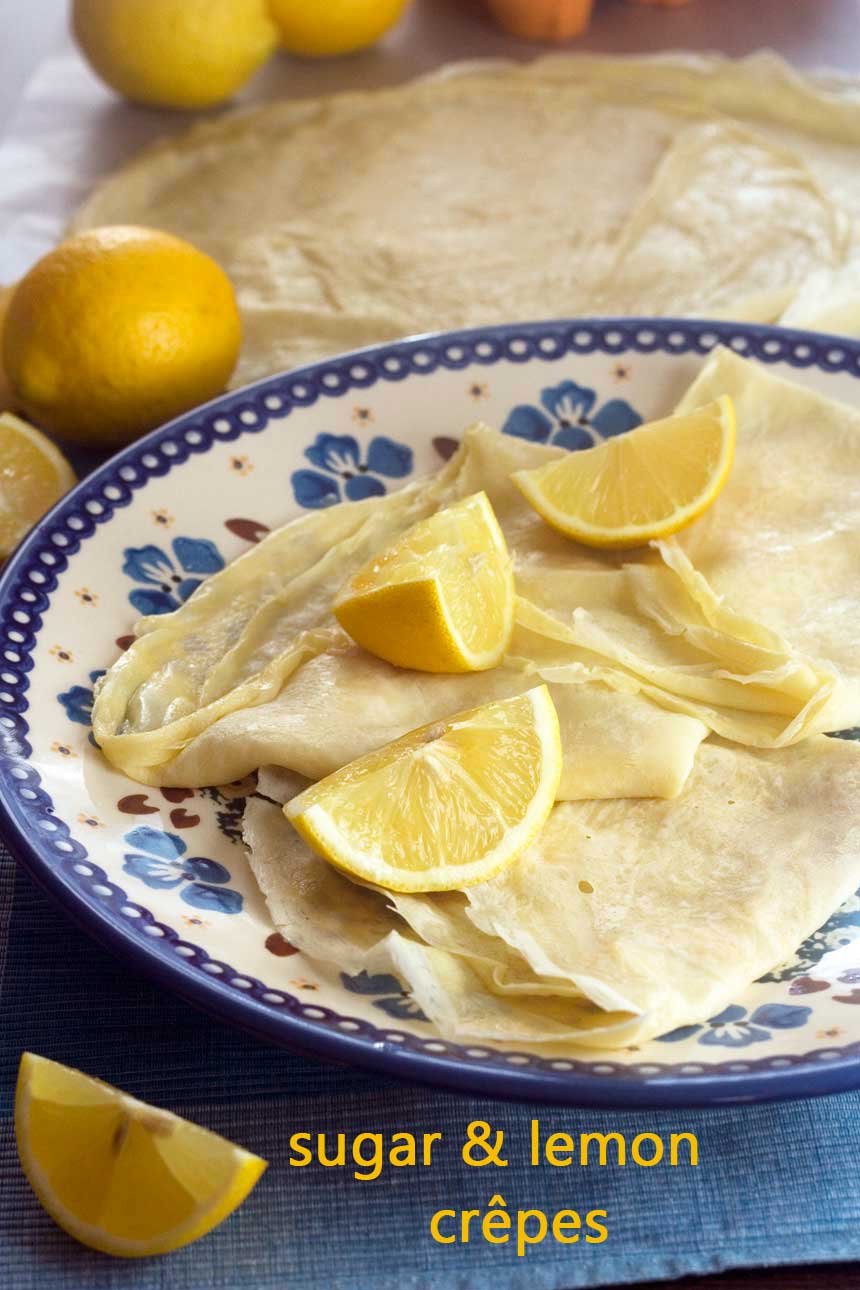 Britain might not have Mardi Gras carnivals to rival those held in Brazil, New Orleans and the likes (or any at all, in fact), but that doesn't mean that we don't know how to celebrate Mardi Gras in style, too. Who needs elaborate floats with music and dancers in fancy costumes when you can watch people running through village streets tossing pancakes in the air and catching them in frying pans?
This really does happen here in different places around the country on this day, better known as Shrove Tuesday. Or, even better, as 'Pancake Day', because what this day is really all about is stuffing yourself with as many pancakes as you possibly can. When I was a little girl, this day was most definitely one of my highlights of the year. Mum would always make us pancake after pancake for dinner. She couldn't make them fast enough and no matter how many she made, there was always room in the tummy for just one more. Then away the pancake-making frying pan would go for another year, because this was the only day we ever ate them.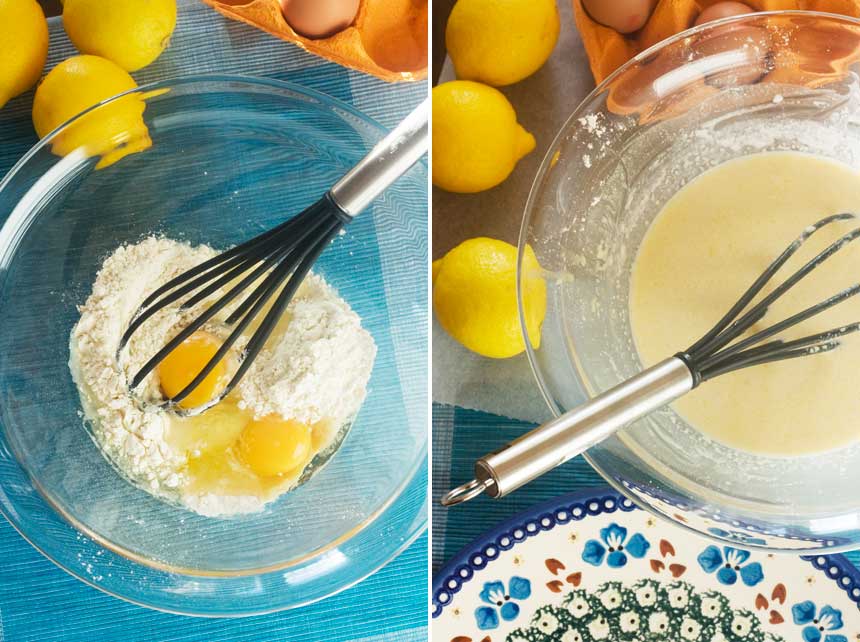 Now just to clarify, I'm not talking about thick American-style pancakes, delicious as they are. I'm talking about almost paper-thin, slightly-crispy-around-the-edges French-style crêpes, which is what pancakes are to us here in the UK. And they are never filled or covered with anything particularly fancy. At least they weren't (and still aren't) in our house. For me, the very best 'filling' (well, OK then, perhaps other than Nutella) is plain old sugar and lemon. Sprinkle sugar generously over the hot-out-of-the-pan pancake, followed by a good old squeeze of fresh lemon juice, fold quickly into rough quarters, pile onto a plate and … scoff!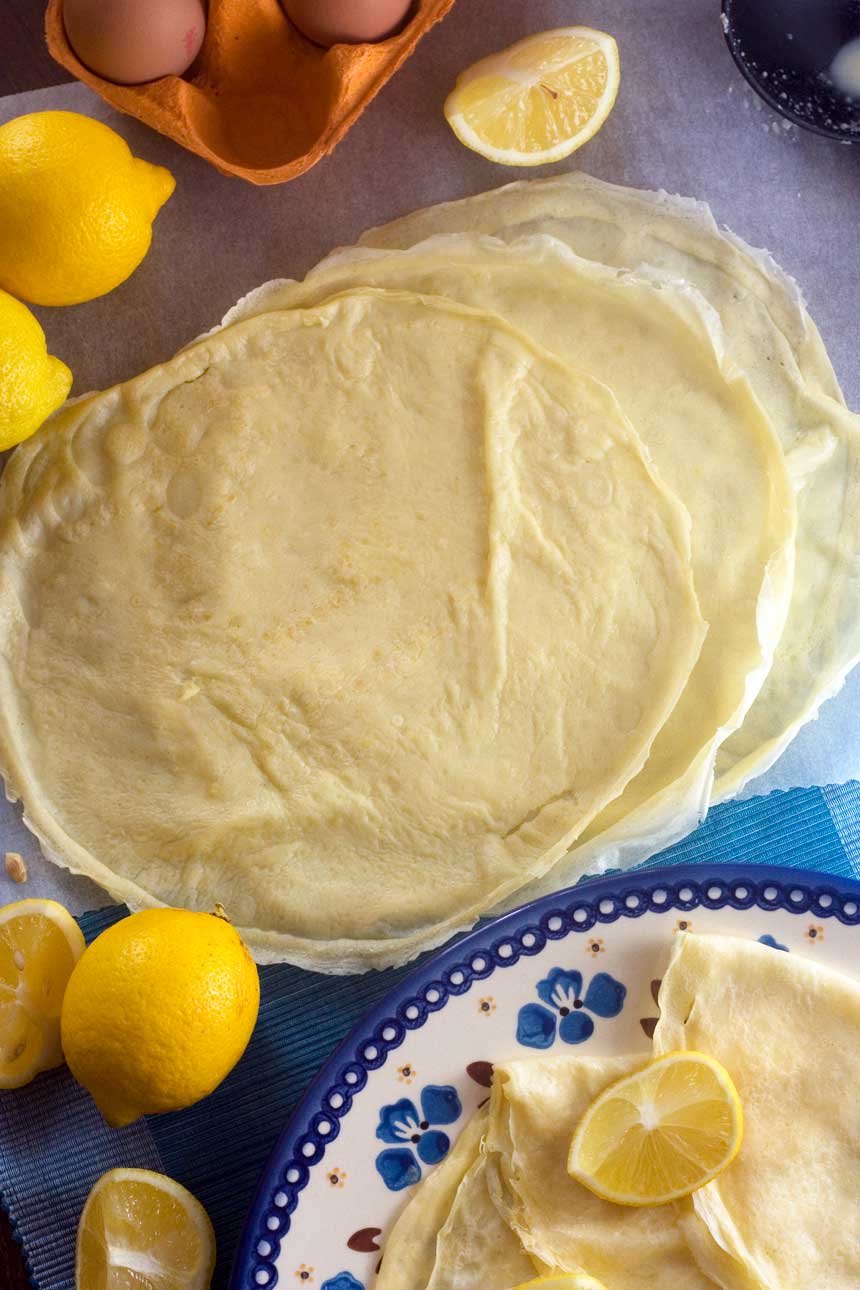 I just couldn't resist making some of these for myself and Mr. Scrummy this morning … this time not for dinner but for brunch. It was a gloriously sunny day today, after at least a week of miserable grey days, so I decided to grab the chance to take some hopefully pretty photos of a much-loved traditional British food.
The recipe I used this morning was by a trusted veteran British chef called Delia Smith. Predictably, the recipe worked beautifully. Delia mixes a bit of water to her batter and also adds a little melted butter, resulting in a foolproof batter that's about the consistency of thin cream. It's so easy to ladle the batter into the hot frying pan, give it a good swirl around, flip it over after a minute or two, and there you go – sprinkle, juice, gobble, repeat.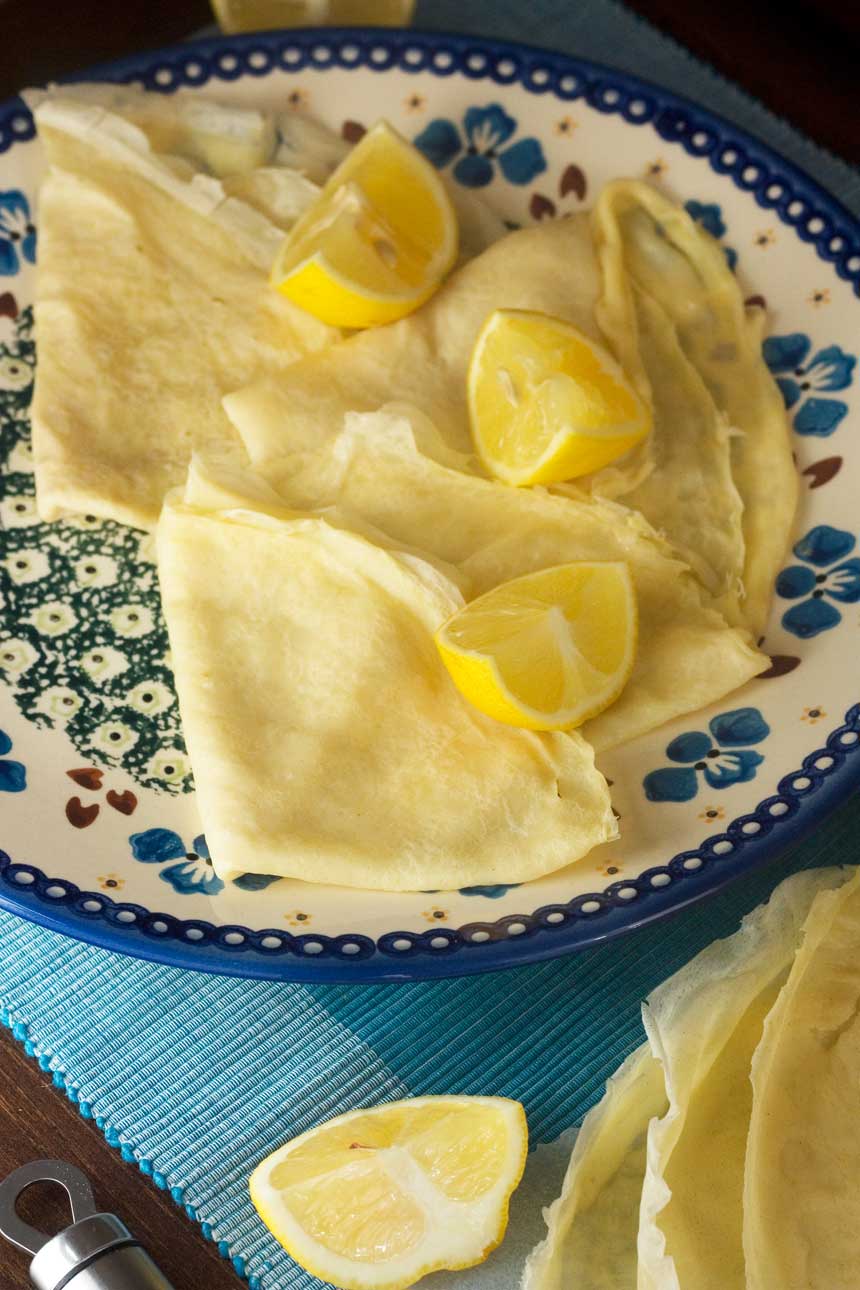 These pancakes were wonderful, but just before I go, I'm going to dare to give you my alternative crêpe recipe. Many years ago, someone (goodness knows who) told me about the easiest crêpe recipe you could ever hope for. I've used it successfully time and time again.
So here goes. A one-liner crêpe batter recipe …
Ask someone to pour plain flour into your cupped hands (enough to pretty much fill your hands), dump it into a medium bowl, add one egg and begin to whisk, then slowly add and whisk in enough milk to make a smooth batter that's the consistency of single cream.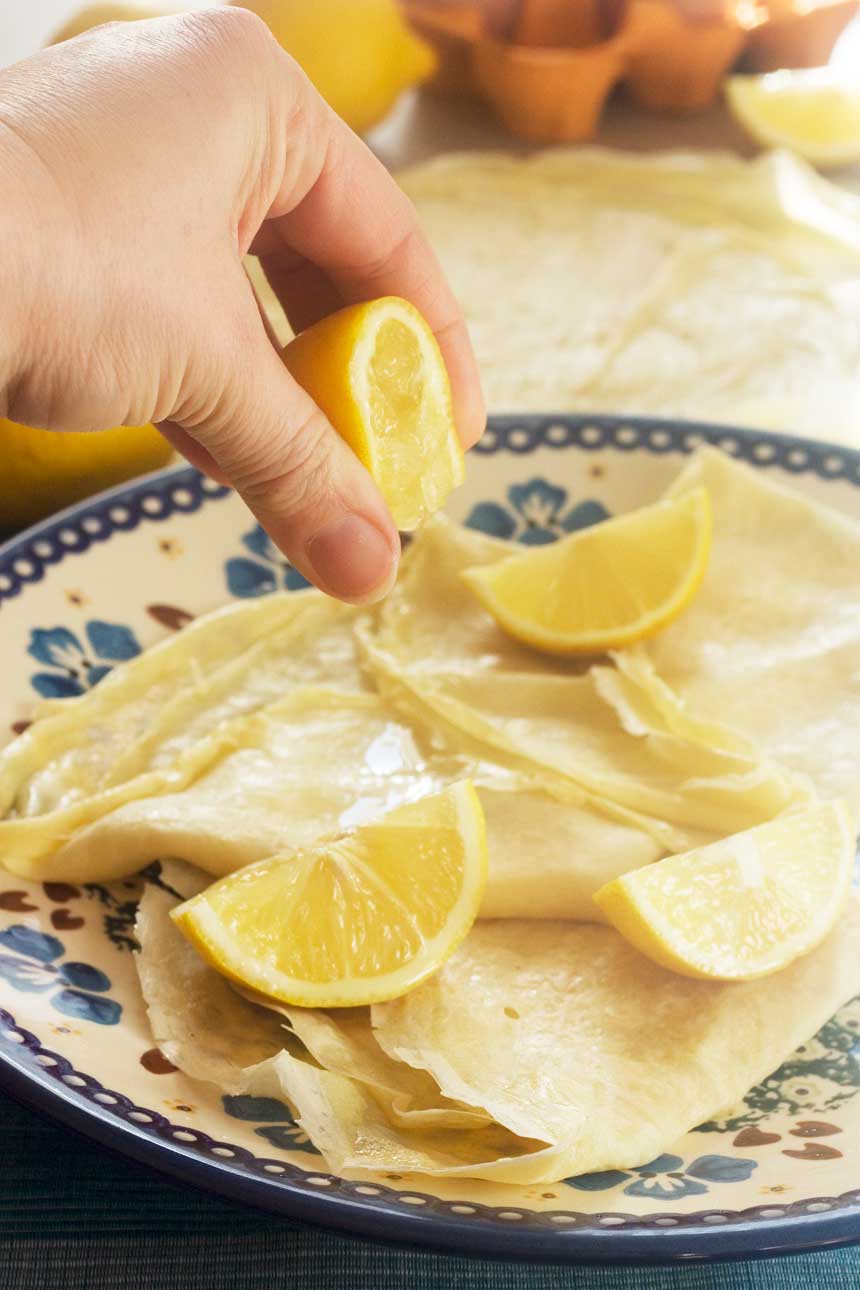 So there you are – no measurements needed. Try it if you dare! I must admit, today's crêpe-making adventure has definitely won me over to Delia's pretty foolproof recipe, but I'll probably still use my old trusty lazy-cook's pancake recipe from time to time, too. You can take your pick, but I do hope that you'll give these 'Pancake Day' sugar & lemon crêpes a go some day soon. You don't have to make them today or wait for next year's Pancake Day. Just make them any day for breakfast, lunch, dinner or a snack.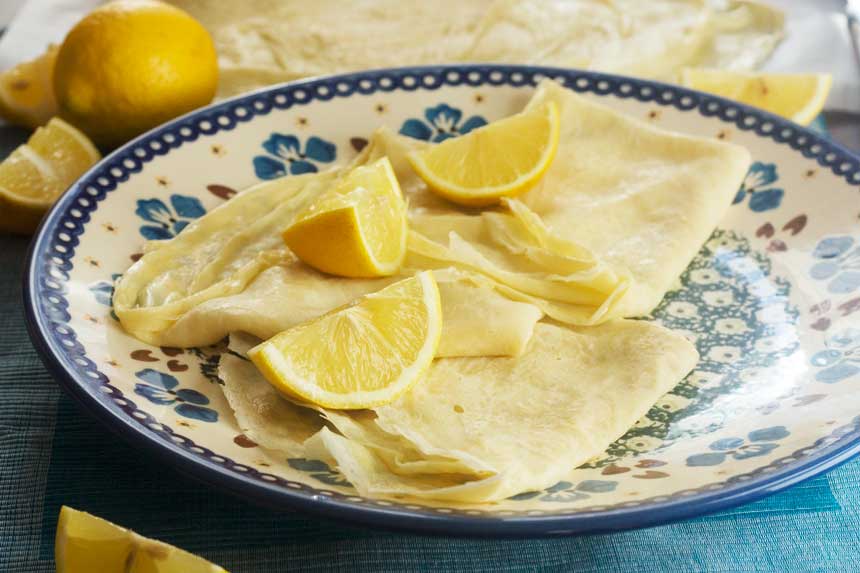 'Pancake Day' sugar & lemon crêpes
Pancake Day crêpes just have to be simple sugar and lemon for me. Try them!
Ingredients (UK/Australia? Click below for grams/ml)
1/2

cup

plain flour

a pinch of salt

2

eggs

3/4

cup

milk mixed with 1/3 cup water

3

tablespoons

butter

melted
to serve
sugar

lemon juice & lemon quarters
Instructions
Sift the flour and salt into a medium-sized bowl, then crack the eggs into the middle of it.

Whisk the eggs into the flour a little, then slowly add the milk and water, whisking constantly, until you have a smooth batter with no lumps of flour. If there are any lumps, just keep whisking and they should dissolve.

Heat up a frying pan on a medium heat, then melt the butter in it. Pour the butter into a little bowl and add 2 tablespoons of it to the pancake batter and whisk in.

Ladle about half a medium ladleful of batter into the hot frying pan and swirl around until the pancake batter covers the whole of the bottom of the pan. Let the pancake cook for a minute or two, until the bottom of the pancake is cooked and slightly golden in places. Flip over using a fish slice and cook on the other side for a short time (no more than 20 to 30 seconds), then slide out onto a plate. Keep warm on a large plate in a slightly heated oven (about 50C/120F) until ready to serve. Use a piece of kitchen roll to wipe a bit of melted butter around the pan before cooking each pancake.

To serve, sprinkle generously with sugar, drizzle with lemon, then fold into rough quarters. Serve 3 or 4 on a plate with extra sugar and lemon quarters if you like.
Nutrition
Calories:
95
kcal
Carbohydrates:
7
g
Protein:
2
g
Fat:
6
g
Saturated Fat:
3
g
Cholesterol:
54
mg
Sodium:
63
mg
Potassium:
53
mg
Sugar:
1
g
Vitamin A:
230
IU
Calcium:
33
mg
Iron:
0.6
mg
I hope you enjoyed this post! You can subscribe to receive posts directly to your inbox (for free, of course!) by clicking here or entering your email address into the box at the top of the sidebar on the right.
You can also find more from Scrummy Lane on Facebook, Pinterest, Twitter and Instagram and follow me on Bloglovin! Thanks so much for reading!
*This post may contain affiliate links which means that if you click on a link and make a purchase I get a small percentage of the amount you spend. At no extra cost to you, of course! Thank you!*