English pancakes are nothing like the thick, fluffy pancakes you may know and love. These much thinner pancakes are just as delicious, and so easy to make with a few basic ingredients. Sprinkle them with lemon and sugar and enjoy on Shrove Tuesday (Pancake Day!), or any day you like.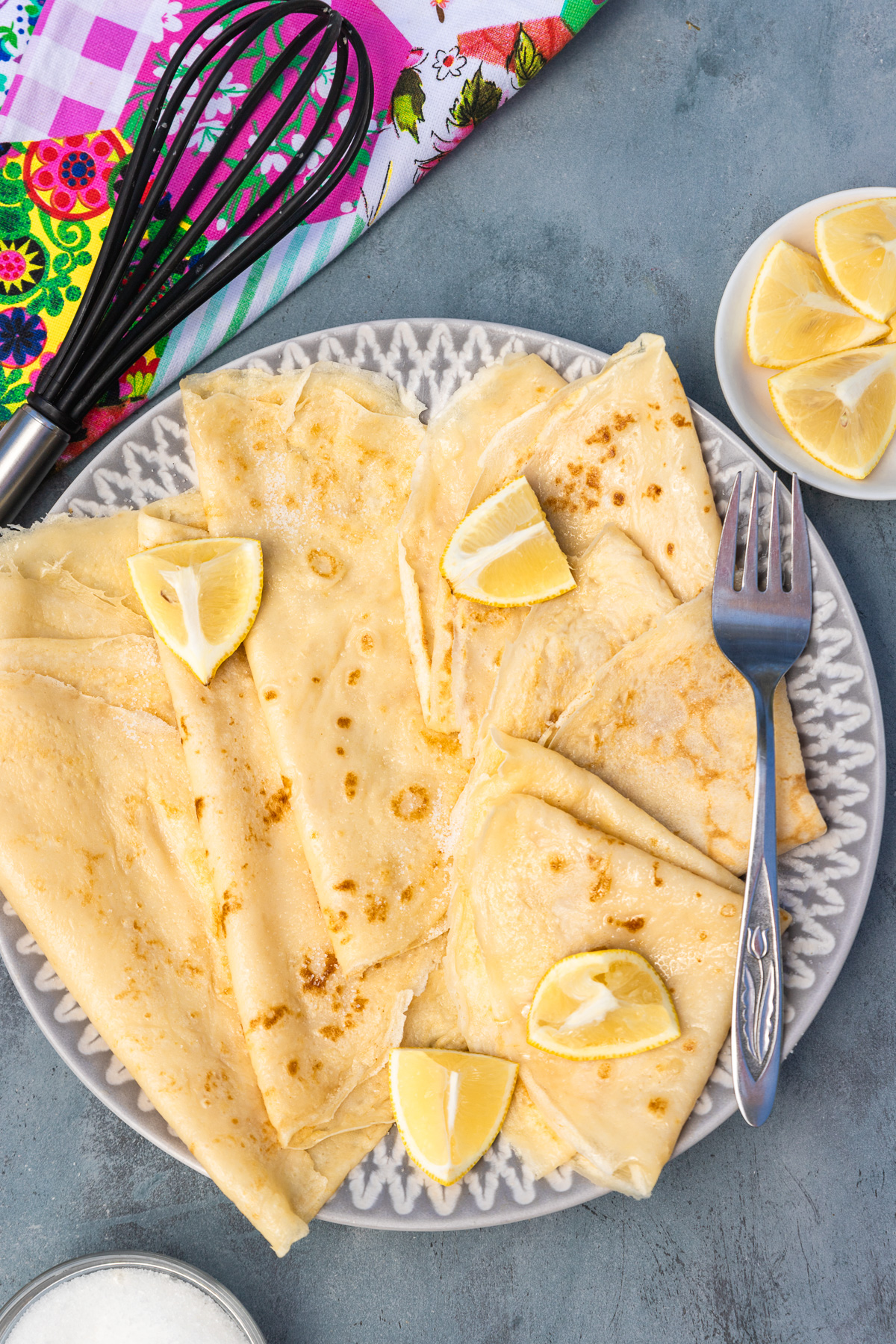 You might not associate the British with Mardi Gras (Fat Tuesday) celebrations. But there's one thing they're very good at doing on Shrove Tuesday – eating (thin) pancakes! In the past, the idea was to use up all the eggs and milk before Lent started the next day. These days it's just a great excuse to eat delicious pancakes!
When I was a child, 'Pancake Day' was one of the highlights of my year. Mum couldn't make the pancakes fast enough. There was always room for one more sprinkled with a ton of sugar and lemon. Sometimes we'd try our luck at tossing one in the pan. A few times they ended up on the floor!
How are English (British) pancakes different?
So the English do eat pancakes. However, they aren't fluffy, pillowy and thick like traditional American pancakes or small Scotch pancakes. Instead they're flat and thin, lightly golden on both sides and sometimes slightly crisp around the edges. Yum.
Thin English pancakes are made of more or less the same basic ingredients – flour, eggs, and milk – but without baking powder or other leavening agent. Which is why, of course, they're flat!
Just like French crêpes, right? Well, they're definitely very similar, but a bit smaller (around the size of a dinner plate) and not quite as thin.
British pancakes are also served differently. Instead of eating a whole stack, we tend to eat them one by one, hot from the pan just with sugar and lemon, chocolate spread and banana, or other favourite toppings. You can fold them into quarters, roll them up or just eat them flat, as they come!
Why you'll love them
Made with only 3 main ingredients, this thin English pancake recipe is so easy. The batter takes just minutes to make.
There's no sugar in the recipe. Because of this, you can throw a little extra on top! It's also easy to make either sweet or savoury pancakes just by changing the toppings (see ideas below!).
Eat them any time! As kids we ate them for dinner, but they make a great breakfast, brunch, lunch or 'brinner', too. Since our son loves them, I often make them for dinner as a special treat. He sprinkles chocolate chips, banana, peanuts and sugar on his!
They're truly the best pancakes!
About the ingredients
Essentially this is a 3-ingredient thin pancake recipe (with a couple of other optional ingredients) so you can make them any time you like. Here's all you need:
For the basic batter mix:
Plain flour: Just a cup of all-purpose flour. Gluten-free flour works, too.
Eggs: Use 2 large eggs.
Milk: Either whole milk (full cream), or low fat (semi-skimmed) is fine.
A pinch of salt (optional)
Melted butter and/or vegetable or sunflower oil: I tend to use a mixture of a little melted butter, plus vegetable oil. I add a tiny bit into the mixture to prevent sticking. I use the rest for cooking the pancakes.
To serve (optional):
Lemon segments and sugar, or whichever toppings you prefer!
How to make thin pancakes
Step 1: Begin making batter. I like to start with the flour in a medium sized bowl or jug. I break the 2 eggs into the middle, then I add a tiny bit of milk.
Step 2: I begin whisking the mixture until I have a thick paste.
Step 3: Then I gradually whisk in the rest of the milk. The batter should be quite runny, like single cream.
Step 4: Drizzle in a little melted butter or oil to prevent sticking. This step is completely optional!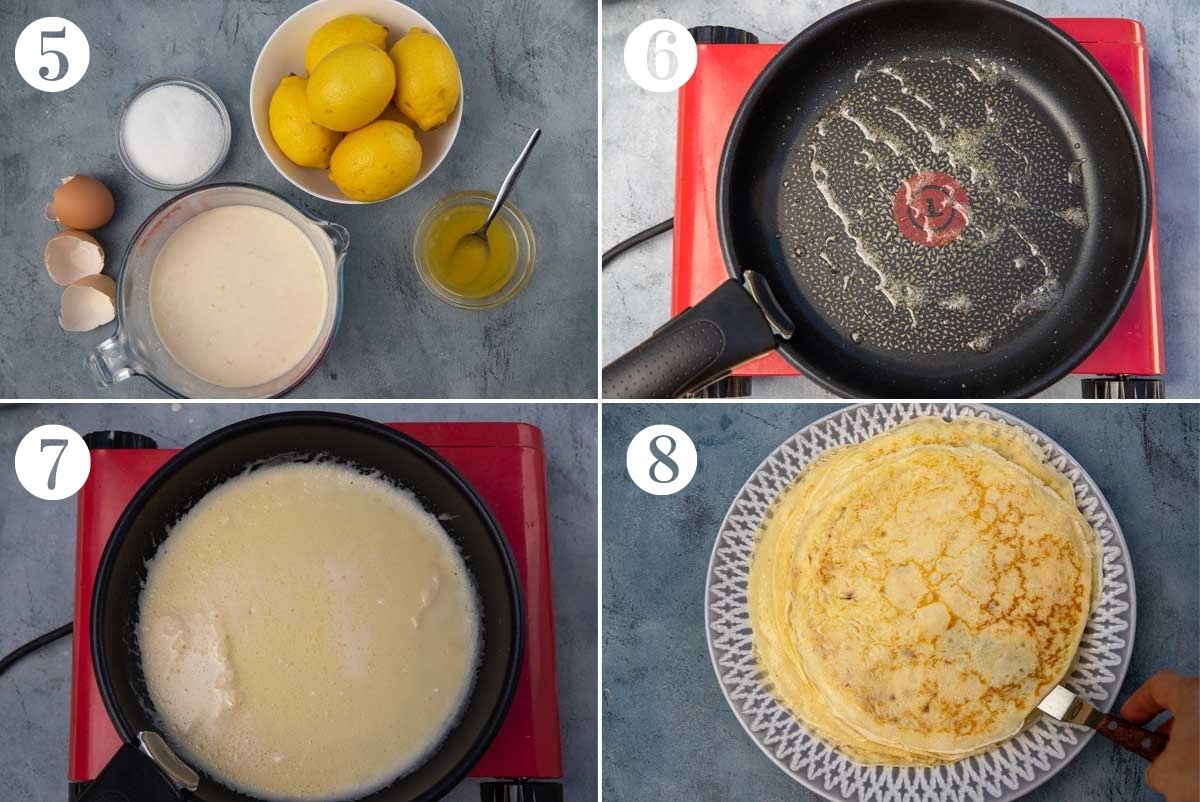 Step 5: If you have time, let the mixture rest for at least 10 minutes.
Step 6: Heat a medium sized frying pan (on medium heat) until a little butter/oil sizzles in the pan.
Step 7: Use a ladle to add some batter to the pan. Experiment with the amount, but I usually go for a ladle that's about two thirds full for a medium sized pan. Qucikly swirl the batter around until it's run all over the pan.
Let the pancake cook on the first side for 2 to 2.5 minutes, or until the underside is slightly golden (use a palette knife to take a peek!). Then quickly flip over using a pan slice or large palette knife. If you're feeling adventurous, toss it over with a quick flip of the wrist! 😉
Step 8: Leave for around another 30 seconds (yep, that's all) then take out of the pan and stack on a plate.
Add a little more melted butter/oil and cook your next pancake. I usually keep the stack warm in the oven while I'm finishing the batch.
Top tips for foolproof English pancakes
When whisking your batter, make sure all the bits of flour at the bottom are properly mixed in. I find a plain old fork can be helpful for this.
Let the mixture 'rest' for a short while, if you have time! This lets the gluten in the flour 'relax' for an even texture.
Cook the pancakes on a medium heat. If the pan's too hot they'll burn, if it's not hot enough they'll take too long to cook and won't brown at all. The batter should sizzle a little as it hits the pan, but you should also have time to swirl it around before it starts to cook. Turn up the heat slightly to medium-high if you love crispy edges!
Make a 'test pancake' before cooking the whole batch. This will help you to know if the pan is the right temperature, if you're ladling in the correct amount of batter and if the thickness is OK. This first pancake probably won't be the best, but that's OK (cook's treat?).
If the mixture doesn't swirl to the edges of the pan easily, just whisk a little water into the rest of the mixture before continuing.
Put the oven on the 'keep warm' setting (or at 120F/50C) to keep the pancakes warm as you make them. Alternatively, just serve them one by one, as you cook them!
In a hurry? Recipe 'cheat': Use both hands to scoop flour into a bowl. Add 1-2 eggs, then enough milk to get the consistency of single cream. Your pancakes will still be super delicious – trust me!
What to put on your English pancakes!
Did I mention that my favourite toppings are classic sugar and lemon wedges? Whoops, I did. But in case you'd like to shake things up a little, here are more ideas. Although of course you're only limited by your imagination!
Easy sweet topping ideas:
Nutella and banana (another personal fave!)
Red berries, Greek yogurt, nuts and honey (mmm)
Maple syrup and blueberries
Canned cherry pie filling and ice cream (another vintage classic!)
Salted caramel sauce and peanuts
Chocolate fudge sauce and strawberries
Easy savoury topping ideas
Fried egg, ham and mushrooms (breakfast style)
Spinach and mushrooms mixed with Boursin style cheese (cook mushrooms in pan, wilt in spinach, add cheese – voilà!)
Smoked salmon and cream cheese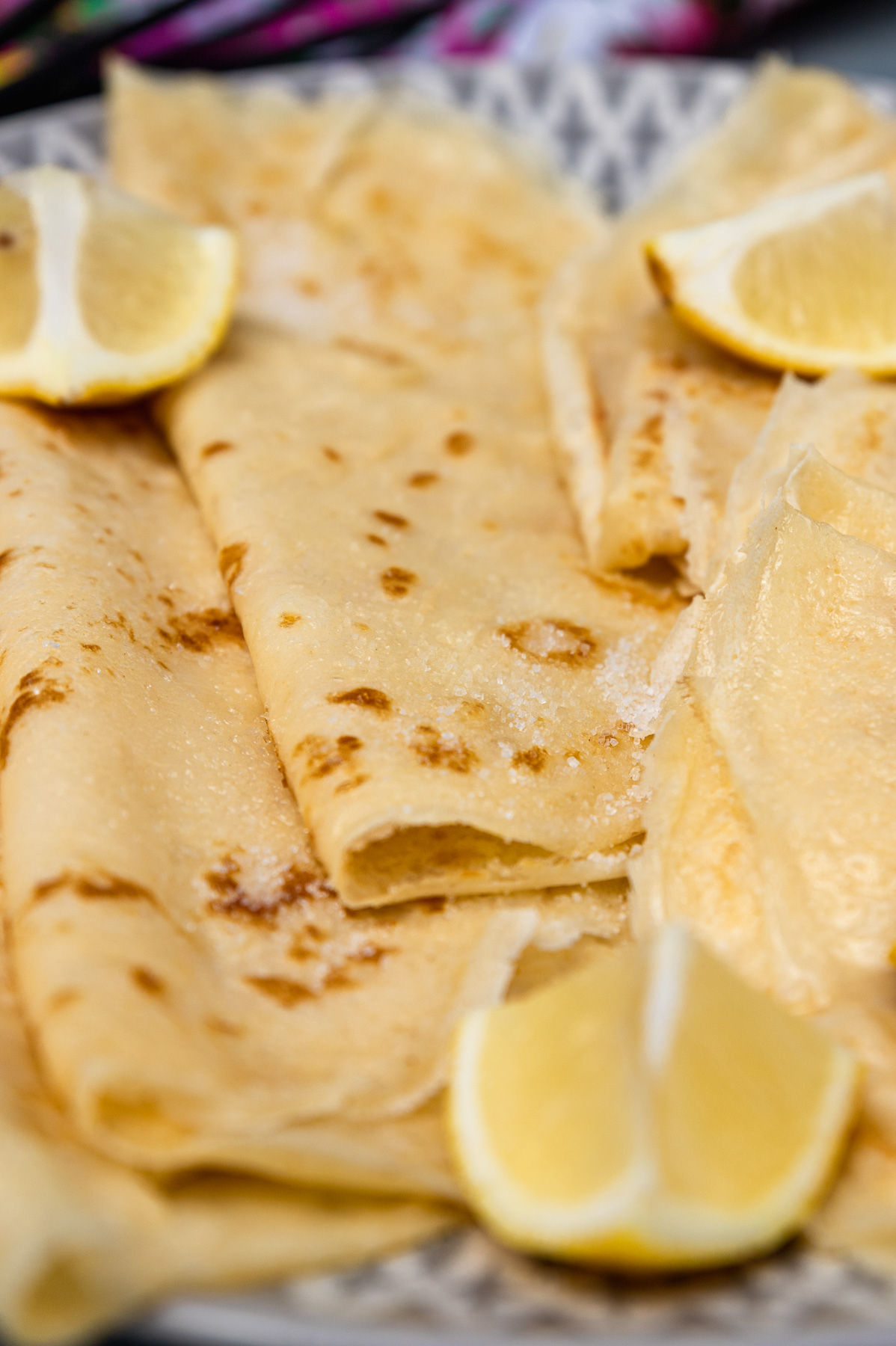 More things to know (recipe FAQ)
Can you make pancake batter in advance?
Yes! Cover it in the jug or bowl you made it in, and it will actually keep for up to 4 days in the fridge (depending on the expiry date on the milk!).
Can you store leftover English pancakes in the fridge?
Yes again – as long as they are well covered. I'd say for 2 to 3 days for best quality. To reheat, either warm for a few seconds on each side in a hot pan again, or just microwave. Start with 20 to 30 seconds at 50% power and go from there.
Can you freeze leftover pancakes?
Absolutely! Let cool completely, then freeze between layers of baking or wax paper in an airtight container for up to 2 months.
How can I adapt the recipe for one or two?
The original recipe makes roughly 8 pancakes, which could be enough for 2 to 4, depending on how hungry everyone is. If this sounds like too much for you, just halve the recipe. So half a cup of flour, 1 egg etc. Easy!
Can I use gluten free flour and/or dairy free milk?
Yes, absolutely! The results may not be exactly the same, but pancake recipes are generally very forgiving. Certainly this one is. Go for it!
Why is my batter lumpy?
It's probably because you added the milk a little too fast. It's better to add a little at first and whisk until smooth. Then add the rest of the milk. Don't worry though. Just use a fork to squash the biggest lumps against the side of the bowl or jug. Also it won't make any difference to the taste of your pancakes if there are still a few small lumps.
The best tools for making pancakes
You don't need a pancake pan or any other special equipment. Just use whichever bowls, jugs, slices etc. you have already. However, these are the general tools I find most helpful when making pancakes:
More easy breakfast (or brinner!) recipes to try
Try these amazing caramelized banana pancakes for a change. They're closer to American style pancakes, and the bananas are out-of-this-world delicious.
Or see all breakfast recipes.
IF YOU MAKE THIS RECIPE, LET ME KNOW HOW YOU GET ON BY LEAVING A COMMENT AND RATING BELOW… AND DON'T FORGET TO SIGN UP TO RECEIVE ALL MY NEW RECIPES BY EMAIL!
FOLLOW ME ON FACEBOOK, INSTAGRAM, PINTEREST AND YOUTUBE.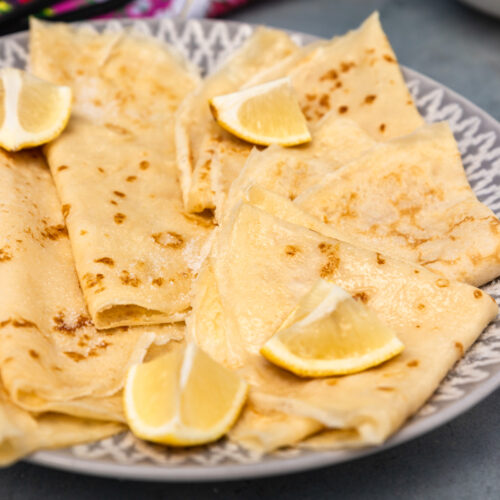 Thin English Pancakes Recipe (With Lemon And Sugar)
Move over thick American pancakes – these classic thin English pancakes are just as delicious, and ridiculously easy to make with a few basic pantry ingredients. Traditionally served on Shrove Tuesday, or Pancake Day, they're actually a perfect treat on any day of the year. Best served simply with a generous sprinkle of sugar and lemon juice on the top, you won't be able to stop eating them. Don't say I didn't warn you!
Equipment (affiliate links)
Ingredients (UK/Australia? Click below for grams/ml)
150

grams

plain flour

(1 UK/Australian cup = 1 US cup + 1 tablespoon)

1

pinch

salt

2

large eggs

300

ml

milk

(1¼ cups)

3

tablespoons

butter

melted in microwave (or vegetable or sunflower oil, or a mixture)
Instructions
Preheat the oven to 50C/120F.

Mix the flour and salt together in a medium-sized jug or bowl, then crack the eggs into the middle.

Whisk in a little milk to make a thick paste. Then slowly add the rest of the milk, whisking constantly, until you have a smooth batter. Add around 1 tablespoon of melted butter/oil into the batter to prevent sticking (optional).

Heat up a frying pan on a medium heat, then use a teaspoon to add a drizzle of the melted butter/oil. Wait until it starts to sizzle.

Ladle about ⅔ of a ladleful of batter into the hot frying pan and swirl around until it covers the whole pan. Let the pancake cook for 2 to 2.5 minutes, or until the bottom of the pancake is slightly golden. Flip over with a slice or spatula and cook on the other side for around 30 seconds. Slide out onto a plate and keep warm in the oven.

Cook the rest of the pancakes in the same way until all the batter is used up. Serve as they are, folded into quarters or rolled with the sugar and lemon for sprinkling over.
Notes
Getting the batter right: Add the milk slowly, whisking all the time, for a smooth batter without big lumps. The consistency should be like single/thin cream. Make a 'test pancake'. If you can't swirl the batter all over the pan easily, just add a tiny bit of water to the batter until it's thin enough. Making the batter in advance: The batter benefits from 'resting' for at least 10 minutes anyway, but if you want to make it in advance it'll actually keep well covered in the fridge for up to 4 days. How long the pancakes keep: Leftover pancakes will keep well covered in the fridge for 2 to 3 days. You can also freeze leftovers between layers of baking or wax paper for up to 2 months. Reheating: Either reheat in a hot pan for 30 seconds on each side, or in the microwave for around 30 seconds initially (longer if necessary). Notes on nutrition: Please note that the amounts do not include toppings e.g. sugar and lemon. The calories are for each plain pancake.
Nutrition
Calories:
144
kcal
Carbohydrates:
16
g
Protein:
5
g
Fat:
7
g
Saturated Fat:
4
g
Polyunsaturated Fat:
1
g
Monounsaturated Fat:
2
g
Trans Fat:
1
g
Cholesterol:
56
mg
Sodium:
74
mg
Potassium:
86
mg
Fiber:
1
g
Sugar:
2
g
Vitamin A:
251
IU
Calcium:
53
mg
Iron:
1
mg