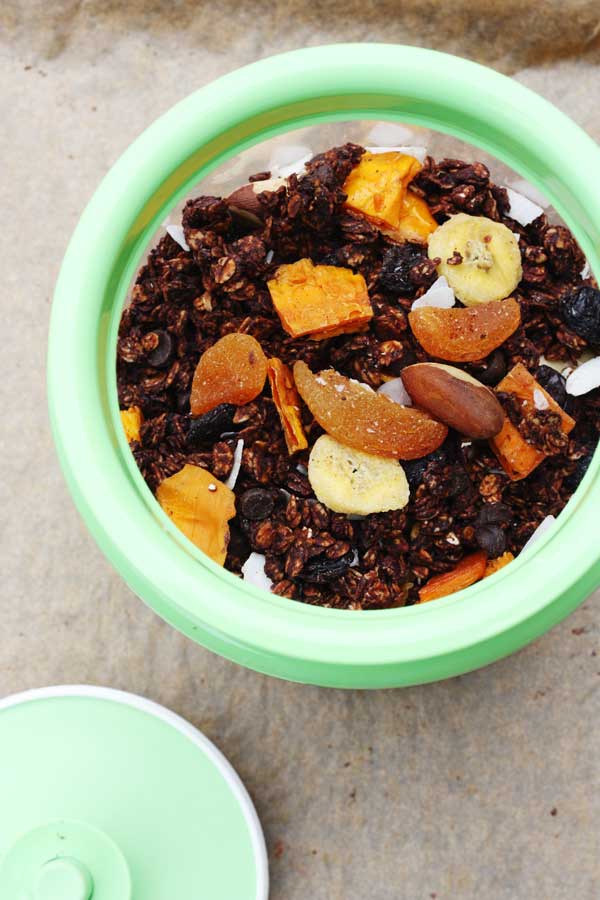 Sitting here squashed into my little airplane window seat at 35,000 feet (I really wanted to say that!) somewhere in the middle of the Indian Ocean on my way to Perth Australia, life seems pretty good. I'm not particularly a fan of flying, but I've got my G&T in hand (at 11.30am, shock horror – blame the husband who went to ask for one for himself and came back with two), I've watched an endearing & Oscar-nominated Saudi Arabian movie called Wadjda
 about a spunky little girl, and now I'm chatting with you great folks while passing through a particularly bumpy spot of turbulence. Who could want for anything more? Well, perhaps minus the turbulence.
I guess on the whole I don't mind travelling long distance by plane too much. And I'm even OK with that hanging-around-in-the-airport part. It always seems exciting, because of the association I make with the airport and going to explore some place new, to the point where I've often secretly thought it would be fun to work in an airport and be around that 'travel buzz' every day. One thing I certainly don't like, though, is that awful feeling of tiredness and disorientation you get when you have to get up at some ungodly hour to set out for said airport.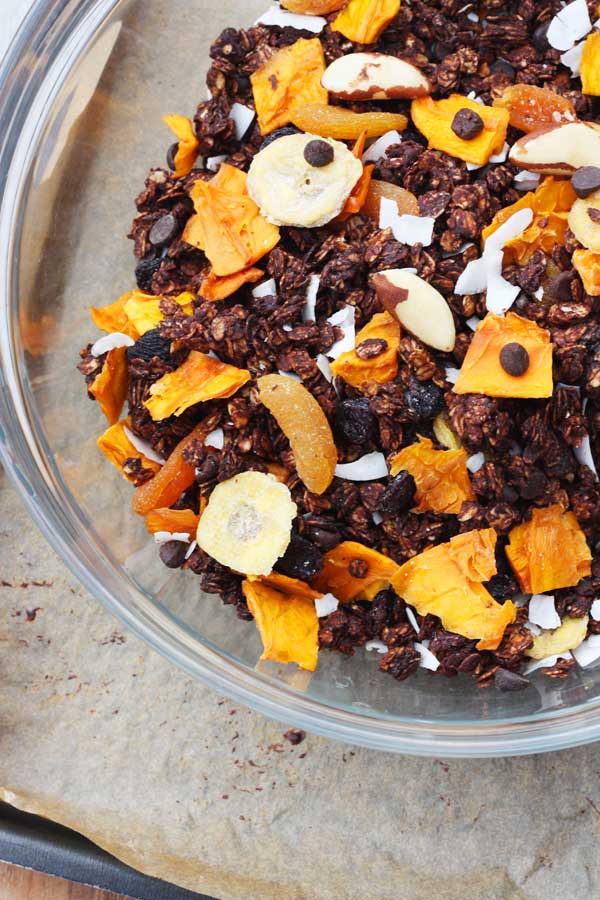 Now, at the risk of sounding like a complete ditz, I'm going to tell you about a recent 'Doh!' moment I had on one of these occasions when I arrived at the airport at 5am or thereabouts. Hardly awake, I got flustered at the spot where your hand baggage gets x-rayed. Sitting on the plane a short while later, I asked Mr. Scrummy to pass me my big blue travel bag with the white polka dots on so that I could get my headphones out of it … and had the shock of my life. In the spot where my laptop should be, there was, as you've probably already guessed, just a big gaping space. Yes, I had left it at baggage check. In my blurry-eyed state, I just somehow hadn't picked it up.
Remember the reaction of Kevin's mum in that old classic Christmas movie 'Home Alone
' when she realises on the plane that she's left her son behind? Well, if you can picture that you pretty much get an idea about how I reacted when I realised it was just a few minutes too late to go and get my laptop back. I did eventually have an emotional (or not) reunion with that laptop, but in the meantime I had to buy a new machine which I needed for work during the 6 weeks or so that I was away.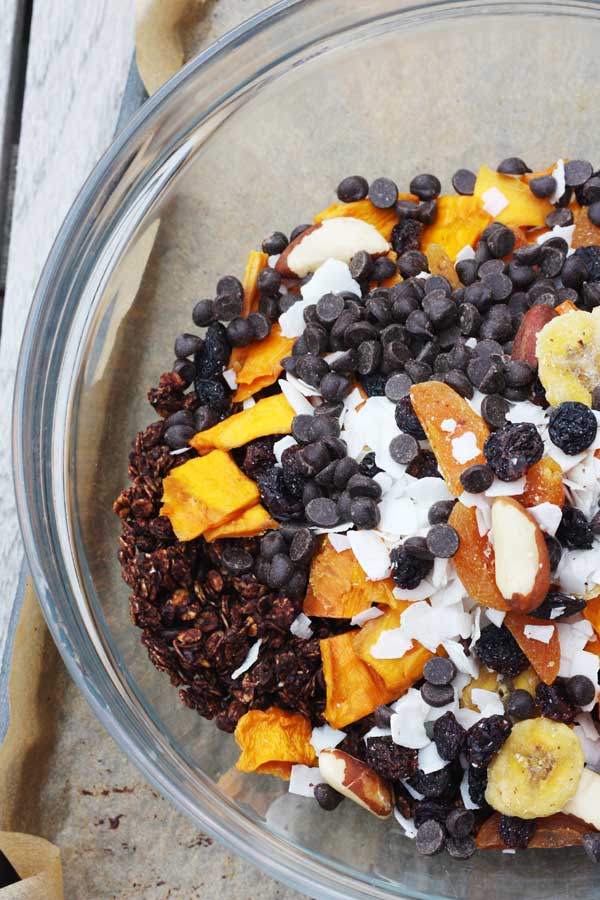 Another 'Doh!' moment I had very recently was just after making this tropical chocolate granola. Before even getting the chance to sample it, I might add. Skipping out of the house and across the lawn to take a photo in a bright shady spot, I held it by the lid, you see, not realising that the lid wasn't all that secure. So, this was me … swing, swing, happy swing, then, suddenly … pop (lid 'de-suctioning' and coming loose), boing (plastic container bouncing on the grass), gravelly noise as the crunchy, oaty clumps of goodness clattered out of that container and spilled all over the lawn. Stunned silence, followed by extreme disappointment, followed by loud wondering in head how much of it I could scoop up and put back in the container without anyone being any the wiser.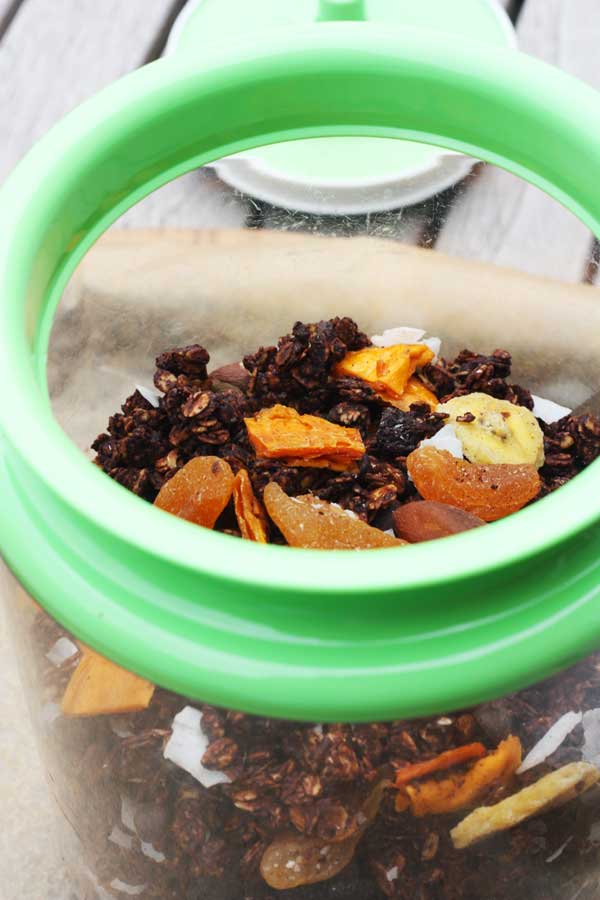 You'll be glad to know that in the end I cut my losses and scooped the spillages straight into the bin, with a bit of a heavy heart all the same, and also that the 'damage' wasn't as bad in the end as first thought. There was still plenty of this granola (my first attempt at the homemade stuff!) left in the container to enjoy both on top of a big dish of Greek yoghurt and drizzled with honey and in the 'old-fashioned' way with milk.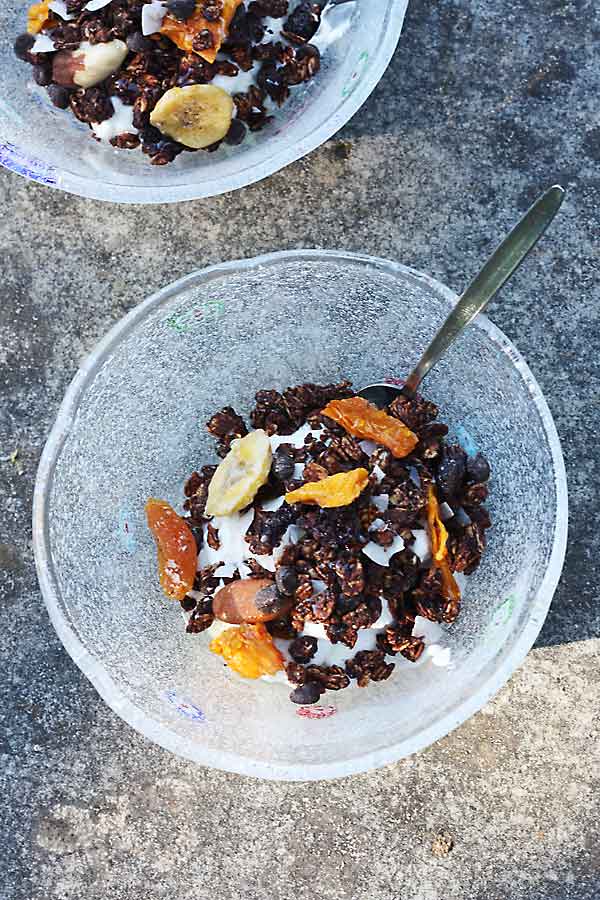 I've been wanting to make some of my own granola for ages, and this is only reinforced every time I see another delicious version on a blog or recipe site, or when I see that the second ingredient in a particularly tasty-looking supermarket version is sugar. I got some tips from both here and here, such as using coconut oil for health and taste (which I bought from a health food shop, but you can also get it here
), both cocoa powder and chocolate chips for a double chocolaty hit, and an egg white to ensure plenty of crunch.
I'll leave you with a few photos that will hopefully help you if you too decide to make some homemade granola (highly recommended). Pretty much, you just melt some oil with honey (I also added cocoa and a little cinnamon at this point, but you don't have to), pour it over rolled oats and mix well, spread the mixture out over a baking tray and then bake, stirring occasionally as it cooks.
Afterwards, you let it cool then add whatever else you'd like, such as various nuts, seeds, fruit and even chocolate. I was all for adding dried berries but as I couldn't find any I threw in a packet of dried mango and another of mixed 'tropical' fruit and nuts such as brazil nuts, dried apricots, shredded coconut and banana chips. Basically, just customize to your heart's content!
My family's opinion was divided on the inclusion of the chocolate chips. If you're a chocolate-for-breakfast kind of person (I am) then leave them in, if you aren't, then don't! Simple.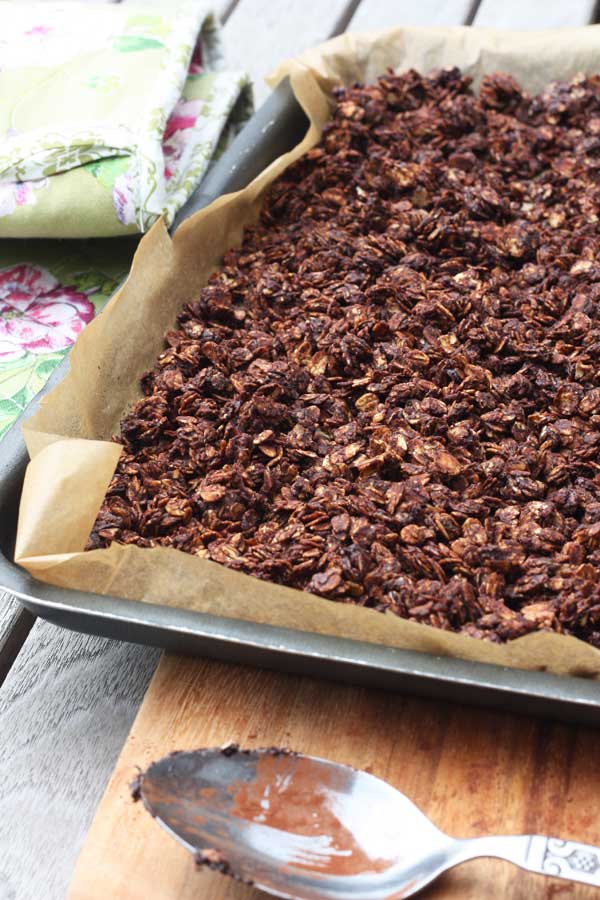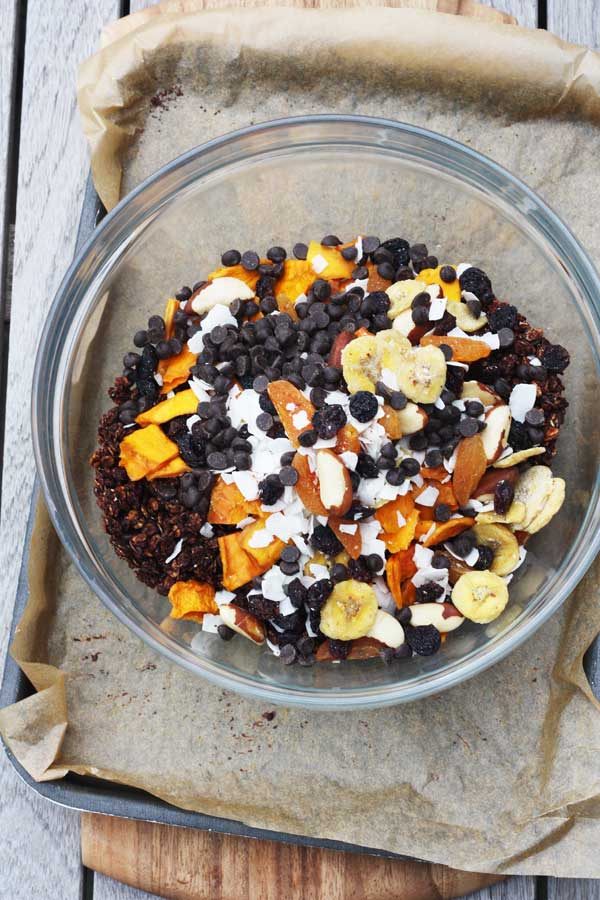 OK, so now I've made myself look like an idiot by telling you my 'Doh!' stories, won't you tell me some of yours? Oh, come on now, don't be shy. I won't laugh, I promise (fingers crossed behind back).
See you next time!
Tropical chocolate granola
Crunchy, chocolaty granola made with healthy coconut oil and honey and with tropical nuts and fruit mixed in. Add as few or as many chocolate chips as you like and you've got a delicious homemade breakfast treat to eat in a bowl with milk or with Greek yoghurt and more honey. You'll never buy sugar-laden store-bought granola again!
I hope you enjoyed this post! You can subscribe to receive posts directly to your inbox by entering your email address in the box below or at the top of the sidebar on the right.
You can also find more from Scrummy Lane on Facebook, Pinterest, Twitter and Instagram and follow me on Bloglovin! Thanks so much for reading!
*This post contains affiliate links which means that if you click on a link and make a purchase I get a small percentage of the amount you spend. At no extra cost to you, of course! Thank you!*