These choc chip muffins are light and fluffy every time, packed full of protein and they only contain a little bit of added sugar. They also happen to be REALLY quick and easy to make. You NEED these chocolate chip muffins in your life!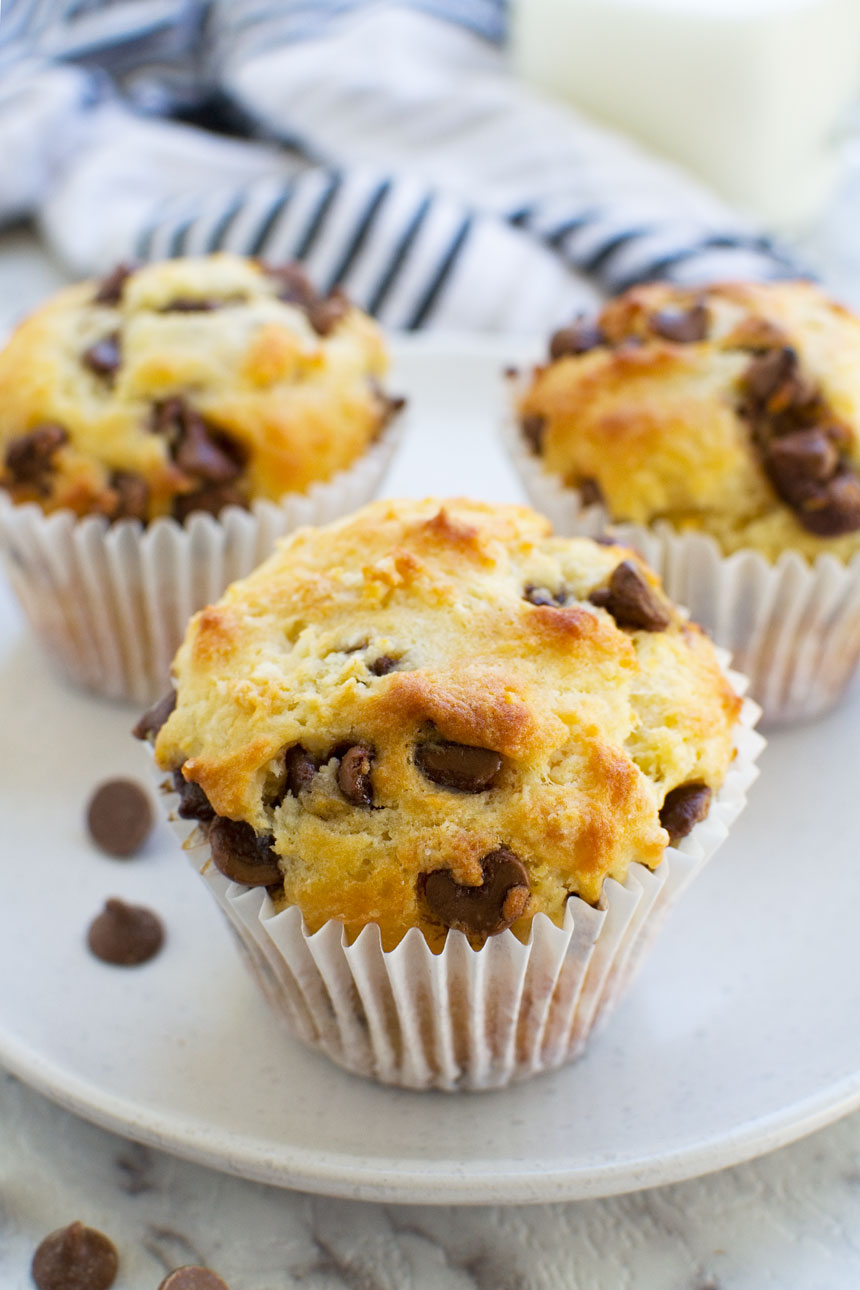 Your new favourite chocolate chip muffins
We have a bit of a love-hate relationship with muffins in our house.
Mr. Scrummy generally doesn't like them, unless they happen to be these Greek yogurt blueberry muffins .
I certainly do like them, especially if they involve chocolate in any way, shape or form. However, I find café muffins mostly too sickly sweet.
Sadly, I'm not one of those people who can just eat half of something delicious and save the rest until later, so most of the time I end up regretting ordering it in the first place!
My solution to this very serious problem (!) is to make these light and fluffy Greek yogurt choc chip muffins at home.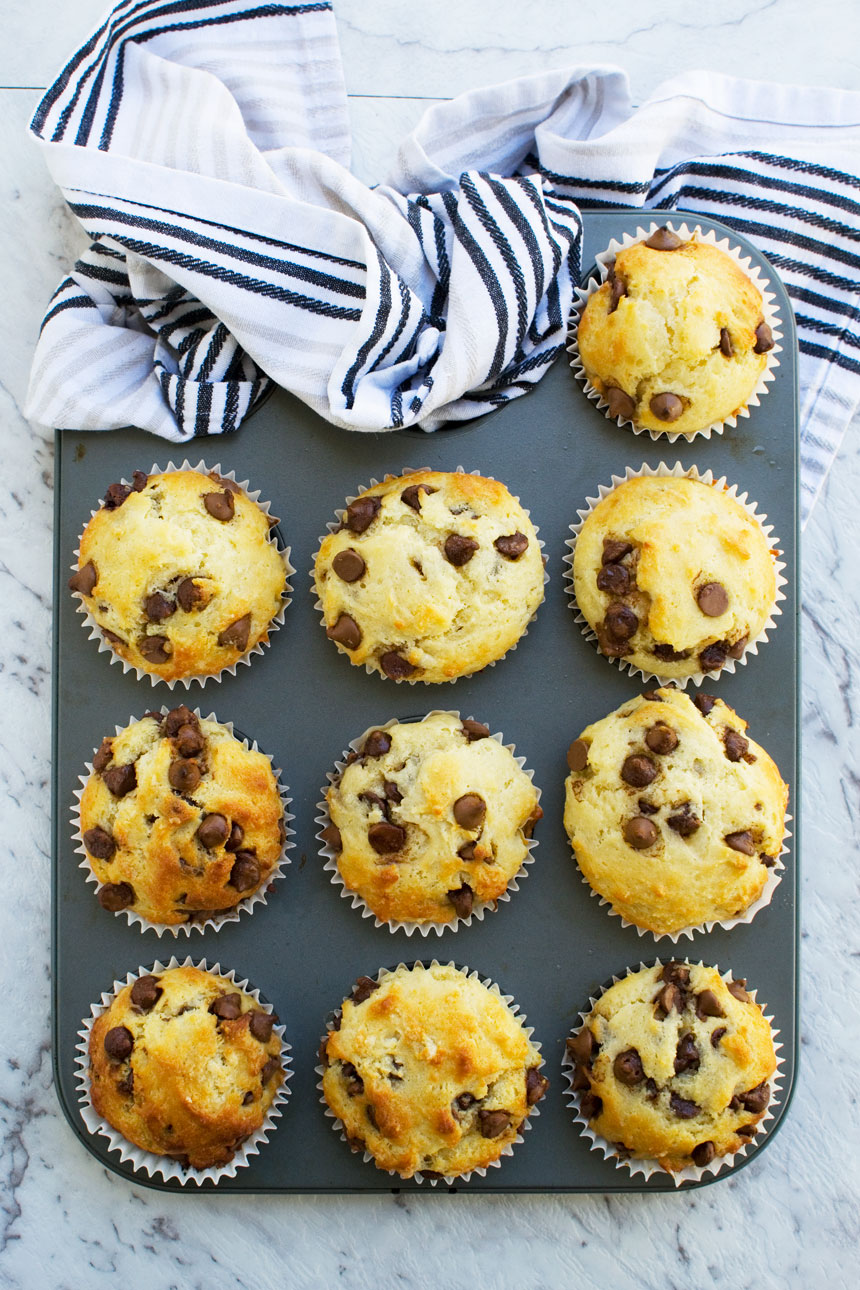 Yes! You've discovered a healthy chocolate chip muffin. Tell me all about it…
Well, not exactly…
I'm not going to claim that these are healthy chocolate chip muffins, but they're definitely a lot less guilt inducing than those average café choc chip muffins I was talking about.
So you won't find less of those in this recipe.
But I do reduce the added sugar, adding just 1/3 cup to the cake batter. I just don't feel like you need any more with all those chocolate chips packed in there.
Pack in the protein!
I also add a ton of Greek yogurt.
I'm not enough of a baking expert to know why (in fact I'm no baking expert at all!) but just like my blueberry muffins that paved the way for this recipe, these Greek yogurt choc chip muffins always seem to turn out well.
I'm not always very accurate with the ingredient amounts. I've been known to make them one-handed while holding my toddler. Sometimes I make small muffins, other times huge bakery style ones.
But somehow, I repeat… they're always good.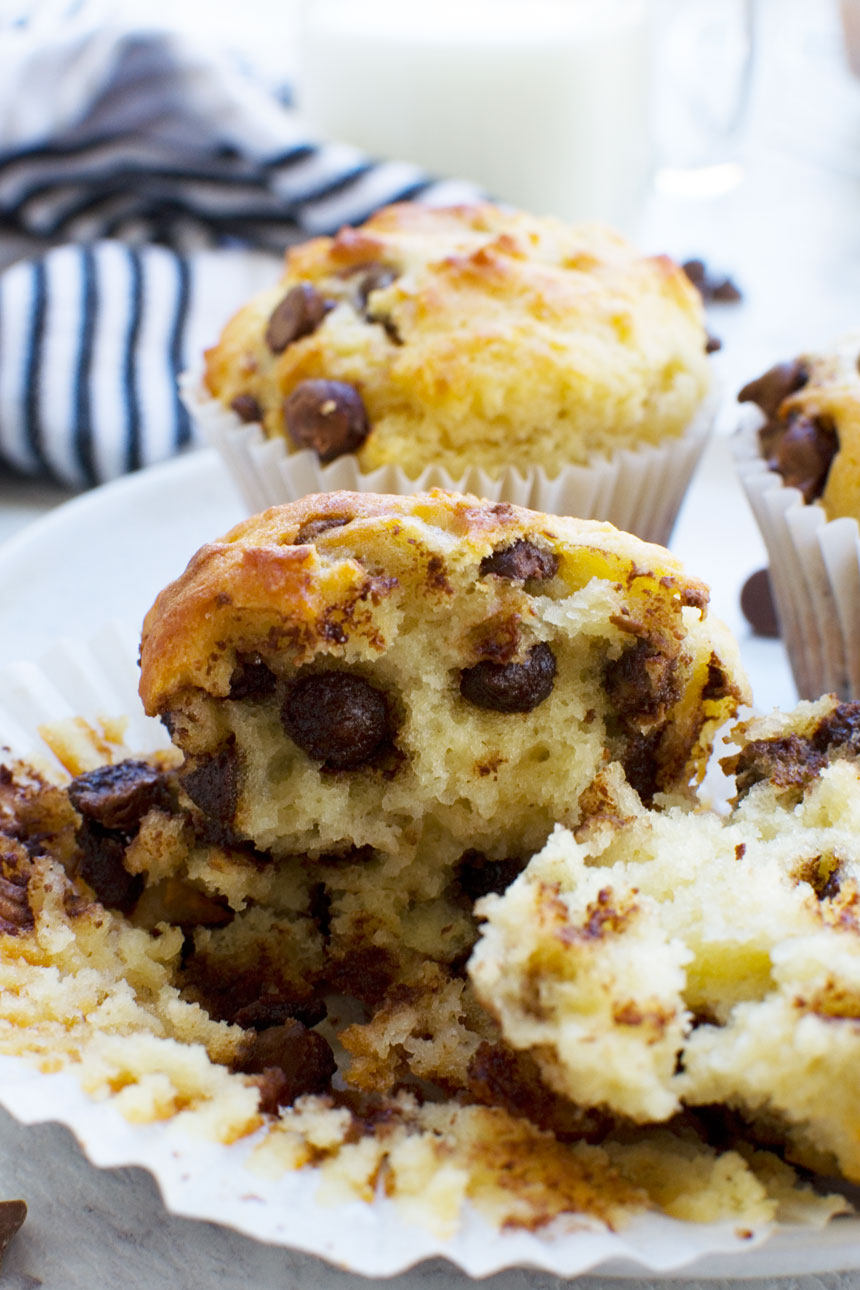 These Greek yogurt choc chip muffins are:
light and fluffy with a lightly crispy top
ridiculously easy to make (they're made with oil, so there's no creaming of butter and sugar, or even melting of butter)
lovely and moist (I suspect because they're made with oil not butter, and perhaps the yogurt adds moisture too…)
made with ingredients you probably already have in your pantry
fairly low in sugar compared to most other chocolate chip muffins
perfect for making with your kids
In other words, they're total crowd pleasers.
Do you need any more convincing?
So what's it going to be, chocolate or blueberry?
I use almost exactly the same recipe for these Greek yogurt choc chip muffins as for my low sugar Greek yogurt blueberry muffins. Except I add a tiny bit more sugar to the blueberry muffins to compensate for the lack of chocolate!
The blueberry muffin recipe has generally got rave reviews since I posted it. I still make them ALL THE TIME. The only reason I can think of for you not liking them is if you prefer a sweeter cake.
And if you do… make these chocolate chip muffins instead!
How to get the batter just right
The amount of milk you add to the batter can vary a bit according to what brand of Greek yogurt you use. I find ¼ cup milk is about right, but if the mixture still seems too thick (it isn't a soft dropping consistency when you drop it into the muffin cases) then just add a drizzle more until it's easier to spoon in.
I always use an authentic style Greek yogurt (no cream, just strained yogurt!). I'd recommend using full fat yogurt, and avoiding using ordinary natural yogurt. The recipe would probably still work with ordinary yogurt, but I haven't tested it.
Also, don't forget that Greek yogurt contains a lot of protein, so you could even call these protein muffins!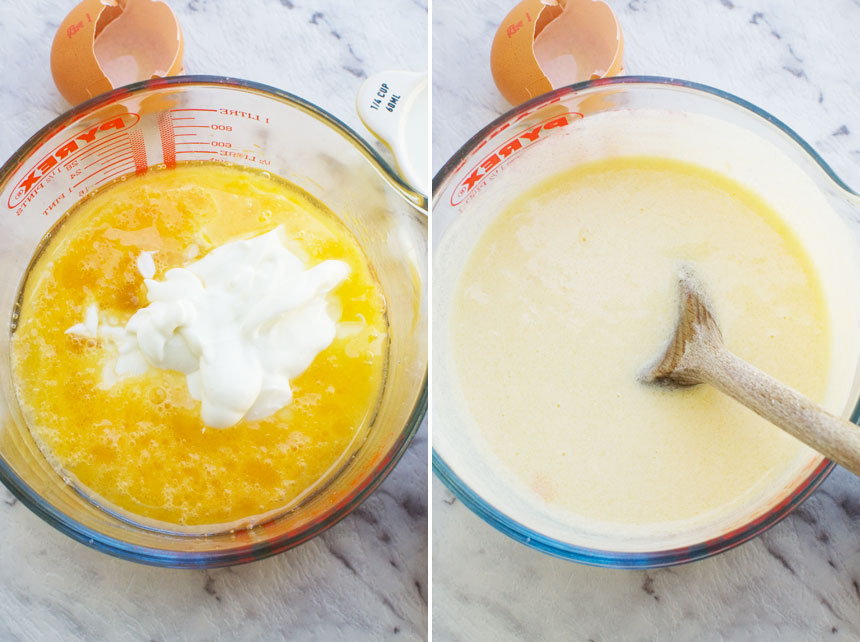 Stir together the eggs, oil, vanilla, yogurt and milk.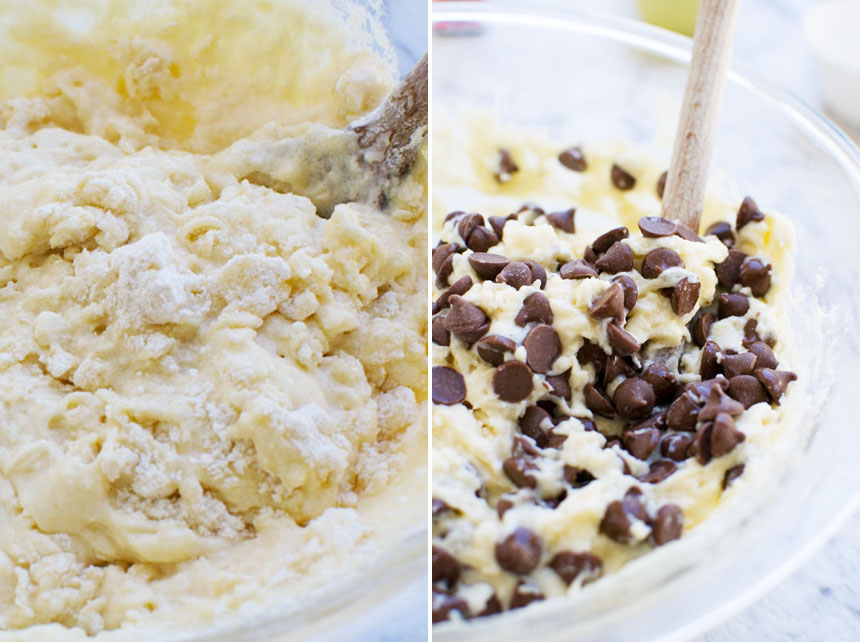 Quickly stir the wet ingredients into the dry, then fold in those delicious chocolate chips!
In my not-so-humble opinion, these are the best chocolate chip muffins ever (tongue slightly in cheek here, but they really are good muffins).
Can I freeze these chocolate chip muffins?
Oh yes, definitely! I often freeze these Greek yogurt choc chip muffins in Ziploc bags. Then I defrost and reheat for a few seconds in the microwave or a few minutes in the oven to get that freshly baked vibe again.
So, in summary… here's how to get perfect choc chip muffins every time!
Once you've added the wet ingredients to the dry, don't overmix. A few lumps are fine! This will make sure you get light and fluffy muffins every time.
Use authentic strained Greek yogurt if you can find it. I find most of the Greek yogurt here in Australia contains cream. I have no idea why, but I'd rather get the traditional protein-packed live bacteria benefits of the traditional stuff. Here in Australia I usually get the big tub that says 'Protein' on it from Aldi.
If your batter doesn't drop nicely into your muffin cases and looks too thick and lumpy, just add a drizzle more milk to thin it out a bit.
Lightly fold your chocolate chips in. Again, don't overmix and risk heavy, chewy muffins.
Baking time will vary according to your oven and the size of your muffins. Just keep checking after 17 minutes until a skewer comes out of the muffins clean. Average bake time for me seems to be 25 minutes. Your muffins should have plenty of colour on them when you take them out of the oven.
These muffins do tend to stick to the muffin cases a bit when still warm. I don't really mind, but if you wait until the muffins are completely cool you'll find they peel out of the cases really easily. If you want to eat them warm, just reheat for 15 seconds in the microwave! (no longer – you'll ruin them!)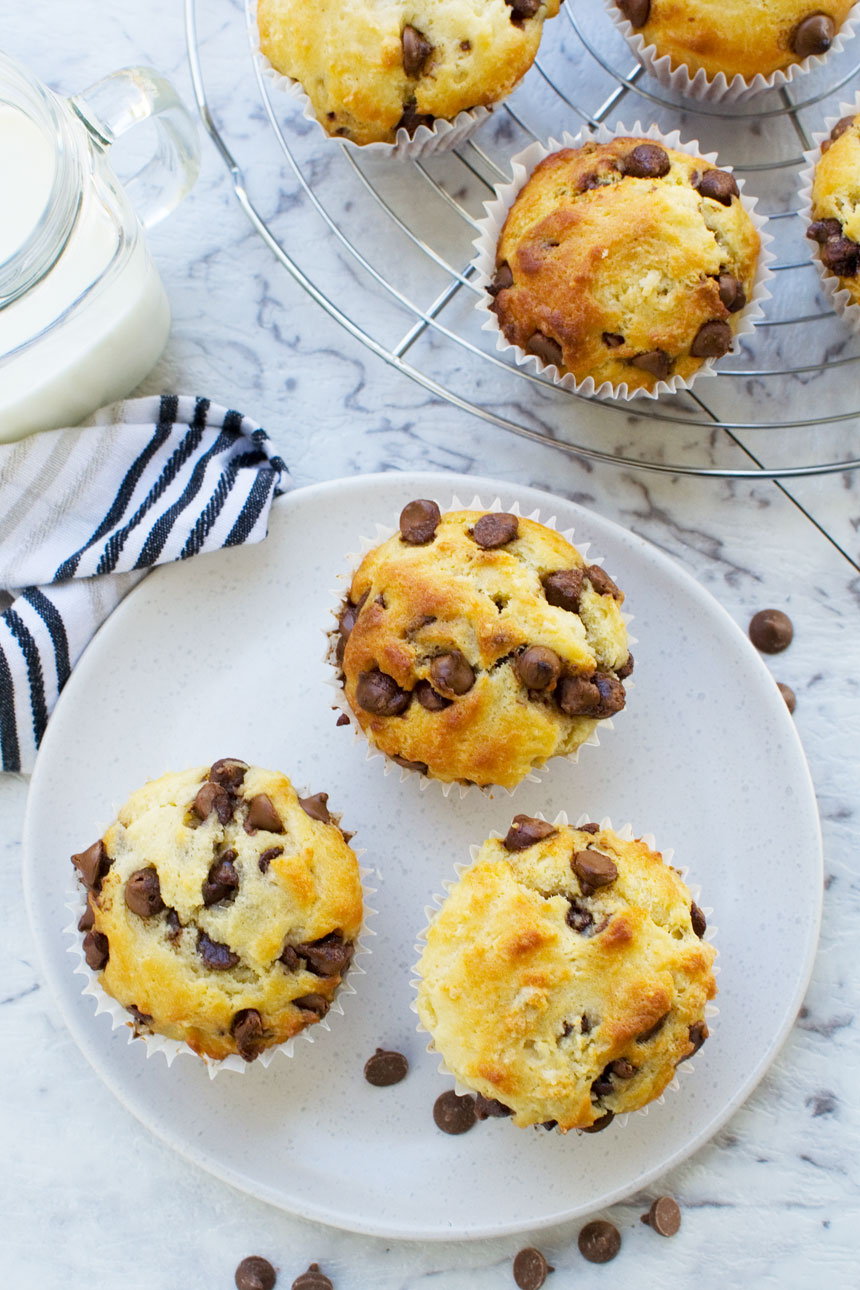 Pro tip: If you prefer to make blueberry muffins, you can use the same recipe. Just increase the sugar to 1/2 cup (link to full recipe immediately below!).
Healthy snack box subscriptions
So… you love these and will try them soon, but… you'd also like to have some awesome pre-packaged snacks on hand. I get it. Sometimes I just want to grab something yummy and healthy that someone ELSE has prepared.
The solution? Get healthy (and exciting!) ready-to-eat snacks delivered to you with Urthbox! They have Classic, Gluten free, Vegan or Diet box options, and a bonus free snack box offer, too.
Or browse more snack subscription boxes at Cratejoy to choose your own.
In love with smoothies? You can get read-to-blend organic smoothie packs delivered to your door from Smoothie Box , with $22 off your first order! (These are affiliate links!)
If you like this recipe:
IF YOU MAKE THIS RECIPE, LET ME KNOW HOW YOU GET ON BY LEAVING A COMMENT AND RATING BELOW… AND DON'T FORGET TO SIGN UP TO RECEIVE ALL MY NEW RECIPES BY EMAIL!
FOLLOW ME ON FACEBOOK, INSTAGRAM, PINTEREST AND YOUTUBE.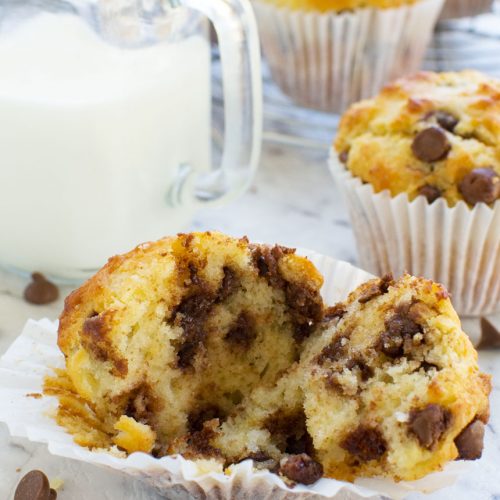 Greek yogurt choc chip muffins (low sugar recipe)
Welcome to your new favourite chocolate chip muffins! These Greek yogurt choc chip muffins are really quick and easy to make, protein-packed, and quite low in sugar. They always seem to turn out well!
Ingredients (UK/Australia? Click below for grams/ml)
Dry ingredients
2.5

cups

plain flour

1

tablespoon

baking powder

½

teaspoon

baking soda

1/3

cup

sugar

I find this enough but some people might like to add a little more, say ½ cup sugar
Wet ingredients
2

eggs

lightly whisked

⅔

cup

oil

I usually use canola oil, or a mixture of canola and olive oil, but any is fine

1

cup

Greek yogurt

I use authentic full fat strained Greek yogurt

¼

cup

milk

plus a tiny bit more if you need it

1

teaspoon

vanilla extract

optional
Instructions
Pre-heat the oven to 355F/180C and line a muffin pan with muffin liners. Spray lightly with oil.

Combine the dry ingredients in a large bowl.

Combine the wet ingredients in a jug or smaller bowl.

Pour the wet ingredients into the dry and mix with a wooden spoon until just combined (a few lumps are fine. Don't overmix.)

Gently fold the chocolate chips into the batter.

Spoon the batter into the muffin cases (you can fill almost to the top) and bake for 17 to 25 minutes. After 17 minutes keep checking every couple of minutes. A skewer pushed into the centre of the muffin should come out without raw batter on it, and the muffins should be nicely golden brown.

Let cool completely on a wire rack before eating so that the muffin cases don't stick. Reheat for 15 seconds in the microwave after peeling off the muffin case if you'd like to enjoy a muffin warm!
Notes
Batter consistency
Your batter should be a soft dropping consistency so you can put it into your muffin cases easily. If it seems too thick, just add a tiny bit more milk.
Baking time
The baking time can vary a bit depending on what brand of yogurt you use and/or how big your muffin cases are.
Just check every couple of minutes after 17 minutes until your muffins are nicely browned and a skewer pushed into the centre of a muffin comes out fairly clean (there might be a bit of chocolate on the skewer but there shouldn't be any raw batter).
I've found cooking time to be as little as 17 minutes and as long as 25 minutes depending on the size of my muffins.
How long do the muffins last, and can I freeze them?
These muffins will keep quite well for a few days in an airtight container, but they also freeze well. Simply freeze in Ziploc bags or a plastic/glass container with a lid. Defrost and then reheat for 15 seconds in the microwave or a few minutes in a warm oven.
Or if you prefer blueberry muffins…
You can easily make blueberry muffins instead with this same recipe! Simply add a tiny bit more sugar to the batter (if you like – say 1/2 cup instead of 1/3 cup) and replace the choc chips with 1.5 cups of blueberries.
Or make half chocolate, half blueberry muffins! Both are delicious and always turn out well.
Nutrition
Calories:
365
kcal
Carbohydrates:
42
g
Protein:
6
g
Fat:
18
g
Saturated Fat:
4
g
Cholesterol:
31
mg
Sodium:
81
mg
Potassium:
169
mg
Fiber:
1
g
Sugar:
20
g
Vitamin A:
100
IU
Vitamin C:
0.2
mg
Calcium:
102
mg
Iron:
1.7
mg