These Greek yogurt choc chip muffins are light and fluffy every time, packed full of protein and with only a little added sugar. They also happen to be REALLY quick and easy to make – ready in only 30 minutes.
Perfect for lunch boxes, afternoon snacks and last minute guests, you NEED these healthy chocolate chip muffins in your life!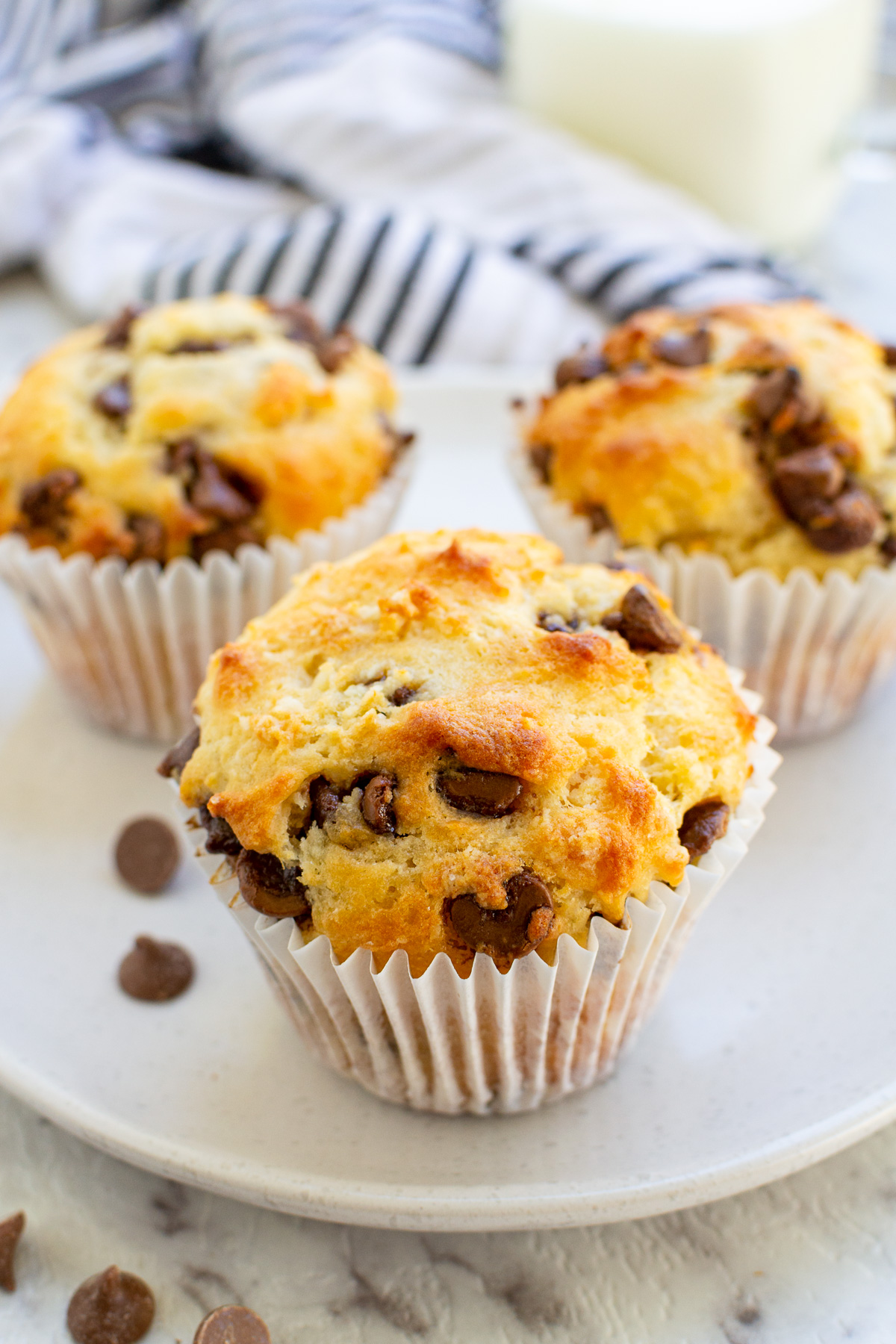 Healthier chocolate chip muffins
We have a bit of a love-hate relationship with muffins in our house. Mr. Scrummy generally doesn't like them, unless they happen to be these Greek yogurt blueberry muffins.
I certainly do like them, especially if they involve chocolate in any way, shape or form. However, I find café muffins mostly too sickly sweet.
My solution to this very serious problem (!) is to make these lower sugar light and fluffy Greek yogurt choc chip muffins at home. In my not-so-humble opinion, these are the best chocolate chip muffins ever (tongue slightly in cheek here, but they really are good muffins).
Why you'll love them
Yes, Helen! You've discovered a healthy chocolate chip muffins recipe. Tell me all about it…
They're light and fluffy with a lightly crispy top. Just like my blueberry muffins before them, these Greek yogurt choc chip muffins always seem to turn out well!
They are indeed healthier choc chip muffins than average. They're protein-packed (hello Greek yogurt), and low in sugar with just 1⁄3 cup.
Ridiculously easy to make and hard to mess up. They're made with oil, so there's no creaming of butter and sugar. Just mix the wet ingredients into the dry. Perfect recipe for making with the kids!
Beautifully moist and tender since the oil and yogurt both add moisture.
Made with simple ingredients. You might already have everything in your pantry.
Chocolate chips in every bite! 😉
5* Review
"Thank you SOOOO much for this recipe Helen! These turned out amazing and my husband and kids said they're the best choc chip muffins they've ever had!" (Angie)
About the ingredients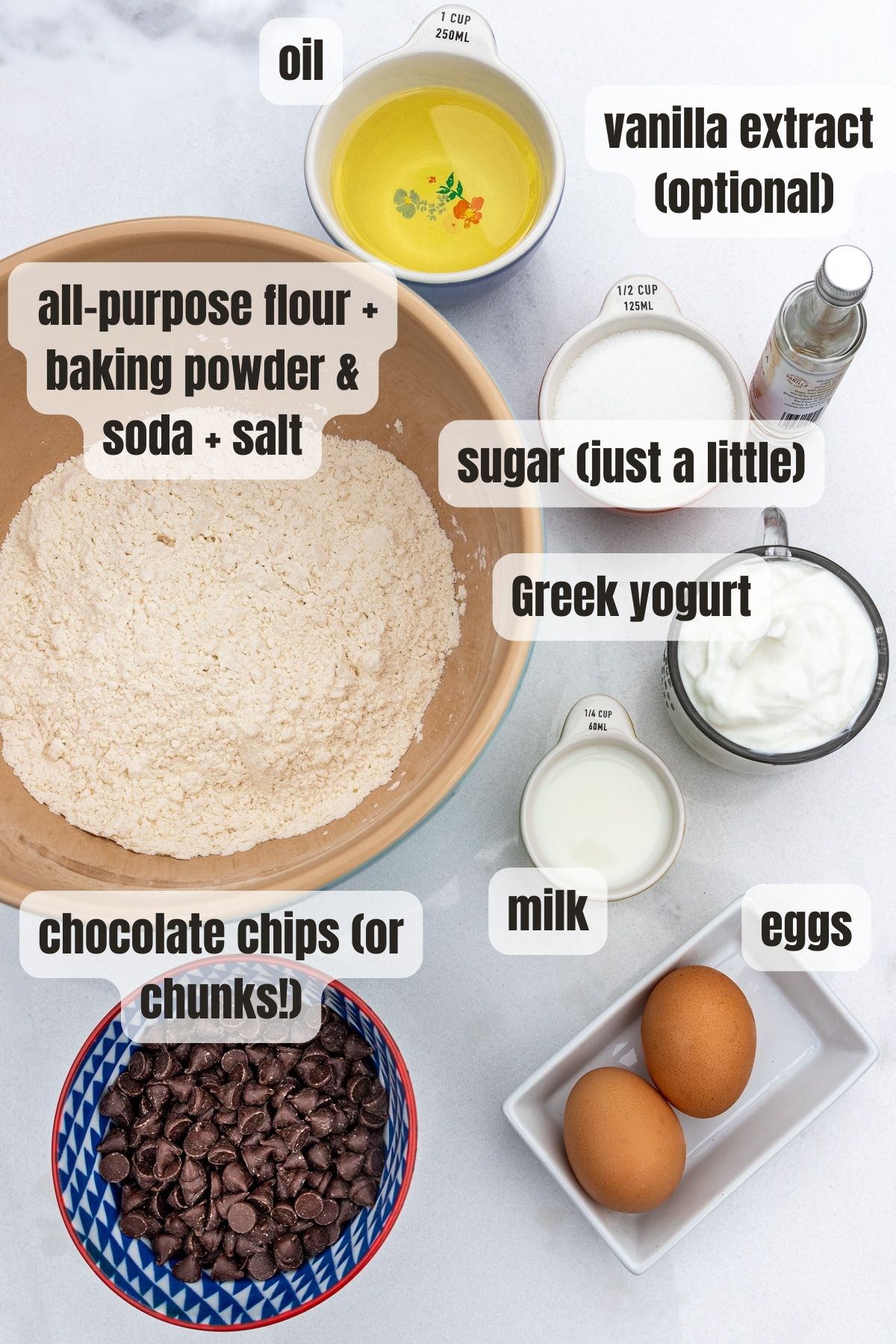 As already mentioned, one of the great things about these choc chip muffins (that are on the healthier side!) is that you only need simple baking ingredients. I confess that I've not always been very accurate with the ingredient amounts, but they always turn out well.
Here's what you need to know:
All-purpose/Plain flour: Nothing fancy here. Feel free to replace some of the white flour with white whole wheat flour, regular whole wheat (wholemeal) flour or gluten free flour. It works! You 'may' need to add a little extra milk with these alternative flours.
Baking powder and baking soda: You'll add a whole tablespoon of baking powder since you're using 2.5 cups of flour. Plus just a half teaspoon of baking soda.
Sugar: Just plain white sugar. 1⁄3 cup is enough for me since there are plenty of chocolate chips in the recipe for the perfect amount of sweetness. Feel free to increase the amount to ½ cup if you have a sweeter tooth.
Eggs: 2 large.
Oil: I usually use either canola oil, or a mixture of canola and light olive oil. Any vegetable oil, melted coconut oil or even melted butter would work, too.
Greek yogurt: A whole cup packs the protein into these muffins (protein muffins!). For the best results, always use authentic Greek yogurt which is just strained yogurt made of milk and yogurt cultures. Reduced fat (such as the blue Chobani) or full fat are both fine. Avoid the 'Greek style' yogurts that contain a lot of cream.
Milk: Just a little, to thin the batter to the right consistency.
Salt: Just half a teaspoon to bring out the other flavors.
Vanilla extract: Not essential, but just a teaspoon is nice.
Chocolate chips: I like dark, but milk is fine, too. I add a whole 1.5 cups for chocolate in every bite, but reduce this amount if you like. Feel free to use chocolate chunks instead of chips!
How to make them
The step-by-step guide below should help you make the recipe perfectly first time. Scroll down to the end for the full recipe including ingredient amounts.
Step 1: Preheat the oven and prepare the muffin tin(s) with paper liners. I also try to remember to spray the liners lightly with oil to stop them sticking.
Step 2: Stir together the dry ingredients in a large bowl – flour, baking powder and soda, salt, and the little bit of sugar.
Step 3: Stir together the wet ingredients – so eggs, oil, vanilla, yogurt, milk and vanilla if you like.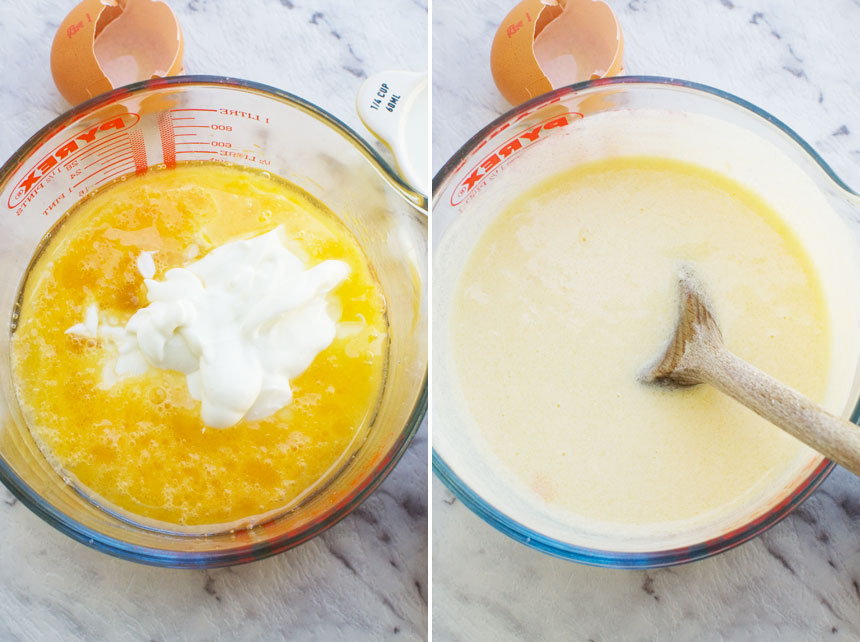 Step 4: Briefly mix the wet ingredients into the dry (no overmixing!), and fold in the choc chips!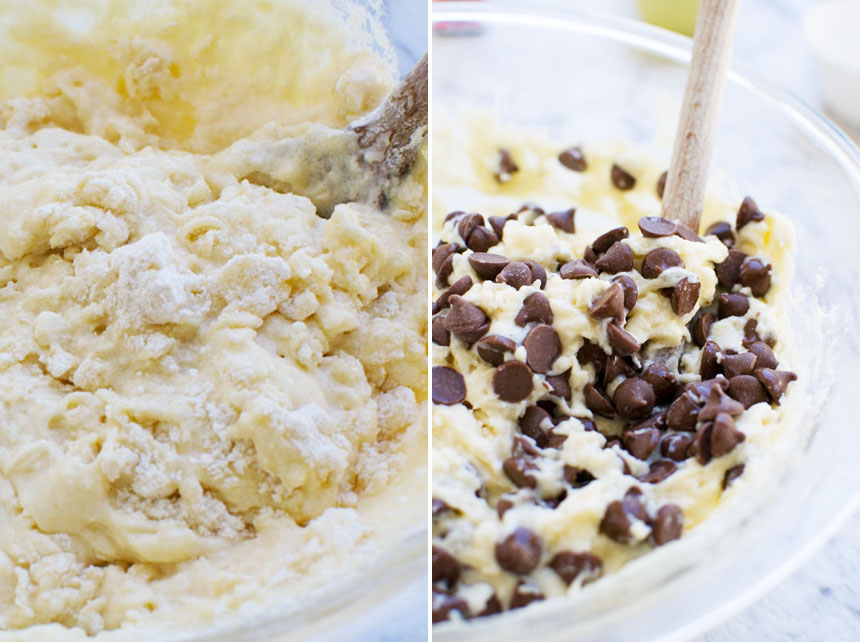 Step 5: Fill the liners with the muffin batter. You'll get 12 to 18 muffins depending on the size. Sometimes I make small muffins, other times huge bakery style ones. Both work really well!
Step 6: Bake until nicely browned! The baking time can vary. You'll need between 17 to 25 minutes, again depending on the size. Check with a skewer in the middle. When it comes out clean, the delicious yogurt muffins are ready!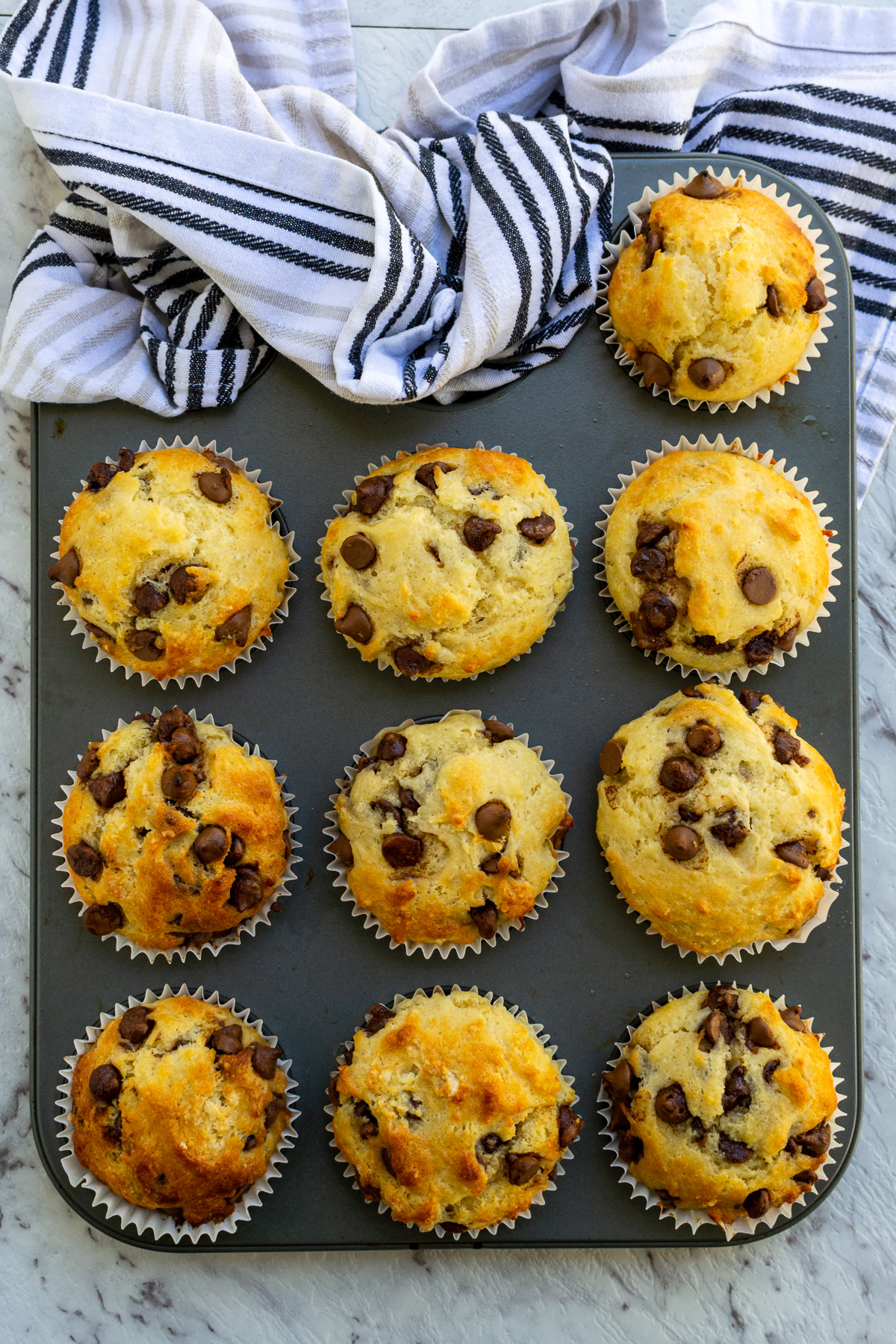 Helen's top tips
To get perfect choc chip muffins every time!
Once you've added the wet ingredients to the dry, don't overmix. A few lumps are fine! This will make sure you get light and fluffy muffins every time.
If your batter doesn't drop nicely into your muffin cases and looks too thick and lumpy, just add a drizzle more milk to thin it out a bit.
Lightly fold your chocolate chips in. Again, don't overmix and risk heavy, chewy muffins.
These muffins do tend to stick to the muffin cases a bit when still warm. If you wait until the muffins are completely cool they'll peel out of the cases really easily. If you want to eat them warm, just reheat for 15 seconds in the microwave! (no longer – you'll ruin them!)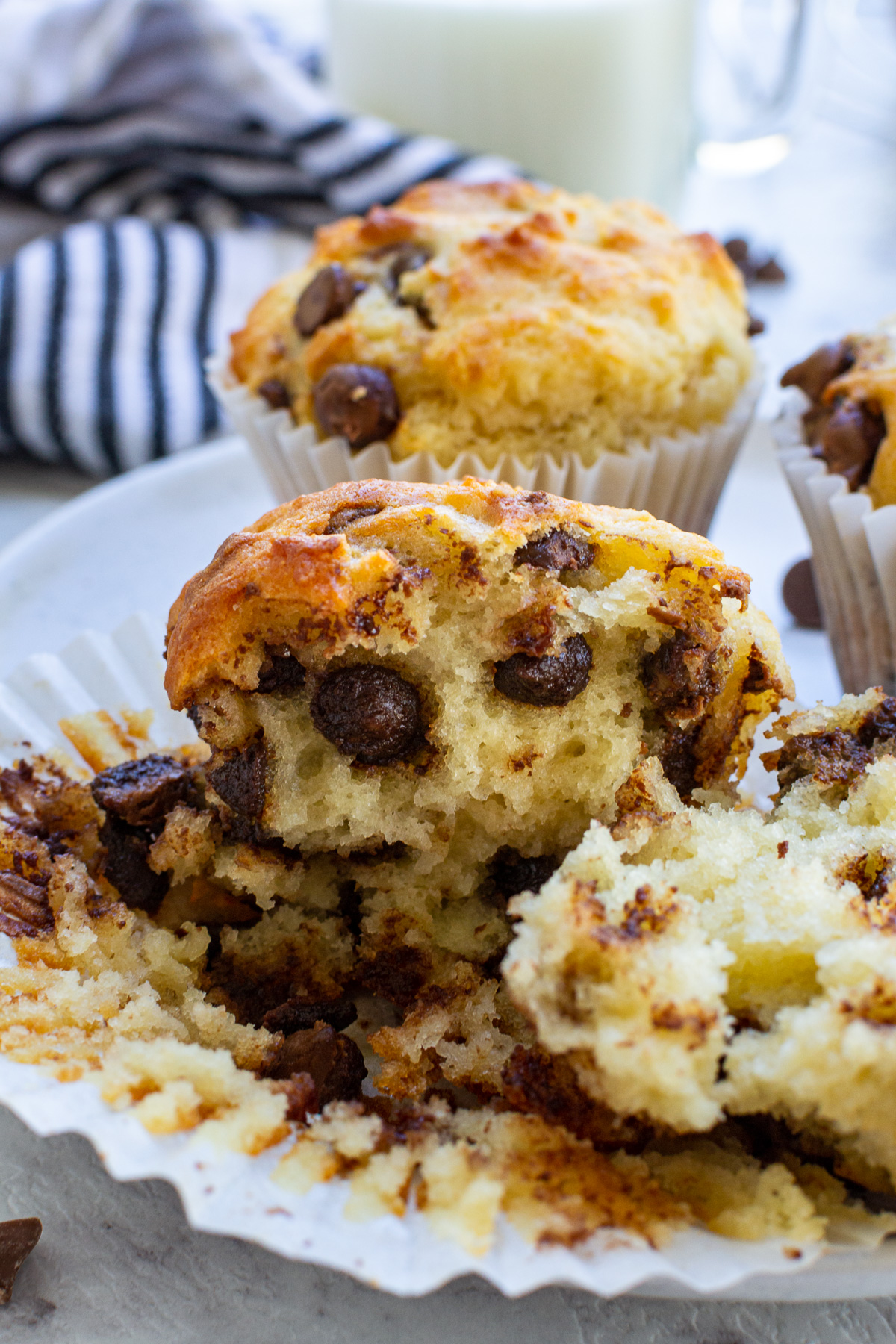 Variations
For even healthier chocolate muffins, reduce the chocolate chips to just ½ to 1 cup. Replace the rest with some fresh or frozen fruit – raspberries, blackberries or chopped pear (nice and sweet!) comes to mind.
Replace some of the chocolate chips with chopped nuts and/or dried fruit such as sultanas or cranberries.
I use almost exactly the same recipe for these Greek yogurt choc chip muffins as for my low sugar Greek yogurt blueberry muffins (they get rave reviews!). Except I add a little more sugar to the blueberry muffins to compensate for the lack of chocolate.
Recipe FAQ
How do you store these?
These yogurt muffins will keep well in an airtight container at room temperature for around 3 days, or in the fridge for around 5 days.
Can you freeze yogurt muffins?
Yes! You can freeze these Greek yogurt chocolate chip muffins in Ziploc bags for up to 3 months. Then defrost and reheat for 20-30 seconds in the microwave or a few minutes in the oven to get that freshly baked vibe again.
How can I make these dairy free?
Try making them with coconut Greek style yogurt. Check that it's made with coconut milk and isn't just coconut flavored yogurt. Remember to also replace the milk with a non-dairy milk such as almond, oat or soy.
Can I make mini chocolate chip muffins instead?
Yes, of course! Bake for just 10 to 13 minutes or until well risen and browned and a skewer pushed into the middle comes out clean. Check after 10 minutes and then if necessary every minute after that (a few minutes too long could ruin them).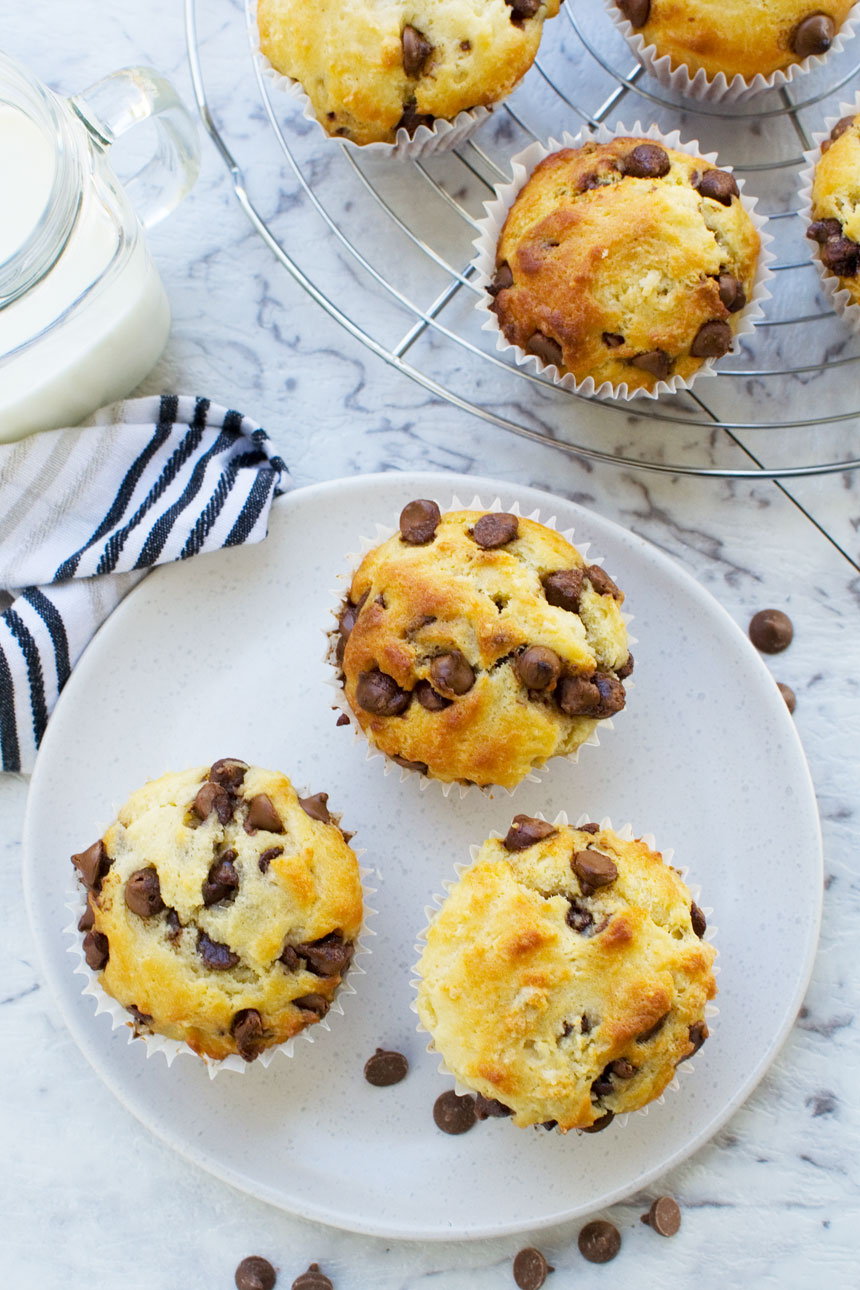 More favorite baking recipes
Here's another go-to breakfast treat for you: delicious ooey, gooey 1-hour cinnamon scrolls. Try them once and they'll become another favorite baking recipe!
Also check out this list of 25 low sugar cakes (that still taste great!).
IF YOU MAKE THIS RECIPE, LET ME KNOW HOW YOU GET ON BY LEAVING A COMMENT AND RATING BELOW… AND DON'T FORGET TO SIGN UP TO RECEIVE ALL MY NEW RECIPES BY EMAIL!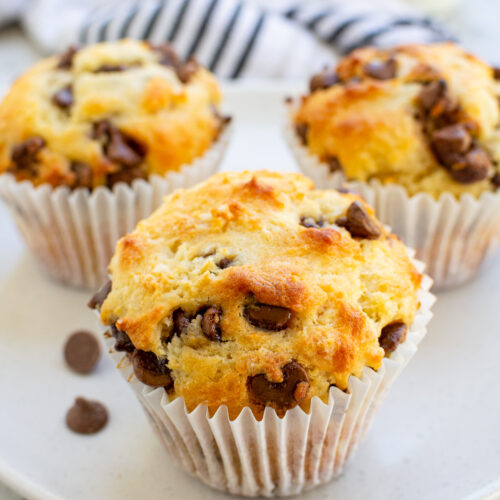 Greek Yogurt Choc Chip Muffins (Low Sugar Recipe)
Welcome to your new favourite healthier chocolate chip muffins! These Greek yogurt choc chip muffins are really quick and easy to make, protein-packed, and quite low in sugar. They always seem to turn out well!
Ingredients (UK/Australia? Click below for grams/ml)
Dry ingredients
2.5

cups

plain flour

1

tablespoon

baking powder

½

teaspoon

baking soda

½

teaspoon

salt

⅓

cup

sugar

I find this enough but some people might like to add a little more, say ½ cup sugar
Wet ingredients
2

eggs

lightly whisked

⅔

cup

oil

I usually use canola oil, or a mixture of canola and olive oil, but any is fine

1

cup

Greek yogurt

I use authentic full fat strained Greek yogurt

¼

cup

milk

Actually, ¼ to ½ cup.

1

teaspoon

vanilla extract

optional
Instructions
Pre-heat the oven to 355F/180C and line a muffin pan with muffin liners. Spray lightly with oil.

Combine the dry ingredients in a large bowl.

2.5 cups plain flour,

1 tablespoon baking powder,

½ teaspoon baking soda,

½ teaspoon salt,

⅓ cup sugar

Combine the wet ingredients in a jug or smaller bowl.

2 eggs,

⅔ cup oil,

1 cup Greek yogurt,

¼ cup milk,

1 teaspoon vanilla extract

Pour the wet ingredients into the dry and mix with a wooden spoon until just combined (a few lumps are fine. Don't overmix). Add a little more milk if necessary (the mixture will be quite thick but it shouldn't be dry).

Gently fold the chocolate chips into the batter.

Spoon the batter into the muffin cases (you can fill almost to the top) and bake for 17 to 25 minutes. After 17 minutes keep checking every couple of minutes. A skewer pushed into the centre of the muffin should come out without raw batter on it, and the muffins should be nicely golden brown.

Let cool completely on a wire rack before eating so that the muffin cases don't stick. Reheat for 15 seconds in the microwave after peeling off the muffin case if you'd like to enjoy a muffin warm!
Notes
Batter consistency: Your batter should be a soft dropping consistency so you can put it into your muffin cases easily. If it seems too thick, just add a tiny bit more milk.
Baking time: The baking time can vary a bit depending on what brand of yogurt you use and/or how big your muffin cases are.
Just check every couple of minutes after 17 minutes until your muffins are nicely browned and a skewer pushed into the centre of a muffin comes out fairly clean (there might be a bit of chocolate on the skewer but there shouldn't be any raw batter).
I've found cooking time to be as little as 17 minutes and as long as 25 minutes depending on the size of my muffins.
Storing and freezing: These muffins will keep quite well for a few days in an airtight container, but they also freeze well. Simply freeze in Ziploc bags or a plastic/glass container with a lid for up to 3 months. Defrost and then reheat for 15-20 seconds in the microwave or a few minutes in a warm oven.
Blueberry/Banana versions: You can easily make Greek yogurt blueberry muffins instead with this same recipe! Simply add a tiny bit more sugar to the batter (if you like – say 1/2 cup instead of 1/3 cup) and replace the choc chips with 1.5 cups of blueberries.
Or make half chocolate, half blueberry muffins! Both are delicious and always turn out well.
If you have overripe bananas, you may also wish to try these Greek yogurt banana muffins (with caramel chips!).
Nutrition
Calories:
365
kcal
Carbohydrates:
42
g
Protein:
6
g
Fat:
18
g
Saturated Fat:
4
g
Cholesterol:
31
mg
Sodium:
81
mg
Potassium:
169
mg
Fiber:
1
g
Sugar:
20
g
Vitamin A:
100
IU
Vitamin C:
0.2
mg
Calcium:
102
mg
Iron:
1.7
mg