Learning to make your own Italian marinara sauce is a game changer! Made with just canned tomatoes, LOTS of olive oil and garlic, fresh basil and seasoning, it tastes so much better than even the best jarred sauce.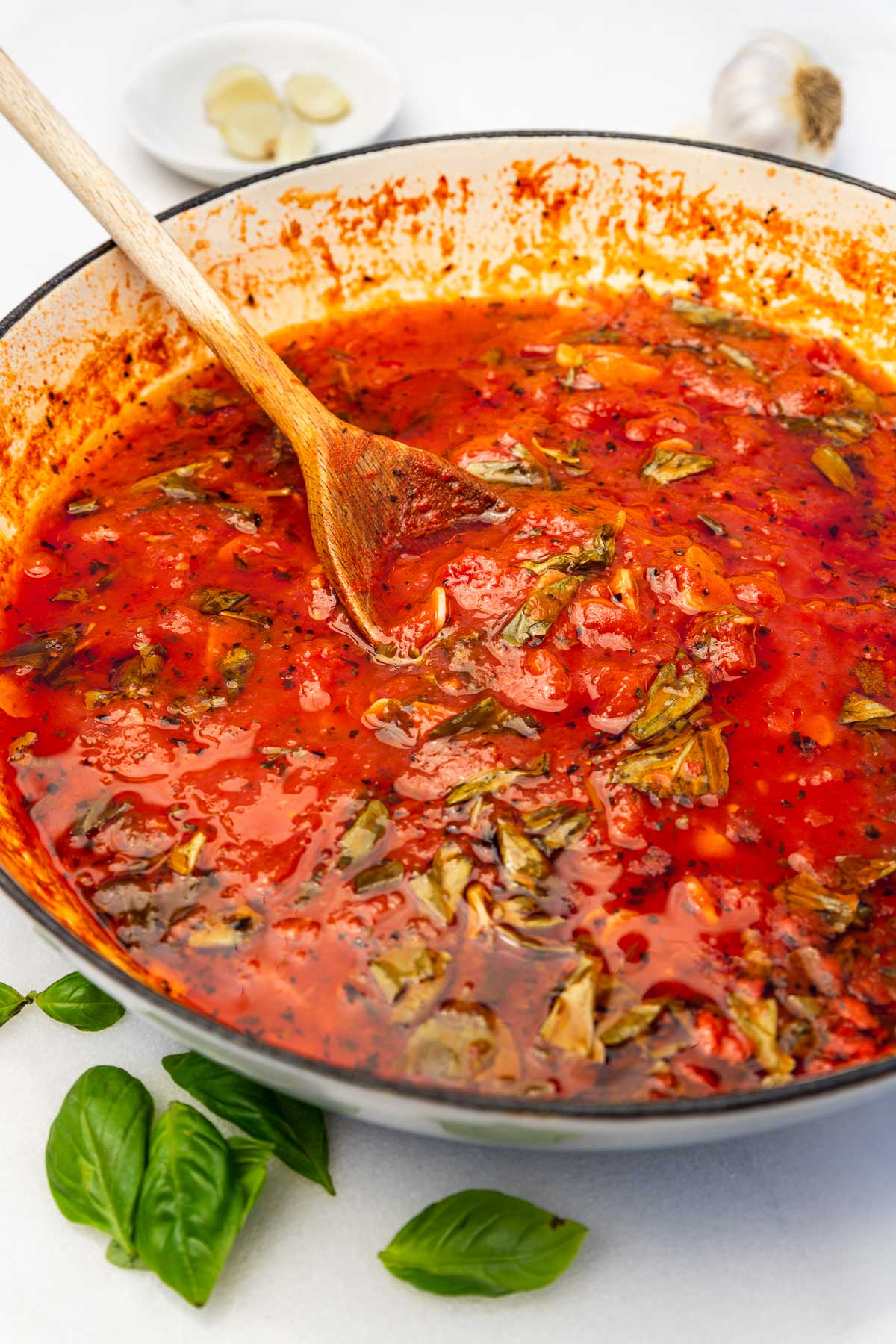 Why you'll love it
A great classic marinara sauce recipe is a recipe everyone should have. Perfect as a pasta sauce, pizza sauce, dipping sauce or all-purpose tomato sauce for drenching everything from meatballs to baked eggplant, it can turn any dish from good to over-the-top delicious.
This recipe is as simple as can be – mostly made with basic pantry ingredients you probably already have. Good quality canned tomatoes and olive oil and a ton of garlic and fresh basil are key, and a few other basic seasonings are the only other ingredients you need.
But don't be fooled by the simplicity! I think you'll find this sauce surprisingly tasty – tart and sweet at the same time, rich and velvety and vibrantly flavorsome. You'll want to drink it by the spoonful instead of putting it on your spaghetti!
With only 5 minutes' prep needed and around 20 minutes of simmering time, it couldn't be easier to make a huge batch of this for dividing and freezing to use in your favorite Italian dishes and more.
Fun fact: The name "marinara" comes from the Italian word "marinaro," which means sailor. The story goes that sailors in the Naples area first made this sauce using the ingredients they had on hand.
About the ingredients
With so few ingredients, try to use the best quality or freshest that you can to make the best tomato sauce ever. Here's what you need and what you need to know.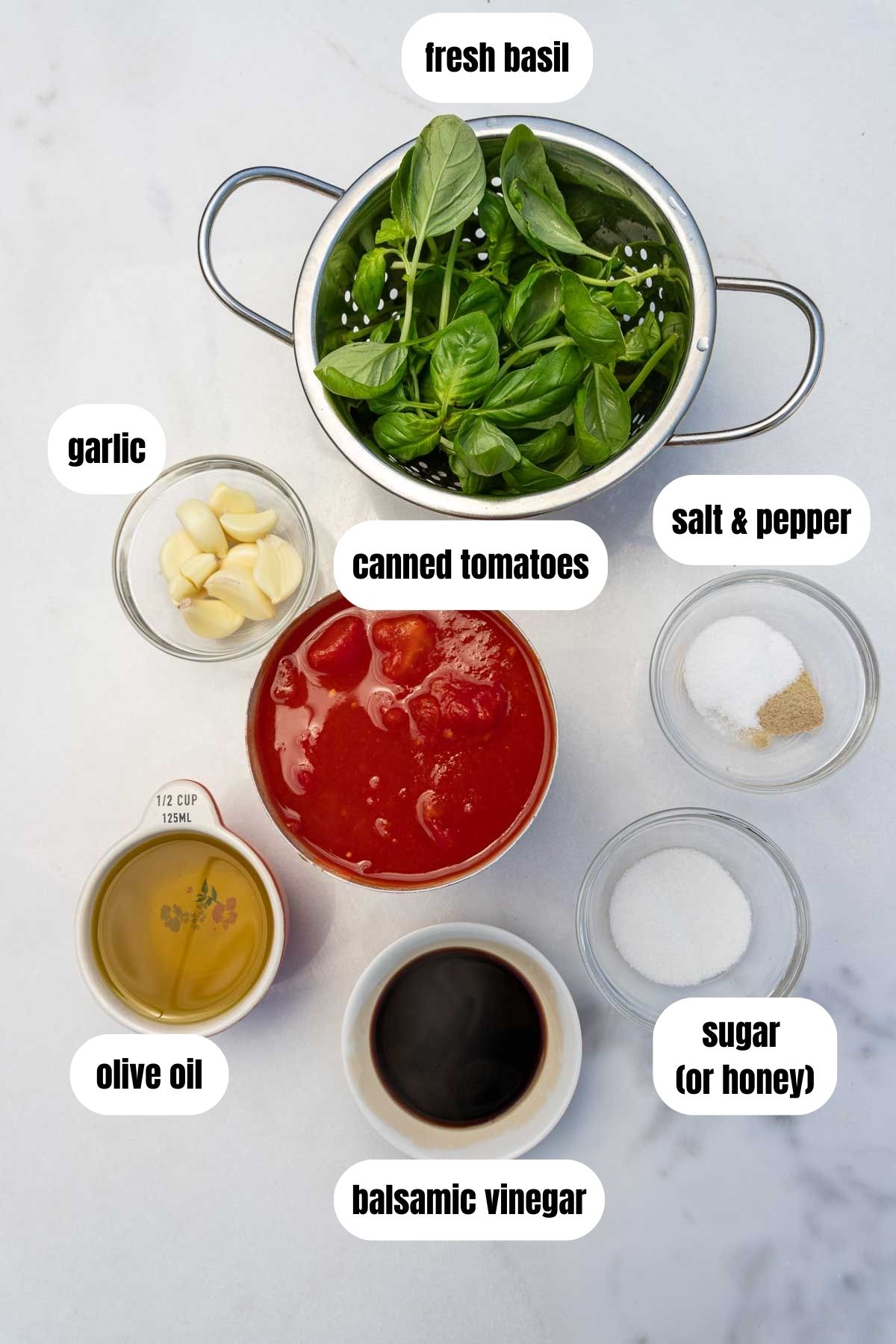 Extra virgin olive oil. You'll start your classic Italian sauce off by sautéing lots of sliced garlic in it. It'll start releasing its flavor into the oil, adding rich, fruit flavor and depth. Don't be shocked by how much you'll use! The oil will actually help to thicken the sauce and give it a smooth and velvety texture.
Garlic. Again, you'll use a lot so don't be shocked! Slice the garlic thinly rather than crushing it for a subtler garlic flavor and a little extra texture in the sauce.
Canned tomatoes. If you can find tomatoes labelled 'San Marzano', consider using these. You could say they're the gold standard for Italian marinara sauce. I use crushed/chopped tomatotes for convenience. However, some people swear by using canned whole tomatoes instead for the sweetest flavor. In this case, simply 'snip' directly in the can with kitchen scissors!
Salt and pepper. Remember to taste at the end and adjust the seasoning to taste.
Sugar or honey. Taste before adding. Depending on the tomatoes used, the natural sweet flavors of the tomatoes shine through after simmering slowly. San Marzano tomatoes are particularly sweet.
Balsamic vinegar. I like to add a little balsamic to add even more depth and sweetness to the sauce, even though this is not an ingredient in most traditional marinara sauce recipes. Give it a try!
Fresh basil. For amazing sweet, peppery fragrant flavor, don't skip this! Feel free to substitute with dried basil, but the flavor won't be exactly the same.
Red pepper flakes (optional). Just a pinch for a subtle hit of heat. Alternatively, add a whole red chili to the sauce to simmer along with everything else, then remove it before serving.
How to make Italian marinara sauce
Begin with a whole half a cup of olive oil. I know it sounds like a lot. But trust me, it adds incredible authentic texture and subtle fruity, peppery flavor to the sauce.
Heat oil on a medium heat, then sauté the sliced garlic for a minute or two to begin releasing the lovely garlic-y flavor. Don't let the garlic brown.
Then add the canned tomatoes…

… followed by the fresh basil and salt and pepper.

Add around half a can of water and simmer for 20 to 30 minutes or until reduced and thickened.

Finally, stir in the sugar or honey and a little balsamic vinegar if you have it (it balances out the flavors beautifully!).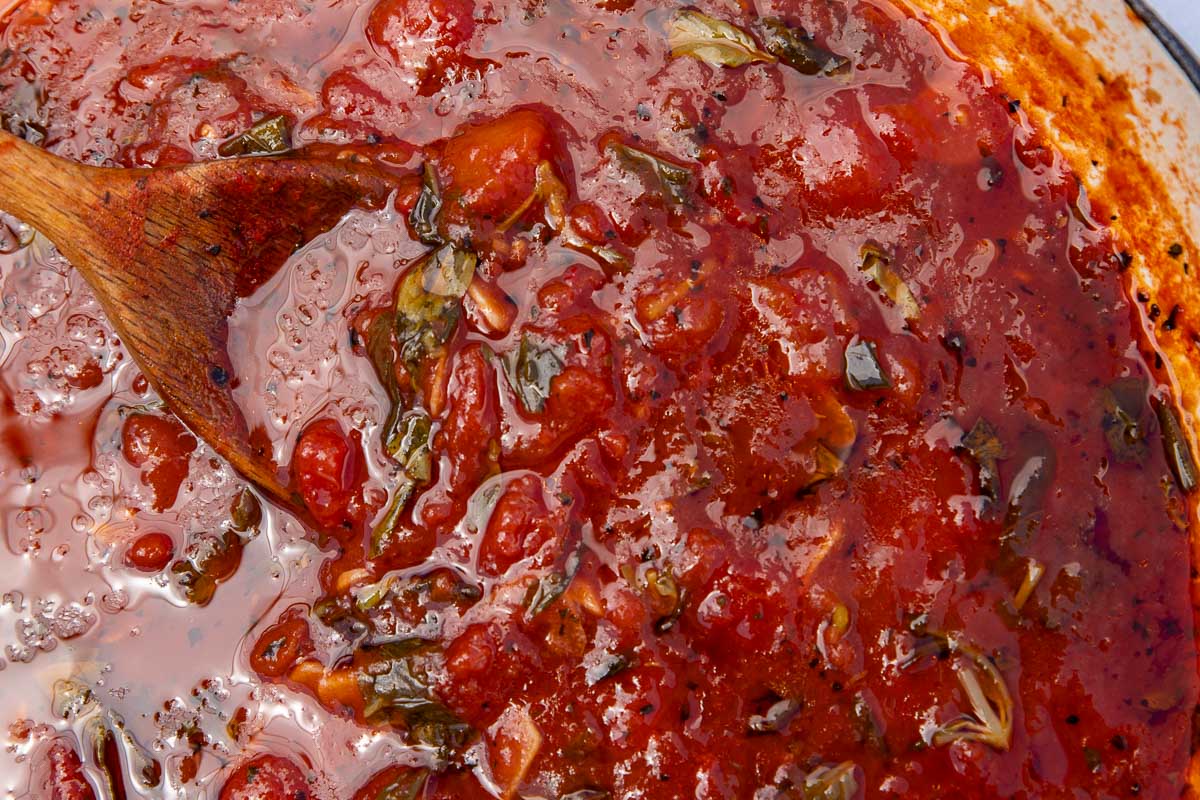 Helen's top tips
The recipe gives you a rustic, chunky marinara sauce. If you prefer it to be smooth, simply purée it with a handheld immersion blender (paid link) after cooking.
Traditional marinara sauce is perfect for freezing. Consider doubling the recipe and freezing batches for later!
Remember to taste and add more salt and pepper and/or sugar to taste before serving.
Ways to use the sauce
There are so many ways to use this recipe for Italian marinara sauce! Here are some ideas.
Use it to make chicken parmigiana. Simply make this crispy panko chicken recipe, spoon over some sauce, top with a little mozzarella and serve.
Use the marinara as a pizza sauce.
Marinara is a perfect authentic Italian spaghetti sauce. Simply stir it through hot cooked pasta, sprinkle with parmesan and enjoy for a quick but delicious midweek dinner.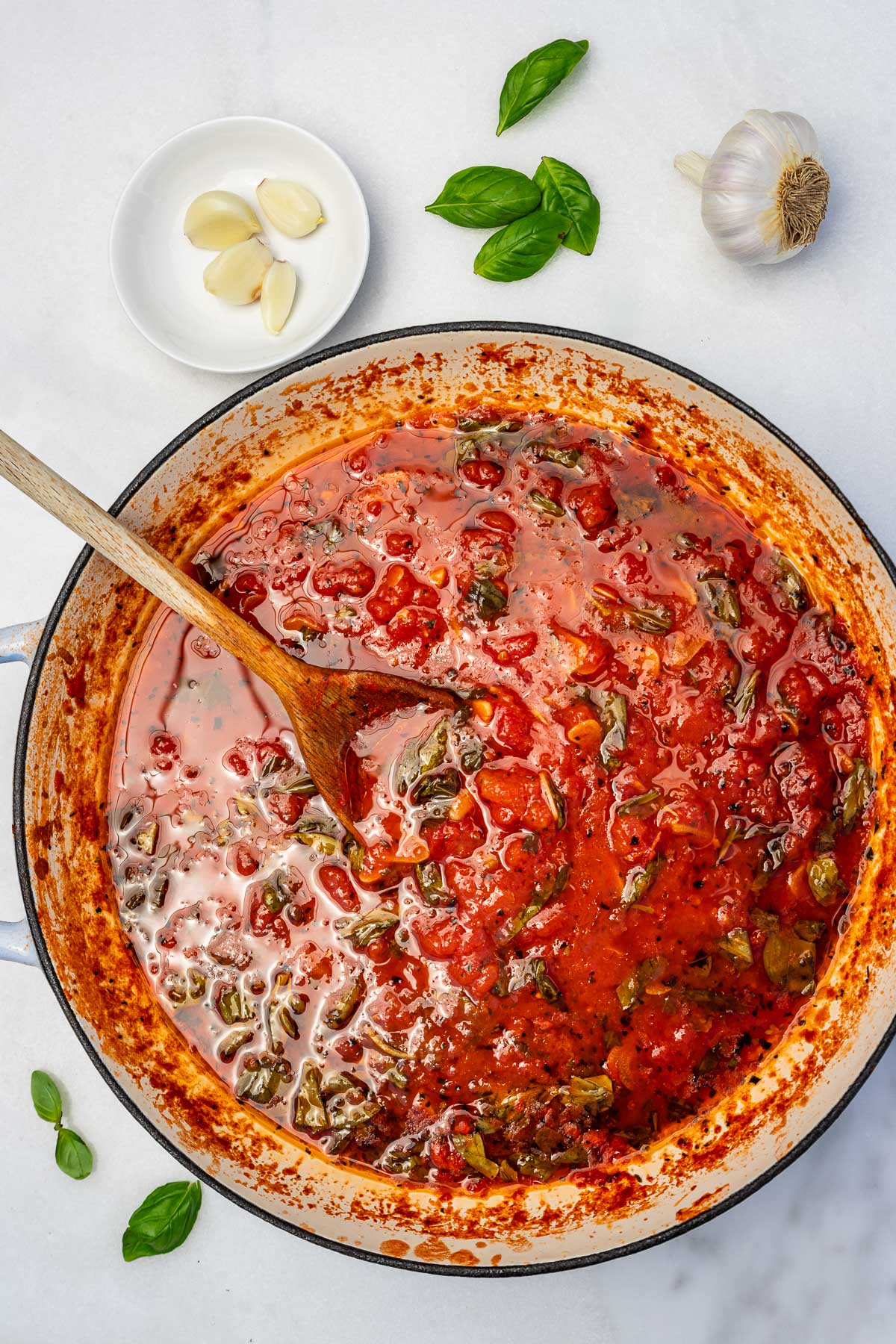 Recipe FAQs
Can I use fresh tomatoes instead of canned to make marinara sauce?
You can. Try to use ripe and juicy tomatoes, San Marzano variety if available. This works especially well when tomatoes are in season and most flavorsome. Use 10 to 12 medium sized tomatoes. Blanch in boiling water for 30 seconds to a minute, then plunge into cold water. Peel off the skin, chop and then proceed with the recipe as with canned tomatoes.
How do I know when homemade marinara sauce is ready?
There are a few clues that can help you. Firstly, the color will become a deeper, darker color as it cooks. It will also have thickened and reduced by about a third to a half. Marinara is not supposed to be overly watery, but it's also not super thick. In the end it's down to personal preference. Usually it'll be ready after 20 to 30 minutes of simmering.
How do I store homemade marinara sauce?
Traditional marinara sauce will keep well in an airtight container in the fridge for up to 5 days. You can also freeze it in portions in airtight containers or freezer bags for up to 6 months. To use, let defrost in the fridge, then reheat completely either on the stovetop or in the microwave.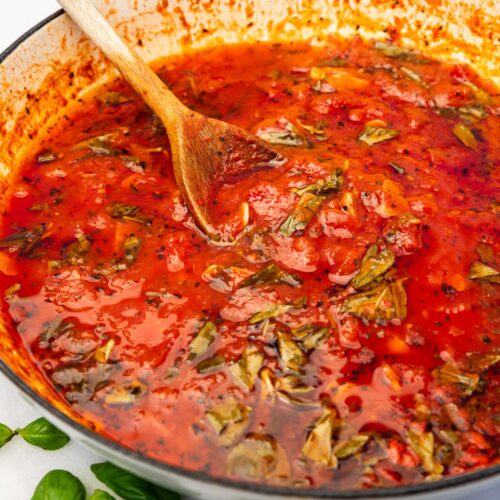 The Best Italian Marinara Sauce Recipe (That's So Easy To Make!)
Learning to make your own Italian marinara sauce is a game changer! Made with just pantry ingredients – canned tomatoes, LOTS of olive oil and garlic, fresh basil and seasoning – it's incredibly versatile, and tastes so much better than even the best store-bought sauce.
Equipment (affiliate links)
Ingredients (UK/Australia? Click below for grams/ml)
½

cups

extra virgin olive oil

10

cloves

garlic

sliced thinly

28

ounces

chopped tomatoes

(28 ounces = 800 grams = 2 regular sized cans or 1 large can)

1

bunch

fresh basil

washed and chopped (substitute with 1 tablespoon dried basil)

1

teaspoon

salt

(taste and adjust at the end of cooking)

½

teaspoon

pepper

(taste and adjust at the end of cooking)

1

pinch

red pepper flakes

(optional) red pepper flakes (or a small whole chili, or chili flakes)

1½

teaspoons

sugar

or 1 tablespoon honey (taste and adjust at the end of cooking, or skip completely if you like)

1

tablespoon

balsamic vinegar
Instructions
Heat the olive oil on a medium heat in a pan with a large surface area (such as a large frying pan or cast iron pan), then add the sliced garlic. Cook for a couple of minutes without browning the garlic.

10 cloves garlic,

½ cups extra virgin olive oil

Add the chopped tomatoes, basil and salt and pepper to the pan. Half fill the empty tomato can with water and add that to the pan, too. If using, also add the pinch of red pepper flakes/chili.

28 ounces chopped tomatoes,

1 bunch fresh basil,

1 teaspoon salt,

½ teaspoon pepper,

1 pinch red pepper flakes

Let the sauce simmer for 20 to 30 minutes, or until the sauce has thickened and reduced to your liking (it shouldn't be too watery, or too thick).

Taste the sauce, then adjust the seasoning if necessary. Also stir in the sugar/honey (if you like) and the balsamic vinegar.

1½ teaspoons sugar,

1 tablespoon balsamic vinegar
Nutrition
Calories:
294
kcal
Carbohydrates:
13
g
Protein:
2
g
Fat:
27
g
Saturated Fat:
4
g
Polyunsaturated Fat:
3
g
Monounsaturated Fat:
20
g
Sodium:
868
mg
Potassium:
417
mg
Fiber:
2
g
Sugar:
7
g
Vitamin A:
340
IU
Vitamin C:
21
mg
Calcium:
81
mg
Iron:
2
mg