Last Updated on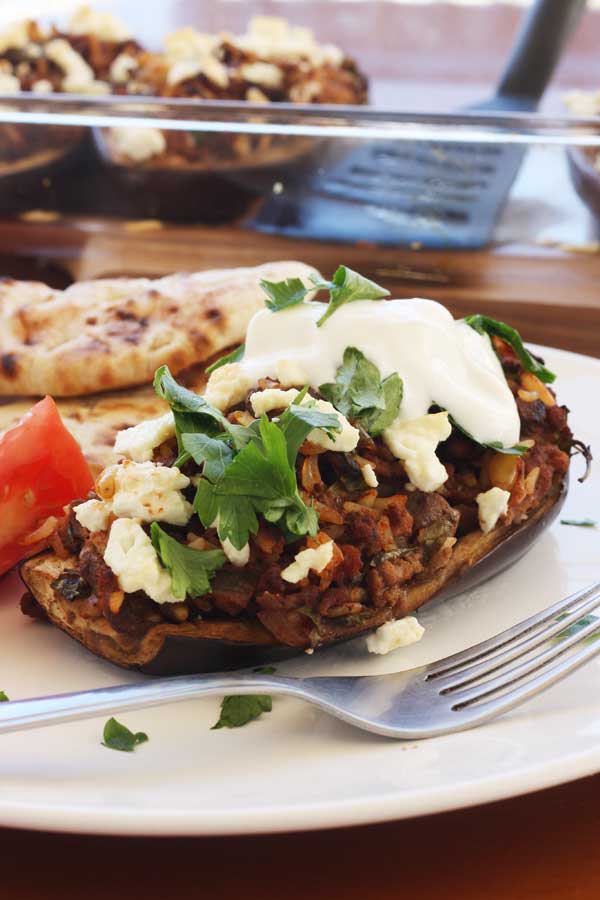 Sitting on the train right now, cup of tea in hand and headphones on listening to the latest on the Oscar Pistorius trial (talk about multi-tasking), the pretty green English countryside is rolling by and I can hardly keep my eyes open. Mr. Scrummy and I still had more jobs than would seem humanly impossible to finish off on our last day in Athens before flying home to the UK in the evening. We then stayed overnight in a very charming 400-year-old B&B (welcome home!) near to Heathrow airport to rest up a little before continuing our journey today. We are Tired … yes, with a capital T!
But despite feeling weary after weeks of packing up a life in one country, we are not only relieved that it's all over but so happy to be starting out again together in a new one. It may sound exciting to be travelling backwards and forwards between three countries for a year, but believe me, living out of a suitcase and constantly counting down the weeks to the next move gets old pretty quickly. I'm eager to get settled in a place and stay there for longer than 3 months. To choose a (hopefully) lovely little place to live together. To be able to invite my family over for dinner. To feel like it's worth figuring out where all the best good-value restaurants, farmer's markets, butchers and bakers are. Because we're sticking around for a while. Or maybe because we're getting old!
Something else that I'm looking forward to in the UK is having access to a wider range of food produce. In Greece, if you want some fresh chilies or coriander or some coconut oil
or Thai red curry paste … well, all I can say is 'Good luck with that!'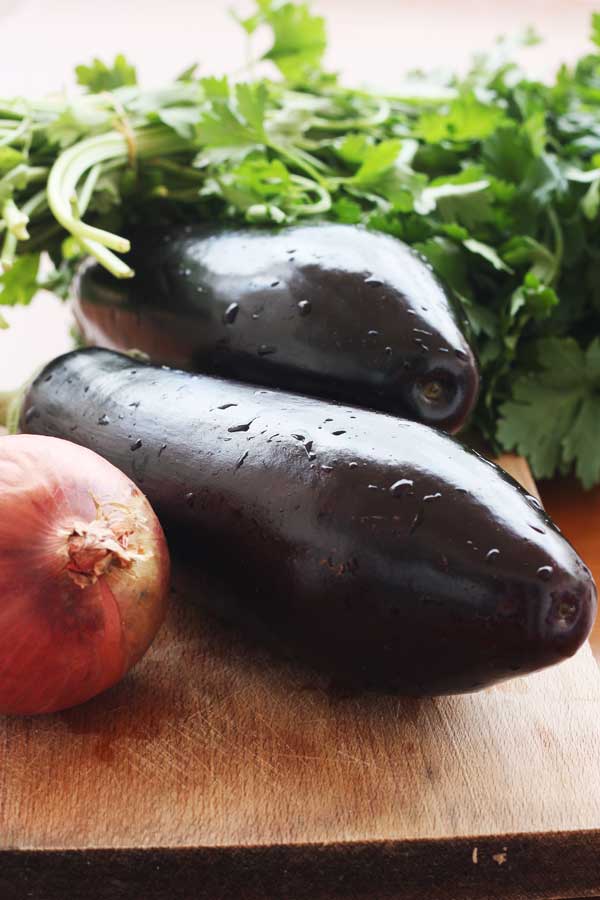 But as much as I'm looking forward to this new chapter of life, this is not to say that I'm not bringing little pieces of Greece back with me. Like these Greek stuffed aubergines, for instance. If you've ever tasted moussaka (one of my favourite Greek dishes with layers of tomato-ey mince meat, aubergines & béchamel sauce) and liked it, you'll love them. Most of the moussakas I've tasted have been good, but if you make it yourself it's a little fiddly and time-consuming.
Cue this much easier alternative, which happens to more closely ressemble another Greek dish called 'papoutsakia' than moussaka. 'Papoutsakia' is Greek for 'little shoes' (I know, so cute). You see, you're learning things here with me today!
They do (sort of) look like little shoes, don't they?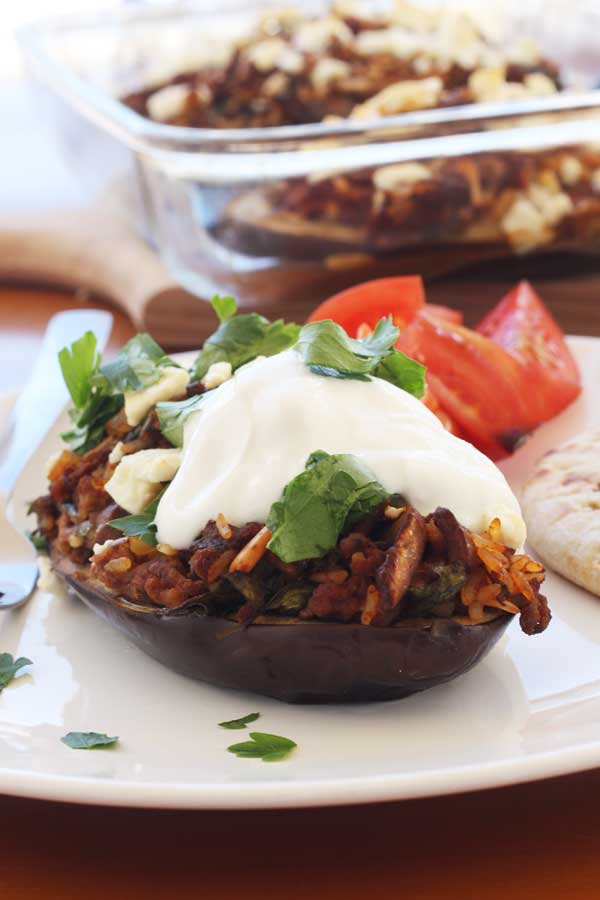 Now, these are definitely something you could rustle up on a busy weeknight. All you do is make a quick tomato ragu-type beef or lamb mince sauce, adding plenty of cinnamon (trust me, it works), the flesh of the aubergines and a little rice and pinenuts (if you like).
To prepare your aubergines (eggplants, in case you were still wondering) for stuffing, slice them in half, score deeply (but without cutting into the skin on the bottom) around the edge of each and in the middle in a criss-cross pattern and scoop out the flesh, as such …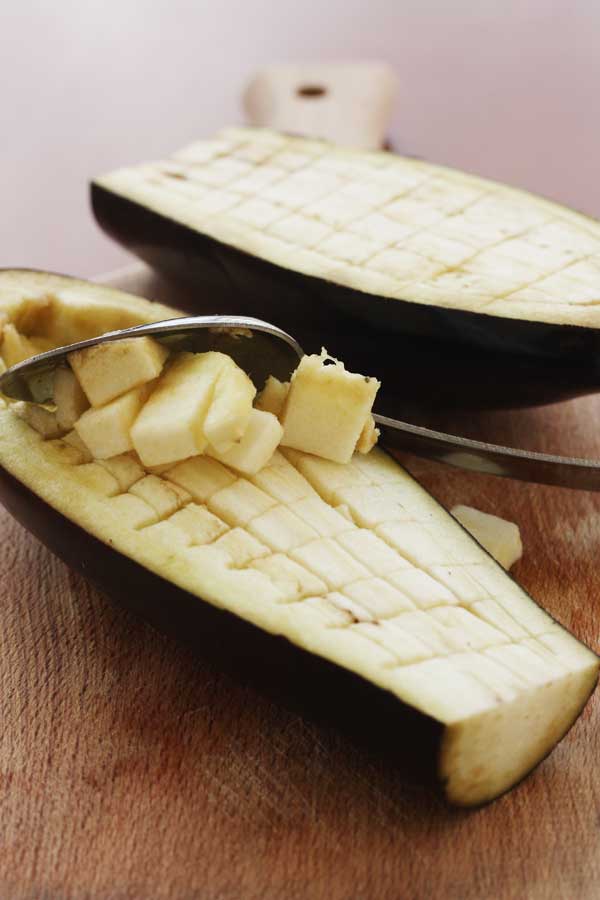 After stuffing your aubergines with the ragu mixture, put them in the oven and forget about them for forty-five minutes, then crumble feta cheese over the top and let them cook for another little while. Serve with a big dollop of Greek yoghurt and you'll be transported to Greek food heaven!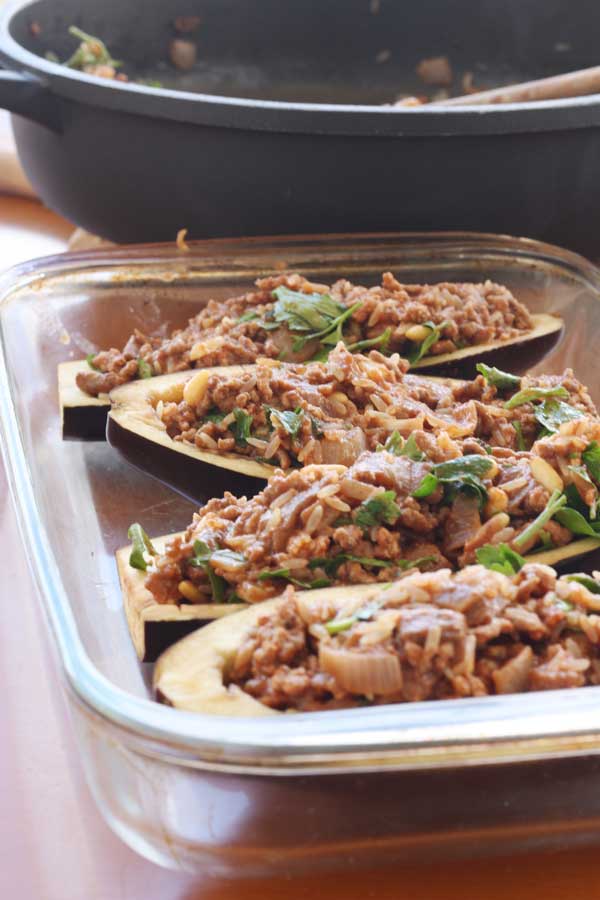 I've made this several times now (if you make it for two there's plenty of stuffing left over to freeze for next time) and the last time I actually substituted the aubergines for those cute ball-shaped courgettes (ah, sorry … zucchini). Unfortunately I don't have a photograph, but you would have laughed if you'd seen the finished result. According to Mr. Scrummy, they looked like Mount Vesuvius exploding sitting there on the plate by themselves with a 'lava' of Greek yoghurt running down them. Still, however they looked they were delicious. You could definitely use the regular-shaped courgettes though if you'd rather not scare your dinner guests away. Next time, I'm thinking of trying the recipe with tomatoes. Or even a mixture of all of these veggies at once.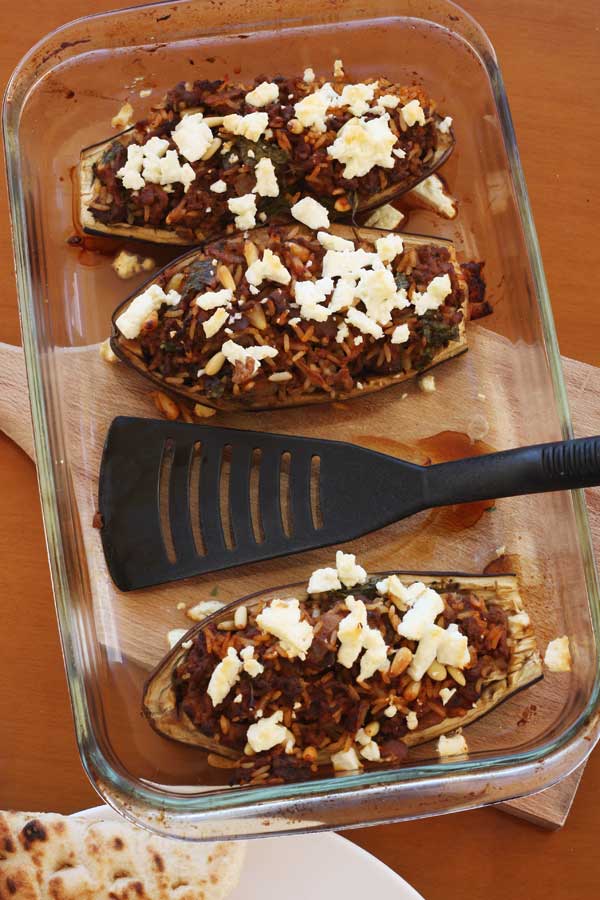 So going back to 'new beginnings'. For me, there is something very exciting and energising about a new beginning. And something very comforting about knowing that you're going to be able to set up camp in a place for a while. How do you feel about starting over? And do you like to be settled or do you thrive on change?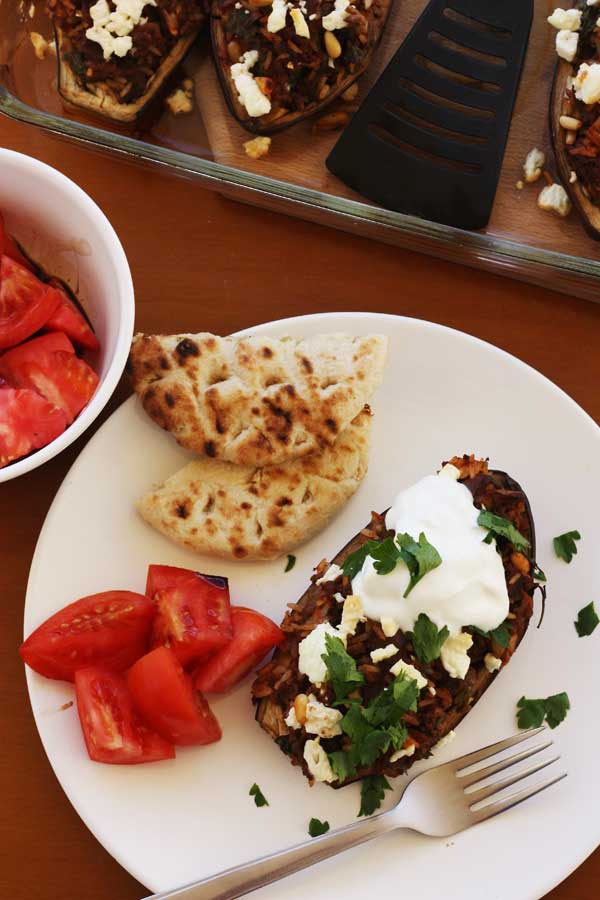 Future neighbours, brace yourselves, because an old married couple is moving in next door!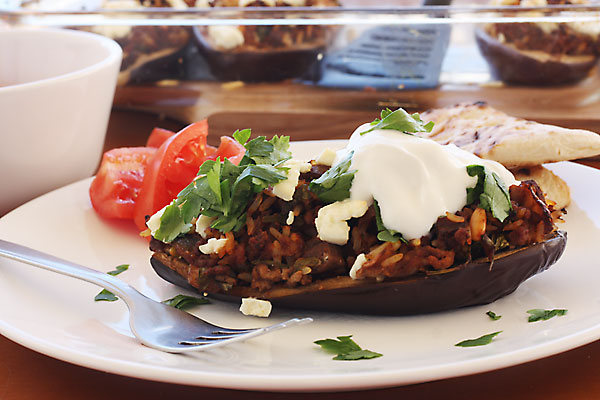 Greek stuffed 'little shoes'
This is an easy version of Greek 'papoutsakia', meaning 'little shoes'. Just make a simple tomato & cinnamon ragu sauce and stuff aubergines with it. Finally top with feta cheese and serve with Greek yoghurt. If you like moussaka, you'll love this!
Ingredients
2

medium-sized aubergines/eggplants

a little olive oil

for cooking

1

onion

chopped

2

garlic cloves

finely chopped or crushed

1

teaspoon

cinnamon

10

ounces

minced beef or lamb

1/2

cup

quick-cook rice

1

cup

tomato passata

1/2

cup

stock

beef, chicken or veggie or red wine

1

teaspoon

dried oregano

2

tablespoons

chopped parsley

salt and pepper to taste

1/2

cup

feta cheese

Greek yoghurt and tomato salad with a little olive oil and balsamic vinegar

optional, to serve
Instructions
Preheat the oven to 390F/200C.

Cut the aubergines/eggplants in half lengthwise, then score deeply all around the edge of each half, about 1cm in from the edge. Then score again deeply in a criss-cross pattern inside the border, being careful not to cut through the skin at the bottom. Scoop out the flesh with a big spoon and put aside.

Heat a little olive oil in a large pan and fry the onion for a few minutes until soft. Add the garlic and cinnamon and cook for another 30 seconds, then add the scooped-out eggplant/aubergine and cook for 5 minutes or so until that is soft as well.

Add the mince meat to the pan and break up and stir for about another 5 minutes. Add in the passata, stock/wine, oregano, parsley and rice and season to taste.

Put the aubergine/eggplant halves in a baking dish/on a baking tray and fill each with the meat mixture. Cover with aluminium foil and bake for 45 minutes.

Uncover and sprinkle with crumbled feta. Drizzle over a little olive oil and cook for a further 15 to 20 minutes, or until the aubergines/eggplants are soft enough.

To serve, sprinkle over a little parsley and dollop over a big spoon of Greek yoghurt. Also serve with a simple chopped tomato salad with a little balsamic vinegar and olive oil, if you like.
Notes
This is equally as tasty if you use zucchini/courgettes or tomatoes instead of eggplant/aubergines. You can even use a mixture of all three vegetables!
Nutrition
Calories:
369
kcal
Carbohydrates:
33
g
Protein:
19
g
Fat:
18
g
Saturated Fat:
8
g
Cholesterol:
67
mg
Sodium:
400
mg
Potassium:
1053
mg
Fiber:
9
g
Sugar:
13
g
Vitamin A:
680
IU
Vitamin C:
16.8
mg
Calcium:
162
mg
Iron:
4.2
mg
I hope you enjoyed this post! You can subscribe to receive posts directly to your inbox by entering your email address in the box below or at the top of the sidebar on the right.
You can also find more from Scrummy Lane on Facebook, Pinterest and Twitter and follow me on Bloglovin! Thanks so much for reading!
*This post contains affiliate links which means that if you click on a link and make a purchase I get a small percentage of the amount you spend. At no extra cost to you, of course! Thank you!*