Lemon & Butter sauce is one of those ridiculously easy recipes that will make you look like a top chef! It's such a fantastic way to dress up meat, white fish, salmon, or shellfish such as shrimp or scallops. It's even delicious drizzled over vegetables, pasta or rice.
This is a fresh, bright sauce made with just 3 simple ingredients – plus optional fresh herbs. The best part? It will take you just 10 minutes to make it!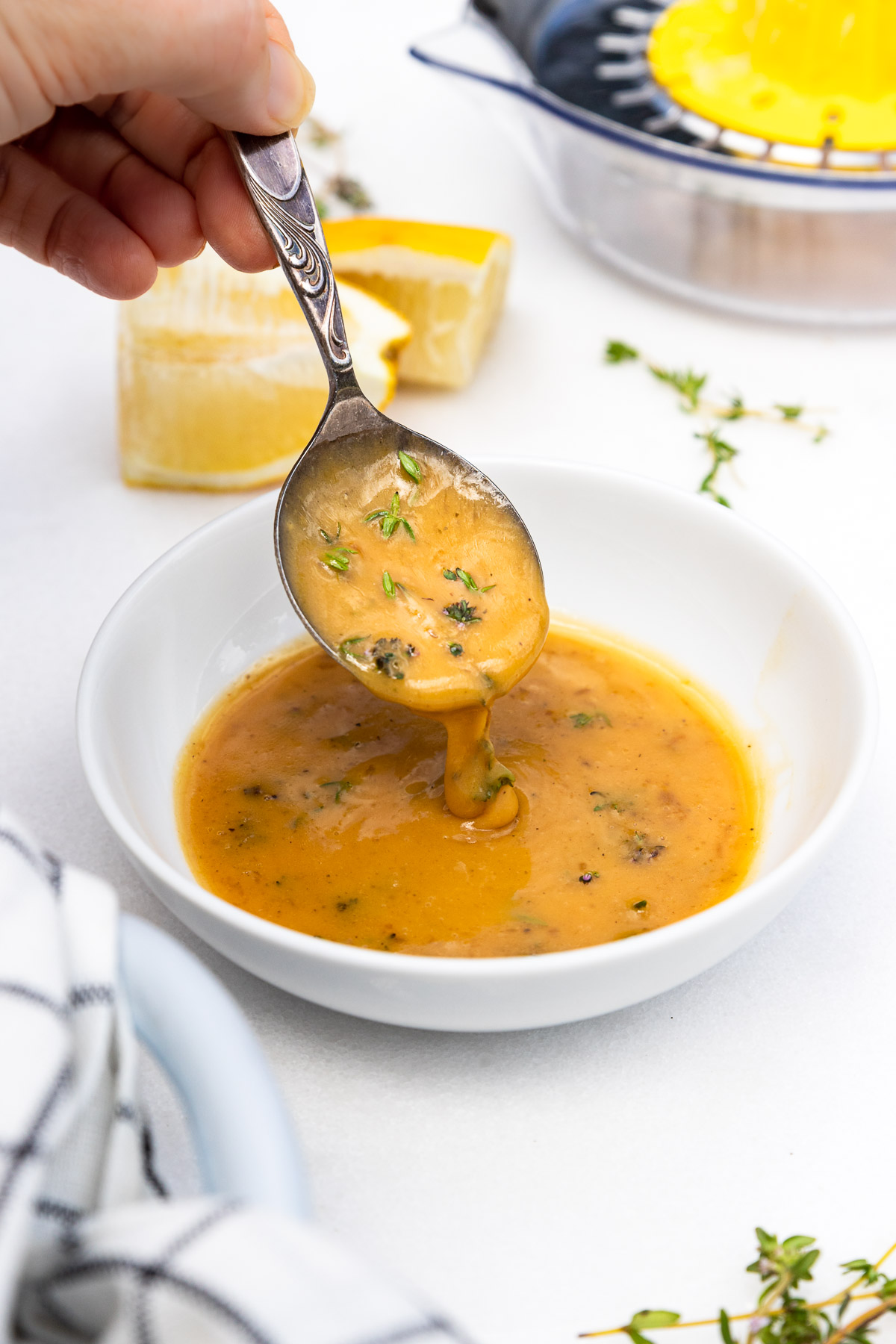 Why you'll love it
It's an 'all-purpose' sauce that will elevate any dish! Want to turn pan-fried or grilled chicken, fish or steak into a classy meal? Need a simple sauce for some fresh seafood ravioli? Lemon & butter sauce is all you need!
You only need 3 main ingredients plus optional (but recommended!) fresh herbs and 5-10 minutes to make it.
It's so easy to adapt it and 'make it your own'. If making this easy lemon butter sauce for fish, add fresh parsley or dill, and capers. Play around with different fresh herbs. Or add the delicious cooking juices and a teaspoon of mustard for chicken or steak. Scroll down for more variation ideas!
Fun fact: This sauce is very similar to a classic French 'beurre blanc' (white butter) sauce. Except my lemon & butter sauce is simpler, with fewer ingredients!
About the ingredients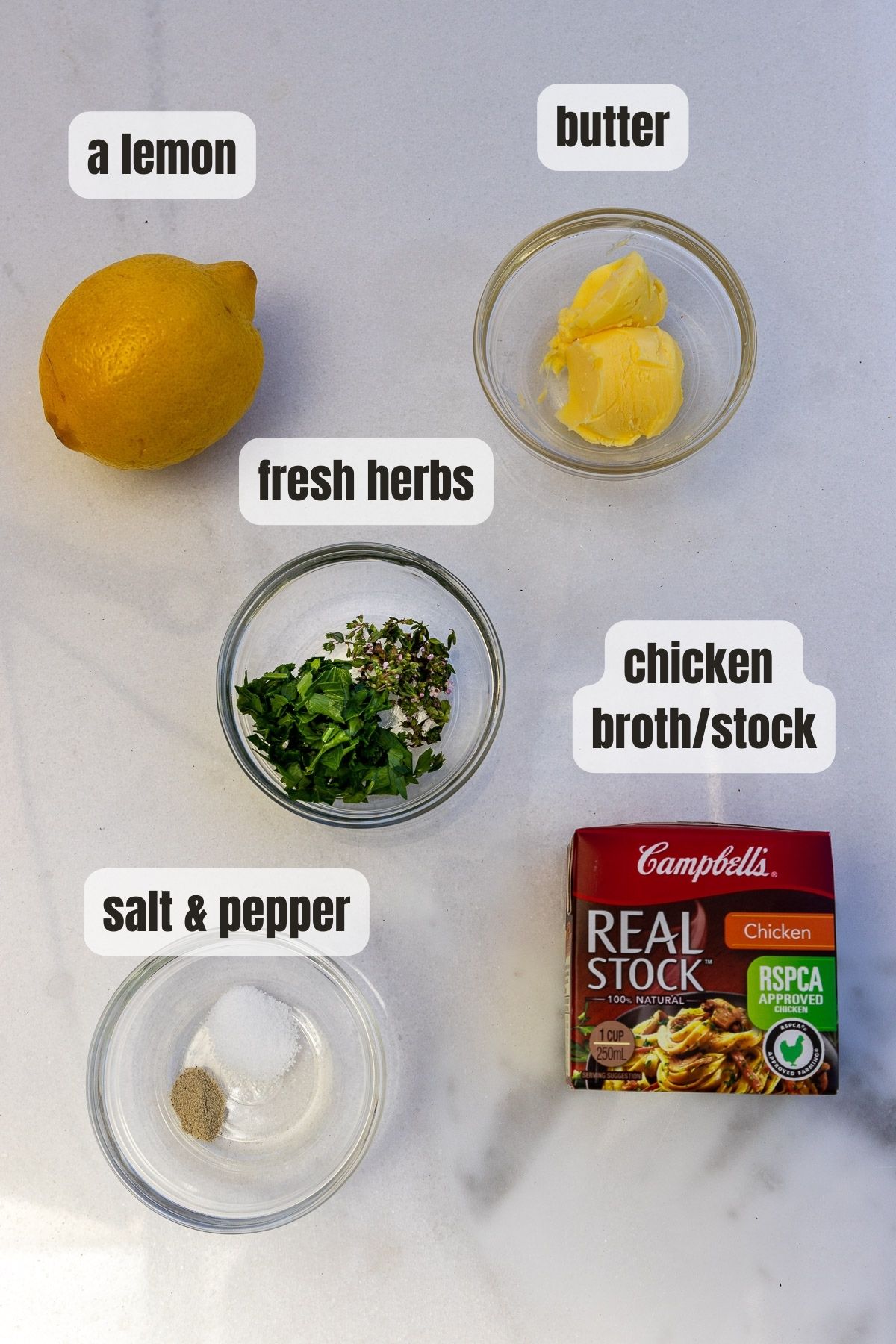 Fresh lemon juice: To make a lemon and butter sauce to serve 4 to 6 people, I usually use the freshly squeezed juice of a small lemon (about 3 tablespoons). The bright citrus flavor cuts perfectly through the richness of the butter! However, if you prefer a less tangy sauce, you can easily reduce the amount.
Chicken broth/stock: I find this balances out the richness of the lemon and butter. I use a good quality broth. If you like you can use vegetable broth instead, or replace some of it with a dash of white wine.
Butter: This is what thickens the sauce, and makes it rich, smooth and creamy. It's best to use unsalted butter so that you can control the amount of salt you add.
Fresh herbs: My favourite herbs to use are basil, thyme or parsley. Dill, cilantro/coriander or chives would also work well. You can also use dried herbs instead, but you'll only need 1 teaspoon.
Salt and black pepper: Don't skip a little bit of seasoning. It will help to bring out the other simple but delicious flavors. I suggest adding a little at first, then tasting and adding more if you like.
How to make it
The step-by-step guide below should help you make the recipe perfectly first time. Scroll down to the end for the full recipe including ingredient amounts.
This sauce is so simple to make, it's barely a recipe. Since it only takes 5-10 minutes to make, you can make it just before serving up your meal.
All you do is pour the chicken broth/stock and lemon juice into a large saucepan or skillet. If you're serving your sauce with pan-fried chicken or fish, use the same pan that you cooked it in, as in this spinach and feta stuffed chicken breast recipe. Remove the meat/fish, leaving the juices in the pan to serve as the base for your sauce.
If using this lemon butter sauce recipe for pasta, vegetables, or as a dip, you could start by gently pan-frying a crushed garlic clove or a few chopped shallots. Purely optional, but this does add extra yummy flavor!
Cook on a medium high heat until the broth/lemon has reduced by about half. Then reduce the heat to medium low and gently and slowly swirl the butter in until it's melted into the sauce. You'll find that the butter will thicken the sauce slightly and it will be creamy and smooth.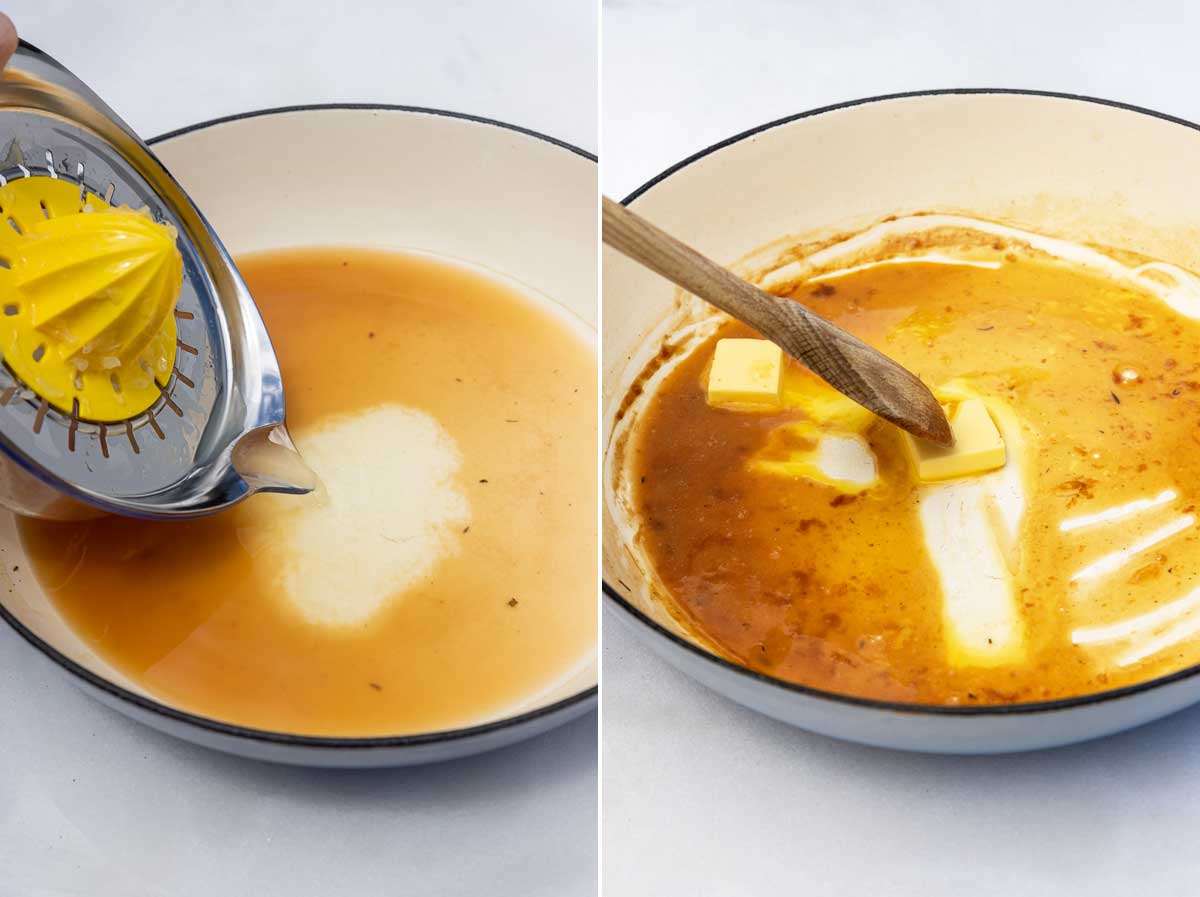 Just before serving, add the salt and pepper and fresh herbs.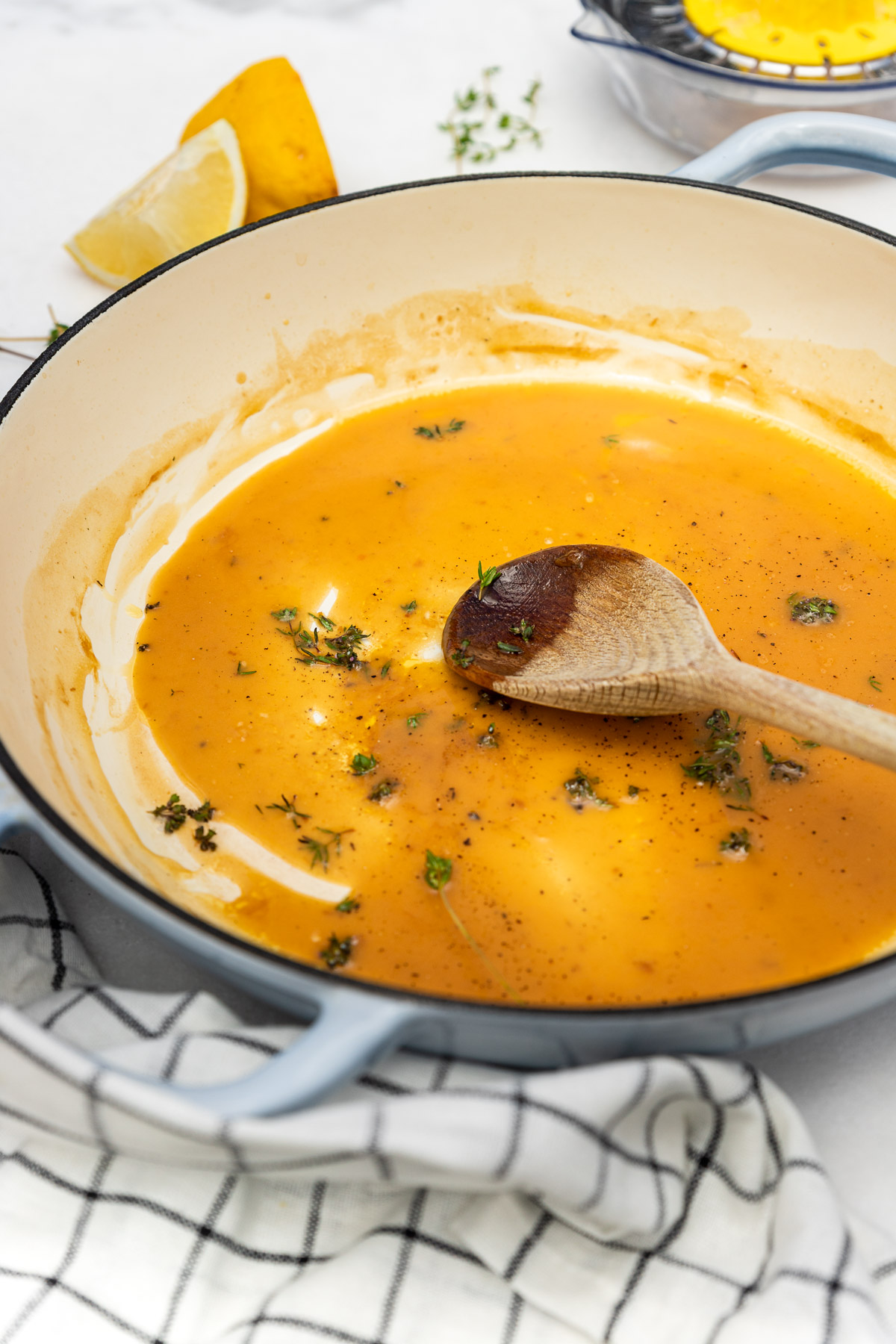 Helen's top tips
As already mentioned (but it's definitely worth emphasizing!), make use of any cooking juices if you're going to be spooning the butter and lemon sauce over a protein like chicken or steak. If pan-frying, use the same pan to cook the sauce in. If you have meat juices from roasting or baking, pour them into the sauce before reducing it.
Use cold cubed butter. Whisking continuously will help it to melt into the sauce while also emulsifying and thickening it a little for a creamy, silky texture. If you'd like a thicker sauce, whisk in a little more.
Make sure you whisk the butter in little by little, and on a medium low heat. If the heat is too high, the butter may separate from the sauce. It will still be tasty if this happens, but won't look quite as good.
I recommend adding delicate herbs such as basil or parsley at the end, just before serving the sauce. If using dried herbs or a hardy fresh herb such as thyme, however, it's best to add it at the beginning with the broth and juice.
Fun fact: Emulsify means the mixing of two ingredients that don't usually mix easily. In this case, oil (butter) and water (broth/lemon juice).
How to serve it
Lemon & butter sauce is incredibly versatile! Here are some ideas as to how to use it.
Spoon it over chicken, steak, or another meat: Make the sauce in the same pan as you cooked the meat or fish in for extra flavor. As in this spinach and feta stuffed chicken recipe. In this way, the sauce ends up more of a smooth, silky gravy. It's delicious!
Serve it over white fish, salmon, or other seafood such as shrimp/prawns, scallops or even crab legs and lobster: If you have pan-fried the seafood, you can make the sauce in the same pan. And how about adding a handful of capers and/or a little dill to the sauce?
You can even try drizzling over these simple crispy salmon fish cakes.
This baked panko cod includes an even simpler version of this lemon butter sauce. Or make this sheet pan lemon butter salmon with potatoes and asparagus for a super easy dinner all on one pan. These are both delicious recipes!
Use as a sauce for a simple lemon pasta: Toss the sauce through hot cooked pasta – linguine works well, as does filled pasta such as ravioli or tortellini. Lobster ravioli, anyone?
Add plenty of parmesan cheese, for a very simple but delicious lemon butter pasta. Toss a little of the pasta cooking water through to loosen up the sauce, if you like.
Drizzled over vegetables: Perfect over asparagus, sautéed green beans, broccoli, honey roast carrots and parsnips (as in the photo below!), or any kind of simple vegetable side.
Toss through couscous, rice or grains such as quinoa or farro: For a simple but tasty side dish.
As a warm dip: Why not serve small bowls of butter & lemon sauce with chopped raw vegetables, air fried cauliflower, warm crusty bread (try fingers of this easy homemade focaccia!), halloumi fries, or anything else you usually like to dip!
Top serving tip: Bear in mind that this creamy lemon butter sauce is quite rich. Consider serving small amounts to each person at first, then let them add more if they want to!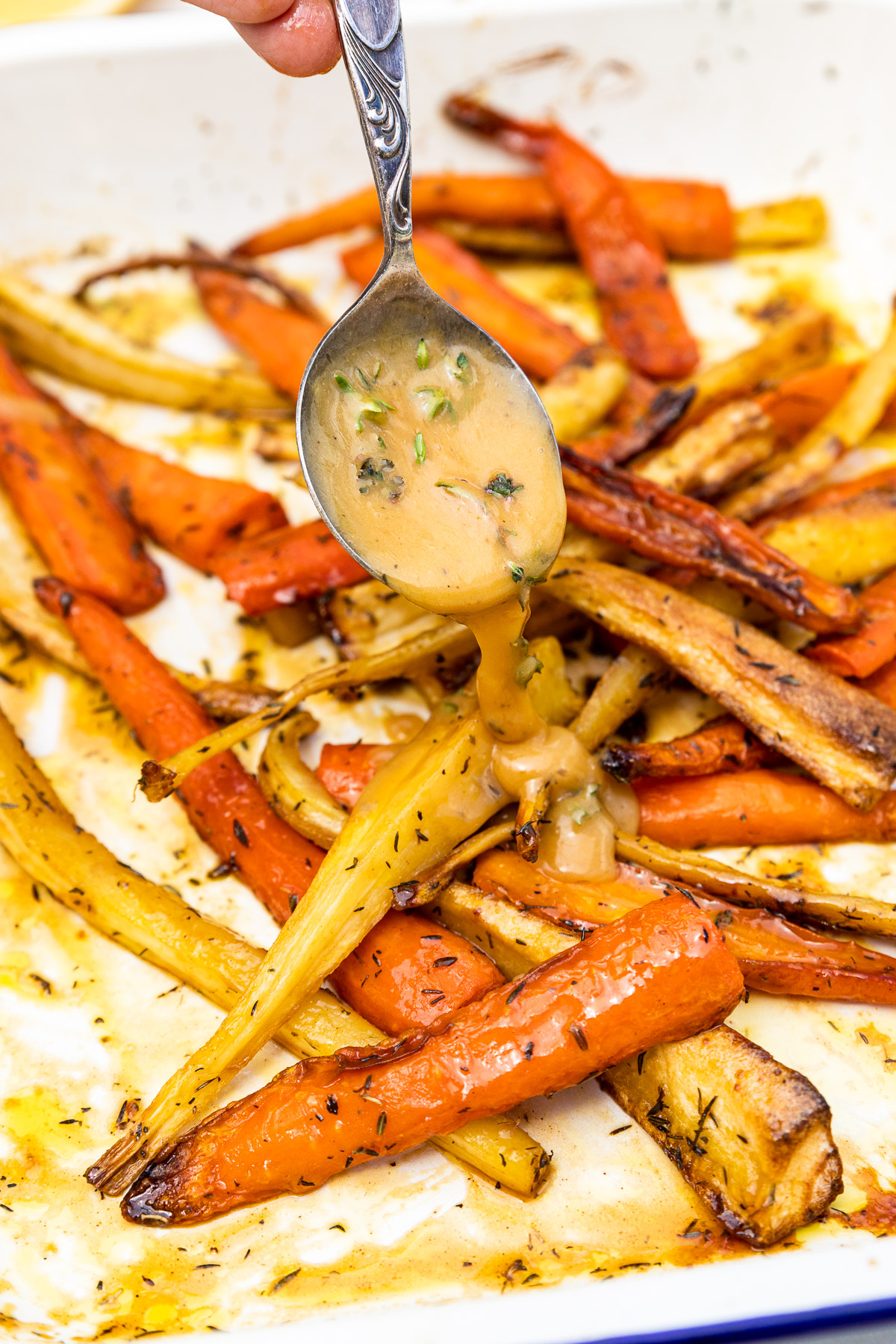 Make it yours
The best recipes are the ones you can easily tweak to make your own! Here are some ideas to get you started.
Add a handful of capers or chopped olives to the sauce before serving. This works especially well with a fish dinner, or with seafood.
Make it a garlic lemon butter sauce. Start by gently sautéing a clove or two of chopped or minced garlic in a little extra butter. A pinch of garlic powder, minced shallots or even a little finely chopped onion can be good alternatives.
Replace some of the broth with a splash of white wine.
Add a splash of heavy cream or crème fraîche.
Stir in a teaspoon of Dijon mustard.
Wild card option. For a slightly spicy variation, add a tablespoon of sweet chili sauce.
Play around with the amounts of each ingredient to suit your taste and the particular dish. For instance, this is quite a lemony sauce. You might want to reduce the amount of lemon juice a little and add more butter. You may also wish to adjust the seasoning to taste.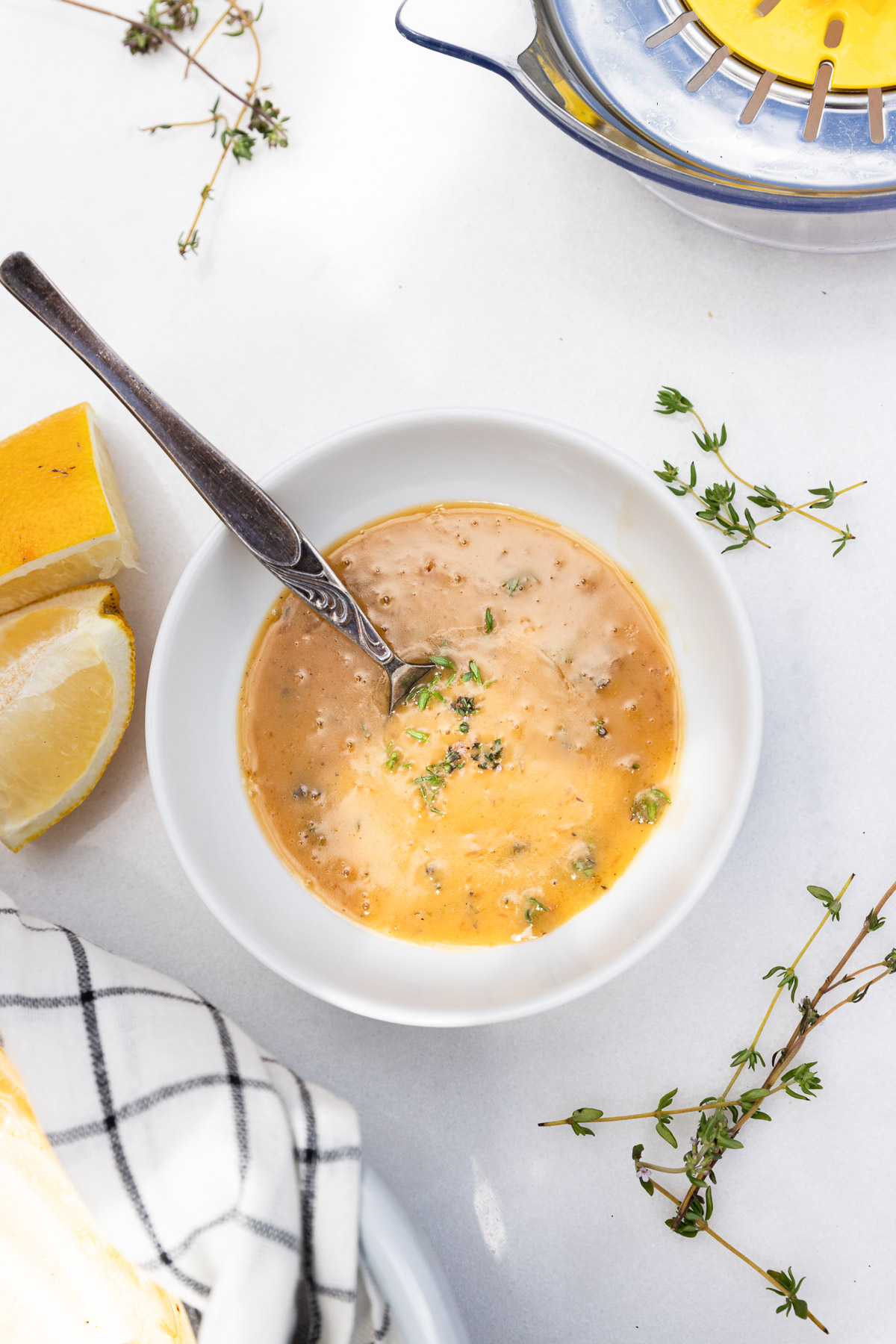 Recipe FAQ
How do you thicken lemon & butter sauce?
The butter is what thickens in this lemon butter sauce recipe. If you'd prefer a thicker sauce, increase the amount of butter you swirl in. Make sure the butter is cold from the fridge. Whisk in each piece of butter properly before adding the next.
Can this sauce be made ahead?
It can. Simply store covered in the fridge for up to a few days until you're ready to use it. Reheat either gently in a saucepan or covered in the microwave for a minute or two or until hot.
Can you freeze it?
Yes you can! This is a great sauce to have on hand to elevate many dishes. Freeze it in an airtight container for up to 3 months. Let defrost in the refrigerator before reheating and serving.
More easy sauce recipes (5-10 minutes)
Greek tsatziki sauce is another very versatile sauce made with just a few ingredients. It's so perfect inside these delicious chicken gyro pitas! Alternatively, spoon over grilled meat or fish, or serve as a dip.
This simple tomato salsa is equally as good as a dip for nachos as it is spooned over meat or fish for a quick and easy meal.
Tahini sauce is creamy, super easy, and very healthy. Perfect over a protein or drizzled over a salad or veggies.
IF YOU MAKE THIS RECIPE, LET ME KNOW HOW YOU GET ON BY LEAVING A COMMENT AND RATING BELOW… AND DON'T FORGET TO SIGN UP TO RECEIVE ALL MY NEW RECIPES BY EMAIL!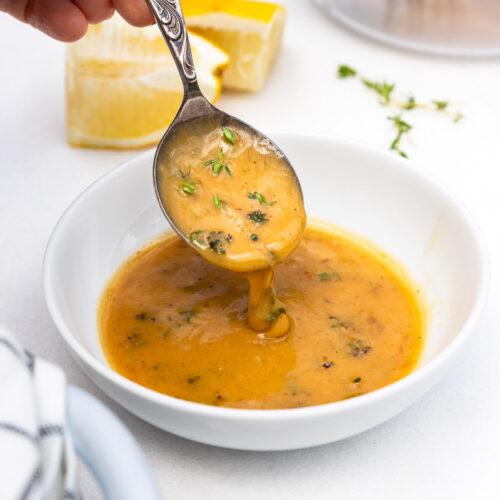 10 Minute Lemon & Butter Sauce (For Chicken, Fish & More!)
Whether you feel like your meal needs an extra little something, or you need a super quick and tasty pasta sauce or simple dip, this lemon & butter sauce is a great option! It takes just 10 minutes and 3 main ingredients – lemon, broth/stock and butter – to make it. An incredibly versatile sauce, you can tweak it by adding fresh herbs, garlic, shallots and more.
Equipment (affiliate links)
Ingredients (UK/Australia? Click below for grams/ml)
3

tablespoons

lemon juice

From 1 small lemon. Reduce the amount to just 2 tablespoons for a more subtle citrus flavor.

1

cup

chicken broth

/stock (or vegetable broth if preferred)

3

tablespoons

butter

Cold from the fridge and cut into 3 pieces. For a slightly thicker, more buttery sauce, feel free to increase the amount.

3

tablespoons

fresh herbs

e.g. thyme, basil, parsley, tarragon, cilantro/coriander (substitute with 1 teaspoon dried herbs)

¼

teaspoon

salt

Or to taste.

⅛

teaspoon

pepper

Or to taste.
Instructions
Pour the lemon juice and broth/stock into a large saucepan or skillet/pan. Then cook on a medium high heat until reduced by about half.

3 tablespoons lemon juice,

1 cup chicken broth

Now turn the heat down to medium low. Add the cold pieces of butter one at a time, swirling around until fully incorporated into the sauce.

Stir in the fresh herbs and salt and pepper to taste. Serve spooned over chicken, steak or seafood, stirred through pasta with parmesan, or as a dip.

3 tablespoons fresh herbs,

¼ teaspoon salt,

⅛ teaspoon pepper
Notes
Optional: Start by gently sautéing a crushed or chopped garlic clove or shallot in a little of the butter for extra depth of flavor.
When to add the herbs: I usually add fresh herbs such as basil, parsley or coriander at the end, just before serving the sauce. If using dried herbs or a more hardy herb such as thyme, add them at the beginning with the lemon and broth.
Adding the butter: Make sure to use cold butter straight from the fridge. Add it tablespoon by tablespoon, swirling in until fully combined. The sauce will become rich, creamy and slightly thickened.
If you'd like to thicken the sauce more, simply add a little more cold butter. Keep the heat on medium low to reduce the risk of the sauce separating (although it will still taste fine if this happens).
Variations: Try adding a few capers or chopped olives to the sauce (great with fish), a splash of cream, or a teaspoon of mustard. You can also experiment with different herbs. Thyme, parsley, basil, coriander, dill or Italian seasoning are all great options.
Serving suggestions: Serve over chicken, steak, fish or another protein. The sauce is especially delicious if you first cook meat or fish in a pan, then make the sauce in the same pan with the cooking juices. As in this recipe for spinach and feta stuffed chicken breasts.
This sauce is also great drizzled over vegetables, served as a simple dip, or even tossed through pasta (add plenty of parmesan cheese and add a little of the pasta cooking water to loosen up the sauce a little).
Nutrition
Calories:
83
kcal
Carbohydrates:
1
g
Protein:
1
g
Fat:
9
g
Saturated Fat:
5
g
Polyunsaturated Fat:
0.3
g
Monounsaturated Fat:
2
g
Trans Fat:
0.3
g
Cholesterol:
24
mg
Sodium:
481
mg
Potassium:
43
mg
Fiber:
0.2
g
Sugar:
1
g
Vitamin A:
518
IU
Vitamin C:
8
mg
Calcium:
10
mg
Iron:
0.3
mg