Last Updated on
You can find great street food all over the world, of course, but I think Thai street food is hard to beat. Unfortunately though we can't all pop over to the streets of Bangkok whenever we get a craving – so I thought I'd try and make this delicious Thai basil pork stir-fry for myself. Absolutely delicious, and ready in just 15 minutes!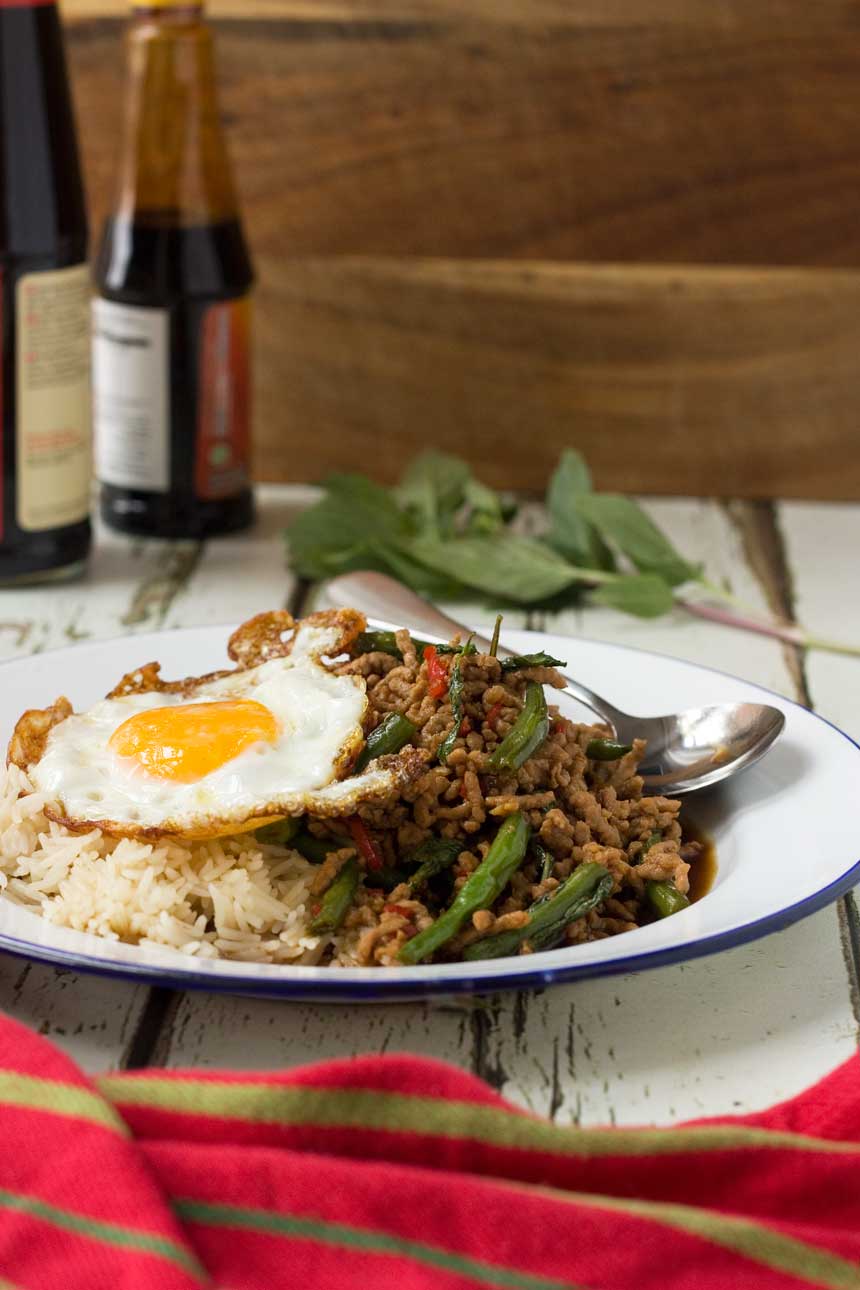 I came across something very similar to this dish a few weeks ago in a new Thai street food restaurant called Zaap that's recently opened in my town.
Not to be a Debbie Downer or anything, but I usually brace myself for disappointment at these kinds of places. But wow – I loved this restaurant! The dishes were simple, the portions were generous and the prices surprisingly reasonable.
And as the entire restaurant is set out like a real Thai street, and not really in a gimmicky way, you truly do get the bona fide Thai street food experience.
Any normal person would simply pop back to the restaurant for another plate of this delicious Pad Ga Prao, of course. Well, actually, I will. But first I wanted to figure out how to make my own version so that I could share it with you good people!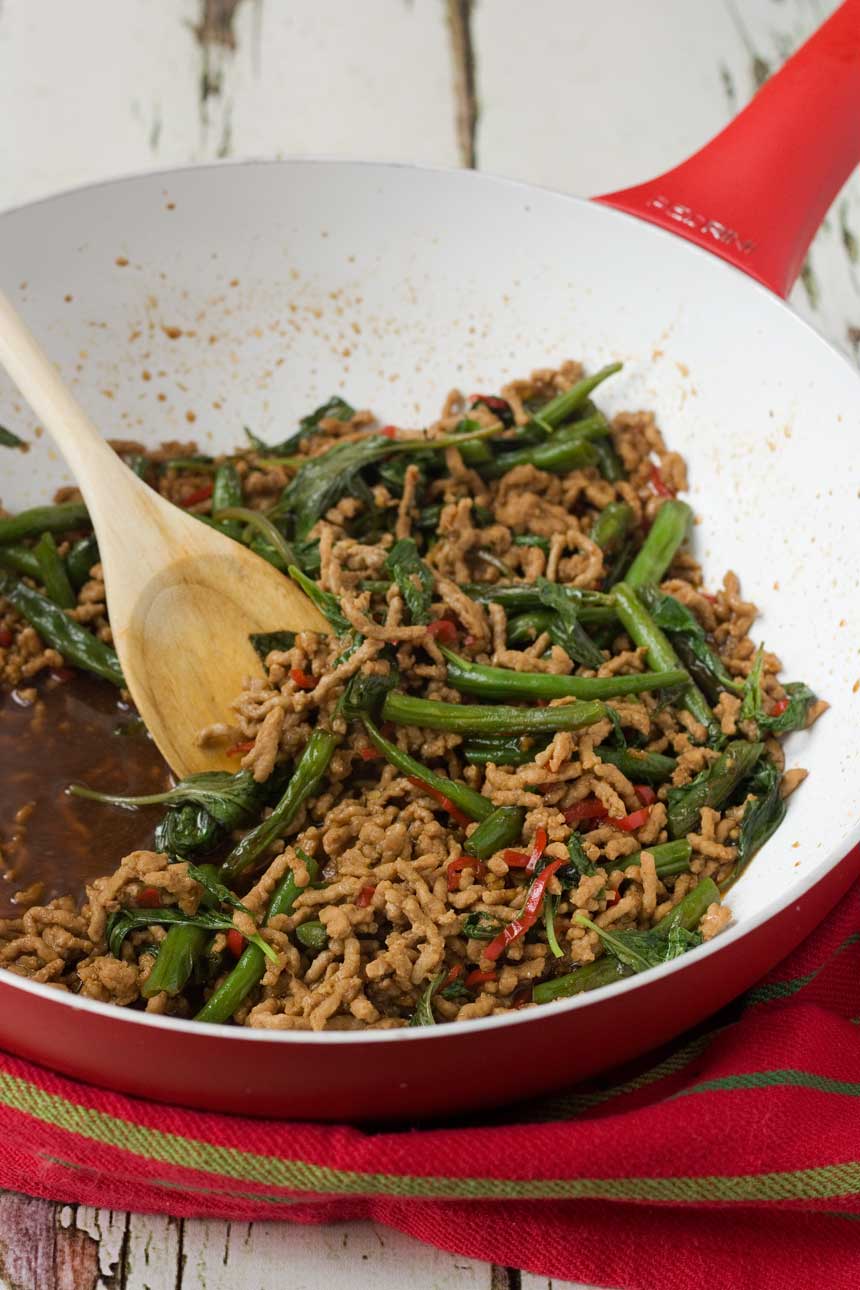 This is apparently a really common day-to-day dish in Thailand – usually eaten with rice, and often topped with a fried egg, which is the way I've made it. Well, to be precise there was an egg for me, and no egg for Mr. Scrummy, who hates eggs on top of anything! 😉
As usual, what I love so much about this dish is the amount of intense flavour for the length of time it takes to make – barely 15 minutes once you've fished the various sauces out of your cupboard (but I'm sure your food cupboard is better organised than mine!).
The main flavour in it comes from the mixture of soy sauces, fish sauce and oyster sauce, the Thai basil, and the chilies, of course. If we were being totally authentic here (which we're not), we'd be using something called 'Holy basil', but as this is difficult to find over here, I decided to use simple Thai basil from an Asian supermarket. If you can't find either of these types of basil, just use any basil. The finished dish won't taste entirely the same, but it will taste just as wonderful.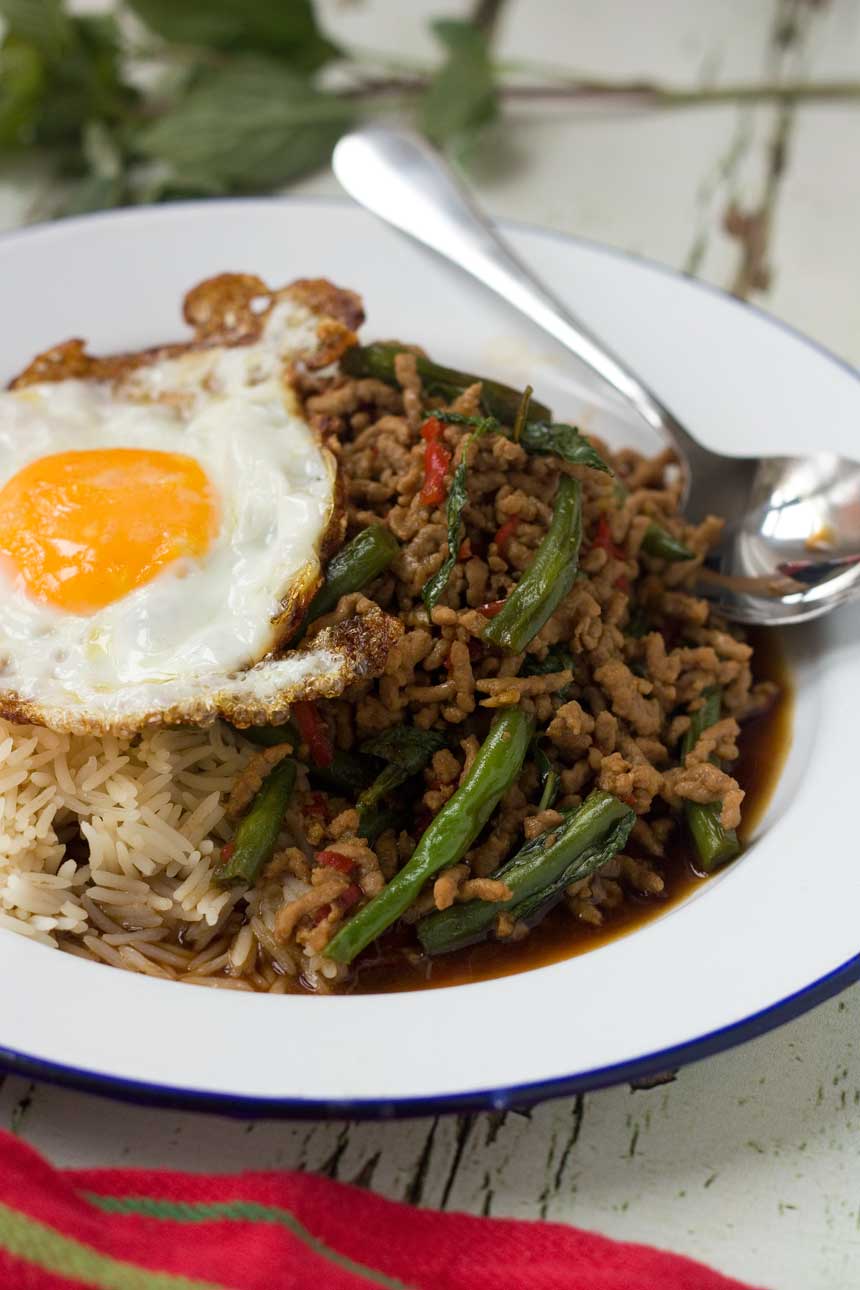 The version of this that I first tried in the restaurant was made with chicken, so if you like you can make it with chicken mince instead of pork. Or even beef.
It's totally up to you whether you throw a fried egg on the top or keep it 'au naturel', of course, but I'd highly recommend going the eggy route! For me, it turns a really great dish into an excellent one. 🙂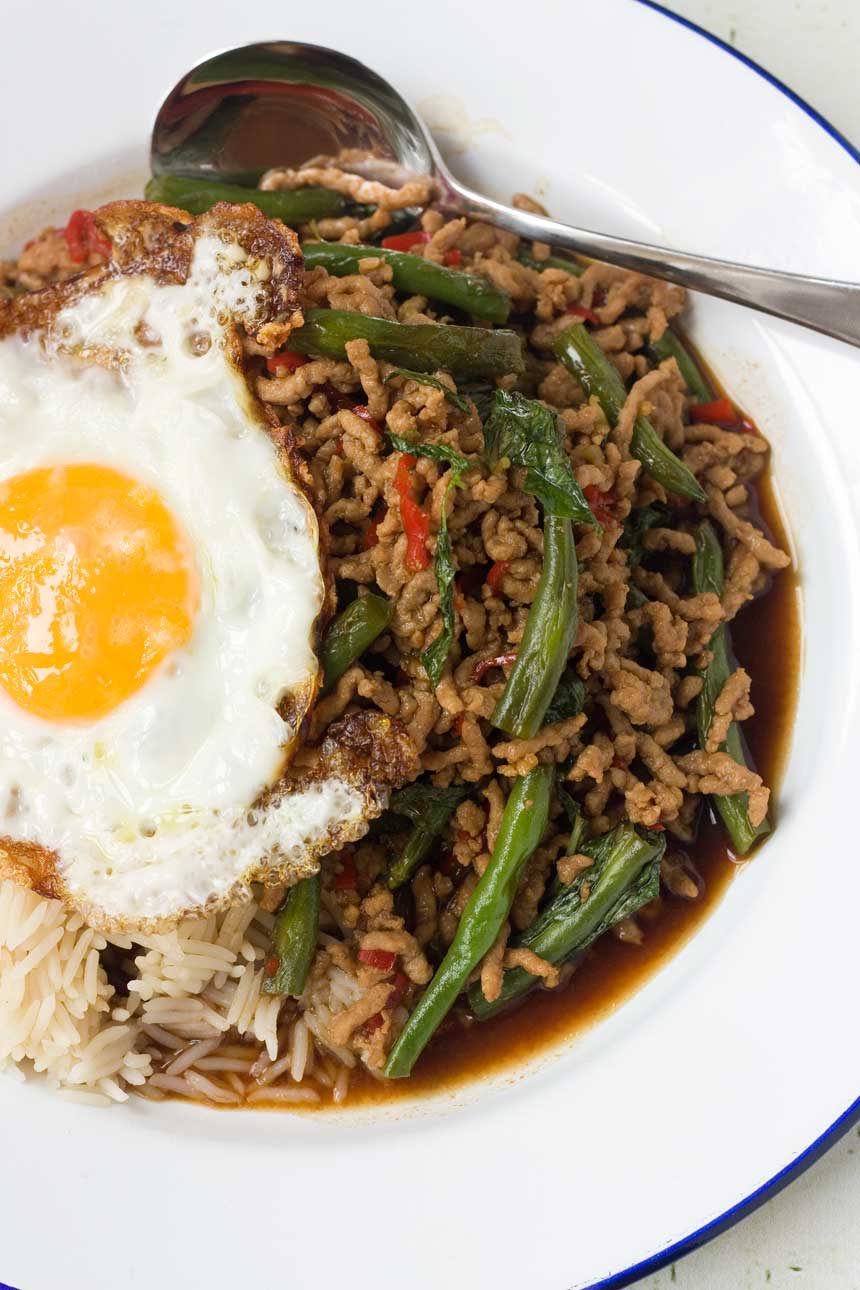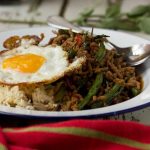 Print
15-minute Thai basil pork stir-fry (Pad Ga Prao)
This is a classic Thai street food recipe made with minced meat, basil and chili. So simple and delicious, especially with an egg on top - and it can be ready and on the table in only 15 minutes!
Ingredients (UK/Australia? Click button below for grams & ml)
1

tablespoon

fish sauce

1

tablespoon

light soy sauce

1

tablespoon

kecap manis

sweet thick Indonesian soy sauce*

1

tablespoon

oyster sauce

4

tablespoons

water

5.5

ounces

fresh green beans

chopped into small lengths (1 to 2 inches)

3-6

small red chillis**

de-seeded and chopped finely

4

garlic cloves

crushed or chopped finely

7

ounces

minced pork

or chicken, turkey, beef!

a really large handful of Holy basil

or Thai Basil if you can't find it
to serve
plain rice

fried eggs

1 per person - optional
Instructions
Mix together the fish sauce, soy sauce, kecap manis, oyster sauce and water in a bowl or jug and set aside.

Heat up a large drizzle of oil in a wok or stir-fry pan, then stir-fry the green beans for a few minutes. Add the chopped chillis and garlic and stir-fry for a couple more minutes.

Add the pork and stir-fry until cooked (an additional few minutes). Pour in the sauce, stir well, then let bubble for a minute or two more.

Stir in the basil until wilted, then serve with the rice (and a fried egg, if desired).
Notes
*If you don't have/don't want to hunt down kecap manis, simply use an extra tablespoon of soy sauce mixed with a teaspoon of sugar instead
**4 chilis is about right for me (medium spicy). I found 6 was a bit much, but it would be perfect if you like your food to have a kick!
'Holy basil' is what you should ideally use for this recipe, but you may not be able to find it in the west. If not, use Thai basil instead, or even ordinary basil at a push. I use Thai basil, which I get from my local Asian supermarket.
Nutrition
Calories:
370
kcal
|
Carbohydrates:
23
g
|
Protein:
21
g
|
Fat:
21
g
|
Saturated Fat:
7
g
|
Cholesterol:
71
mg
|
Sodium:
1686
mg
|
Potassium:
735
mg
|
Fiber:
3
g
|
Sugar:
13
g
|
Vitamin A:
1180
IU
|
Vitamin C:
109.1
mg
|
Calcium:
63
mg
|
Iron:
2.7
mg
This post may contain affiliate links, and I will earn a commission if you purchase through them. There is no additional cost to you.
Made one of my recipes? Take a pic and tag @scrummylane on Instagram so I can see it!
*This post may contain affiliate links* 🙂