This green pea pasta is one of those pantry meals that can save you at the last minute when nothing is planned for dinner! All you have to cook is the pasta and frozen peas.
Add a few more simple ingredients and within 15 minutes you'll have a comforting, nutritious dinner (or side dish!) on the table – all made in just one pan, and without any actual cream!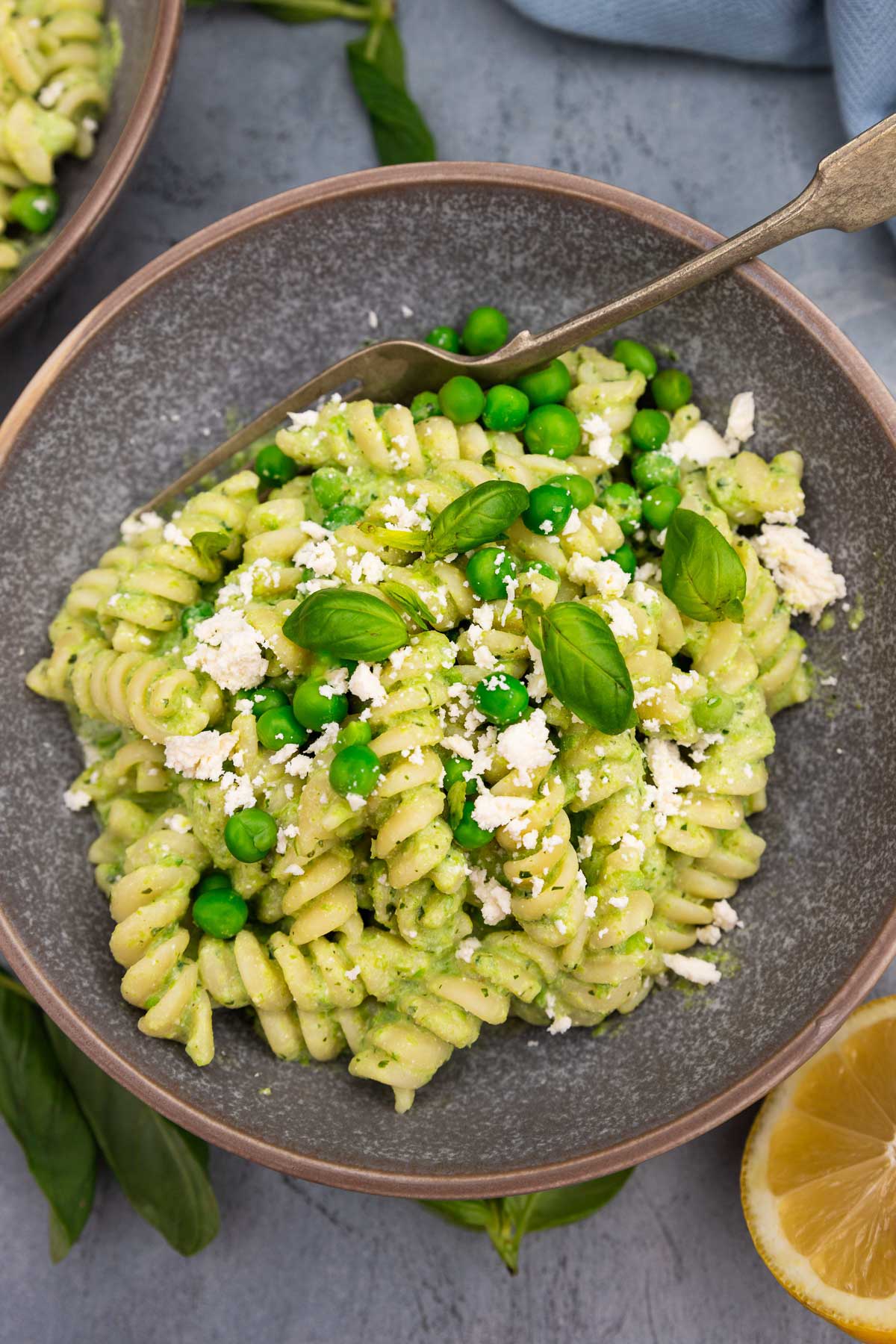 Why you'll love it
✔ 15-minute 'pantry' dinner. This pasta and peas recipe is your new best friend on busy weeknights. Just grab frozen green peas from the freezer and a few more simple ingredients, and dinner is virtually on the table!
✔ Creamy and Comforting – but without any actual cream. Pureeing peas with feta (and other goodies) is what mostly makes this pasta sauce taste like such a hug in a bowl!
✔ Green appeal. The creamy green sauce may be oozy and delicious, but that doesn't mean it isn't healthy. It's a vibrant, visually appealing green. It also happens to be packed with nutrients like fiber, vitamins, and minerals.
✔ Budget-Friendly. Who doesn't already have frozen peas in the freezer and dried pasta in the pantry? This is a dinner made from pantry staples that won't break the bank.
✔ Family-Friendly. You could say this is like a cross between pesto pasta and mac and cheese. Creamy pea pasta could even be a hit with your pickiest eater!
✔ Freezer-Friendly. Why not make extra pea pasta sauce and freeze it for next time?
✔ Perfect for vegetarians or 'meatless Mondays'. If you're anything like me, you like incorporating some dinners without meat into your week.
Ingredients
Frozen Peas: Just grab them out of your freezer. So convenient! And nutritious, since frozen veggies retain their freshness and nutritional value. I prefer to use 'baby peas' as I find them the sweetest, but any frozen peas work.
Dried pasta: I like to use a twisted pasta such as fusilli to make this pea sauce pasta. It looks great, but also it traps plenty of the vibrant sauce in the many nooks and crannies.
Alternative pasta shapes that also 'trap' a lot of sauce include penne (tubes), farfalle (bow-tie pasta), rotini (similar to fusilli), orecchiette, or even conchiglie (shells).
I also think this pea pasta sauce works well with 'long' pasta such as spaghetti, linguine or fettuccine.
Fresh basil and mint: Fresh basil gives the sauce a pesto-like quality (a perfect alternative especially if you want to avoid nuts). Mint and peas are also a perfect match. I tend to go easy on the mint, however, to avoid overpowering all the other flavors.
Garlic: You'll only need 1 small clove of garlic. Since it doesn't get cooked (just like in pesto), you'll still taste it in the sauce.
Feta cheese: This is mostly what makes the sauce creamy. Its tangy, salty flavor also contrasts well with the sweetness of the peas. Any feta will work, but I like to use a creamy brand such as Danish or French feta. An authentic Greek brand is great, too.
An alternative way to make this is with ricotta cheese instead of feta. The taste is milder, but it will still make a very tasty, creamy sauce.
Parmesan cheese: This adds more depth, richness and umami to the dish. I usually buy ready-grated from the fresh aisle and keep it in the freezer so that it stays fresher for longer.
Lemon juice: Using a whole half of a lemon (and extra for squeezing over at the end) brightens up all of the flavours and balances out the creaminess and richness of the sauce.
Extra virgin olive oil: High-quality olive oil serves as the base for the creamy sauce and infuses the dish with a rich, fruity flavor. It also helps bind the ingredients together, creating a smooth and luscious sauce.
I only add a little to the sauce, but if you like you can drizzle a little extra over each dish before serving.
Salt and Pepper: As always, taste the finished dish and add more seasoning if you need to.
How to make green pea pasta
This recipe couldn't be easier to make. Simply put a pan of water on to cook the peas and pasta, then make the quick sauce while the pasta is finishing cooking.
So the first step is to cook the frozen peas for around 3 minutes in a big pan of boiling water. Then scoop them out of the water with a slotted spoon. Set around a third of them aside (for stirring through the pasta at the end) and place the remaining peas (two thirds) into a medium-sized bowl.
Then use the same water to cook your pasta in according to the package instructions. I prefer to cook the pasta 'al dente' which means until it is just cooked but still has a fairly firm texture.
I find this is usually for around 10 minutes, but it can depend according to the type of pasta and the brand.

All you have to do now is add all the other sauce ingredients to the peas in the bowl. Then blend with a hand-held blender. If you don't have one, you can either pulse the ingredients in a food processor, or simply mash them well with a potato masher.
If you choose to go with the masher, the sauce will be chunky and not smooth, but still very delicious!
Yes, the sauce will be that beautiful vibrant green colour!
All that's left to do is to drain the pasta, stir the sauce into it, and loosen with some of the pasta cooking water.
Finally, stir through the reserved cooked peas.

Serve with extra fresh herbs, lemon wedges and a bit more crumbled feta and grated parmesan if you like.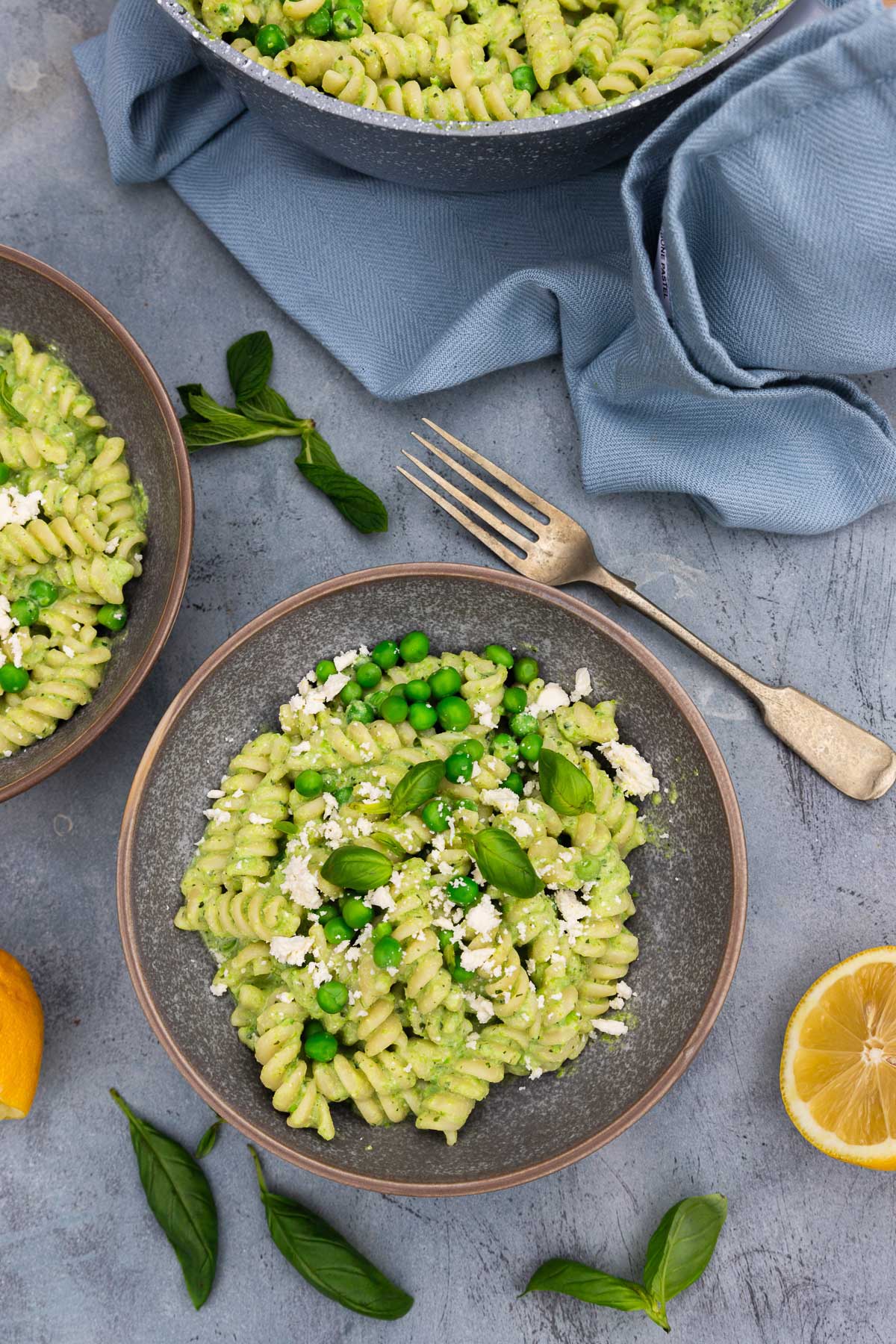 Helen's top tips
Before draining the pasta, don't forget to scoop out around a cup of the cooking water. Stir this into the finished dish until the sauce is loose and silky and clinging to the pasta spirals. You might not need to use the whole cup.
I find a bowl with a flat bottom is best for blending the sauce in. This is not essential, however!
This pasta dish is definitely best enjoyed when fresh. Leftovers do still taste delicious either hot or cold, but be aware that some of the sauce does sink into the pasta when reheated.
Why not make double the amount of sauce and freeze half for the next time?
Variations
Not enough frozen peas in the freezer? Replace the rest with frozen broccoli or even spinach instead.
Try goat cheese, ricotta cheese or mascarpone cheese instead of feta cheese if you like. Also, pecorino is a good substitute for parmesan.
Play around with the fresh herbs a little. I also like adding fresh parsley and/or fresh dill to the green pea sauce.
Add nuts such as walnuts, pine nuts, pistachios (more green!) or even peanuts to the sauce before blending.
For 'pea and ham soup' vibes, stir some bacon, ham, pancetta, chorizo or prosciutto through the dish.
Add some cooked chicken or shrimp, or smoked salmon to the pasta.
For a little heat, add some red pepper flakes to the sauce.
Make the dish gluten free by using gluten free pasta. Make it vegan by using vegan pasta and vegan cheeses.
How to serve
For me, I love that this pasta with pea sauce is a quick and easy nutritious dinner by itself. 15 short minutes and it's on the table.
However, for any meat lovers among you, you can by all means also serve it as a side dish with simple grilled, roasted, pan-fried or air-fried meat or fish. I can also imagine it making a pretty amazing meal with some tasty sausages on the side!
Other meaty serving options include these chicken kabobs in the oven, easy baked chicken thighs, Greek chicken meatballs or parmesan panko chicken. It's easy to make the pea pasta sauce ahead if you'd like to add some meat or fish but still keep the meal super quick and simple (see FAQs below for make-ahead instructions!).
If you have an air fryer, why not serve with an air fryer rotisserie chicken? It's so easy to prepare and is ready in around an hour.
Recipe FAQs
Can I make pea pasta ahead?
This dish is definitely best served immediately, when the pea sauce is creamy and clings evenly to the pasta. It would be possible to make the sauce ahead, however. Simply store in an airtight container in the fridge for up to 3 days. When you're ready to eat, stir the sauce through hot pasta along with some of the pasta cooking water to loosen it up.
Can I reheat the leftovers?
You certainly can, but bear in mind that the pasta may have soaked up some of the sauce. For the best results, try reheating either in the microwave for 2 to 3 minutes or in a large saucepan on a low heat. Add a good splash of water to loosen up the sauce again. Alternatively, the leftovers are also pretty tasty cold!
IF YOU MAKE THIS RECIPE, LET ME KNOW HOW YOU GET ON BY LEAVING A COMMENT AND RATING BELOW… AND DON'T FORGET TO SIGN UP TO RECEIVE ALL MY NEW RECIPES BY EMAIL!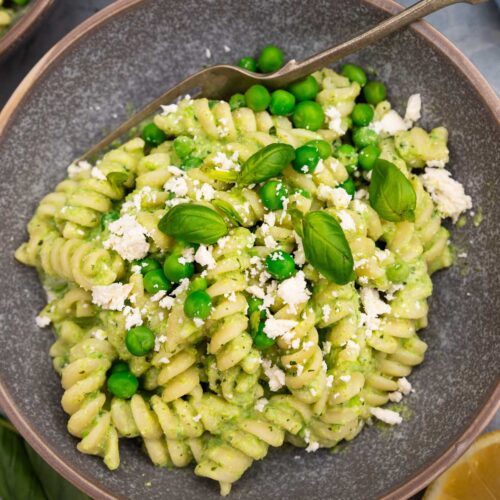 Creamy Green Pea Pasta (No Cream & With Frozen Peas!)
A super quick, easy and nutritious creamy green pea pasta with a vibrant and velvety sauce. Yep, it's comforting and creamy, but without any actual cream! It's the combo of feta and parmesan cheeses that provides the creamy richness here. Enjoy this pea pasta by itself for an effortless and budget-friendly midweek meal made from just frozen peas and a handful of other fridge and pantry ingredients. Alternatively, make it even more substantial by serving with meat or fish on the side.
Ingredients (UK/Australia? Click below for grams/ml)
10

ounces

frozen peas

around 2 cups (baby peas are sweetest)

10

ounces

pasta

I like fusilli (spirals) or similar, but any pasta works.

2

tablespoons

olive oil

plus extra for drizzling over to serve (optional)

1

small clove garlic

3.5

ounces

feta cheese

crumbled (about ¾ cup)

¼

cup

parmesan cheese

(grated) plus a little extra to serve

½

cup

fresh basil

plus a little extra to serve

¼

cup

fresh mint

plus a little extra to serve

½

lemon

juice only

¾

teaspoon

salt

or more to taste

½

teaspoon

pepper

or more to taste
Instructions
In a large pan, bring water to a boil. Add frozen peas and cook for about 3 minutes. Using a slotted spoon, scoop out around a third of the peas and set them aside in a bowl. Place the remaining two-thirds of peas into a medium-sized bowl.

Use the same boiling water to cook the pasta according to the package instructions. Aim for 'al dente,' which is just cooked but still firm. This typically takes around 10 minutes.

While the pasta is cooking, add the olive oil, garlic clove, crumbled feta, grated parmesan, fresh basil and mint, lemon juice and salt and pepper to the bowl with the two-thirds of peas.

2 tablespoons olive oil,

1 small clove garlic,

3.5 ounces feta cheese,

¼ cup parmesan cheese,

½ cup fresh basil,

¼ cup fresh mint,

½ lemon,

¾ teaspoon salt,

½ teaspoon pepper

Blend the sauce ingredients using a hand-held blender until a smooth sauce forms. If you don't have a hand-held blender, you can use a food processor or simply mash the ingredients well with a potato masher (a masher will result in a chunkier sauce).

Once the pasta is cooked, scoop out around a cup of the cooking water. Then drain the pasta and pour it back into the cooking pan. Pour the blended pea sauce over the pasta and combine really well.

Gradually stir in the reserved pasta cooking water to loosen the dish so that the sauce is nice and smooth but still clings to each piece of pasta. You may not need to add all of the reserved water to achieve this.

Stir the reserved cooked peas into the pasta and sauce.

Serve out the pasta into dishes and scatter over extra fresh herbs, crumbled feta and grated parmesan. Drizzle a little more extra virgin olive oil over and serve immediately with extra lemon wedges on the side if desired.
Notes
Don't forget to save some of the cooking water before draining the pasta! This is the key to a perfectly smooth and silky dish.
Variations: Feel free to add some cooked bacon, pancetta, chorizo, prosciutto, smoked salmon or shrimp to the dish if you like.
Replace some of the frozen peas with frozen broccoli and/or spinach.
Replace the feta cheese with ricotta, goat cheese, or mascarpone cheese.
Serving suggestions: Creamy green pea pasta is delicious enjoyed as a quick and easy midweek meal, but also works well as a side dish. Serve with simple baked chicken thighs, crispy panko chicken, sausages, rotisserie chicken (air-fried), salmon or another type of simple fish.
Making ahead and storing: This dish is best eaten immediately. However, you can reheat it the next day. Simply reheat gently either in the microwave for 2-3 minutes or in a saucepan with a good extra splash of water to loosen the dish up again.
Bear in mind that the pasta will soak up some of the sauce when it's reheated, but it will still taste good. You can even enjoy it cold pasta salad style. Leftovers are great in lunch boxes!
Store in an airtight container in the fridge for up to 3 days.
Freezing: I wouldn't freeze this once the pasta and sauce has been combined (the texture doesn't hold up too well). However, you can freeze the sauce separately for up to 2 months.
Nutrition
Calories:
481
kcal
Carbohydrates:
66
g
Protein:
19
g
Fat:
15
g
Saturated Fat:
6
g
Polyunsaturated Fat:
1
g
Monounsaturated Fat:
7
g
Cholesterol:
26
mg
Sodium:
828
mg
Potassium:
402
mg
Fiber:
7
g
Sugar:
6
g
Vitamin A:
978
IU
Vitamin C:
37
mg
Calcium:
247
mg
Iron:
3
mg