If you're a sucker for crispy foods – like me and the rest of the world – then you'll love this easy chicken katsu curry with a quick homemade katsu curry sauce. This is better-than-takeout comfort food at its best!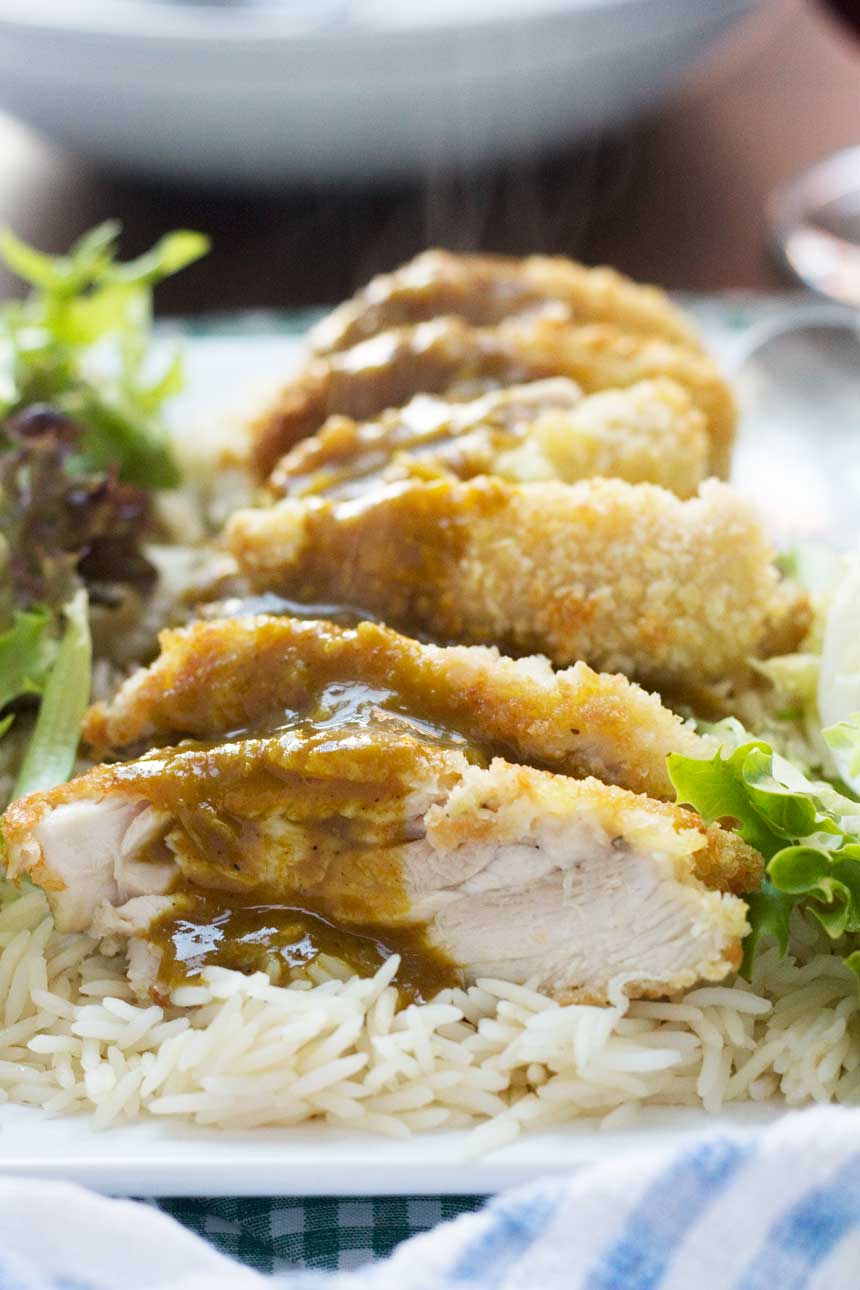 Better than a takeaway
I've always been impressed with the little Japanese lunch restaurants that you find all over Australia. They're kind of 'cheap and cheerful' but the food feels nourishing, appetizing and really good value for money.
I've been known to pop in when I'm out and about around lunch time. Sometimes I order a simple chicken katsu (also very delicious), and other times something very similar to the katsu curry recipe in this post. AKA the ultimate Japanese comfort food.
Why make a homemade Japanese curry sauce?
I'd heard a rumour that Japanese people usually buy pre-made curry sauce for a chicken katsu curry. But I wasn't keen on the long list of ingredients I saw on the back of packets of katsu curry sauce at the supermarket.
I'm going to carry on making a homemade curry sauce for my chicken katsu. curry – and I hope you give it a try too!
What you need to make this
You've probably got most of the ingredients you need to make your chicken katsu curry already.
For the crispy chicken you need:
chicken thighs
flour, an egg and some panko breadcrumbs for coating the chicken
a few tablespoons of oil for pan frying
For the fuss free katsu curry sauce you need:
an onion and some garlic and ginger
a spoonful of flour and curry powder
good quality chicken stock
a bit of soy sauce and honey to balance out the flavours
This recipe also works with chicken breasts and tenders. Find cooking instructions/times in the recipe notes below!
How to make a chicken katsu curry step-by-step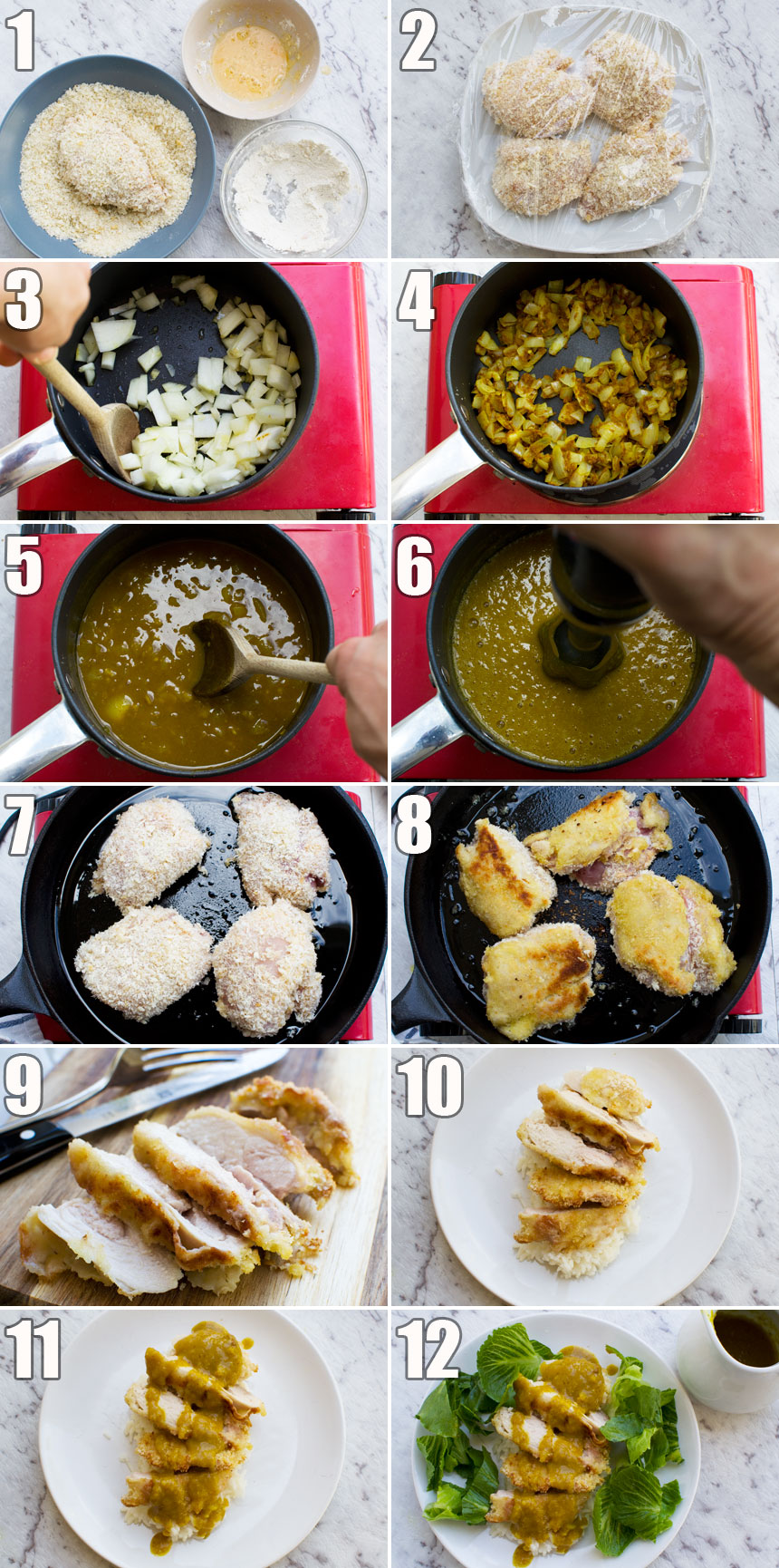 Don't be put off by the fact you have to coat the chicken in breadcrumbs AND make a curry sauce. Both steps are quick and easy.
Here are the basic steps:
Coat chicken thighs in breadcrumbs and pop into the fridge.
Make the easy curry sauce on the stove top.
While your sauce is simmering away, brown the crumbed chicken in a pan, then let it finish cooking in your pre-heated oven.
If you prefer, skip number 3 and 'fry' in your air fryer (see below!).
To assemble your meal:
Blend the sauce (a hand-held blender is great for this) and reheat in the pan.
Slice the crispy chicken into slices. Arrange over rice and pour over some sauce.
Got an air fryer?
If you've got an air fryer, you can 'fry' the chicken in it. In this case the air fryer isn't really faster than the oven, but it means you don't have to brown the chicken first in a pan.
Simply spray your breaded chicken all over lightly with oil, then air fry for 25 minutes at 200C/390F.
Personally I love air fryers because you don't need to turn on your oven, and for many other yummy reasons such as air fryer banana bread, easy baked chicken thighs and Greek smashed potatoes!
There are many highly rated air fryers available of course, but we currently have a cheap Kmart air fryer, which works pretty well!
How to serve this
This is supposed to be a simple every day kind of meal, so I don't complicate things.
I simply arrange the sliced chicken on top of some rice and drizzle over some sauce.
I serve with fresh and crunchy lettuce leaves and extra sauce on the side. Perfect!
If you want a bit more vegetable action, feel free to serve some steamed broccoli or green beans on the side.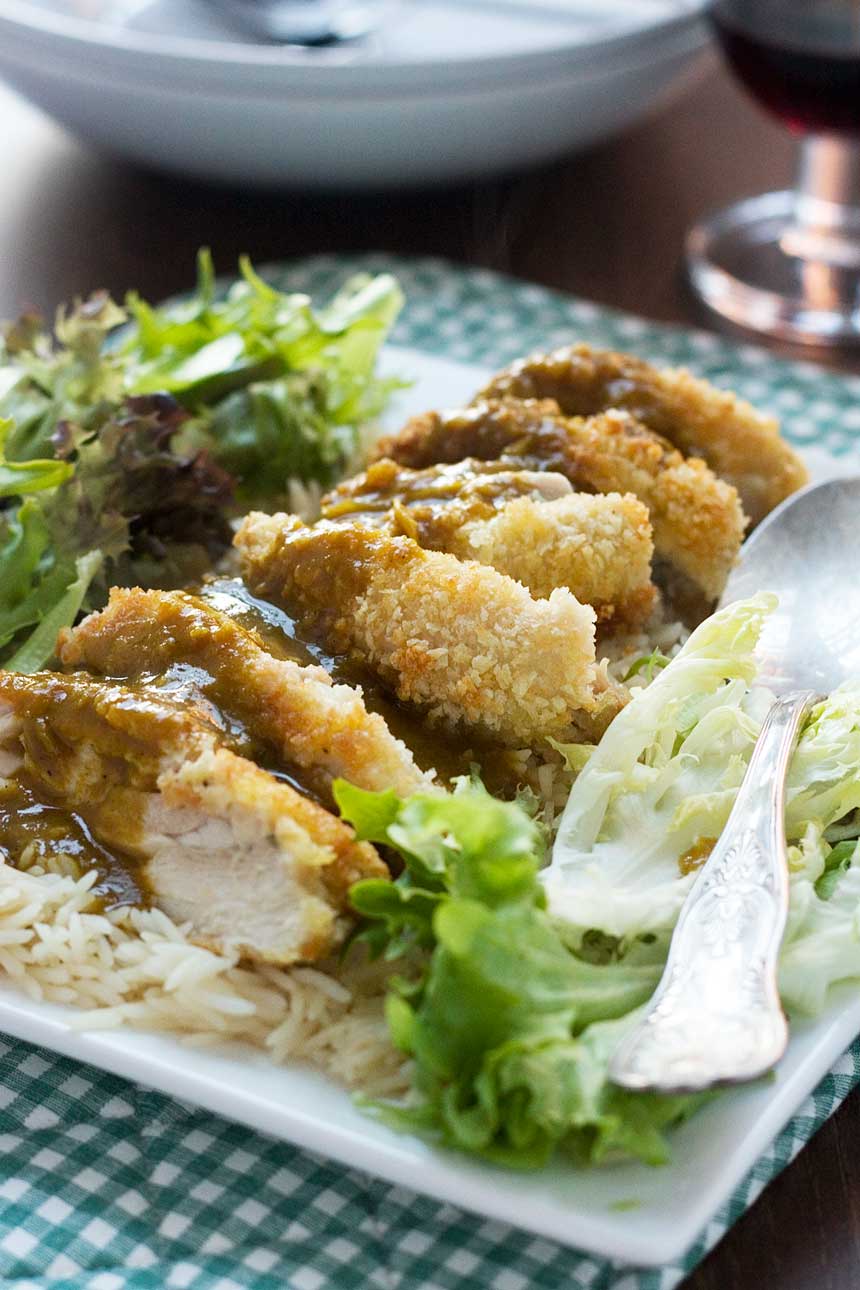 If you like this recipe, you may also like to try my simple chicken katsu recipe. It's very similar but served with an even simpler sauce called a tonkatsu sauce (no cooking!).
More better-than-a-takeaway recipes
IF YOU MAKE THIS RECIPE, LET ME KNOW HOW YOU GET ON BY LEAVING A COMMENT AND RATING BELOW… AND DON'T FORGET TO SIGN UP TO RECEIVE ALL MY NEW RECIPES BY EMAIL!
FOLLOW ME ON FACEBOOK, INSTAGRAM, PINTEREST AND YOUTUBE.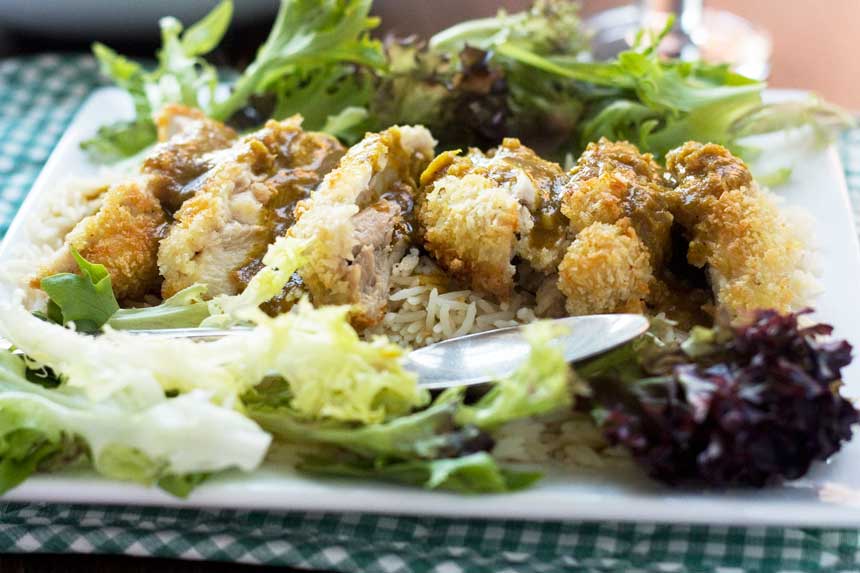 Easy chicken katsu curry (with air fryer version)
Golden, crunchy chicken drizzled with a tasty but easy-to-make curry sauce. This is the ultimate Japanese comfort food. I find it better than a takeaway and I'm pretty sure you'll love it as well!
Ingredients (UK/Australia? Click below for grams/ml)
For the chicken
¼

cup

flour seasoned with plenty of salt & pepper

1

egg

beaten

¾

cup

Japanese panko breadcrumbs

approximately

4

chicken thighs

(large skinless boneless)

3

tablespoons

oil

approximately, for cooking
For the curry sauce
1

onion

chopped

2

garlic cloves

chopped finely or crushed

2

cm

piece of ginger

peeled & chopped finely

1

tablespoon

plain flour

1

tablespoon

curry powder

mild or medium

1½

cups

chicken stock

½

tablespoon

soy sauce

1

teaspoon

honey

or brown sugar if you don't have honey
To serve
2

cups

rice

(⅓ to ½ cup per person)

4

big handfuls

crispy lettuce leaves
Instructions
Put the flour, egg and breadcrumbs in three separate bowls. Roll each chicken thigh first in the flour, then in the egg and finally in the breadcrumbs.

Place crumbed chicken on a plate, cover and refrigerate while you make the curry sauce.

Add a splash of oil to a medium saucepan and cook the onion, garlic & ginger for a couple of minutes until softened.

Add the flour and curry powder and cook for another minute while stirring continuously.

Slowly add the chicken stock, then stir in the soy sauce and honey. Simmer for about 15 minutes or until the sauce has reduced and thickened a little.

Meanwhile, preheat the oven to 180C/355F. Line a baking tray with baking paper and place a wire rack on the top if you have one.

Heat up about 2 tablespoons oil in a frying pan, then fry the chicken for a few minutes on each side until golden. Place on the wire rack on the baking tray, then finish off cooking in the oven for 20 minutes. [If you prefer to cook your chicken in an air fryer, skip this step and refer to recipe notes for cooking instructions]

Cook the rice according to packet instructions while chicken is baking. When the sauce is ready, blend it with a handheld blender or in a food processor until smooth. Then pour back into the pan and re-heat ready to serve.

Slice each crispy chicken thigh into about 4 thick slices length-wise, then serve over rice. Drizzle a little sauce over each dish. Serve with the crispy lettuce leaves and extra sauce on the side.
Notes
Chicken thighs, breasts or tenders?
Large skinless boneless chicken thighs work best for this recipe. The chicken is crispy and juicy. Mmmm.
The recipe will still work if you use smaller thighs – just cook a couple more.
This recipe also works well with chicken breasts and tenders. Chicken breasts may only need around 15 minutes in the oven after browning first. For tenders you can skip the baking part – just pan fry until golden and cooked through in the middle (roughly 3.5 minutes on each side but it will depend on how big/thick they are).
Do I have to pan fry the chicken first? Can't I just bake it?
Usually I'm all about speed and ease, so I skip any unnecessary steps. I do think it's worth browning the chicken in the pan first though in this case.
It's very fast and just makes sure the chicken gets nice and crispy! And for anyone wondering, it's pretty tricky to just pan fry a chicken thigh because it's so thick. The combination of pan frying and baking is perfect for this recipe, and I promise it doesn't feel like too much trouble 😉
Do I really need a wire rack?
The wire rack just keeps the chicken elevated slightly in the oven so it can get crispy all over.
If you don't have one though, no problem! Just place the chicken on a baking tray lined with baking paper and turn over half way through cooking.
Or… do you have an oven safe cast iron pan? Pan fry your chicken in that, then just transfer the same pan to the oven. Turn the chicken half way so that it can get crispy all over.
I prefer to 'fry' my chicken in my air fryer!
Great! You can skip the pan frying step. Simply spray your breaded chicken all over with a light coating of oil. Then 'fry' in your air fryer for 25 minutes, turning around half way through.
Breadcrumbs
Panko breadcrumbs are the best and quickest and easiest crumbs to use. They are widely available in supermarkets in the UK, Australia, USA, and probably most other countries.
If you can't get hold of them however, do feel free to use any kind of breadcrumbs you like. The recipe will work just as well, although panko breadcrumbs tends to make the chicken a bit crispier.
Nutrition
Calories:
831
kcal
Carbohydrates:
99
g
Protein:
32
g
Fat:
33
g
Saturated Fat:
7
g
Cholesterol:
154
mg
Sodium:
446
mg
Potassium:
533
mg
Fiber:
3
g
Sugar:
5
g
Vitamin A:
162
IU
Vitamin C:
3
mg
Calcium:
81
mg
Iron:
3
mg