Introducing this sticky, richly-flavoured Shanghai chicken with rice. It's quick and tasty – ready and on the table in only 15 minutes, making it just perfect for a mid-week meal.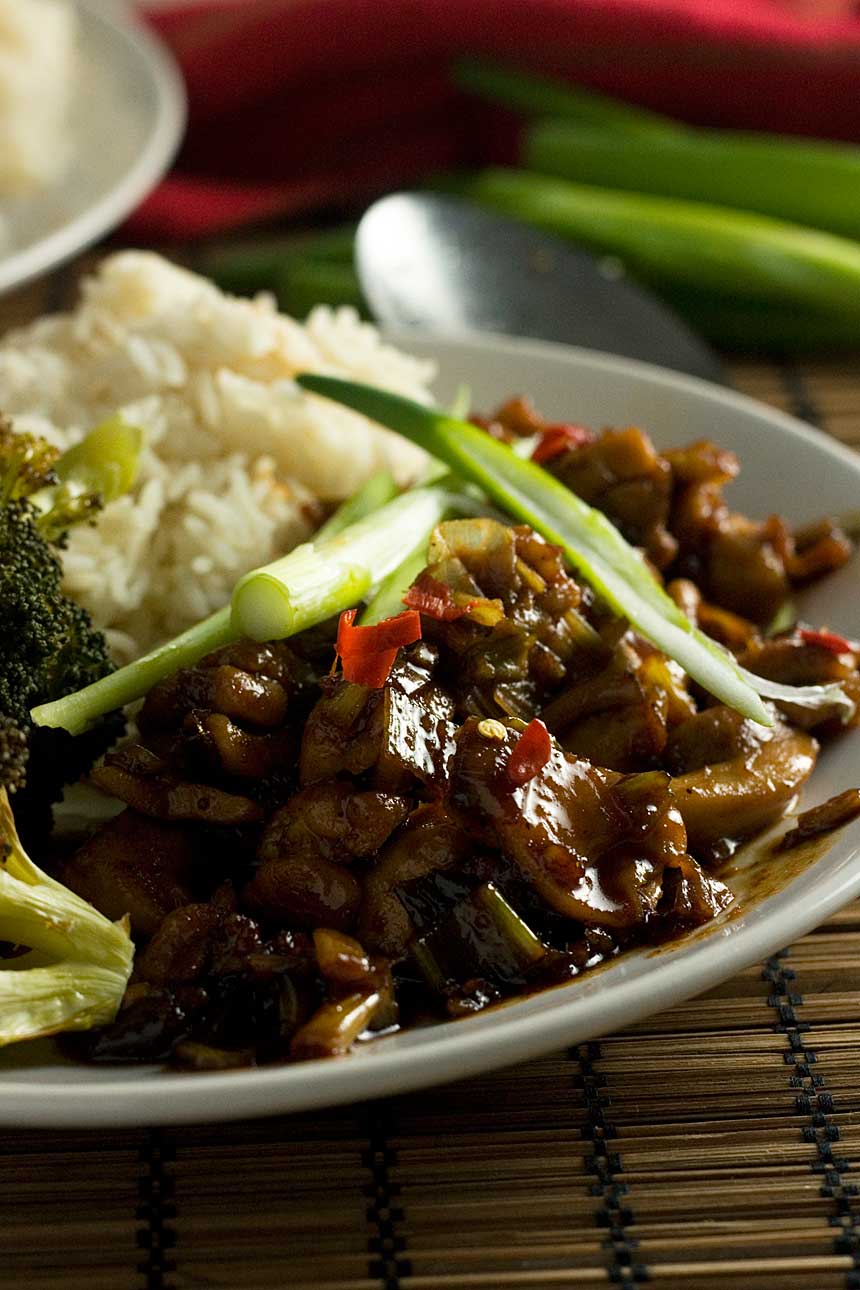 I'm going to be honest with you. I always feel like a bit of a fraud when I post Asian recipes, because, let's face it, I'm not exactly an Asian recipe expert.
Unlike my beautiful friends Maggie from Omnivore's Cookbook, Kathleen from Hapanom and Nagi from Recipe Tin Eats (you've just got to check these girls out – the word 'talented' just doesn't cover it).
But however much of an amateur I feel, I can't help myself – I keep on posting my Asian recipe hacks. I would never for a moment claim them to be even remotely authentic, but what I will say is that they're always tasty and they're nearly always quick. And that's enough for me to feel enough confidence to post them! 🙂
So now that we've got that out of the way, I'm going to rave on about this 15-minute Shanghai chicken until I've got you racing into your kitchen to give it a go. Really, I should have called it 'Shanghai-style chicken' rather than just 'Shanghai chicken', but hey, let's not complicate things!
The first great thing about this is that there are relatively few ingredients in it. It isn't one of those recipes with only 5 or 6 ingredients, but there aren't too many more. Really, all there is to it is to fry some chicken chunks with ginger, salad onions, Chinese 5-spice powder (LOVE that!), garlic and chili. Then you simply add rice wine, soy sauce, brown sugar and a few drizzles of water.
Let everything bubble away for a few minutes, and in hardly any time at all you've got a delicious pan of dark, sticky, and super flavourful chicken.
This simple chicken isn't super, super saucy (which I always worry about as Mr. Scrummy is such a sauce addict!), but you really don't need too much sauce as it's so rich and packed full of flavour.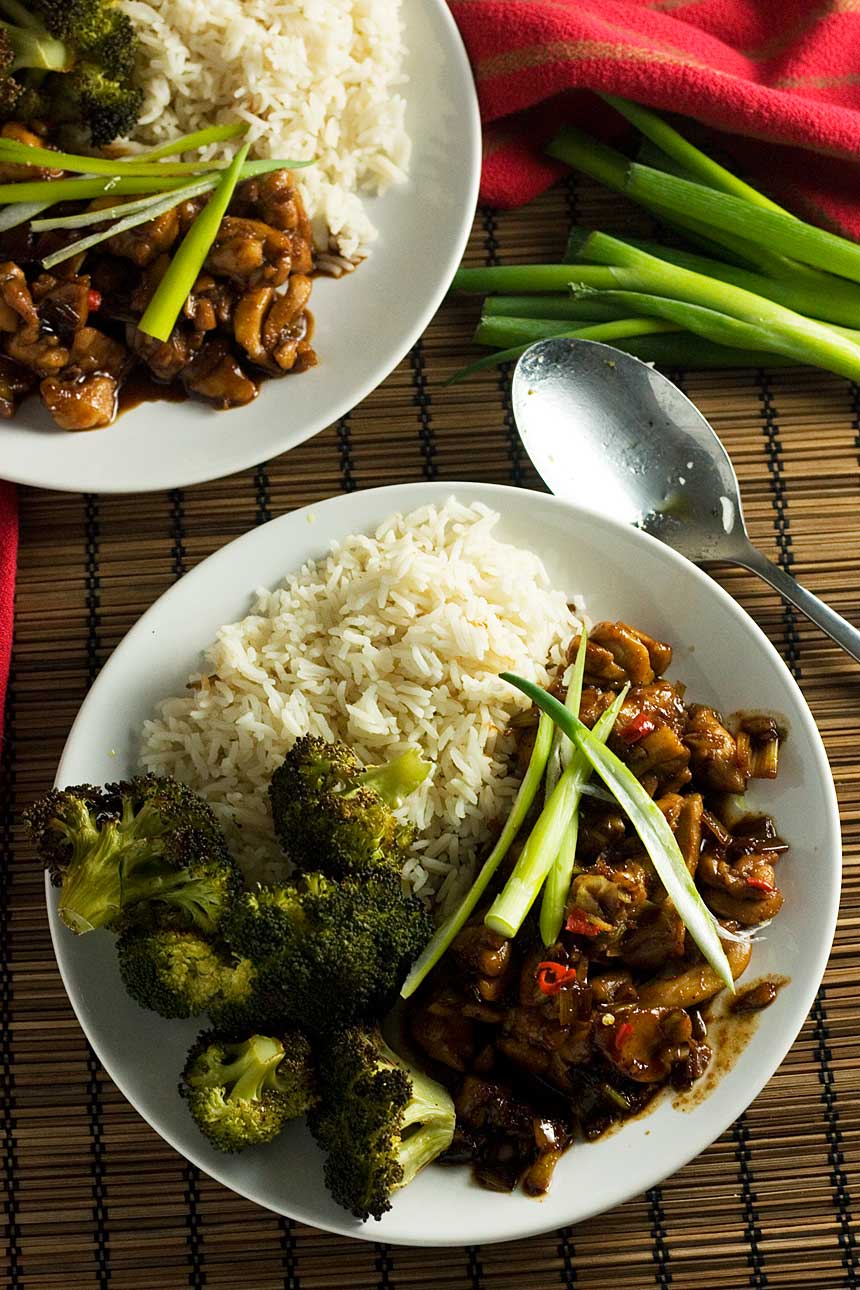 We found that the perfect way to eat this amazing 15-minute Shanghai-style chicken was with a pile of plain rice to get coated with all the lovely rich glaze. I also served ours with a nice pile of crispy roasted broccoli (mmm – addicted to that lately) and a few shreds of the green leafy part of the salad onions.
I'd say this is a pretty perfect quick mid-week meal. Something a little bit different. If you happen to be from Shanghai you're probably giggling your head off at me right now. Hahahaha … Shanghai chicken, my foot.
But hey, who cares if it isn't totally 'authentic'? Not me! 😉

15-minute Shanghai chicken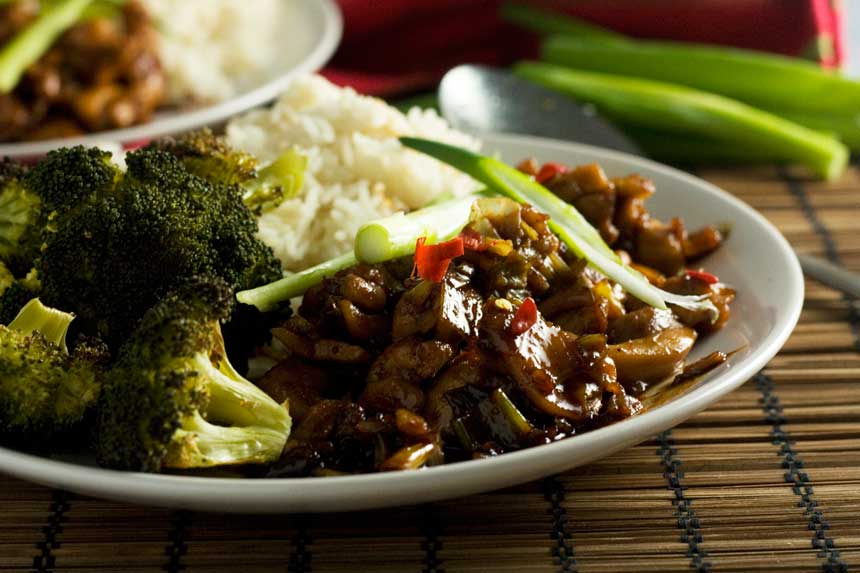 A sticky, full-of-flavour mid-week chicken dish made with soy sauce, Chinese rice wine and brown sugar. On the table in only 15 minutes!
Ingredients
a large drizzle of sesame or vegetable oil
4 chicken thighs, chopped into small (2cm, roughly) pieces
a thumb-width size piece of ginger, peeled and chopped finely (or grated)
a small bunch of salad/spring onions, washed and chopped (reserve the green tops)
1 good teaspoon Chinese 5-spice powder
1 red chili, finely chopped
2.5 tablespoons Shaoxing rice wine (or dry sherry)
2 tablespoons soy sauce
2 tablespoons brown sugar
3 tablespoons water
Instructions
Heat up the oil in a frying pan, then stir-fry the chicken for a few minutes until white and mostly cooked.
Add the ginger, salad/spring onions, Chinese 5-spice powder and half the chili and stir-fry for another few minutes until fragrant.
Finally, add the rice wine, soy sauce, brown sugar and water, then let bubble for about another 5 or 6 minutes or until dark and sticky. Stir every now and again.
Serve with rice and roasted broccoli (or another vegetable of your choice) and garnish with thin strips of the reserved green parts of the salad/spring onions.
Notes
Adapted from Waitrose Magazine, February 2016.

Made one of my recipes? Take a pic and tag @scrummylane on Instagram so I can see it!
You can also find more from Scrummy Lane on Facebook, Pinterest, Twitter and Instagram and follow me on Bloglovin! Thanks so much for reading!