Introducing Shanghai chicken – a richly-flavoured sweet and sticky Chinese chicken stir-fry! It's ridiculously quick and tasty enjoyed with some plain white rice – ready and on the table in only around 15 minutes. This is so perfect for a super easy but restaurant quality mid-week meal.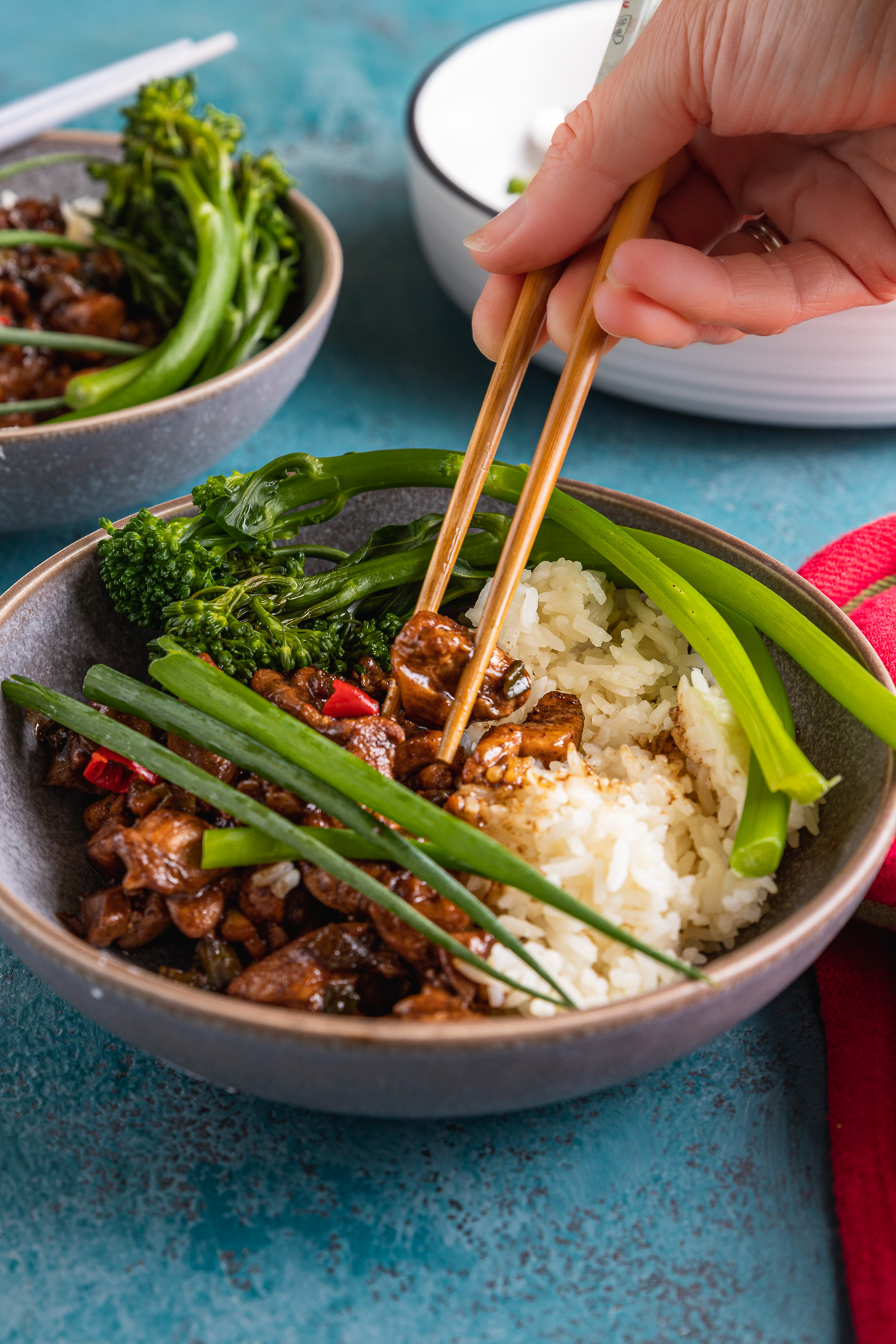 What is Shanghai chicken and why you'll love it
Shanghai chicken is a super quick and easy Chinese stir fry made with small bites of chicken thigh. The chicken gets tossed with garlic, ginger, and spring onions and coated in an intensely flavoured and slightly sticky dark sauce. Serve with white rice to mop up the lovely sauce and perhaps some green veggies on the side.
What's great about it?
This stir fry is made with just a few ingredients and…
But you get a restaurant quality meal full of umami flavour (for a small amount of effort).
It's on the table in 15 to 20 minutes.
It reheats well so makes great lunch leftovers. Make more to be sure of getting plenty of leftovers!
I should call this Shanghai style chicken because I can't claim it's completely authentic. Like most of my other easy Asian recipes, I use the least amount of ingredients and steps to get the most flavour.
I'm hoping that by the time I've finished here I'll have you racing into your kitchen to give this a go! It's almost faster to make it than it is to order a takeaway. Other 'fakeaway' style favourites include include Indonesian 30-minute mee goreng, 20-minute chicken and cashew nuts with peppers and Chinese chicken pineapple stir-fry in case you're tempted to try them too!
About the ingredients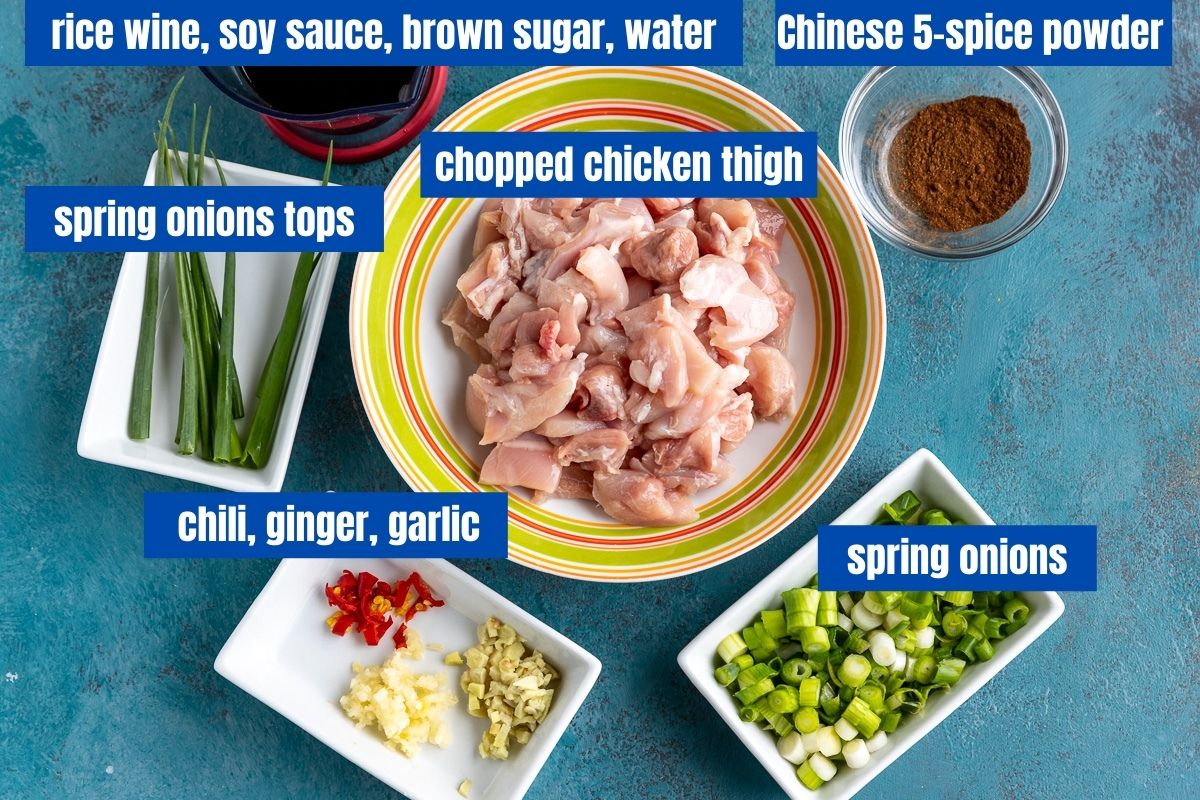 One of the best things about this recipe is that there are only a few ingredients. But not at the expense of great flavour! Here's what you'll need:
Oil for cooking the chicken: I usually use vegetable oil, but really any is fine. Avocado, canola and peanut oil are particularly good options. Sesame oil also works well for an extra hit of flavour.
Chicken thighs: You'll need around a pound/500 grams of skinless boneless chicken thighs to make this. I find that's usually 3 to 4 medium to large chicken thighs.
Ginger: A thumb-width size piece of fresh ginger, peeled and sliced thinly. I'm generous with the amount so that you can really taste the ginger. For convenience I keep chopped pieces of ginger in the freezer for meals (and smoothies!).
Garlic: 2 big cloves, crushed.
A bunch of spring onions (sometimes called scallions or salad onions): A bunch varies in size, but I usually use 5 to 8 spring onions. I keep some of the green tops to garnish the finished dish, which looks really pretty.
Chinese 5-spice powder: You could say this is the 'secret' ingredient. Don't skip it. It's worth buying some especially if you don't already have it.
A red chili: 1 chilli doesn't sound like a lot but I find it's enough. I usually slice it as finely as I can, including around half the seeds for just the right amount of spice. Feel free to use 2 chilis instead of 1 or include more of the spicy seeds. Half of the chili goes in the dish and the other half sprinkled over the top to serve.
For the Shanghai sauce
Shaoxing (Chinese) rice wine: This is widely available in supermarkets, but Japanese mirin or even dry sherry work too.
Soy sauce: Any you happen to have is fine.
Brown sugar: 2 tablespoons of brown sugar gives the sauce a fairly subtle but delicious dark and caramel-y sweetness.
Water: Add 3 tablespoons to the sauce before adding it to the pan.
How to make this dish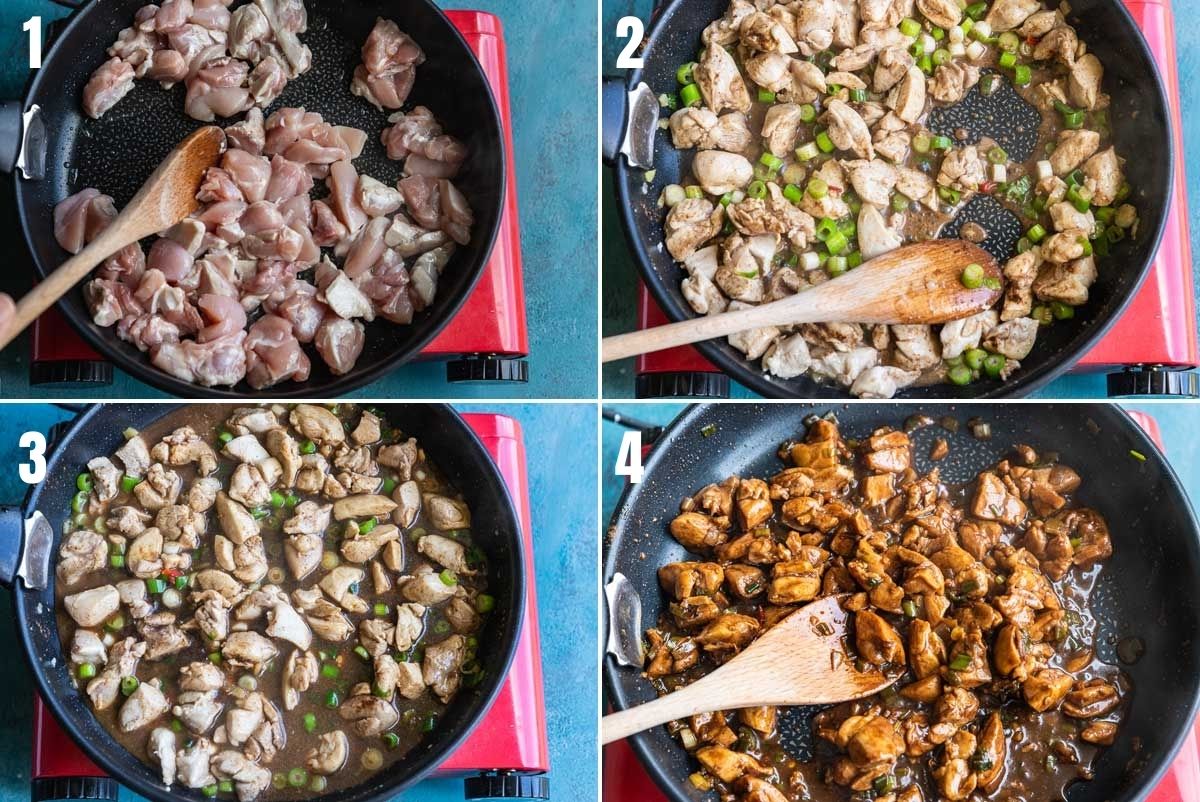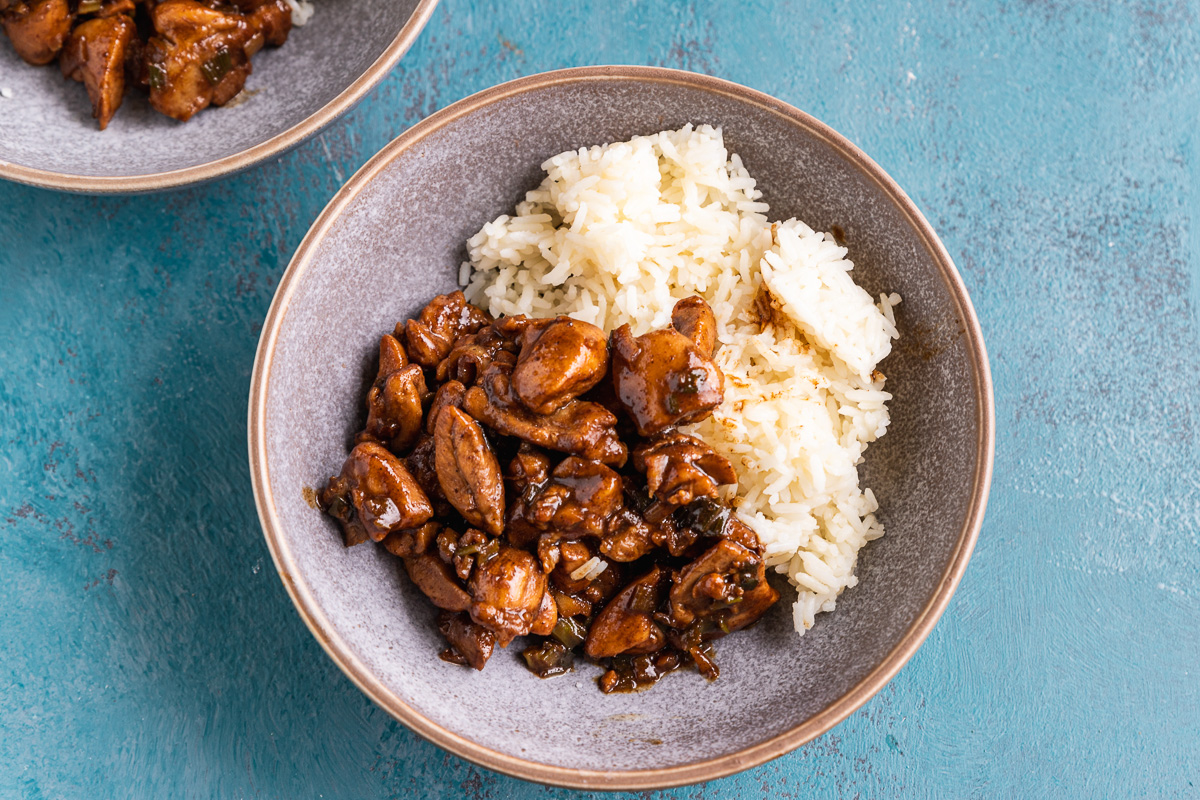 As I've already said, this is a very quick and easy dish. It can be on the table in 15 to 20 minutes, especially after you've made it a few times already.
Really, all there is to it is to fry the chicken chunks for a few minutes until mostly white. Wait until the pan is really hot (starting to smoke) for the best results. Then add the ginger, salad onions, Chinese 5-spice powder, garlic and chili and stir fry again for around a minute.
Then you add the sauce. Just whisk together the rice wine, soy sauce, brown sugar and a few drizzles of water before you start cooking so that it's all ready to go.
Let everything bubble away for a few minutes, and in hardly any time at all you've got a delicious pan of dark, and slightly sticky chicken. The exact cooking time can depend a little on the size of the chicken thighs and the pan you use. You're looking for the sauce to be reduced by at least half and slightly thickened so that it coats the chicken all over.
You'll find the chicken isn't super saucy, but it's rich and packed full of flavour.
How to serve it
I think the best way to eat chicken Shanghai is very simply, with a pile of plain rice to get coated with all the lovely rich glaze. I prefer jasmine rice! I also like to serve it with broccoli on the side. Cook it any way but I tend to just steam in the microwave in a covered container with a little water for 3 or 4 minutes for ease.
Don't forget to garnish with a bit of chopped red chili and shreds of the green leafy part of the salad onions.
You could even sprinkle the chicken with some toasted sesame seeds, if you happen to have some.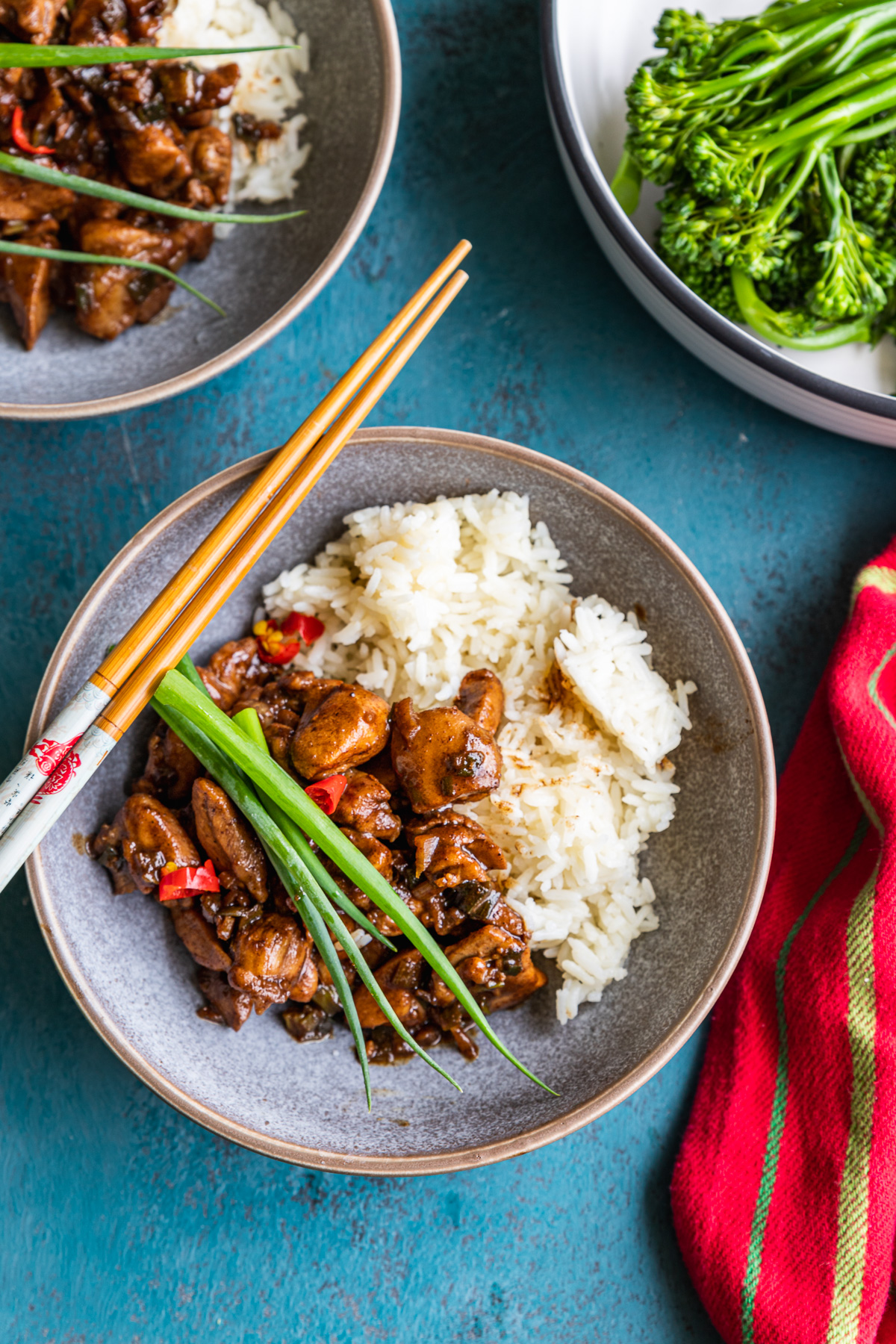 More things to know (recipe FAQ)
What kind of pan should I use?
A medium-sized wok is great but if you don't have one just use a frying pan.
Can I use chicken breast instead?
Yes, you can. In fact you may prefer this as you can buy the chicken ready-chopped which will save you even more time ;-). I prefer chicken thigh however as I find it more moist and forgiving whereas breast can easily become dry if you overcook it by a minute or two.

If you do choose to use chicken breast pieces, cook the chicken until it's just done and the sauce has just thickened.
Can I use ground ginger instead of fresh?
Yes, that's fine. Just use 1/4 teaspoon of ground ginger in this recipe if you don't have any fresh. You can use garlic powder too if you've run out of fresh. A small teaspoon should be about right.
What can I use instead of Shaoxing wine?
Shaoxing wine is a Chinese cooking wine. If you like, instead of buying some especially for this recipe you can substitute it with Japanese mirin or even sherry.
How spicy is this?
This dish isn't super spicy. The one chopped chili just adds a little hint of heat. Feel free to double the amount of chili if you'd like the dish spicier, or even skip it altogether (if you're feeding young kids, for example).

I sometimes vary the heat by adding more or less of the chili seeds. If it's a small chili I might include all the seeds. If it's a large chili I might just add half so that it's not overwhelmingly spicy.
How do I know when it's ready?
The first few times I made this, I wasn't quite sure when the chicken and sauce was ready. Don't stress too much. Just let it bubble away on a medium to high heat, stirring regularly, until the sauce has reduced by at least half and thickened slightly.

In general, the sauce will be ready within 5 to 10 minutes. It may start to go a bit sticky or you may find it doesn't. Either is OK – the sauce will be delicious either way!
Can I double the ingredients?
Yes, that would be fine. This recipe serves 2 to 3 with rice and a vegetable side, so if you'd like to feed a bigger family go ahead and double the ingredients. The recipe will probably take just a little longer if you do this – say 20 to 30 minutes to allow for chopping up more chicken.

If you have a very large wok it will be fine to cook all the chicken at one time. If your wok is medium-sized or you're using a frying pan, it's best to cook the chicken in 2 batches. Put the first batch back into the pan after the second is cooked and then add in the sauce as you would normally.
Can I reheat it?
Actually, it reheats really well. I've eaten leftovers the next day for lunch many times, and it's just as delicious. Just reheat gently in the microwave or in a pan. Add a splash more water if you like.
More 15-minute meals
Or see all easy midweek meals.
IF YOU MAKE THIS RECIPE, LET ME KNOW HOW YOU GET ON BY LEAVING A COMMENT AND RATING BELOW… AND DON'T FORGET TO SIGN UP TO RECEIVE ALL MY NEW RECIPES BY EMAIL!
FOLLOW ME ON FACEBOOK, INSTAGRAM, PINTEREST AND YOUTUBE.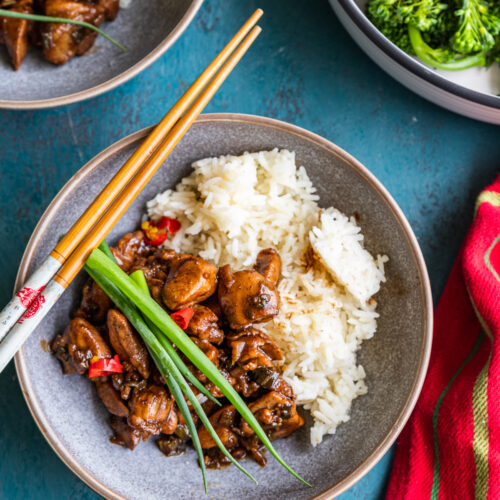 Shanghai Chicken (15-minute meal)
A mildy sticky and spicy full-of-umami-flavour mid-week Chinese chicken stir-fry made with spring onions and garlic, soy sauce, Chinese rice wine and brown sugar. You won't believe how easy and delicious this is, and it's on the table in around 15 minutes!
Equipment (affiliate links)
Ingredients (UK/Australia? Click below for grams/ml)
2½

tablespoons

Shaoxing rice wine

substitute Japanese mirin (rice wine) or dry sherry

2

tablespoons

soy sauce

2

tablespoons

brown sugar

3

tablespoons

water

1

tablespoon

oil

vegetable, avocado, canola, or sesame

1

pound

chicken thighs

bone in, skin off and chopped into small (about 2cm) pieces (3 to 4 thighs)

1

piece

ginger

peeled and chopped finely or grated (a thumb-width piece – I usually go generous) Substitute: ¼ teaspoon ground ginger

2

garlic cloves

crushed (substitute: 1 teaspoon powdered garlic)

1

bunch

spring onions

salad onions / green onions / scallions (US), washed and chopped (reserve the green tops) I usually use between 5 to 8.

1

teaspoon

Chinese 5-spice powder

1

red chili

finely chopped (increase to 2 chilis if you want it spicier)
Instructions
Whisk together the rice wine, soy sauce, brown sugar and water in a small bowl or jug, and set aside.

2½ tablespoons Shaoxing rice wine,

2 tablespoons soy sauce,

2 tablespoons brown sugar,

3 tablespoons water

Heat up the oil in a frying pan until starting to smoke. Stir-fry the chicken for 2 to 3 minutes until white and mostly cooked.

1 tablespoon oil,

1 pound chicken thighs

Add the ginger, garlic, salad/spring onions, Chinese 5-spice powder and half the chili and stir-fry for another minute until fragrant.

1 piece ginger,

2 garlic cloves,

1 bunch spring onions,

1 teaspoon Chinese 5-spice powder,

1 red chili

Pour in the sauce mixture, then let bubble for about another 5 or 6 minutes or until reduced by at least half, glossy and slightly thickened. Stir every now and again.

Serve with rice and broccoli (or bok choy/another vegetable of your choice). Garnish with the rest of the chili and thin strips of the reserved green parts of the salad/spring onions.
Notes
Substitutions: Use Japanese mirin or sherry in place of Shaoxing rice wine. Use 1/4 teaspoon ground ginger instead of fresh. Use 1 teaspoon garlic powder instead of 2 fresh cloves. For gluten-free: This can make a good gluten free meal option. Just check that all of your sauce ingredients (soy sauce etc) are actually gluten free. How to know when it's cooked: The time it takes for your chicken to go dark and slightly sticky may depend on the size of your chicken thighs / your pan. Don't worry if you have to cook the chicken for a few minutes longer. If you use chicken breasts, however, be wary of cooking the chicken for too long. Just cook until the sauce has reduced by around half and has slightly thickened.
Nutrition
Calories:
667
kcal
Carbohydrates:
20
g
Protein:
40
g
Fat:
45
g
Saturated Fat:
11
g
Polyunsaturated Fat:
10
g
Monounsaturated Fat:
20
g
Trans Fat:
1
g
Cholesterol:
222
mg
Sodium:
1190
mg
Potassium:
685
mg
Fiber:
1
g
Sugar:
14
g
Vitamin A:
517
IU
Vitamin C:
36
mg
Calcium:
64
mg
Iron:
3
mg