You might know that chicken katsu is Japan's answer to fried chicken, but did you know you could make it yourself in just a few simple steps? This version is very easy, and very crispy. Who needs to order takeout when you can have this homemade katsu on the table in just 45 minutes?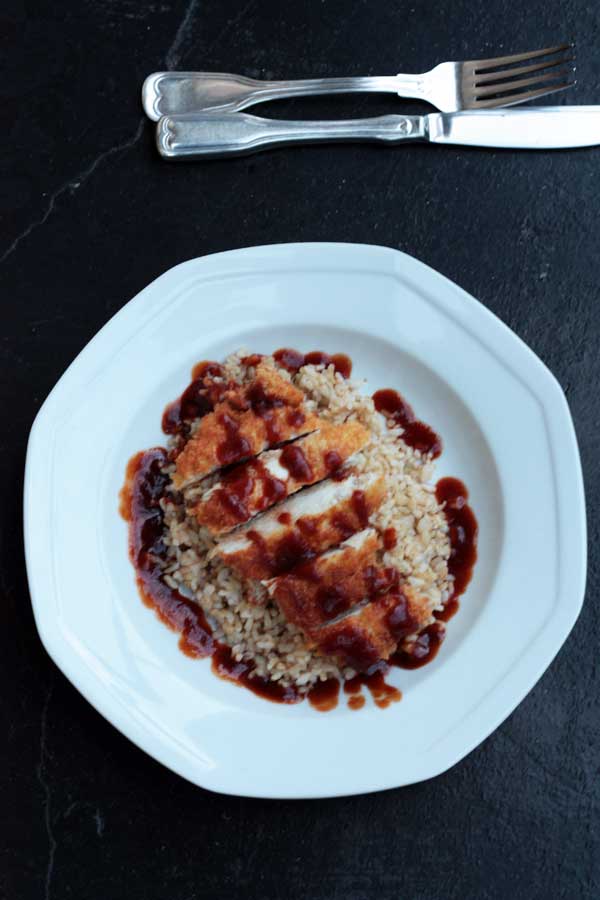 Erm… what's chicken katsu?
If 'chicken katsu' sounds unfamiliar to you, rest assured that it won't taste that unfamiliar. If you want to be really simple about it (and I do) then I'd say chicken katsu is almost like a schnitzel, or chicken coated in crispy breadcrumbs.
A Japanese schnitzel, you could say! The only difference is that this schnitzel is served over rice and there's a delicious but very easy 4-ingredient sauce on the side.
Have I caught your attention yet?
What's tonkatsu sauce?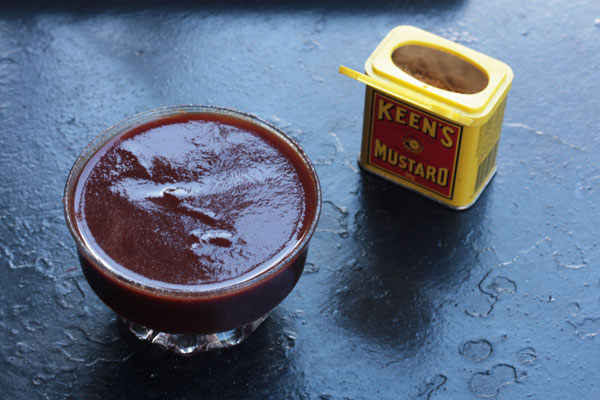 The sauce that you serve with this Japanese fried chicken recipe is a very simple sauce made out of just 4 pantry ingredients – mustard, ketchup, Worcestershire sauce and soy sauce. It tastes kind of like a thick, sweet BBQ sauce!
The great thing is that there is nothing to cook. You just mix the 4 ingredients together to make it.
If you prefer you can even just buy a bottle of tonkatsu sauce. I usually make my own however as it isn't always easy to find.
Fan of crispy foods? You've come to the right place!
There are two main reasons why I think you should make this chicken katsu recipe above any other.
1. It's a very simple version – ready in around 45 minutes. 2. The chicken is super crispy, thanks to a 'secret' tip.
I'm sold! How do you make it?
Chicken katsu is really easy to make yourself in just a few simple steps.
Step 1: Make the tonkatsu sauce. I say 'make' but really all you do is whisk the 4 simple ingredients together! Prepare some rice.
Step 2: Coat thin slices of chicken breast in breadcrumbs, then coat them again.
Step 3: Pan fry the chicken, then slice.
Step 4: Slice the chicken. Serve over rice and with tonkatsu sauce drizzled over the top. Mmm!
Tip: Slice the chicken breasts into two horizontally with a sharp knife. Then cut each thin piece of chicken into two width wise. This way you end up with small pieces of chicken that cook really quickly. Don't be tempted to overcook the chicken! It only needs a few minutes on each side.
Can you cook the chicken in an air fryer?
Yes, absolutely! Simply spray the breaded chicken lightly with oil, then 'fry' for around 5 minutes on each side.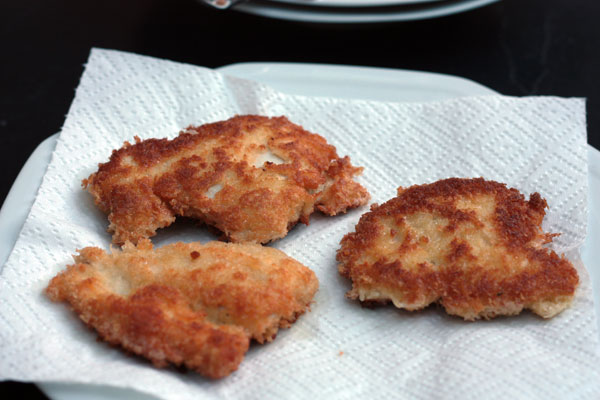 How do you eat katsu?
This is how you serve chicken katsu:
Slice the chicken.
Lay it across a portion of rice.
Drizzle tonkatsu sauce over the top.
Serve with (optional) crispy lettuce leaves on the side.
Really like the look of this recipe? You might also enjoy my easy chicken katsu curry. It's basically a very similar recipe to this one, but with an easy homemade curry sauce.
IF YOU MAKE THIS RECIPE, LET ME KNOW HOW YOU GET ON BY LEAVING A COMMENT AND RATING BELOW… AND DON'T FORGET TO SIGN UP TO RECEIVE ALL MY NEW RECIPES BY EMAIL!
FOLLOW ME ON FACEBOOK, INSTAGRAM, PINTEREST AND YOUTUBE.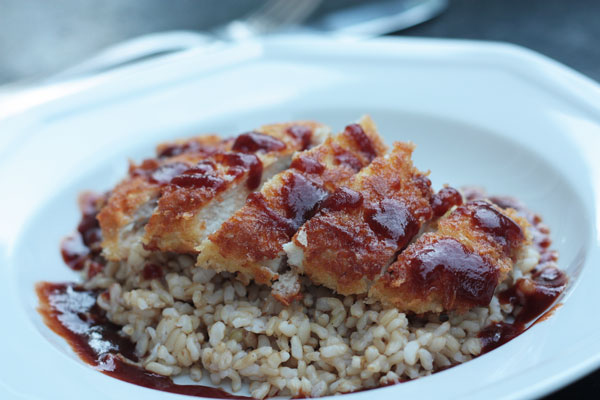 Super crispy chicken katsu
This super easy version of Japan's answer to fried chicken could easily become a go-to week-day meal that everyone will enjoy!
Ingredients (UK/Australia? Click below for grams/ml)
For the chicken
2

chicken breasts

boneless skinless

salt & pepper

1

egg

beaten

1½

cups

panko breadcrumbs

olive or vegetable oil for shallow frying
For the tonkatsu sauce
1

teaspoon

mustard

e.g. Dijon mustard (or ½ teaspoon dry mustard powder + 1 teaspoon water)

½

cup

ketchup

2

tablespoons

Worcestershire sauce

2

teaspoons

soy sauce
To serve
white rice

crisp salad leaves

a vegetable side such as broccoli or stir fried vegetables (optional)
Instructions
Make the sauce. Mix together the mustard, ketchup, worcestershire sauce and soy sauce. Put aside.

Slice each chicken breast in half horizontally with a really sharp knife, then cut each in half width-ways. Season the chicken with salt and pepper on both sides.

Spread the panko breadcrumbs out on a plate and whisk the egg in a dish.

Dip each piece of chicken in the egg and then in the breadcrumbs until it is totally covered in the crumbs. Shake then dip in the egg and crumbs a second time. Place the crumbed chicken pieces on a large plate.

At this point, put your rice in to boil or steam while the chicken is cooking.

Pour enough oil into a frying pan (skillet) to barely cover the bottom and heat it up. When it is hot enough (test by dropping a few breadcrumbs into it and If it sizzles energetically, it's ready!), place a few pieces of the crumbed chicken at a time into the pan. Fry for about 3 minutes on each side or until golden brown.

Drain any excess oil from the chicken on paper towels, then slice each piece of chicken width-ways into strips about 1 inch thick.

Serve immediately on top of your cooked rice. Drizzle a little of the tonkatsu sauce over the top of the chicken and around the rice. Serve extra on the side for dipping!
Notes
Adapted from this recipe from Rasa Malaysia.
Chicken
Double coating the chicken in breadcrumbs makes sure it's nice and crispy. Don't be tempted to overcook it. A few minutes on each side should be long enough for crispy, moist chicken.
Pan fry or air fry?
If you have an air fryer, this recipe is ideal for it. Spray your breaded chicken all over with a light coating of oil, then 'fry' for about 5 minutes on each side.
Sauce
If you like use store bought sauce to make this recipe even easier.
How to serve
Chicken katsu is usually served over rice and with tonkatsu sauce drizzled over. If you like you can serve some fresh crunchy lettuce leaves on the side.
I sometimes serve a fresh vegetable or some stir fried vegetables on the side too. Delicious!
Nutrition
Calories:
553
kcal
Carbohydrates:
52
g
Protein:
58
g
Fat:
11
g
Saturated Fat:
3
g
Cholesterol:
226
mg
Sodium:
1697
mg
Potassium:
1280
mg
Fiber:
2
g
Sugar:
18
g
Vitamin A:
494
IU
Vitamin C:
7
mg
Calcium:
134
mg
Iron:
5
mg