This easy baked chicken with feta will take minutes to prepare with just 5 simple ingredients, but it will taste like it took you hours! Simply pile tangy feta cheese onto thin chicken breasts, drizzle with bright lemon juice and olive oil, scatter over dried oregano and bake.
Your dinner will be on the table in under 30 minutes!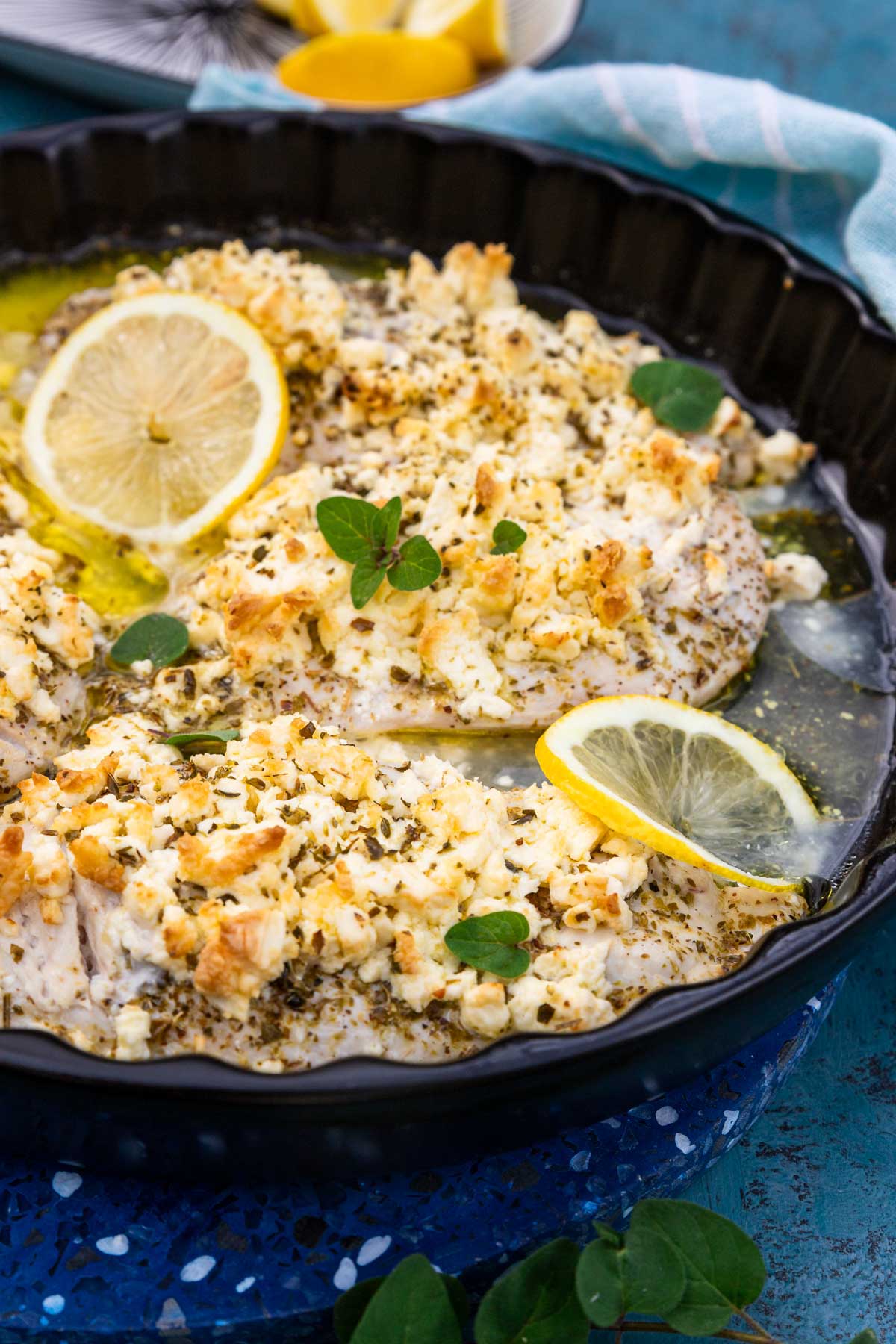 Why you'll love it
Ridiculously easy but bursting with flavor with just 5 ingredients (plus salt and pepper!). Grab chicken breasts, a lemon and feta from the store, and dried oregano and olive oil from the pantry. It's a perfect easy weeknight dinner!
Juicy and tender texture. The feta, lemon and oil keeps the meat moist while baking. As a bonus, the melty feta cheese crisps on top slightly, creating a fine and very tasty 'crust'.
A crowd pleaser. With the easy cheesy feta topping and lemony flavor, there's a good chance this could become a family favorite.
Budget friendly. With an easy side dish or two, this baked feta chicken can easily serve 4 with just 2 large chicken breasts.
Tasty leftovers. Use in sandwiches or salads for a delicious lunch the next day!
Ingredients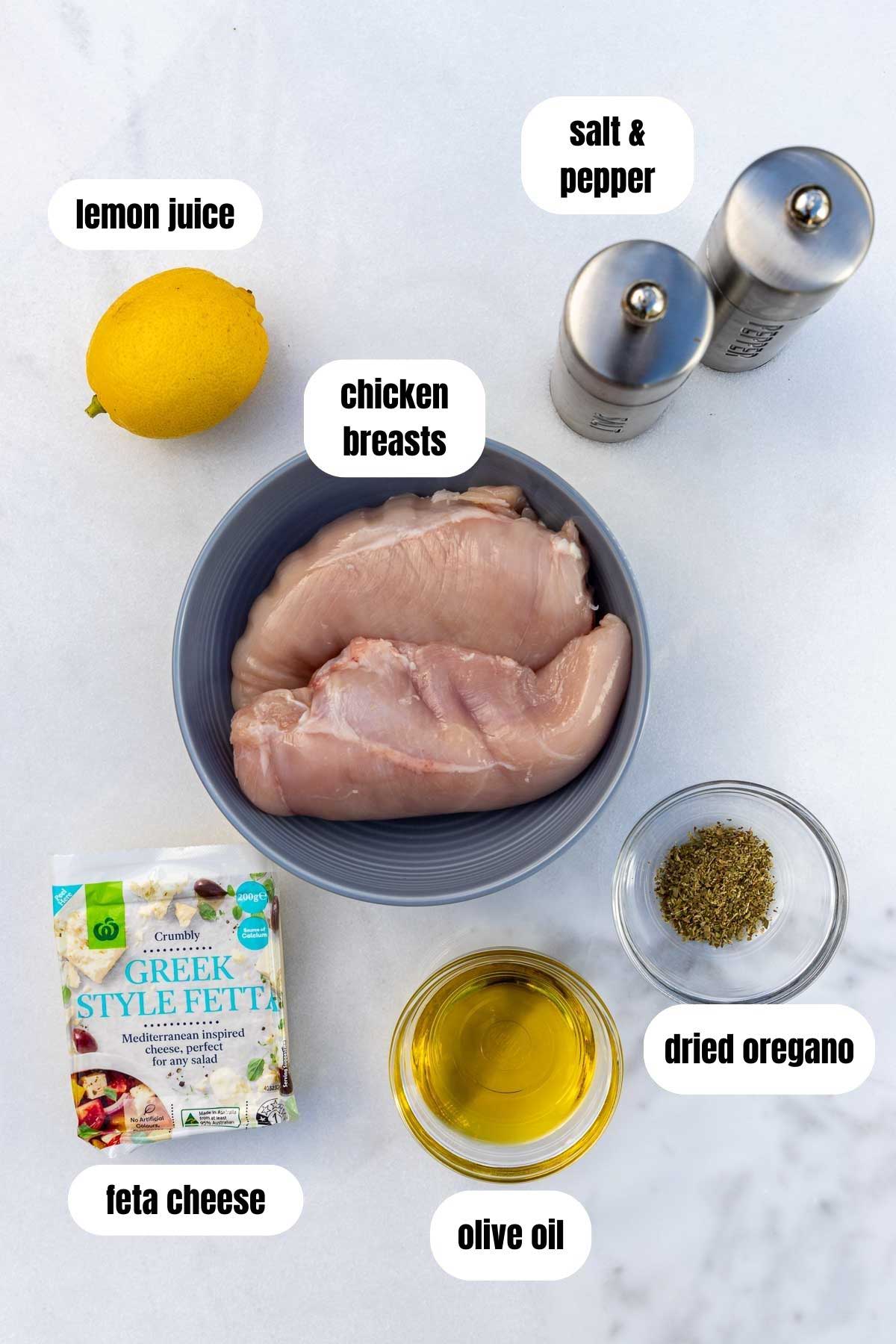 Chicken breasts: I find the chicken breasts at my local supermarket are usually quite large. So for this recipe I slice them in half across the width to cut down on the cooking time and keep them juicy and tender.
If on the other hand the chicken breasts you buy are quite small, you can use them in the recipe as is. Just pound them to an even thickness between two sheets of plastic wrap (to no more than 2cm thick) with a rolling pin or mallet.
Feta cheese: I usually try to buy an authentic Greek brand or Greek style feta cheese. Alternatively, there are the slightly creamier, softer types such as Danish or French feta which can also work well.
Olive oil: You'll want to drizzle a little bit more olive oil than seems necessary all over the dish before baking the feta chicken! It adds flavor, moisture and creates a light 'sauce' together with the lemon juice and cheese.
I like to use extra virgin olive oil for the best flavor.
Lemon juice: Since lemon is a key flavor in the dish, I squeeze the juice of a whole lemon over the chicken. A small to medium lemon is perfect.
Dried oregano: Oregano goes well with the lemony feta Greek vibe of this recipe. However, feel free to substitute with a different dried Mediterranean herb such as basil or thyme.
No oregano in the pantry? See my list of easy oregano substitutes.
Salt and pepper: Seasoning the chicken generously on both sides before adding the breasts to your baking dish makes a big difference to the overall flavor.
How to make baked chicken with feta
First, pre-heat the oven to 410F/210C. Slice two large chicken breasts in half across the width. Be careful of your fingers!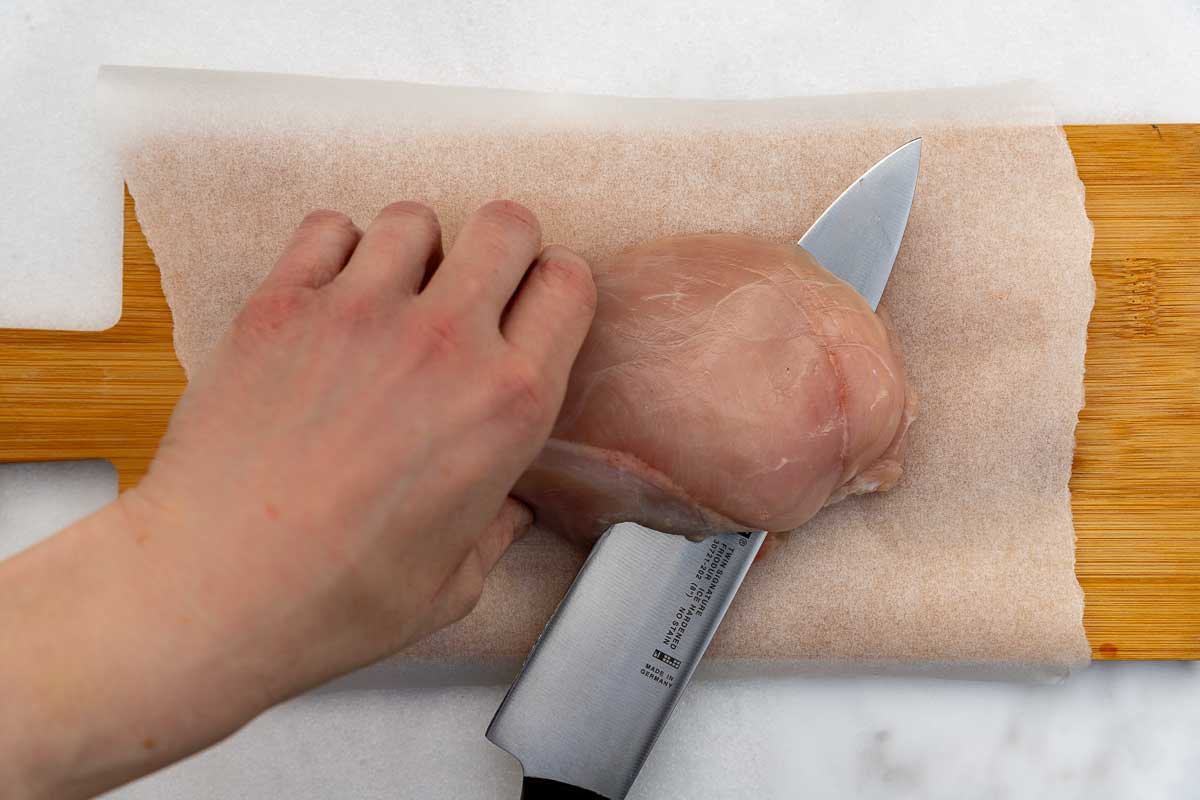 Place the chicken breast halves in a large baking dish in a single layer. Season generously with salt and pepper.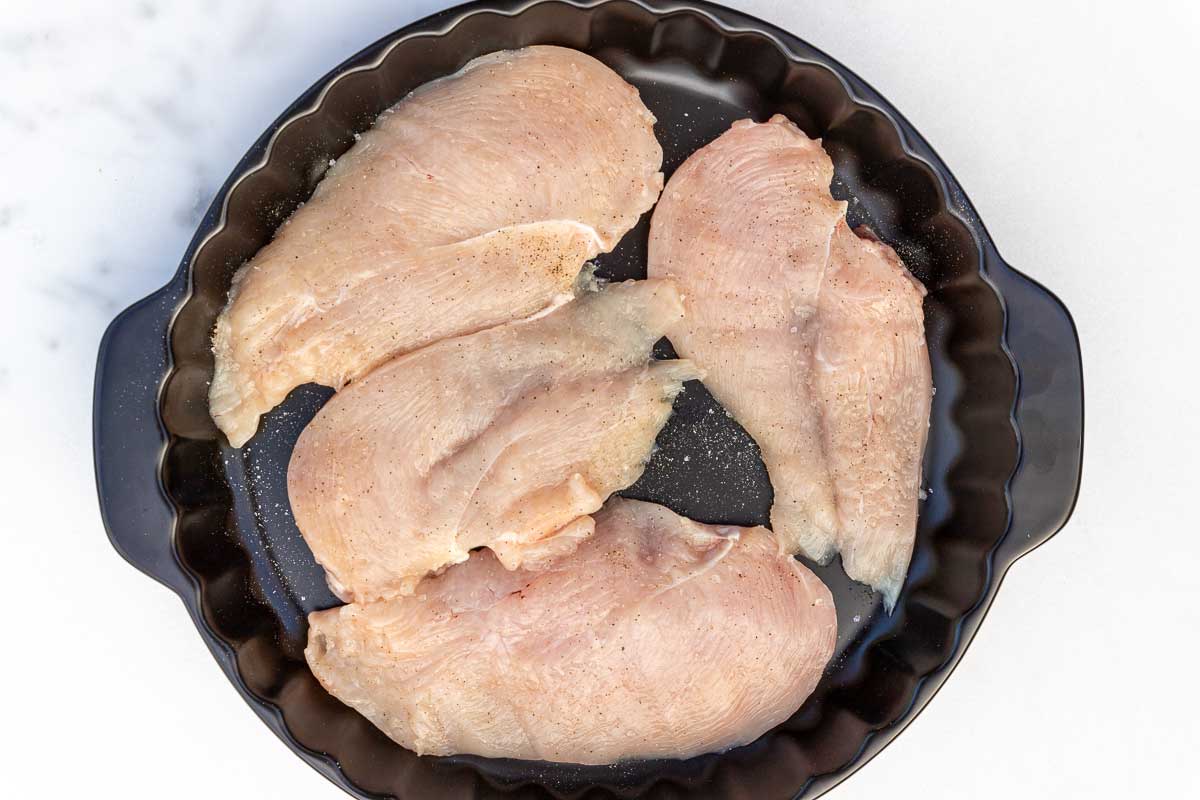 Pile crumbled feta cheese onto each breast. I usually crumble as I go. And don't be shy! You want plenty on top of each piece of meat.
Now scatter over the oregano, and drizzle over the lemon juice and olive oil.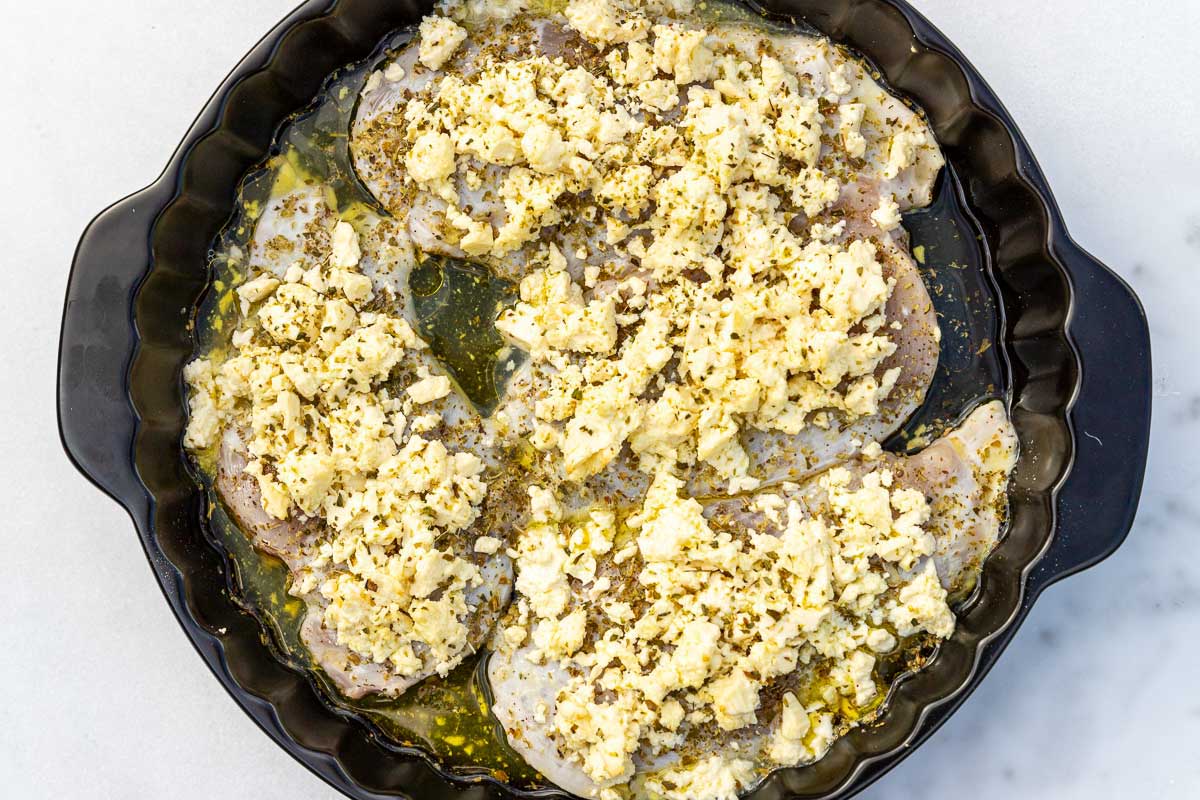 Bake for around 15 to 20 minutes, or until the internal temperature has reached 165F/74C. Decorate with lemon wedges if you like.
Helen's top tips
Don't be tempted to use whole chicken breasts, unless they're really small and thin ones. I've tried this, and it's hard to cook the inside enough without overcooking the outside. Instead, either slice in half across the width (watch your fingers!), or alternatively place between two layers of plastic wrap and hit with a rolling pin or meat mallet until around 2cm thick.
Don't be shy with any of the ingredients! You want a nice pile of cheese crammed onto each piece of chicken. And plenty of the other ingredients too, since there are so few.
If you don't already have one, I highly recommend buying a simple meat thermometer. It just takes the stress out of knowing if your chicken is properly cooked. It's cooked when the internal temperature reaches 165F/74C.
Following on from the above, don't be tempted to overcook the chicken. Use a thermometer, or cut into the thickest part of the chicken breast. If the meat is white throughout with no traces of pink and the juices run clear, it is ready.
Serving ideas
You could serve this lemony feta baked chicken in so many ways! But since it's super easy to make, I suggest keeping any side dishes simple, too.
An alternative veggie side is these delicious and easy Mediterranean vegetables, which can be in the oven at the same time as the chicken. Prefer something orange on the plate? Try this sautéed butternut squash instead (also works with pumpkin or sweet potato!).
Alternatively, why not serve with french fries and a simple salad such as maroulosalata AKA Greek lettuce salad?
Cooked rice or orzo pasta could be another simple side dish option. Keep them plain with the baked chicken and feta served on top with some of the lovely juices. Alternatively, how about this orzo pesto salad?
Top tip: Leftovers are absolutely delicious made into a fancy toastie/grilled cheese sandwich for lunch (or dinner – why not?).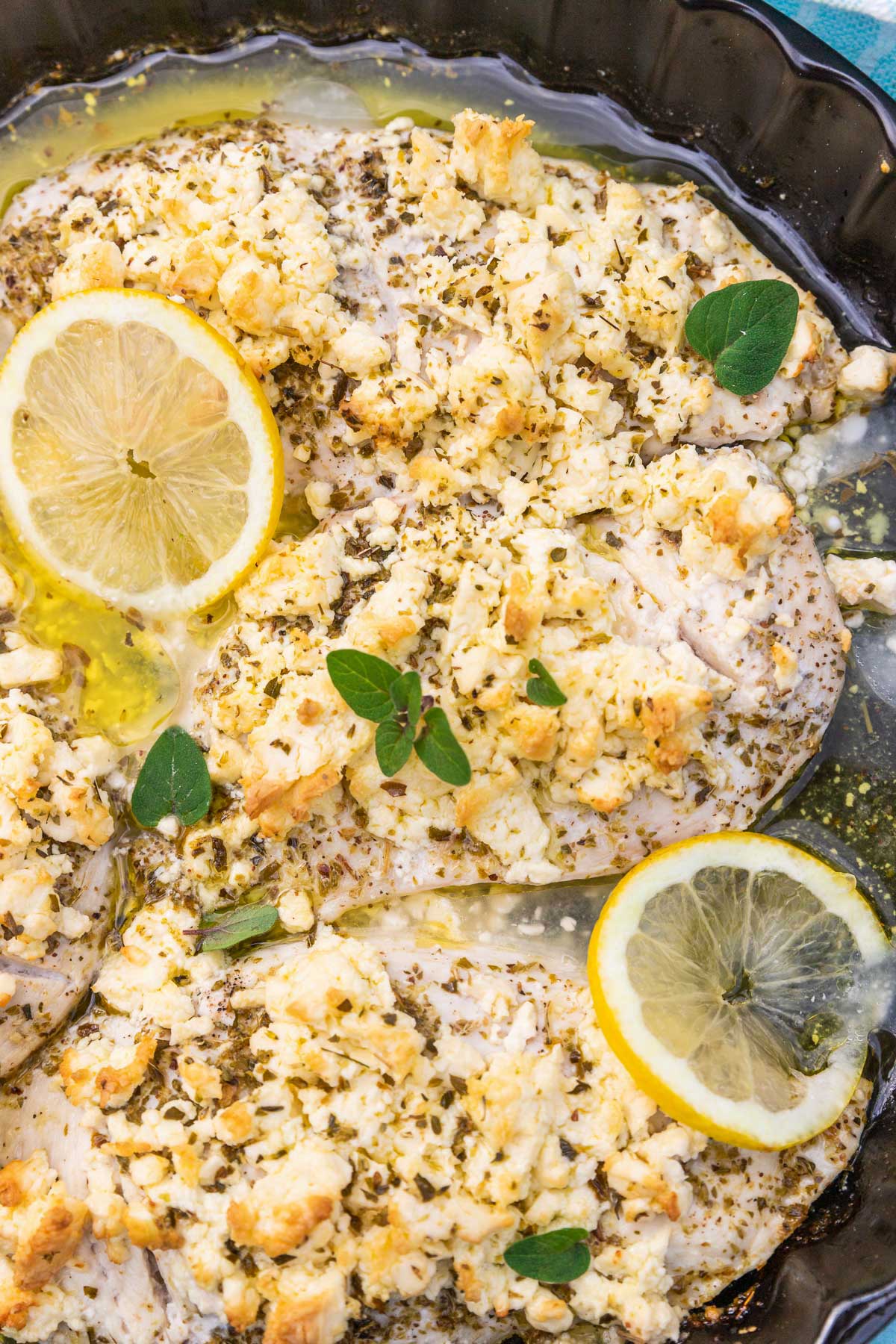 Variations
While I love to keep this dish a 5-ingredient recipe, here are a few ways to vary it slightly.
Cram a little finely chopped fresh spinach or arugula (rocket) onto the chicken, underneath the feta.
Add a few chopped sun-dried tomatoes with the feta.
Try with different dried herbs, such as basil, rosemary, thyme, or a Mediterranean herb blend.
For a little crunch, add some chopped nuts such as walnuts, pistachios or pine nuts to the dish.
Add fast-cooking vegetables to the dish such as cubed zucchini, cherry tomatoes, red onions or peppers.
Scatter over some pitted Kalamata olives or capers (or both) towards the end of the cooking time.
Add crushed or sliced garlic to the dish for extra depth of flavor. Alternatively, scatter over a little garlic powder.
Add some marinated artichoke hearts to the dish.
For a hint of spice, sprinkle over a pinch of cayenne pepper, red pepper flakes, or a finely chopped red chilli.
Recipe FAQs
Can I use chicken thighs instead of breasts?
Yes, you can. Simply fold out the thighs until they are flat and proceed with the recipe as with breasts. If the chicken is more than around 2cm thick, flatten it by hitting it with a rolling pin between two layers of plastic wrap. This baked feta chicken recipe will also work well using chicken tenderloins. You will probably not have to cut these in half.
Can I use other types of cheese instead of feta?
Yes, you can certainly try this recipe with other types of cheese. I would suggest goat cheese, ricotta, cubed halloumi, Greek kefalotyri or parmesan, but feel free to experiment with almost any type of cheese.
How long can you store the leftovers for?
You can store the baked Greek chicken breasts in the fridge for up to 3 days as long as it's well covered or in an airtight container. Reheat gently (on 80% power) in the microwave in 30-second bursts until piping hot again. Leftovers are great made into a toastie/grilled cheese sandwich for lunch!
Is this dish suitable for special diets such as gluten-free or keto?
Yes, this dish is naturally gluten-free and keto-friendly. It's a good option for those following low-carb or gluten-free diets.
IF YOU MAKE THIS RECIPE, LET ME KNOW HOW YOU GET ON BY LEAVING A COMMENT AND RATING BELOW… AND DON'T FORGET TO SIGN UP TO RECEIVE ALL MY NEW RECIPES BY EMAIL!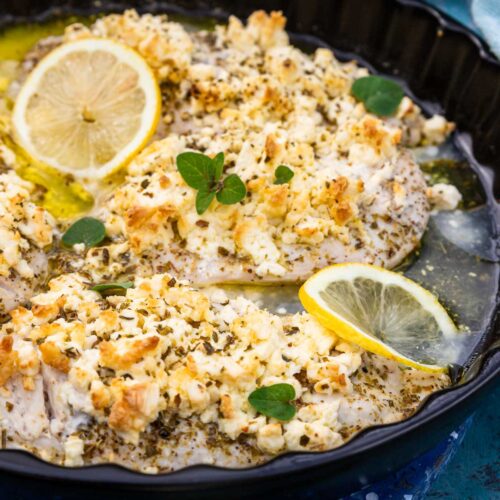 5-Ingredient Baked Chicken With Feta And Lemon
These juicy and tender chicken breasts with feta and lemon make a perfect crowd-pleasing midweek meal option! Simply cover thin chicken breasts with crumbled feta cheese, oregano, olive oil and lemon juice and bake for just 17 minutes. This is a restaurant-quality dinner that also happens to be gluten-free and keto-friendly, but no one will believe how easy it was to make.
Equipment (affiliate links)
Ingredients (UK/Australia? Click below for grams/ml)
2

chicken breasts

medium to large

salt and pepper

7

ounces

feta cheese

crumbled

1.5

teaspoons

dried oregano

¼

cup

olive oil

1

lemon

(juice)
Instructions
Pre-heat the oven to 410F/210C.

Use a large sharp knife to (carefully) slice each chicken breast in half across the width so that it's no more than roughly 2cm thick. Place in a medium to large baking dish. Sprinkle generously all over with salt and pepper.

2 chicken breasts,

salt and pepper

Pile the feta cheese (crumbled) onto the 4 chicken breast halves. Sprinkle with the dried oregano, then drizzle over the olive oil and lemon juice.

7 ounces feta cheese,

1.5 teaspoons dried oregano,

¼ cup olive oil,

1 lemon

Bake the chicken for around 17 minutes, or until the inside is 165F/74C. If you don't have a meat thermometer, it's ready when the inside is white in the thickest part and the juices run clear.
Notes
Chicken breasts: These are generally quite large where I live, so I slice them in half across the width using a very sharp knife. This way, they cook through in around 17 minutes. I also find that's enough meat for each person with simple sides.
If you prefer, place the meat between 2 sheets of plastic wrap and hit with a rolling pin or meat tenderizer until roughly 2cm thick all over. If you choose this method, 1 piece of chicken will serve 2 people, or you can cut them in half before baking.
How to serve: Serve with a simple veggie side dish such as 10-minute sautéed frozen broccoli or sautéed frozen green beans, or Mediterranean roast vegetables.
Add potatoes such as french fries or mashed potatoes (or simply toasted bread with olive oil and salt to keep things super simple).
Alternatively, serve on top of pasta, spooning over plenty of the sauce.
Variations: Switch the feta for a different cheese such as goat cheese, ricotta, parmesan/kefalotyri or even a strong cheddar. Add sundried tomatoes, jarred artichokes, olives, different dried herbs or spinach/arugula (rocket) under the feta cheese.
Storage: Once cooked, you can store the chicken in the fridge for up to 3 days as long as it's well covered or in an airtight container. Reheat gently (on 80% power) in the microwave in 30-second bursts until piping hot again. Leftovers are great made into a toastie/grilled cheese sandwich for lunch!
Nutrition
Calories:
389
kcal
Carbohydrates:
5
g
Protein:
31
g
Fat:
27
g
Saturated Fat:
9
g
Polyunsaturated Fat:
2
g
Monounsaturated Fat:
13
g
Trans Fat:
0.01
g
Cholesterol:
116
mg
Sodium:
698
mg
Potassium:
496
mg
Fiber:
1
g
Sugar:
1
g
Vitamin A:
262
IU
Vitamin C:
16
mg
Calcium:
269
mg
Iron:
1
mg