Greek chicken recipes are hands-down some of the best chicken recipes to have up your sleeve! Out-of-this-world delicious and healthy, they're also super easy to make with just a few simple ingredients and steps. Looking for midweek meal or dinner party ideas? They work equally as well for both!
Frankly, it's quite hard to choose the best. But from classic Greek chicken gyros or Greek chicken and potatoes to air fryer Greek chicken meatballs or a stovetop casserole, you're sure to find a family favorite in this list!
Scroll down to the end for some common FAQs about the recipes.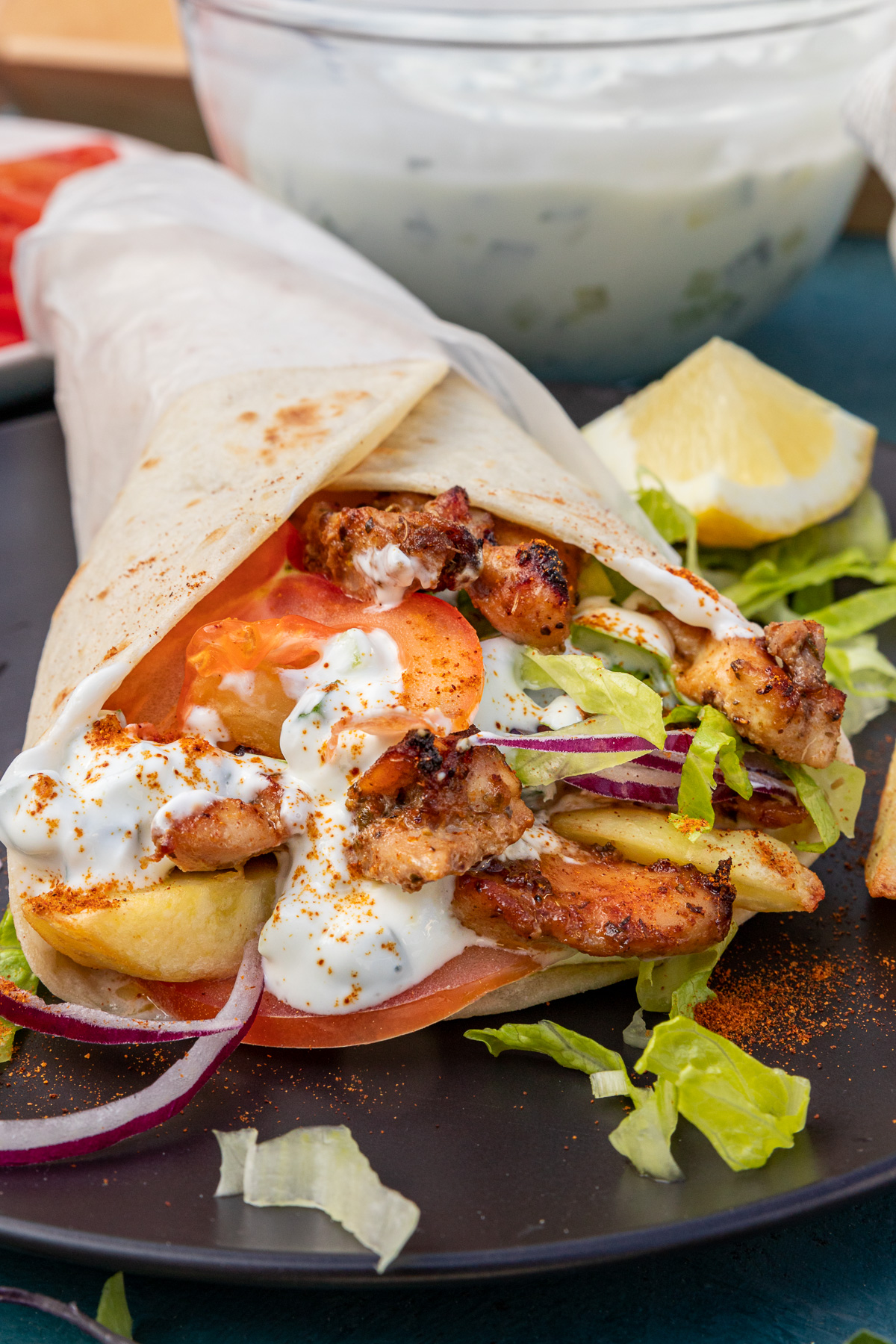 Have you ever grabbed an authentic Greek 'gyro' from a neighborhood 'souvlaki shop' in Greece? Well, now you can re-create the super tasty experience yourself at home and in only 30 minutes!
There's no need for a spit, just cook marinated chicken thigh pieces in your oven, wrap in pita bread with ripe tomatoes, tangy onion, crunchy lettuce, refreshing tzatziki sauce and… fries!
This has got a ton of flavor!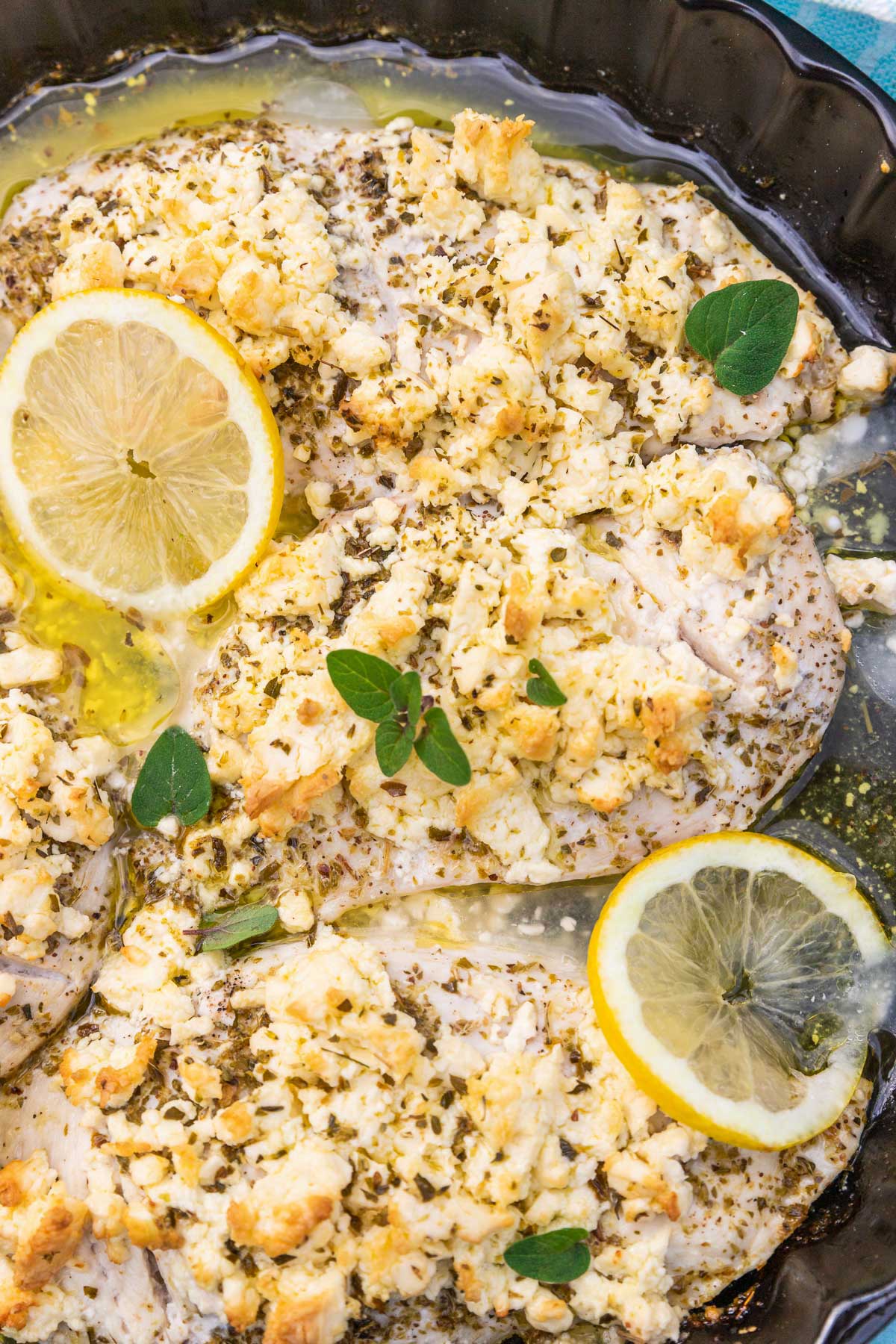 This recipe is ridiculously easy but it's absolutely bursting with flavor – using just 5 simple ingredients!
The feta, lemon and oil keeps the meat moist while baking. As a bonus, the melty feta cheese crisps on top slightly, creating a fine and very tasty 'crust'.
This recipe's sure to become a go-to recipe – perfect to make for a midweek meal or a quick but impressive dinner for guests.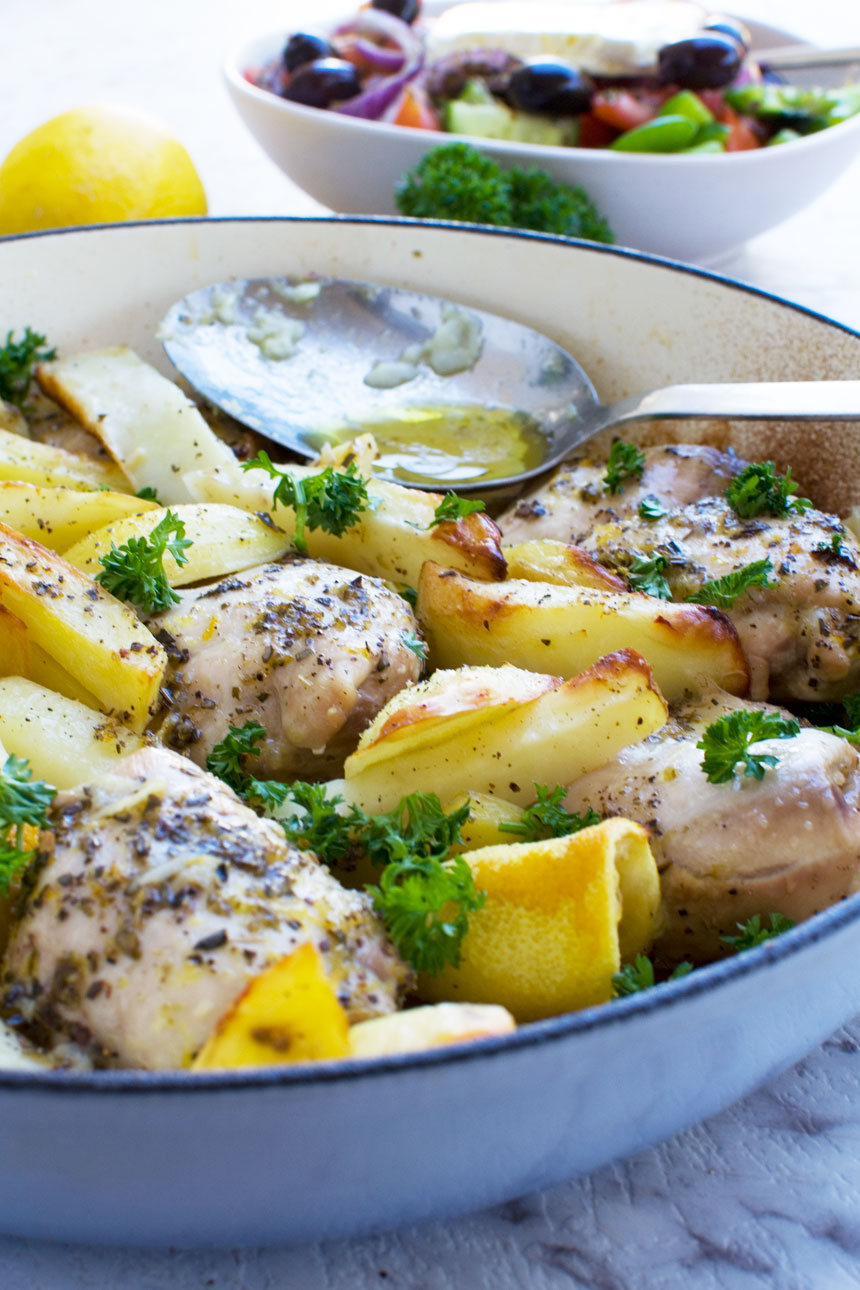 Transport yourself to sunny Greece with this amazingly delicious dish! One of the fastest ways to imagine yourself eating in a cute taverna with blue wooden chairs is to make this easy Greek chicken and potatoes.
'Kotopoulo me patates' – as they call it – is one of the most well known family dinners in Greece. It may not have a fancy name but the flavors will blow you away!
Perfect for a family meal but impressive enough to serve at a dinner party, you'll only need 6 ingredients. Serve with Greek Salad, tsatziki and some crusty bread.
This delicious Greek style 'Giouvetsi' with chicken ticks a lot of boxes. Otherwise called just orzo chicken, it's a super easy and crowd pleasing recipe that's perfect for busy weeknights. Just cook chicken with orzo pasta, tomato passata and a few yummy Greek flavours, then bake.
Serve with simple sides and this dish can stretch to feed 5 to 6 people. Don't forget a good sprinkle of cheese. It's Greek comfort food at its best!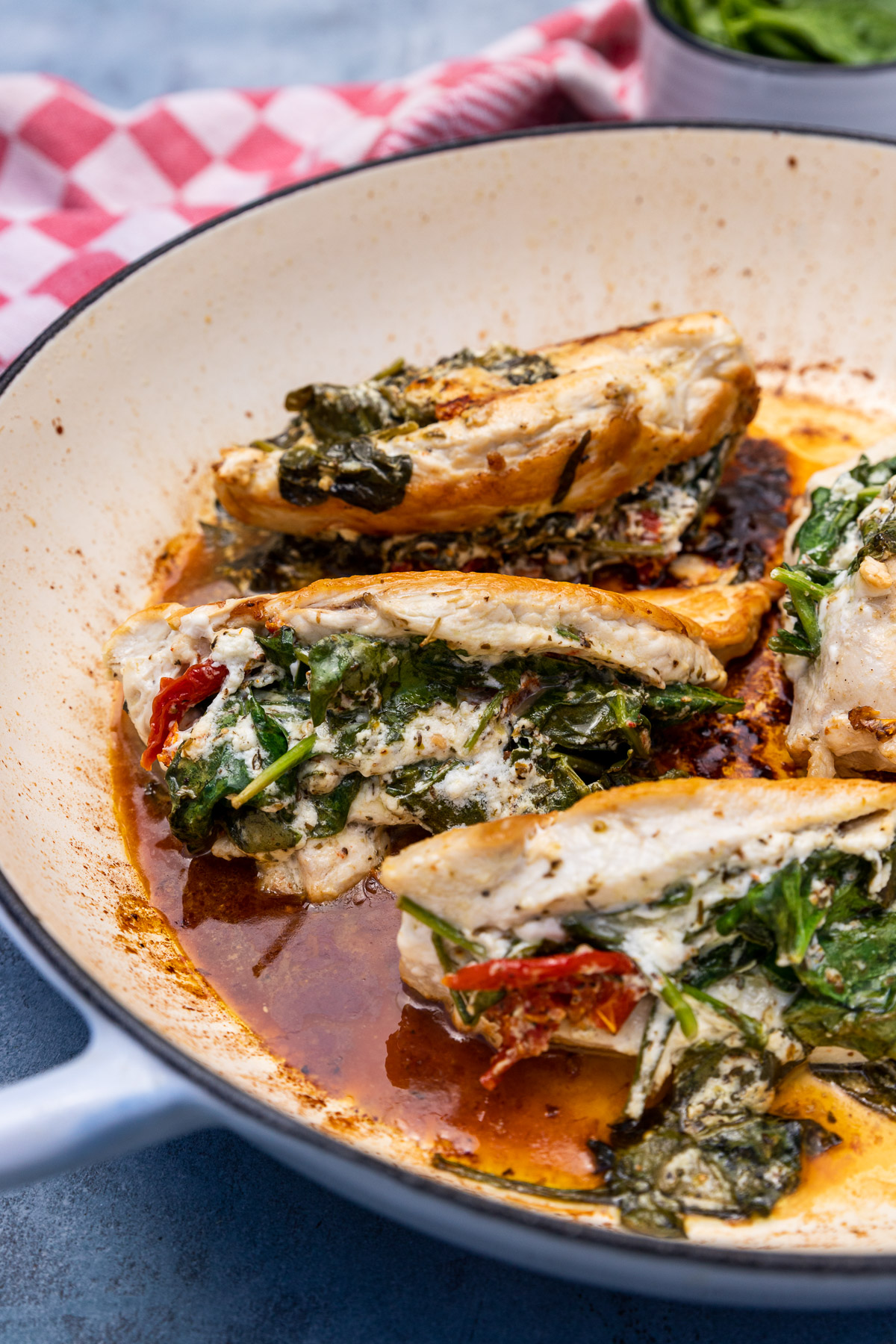 Serve this spinach and feta stuffed chicken simply with mashed potatoes and vegetables or as a topper over pasta or rice. It could also be perfect for a simplified dinner for a special occasion such as Thanksgiving or Christmas, don't you think?
As usual, no need for any fancy ingredients here but the end result can not fail to impress all of your guests!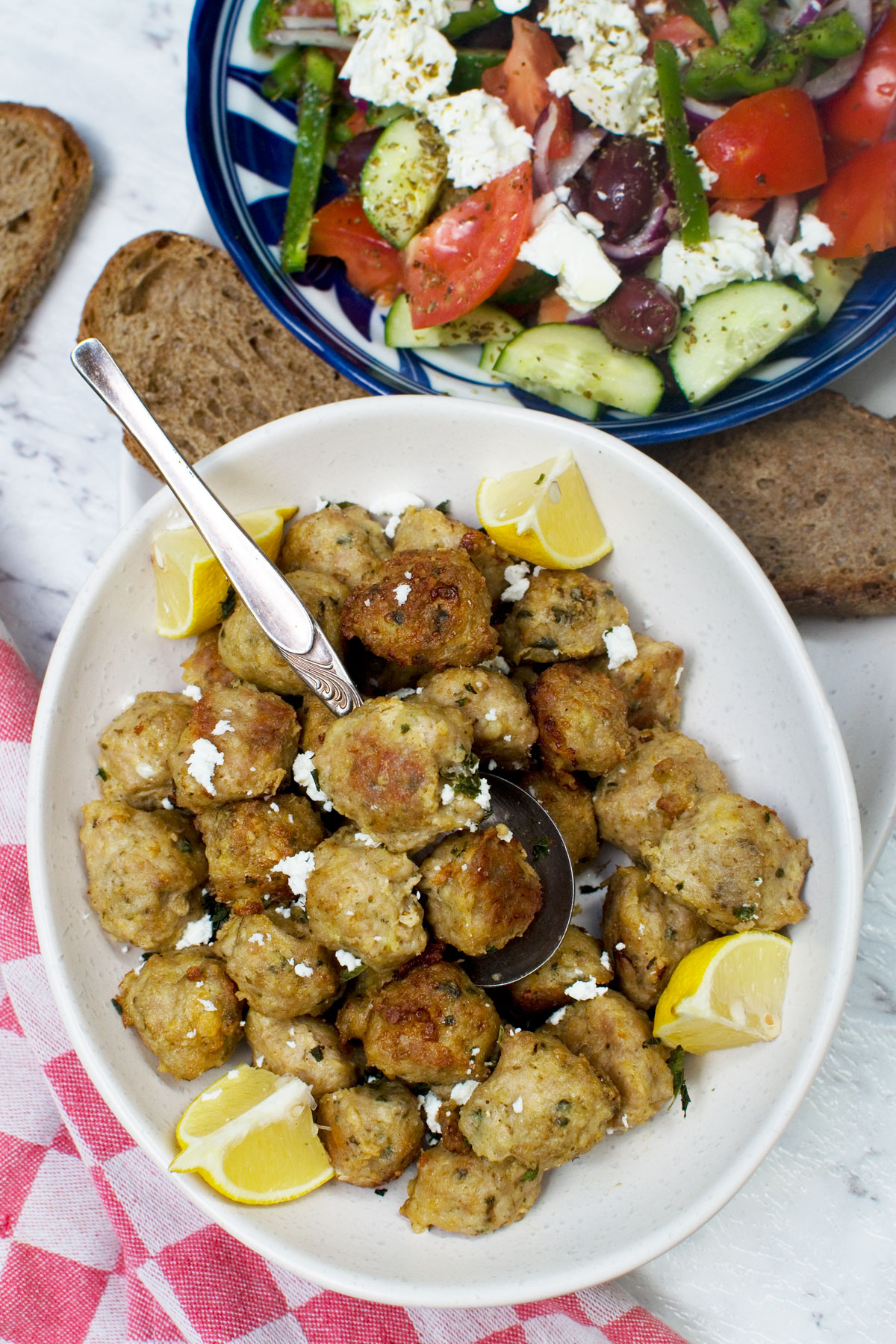 You might think meatballs are tricky to make, but not these Greek air fryer chicken meatballs. You'll use mostly powdered or dried flavors, so there isn't any chopping involved.
Just toss ground chicken into a bowl with a few simple Mediterranean flavours, panko crumbs and an egg. Mix, make bite-sized balls and air fry for just 10 minutes. No air fryer? Just bake!
Just throw the Greek chicken marinade ingredients together in a ziploc bag, add the chicken pieces and marinate for just an hour – super easy!
Scatter with optional olives and feta cheese to send your roasted chicken soaring from good to amazing.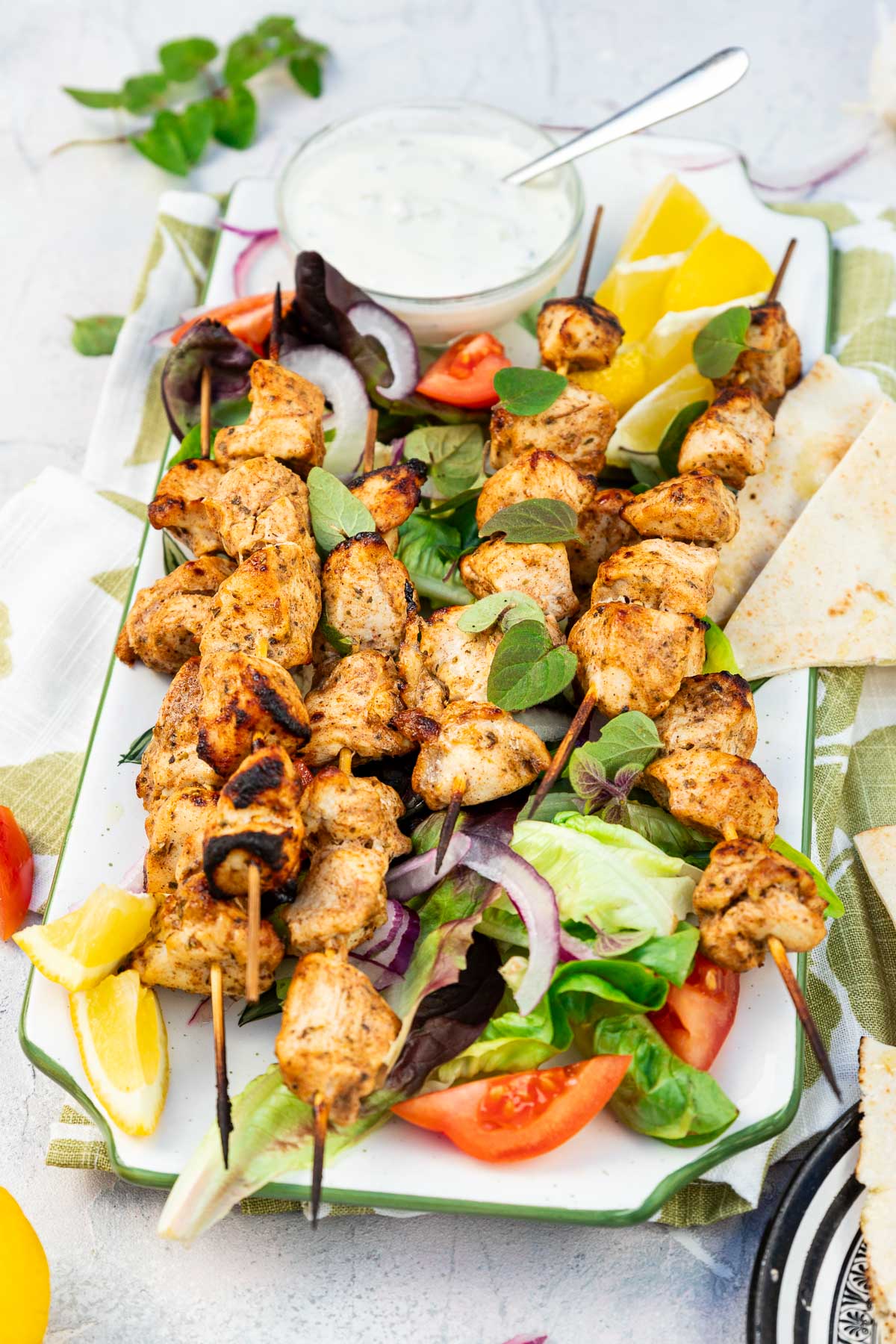 These very simple 'Greek Style' skewers (my answer to chicken souvlaki!) are ideal if you want dinner to be hands-off and let the oven do most of the work.
All you need for the marinade is Greek yogurt and a few Mediterranean flavors such as oregano, paprika and cumin. The marinade ensures the chicken is moist and juicy every time.
Whether it's a warm summer day or a chilly winter evening, enjoy this 30-minute dinner all year round!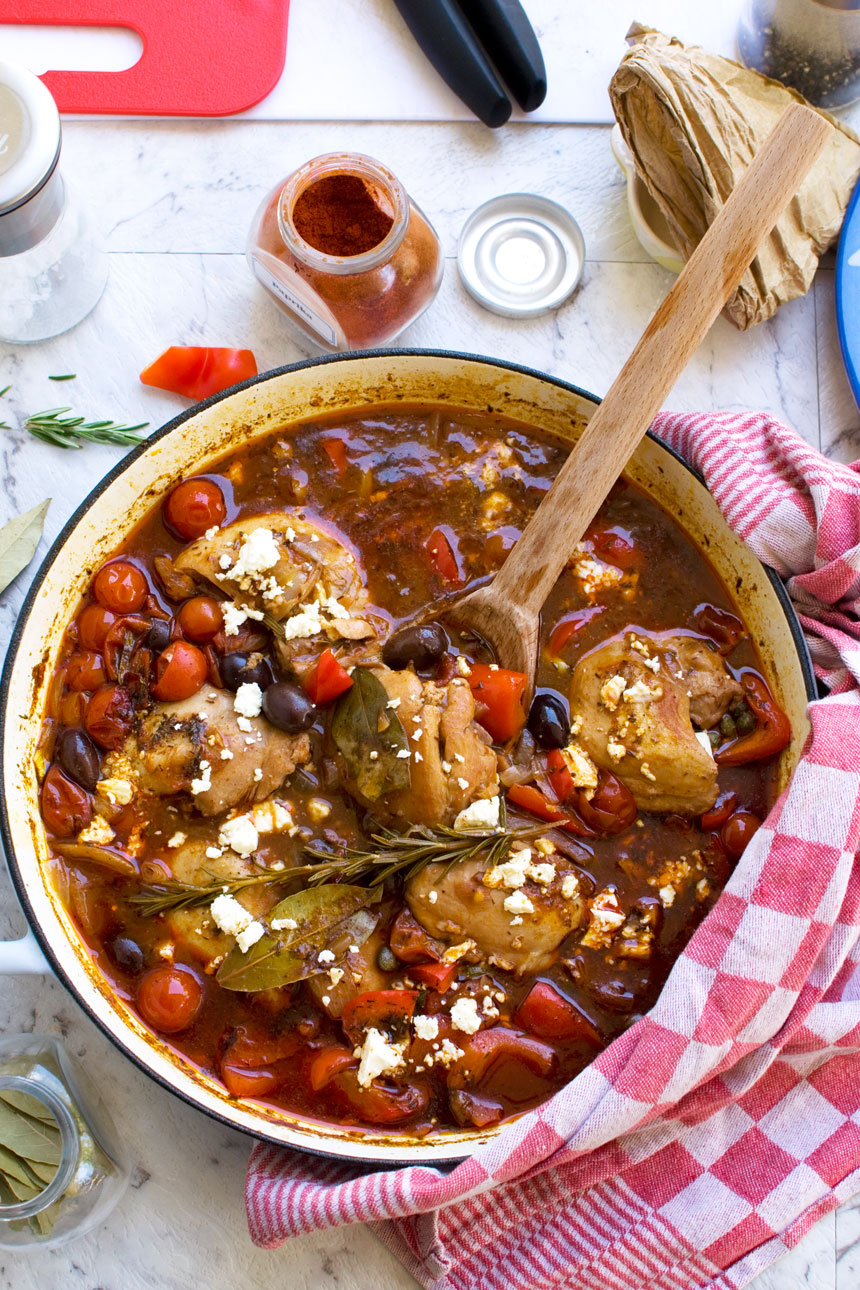 Whether you love Mediterranean diet recipes, or you're just a fan of easy one pot chicken dinners, you'll love this Mediterranean chicken casserole. Sprinkle your chicken stew with capers, olives and feta for some Mediterranean healthy comfort food that the whole family will love!
No need to turn on the oven. Cook this on the stovetop for an easy midweek dinner that's delicious served over mashed potatoes or pasta, or just with olive oil toasts.
This fabulous one-pot dish from Helen at Fuss Free Flavors will remind you of happy holidays from the past.
These Greek chicken thighs with rice could not be easier or more fuss free. Just brown the chicken, fry the onion, add rice, herbs and lemon and leave it to do its thing. Dinner will be ready in just over half an hour!
FAQs
If you've been bitten by the Greek food bug you can check out even more easy Greek recipes! Just love chicken dinners? Browse all chicken recipes.
IF YOU MAKE ANY OF THESE RECIPES, LET ME KNOW HOW YOU GET ON BY LEAVING A COMMENT AND RATING BELOW… AND DON'T FORGET TO SIGN UP TO RECEIVE ALL MY NEW RECIPES BY EMAIL!