Yes, you CAN roast cauliflower in your air fryer, and it's crispy and ridiculously delicious! Just toss cauliflower florets in olive oil, some simple seasonings and panko breadcrumbs, and air fry for about 12 minutes.
Serve it with your favorite dip and air fried cauliflower will quickly become a go-to appetizer. Perfect for simple entertaining, parties, holiday menus, or any occasion!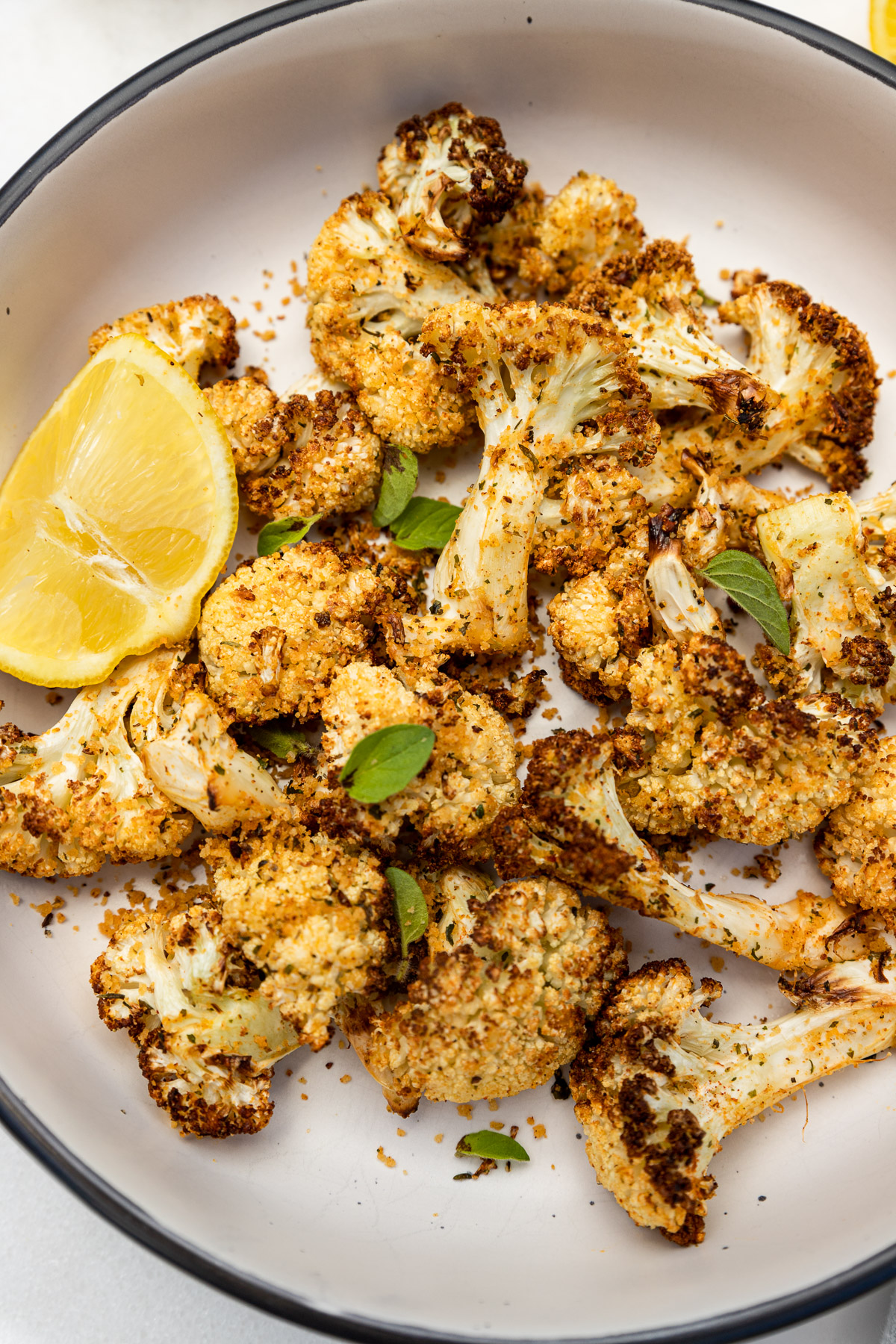 When you roast vegetables, it makes them feel like a treat, right? I make these Mediterranean roast vegetables at least once a week, and these roasted brussel sprouts and carrots are great for special occasions.
But my absolute favorite vegetable to roast is cauliflower. It's tender on the inside and sweet and lightly caramelized on the outside.
I can't stop eating it. It must be those delicious crispy edges! It's so great to eat by itself or with a dip, either as a quick appetizer for friends, or just as a tasty, healthy snack!
Why you'll love air frying cauliflower
The best news of all is that you can air fry cauliflower and get just as delicious a result as if you roast it in the oven!
Here's what's so great about it.
✔ It's faster. You can air fry cauliflower florets in around 12 minutes, making it perfect for a last minute dinner side dish. It takes over double the time (around 25 minutes) to roast cauliflower in your regular oven.
✔ It's easier. No need to line a baking tray or turn on your regular oven.
✔ It's healthy. Air fried cauliflower tastes fried, but isn't. You'll use a fraction of the oil you'd use in a deep fryer. It's also low carb and low in calories, if that's important to you.
✔ It's super crispy and delicious with just a few simple ingredients. No need for fancy breading. Just toss with some simple flavors, panko breadcrumbs and parmesan (the secret ingredients, and why I think this is the BEST recipe for air fryer cauliflower bites!).
About the ingredients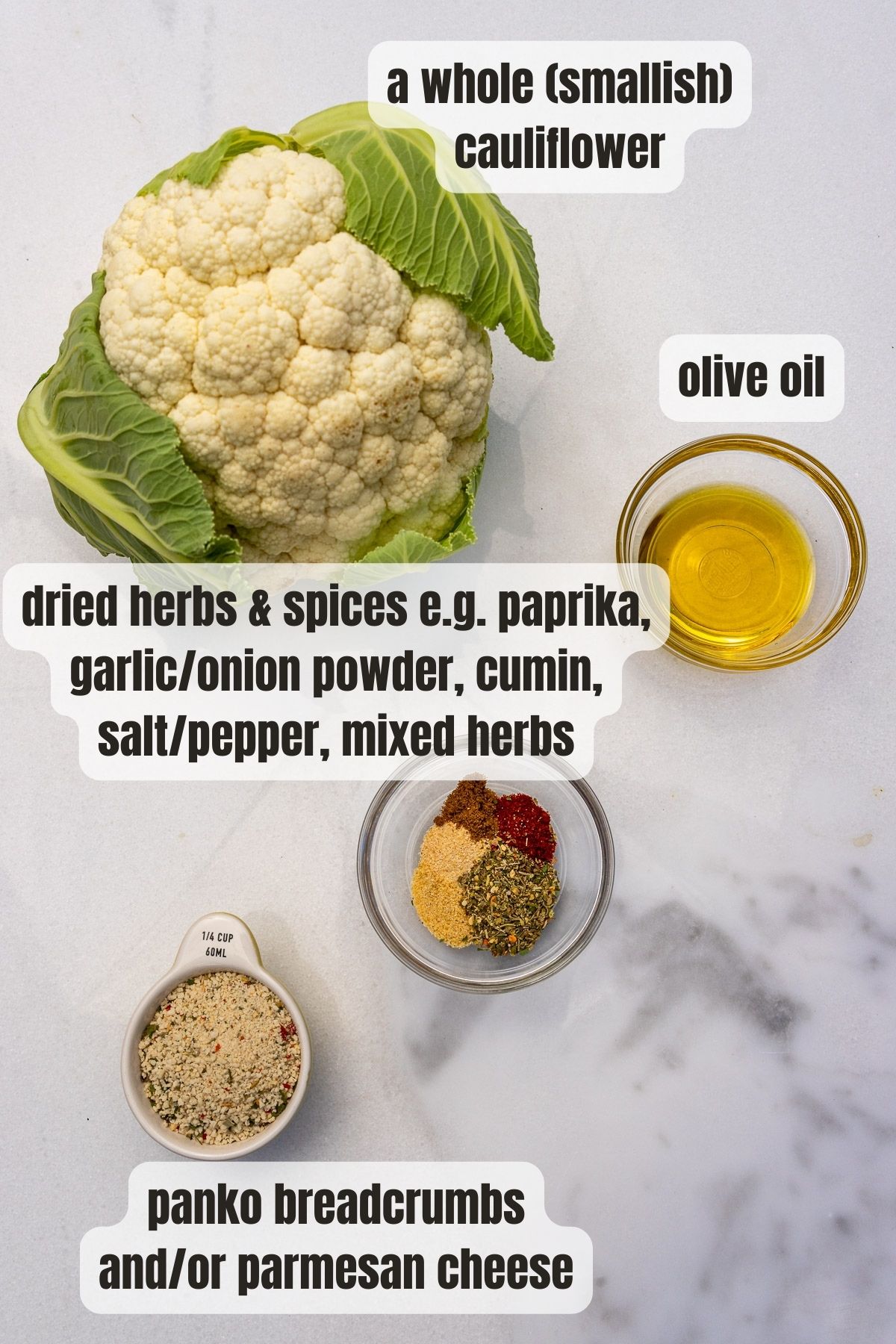 Here's what you need to know about the few simple ingredients for this recipe.
A whole cauliflower head: Choose a small, firm one if possible. You may need to cook the cauliflower florets in 2 batches. Or simply store half of the cauliflower in the fridge for a quick snack or side on another day.
Olive oil: Tossing a little through the cauliflower florets before air frying both helps them to crisp, and gives them extra flavor. It also helps the herbs/spices, crumbs and parmesan to stick to the florets.
Herbs and spices: I usually use a mixture of paprika, garlic and/or onion powder, mixed Italian herbs (or any dried herbs – thyme goes particularly well), cumin, and of course salt and pepper. If you don't have one or more of these, that's fine. You can use your favorite seasonings (how about lemon pepper?). Even just salt and pepper air fryer cauliflower will be tasty.
Panko breadcrumbs: Tossing just a few through the oiled cauliflower gives it a kind of simple panko coating – without the hassle of breading! Both plain or seasoned breadcrumbs are fine. You can also use regular breadcrumbs instead.
Grated parmesan cheese: This goes perfectly with the cauliflower, acting as an additional seasoning.
How to air fry cauliflower
The step-by-step guide below should help you make the recipe perfectly first time. Scroll down to the end for the full recipe including ingredient amounts.
Step 1: With a sharp knife, cut the stalk off the cauliflower. If you like, you can save this to cook into a soup.
Step 2: Slice or break the cauliflower into small or smallish florets. Rinse well in a colander. Dry with kitchen towel.

Step 3: Put the cauliflower florets into a large bowl. Then pour in the olive oil, followed by the herbs and spices.

Step 4: Finally, pour in the panko breadcrumbs, then toss until everything is mixed together.

Step 5: Preheat the air fryer for a few minutes to 390F/200C. Then spread the cauliflower out in the air fryer basket in one layer.

Step 6: Air fry for 6 minutes. Then toss the cauliflower around in the basket and air fry for roughly another 6 minutes, or until golden and crisp.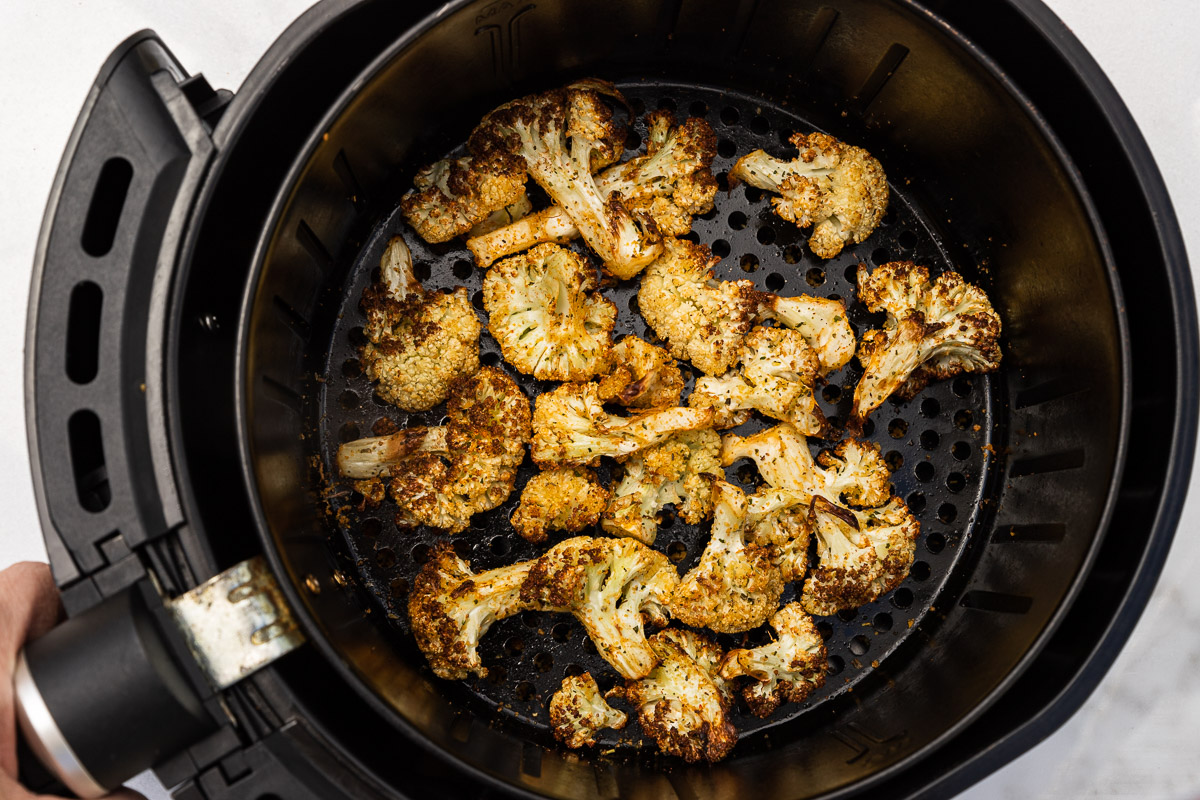 Helen's top tips
Don't throw away the tiny bits of cauliflower that fall off when you cut it into florets. Throw them into the air fryer too! These are beautifully crispy and delicious when roasted.
Dry the washed cauliflower florets well on kitchen paper before tossing with the oil and flavors. This will ensure maximum crispness!
Don't overcrowd the air fryer. Otherwise the cauliflower can steam instead of 'fry' and end up not as crisp. Add it to the air fryer in a single layer, and work in batches if you need to.
The first time you try this recipe in the particular air fryer you own, I recommend checking the cauliflower every 2 minutes during the second half of the cook time. You want the cauliflower to be nicely browned and crisp, but of course not burned.
Bear in mind that cooking time will also depend on how big your florets are. If they are on the larger side, you may need to cook them for a minute or two longer.
While cooking, some of the panko crumbs and seasoning may fall off into the base of the air fryer. Simply sprinkle them over the dish before serving for extra crunch!
Serving suggestions
I have been known to eat air fryer 'roasted' cauliflower all by myself straight out of the air fryer as a snack!
With a tasty dipping sauce
But it turns out it's a very versatile dish. It makes a great easy appetizer or party food idea with any kind of dip on the side. Simple sweet dips such as sweet chilli sauce, balsamic glaze, or honey mustard sauce/dressing work particularly well. They complement the subtle 'nutty' sweetness of the cauliflower.
Also try a simple Greek tsatziki sauce, this 5-minute roasted red pepper and feta dip, any kind of pesto or hummus, natural yogurt, sour cream, or a simple marie rose sauce (just mix mayonnaise and ketchup together!).
As an easy side dish
Air fried cauliflower is a perfect last minute simple side dish option – for a midweek meal or even for guests.
It goes with so many different mains! Try it with crispy halloumi burgers, air fryer crispy chicken burgers (or any burgers!), pizza, or impossible quiche.
Or why not serve it with roast meat such as this perfect air fryer rotisserie chicken?
As part of other dishes
You can also use air fried cauliflower to make this incredible roasted cauliflower mashed potatoes, for roasted cauliflower and bacon soup, or use it instead of croutons to top any soup (have you tried this Instant Pot tomato soup?).
Or how about making cauliflower tacos? Pile crispy cauliflower, avocado, fresh tomato salsa and cheese into tortillas for a very easy and delicious dinner.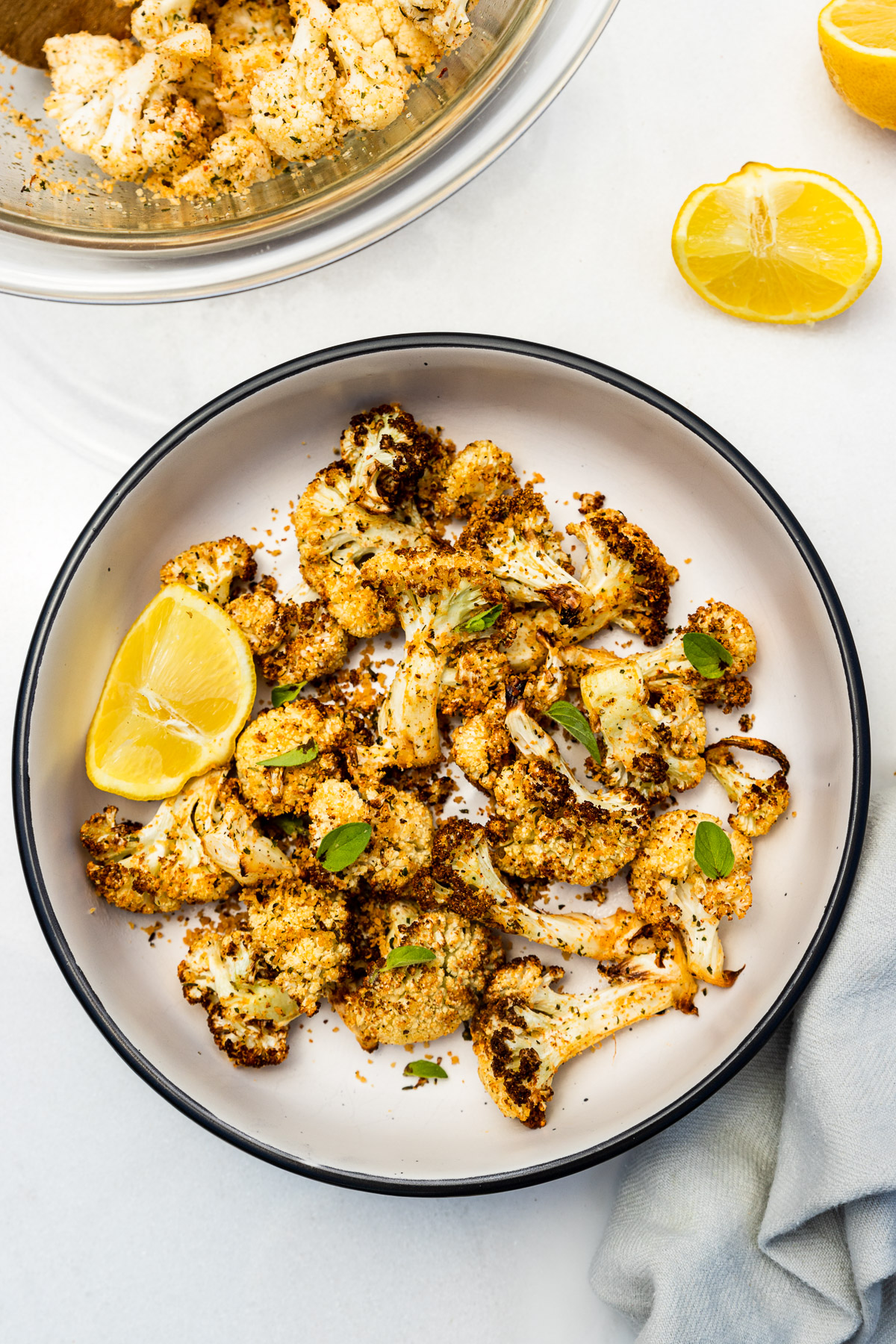 Variations
Add a little heat by mixing a pinch of chilli powder or cayenne pepper into the seasoning. Or swap the garlic/onion/paprika/herbs for half to one teaspoon of curry powder. Or how about drizzling a little hot sauce over the top? Then sprinkle the air fried cauliflower with a little lime juice, and serve with a cooling yogurt dip.
Make air fryer buffalo cauliflower instead. Season simply with just oil, salt and pepper before cooking, then drizzle your favourite buffalo sauce over the crispy cauliflower before serving.
Try the recipe Mediterranean style! Replace the mixed herbs with dried oregano, then crumble a little feta cheese over the cauliflower a few minutes before the end of the cook time. Finally, sprinkle a little fresh chopped mint over the top to serve. Serve with tzatziki, of course!
Wow your family or guests even more by tossing through some of this simple but very delicious lemon and butter sauce!
Recipe FAQ
Why is my air fried cauliflower tough?
You may have undercooked it. Try cooking it for longer next time. You can check every couple of minutes to check that it isn't burning.
Why is my cauliflower mushy?
It might have contained too much water before adding it to the air fryer. Try drying it really well on paper towels after washing and before seasoning next time. Also, make sure you don't overcrowd the air fryer. The florets should have a little room between them.

Using too much oil can be another reason for mushy cauliflower. You need enough to help it crisp up, but not enough to drench it.
Can I skip the oil?
You can, but actually I don't recommend it. The cauliflower florets will not get as browned and crispy. Remember that they will be much lighter than fried, but will taste just as good!
Can I prepare the cauliflower ahead?
If you want to get ahead, you can cut up the florets and store them in an airtight container in the fridge for up to a few days until you want to air fry them. However, it's best to only wash and season the cauliflower just before cooking. Otherwise, it can absorb too much water or oil and end up not crisping as well.
How long will air fried cauliflower keep?
To be honest, it's best to eat it as soon as possible after air frying, so that it's hot and crisp. If there are any leftovers (unlikely!) you can try storing them covered in the fridge and then reheat and crisp up for a few minutes in the air fryer again.
Which air fryer is best? Well, there isn't really a 'best' one. I've used a super basic small one that worked just fine, as well as a larger oven style air fryer which is also great. This affordable Cosori XL air fryer is nice and spacious, and comes highly recommended.
More easy vegetable side dishes
IF YOU MAKE THIS RECIPE, LET ME KNOW HOW YOU GET ON BY LEAVING A COMMENT AND RATING BELOW… AND DON'T FORGET TO SIGN UP TO RECEIVE ALL MY NEW RECIPES BY EMAIL!
15-Minute Air Fried Cauliflower (& How To Serve!)
Did you know that air fried cauliflower is just as crispy and delicious as if you roasted it in your oven? But it takes less than half the time! Simply drizzle over olive oil, your choice of simple seasonings and some panko breadcrumbs and parmesan and air fry for just 12 minutes. Serve on its own as a snack or easy appetizer with dips, use to make the most delicious mashed potatoes, or sprinkle over soups and salads.
Equipment (affiliate links)
Ingredients (UK/Australia? Click below for grams/ml)
1

head

cauliflower

small(ish), and cut into small florets

2

tablespoons

olive oil

(Or your favorite oil.)

½

teaspoon

paprika

½

teaspoon

garlic powder

(Or ½ teaspoon onion powder, or ¼ teaspoon onion powder and ¼ teaspoon garlic powder.)

1

teaspoon

dried mixed herbs

(Or any dried herbs.)

¼

teaspoon

ground cumin

(Optional.)

2

tablespoons

panko breadcrumbs

2

tablespoons

parmesan cheese
Optional
1

lemon

cut into segments, for squeezing over at the table

1

small handful

fresh herbs

chopped e.g. basil, oregano, thyme, coriander
Instructions
Remove the leaves from the cauliflower and cut off the stalk at the bottom. Then chop or break the cauliflower into small florets and wash them in a colander. You can include any tiny 'bits' that fall off the cauliflower while you're cutting it.

Dry the cauliflower on kitchen paper, then put it into a large bowl. Toss through the olive oil.

Sprinkle over all the seasonings, and the panko breadcrumbs and parmesan cheese. Toss until all the cauliflower florets are well coated.

½ teaspoon paprika,

½ teaspoon garlic powder,

1 teaspoon dried mixed herbs,

¼ teaspoon ground cumin,

2 tablespoons panko breadcrumbs,

2 tablespoons parmesan cheese

Preheat the air fryer for 3 minutes to 390F/200C. Then add the seasoned cauliflower to the basket in an even layer, being careful not to overcrowd it. Make 2 batches if necessary.

Air fry for 6 minutes. Then shake the air fryer basket and air fry for another 6 minutes. If trying this recipe for the first time, you may want to check the cauliflower every couple of minutes during the second half of cooking. You want it to be golden brown and crisp, but of course not burned.

Serve immediately with optional lemon segments, and with fresh herbs scattered on top. If you like, you can also serve tzatziki, ranch dressing, Greek yogurt, sour cream, sweet chilli sauce or another simple dip of your choice on the side.

1 lemon,

1 small handful fresh herbs
Notes
Preparing the cauliflower: Consider chopping and freezing the stalk to use later in a soup or stew. Chop into small florets, adding any 'bits' that drop off to the bowl to be air fried as well. Those get super crispy and delicious!
I recommend drying the cauliflower florets well after you've washed them and before tossing with the oil and seasonings. This will help them to crisp well in the air fryer.
About the seasonings: Feel free to skip 1 or more of the seasonings if you don't have them. On the other hand, you could add more e.g. a pinch of chilli powder, turmeric, your favorite dried herb.
Alternatives: Try chilli lime air fryer cauliflower (Add a pinch of chilli powder or cayenne pepper to the seasoning, and serve with lime segments and yogurt dip on the side), buffalo air fryer cauliflower (drizzle buffalo sauce over before serving and serve with ranch dressing on the side), or Mediterranean air fried cauliflower (crumble feta cheese over the cauliflower a few minutes before the end of cooking, sprinkle fresh oregano and mint over at the end, and serve with tsatziki sauce on the side).
Storing: Store leftover cauliflower florets in the fridge in an airtight container for 3-4 days. Don't toss it with the oil and seasonings until you're ready to cook it. After cooking, store leftovers covered in the fridge for up to a few days, then air fry again for a few minutes to reheat.
Oven-roasting instructions: This recipe will work in your regular oven, too. Simply roast at 425F/220C for 30 minutes. Add the panko crumbs and parmesan half way through (rather than at the beginning as in the air fryer version), and toss well.
Nutrition
Calories:
139
kcal
Carbohydrates:
14
g
Protein:
5
g
Fat:
8
g
Saturated Fat:
2
g
Polyunsaturated Fat:
1
g
Monounsaturated Fat:
5
g
Cholesterol:
2
mg
Sodium:
122
mg
Potassium:
503
mg
Fiber:
4
g
Sugar:
4
g
Vitamin A:
243
IU
Vitamin C:
85
mg
Calcium:
89
mg
Iron:
1
mg