Welcome to sandwich heaven. Roast slices of eggplant until soft and delicious, then pile onto your favourite Italian style bread with pesto, spinach, sundried tomatoes and mozzarella. Grill in a sandwich press and savour every bite of the best toasted veggie sandwich ever!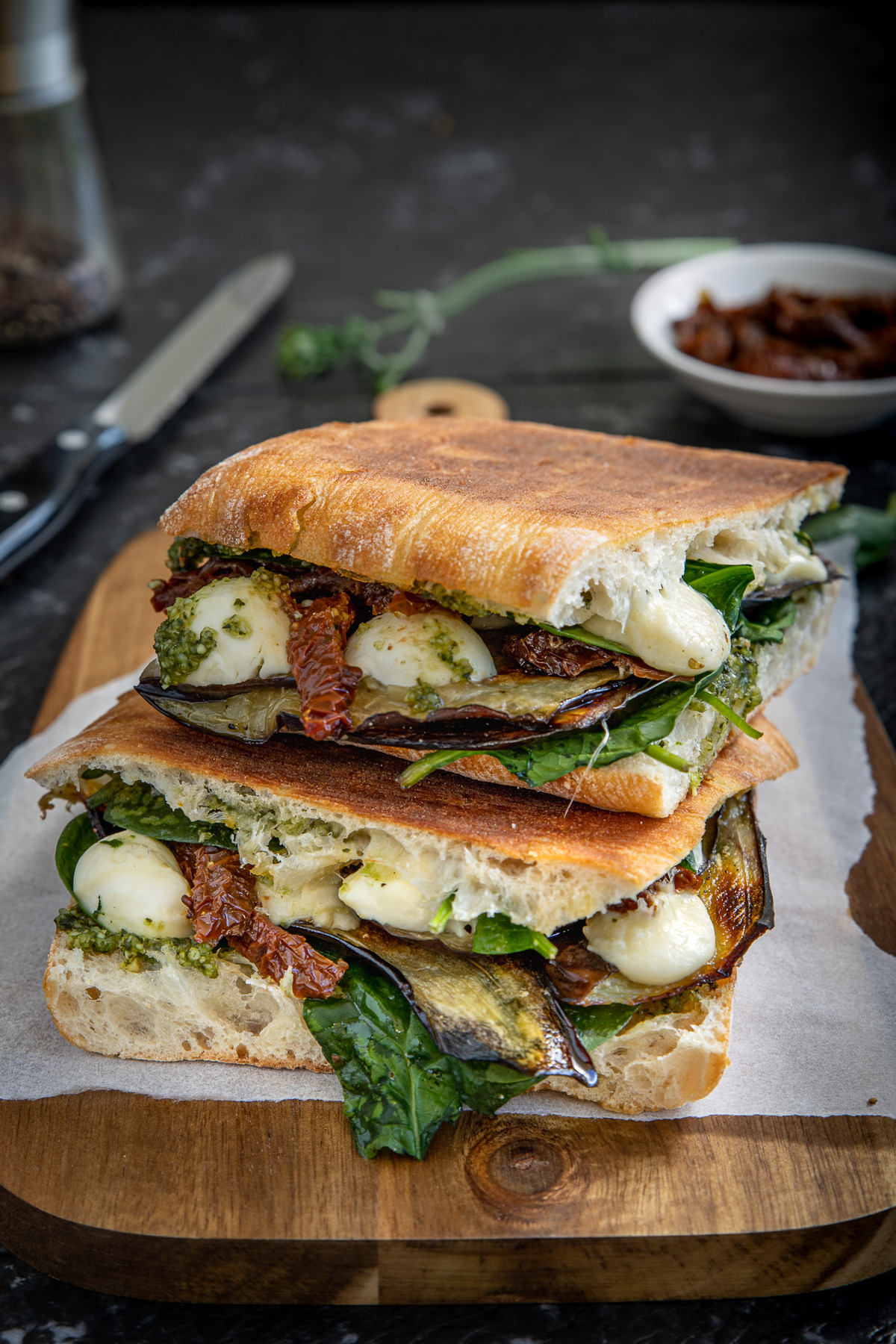 Occasionally, I cautiously declare something to be 'the best'. Except when it's these incredible Greek potatoes which I very confidently declare to be the best recipe ever 😉
But we're not talking about potatoes today. We're talking about an incredible Italian toasted sandwich filled with roasted eggplant, pesto, mozzarella cheese and other yummy Italian goodies.
When I first tried something like it a few years ago in a neighbourhood cafe I decided it was the best veggie sandwich ever, and I haven't changed my mind yet.
Why you'll love it too
It's the sort of recipe that makes good quality fresh ingredients shine. Simple and delicious, but also a bit special. Friends popping over for a casual lunch? Make this!
It's easier to make than it looks. Once you've roasted the eggplant, all you have to do is open packets and jars and throw it all on! Make a quick fresh pesto if you like. If you want to keep it really quick, buy a good quality ready made one instead.
It's healthy – don't you think? It's a perfect veggie option, but the roasted eggplant makes the overall effect quite 'meaty'.
It's easy to make it vegan if you like. Skip the cheese and add avocado or hummus.
About the ingredients
For the sandwich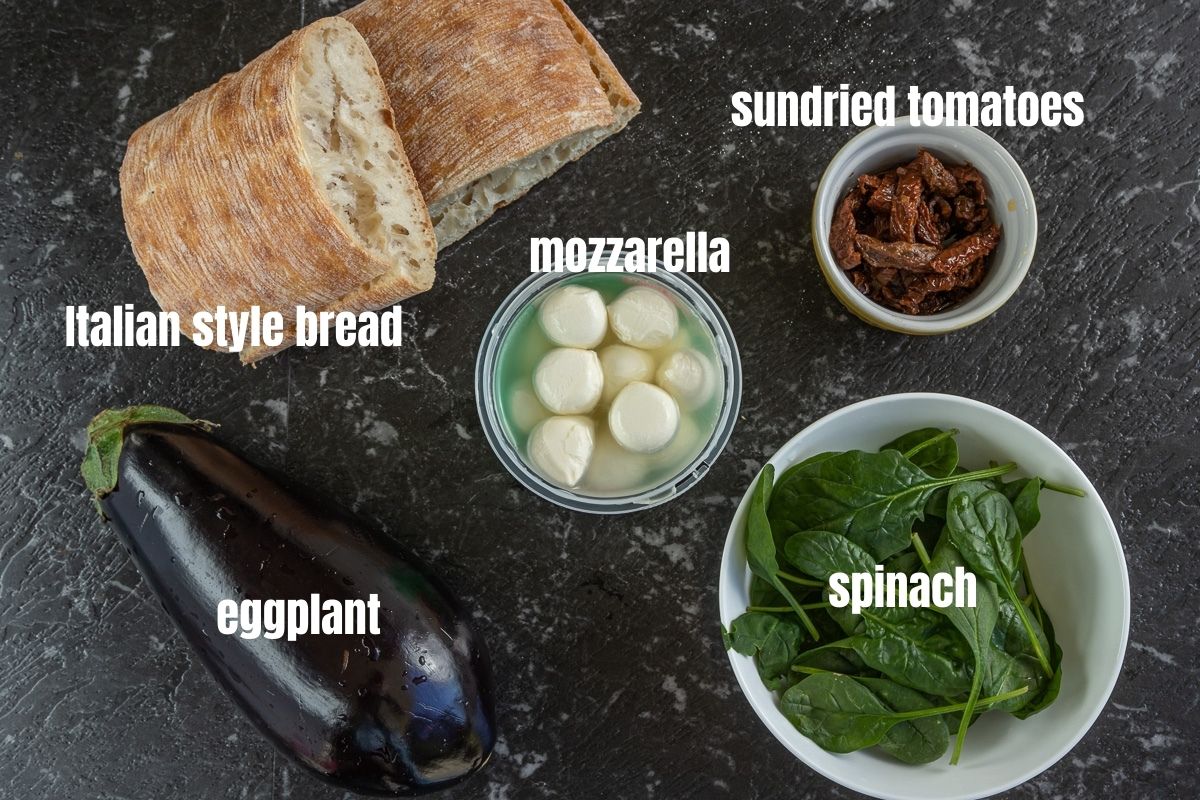 Eggplant/Aubergine: You'll need around half a medium eggplant. Slice it into 1/2 cm (roughly) slices lengthwise, so that you have nice big slices of eggplant.
Don't worry if they aren't all absolutely equal. The thinner parts will be crispier which makes for extra deliciousness on your sandwich!
Tip: Sometimes I roast the whole of the eggplant so that I can freeze some of the slices for next time. Another option is to make this easy moussaka and use any leftover eggplant slices to make this sandwich!
Olive oil: You'll need this for 1. brushing the eggplant slices all over with before roasting them 2. making your pesto if you're going to make your own 3. brushing over the outside of the bread before pressing your sandwich.
Try to use a good quality extra virgin olive oil because you'll be able to taste the difference.
Bread: Use your favourite Italian style bread for the best results. I really like focaccia, ciabatta or Turkish bread. To be honest though, even a really nice thick sliced bread from a fresh loaf would work.
Spinach: You just need a couple of small handfuls. I use spinach because it wilts perfectly as you cook your sandwich. No need to precook!
Mozzarella: I usually use some sliced mini balls of mozzarella (they're called bocconcini here in Australia) just because they're widely available. Feel free to use a sliced big ball of mozzarella, however, or even just grated pizza style mozzarella!
Sundried tomatoes: Use sundried, semi-dried, or just some really nice ripe ordinary tomatoes.
For the homemade pesto (optional!)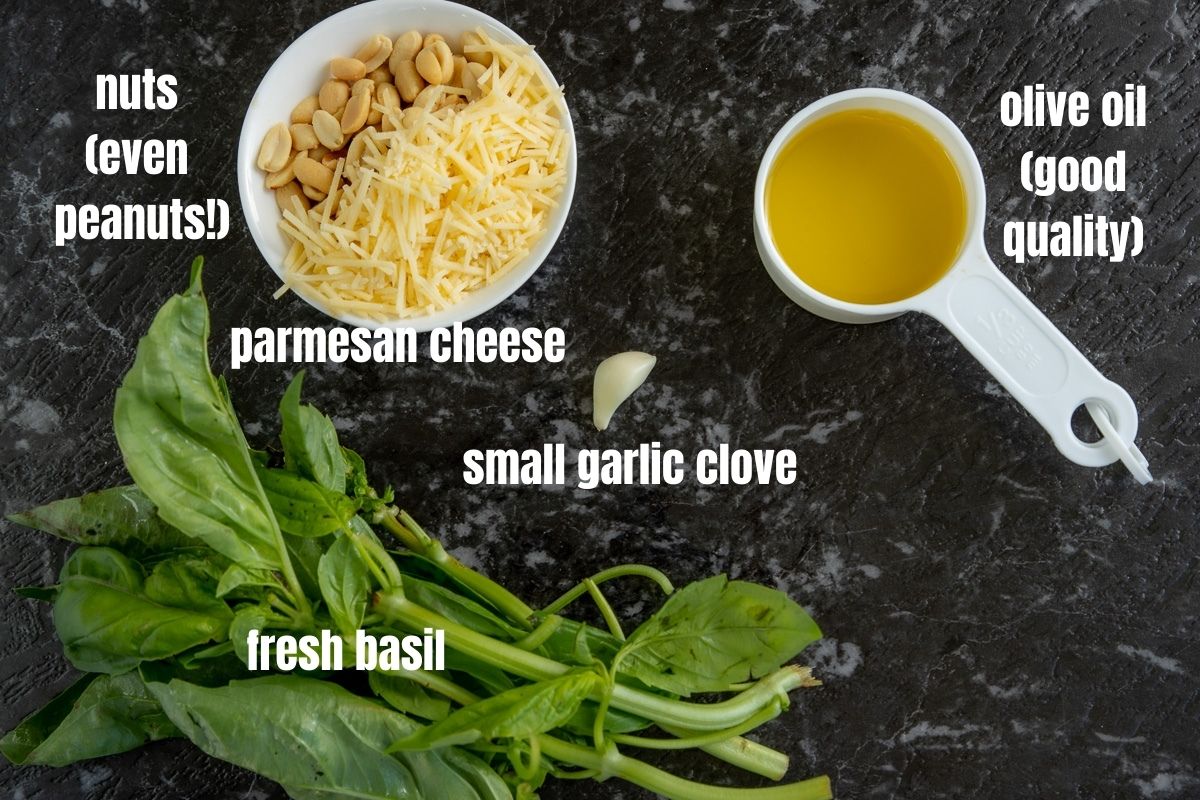 Homemade pesto: It's really quick and easy to make a quick batch of pesto. You just need a small clove of garlic, a handful each of fresh basil, grated parmesan and some kind of nut.
I use peanuts because of a tree nut allergy, but pine nuts, pistachios, almonds, hazelnuts, or a mixture all work well. Blend with enough olive oil to make a spreadable pesto and you're done.
How to make it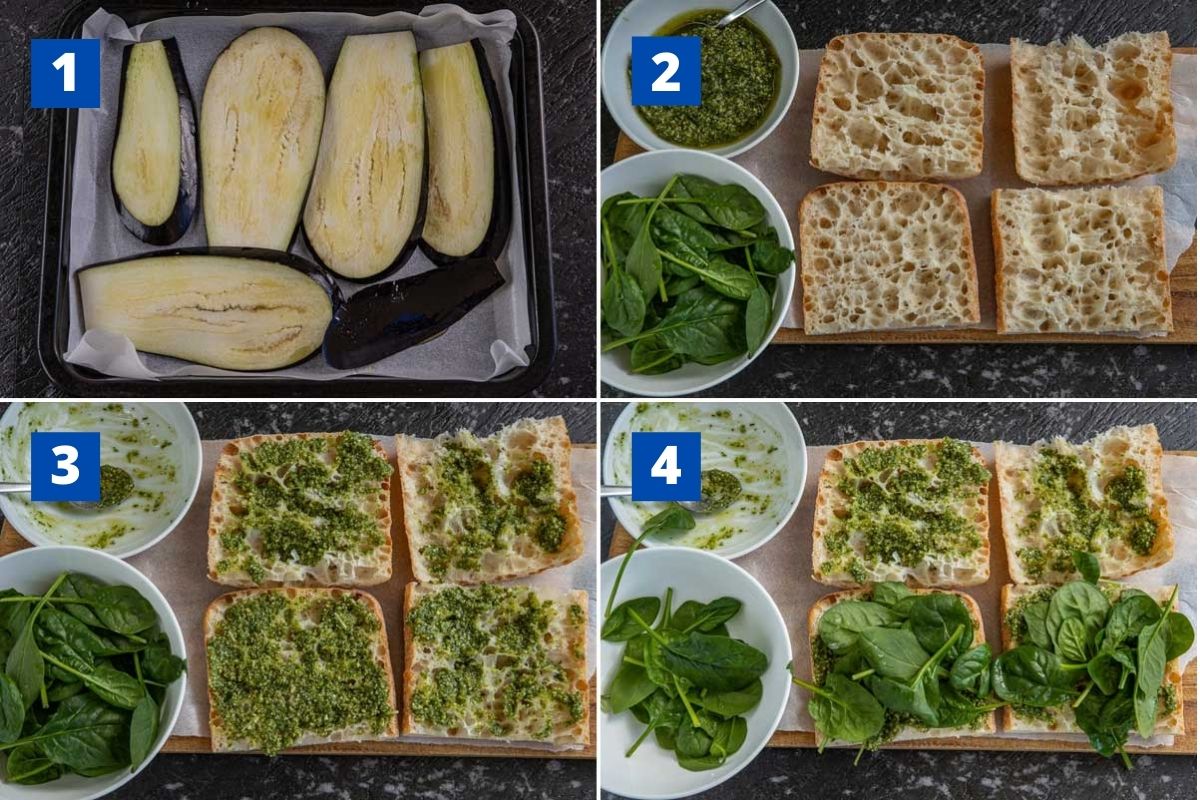 Step 1: The first thing to do is to get your eggplant slices roasting. Brush them on both sides with a little olive oil, then roast for about 25 minutes or until soft and golden.
There might be some crispy bits – lucky you!

Step 2: Meanwhile, make a quick batch of pesto if you're making your own. Throw all the ingredients into a mini food processor if you have one. Pulse until well combined but still a bit chunky.
Add a little more olive oil if necessary. You want it to be spreadable, but not super runny.
Then lay out your sandwich halves and get ready to pile everything on!
Step 3: Spread both pieces of your bread generously with the pesto.
Step 4: Then pile on some spinach.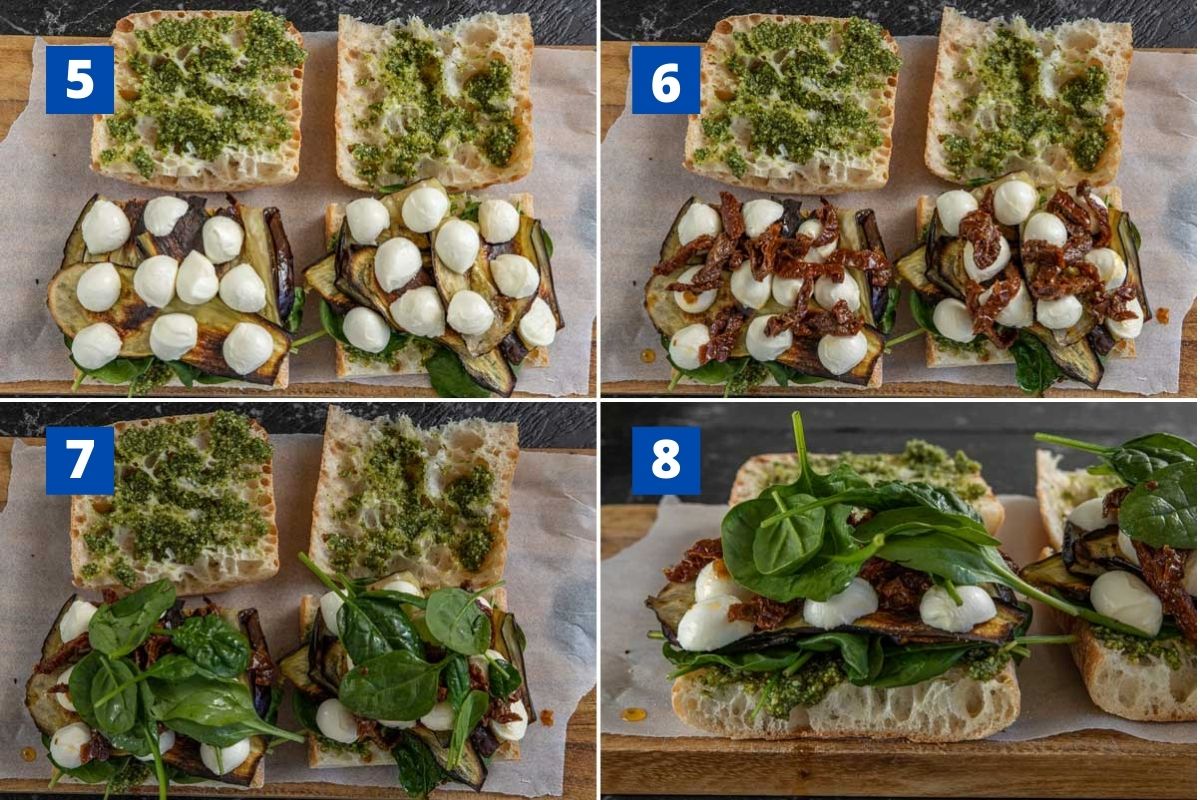 Step 5: Eggplant slices done? Divide them between the sandwiches. I usually fold the slices in half before piling them on. 3 slices per sandwich is about right. Top with your mozzarella.
Step 7/8: If you have some leftover spinach, go ahead and pile that on the top. Why not?

Final step: Top with the second piece of bread, brush lightly with olive oil and cook in a sandwich press! Alternatively, cook it in a frying pan. Press down on it as it cooks.
Helen's top tips
Choose fresh, good quality ingredients for the best sandwich. Get some really fresh Italian bread from a bakery, for example. Also, you'll really taste the olive oil on this sandwich, so use a good quality extra virgin olive oil.
Nail your roasted eggplant slices! Slice them about 1/2 cm thick lengthwise then roast for around 25 minutes or until soft and almost sticky. Don't worry if they look well browned and crispy in places. Those will just add to the overall flavour and texture of the sandwich.
Consider making your own quick batch of pesto. It's really quick and easy if you have a mini chopper or food processor. You can even make extra and use it to make a quick pesto pasta. Otherwise get a good quality pre-made pesto. I find the fresh chunky ones sold in the dip section the best. Jarred versions all seem to be made with vegetable oils, at least here in Australia.
Missing one of the ingredients? No worries! Swap parmesan for another kind of cheese, even cheddar (for the pesto as well!), throw lettuce on at the end instead of spinach, use fresh tomatoes instead of jarred. You get the idea!
How to serve it
Got guests coming over for brunch or a casual lunch? This is perfect!
Add fries (regular or sweet potato!) and make it a meal.
Serve them English style with some good quality crisps/potato chips on the side 😉
Ways to vary it
This sandwich is very delicious as it is. Maybe you're missing an ingredient or two though. But you have other things lurking in your fridge that you could throw on your sandwich instead. Keep the roasted eggplant, but otherwise tweak away!
When I first ordered something similar to this in a cafe in Perth, it had avocado on it. If you happen to have a ripe avocado, why not throw a few slices on?
Use a different kind of cheese. Replace the mozzarella with feta cheese, or a good grating of parmesan cheese. I'd use the big side of the grater so that you get nice chunky bits of cheese. Spread a layer of ricotta cheese on top of the pesto. Or why not pan-fry or even air fry some slices of halloumi cheese instead?
Got some jarred antipasto in the fridge? I'm thinking artichokes, olives, cornichons, charred peppers/capsicums or semi-dried tomatoes. All of these would go wonderfully well on this sandwich.
Make it vegan by replacing the mozzarella with a vegan cheese. Add avocado or hummus, or simply skip the cheese.
Add a few sneaky slices of bacon or deli meat. Yes I know this is a veggie sandwich, but there are no rules against adding some meat if you'd like.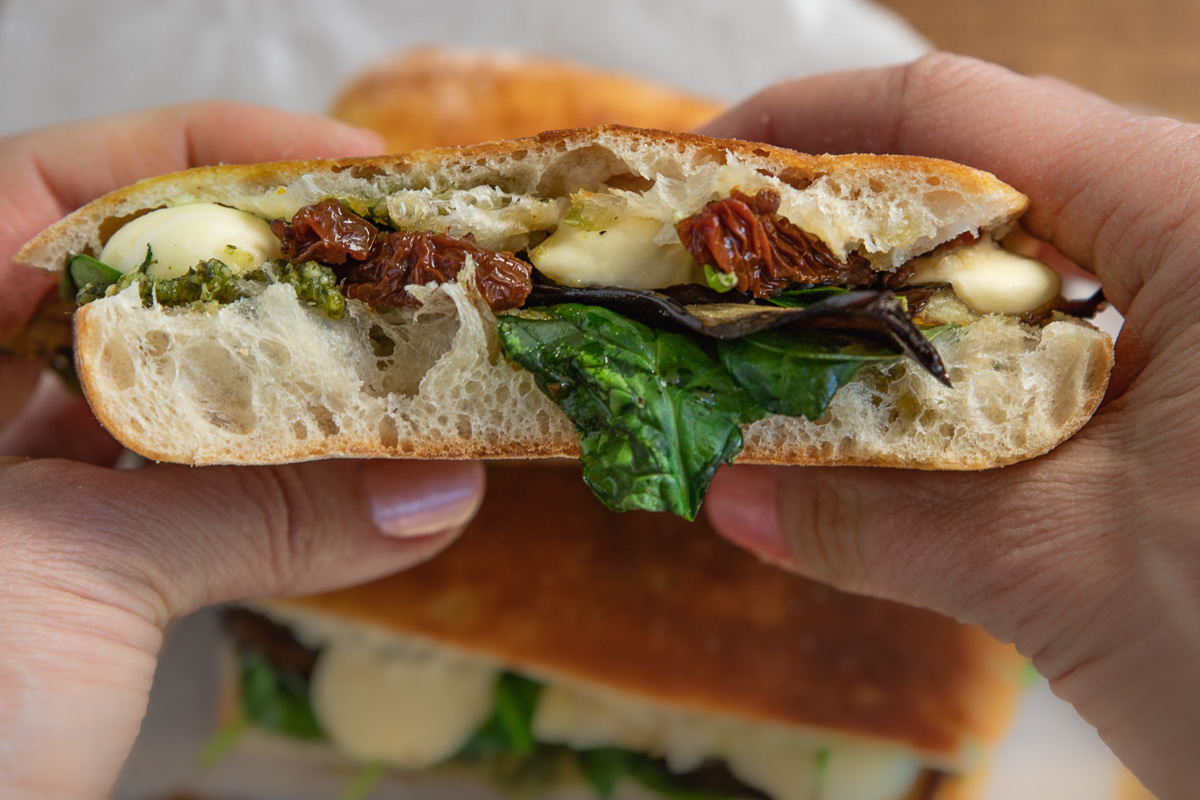 More things to know (FAQs)
What's the best kind of bread to use?
I've used several different kinds of bread including ciabatta, focaccia, Turkish bread or sourdough. I tend to use a flat-ish loaf that I can cut into lengths and then slice across the width.

To be honest though there are no hard and fast rules. As long as the bread is fresh and good quality, you'll make a really delicious sandwich. Just choose something you like the look of!

For anyone up for a mini challenge, why not make your own Italian bread? This easy Italian focaccia bread recipe is awesome. You won't believe how easy and yummy it is!
What if I don't have a sandwich press?
That's OK! Just grab a big frying pan or grill pan to cook your sandwich in. As it cooks, press it down with a spatula or turner.

When the cheese begins to melt and the bread is golden brown and toasted, your sandwich is ready.
Can I make these sandwiches ahead?
You'll want to serve them when they're hot off the press (pun intended). But that doesn't mean you can't prep all the other ingredients in advance.

You can most certainly roast the eggplant slices in advance and make the pesto if you're making your own.

I'd even go as far as to fully assemble the sandwiches and pop them covered in the fridge. When you're ready to eat just brush the tops and bottoms with olive oil and cook in your preheated sandwich press.
More delicious sandwiches
Recommended equipment
As already mentioned, you definitely don't NEED a special sandwich press to make these sandwiches. However… I do highly recommend this Breville Panini Duo Sandwich Press. I've had one for years and still use it at least once a week.
IF YOU MAKE THIS RECIPE, LET ME KNOW HOW YOU GET ON BY LEAVING A COMMENT AND RATING BELOW… AND DON'T FORGET TO SIGN UP TO RECEIVE ALL MY NEW RECIPES BY EMAIL!
FOLLOW ME ON FACEBOOK, INSTAGRAM, PINTEREST AND YOUTUBE.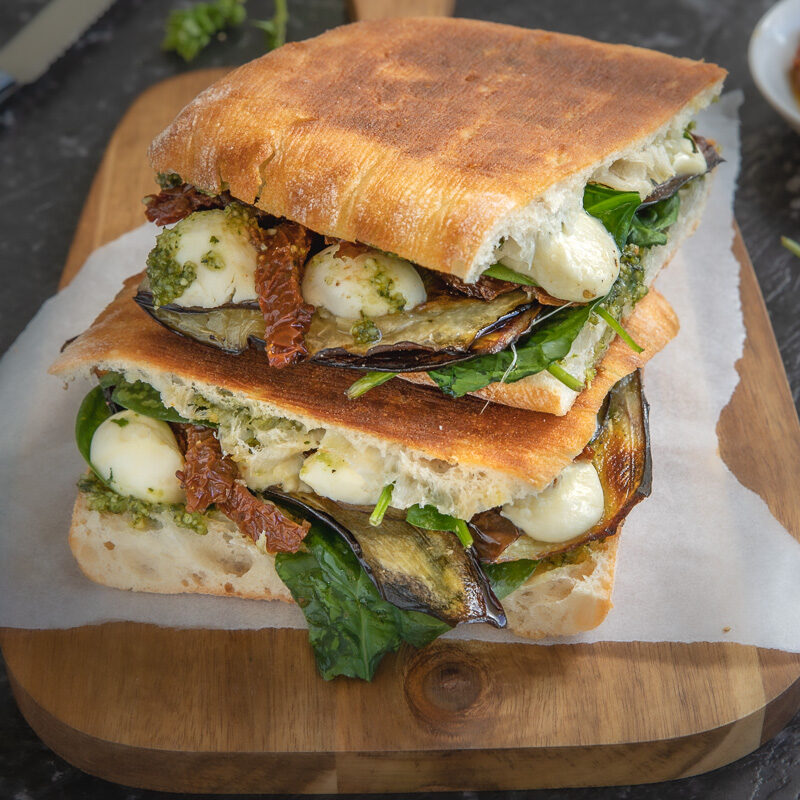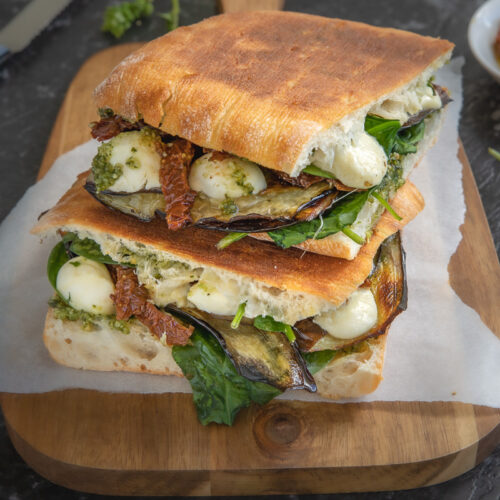 Italian Toasted Veggie Sandwich
A deliciously hot pressed Italian style toasted vegetarian sandwich filled with freshly made pesto, spinach, roasted eggplant, mozzarella and sundried tomatoes. Perfect for a lazy weekend brunch, or a casual lunch for guests!
Ingredients (UK/Australia? Click below for grams/ml)
For the homemade pesto (or use a good quality store-bought pesto)
1

bunch basil leaves

¼

cup

nuts

(a handful or about an ounce) Any: peanuts, almonds, hazelnuts, pistachios, or a mixture

¼

cup

parmesan cheese

grated (a handful or about an ounce)

1

clove

garlic

(small)

¼

cup

olive oil

approximately (you may want to add a little more)
For the rest of the sandwich
½

eggplant

cut into 1/2-cm thick (approx) slices lengthwise (for nice big slices)

3

tablespoons

olive oil

for brushing the eggplant slices, and for the outside of the sandwiches, just before cooking

⅔

loaf

focaccia

or ciabatta or Turkish bread, or any other flat-ish Italian bread (I just slice the loaf into 3, then slice 2 of the pieces in half crosswise)

2

handfuls

fresh spinach

7

ounces

mozzarella cheese

either cut small balls of mozzarella cheese in half, or slice a big ball of mozzarella. Alternatively just use grated pizza mozzarella or another cheese!

¼

cup

sundried tomatoes

(about 2 ounces) from a jar, in oil
Instructions
First, pre-heat the oven to 350F/180C and line a large baking tray with baking paper. Brush both sides of your eggplant/aubergine slices with olive oil and roast for around 25 minutes or until soft and golden.

While your eggplant/aubergine slices are roasting, make the pesto. Put the basil, nuts, parmesan and garlic in a food processor and pulse until a chunky mixture forms. With the motor running, add the olive oil a little at a time until you have the consistency of a pesto. Add a little more oil if necessary. Set aside.

Slice your pieces of bread in half crosswise, then spread each half with a generous amount of pesto. Top with the spinach (a handful on each sandwich), folded eggplant/aubergine slices (around 3 on each sandwich), mozzarella and sundried tomatoes.

Preheat a sandwich press or frying pan. Top the sandwich with the other half of the bread, then brush both the top and bottom lightly with a little olive oil. Cook for a few minutes until hot, melting and crisp.
Notes
Credit: Inspired by a vegetarian sandwich I had at the Cafe Bella Rosa, Perth, Australia
What bread to use: Use your favourite Italian style bread. Mine is focaccia, but you can use ciabatta, Turkish bread or slices of any fresh crusty bread you like.
How to cut the eggplant/aubergine: Cut roughly 1/2 cm slices lengthwise. It doesn't matter if they're not all exactly the same – you'll have some crispier bits where the eggplant is thinner, which I really like.
Pesto: I think it's worth spending a few minutes making your own pesto. Make extra for a quick pesto pasta another time! Otherwise find a good quality ready made pesto that's preferably made with olive oil.
How long to cook it for: Just cook it for as long as it takes for the outsides of the bread to crisp/brown a little, for the cheese to melt and for the spinach to wilt.
Substitutions/Variations: This is a very adaptable sandwich. Make it vegan by skipping the cheese and replacing with hummus and/or avocado slices. Vary the cheese by using ricotta, grilled or fried halloumi, feta, goat's cheese, or even plain old cheddar! Add any jarred antipasto e.g. artichokes instead of as well as the sundried tomatoes. No sundried tomatoes? Just use fresh.
Nutrition
Calories:
1109
kcal
Carbohydrates:
52
g
Protein:
39
g
Fat:
86
g
Saturated Fat:
23
g
Polyunsaturated Fat:
8
g
Monounsaturated Fat:
48
g
Cholesterol:
87
mg
Sodium:
1210
mg
Potassium:
1102
mg
Fiber:
8
g
Sugar:
11
g
Vitamin A:
3741
IU
Vitamin C:
17
mg
Calcium:
720
mg
Iron:
4
mg