You might think you know how to make a Greek salad, but do you really? A proper 'horiatiki salata' (or Greek village salad) means no lettuce, no chopped up feta, and no fancy dressings. Just toss together ripe tomatoes, cucumber, onion and green peppers, black Kalamata olives, dried oregano and plenty of extra virgin olive oil. Then place a big slice of Greek feta cheese on top.
A horiatiki salad is such a simple, nutritious and delicious light meal or side, but it's also a show-stopper if you get it absolutely right!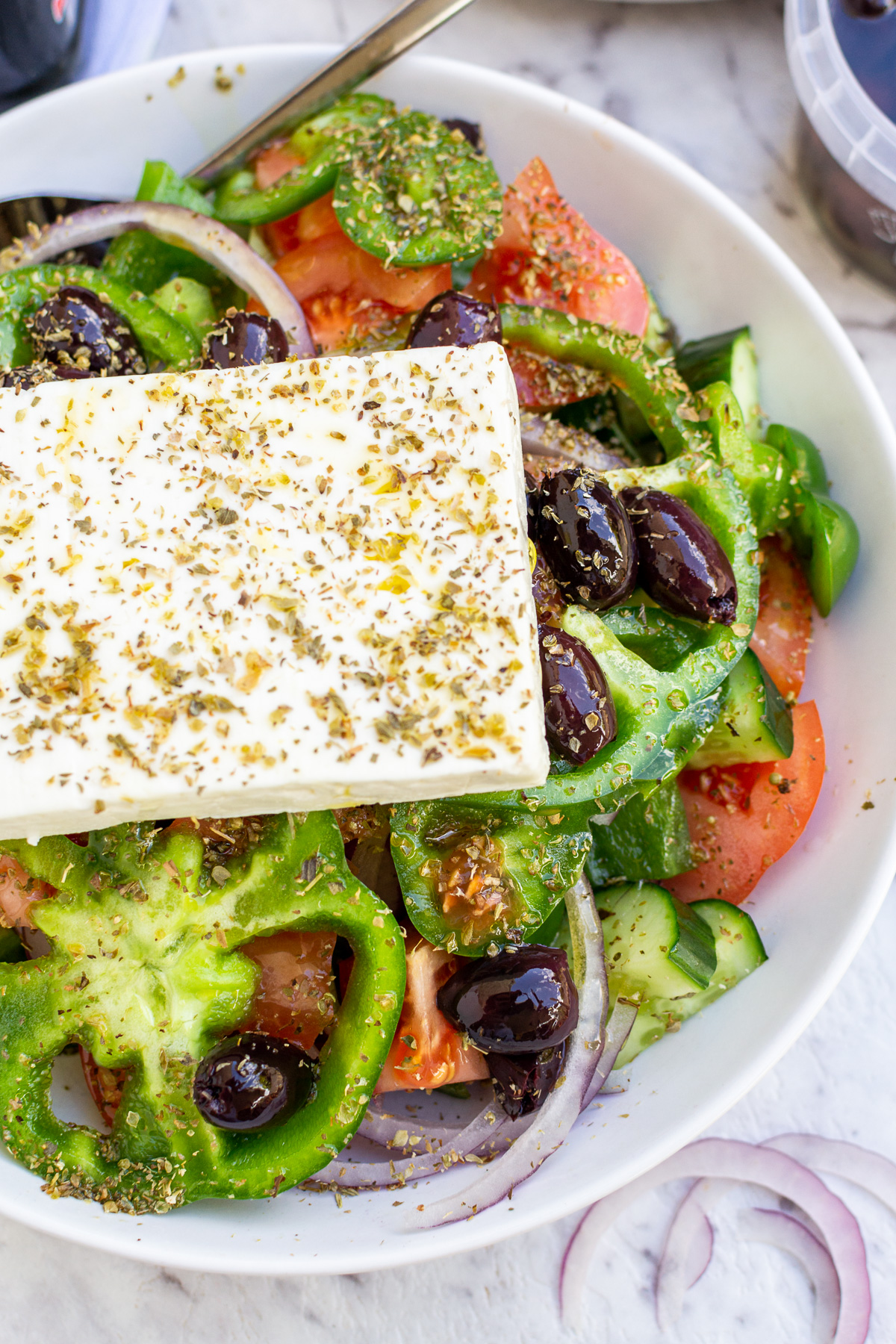 What's a horiatiki salata?
Horiatiki salata (pronounced hori-AT-iki sal-AT-a) literally means village salad in Greek. It's also occasionally called a peasant salad, but of course it's best known simply as a Greek salad!
A traditional horiatiki salad is a very simple but also extraordinarily delicious classic Greek dish – virtually a national dish of Greece!
It makes a perfect side dish to serve with many types of mains. But it can even be served on its own for lunch with fresh bread (called horiatiko psomi in Greece!) on the side. It literally can be a meal in itself.
And here's the thing. I lived in Greece for years and ate hundreds of Greek salads both at restaurants and elsewhere and the recipe just doesn't vary that much.
I certainly don't recall eating Greek salads with lettuce in them!
So what's in a traditional horiatiki salad? Ripe and juicy tomatoes, crisp cucumber and green peppers, tangy red onion, salty Kalamata olives, Greek oregano, extra virgin olive oil, and a big slice of creamy feta cheese on top.
It's honestly the perfect combination of flavors. It's a huge party for your tastebuds, and that's why it tastes so good!
If there's one Greek dish you should learn how to make, it's an authentic Greek salad. It's colorful, filling, quick and easy to make with simple ingredients, and super healthy. It's equally as perfect to go with a midweek meal for your family or to serve at your next dinner party as a show-stopping side!
Did you know? There isn't just one kind of classic Greek salad. There's another cool Greek salad that DOES include lettuce. It's called a maroulosalata, or Greek lettuce salad. Give that a try too!
Ingredients
The great news is that a traditional Greek village salad is super easy to make at home wherever in the world you are. Here's what you need.
Tomatoes: Any tomatoes will work. However, I usually look for the ripest, biggest, reddest, juiciest tomatoes I can find. You'll want plenty of tomatoes in your salad – so 4 to 5. If it isn't the season for beefsteak tomatoes, vine-ripened tomatoes can also be a good choice.
Cucumber: I usually grab a long, thin English cucumber since they don't have many seeds and the skin isn't bitter or tough. I usually use half to two thirds of it, depending on the size. Smaller Lebanese cucumbers can be another good choice. I usually leave the skin on for ease, but if it's tough or bitter you can peel it.
Green peppers: Whether you know them as bell peppers, capsicum or just green peppers, 1 entire green pepper adds bright green color, crunch and even a bit of design to your salad (see below for tips on how to cut them!).
Onion: Red onion has a milder taste, but white onion works, too (just add less). I usually slice around an eighth to a quarter of an onion into thin rounds, but you can add more to taste if you like.
Kalamata olives: The olives don't strictly speaking have to be Kalamata olives, but try to choose a big, black variety. You'll need about a cup.
For a more authentic Greek salad experience, stone-in olives are best.
Dried oregano: You'll want to toss plenty of this through the chopped salad ingredients and a little more over the top of the salad after you've added the feta (not essential but looks great!).
Can you use fresh oregano instead? Absolutely! Simply replace each teaspoon of dried oregano with a tablespoon of chopped fresh Greek oregano. It'll be delicious!
Extra-virgin olive oil: Since this is the only 'dressing' you'll add to your horiatiki salata, and you'll use a whole quarter cup, use the best quality that you can. No olive oil blends and no substituting with another type of oil!
Feta cheese: A big slice! For one large Greek salad, I usually get a big 150 to 200 gram slice from the deli counter at my local supermarket. I've experimented with many types of feta, and always come back to an authentic Greek brand. Dodoni is widely available and a good quality option. You can even sometimes buy this in a big tub of brine.
In case you're still wondering… no lettuce! Although to be fair, a Greek salad can occasionally (very occasionally) have a few green leaves tossed through it, such as rocket/arugula. Try this if you like! 😉
Top tip: Use the best, freshest ingredients possible. I make horiatiki salads all year round, but they're especially delicious in the summer months when the tomatoes, cucumber and green peppers are in season.
How to make it
This is what I think is the easiest way to make an authentic Greek salad that's perfect every time!
Step 1: Very roughly chop the tomatoes. Just slice every which way. No need to be neat or methodical about it at all. The first time I saw tomatoes chopped this way was in Greece. It was literally a life-changing moment!
Step 2: Slice the cucumber into thick slices. I usually chop each slice into two. Throw them into a large salad bowl. I often underestimate just how large the bowl needs to be!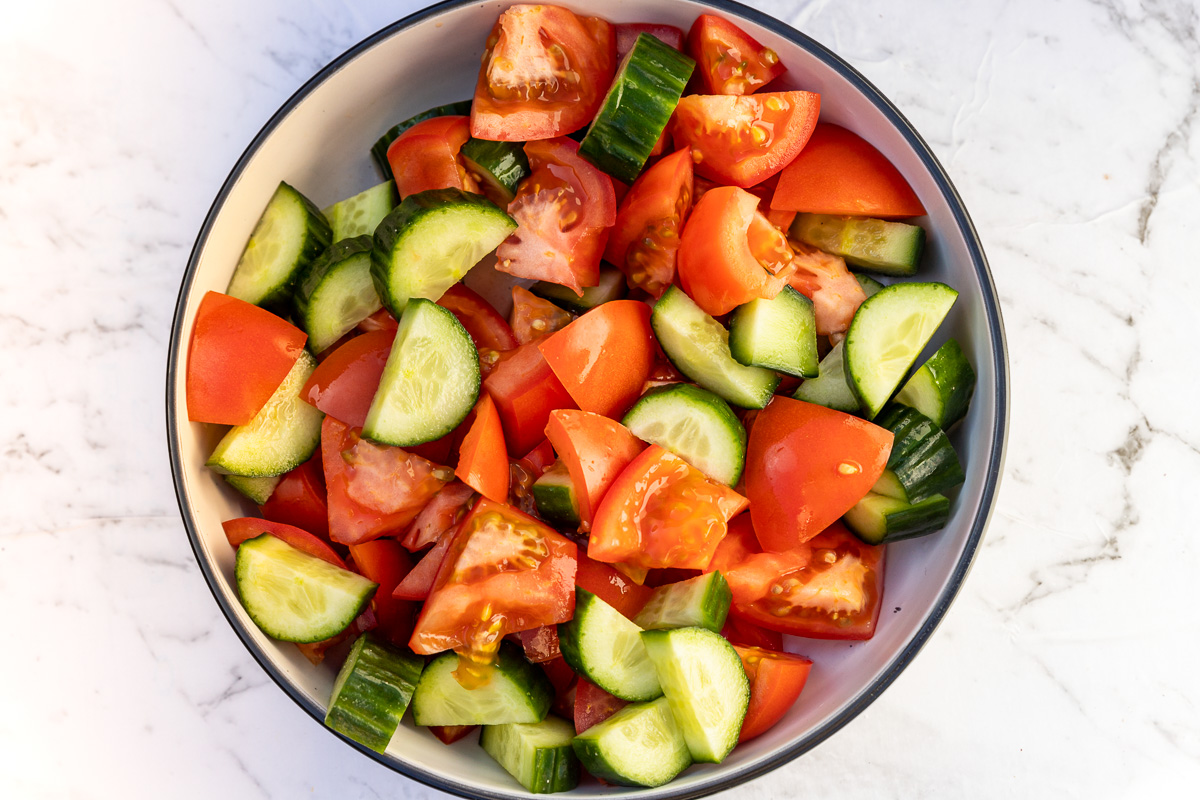 Step 3: Slice the onion and pepper into nice thin 'rounds'. Add most of the sliced onion, sliced peppers, olives, oregano and olive oil. Toss really well.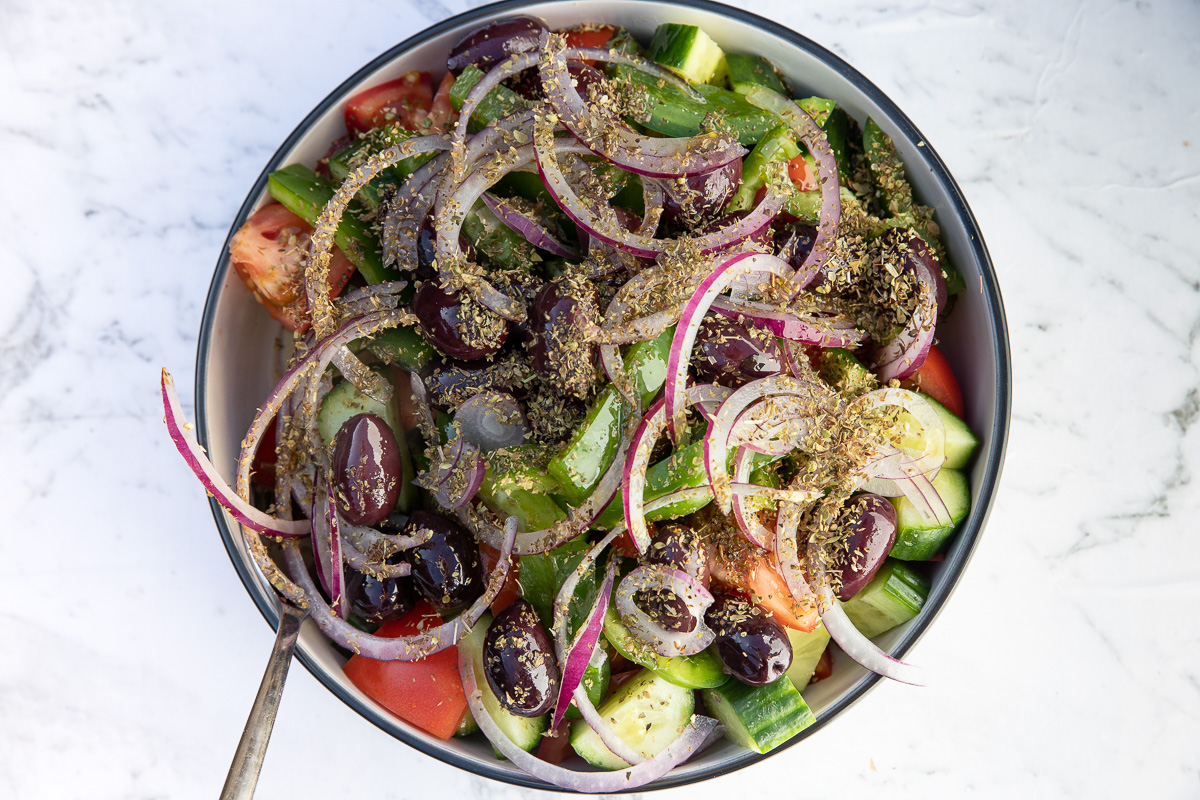 Reserve a few of the nice green pepper and onion 'rounds' to place on the top of the salad. I usually add a few reserved olives on the top, as well.
Step 4: Lastly, simply lay the big slice of feta cheese on top. Sprinkle over a bit more oregano and the last drizzle of olive oil.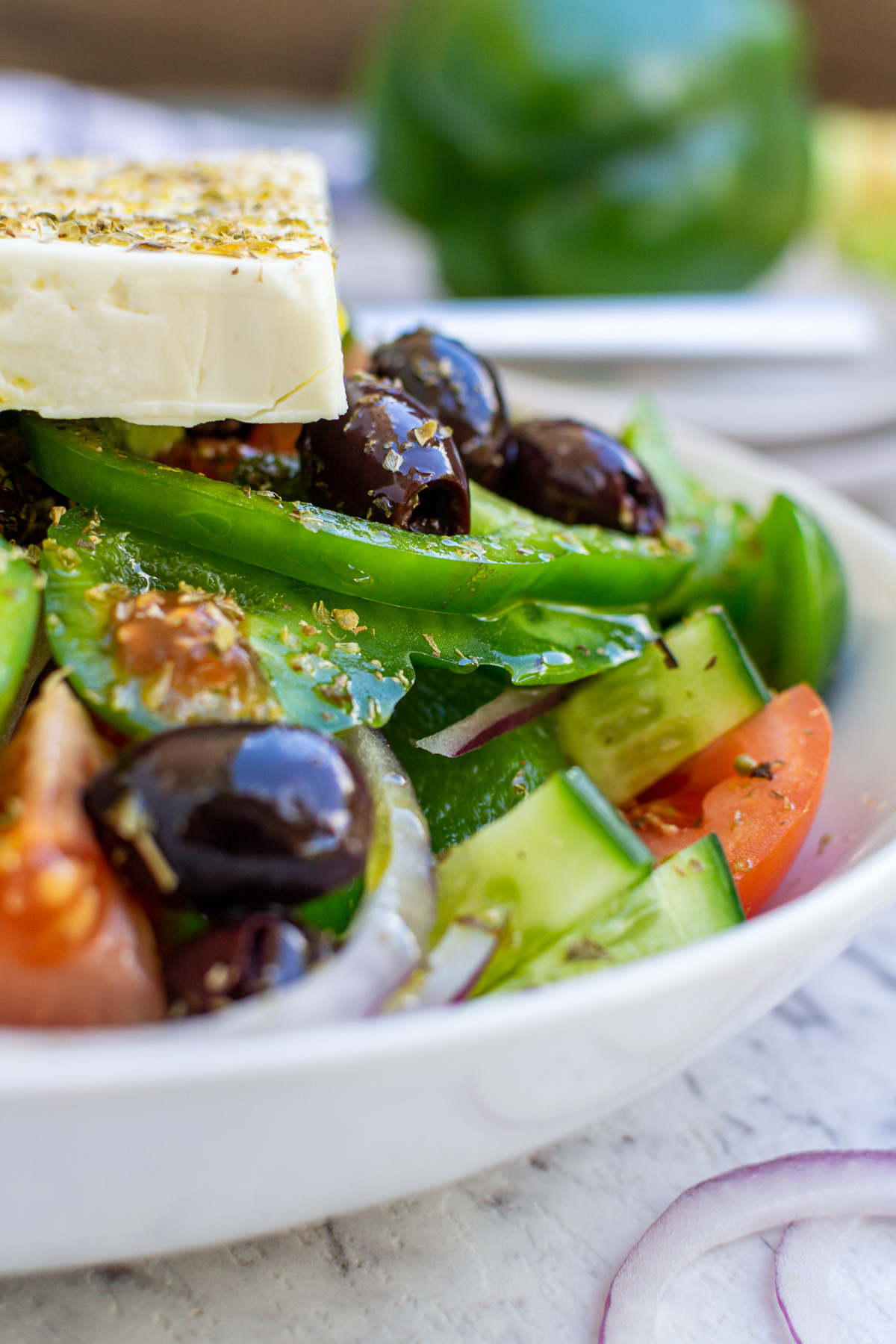 Step 5: Take the Greek 'salata' to the table and break up the cheese before everyone serves themselves. This is a fun traditional way to serve it!
Helen's top tips
Squeeze about half of the tomatoes as you add them to the serving bowl. This is a great tip I once got from a Greek friend. This way, you get more juice to mix with the olive oil and mop up with bread. Delicious!
Slice the pepper from the bottom up to get the pretty 'rounds' to place on the top. They almost look like flowers! Then slice the rest of the pepper any which way and throw it in.
Watch your teeth if you're using pitted olives! There are often bits of the pits left inside. I actually prefer to use olives with the pits still in. That way you know what to expect!
Fresh crusty bread is perfect for mopping up all the delicious juice. Some people even like to throw some chunks of bread into their salad before eating it.
Wild card option: If you can get hold of some Greek rusks (called 'paximathi' in Greek), these are great tossed in, too (common in Crete). They're very hard, so hold them under running water for a few seconds to soften them slightly.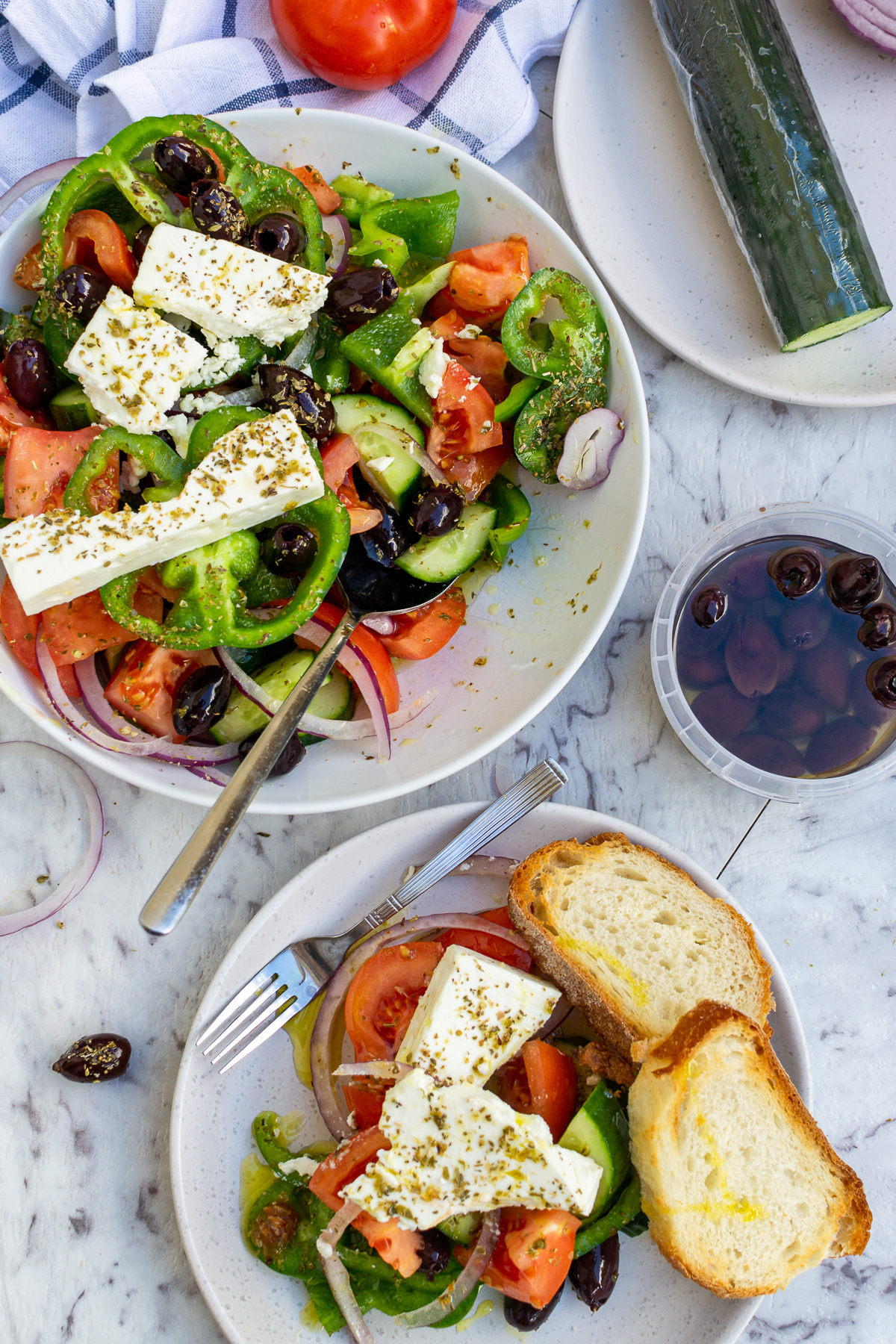 How do I make Greek salad dressing?
Erm, you don't. The good quality olive oil you drizzle over the salad generously combines with the juices from the other salad ingredients to make the perfect tasty and easy dressing. No other salad dressing necessary!
Another reason this delicious Greek salad is so easy to make.
Some traditional village salad recipes include a splash of red wine vinegar (white wine vinegar is OK too). By all means try this if you like!
How to serve it
Probably my favorite way to eat this traditional Greek village salad is by itself for lunch with some 2-minute toast with olive oil and salt or pita bread (or air fried pita chips – why not?!) on the side.
But there are also endless main meals that it goes well with. (Hint: they don't have to be Greek!)
For example:
But of course, there are certain Greek main dishes that I would never dream of serving without a horiatiki salata on the side!
These are:
Oh, and any time you make this 'best salad in the world' (I am NOT exaggerating), do make a bowl of this easy tzatziki as well. It only takes 10 minutes, and you won't regret it. These two are a match made in heaven!
For more ideas, see this list of 50 best easy side dish ideas for a Greek salad, from meat to pasta, appetizers, dips and more!
Recipe FAQ
How long does a Greek salad last in the fridge?
Up to 2 days. While you can make it a few hours ahead and keep it covered in the fridge, it's best eaten the day it's made. The leftovers still taste great the next day for lunch, but they might be a little past their best.
How healthy is a Greek salad?
Well we all know that the Mediterranean diet is good for you! A Greek salad is high in heart-healthy fats in the olive oil and olives and the vegetables are low-calorie and full of health-protecting vitamins and antioxidants. Also, compared to other cheeses, feta is low in calories and fat and high in nutrients, helpful bacteria and fatty acids.
IF YOU MAKE THIS RECIPE, LET ME KNOW HOW YOU GET ON BY LEAVING A COMMENT AND RATING BELOW… AND DON'T FORGET TO SIGN UP TO RECEIVE ALL MY NEW RECIPES BY EMAIL!
Greek Village Salad (Horiatiki Salata)
This incredibly delicious all-year-round traditional Greek salad (otherwise known as a horiatiki or village salad) contains just eight fresh ingredients – tomatoes, cucumbers, onions, green peppers, black olives, feta cheese, oregano and olive oil. Despite being super healthy, it's a huge crowd pleaser that literally everyone loves. Goes wonderfully well with so many meals, including classic Greek dishes, meatballs, pizza, burgers and more, but is equally as good on its own for lunch. This is one recipe you REALLY need to learn how to make – and make well!
Equipment (affiliate links)
Ingredients (UK/Australia? Click below for grams/ml)
4

medium

tomatoes

(4 – 5 depending on size) The redder & juicier the better, randomly sliced into chunks.

½

cucumber

(½ – ⅔ depending on size) thickly sliced

1

green pepper

Some sliced into thin rounds from the bottom up, the rest sliced any which way.

⅛

red onion

Sliced thinly in rounds (you can add more to taste, ⅛ – ¼ of an onion).

1

cup

Kalamata olives

Stone in or pitted (any large black olives are fine).

2

teaspoons

dried oregano

¼

cup

extra virgin olive oil

(Good quality)

5

ounces

feta cheese

(A really thick slice – usually 5 to 7 ounces)
Instructions
Add the tomatoes and cucumber to a large salad dish. Squeeze some of the tomatoes a little as you add them to release some juice.

4 medium tomatoes,

½ cucumber

Add most of the green pepper (reserve 3 or 4 whole slices for decorating the top), most of the onion (reserve a few 'rings') and most of the olives.

1 green pepper,

⅛ red onion,

1 cup Kalamata olives

Now add most of the oregano and most of the olive oil and toss the salad well.

2 teaspoons dried oregano,

¼ cup extra virgin olive oil

Arrange the reserved slices of pepper and onion and the rest of the olives on the top of the salad.

Finally, place the feta on the very top (in one big slice). Sprinkle the feta and salad with the rest of the oregano, then drizzle with the remainder of the olive oil.

Serve as a side dish or for lunch with fresh crusty bread to mop up the juices!
Notes
Top tip: For an extra juicy salad with more dressing to mop up, squeeze about half of the tomatoes a little into the dish as you add them to the salad.
Olives: Use plump, juicy black olives (Kalamata olives are best) with the stone in.
Feta: Try to find an authentic brand of feta cheese such as Dodoni. One very large slice is best.
Onions and green pepper: I like to slice thin whole slices of each of these and reserve a few to arrange nicely on the top.
Oregano: If you can find fresh Greek oregano, you can replace the dried oregano with 2-3 tablespoons of it if you like.
Storing: You can make the salad a few hours ahead and store it covered in the fridge. Leftovers will keep for up to a day, but a Greek salad is best consumed the day it's made.
How to serve: A Greek salad goes with almost anything! It's great with pizza, burgers, grilled meats, souvlaki wraps, pasta meals, classic Greek dishes such as moussaka, and much more. It's also delicious eaten by itself with bread for a simple, healthy lunch.
Some traditional tzatziki can be delicious on the side as well.
For more ideas, browse this list of 50 best easy Greek salad serving ideas.
Nutrition
Calories:
299
kcal
Carbohydrates:
11
g
Protein:
7
g
Fat:
27
g
Saturated Fat:
7
g
Polyunsaturated Fat:
2
g
Monounsaturated Fat:
15
g
Cholesterol:
32
mg
Sodium:
939
mg
Potassium:
448
mg
Fiber:
4
g
Sugar:
5
g
Vitamin A:
1461
IU
Vitamin C:
42
mg
Calcium:
230
mg
Iron:
1
mg