Honey roasted carrots and parsnips are one of those fancy-but-easy side dishes that you can easily impress with. These two popular and naturally sweet winter root vegetables are perfect for roasting together.
These work so well for a family roast, Christmas dinner or any special occasion. The glossy, perfectly caramelized vegetables coated in the sweet and tart 4-ingredient glaze will make them a hit with everyone!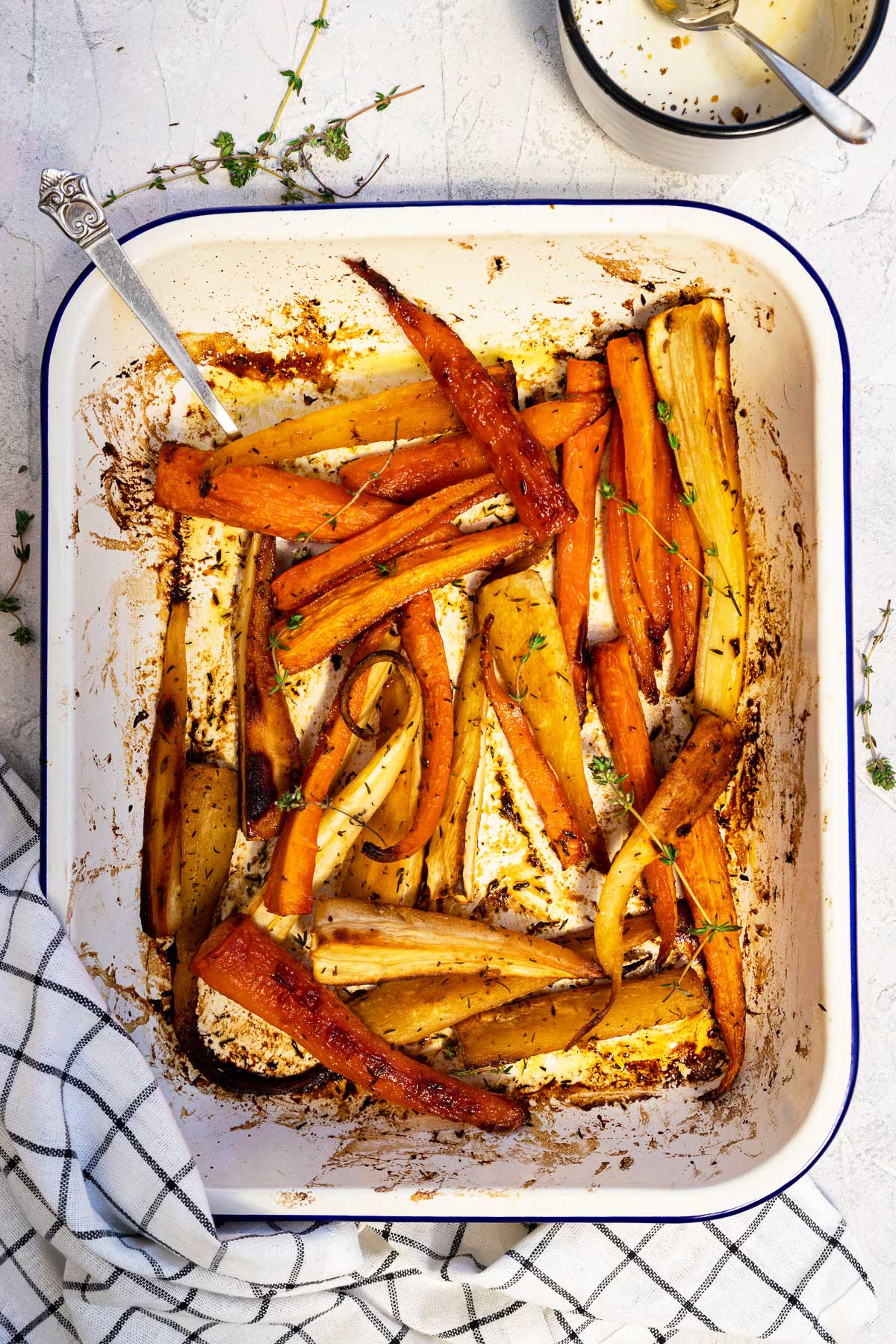 Why you'll love them
✔ Roasting carrots and parsnips is the tastiest way to cook them. I know parsnips can be a love-them-or-hate-them sort of vegetable. But tossing in a honey glaze balances their earthy flavor and enhances their natural sweetness beautifully. Lightly crisp and caramelized on the outside and perfectly tender inside, they are very moreish!
✔ They're very easy to prepare. Just parboil and roast the vegetables, then toss with the delicious sweet and sour glaze for the last part of cooking.
✔ A perfect make ahead side dish for a special occasion such as Christmas dinner. You can parboil the vegetables and prepare the simple dressing in advance.
✔ This is the best way to roast carrots and parsnips with honey. Adding the glaze ONLY around 10 minutes before the end of cooking makes sure the honey doesn't burn. It also leaves you with moist and glossy vegetables with beautiful crispy edges.
✔ Honey roasted parsnips and carrots are naturally gluten free and dairy free. Easily make them vegan by swapping the honey for maple syrup.
Love roasted vegetables? Try these amazing roasted brussel sprouts and carrots as well.
About the ingredients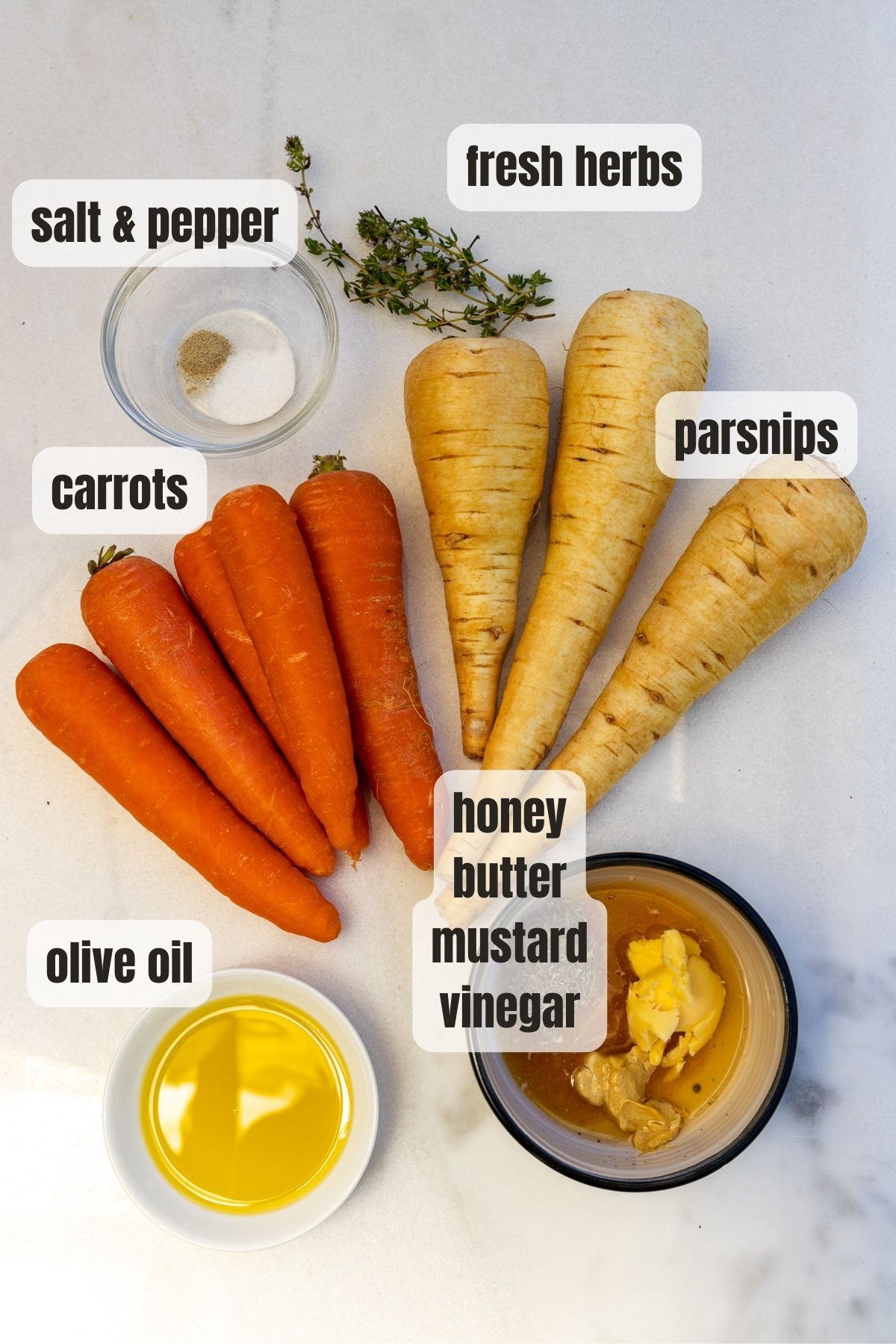 Carrots and parsnips: Around 3-4 large carrots or 6 smaller ones and 4-6 medium sized parsnips. I usually cut them into 4 lengthwise if medium, or into 2 if smaller. Try to cut them so that they're all a similar size. Avoid very large parsnips since they can have a tough and 'woody' core. If this is all that's available, I suggest cutting out any woody parts before cooking. They are easy to spot after slicing.
Olive oil: Around 2 tablespoons, for roasting the vegetables in at the start.
Fresh or dried thyme: Hardy, woodsy thyme goes very well with root vegetables such as carrots and parsnips. Add this herb at the beginning of cooking since the flavor intensifies as it cooks. You can easily use a different herb such as fresh basil, dill or parsley. However, it's best to add these more delicate herbs with the glaze towards the end of cooking.
A little salt and pepper: To taste.
For the honey glaze
Honey: Any type of honey is fine. If you prefer, you can even use maple syrup instead.
Mustard: Just a teaspoon. Any kind is fine, but I usually use Dijon mustard. Wholegrain is another good choice.
Vinegar: Cider or balsamic vinegar works well, but any kind provides the same tangy contrast to the sweetness of the honey. Lemon juice is a good substitute.
Butter: A tablespoon of butter adds just a hint of buttery richness to the delicious glaze.
How to roast carrots and parsnips in honey
The step-by-step guide below should help you make the recipe perfectly first time. Scroll down to the end for the full recipe including ingredient amounts.
Peel and wash the carrots and parsnips, then cut them lengthwise into equal(ish) sized pieces. I usually cut larger vegetables into quarters, or just halves if smaller. You can cut any really long pieces in half width wise if they don't fit into your largest saucepan.
Please be careful when slicing the veggies!
Next, parboil the vegetables in a very large saucepan for about 5 minutes. This makes sure that the the carrots and parsnips end up tender enough inside. Parsnips are not fun to eat if they're undercooked!
Then drain them in a large colander, and let them steam dry for a while. Meanwhile, you can preheat the oven to 180C/355F.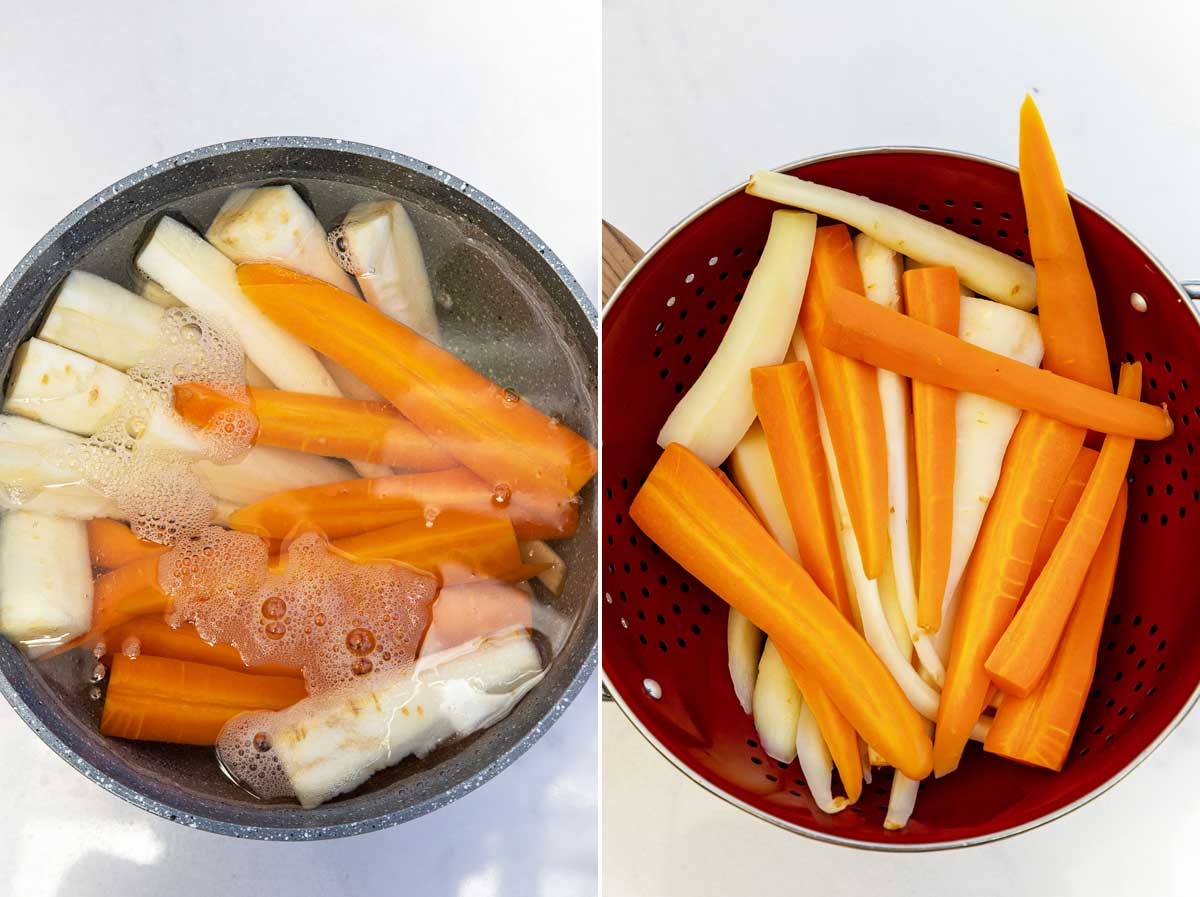 Then empty the vegetables into a large roasting pan. If you don't have a roasting pan, a large baking tray will be fine. Toss through the seasoning, olive oil and then the thyme, then roast for about 50 minutes.
Meanwhile, you can prepare the simple honey glaze. All you do is briefly warm the 4 ingredients in the microwave, then stir it together. This just makes it easier to toss evenly through the nearly roasted parsnips and carrots.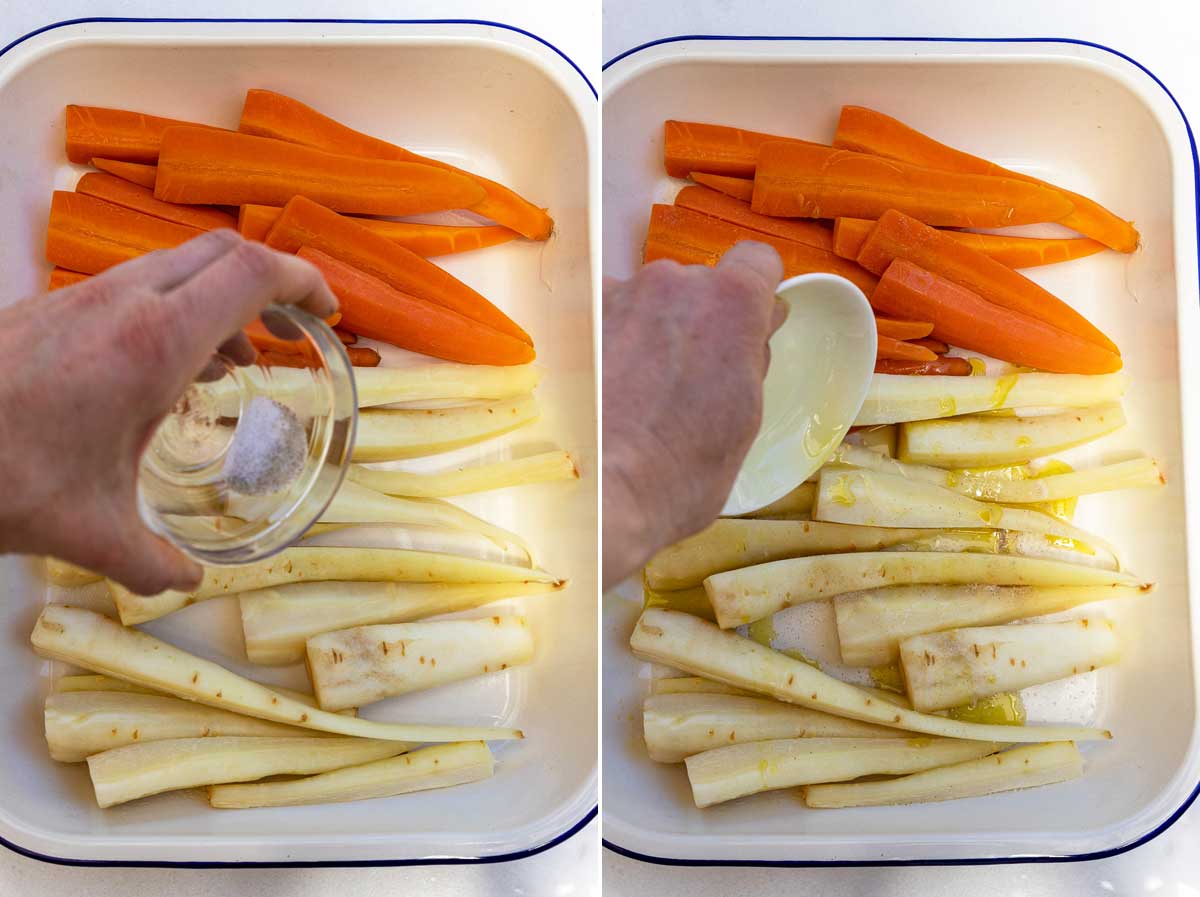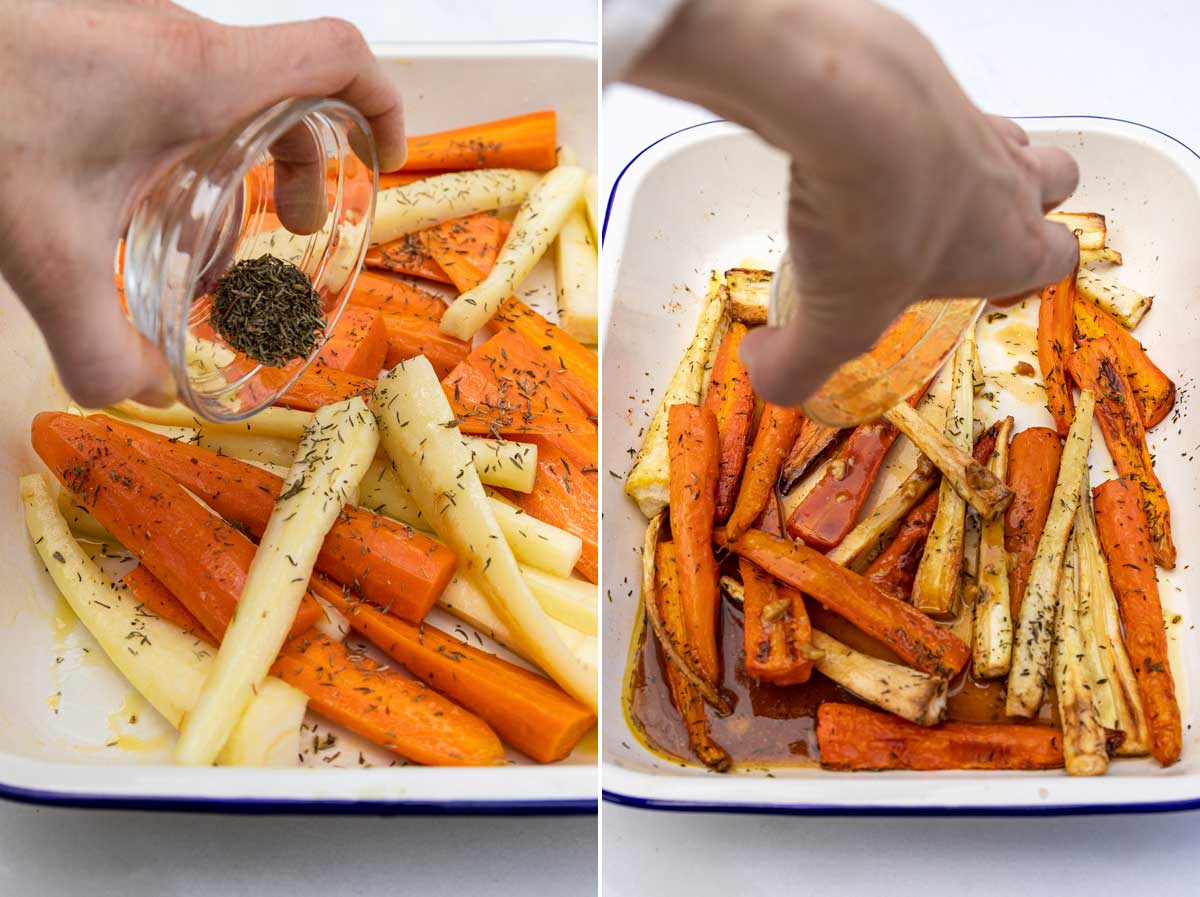 After tossing the honey mixture through, roast for a final 10 minutes. At this point the dish should be perfectly tender, sticky and delicious!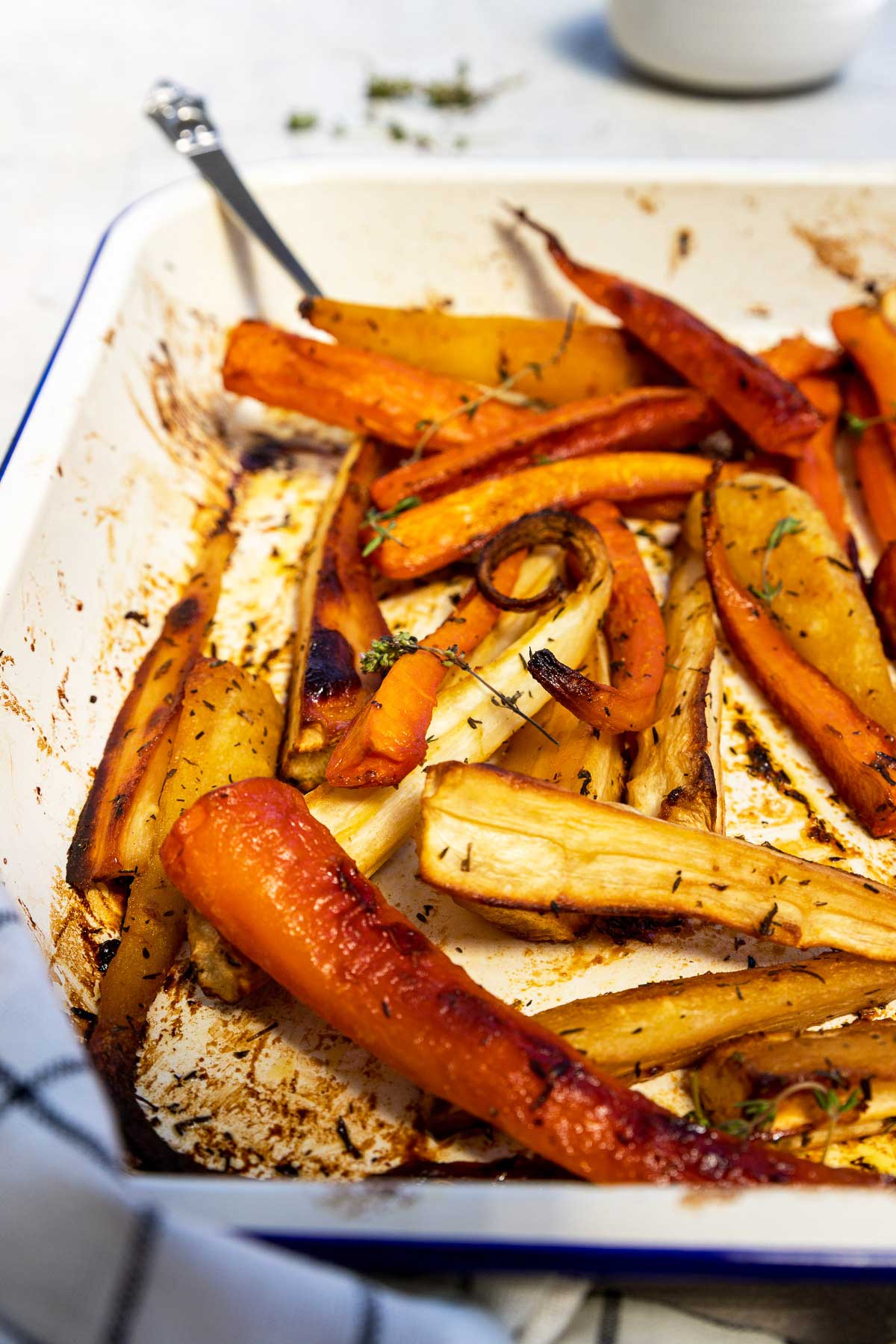 Helen's top tips
Use a really large roasting tin or baking tray/sheet pan so that the carrots and parsnips are mostly in a single layer. This gives them space to crisp up nicely. If you don't have a large enough pan, it's better to use two.
Don't be tempted to add the marinade when the honey carrots and parsnips first go in the oven. I've tried it! Surprisingly, they were still good, but I find them extra juicy and delicious if you add the glaze towards the end. The vegetables still get sticky and caramelized in the glaze, but there's no chance of the dish getting dry or burnt.
At the end of the cooking time, test a large parsnip with a sharp knife. It should be beautifully tender. If not, cook for a little longer until it is.
How to serve
Honey glazed carrots and parsnips are a perfect easy and healthy side dish to go with a family roast dinner, or even a winter casserole or stew. If you've got an air fryer, you could make this whole roast chicken in it, leaving plenty of space in your oven for your honey roast carrots and parsnips!
There should even be room in the oven for your roast potatoes (try these easy parmentier potatoes), or why not try my famous Greek potatoes?
If it's Christmas or another special occasion and you really want to go to town, why not quickly make some of this simple lemon & butter sauce as well? It'll taste delicious drizzled over the whole of your meal.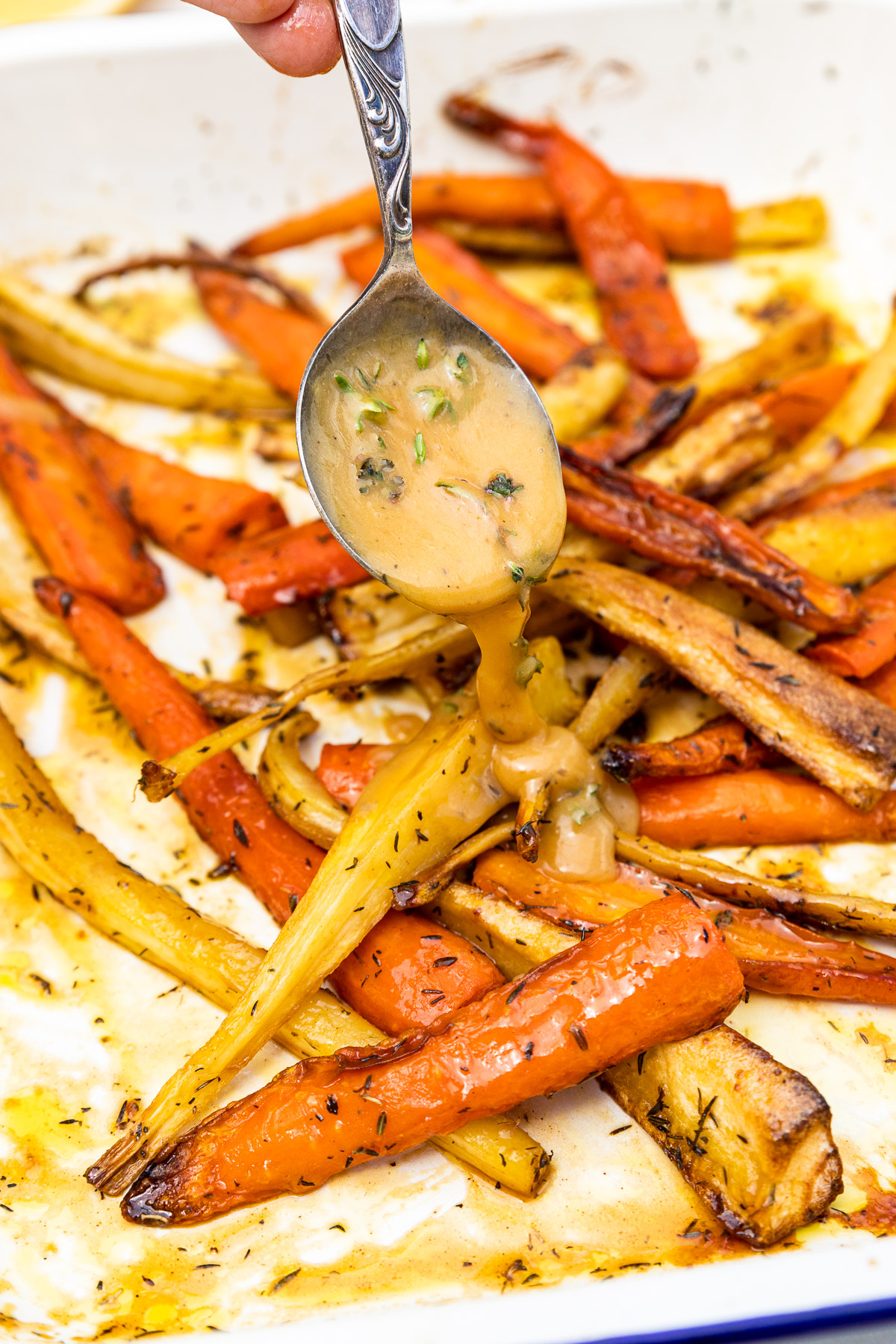 Variations
Herbs: My favorite herb to add to honeyed carrots and parsnips is thyme, but other herbs work well too. You can add a little chopped fresh rosemary instead – again at the beginning of the cooking time. Or try fresh basil, dill, parsley, or coriander/cilantro stirred into the marinade (since they're more delicate herbs). Use dried mixed Italian herbs instead if you like.
Make the dish even fancier: At the same time as adding the honey marinade, sprinkle over some chopped nuts (walnuts, pecans or hazelnuts work well) and a crumbly cheese such as blue cheese, Cheshire, feta or even goat cheese. Grated parmesan could work well, too.
Add citrus: Replace the vinegar with lemon, lime or orange juice. Add some grated zest to the marinade, too.
Recipe FAQ
Do I really have to peel the carrots and parsnips before roasting?
No, you don't have to at all! I usually prefer to, but you can absolutely just give them a good scrub to get rid of any dirt, then use them unpeeled.
Can you prepare the dish ahead?
Yes! You can parboil the vegetables, then pour them into the baking dish and cover them and keep them in the fridge up to a day before cooking them. You can also mix together the marinade ingredients, which will keep well covered in the fridge for quite a few days.
Can you reheat the leftovers?
Yes! Simply keep them covered in the fridge for up to 3 days. Then cover the baking dish with aluminium foil and reheat in the oven for around 20 minutes at 175C/350F.
More easy sides for roast dinner
IF YOU MAKE THIS RECIPE, LET ME KNOW HOW YOU GET ON BY LEAVING A COMMENT AND RATING BELOW… AND DON'T FORGET TO SIGN UP TO RECEIVE ALL MY NEW RECIPES BY EMAIL!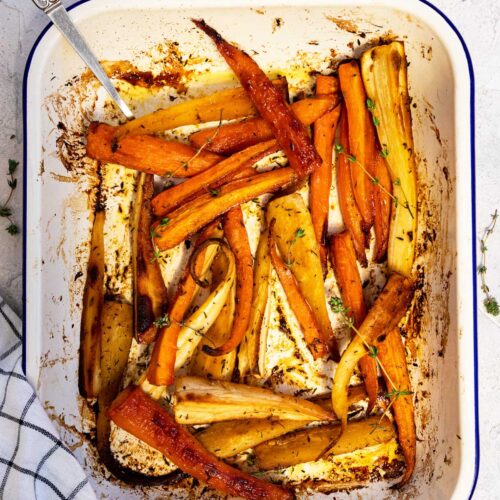 Honey Roasted Carrots And Parsnips
These delicious honey roasted carrots and parsnips are tossed in a very simple 4-ingredient glaze with honey, mustard, butter and herbs. They're very easy to prepare, perfect for a special occasion such as Christmas, Easter, or a family roast dinner. You can even get ahead by preparing them the day before.
Equipment (affiliate links)
Ingredients (UK/Australia? Click below for grams/ml)
½

kilo

carrots

peeled, washed, and cut into 2 or 4 lengthwise (about 4-6 medium to large carrots)

½

kilo

parsnips

peeled, washed, and cut into 2 or 4 lengthwise (about 4-6 medium sized parsnips)

2

tablespoons

olive oil

for roasting

3

teaspoons

fresh thyme

(Pull small leaves off tough stalks by running fingers down the stem.) Or use 1 teaspoon dried thyme. Or other herbs (see notes below).

½

teaspoon

salt

Or to taste.

¼

teaspoon

pepper

Or to taste.
For the honey glaze
2

tablespoons

honey

Or maple syrup.

1

teaspoon

mustard

Any kind (Dijon and wholegrain work well).

1

tablespoon

butter

1

tablespoon

vinegar

Any kind (cider vinegar works well). Substitute with lemon juice if you don't have vinegar.
Instructions
Peel and wash the carrots and parsnips. Carefully slice into quarters or halves lengthwise (quarters for large, halves for medium or small). Cut any very long ones in half width wise if necessary to fit into a large saucepan.

½ kilo carrots,

½ kilo parsnips

Cook the vegetables in boiling water in a large saucepan for 5 minutes (parboil). Drain in a large colander and allow to steam dry for a few minutes.

Meanwhile, preheat the oven to 180C/355F/gas mark 4 (for a fan oven, otherwise 200C or gas mark 6).

Empty the parboiled vegetables into a large roasting dish or onto a large baking tray. Toss with the olive oil, salt and pepper and thyme (if using different herbs, see note below).

2 tablespoons olive oil,

3 teaspoons fresh thyme,

½ teaspoon salt,

¼ teaspoon pepper

Roast the carrots and parsnips for 50 minutes. While they're roasting, put all of the honey glaze ingredients into a small bowl. Microwave for around 20 seconds to melt the butter and honey. Alternatively heat briefly in a small saucepan. Mix well.

2 tablespoons honey,

1 teaspoon mustard,

1 tablespoon butter,

1 tablespoon vinegar

Take the vegetables out of the oven. Pour in the glaze, then toss the vegetables well so that all are well coated. Roast for another 10 minutes, or until the vegetables are tender in the middle and lightly caramelized/crisp around the edges.

Serve immediately, or cover with aluminium foil and keep warm until ready to serve.
Notes
Carrots and parsnips: Try to use fresh, firm large or medium sized carrots and parsnips. I usually peel them but you can just scrub them and leave the skins on if you prefer. If very large, slice the vegetables in quarters lengthwise, if medium or smaller, slicing into half should be enough. If any are too long to fit into your largest saucepan, feel free to cut in half width wise as well. Please be careful with your fingers!
Avoid really large parsnips as they can tend to be 'woody' in the middle. If you see any woody parts when you cut into them, I suggest slicing these parts out. They're easy to spot!
Herbs: Rosemary works well too. Simply chop finely and add at the beginning of roasting, as with the thyme. You can use different fresh herbs, too, such as basil, parsley, dill, oregano or coriander/cilantro. These herbs are more delicate, so add them into the honey glaze/marinade instead. You can also use dried herbs, but you'll only need around a teaspoon. Mixed Italian herbs are also a good choice.
Preparing ahead: You can get ahead by parboiling the vegetables the day before you want to serve the dish. Simply keep them covered in the fridge overnight. You can also prepare the marinade ahead. Just mix everything together and keep covered in the fridge.
Storing and reheating: These honey roast carrots and parsnips will keep in the fridge well covered for up to 3 days. You can reheat covered with aluminium foil for around 20 minutes in the oven at 175C/350F/gas mark 4. The vegetables may soak up most of the glaze, but they will still taste delicious.
Variations: As well as choosing different herbs, you can make this dish even fancier by sprinkling with a few nuts such as walnuts, pecans or hazelnuts, and/or crumbly cheese such as blue cheese, feta, or goat's cheese either for the last 10 minutes of cooking, or just when it comes out of the oven.
Nutrition
Calories:
122
kcal
Carbohydrates:
9
g
Protein:
0.2
g
Fat:
10
g
Saturated Fat:
3
g
Polyunsaturated Fat:
1
g
Monounsaturated Fat:
6
g
Trans Fat:
0.1
g
Cholesterol:
8
mg
Sodium:
328
mg
Potassium:
20
mg
Fiber:
0.3
g
Sugar:
9
g
Vitamin A:
181
IU
Vitamin C:
2
mg
Calcium:
9
mg
Iron:
0.4
mg