Do you ever have roasted veggies for dinner – onions, sweet potatoes, peppers & cherry tomatoes, let's say – and end up with a few too many? How about making some oozy, tasty quesadillas with the leftovers? Throw the veggies onto a tortilla with some mozzarella & loads of fresh basil, fold, crisp up in a pan and you've got a sweet, relatively healthy and delicious cheesy snack!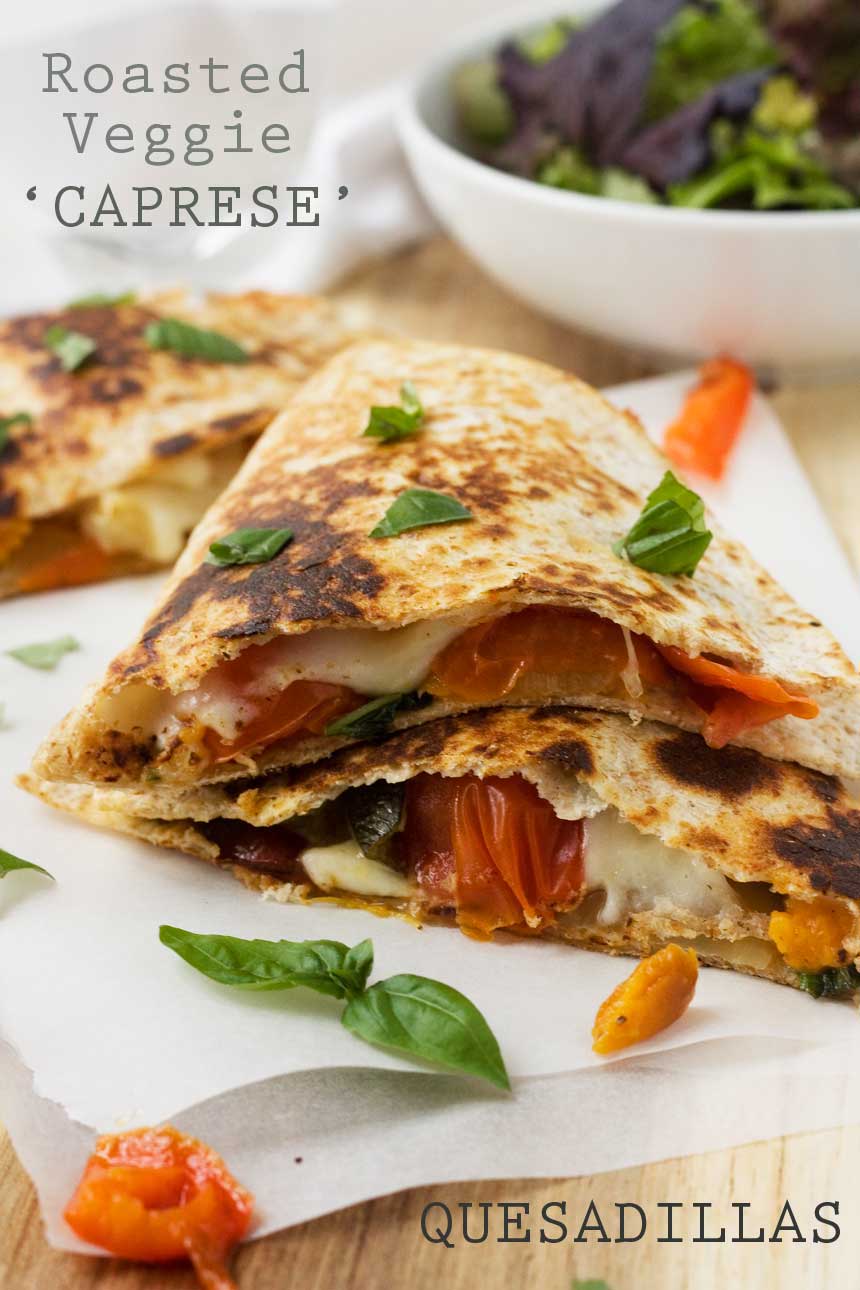 Jokes fly in our family about the fact that Mr. Scummy and I are always eating leftovers. I'm not sure whether this is an insult, a compliment, or somewhere in between, but it is true that we don't like to waste any food!
If you are like Mr. Scrummy and I and like to make good use of your leftovers, then this recipe is definitely for you. In fact, it's hardly a recipe – just a super tasty snack or light dinner idea, really.
The roasted veggies I used in these quesadillas were leftovers from our previous night's meal – just simple baked salmon with roasted vegetables. I tend to make this meal roughly once a week because we both love it and it takes all of about 10 minutes to prepare and get in the oven. The veggies can vary according to what you like and what's available, of course, but I tend to do sweet potatoes, red and green peppers, onion, cherry tomatoes and maybe zucchini if it's available. I roast them for about half an hour with a few drizzles of oil, then add the cherry tomatoes for the last 5 minutes and bake the salmon separately with a bit of olive oil and pepper for about 10 minutes. I just add a bit of salt and pepper to the veg, but nothing else, not even any herbs. I find it's just delicious as it is and doesn't need anything else.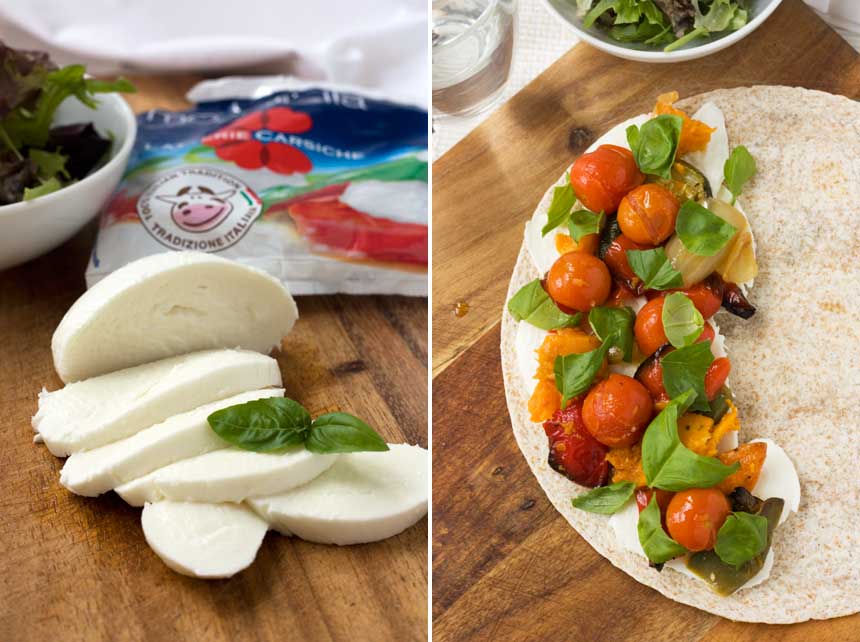 So I suppose today's post is really two recipes in one (wow, don't I treat you well?!) If you like salmon, give this a go some time when you're feeling lazy and don't want to spend very long in the kitchen. Buy some fresh crusty bread and serve with a splodge of mayo or Greek yoghurt. Yummy!
AND THEN … coming to the main point of the post (!!) … the next day you can make yourself these just-as-delicious caprese quesadillas with roasted vegetables!
As the post title reveals, the idea was inspired by the good old Italians' deliciously simple caprese salad, which of course is just fresh ball mozzarella, tomatoes and basil. But like most Italian food, it's sooo much more delicious than the humble sum of its 3 parts!
So without any further rambling, to make these simple-but-tasty quesadillas just scatter about half a ball of torn-to-bits mozzarella over just half of a tortilla (leave the other half empty as in the piccie above), then scatter over leftover roasted vegetables (including tomatoes!) and plenty of fresh basil. Fold the empty part of the tortilla over the filling and slide into a medium-hot, slightly oiled frying pan. Cook for a minute or two or until nice and golden and crispy on the underside, then carefully slide over on the closed side to cook on the other side. If you flip over on the closed side everything won't tumble out!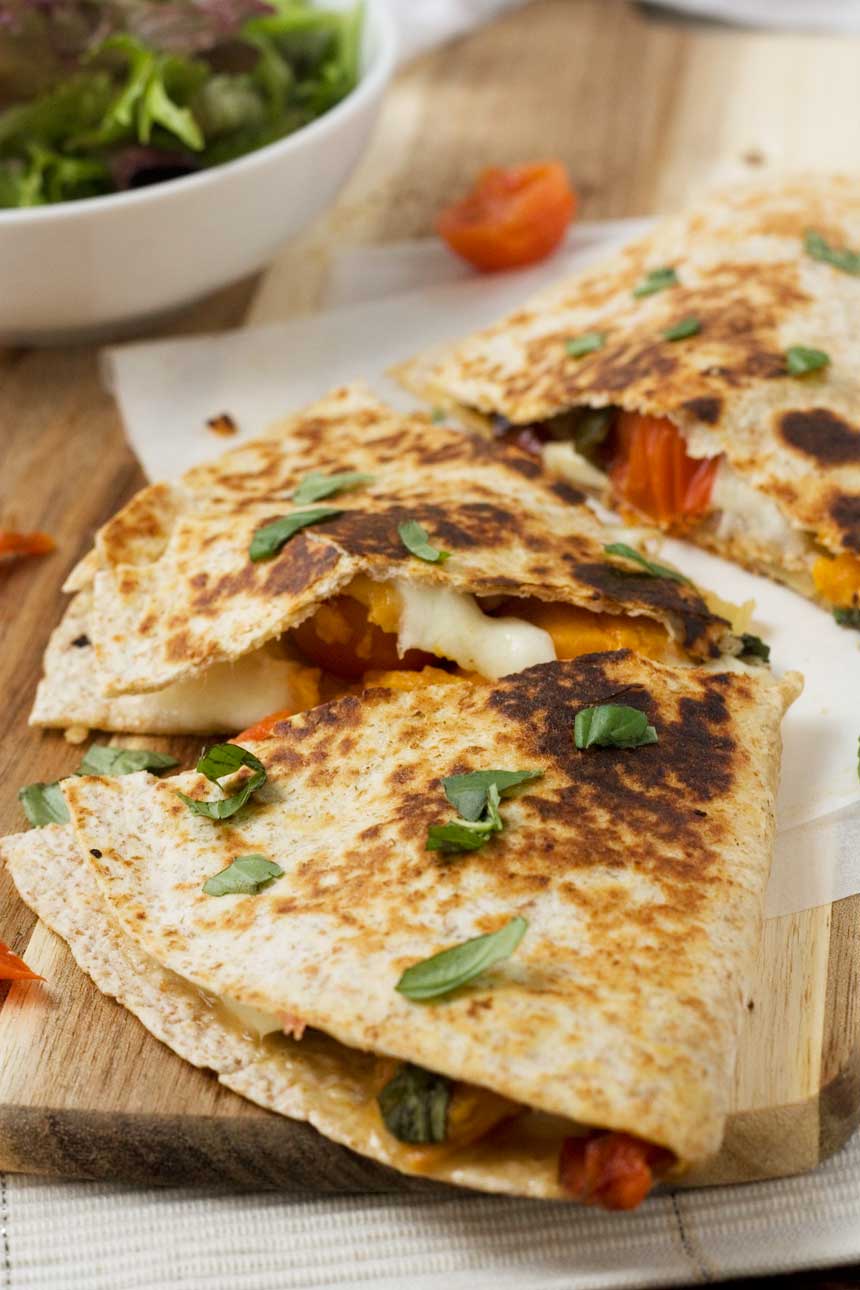 If you think I'm speaking from experience about the tumbling out part, then you might just be right. OK, so you are right. The first time I made these quesadillas, I put FAR too much filling in, it all splodged out and the quesadillas flopped and went soggy. Oops 😉
But of course yours won't end up like that because you're going to be really SPARING with your fillings, aren't you? Just about half a ball of mozzarella, a handful of the roasted veggies and 3 or 4 torn basil leaves is just about perfect.
Two more tips for you. Tip number one: blot the veggies on some kitchen paper before you scatter them over your tortilla. This will remove any excess liquid or oil and also help to make sure you don't end up with a soggy mess. Tip number two: lightly fry a chopped clove of garlic in a little oil, then brush a bit of the garlic-infused oil into your pan before cooking the quesadillas. This just gives a tiny hint of garlic-y taste to your finished quesadillas, a bit like you get with a proper Italian bruschetta. Mmmm!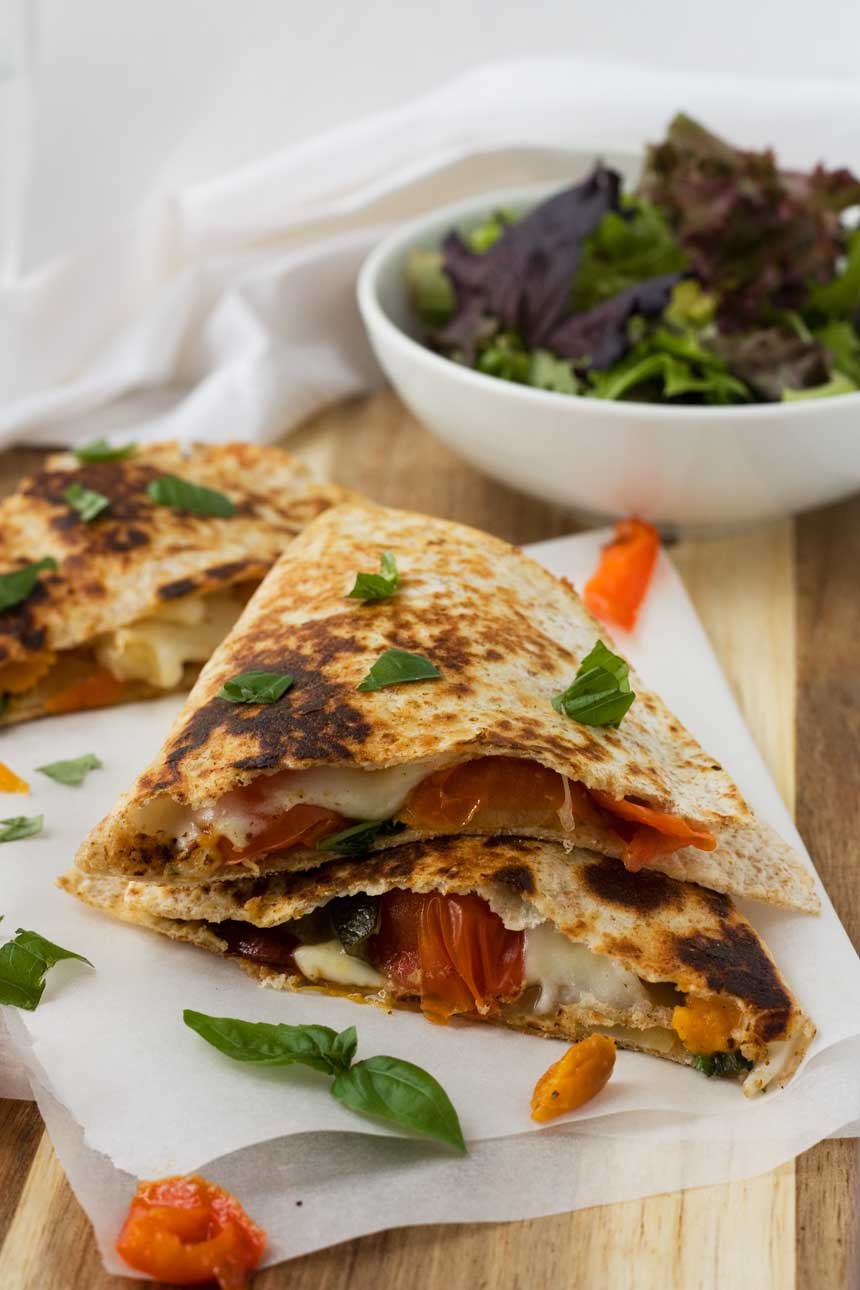 When suitably hot and crispy in the pan on both sides, slide out onto a board or plate and cut into thirds. Enjoy immediately. These are delicious by themselves, but even better dipped into guacamole and sour cream. Mmmm again!
If you happen not to have any roasted veggie leftovers, then it really takes hardly any effort to roast a few especially. Or maybe you'd like to skip the assortment of veggies and just stick with simple caprese flavours instead. Fine. Just roast some cherry tomatoes for 5 minutes or in a pinch use raw tomatoes chopped in half.
So do you like quesadillas? What flavour combos do you like stuffing inside them the most?
Roasted vegetable 'caprese' quesadillas
If you sometimes have leftover roasted vegetables and struggle to know what to do with them, this is the perfect recipe for you. Just scatter one half of a tortilla with mozzarella cheese, the roasted veggies and fresh basil, fold over and cook in a pan until crisp and oozy.
Ingredients (UK/Australia? Click below for grams/ml)
2

large tortillas

1

tablespoon

oil

1

garlic clove

crushed or finely sliced

1

ball mozzarella

torn into smallish pieces

leftover roasted vegetables

including cherry tomatoes (just about a handful for each tortilla) – see note below

6 to 8

fresh basil leaves

guacamole and/or sour cream for dipping

optional
Instructions
Cook the garlic in the oil in a small saucepan for a couple of minutes to make a garlic-infused oil. Brush a bit of the oil into a frying pan and heat up on a medium heat.

Meanwhile, lay out a tortilla on a large board or plate. Scatter half the mozzarella, half the roasted veggies and 3 to 4 torn basil leaves over half of the tortilla, leaving the other half plain.

Fold the plain half of the tortilla over the covered half, then slide into the frying pan. Press down a bit (with a fish slice or similar) and let cook for 1 to 2 minutes or until golden and crispy on the underside. Then slide over carefully (with the closed side not losing contact with the pan) and cook for another minute or 2 on the other side.

Slide out of the pan onto a board or plate and cut into thirds. Repeat with the other tortilla and ingredients, then serve immediately while still hot and crispy (with the guac & sour cream, if using).
Notes
Use any roasted vegetables you like, of course, but I like to use sweet potato, onion chunks, red and/or green peppers and cherry tomatoes. Don't forget the cherry tomatoes, because without them these aren't really caprese quesadillas!
If you don't have any leftover veggies, roast some especially! Just roast for about half an hour at 200C/390F. Add the cherry tomatoes just for the final 5 minutes.
Nutrition
Calories:
155
kcal
Carbohydrates:
15
g
Protein:
2
g
Fat:
9
g
Saturated Fat:
1
g
Sodium:
206
mg
Potassium:
45
mg
Sugar:
1
g
Vitamin C:
0.5
mg
Calcium:
32
mg
Iron:
1
mg

You can also find more from Scrummy Lane on Facebook, Pinterest, Twitter and Instagram and follow me on Bloglovin! Thanks so much for reading!
*This post may contain affiliate links which means that if you click on a link and make a purchase I get a small percentage of the amount you spend. At no extra cost to you, of course! Thank you!*