It took me ages to finally try crispy smashed potatoes, but as soon as I did I was sold! Par-boil, toss in yummy Greek flavors, and squish and roast for the most amazing soft-in-middle crispy-on-the-outside potatoes. And if you happen to have an air fryer, they're even easier!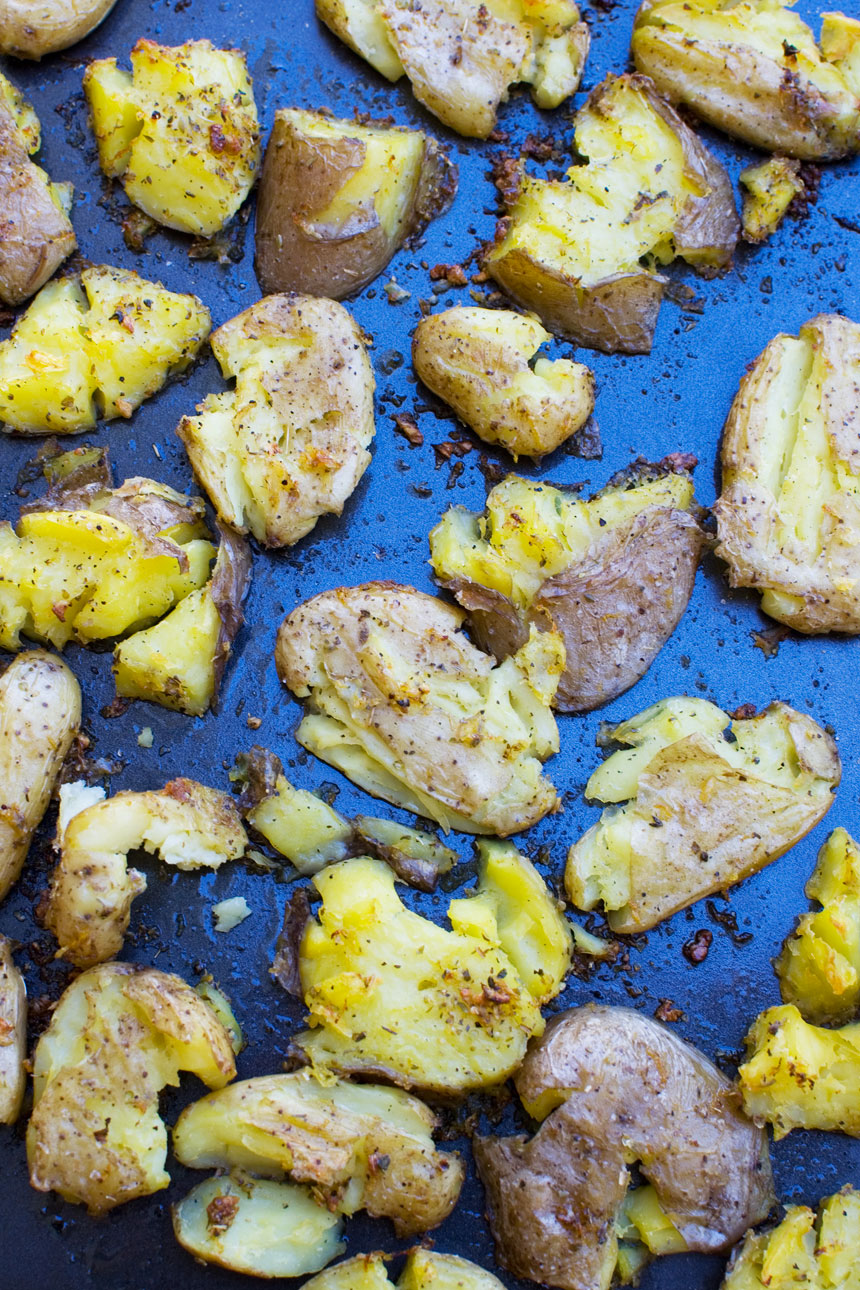 What are smashed potatoes, anyway?
If you haven't tried crispy smashed potatoes, you're truly missing out on one of life's most wonderful small pleasures.
Really, all they are is roast potatoes that have been squished a bit before roasting. The oil covers a larger surface area and they become ultra crispy.
I can certainly live with something like that in my life, and I'm sure you can too!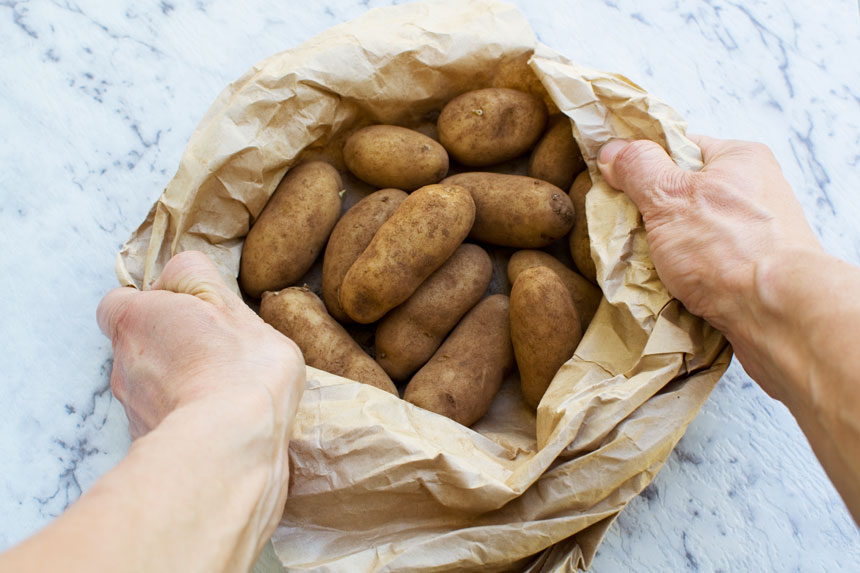 And how do you make them… with a Greek twist?
Here's my magic formula for perfect crispy smashed air fryer potatoes – with a Greek twist, of course:
Par-boil small potatoes. No need to peel them. Chopping larger potatoes into smaller pieces works too!
Drain the potatoes into a colander and let them steam for a while.
Tip your potatoes into a bowl and stir olive oil, oregano and lemon zest through them (add garlic too if you like).
Tip the potatoes and juices onto a large baking tray and squish them lightly with a potato masher or fork. You want your potatoes to be flattened quite a bit, but not enough to break up. Don't worry if they do break up a bit though. All the more crispy bits!
Bake for about 40 minutes. Done!
The Greek twist is optional, but I love adding my lemon & oregano magic combo of flavors to my smashed potatoes!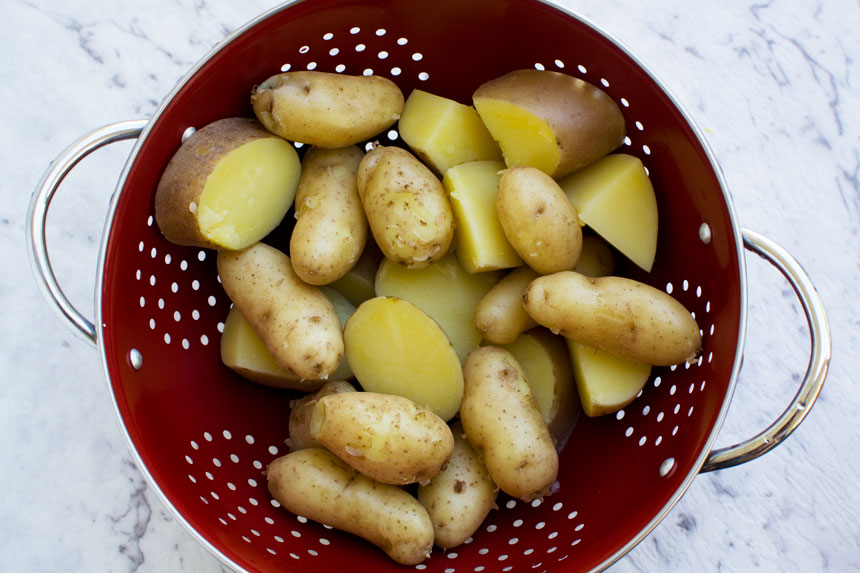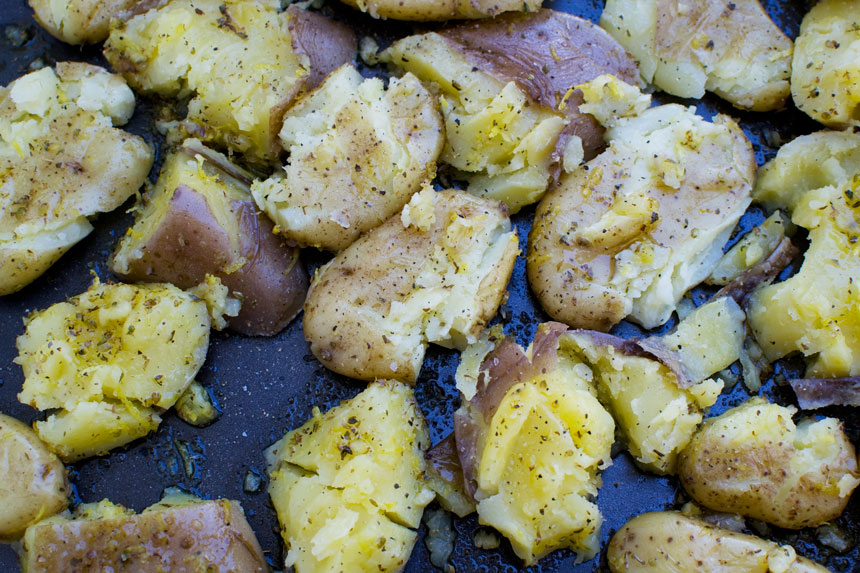 Can you make them in an air fryer?
I was on the fence for ages about buying an air fryer. And then I was given one by a friend. Whoo-hoo!
I was afraid we'd use it a few times before relegating it to the back of the cupboard. But I'm happy to report that we use it at least a few times a week.
It's wonderful for anything that you'd usually bake or reheat in the oven. Think anything covered in breadcrumbs, homemade french fries or sweet potato fries, corn on the cob, and even small cakes like small batch banana bread (recipe coming soon!).
It's a great way to NOT turn on the oven on a 35 (or even 40!) degree Perth summer day.
An air fryer also happens to make the most amazing crispy smashed potatoes!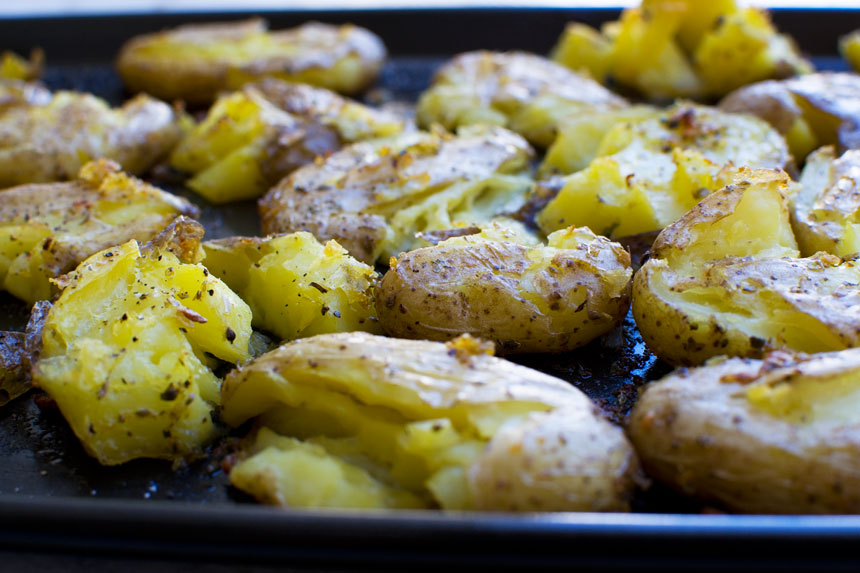 How do you make them?
To be honest the oven roasted and air fryer versions of this crispy smashed potatoes recipe aren't too different.
The air fryer version is quicker – about twice as fast. You could also get away with using less oil to roast your potatoes if you make them in an air fryer. If you wanted to, that is. To be honest I tend to toss my potatoes in the same amount of marinade however I'm going to cook them.
When my oven's on already I tend to make my potatoes in the oven. When I'm not planning to turn on the oven, I use my air fryer. Simple.
Use a spoon to place your potatoes into your air fryer. Sprinkle over some salt and pepper and cook for about 20 minutes for crispy, garlicky, lemony Greek perfection.
Whether you roast them in the traditional way in the oven, or you take a little air fryer short cut, I don't think you'll be disappointed with these Greek style crispy smashed potatoes!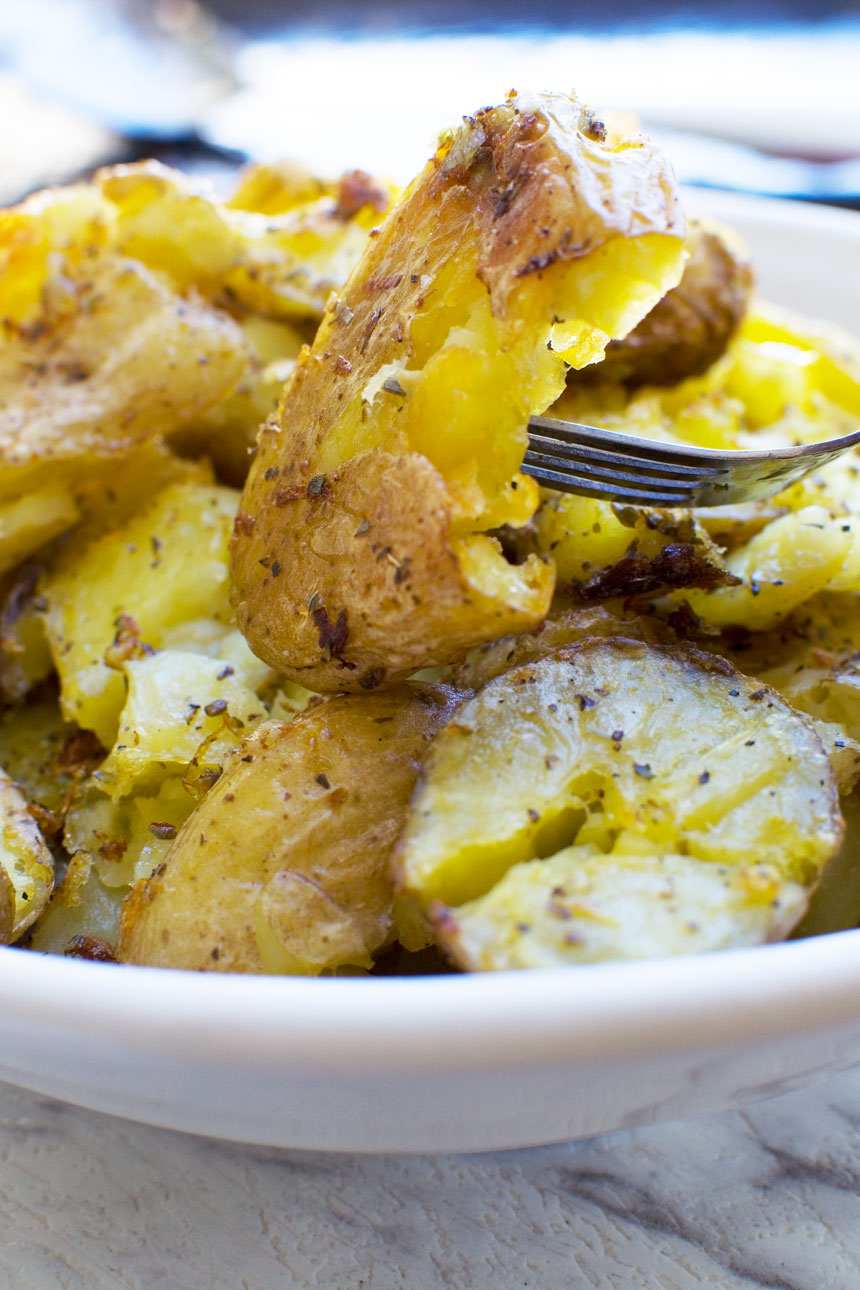 How do they taste?
Oh my goodness. These are DEE-LISH!
The potatoes stick to the baking tray and form a ridiculously addictive crispy crust. There are super crispy bits and bobs scattered all over from where you squashed some of the potatoes with the masher a bit too enthusiastically (if you're me that is).
The potato skins get crispy too and definitely add a certain je ne sais quoi.
The Greek flavors are subtle, but definitely there.
Are these the perfect potato side dish? Just maybe…
What to eat with crispy smashed potatoes
Hmmm. More or less anything.
We've eaten these potatoes with simple fish, chicken or steak, or once with this delicious Greek baked eggplant (you've got to try it!).
They're also great with this easy crustless quiche (impossible quiche).
Last but definitely not least… have you tried cooking a whole rotisserie chicken in your air fryer? Try it, then while the chicken is resting, make these crispy Greek style smashed potatoes.
ANY protein and veggies goes well with these potatoes. Or why not serve them as a crowd pleasing side dish next time you're having guests over?
Loving the crispy potato vibe in this post?
Try this amazingly delicious Greek chicken and potatoes next time you need an easy midweek meal – or even an easy meal for entertaining. You won't believe how easy it is to make, but with a Greek salad and tzatziki on the side it's a meal fit for a (Greek) king!
Need more show stopping potato side dishes?
IF YOU MAKE THIS RECIPE, LET ME KNOW HOW YOU GET ON BY LEAVING A COMMENT AND RATING BELOW… AND DON'T FORGET TO SIGN UP TO RECEIVE ALL MY NEW RECIPES BY EMAIL!
FOLLOW ME ON FACEBOOK, INSTAGRAM, PINTEREST AND YOUTUBE.
Greek style crispy smashed potatoes
Looking for a really good potato side dish? Maybe you want to do something different with your potatoes to go with a weekday meal? Or you have guests coming over and would like to make a crowd pleasing side? These crispy smashed potatoes are definitely for you! You need about an hour to make them, but they're really easy with only a few minutes of hands-on time. If all this wasn't enough, these potatoes are smothered in gorgeous Greek flavors. Give them a try today!
Equipment (affiliate links)
Ingredients (UK/Australia? Click below for grams/ml)
Instructions
Preheat the oven to 355F/180C.

Wash and dry the potatoes, then boil for about 15 minutes until soft but not falling apart.

Drain the potaoes in a colander and let steam while you prepare the marinade.

Whisk together the olive oil, oregano, and lemon zest in a medium bowl.

Tip the potatoes into the bowl with the marinade and fold well with a wooden spoon until the potatoes are all covered with the marinade.

Pour the potatoes and any excess marinade onto a large baking sheet. Squash/Flatten them slightly with a potato masher or large fork.

Roast the potatoes for about 40 minutes or until they look golden and crispy.
Notes
A note about the ingredient amounts
Sometimes I make this dish just for the 3 of us, and I use fewer potatoes – or just what I happen to have. In this case I am not very accurate at all with the amount of marinade I use. I usually just slosh a good couple of glugs of olive oil into a bowl and pour in about a teaspoon of oregano straight out of the pot! I use the zest of just half a lemon if that's all I have.
The point is, you don't have to be super accurate with the recipe. I have a feeling it's hard to go wrong!
Add garlic?
If you like, you can add 2 cloves of crushed garlic to the oil mixture as well. Sometimes I add it, sometimes I leave it out!
And finally… how to make these crispy smashed potatoes in an air fryer!
Yes, you can make these in an air fryer! Smash the potatoes on a baking tray, as if you were going to roast them in the oven, then transfer them to your air fryer with a spoon or fork.
Air fry for about 20 minutes at 355F/180C (check after 10 minutes to see how they're doing).
However… this method of cooking works best for small batches, unless your air fryer is very big! I'd suggest halving my recipe (serves 2 – 3 as a side), or cook in 2 batches. Enjoy!
Nutrition
Calories:
235
kcal
Carbohydrates:
25
g
Protein:
5
g
Fat:
13
g
Saturated Fat:
1
g
Sodium:
20
mg
Potassium:
819
mg
Fiber:
5
g
Vitamin C:
22.6
mg
Calcium:
68
mg
Iron:
6.7
mg