Last Updated on
It's quick. It's easy. It's pretty healthy. It only contains 7 ingredients. And best of all, you can cook it in one pan. This cherry tomato and mozzarella chicken is my superstar meal of the month!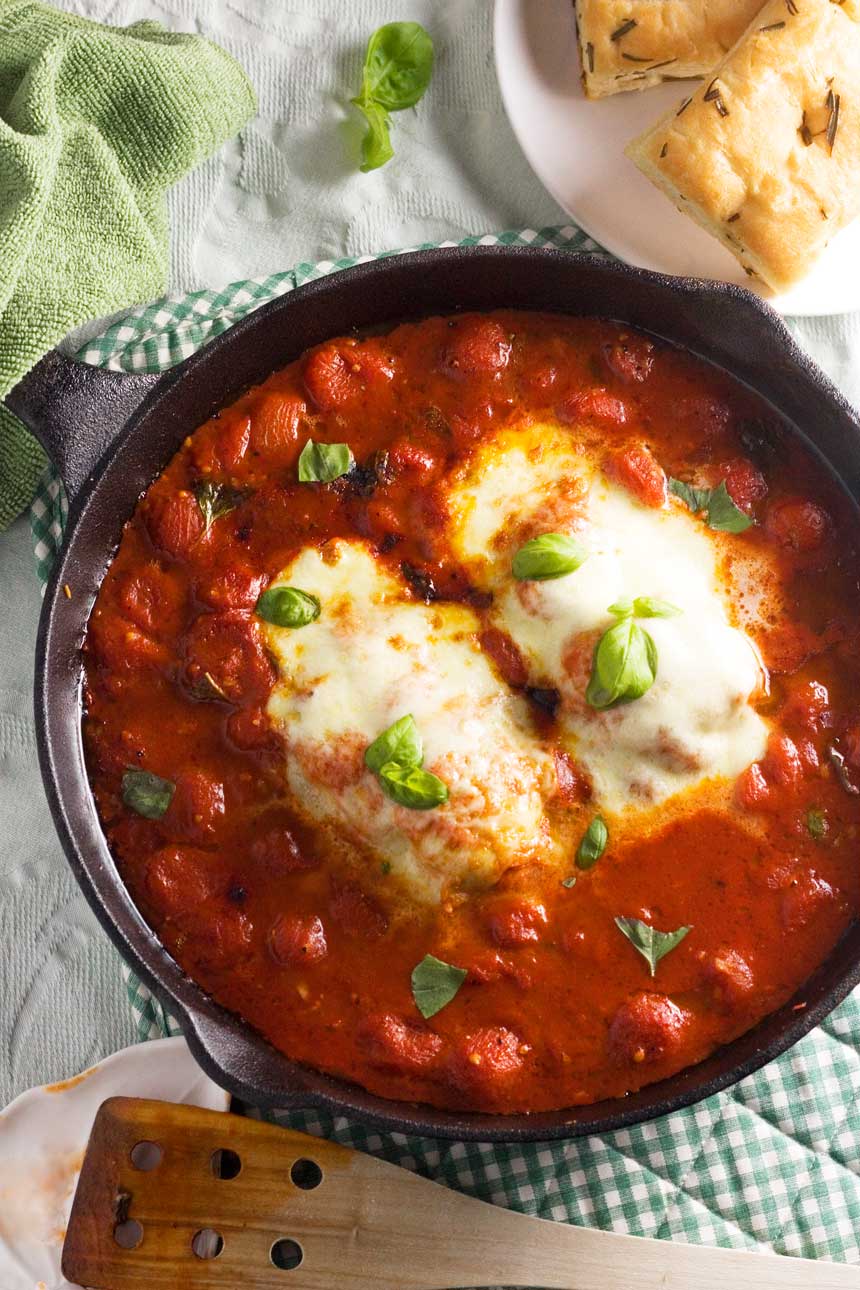 This past weekend, Mr. Scrummy and I went on a 'mystery tour'. By this I mean that Mr. Scrummy booked a B&B, and I had no idea where we were going until … well, to be honest until about half way there when it was pretty obvious from the road signs where we were headed.
So now you're just dying to know where we went, so I'll put you out of your misery – we went to Snowdonia in North Wales. Where, in case you didn't know, many of the locals speak Welsh, not English, as their first language. I did know this, but still somehow found it surprising to hear a table of young people chatting away in this strange native language just an hour or so away from the English border.
If you haven't been to this region, you really should if you ever get the chance – especially in Autumn. The trees in the valleys are just stunning at this time of year – just like the pictures of New England I've seen – and it's a hiker's heaven, if that's something that floats your boat.
Unless of course you're following a self-guided walk like we were and getting lost right at the beginning ("You'll see a stone cottage up ahead – here, take a sharp right." Now would that be the sharp right when you see the cottage or actually at the cottage? Ahem. You get the picture …)
It was a lovely weekend, but to be honest one thing that wasn't so perfect was the food. Just nothing all that special, and by the time we got home we were both craving a meal that wasn't a burger and fries or a cheese sandwich.
So this meal ticked all the boxes! It's quick, super easy with only 7 ingredients (including salt and pepper!), healthy, and even relatively cheap.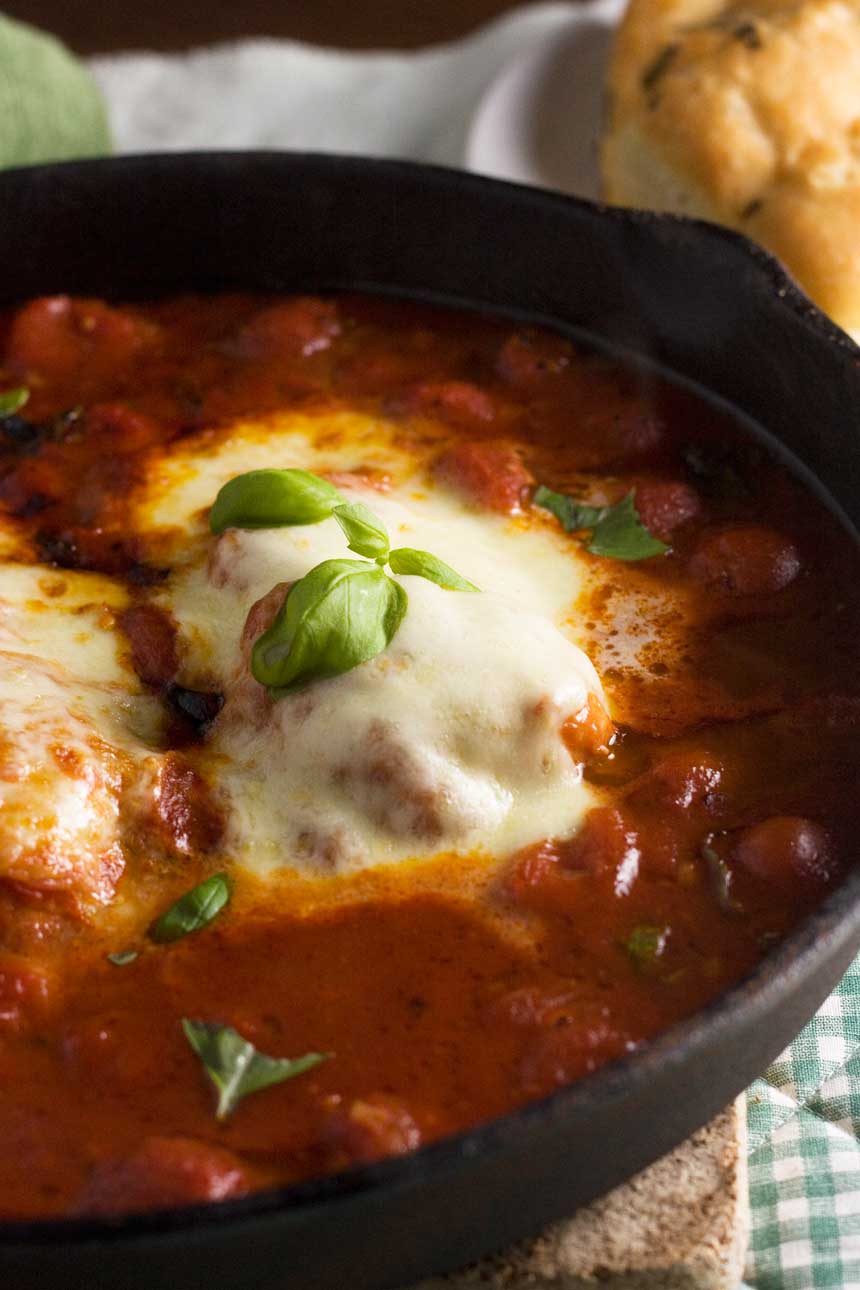 What I really love about it though is that you only use one pan – excluding your veggie pan. Just pan-fry chicken breasts for a couple of minutes on each side with some garlic, simmer with cherry tomatoes, balsamic vinegar and basil for a short while, then top with mozzarella and grill. How easy is that?
This reminds me a bit of chicken parmigiana – but it's quite a bit simpler and easier. As usual, I made sure there's lots of sauce! We even had a tiny bit left which I intend to smear on a pizza this weekend while we're watching the rugby world cup final (Come on you Aussies!).
One final word about this – don't use a cast-iron pan like I did. I really love this pan, but apparently you aren't supposed to cook acidic food (yup, like tomato sauce) in it because it reacts with the metal. So yes, I have probably poisoned myself and Mr. Scrummy with this meal. If I don't post any more recipes for a while (or ever) you know what happened.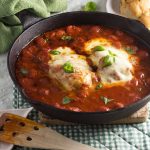 Print
One-pan cherry tomato and mozzarella chicken
A super simple (but quite posh, really!) meal - just pan-fry chicken with garlic, tip a couple of cans of cherry tomatoes and some basil onto it, simmer, then top with mozzarella and grill ... mmmm!
Ingredients (UK/Australia? Click button below for grams & ml)
1.5-2

tablespoons

a large drizzle of olive oil

4

garlic cloves

chopped finely

2

chicken breasts

28

ounces

cherry tomatoes

(two cans)

a drizzle of balsamic vinegar

a handful of fresh basil

salt and pepper

1

mozzarella ball

sliced
to serve (optional)
your choice of fresh or frozen vegetables

I served frozen peas and sweetcorn

toasted or crusty bread

I served toasted focaccia
Instructions
Drizzle the oil into a frying pan/skillet, then heat it up (on a medium heat). Cook the chicken together with the garlic for about 2 minutes on each side.

Pour the cherry tomatoes into the pan with the balsamic vinegar, most of the basil, and plenty of salt and pepper. Let simmer for about 5 minutes, then turn the chicken over and simmer for another 5 minutes.

Check that the chicken is cooked all the way through, then top each piece with the mozzarella slices. Pop the pan under the broiler/grill until the cheese is melted and bubbling.

Divide the sauce between two plates, then top with the chicken and garnish with the rest of the basil. Serve with the vegetables and bread (if using).
Notes
You can make this dish a little fancier if you like by grating a bit of parmesan over the mozzarella before broiling/grilling.
Nutrition
Calories:
217
kcal
|
Carbohydrates:
17
g
|
Protein:
28
g
|
Fat:
4
g
|
Cholesterol:
72
mg
|
Sodium:
176
mg
|
Potassium:
1307
mg
|
Fiber:
2
g
|
Sugar:
9
g
|
Vitamin A:
1975
IU
|
Vitamin C:
93.7
mg
|
Calcium:
60
mg
|
Iron:
3.2
mg
Follow me on Pinterest!
Follow @scrummylane to pin more quick and easy recipes for later

You can also find more from Scrummy Lane on Facebook, Pinterest, Twitter and Instagram and follow me on Bloglovin! Thanks so much for reading!
*This post may contain affiliate links which means that if you click on a link and make a purchase I get a small percentage of the amount you spend. At no extra cost to you, of course! Thank you!*