This warm roasted butternut squash, chorizo and feta salad is always a crowd pleaser. It makes a great easy midweek meal, and takes simple entertaining to next level delicious!
Note: This post was first published in 2014. It has been updated (2019) to include new photos, text, step-by-step cooking instructions, and a how-to video. I hope you like it!

A delicious crowd pleaser
I always think a warm salad is a more suitable main meal than a cold one.
Of course, that isn't really true, especially on a boiling hot day! But this warm roasted butternut squash, chorizo and feta salad often comes to mind when I need a quick midweek meal, or an easy make-ahead lunch for guests – at any time of year!
Once I even made it for an Aussie Christmas lunch!
This warm salad is one of the first recipes I ever posted on the blog, but it still never fails to impress either our guests, or ourselves! Which is why I decided it needed an update. The old photographs, and the rambling … oh dear…
A perfect balance of umami flavours
I make this warm butternut squash, chorizo and feta salad again and again. It's a perfect balance of sweet, peppery, tangy and crunchy.
This is what gives it its amazing umami flavour:
deliciously caramelised roasted butternut squash (different types of pumpkin work too)
peppery slices of pan-fried chorizo
a hint of tangy feta cheese
crunchy toasted pine nuts
Pile all these delicacies on top of some fresh salad leaves and lightly drizzle with a sweet and tangy honey balsamic vinaigrette. All these things by themselves are pretty tasty, but put them all together and you transport yourself directly to food heaven!
Am I making you hungry yet? I hope so.
So erm… what's chorizo and how do I cook it?
Don't be embarrassed if you've read this far and still don't know what chorizo is! You'll find it in your average supermarket or even at a farmer's market – you just might have to hunt it down a little.
So for those who were wondering, chorizo (pronounced either chor-eez-o, or chor-eeth-o) is a type of Spanish pork sausage. It's sometimes spicy, sometimes smoked, sometimes fully cooked and sometimes just half cooked when you buy it.
Sometimes you have to peel some paper or thick skin off the chorizo before slicing it, sometimes not. But don't worry, that part will be pretty obvious!
All you really need to know is that chorizo is truly delicious. Slice it thinly, lightly pan fry it and add it to any pizza, pasta, soup, or salad = deliciousness right there.
If you need more convincing, try this one pan baked chicken with chorizo and tomatoes. We can never get enough of this at our house!
But now back to the salad…
Warm butternut squash, chorizo and feta salad step-by-step
Peel and chop your butternut squash into small to medium chunks. Drizzle with olive oil and scatter with dried herbs, then grind over some salt and pepper to taste. Roast for 30 to 40 minutes until golden, soft and starting to caramelise. (photos 1-3)
While you're waiting for your butternut squash to roast, slice your chorizo thinly, then pan fry in a dry frying pan. 5 minutes should do it! Set aside, then lightly toast your pine nuts in the same way. Shake often to get them evenly toasted! (photos 3-6)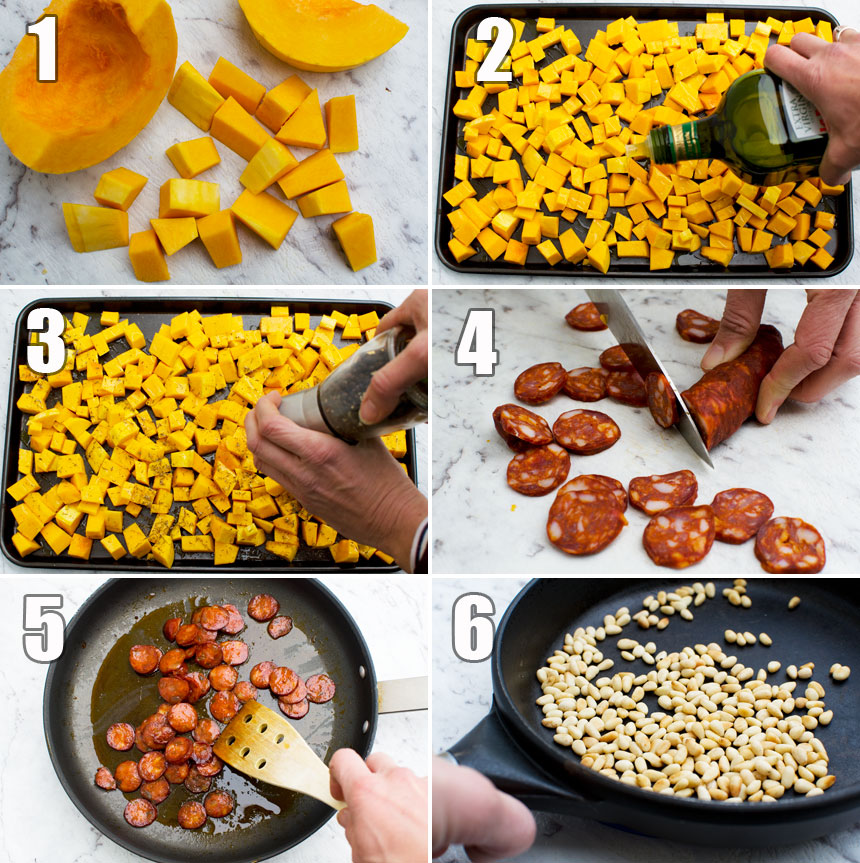 When you've got all your salad components ready, spread out your salad leaves on a large share platter. Sprinkle over:
the roasted butternut squash
the pan fried chorizo
crumbled feta cheese (not too much!)
the toasted pine nuts (photos 7-11)
Quickly whisk together equal parts of olive oil and balsamic vinegar, and a little honey. Drizzle some dressing all over the salad. (photo 12)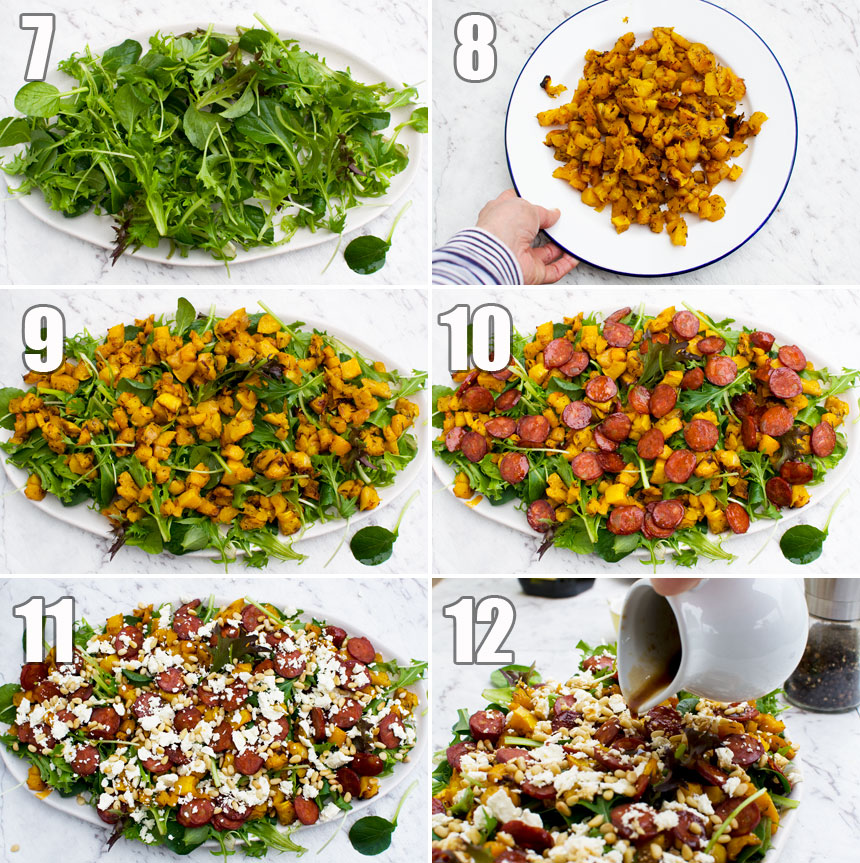 Pro tips
There's no 'rule' about how big the butternut squash chunks should be. Sometimes I cut the chunks fairly big, other times much smaller. The salad is delicious either way!
Don't overdo it with either the chorizo or the feta cheese. Both of these flavours are quite punchy, so you only really need a bit of each.
Equally, don't be tempted to skip toasting the pine nuts. This step definitely adds something!
It's worth trying to find really good quality chorizo. You can often find 'healthier' varieties at farmer's markets etc.
Any green salad works, but the fresher the better!
I usually serve this salad on a large platter and drizzle over just a bit of the vinaigrette. Then people can help themselves to more vinaigrette if they want to.
Cheat's tips
If you're feeling extra lazy, try to find ready roasted pine nuts, and ready chopped butternut squash (or pumpkin!)
You can easily sub the butternut squash for another type of pumpkin if you like. Sweet potato works well too!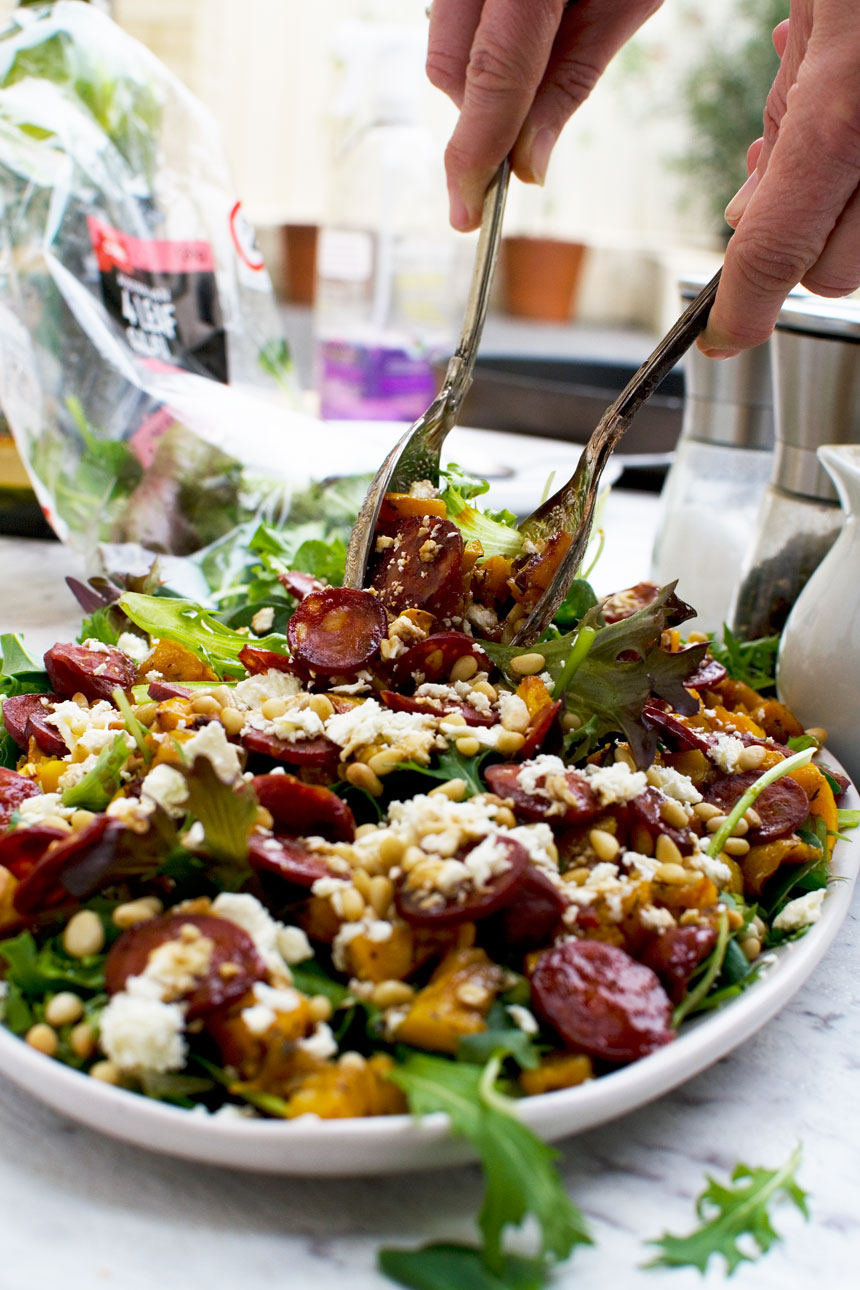 How do you make a balsamic vinaigrette?
I'm not a big fan of complicated salad dressings. It might have something to do with the fact that I lived in Greece for many years, where a large drizzle of excellent quality olive oil suffices…
But I DO think it's worth taking a couple of minutes to make a honey balsamic vinaigrette for your delicious butternut pumpkin salad.
This is how I make mine:
3 tablespoons olive oil (good quality!)
3 tablespoons balsamic vinegar
2 tablespoons honey
Most other recipes for balsamic vinaigrette are much more complicated than this, with mustard, garlic, herbs, salt & pepper etc. Nothing wrong with adding these things of course, but I think this particular salad recipe is flavourful enough and doesn't need any added extras!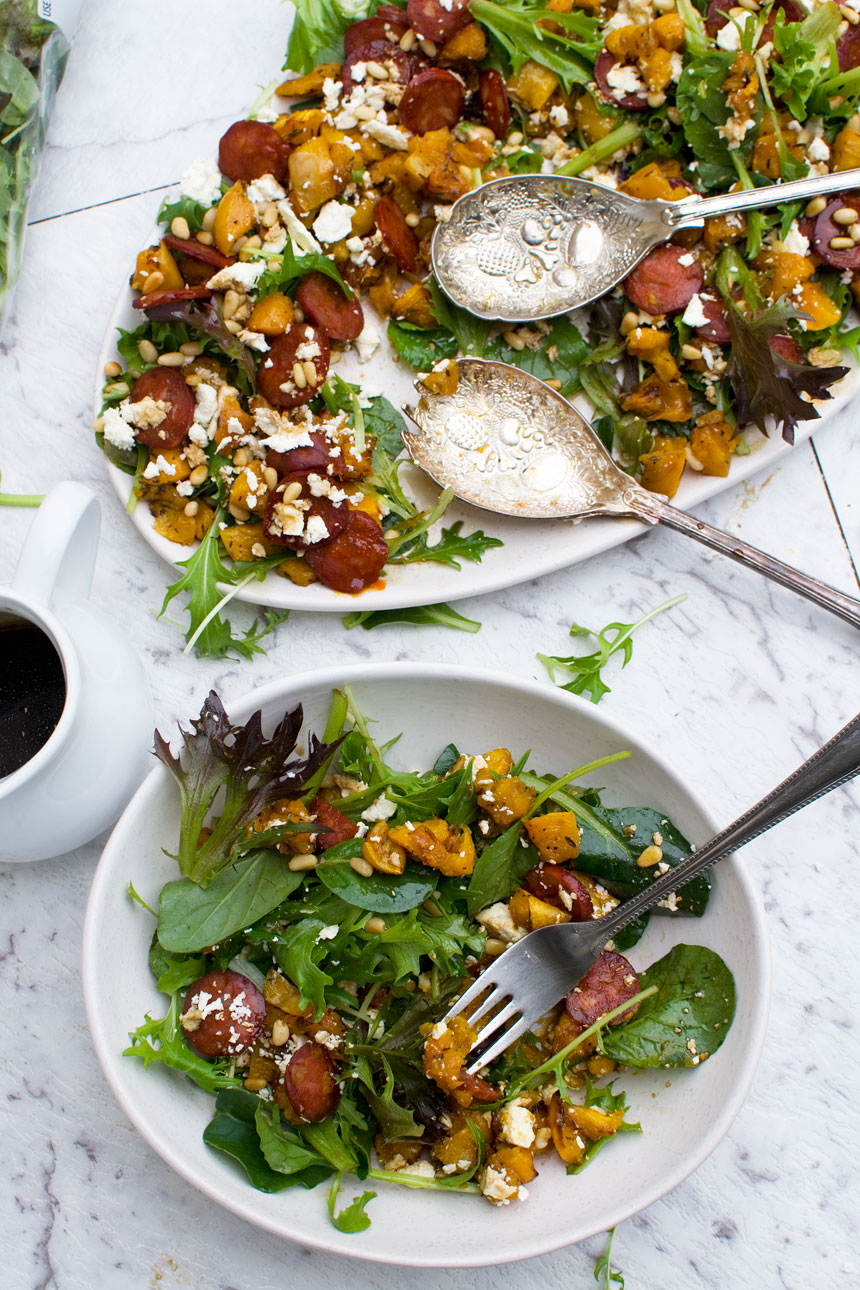 What to serve with this butternut squash, chorizo and feta salad
We usually eat this butternut pumpkin salad with some fresh toasted bread drizzled with olive oil and salt (we do this a lot – it's delicious!).
I also like to add a bit of Greek yoghurt on the side, but that's because I'm addicted to Greek yoghurt. It's purely optional!
More main meal salad recipes
Blueberry, bacon & avocado salad
Mediterranean penne pasta salad
More chorizo recipes
One pan baked chicken with chorizo and tomatoes
Halloumi, chorizo and tomato skewers with honey lime dressing (great for BBQs!)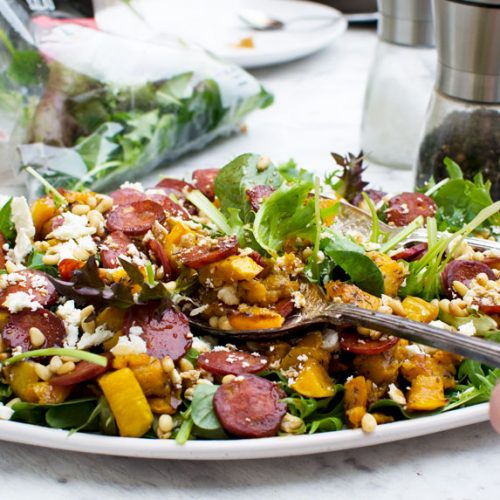 Warm butternut squash, chorizo and feta salad
Imagine sticky roasted butternut squash, pan fried chorizo, tangy feta cheese & toasted pine nuts - tossed together with salad leaves and a honey balsamic vinaigrette. This warm butternut squash, chorizo and feta salad is a perfect balance of flavours!
Equipment (affiliate links)
Ingredients (UK/Australia? Click below for grams/ml)
For the salad
17

ounces

butternut squash

deseeded, peeled and chopped into chunks (about half a large butternut squash, or most of a smaller one - amount doesn't have to be exact)

2

tablespoons

olive oil

3.5

ounces

chorizo

thinly sliced

1/4

cup

feta cheese

crumbled

1/4

cup

pine nuts

3.5

ounces

salad leaves of your choice

1

teaspoon

dried Thyme

or other dried herbs e.g. basil, oregano, mixed Italian herbs, or 2 sprigs fresh thyme

salt and black pepper
To serve (optional)
toasted fresh bread drizzled with olive oil and sprinkled with salt

Greek yoghurt
Instructions
Heat the oven to 220C/425F.

Scatter the butternut squash in one layer on a baking tray and toss well with the olive oil. Scatter over the herbs and salt and pepper (to taste).

Roast the pumpkin for 30 to 40 minutes or until it is soft and golden brown. Shake the tray half way through the cooking time.

Meanwhile, pan fry the sliced chorizo in a dry pan until it's lightly browned (about 5 minutes). Set aside.

Toast the pine nuts on a low heat in another dry frying pan until they are lightly browned. Shake the pan every now and again.

Scatter the salad leaves over a large platter or shallow salad bowl.

Scatter the roasted pumpkin and chorizo over the salad leaves, then add the pine nuts and feta cheese.

Whisk together the dressing ingredients in a small jug, then drizzle a little over the salad. Serve the rest on the side.

Serve with toasted fresh bread and Greek yoghurt (if you like).
Notes
A note on the butternut squash
Sometimes I cut it into smaller pieces, sometimes into larger pieces. It really doesn't matter. You just might have to adjust the cooking time slightly. 20 to 30 minutes should be enough for small pieces of pumpkin, but you might need more like 40 minutes for larger pieces to cook. Just keep checking!
A note on the chorizo
It's worth using the best quality chorizo you can find for this recipe. For instance, I sometimes find locally made, nitrite-free chorizo at my local farmer's market! Supermarkets usually stock several good quality versions, however.
A note on the ingredient amounts
Like any salad, the ingredient amounts don't have to be exact! I would recommend not overdoing it with the chorizo or feta however. These ingredients are both strongly flavoured, so a little goes a long way!
Nutrition
Calories:
450
kcal
Carbohydrates:
28
g
Protein:
10
g
Fat:
35
g
Saturated Fat:
8
g
Cholesterol:
30
mg
Sodium:
426
mg
Potassium:
629
mg
Fiber:
3
g
Sugar:
14
g
Vitamin A:
13129
IU
Vitamin C:
31
mg
Calcium:
115
mg
Iron:
2
mg