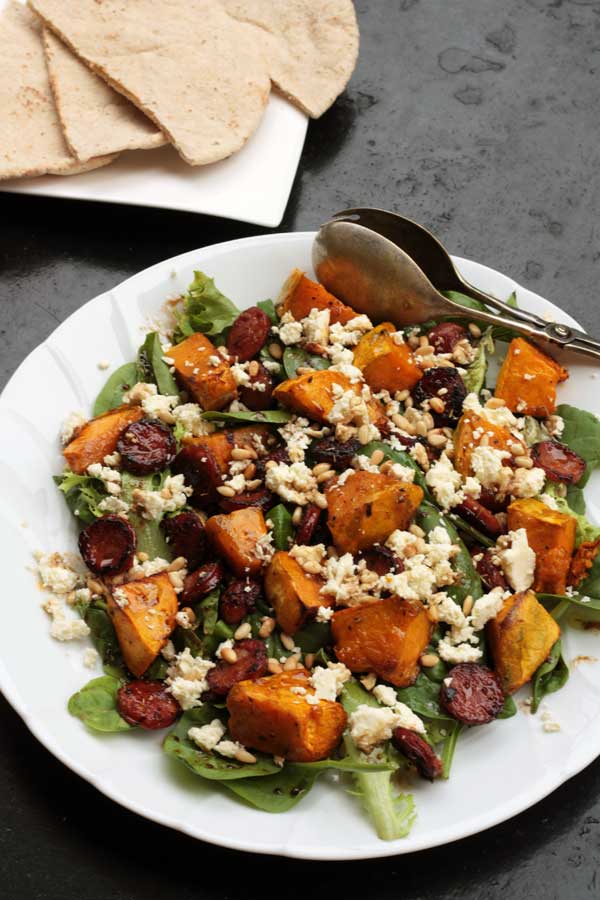 I can't get enough of recipes that are so easy that they pretty much make themselves. After making it for the first time, you don't need to look at the recipe again and you don't need to weigh anything out. But despite the fact that it's the easiest thing in the world to make, it's still super tasty and gets approval all round! Bring it on, especially after all the frenetic cooking and baking activity of Christmas!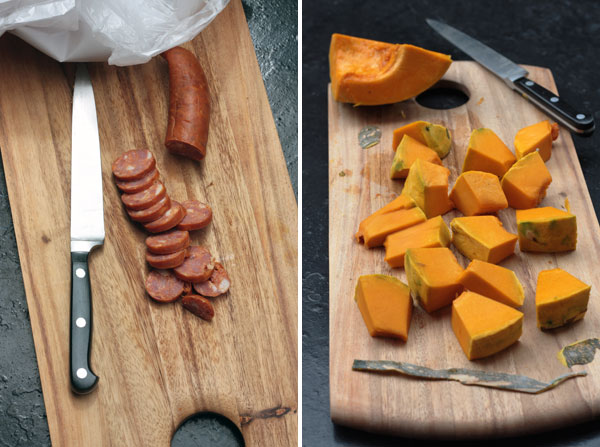 I absolutely love the tastes of pumpkin (or butternut squash!), chorizo and feta on their own, but a mouthful of all of these delicacies together pretty much puts me into food heaven. The tastes in this simple salad just seem to perfectly balance each other out – the sweetness of the pumpkin, the peppery smokey-ness of the chorizo, the tart salty-ness of the cheese and the roasted crunch of the pine nuts, all piled on top of your choice of green salad leaves and lightly doused in a sweet, tangy honey balsamic dressing.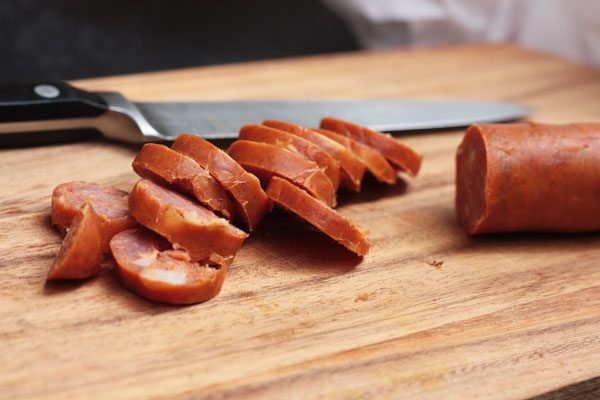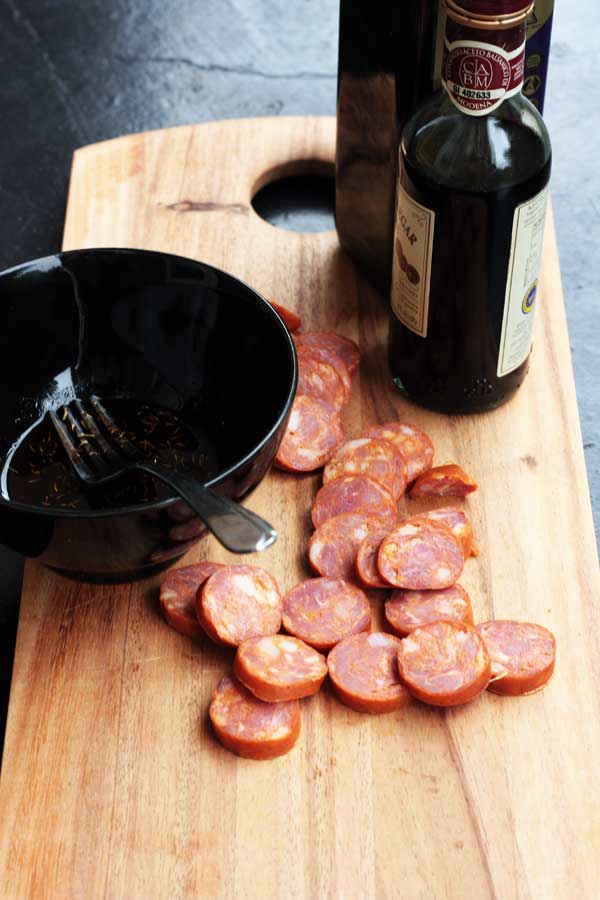 I am making you hungry, aren't I? Even though you've been stuffing yourself silly with all manner of lovely things over the past few days. And it probably isn't even close to dinner time! Well, I hope I'm tempting you a little here, anyway. This actually seems to be a pretty common flavour combination, and for good reason, in my opinion. 'Umami' ingredients, I'd say, or the 'fifth taste' along with salty, sweet, spicy and sour … translated from Japanese as 'yummy deliciousness', according to this very interesting article!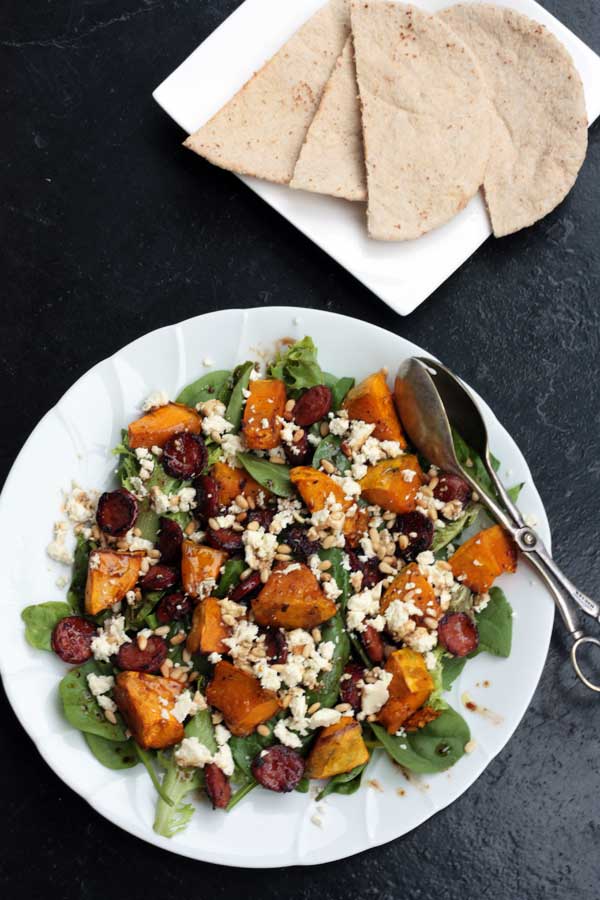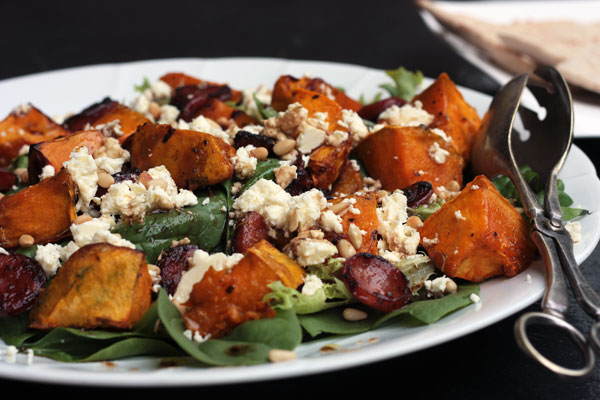 To make a light, healthy lunch or shared salad appetizer, I serve this with some crispy-ish toasted wholemeal pitta bread and a big dollop of Greek yoghurt. The perfect umami, I'd say!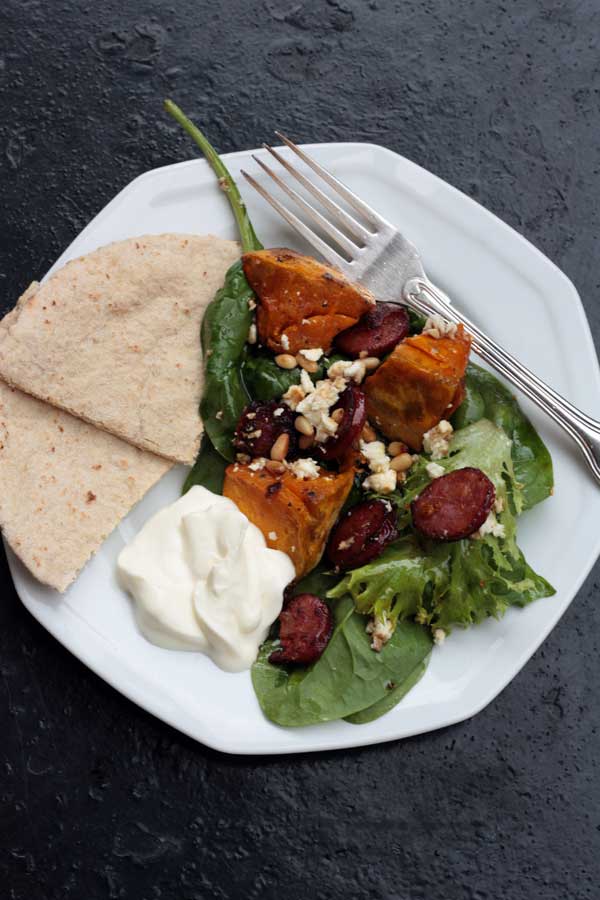 What other foods do you think have that 'umami' quality?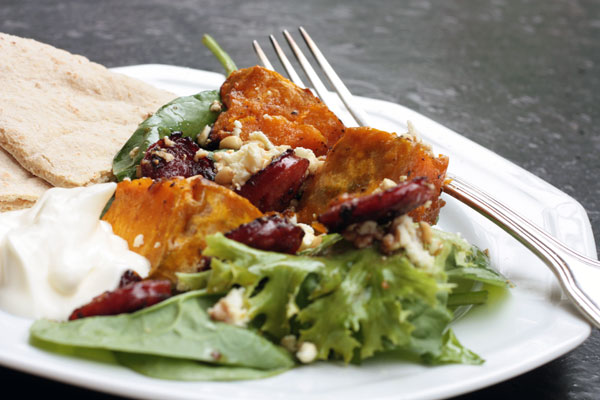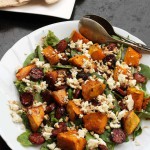 Pumpkin, chorizo & feta salad
A colourful, tasty and healthy warm salad perfect for a lunch or light dinner at any time of year!
Ingredients
For the salad
1/2

a medium-sized butternut pumpkin

deseeded and chopped into 2 to 3cm-sized chunks (substitute with an equivalent-sized chunk of regular pumpkin, if you like)

2-3

tablespoons

of olive oil

3.5

ounces

good quality chorizo sausage

thinly sliced (I used about 1/2 a fat sausage!)

1/4

cup

feta cheese

a couple of handfuls of pine nuts

a small bag of your choice of pre-washed salad leaves

2

sprigs of fresh thyme

or a teaspoon of dried thyme, rosemary or mixed Italian herbs

salt and black pepper
To serve (optional)
toasted pitta bread

Greek yoghurt
Instructions
Heat the oven to 220C/425F.

Scatter the chopped, diced pumpkin in one layer on a baking tray and toss well with the olive oil. Pick off the thyme leaves if using by running your thumb and first finger down the stalk in the opposite direction to the way the leaves are growing. Scatter them over the pumpkin. Add plenty of salt and freshly ground black pepper and roast the pumpkin for 20 to 30 minutes or until it is soft and golden brown, turning once half way through the cooking time.

Meanwhile, make the dressing by simply whisking together well the oil, balsamic and honey.

Lightly toast your pine nuts in a dry frying pan/skillet until they are a light golden brown. Shake the pan every now and again to ensure that they are evenly toasted and don't burn. (Or, use ready-toasted pine nuts, like I did!)

About 5 minutes before the pumpkin is ready, fry the sliced chorizo in a dry frying pan/skillet until it is nicely browned and crisp.

Re-wash your green salad leaves (just to be sure) and tip them out onto a large platter or plate.

Now assemble your salad (and make it look pretty!) by scattering the roasted pumpkin and fried chorizo over your salad leaves then crumbling the feta and scattering the toasted pine nuts all over, too.

Lastly, give the dressing another quick whisk and pour it all over the salad to taste.

Slice the pitta breads in half width-ways (if using) and pop them in the toaster. Serve the salad while the pumpkin and chorizo are still warm with the warm, crispy pitta and a big dollop of Greek yoghurt if desired.
Recipe Notes
Ingredient amounts for this salad are not set in stone. Add a little more or less feta or pine nuts if you like or a little more honey if you have a sweeter tooth and it really won't matter. It's all down to personal taste.
Nutrition Facts
Pumpkin, chorizo & feta salad
Amount Per Serving
Calories 301
Calories from Fat 207
% Daily Value*
Total Fat 23g 35%
Cholesterol 24mg 8%
Sodium 334mg 14%
Potassium 353mg 10%
Total Carbohydrates 18g 6%
Protein 6g 12%
* Percent Daily Values are based on a 2000 calorie diet.