Last Updated on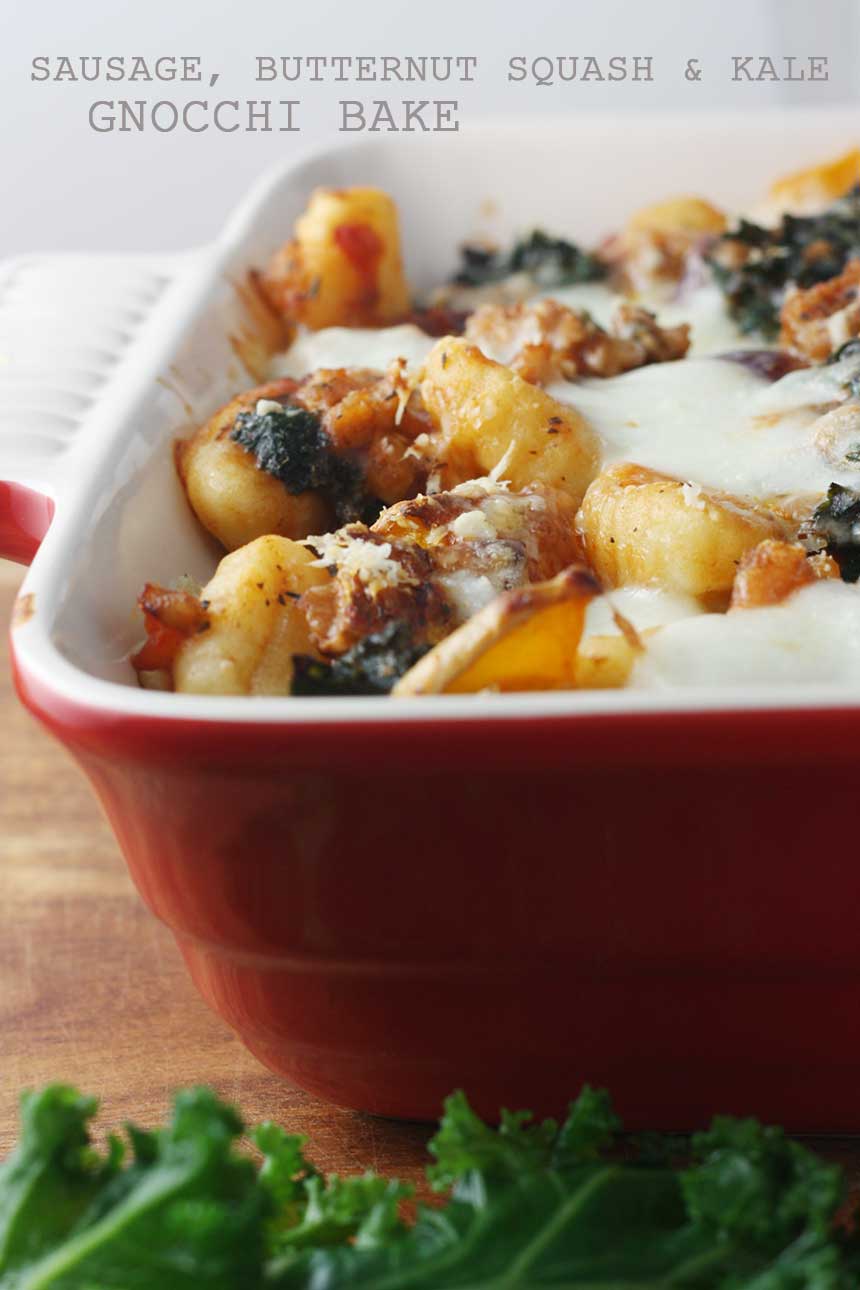 It was with great relief yesterday that Mr. Scrummy and I finally had a little chat with our neighbour who lives in the flat next door to us. A teensy tiny chat, but a chat all the same. You see, since arriving back in the UK a few weeks ago and settling into a flat of our own, it's just been the two of us around here. On our morning walks around our new neighbourhood (pretty pleasant, although it's most often shrouded in fog and drizzle) we were beginning to become a bit disconcerted about the lack of 'good mornings' or even smiles and/or eye contact we were getting from neighbours or fellow early walkers. When we were in Perth we would usually exchange a little greeting with whomever we happened to pass, but we really haven't been getting much joy in that department over here.
Now, you may be thinking, does this therefore mean all British people are a bunch of antisocial miseries? (Quick! Cancel that plane ticket to London you got for next summer's vacation!) Well, I'm happy to report that generally we're quite friendly, but it doesn't hurt to have a pet and/or baby with you to help break the ice. Our neighbour had a cute little doggie with her that sparked off our little conversation yesterday ('Oh, how cute, what's its name?' etc. … you know how it goes), so we're now thinking of asking her if we can borrow it when we go on our walks to see if it helps us make some more friends. Not really. But it isn't a bad idea now, is it?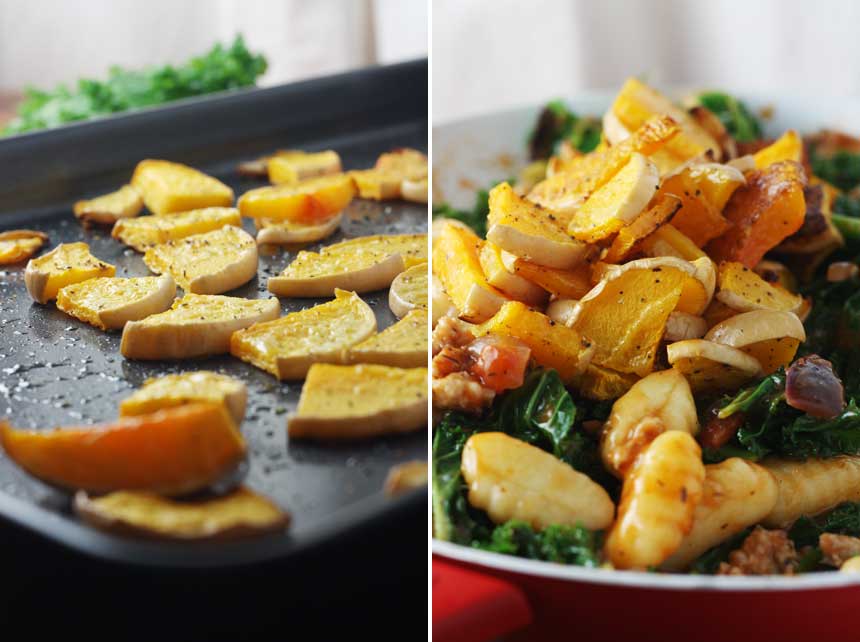 So being friendless in a middle England dull and foggy November definitely has a silver lining: lots of time for staying inside, getting all cozy and warm and making tasty comfort food like this sausage, butternut squash & kale gnocchi bake.
Anything that's called a 'bake' shouts cheesy, oozy deliciousness to me, and this one didn't disappoint. It has relatively few ingredients in it and yet fantastic flavour, mostly due to the crumbled sausage meat, which always makes for a great hit of taste, all enhanced by the addition of a rich tomato sauce with fennel seeds, garlic, fresh basil and a little splash of balsamic vinegar to add a bit more oomph.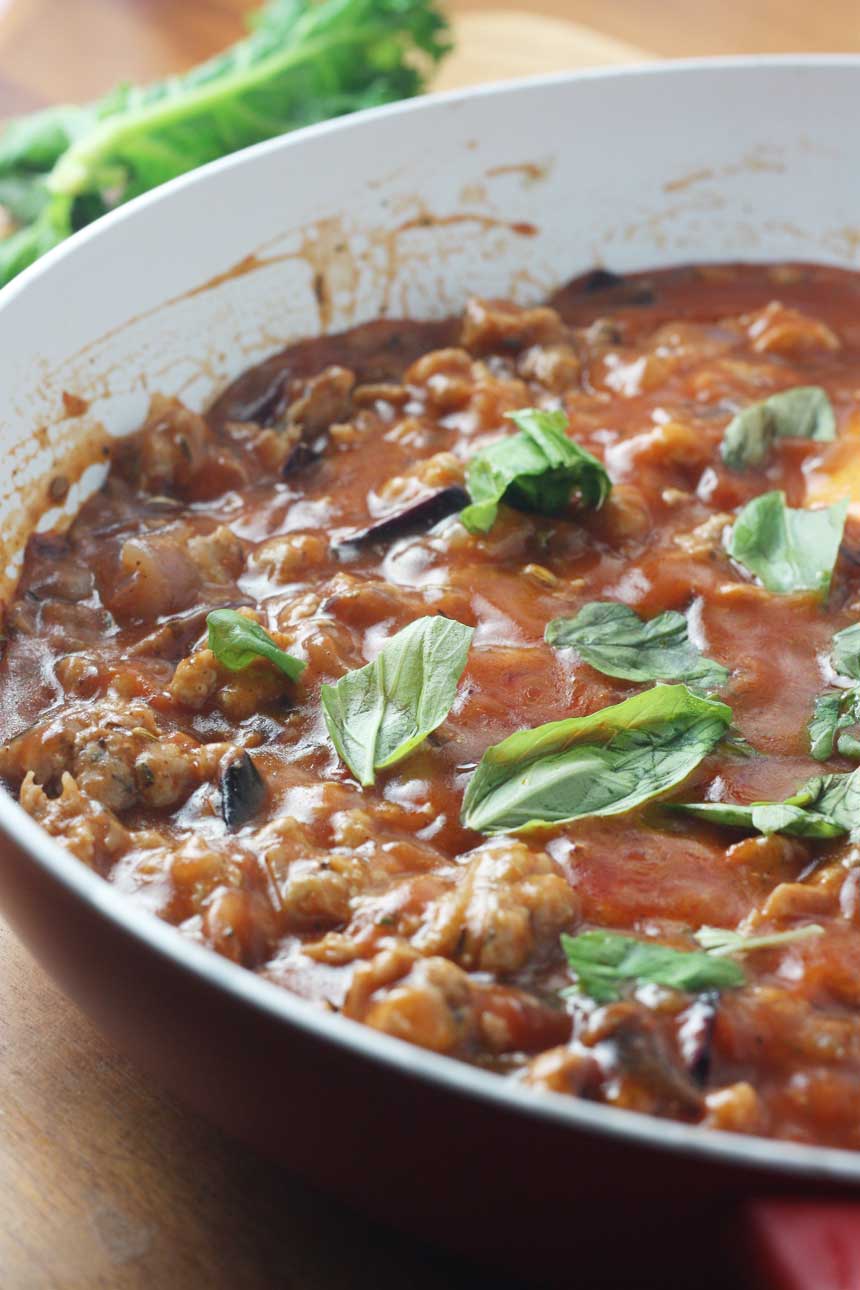 I added the kale and roasted butternut squash because I thought you needed something in there to make you feel smug about that day's veggie intake, which is what it did for me. And of course finishing up with chunks of mozzarella and a sprinkle of parmesan puts this firmly in the November-appropriate comfort food category.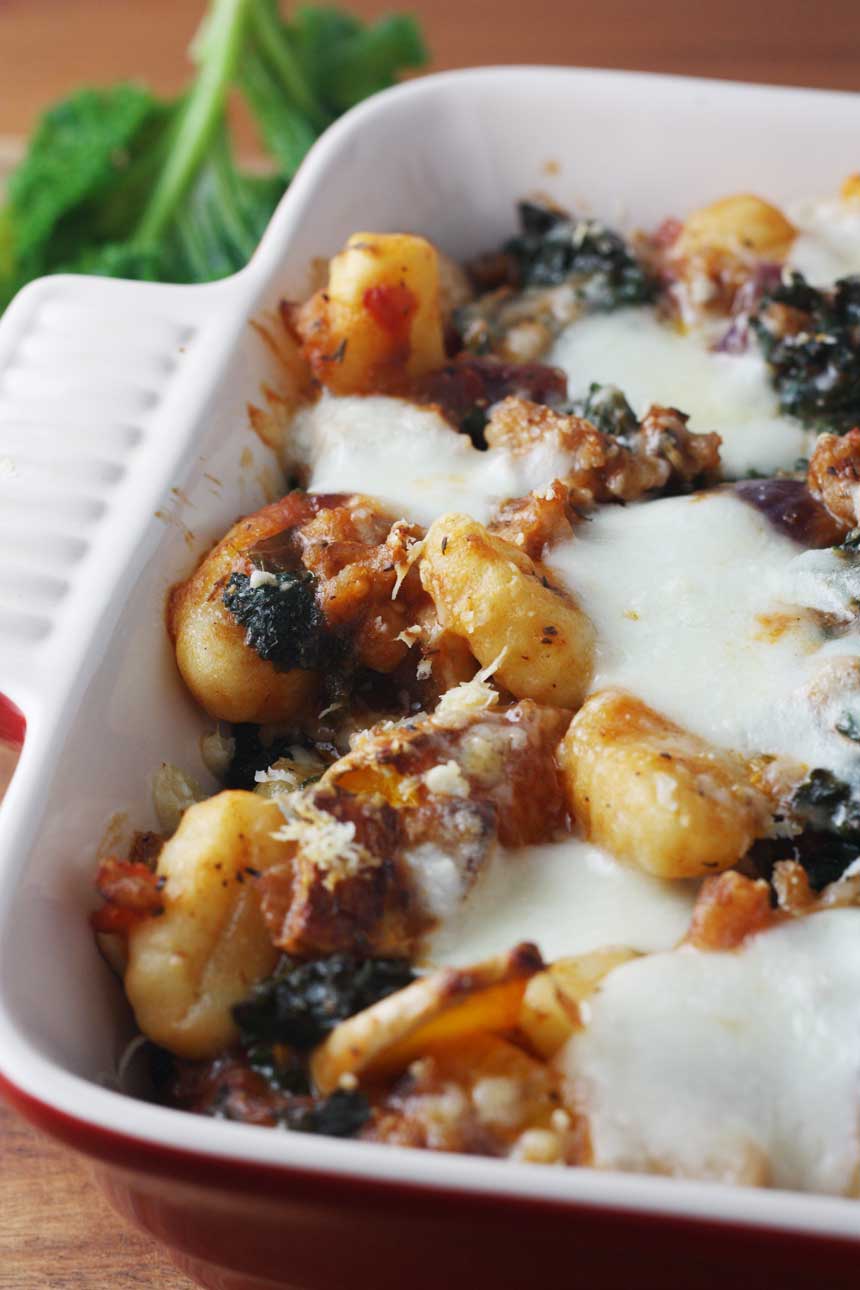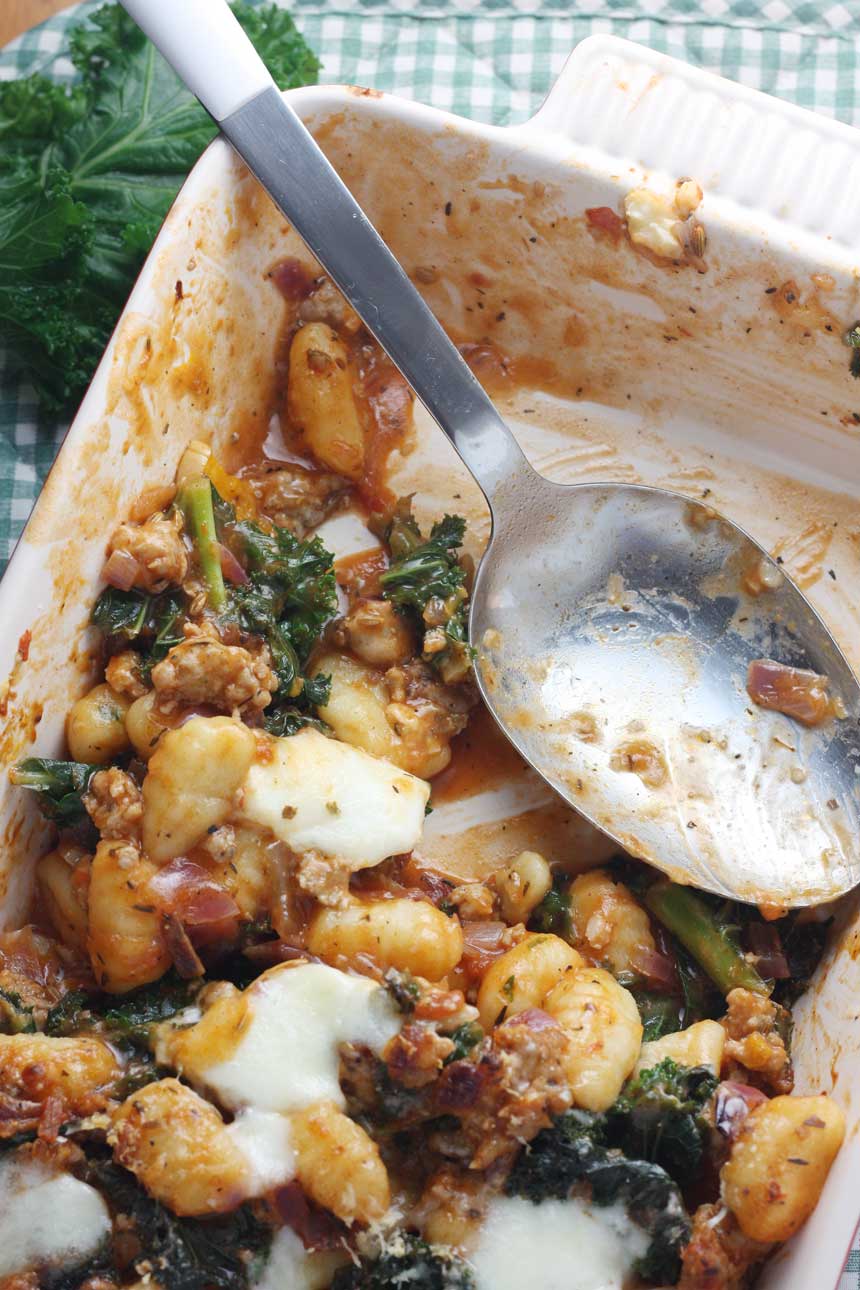 As usual in this little teeny corner of the web, this was not at all difficult to make. Just roast small chunks of the butternut squash while boiling up your gnocchi and kale for a few minutes, then make the passata-based sausage sauce in a pan before stirring everything together, dotting the cheeses over the top and baking. Delicious and (almost) enough to make up for being Mr. and Mrs. Billy No-mates. Boo hoo.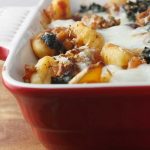 Print
Sausage, butternut squash & kale gnocchi bake
Store-bought gnocchi with sausage meat, butternut squash, kale and a tomato, fennel & basil sauce stirred through it - dotted with mozzarella and parmesan and baked until bubbling. This makes for a wholesome and healthy one-pot mid-week meal!
Cook Time
1
hour
10
minutes
Total Time
1
hour
25
minutes
Ingredients (UK/Australia? Click button below for grams & ml)
about half a butternut squash

chopped into smallish pieces

3.5

ounces

kale

washed & chopped into small pieces (remove any tough stems)

one package of potato gnocchi

mine was about 17 ounces – 500 grams

olive oil for frying

1

onion

2

garlic cloves

crushed or finely sliced

4

good quality pork sausages

1/2

teaspoon

fennel seeds

1

teaspoon

dried thyme

14

ounces

passata

a large handful of fresh basil leaves

chopped

salt & pepper to taste

1

ball of mozzarella

a handful of grated parmesan cheese
Instructions
Pre-heat the oven to 350F/180C. Toss the butternut squash with a little olive oil, salt and pepper on a baking tray, cover with foil and roast for 30 minutes. Then take off the foil and roast for another 10 minutes. Put aside.

Boil the kale for about 5 minutes, then tip in the gnocchi as well and cook for a couple of minutes longer. Drain and set aside.

Heat up a good drizzle of olive oil in a skillet/frying pan, then fry the onion for a couple of minutes. Add the garlic to the pan, then run a knife down the side of the sausages so that you can squeeze the meat out into the pan. Cook, breaking up the sausage meat into small bits as you go, for 7 or 8 minutes, then add the thyme, fennel seeds & passata and cook for a further few minutes. Finally, stir in the basil.

Add the squash, kale and gnocchi to the sausage and tomato mixture, then give it all a good stir before tipping it into a medium-sized baking dish. Tear the mozzarella ball into pieces over the top, sprinkle the parmesan over and bake for about 20 minutes until bubbling.
Notes
Loosely adapted from Nov 2014 edition of UK Delicious magazine.
Nutrition
Calories:
408
kcal
|
Carbohydrates:
14
g
|
Protein:
20
g
|
Fat:
30
g
|
Saturated Fat:
10
g
|
Cholesterol:
81
mg
|
Sodium:
759
mg
|
Potassium:
877
mg
|
Fiber:
2
g
|
Sugar:
5
g
|
Vitamin A:
3070
IU
|
Vitamin C:
43.6
mg
|
Calcium:
82
mg
|
Iron:
3.8
mg
Follow me on Pinterest!
Follow @scrummylane to pin more quick and easy recipes for later
I hope you enjoyed this post! You can subscribe to receive posts directly to your inbox by entering your email address into the box at the top of the sidebar on the right.
You can also find more from Scrummy Lane on Facebook, Pinterest, Twitter and Instagram and follow me on Bloglovin! Thanks so much for reading!
*This post may contain affiliate links which means that if you click on a link and make a purchase I get a small percentage of the amount you spend. At no extra cost to you, of course! Thank you!*