If you've never tried making moussaka, don't wait another day to make this easy version. With its delicious layers of roasted eggplant, Greek bolognese sauce and souffle-like cheesy bechamel sauce, it's a bit like lasagna… but even more delicious!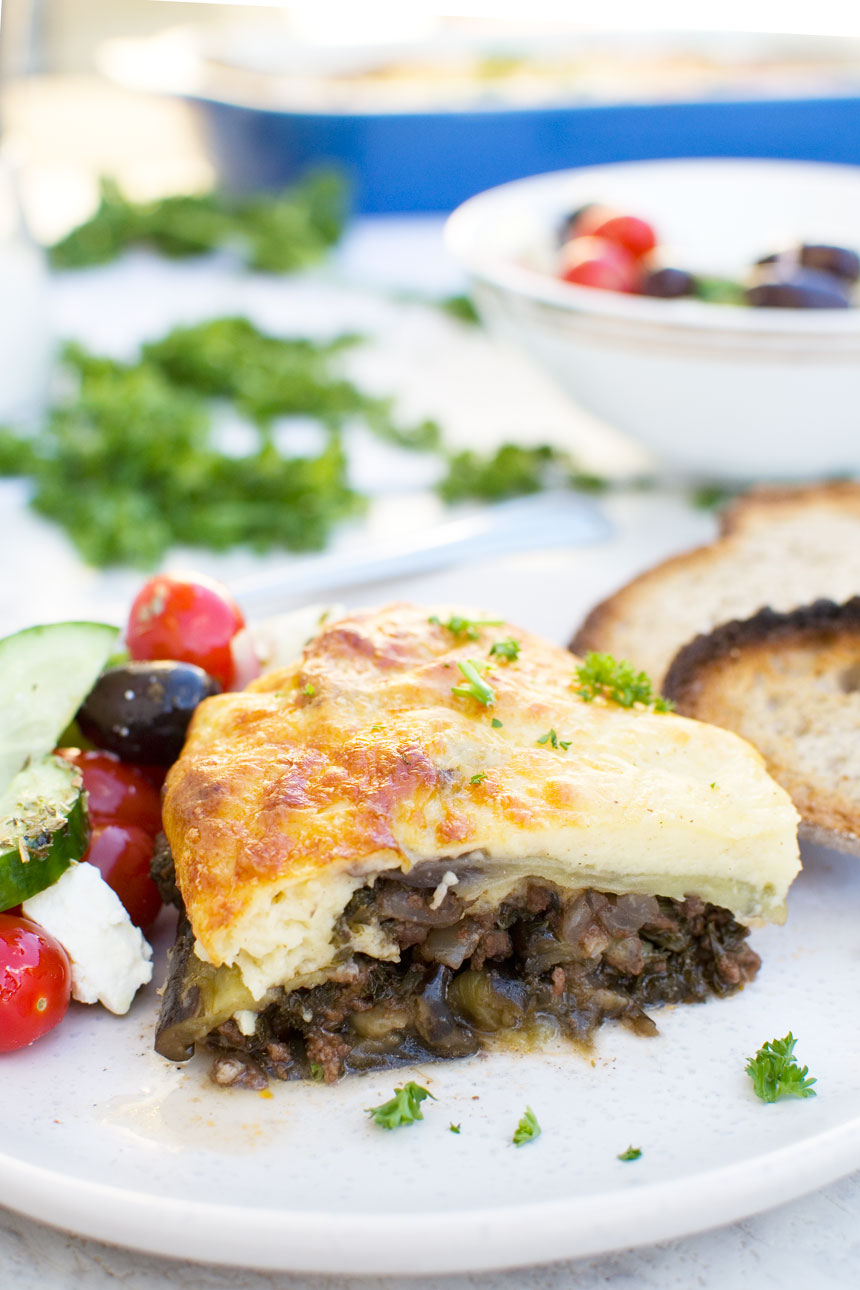 Why I make this again and again
You know those recipes that just 'work' for you? You find yourself making them again and again, learning little tricks to improve the recipe along the way.
For us, this easy moussaka is one of those recipes (along with this one pan baked chicken and chorizo). I've made it more times than I can count, 'just for us' and also for guests.
I found the recipe a few years ago in an article called How to Cook Perfect Moussaka in the Guardian newspaper. I chose to base my recipe on that one simply because it was an easy version… but tasted really rich and delicious. And we're all about easy around here!
Although there are 3 components to the recipe, you only need a few ingredients for each step.
The eggplant/aubergine slices are baked, not fried. No need to fry them, no need to salt them in my opinion!
I've fine-tuned the quantities of delicious Greek herbs and spices in it, so it's super tasty!
You can make the recipe simpler by roasting the eggplant slices ahead (for example the day before) and by making the bechamel as the meat sauce is bubbling away on the stove.
In fact, you can make the whole moussaka ahead and either pop it in the fridge (unbaked) for up to a day or freeze it for even longer.
It's really economical! As it's quite rich-tasting, you only need a smallish piece. Especially if you're going to serve it with delicious sides like Greek potatoes and a Greek salad. One moussaka can serve at least 8 people. We usually eat it for 1 or 2 meals, then I freeze the rest.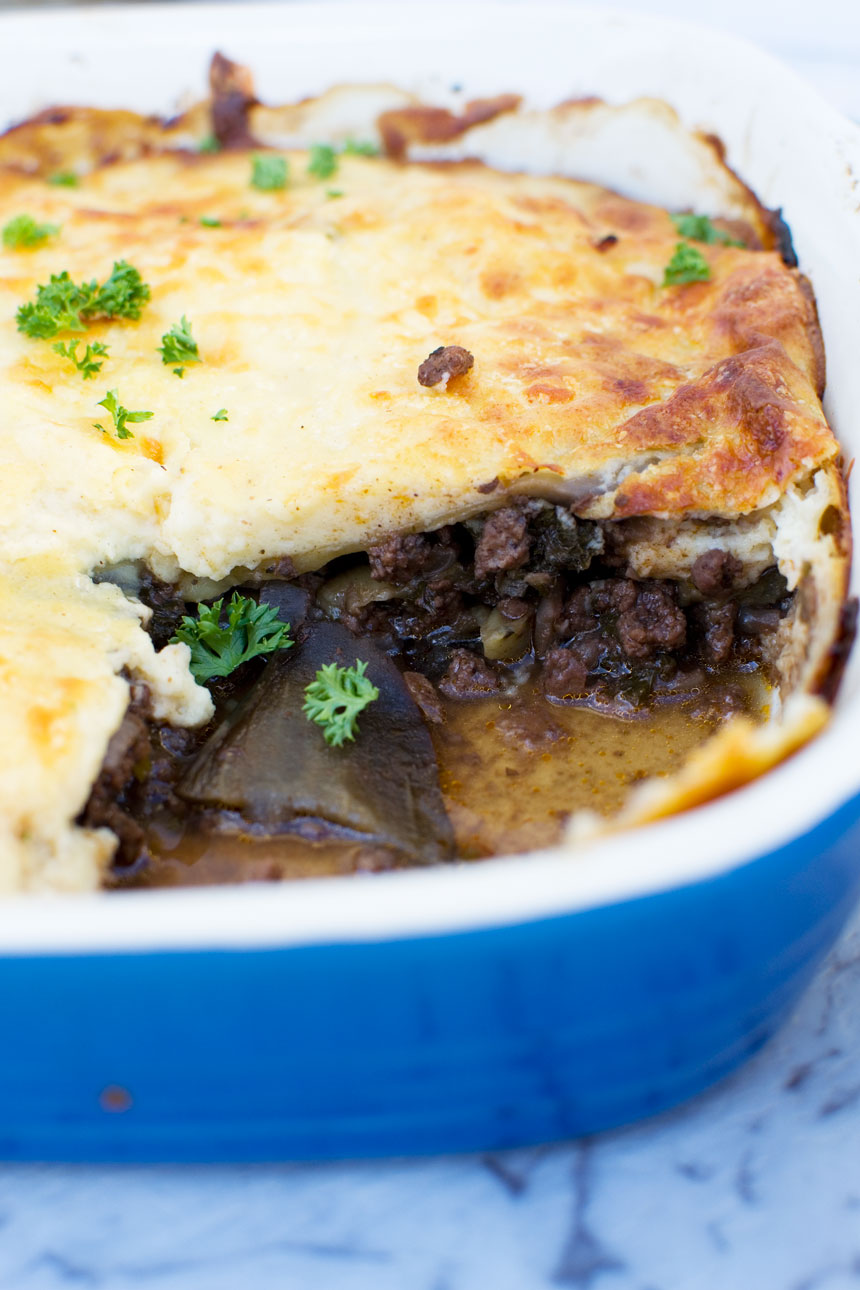 What IS moussaka, anyway?
Moussaka is one of the most well known and traditional Greek recipes with as many versions as there are Greek yia-yias (grandmas!). I ate many while living in Greece, and nearly all were delicious!
A classic moussaka is made of ground lamb (lamb mince), but I've found that most restaurants in Greece make theirs out of ground beef (beef mince). To be frank, beef is cheaper and easier to get hold of, so who can blame them?
Traditionally this meal also contain potato slices, but you won't find any potato in my easy moussaka recipe! Why? Well it's obviously going to be easier and quicker to make without potatoes, but also I just don't think the recipe needs it.
I would much rather make these amazing Greek potatoes (and trust me, they really are amazing!) as a side dish.
So… is moussaka just like lasagna?
Yes, I suppose you could say it's is a bit like a Greek lasagna! My moussaka without potatoes has these 3 layers:
roasted eggplant slices (3 layers)
Greek bolognese sauce (2 layers)
Greek bechamel sauce (1 layer – on the top)
The bolognese sauce is less tomato-y than the one in a lasagna, and contains lots of wine and yummy Greek flavours (namely oregano and cinnamon – yes, cinnamon!).
The bechamel sauce on top is a bit different to lasagna bechamel, too. You make it in a similar way, but then you add parmesan cheese (or pecorino or Greek kefalotyri if you can find it) and a whisked egg. The egg makes the sauce 'puff up' a bit in the oven, a bit like a souffle.
Ingredients
For the roasted eggplant layer: eggplant slices (2 to 3 eggplant) and olive oil (2 ingredients)
For the bolognese sauce layer: onions & garlic, oregano & cinnamon, wine, tomato paste & water, fresh parsley (7 ingredients)
For the bechamel sauce layer: flour, butter, warmed milk, grated cheese, nutmeg (5 ingredients)
How to make moussaka step-by-step
1. The eggplant/aubergine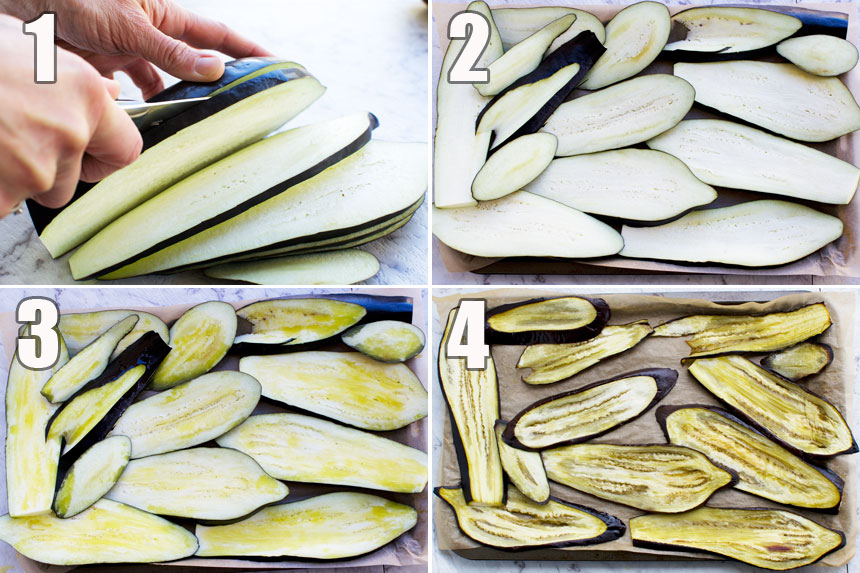 (Photo 1) Cut the eggplant/aubergines into even(ish) slices lengthwise. It's difficult to slice them to exactly the same thickness, but 1/2 to 1cm is about ideal.
(Photos 2-3) Lay the eggplant/aubergine slices on baking trays in 1 layer (it's OK if they overlap slightly). Brush them on both sides with a little olive oil.
(Photo 4) Roast the eggplant/aubergine for about 25 minutes until soft.
Pro tip: Roast the eggplant slices ahead! I find it makes the recipe seem a lot easier if you have the eggplant slices all ready to go (just like you would already have your lasagna sheets ready when making a lasagna). You can even freeze the roasted eggplant and then let them defrost on the day you're making your moussaka. Any left? Make this Italian toasted veggie sandwich! You won't regret it!
2. The Greek bolognese sauce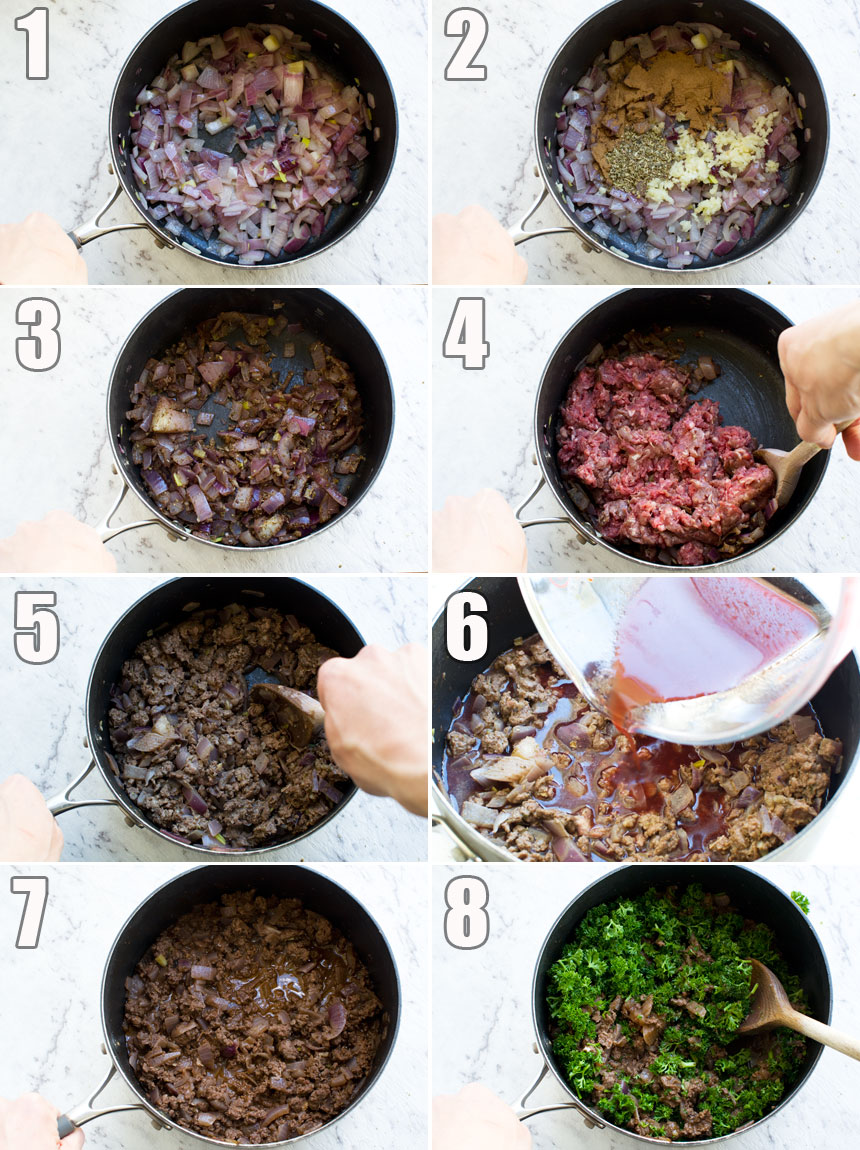 (Photo 1) Soften onions in a bit of olive oil.
(Photos 2-3) Add cinnamon, oregano and garlic, and stir!
(Photos 4-5) Add the meat. Break up and stir until browned a little.
(Photos 6-7) Add wine, tomato concentrate/paste, and water, then simmer for about half an hour until well reduced.
(Photo 8) Add plenty of chopped parsley.
3. The bechamel topping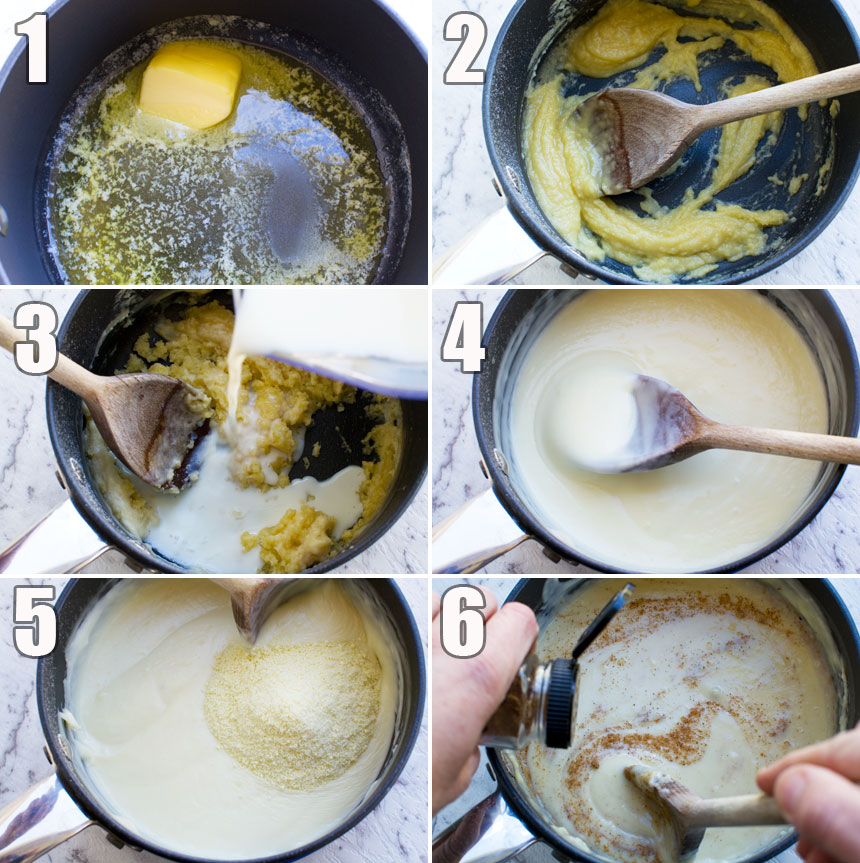 (Photo 1) Melt butter in a medium saucepan.
(Photo 2) Add the flour while still on the heat and stir for about a minute.
(Photo 3) Vigorously stir in warmed milk. But do it little by little so there are no lumps! If there are a few lumps at first, you'll find they will dissolve into the sauce by the time you've added all the milk.
(Photo 4) Continuously stir on a medium heat until the sauce starts to bubble and thicken nicely.
(Photos 5-6) Stir in about 3/4 of the grated cheese. Let cool slightly (so that you don't get scrambled eggs!), then whisk in the eggs and nutmeg.
4. How to assemble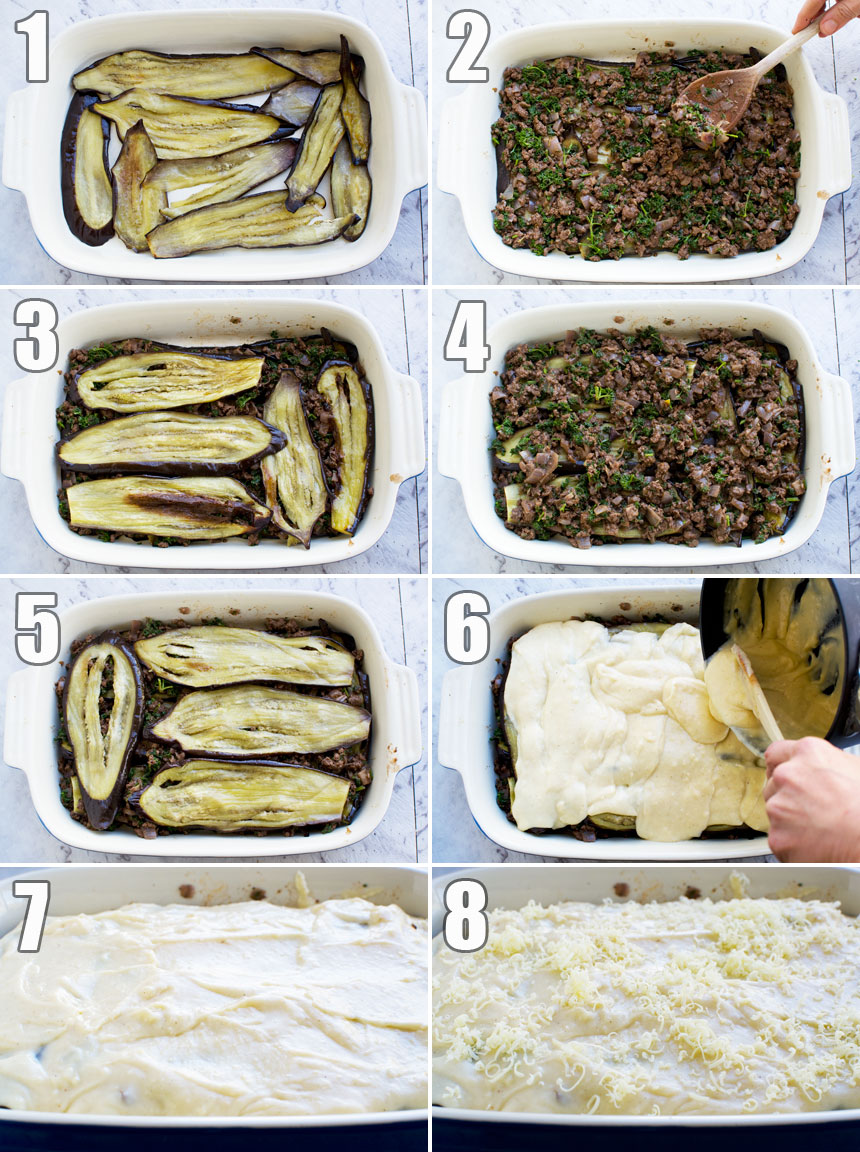 (Photo 1) Divide your eggplant/aubergine slices into 3 piles. Take the first pile and lay them over the bottom of your baking dish.
(Photo 2) Spoon over about half of the meat sauce. It will be a thin layer of sauce, but that's OK!
(Photos 3-4) Repeat the next layer with the second pile of eggplant/aubergine slices and the rest of the meat sauce.
(Photos 6-8) Pour the bechamel sauce over the top and spread out evenly. Sprinkle with the grated cheese that you set aside when making the sauce.
5. Baking
Bake for about 45 minutes until golden and bubbling.
Pro tip: After you take your moussaka out of the oven, let it 'rest' for about 20 minutes. It will still be hot, but the pieces will hold together better when you serve them.
What to serve with it
Very good question! In my very humble opinion, it's best served with a Greek salad. What else?!
Personally I also like to serve it with toasted bread drizzled with olive oil and sprinkled with salt. But that's just me…
Sometimes (usually if we have leftovers the next day) I make some Greek potatoes, too. Then you truly feel like you're having a meal in a Greek taverna!
For me the final touch is some Greek yogurt on the side. If you were in a Greek taverna you'd probably order some tzatziki, but plain old yogurt usually works just as well for us!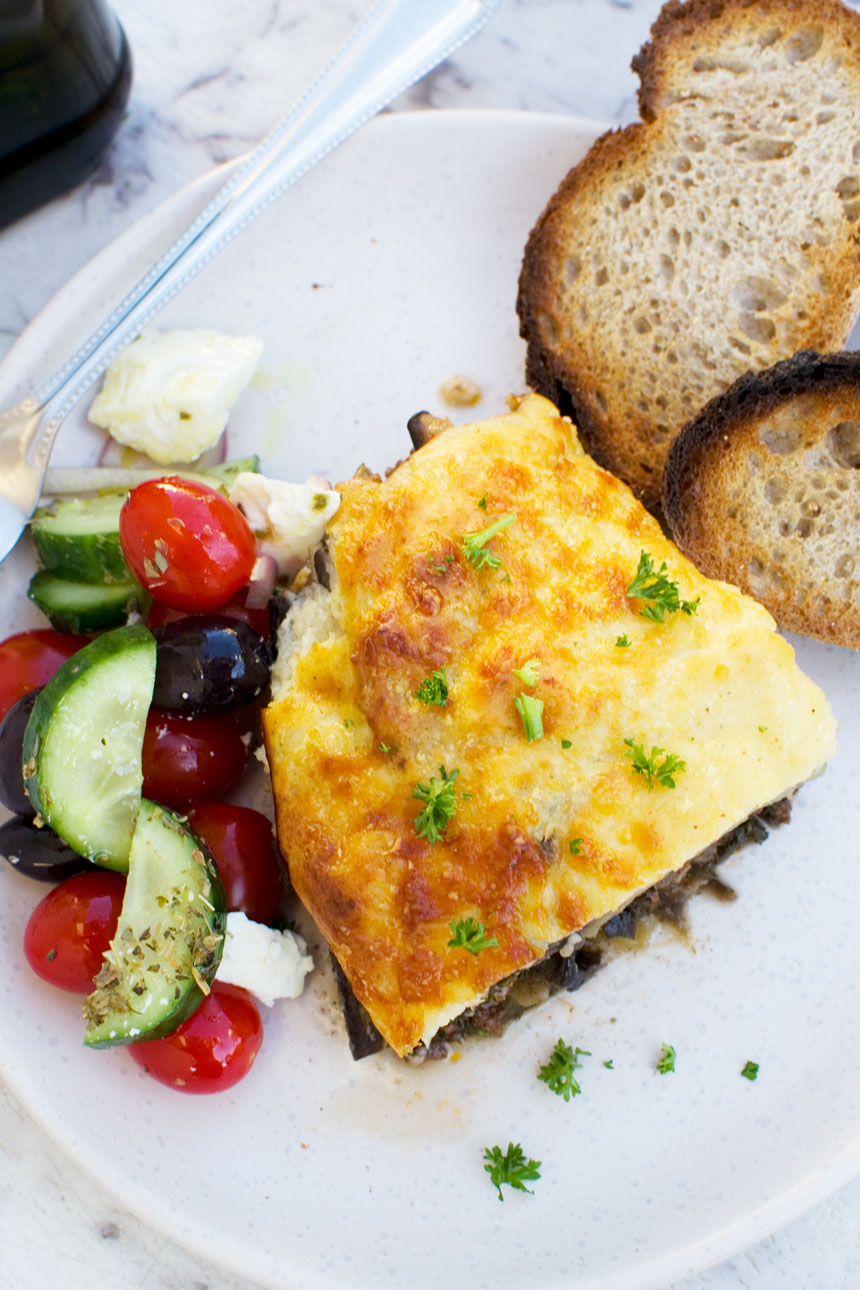 Moussaka FAQ
Can I make it ahead?
Definitely! I often assemble my beef moussaka in the morning, then pop it in the fridge until evening. You can even assemble it the day before you want to cook it.

Or you can freeze it after assembling. Either let it defrost then cook as normal, or cook straight from frozen and add another 20 to 25 minutes onto the cooking time.

Which leads me onto the next common question…
Can I freeze it?
Yes! See above!

If you want to freeze cooked leftovers, simply put separate portions into glass containers and freeze for up to 3 months.
And how do I reheat it?
Got leftovers in the fridge? Reheat at 355F/180C for about 25 minutes.

Alternatively, you can reheat each piece separately in the microwave for a few minutes, but you might not get that lovely puffed up bechamel that you'll get if you reheat it in the oven!
More amazing moussaka recipes
More yummy Greek meals
Or if you're just enjoying the whole Greek food vibe in this post, you might like to check out my Greek recipes archives!
IF YOU MAKE THIS RECIPE, LET ME KNOW HOW YOU GET ON BY LEAVING A COMMENT AND RATING BELOW… AND DON'T FORGET TO SIGN UP TO RECEIVE ALL MY NEW RECIPES BY EMAIL!
FOLLOW ME ON FACEBOOK, INSTAGRAM, PINTEREST AND YOUTUBE.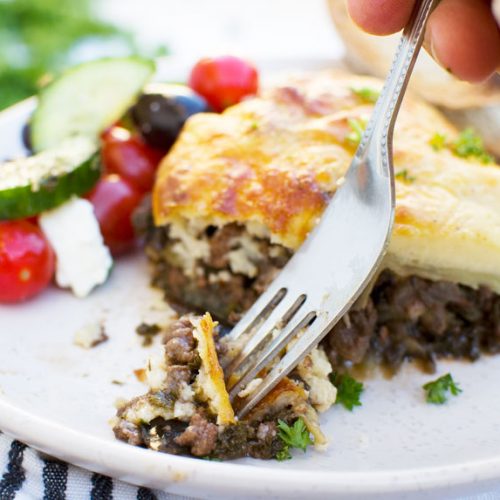 Easy Moussaka
With its tasty layers of eggplant, meat sauce and bechamel sauce, a traditional Greek moussaka is a really hard meal to beat. It can take a little while to make, but this recipe makes it easy. You need just a few ingredients to make each component, but there's no compromise on taste!
Ingredients (UK/Australia? Click below for grams/ml)
For the eggplant/aubergine slices
2

large eggplant

/ aubergines, cut into even ½ – 1 cm slices
For the Greek bolognese sauce
1

onion

finely chopped

4

garlic cloves

crushed or chopped

2

teaspoons

cinnamon

1½

teaspoons

dried oregano

1

pound

ground beef

or lamb (ground beef = minced beef in UK/Australia)

2

tablespoons

tomato puree

/ paste mixed with about ½ cup/125ml water

⅔

cup

red wine

salt and pepper

1

bunch

fresh parsley

chopped
For the béchamel sauce
2

ounces

butter

4

tablespoons

plain flour

2

cups

milk

warmed slightly in the microwave or in a pan

2

ounces

parmesan cheese

or Italian pecorino / Greek kefalotiri if you can find it!

¼

tsp

nutmeg

2

eggs

lightly whisked
Instructions
Eggplant/Aubergine slices
Pre-heat the oven to 355F/180C. Lay the eggplant/aubergine slices on large baking trays and brush each side with a little olive oil. Bake for about 25 minutes or until the slices are soft.
Meat sauce
Meanwhile, make your meat sauce. Heat a little olive oil in a large saucepan, then cook the onion for a few minutes. Add the garlic, cinnamon & oregano and cook for a minute longer.

Add the meat to the pan and brown while breaking up with a wooden spoon.

Add the tomato puree, water and wine. Simmer the sauce until it has thickened (about 30 minutes).

Stir in the parsley and salt and pepper to taste.
Béchamel
To make the béchamel, melt the butter in a medium saucepan, then stir in the flour until you have a paste.

Take off the heat, then stir in the milk little by little.

Put the pan back on the heat and stir until the sauce has thickened and is just bubbling. Add most of the cheese and the nutmeg.

Let cool for about five minutes, then whisk in the eggs.
Assembling & baking
Divide the eggplant/aubergine slices into 3. Take the first pile and line the bottom of a 12 x 9 inch baking dish with them. Top with half of the meat sauce.

Add another layer of eggplant/aubergine slices, and then the rest of the meat sauce.

Add a final layer of eggplant/aubergine, then pour over the bechamel sauce. Smooth it with a spatula, then sprinkle over the rest of the cheese.

Bake for 40 to 45 minutes (at 355F/180C) or until the top is golden and bubbling (cover it with aluminium foil if it gets too dark). Leave to rest for 20 to 30 minutes before serving (so that the pieces stay together when you cut and serve them).
Notes
Thank you!
I adapted this easy moussaka recipe from this recipe in Guardian Life and Style.
The baking dish
You can use a baking dish that's a bit smaller than 12 by 9 inches if that's what you have, but don't use a larger dish than this. You'll find the layers are a bit too thin if you do.
The eggplant/aubergine slices
I sometimes find it easier to roast my eggplant slices the day before. I've even made them a week or more ahead and frozen them.
I personally never salt my eggplant before roasting. I've never found my roasted eggplant to taste bitter!
Serving your moussaka
I highly advise leaving your moussaka to 'rest' for 20 to 30 minutes after it's come out of the oven. This gives it time to 'firm up' slightly and the individual pieces will be easier to serve.
Serve with a Greek salad and toasted fresh bread! (this way you can feed 8 with this recipe!). I also like to serve Greek yoghurt or tzatziki on the side.
Making this moussaka ahead, or freezing it
You can make this moussaka ahead if you like. Simply assemble fully and cover in the fridge until ready to bake. Add 5 to 10 minutes to the cooking time.
If you prefer you can freeze the whole moussaka unbaked. Just tightly wrap it in plastic wrap and/or aluminium foil. Simply let defrost and cook as normal, or cook from frozen and add 20 to 25 minutes to the cooking time.
You can also freeze the cooked leftovers, then defrost and reheat. Mmm!
Nutrition
Calories:
349
kcal
Carbohydrates:
17
g
Protein:
18
g
Fat:
22
g
Saturated Fat:
11
g
Cholesterol:
107
mg
Sodium:
253
mg
Potassium:
631
mg
Fiber:
5
g
Sugar:
8
g
Vitamin A:
1044
IU
Vitamin C:
14
mg
Calcium:
210
mg
Iron:
3
mg