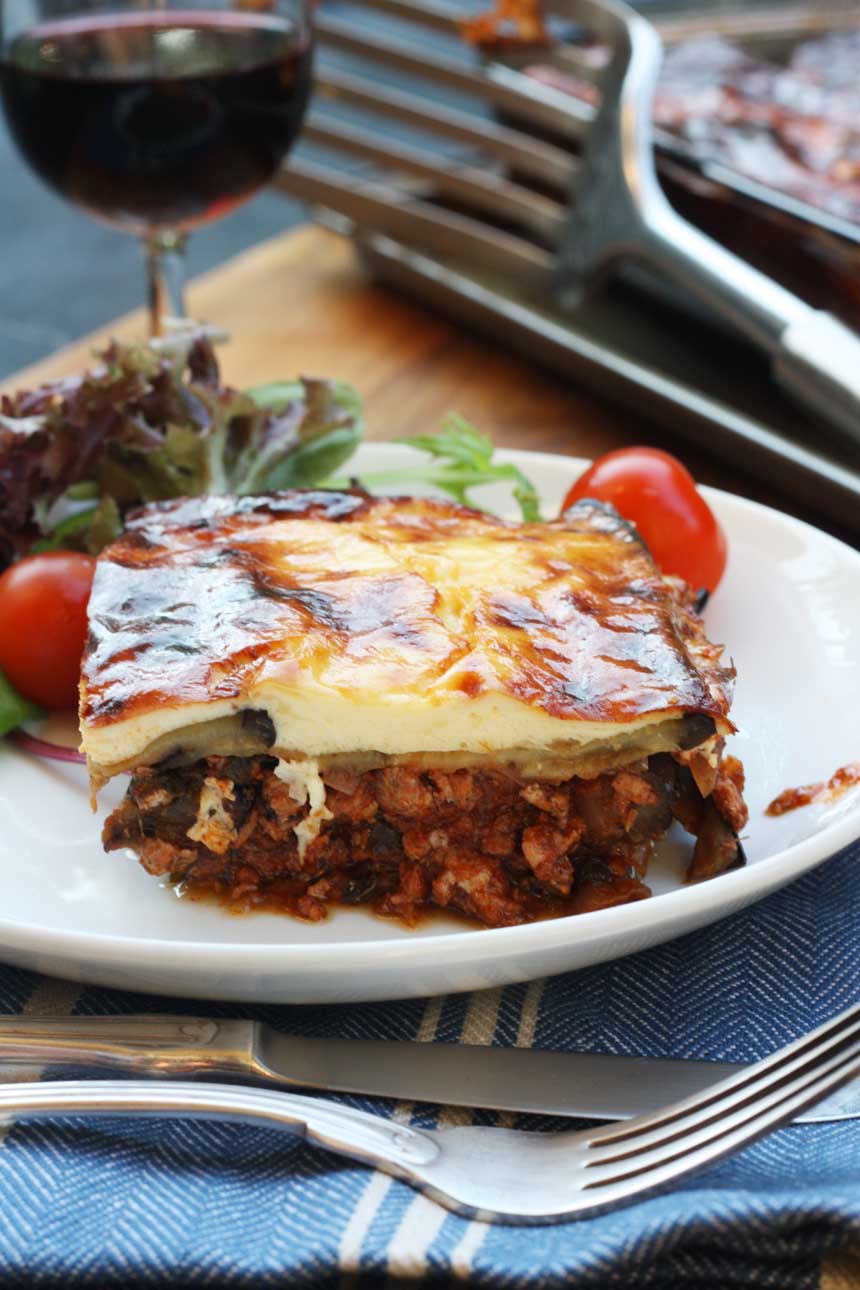 OK, confession time. I try to eat healthily most of the time, or at least like to think that I do, but I really fell off the smug healthy eater bandwagon this past Tuesday. Mr. Scrummy and I were meeting a friend for dinner, so I decided not to eat too much at lunchtime. Not because I thought I shouldn't, but simply because I had a lot to do that day and in my twisted way of thinking I thought I could pretty much skip lunch and get on with my jobs instead, especially as we'd be eating a large meal that night.
So, off I went to a café to do some work on my laptop. I wasn't hungry at all … until about half an hour after I sat down, that is. Then just as the stomach started growling big time, I spotted someone being brought potato wedges with sweet chili sauce and sour cream. Yum. My mouth started watering and so yes, I did give in and order some. They were absolutely delicious, of course. Mr. Scrummy and I used to order a portion to share regularly, but these seemed crispier and tastier than ever and with a larger portion of sauces than usual. I ate far too many and even burnt both my mouth and my fingers in my haste to gobble them up.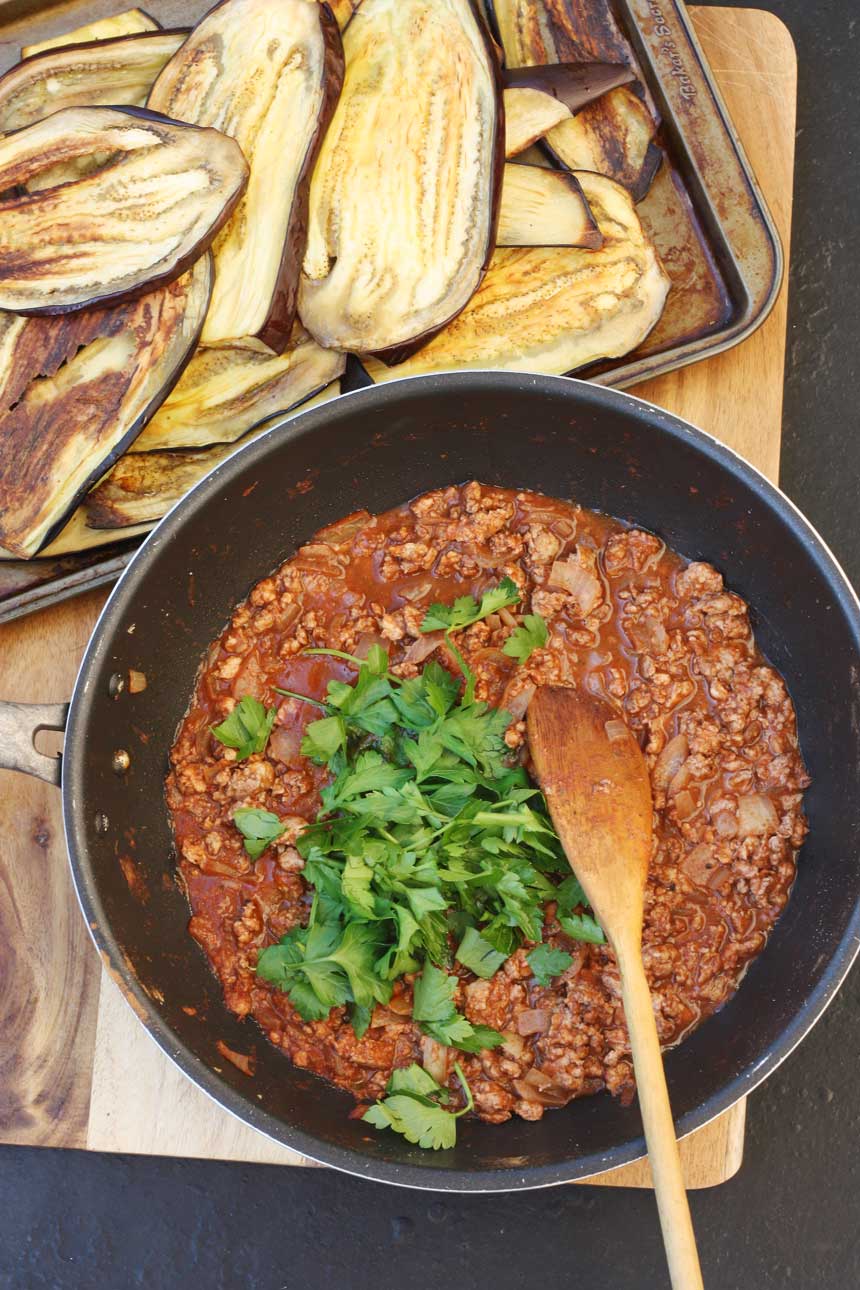 So that night at the restaurant (a mere two hours or so later, I'm ashamed to admit) I wasn't hungry, of course. At all. In fact, I had a bit of a stomach ache. I ordered a salad and enjoyed it, but felt a little annoyed with myself for having destroyed my appetite in a moment of complete lack of self-control earlier on. Even worse, I didn't admit it to Mr. Scrummy (I told you it was confession time – sorry Mr. Scrummy, if you're reading this!)
Anyway, to sort of make up for that humungous dish of wedges I scoffed, I decided to keep the next day's moussaka light. When I was living in Greece, moussaka was always my very favourite meal to order in a taverna. I loved the layers of smoky aubergine (that's eggplant to you), rich tomato-ey meat sauce and thick béchamel topping. I even made it myself a few times, but I always found it fairly time-consuming. It's also a relatively heavy, oily dish – or at least it is the way it's usually made in Greece.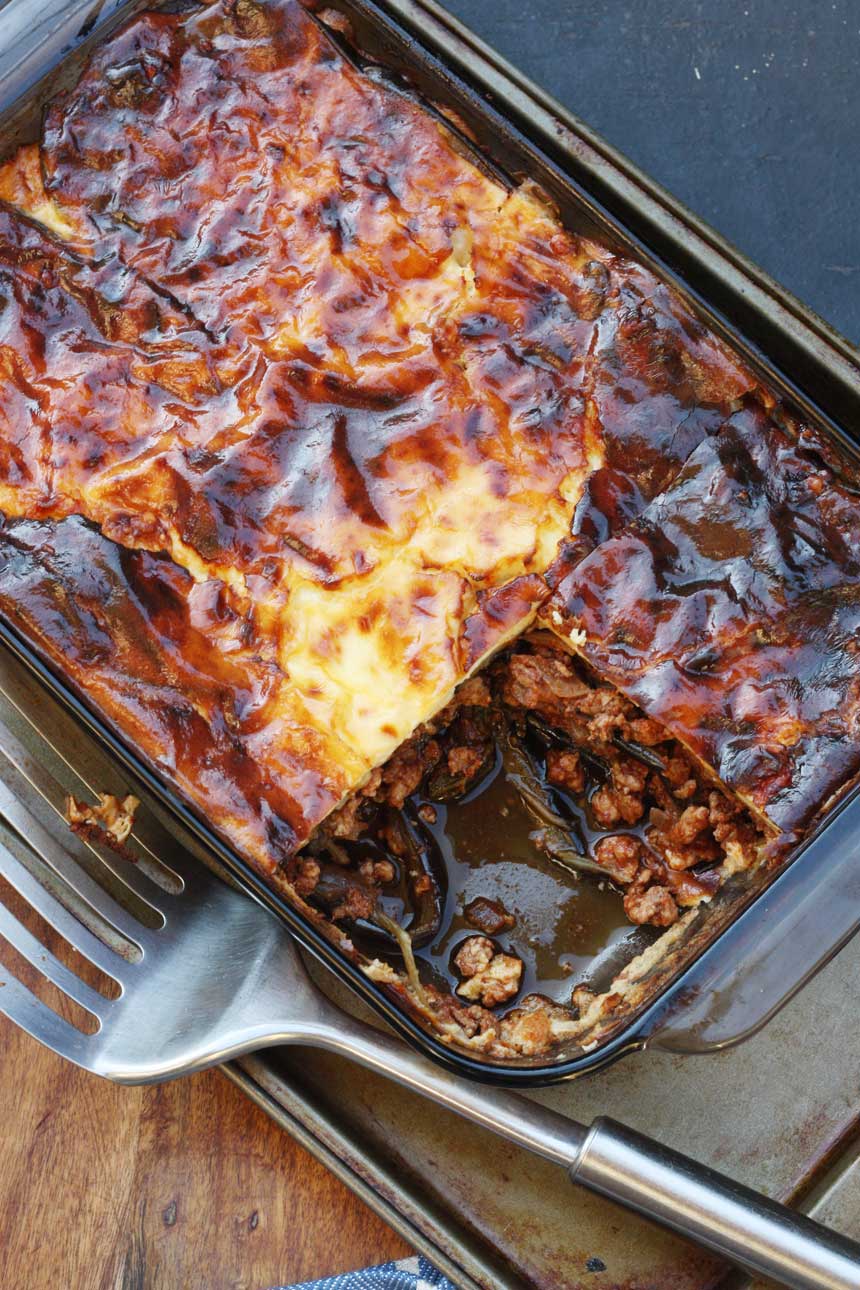 Enter this much lighter, easier to make version! You still need a little chunk of time to put this together (about half an hour to make the three layers and forty minutes or so to bake it) but it feels really simple. You basically just cut 2 aubergines into slices and bake them for about 25 minutes. While they're baking, you make a simple tomato ragu sauce with chicken mince (Turkey would be fine too) flavoured with oregano, cinnamon and garlic and an equally as simple 'béchamel' topping out of Greek yoghurt, eggs and parmesan cheese. I always found making a flour-and-milk-based béchamel sauce for my moussaka a bit of a pain when I'd already worked hard on the other 2 layers, so I find this yoghurt topping the perfect lazy substitute. The big bonus is that by doing this, and of course by using chicken mince instead of beef or lamb, you cut out quite a lot of fat and calories, too.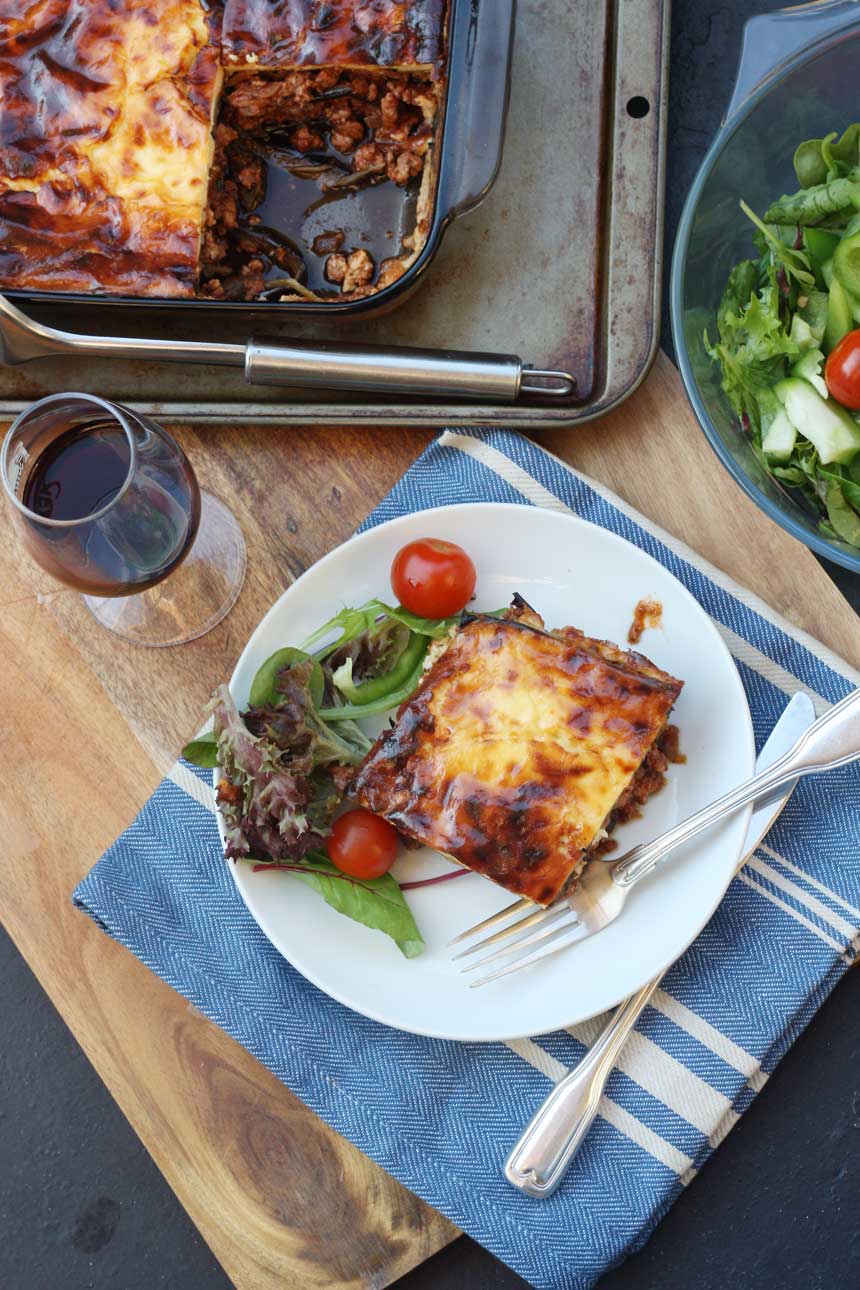 Another great thing about this is that it's one of those dishes that seems to taste better the next day, so heat up leftovers in the microwave for about 3 or 4 minutes for a perfect next-day lunch!
So I definitely learnt a valuable lesson this week – don't eat a big stack of fried potatoes just before going out for a meal. Would you own up to your significant other if you did something like this?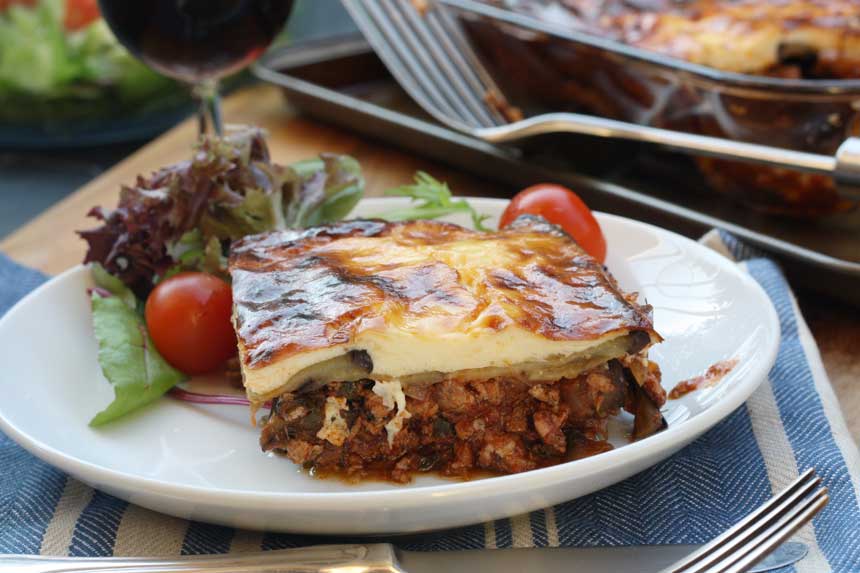 Skinny chicken moussaka
A lightened-up version of a traditional Greek moussaka with chicken or Turkey mince and a yoghurt topping. Deliciousness without the effort and calories!
Ingredients (UK/Australia? Click below for grams/ml)
2

large eggplant/aubergines

cut into even 1/2 cm-thick slices

1

onion

finely chopped

4

garlic cloves

crushed or chopped

2

teaspoons

cinnamon

1 1/2

teaspoons

dried oregano

17

ounces

minced chicken

or turkey

2

tablespoons

tomato puree mixed with 1 cup water

1

cup

red or white wine

salt and pepper

bunch of fresh parsley

chopped
For the yoghurt 'béchamel' topping
1

tablespoon

cornflour

1 1/4

cup

Greek yoghurt

2% fat

2

eggs

lightly whisked

1/4

cup

parmesan cheese

grated

a generous pinch of ground nutmeg
Instructions
Pre-heat the oven to 180C. Lay the eggplant/aubergine slices on large baking trays and brush each side with a little olive oil. Bake for about 25 minutes or until the slices are soft and floppy.

Meanwhile, start making your chicken ragu sauce. Start by softening your onion for a few minutes in a little olive oil, then add the garlic, cinnamon & oregano and cook and stir for a couple more minutes.

Add the chicken to the pan and brown while breaking up with a wooden spoon. Then add the tomato puree & water and wine. Let the sauce simmer gently until it has thickened (about 20 to 30 minutes). At the last minute, add in the parsley and salt and pepper to taste.

To make the topping, place the cornflour in a medium bowl and slowly mix in the yoghurt until the mixture is smooth and there are no lumps. Then mix in the eggs well and add the nutmeg.

Now you're ready to assemble your moussaka! (I used an 11 by 7 inch baking dish, but slightly larger would probably be ideal) Start with a layer of eggplant/aubergine slices, followed by half of the ragu sauce, another layer of eggplant/aubergine, another layer of meat and a final layer of eggplant/aubergine. Finally, pour the yoghurt topping over the top and smooth it out.

Bake for forty to forty-five minutes or until the topping is golden and bubbling (cover it with aluminium foil if it gets too dark). Leave the moussaka to rest for half an hour before serving (so that the pieces stay together better when you cut and serve them).
Notes
Basic moussaka recipe adapted from this recipe in Guardian Life and Style. For a more authentic flavour, use Greek kefalotiri cheese in the topping if you can find it, or pecorino.
Nutrition
Calories:
429
kcal
Carbohydrates:
25
g
Protein:
37
g
Fat:
15
g
Saturated Fat:
5
g
Cholesterol:
179
mg
Sodium:
254
mg
Potassium:
984
mg
Fiber:
8
g
Sugar:
13
g
Vitamin A:
405
IU
Vitamin C:
8.8
mg
Calcium:
253
mg
Iron:
3.3
mg
I hope you enjoyed this post! You can subscribe to receive posts directly to your inbox by entering your email address in the box below or at the top of the sidebar on the right.
You can also find more from Scrummy Lane on Facebook, Pinterest, Twitter and Instagram and follow me on Bloglovin! Thanks so much for reading!
*This post may contain affiliate links which means that if you click on a link and make a purchase I get a small percentage of the amount you spend. At no extra cost to you, of course! Thank you!*