We've been making this midweek meal for a long time. It never disappoints. Just tip six ingredients into a baking dish… and bake! Scroll to the end of the post to watch my quick how-to video.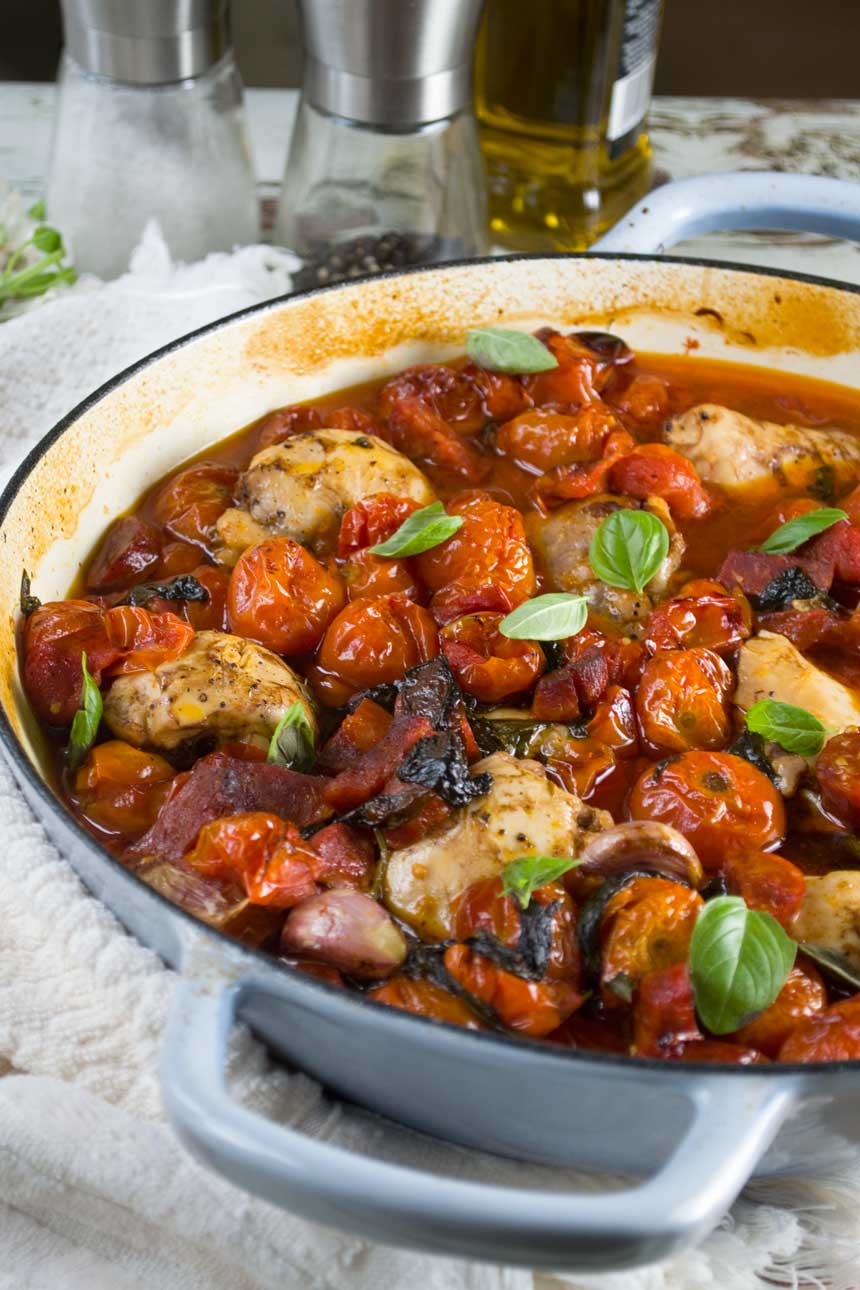 One pan baked chicken with chorizo and tomatoes is on regular rotation at our house, whatever the season. It's definitely one of those recipes I'm wondering why I haven't shared already.
And in fact Mr. Scrummy has been nagging me to post it for months (possibly even more than a year – ooops, poor Mr. Scrummy!).
So why haven't I until now? Well, mostly it's because I've always seen this particular meal as Mr. Scrummy's domain. He often asks if I'd like him to cook, cool and helpful husband that he is, and many times he serves this.
Which means one important thing, of course… it's been perfected over many, many 'makes'.
We really hope you come to love this simple recipe as much as we do, and make it time and time again. It's a lot more delicious than the sum of its parts, with only five main ingredients. Quite simply, oodles of flavour oozes from the generous amounts of chorizo, garlic and basil dumped into the dish.
Really, nothing else is needed – just a pile of toasted, olive-oiled bread or creamy mashed potatoes to eat alongside it.
This is a true one-dish meal. Throw everything into the baking dish – don't even peel the garlic cloves (squeeze that roasted deliciousness into the food on your plate instead!) – and the massive amounts of small tomatoes will melt over the chicken and other flavours, leaving you with a beautifully tasty sauce.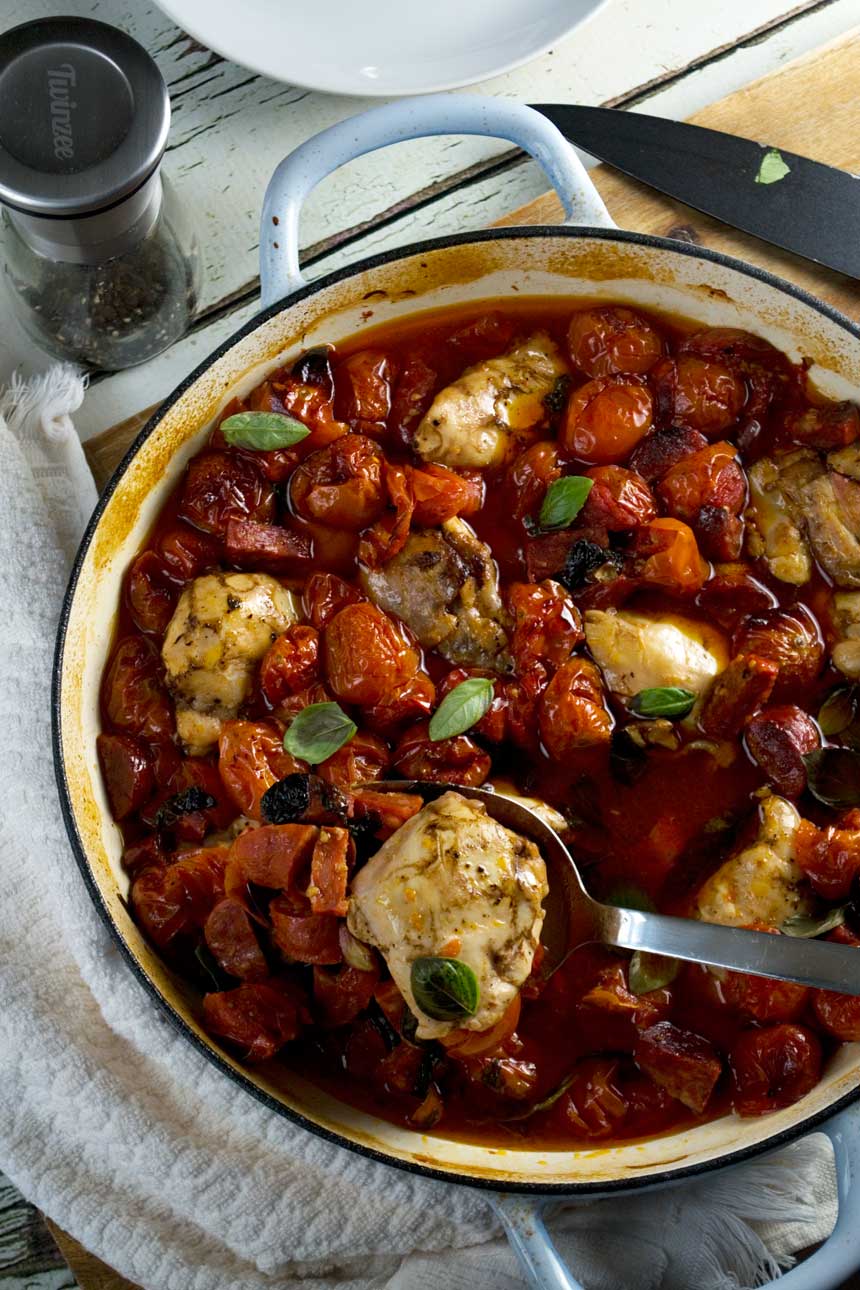 Talking of the tomatoes… you might be a bit shocked by how many you're tipping into the dish, but don't worry, you haven't weighed them out wrongly. They'll bake down to just the right amount. Here in the UK punnets of cherry tomatoes are fairly cheap, but to be honest with you you could use any kind of tomatoes in this dish. If bigger tomatoes happen to be on sale where you are, just chop them into smaller chunks and toss them in.
The most work you have to do for this recipe is peeling and chopping the chorizo. The chicken thighs, garlic cloves and cherry tomatoes go in as they are, making dinner the night you make this as easy as you can imagine.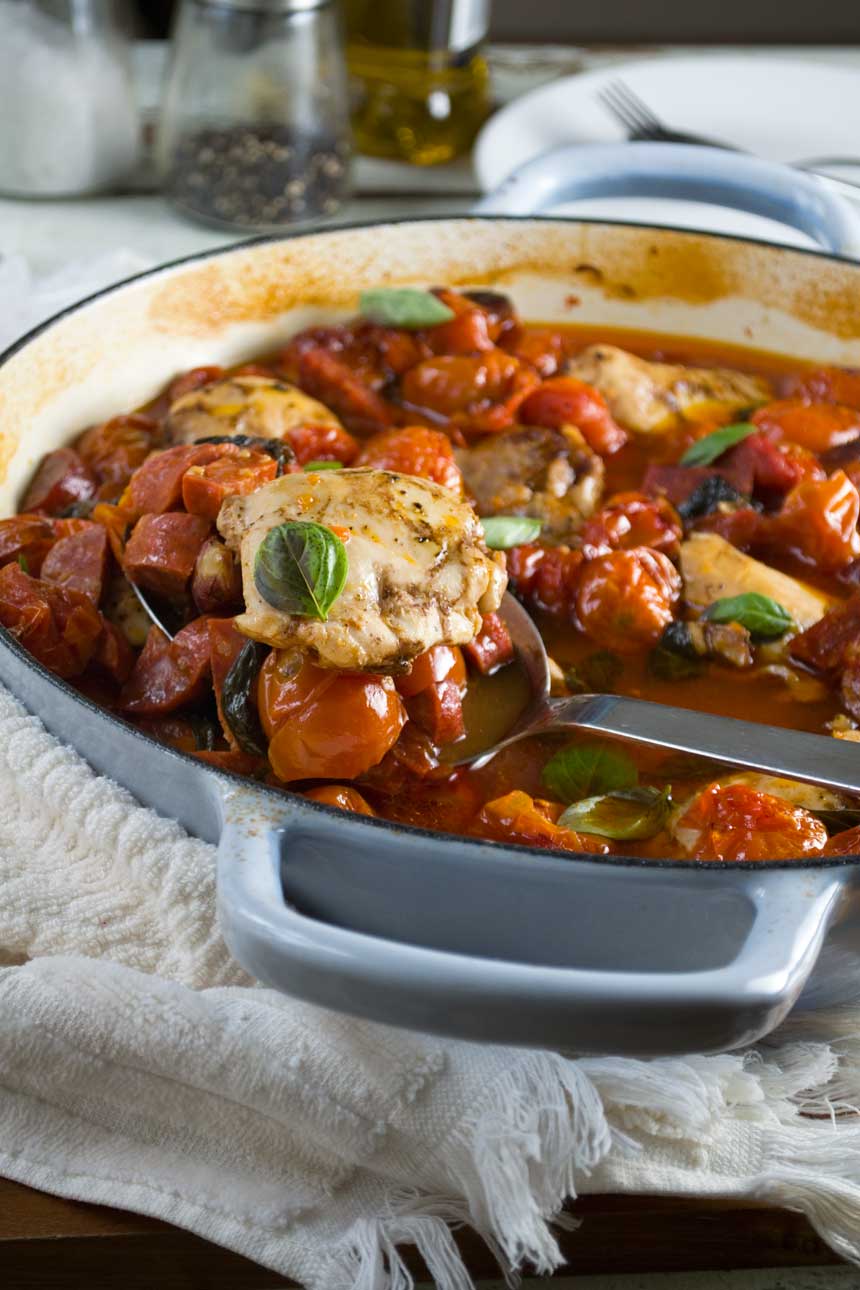 I'm on a bit of a roll with my videos this month, so I decided to make you one for this recipe, even though it's possibly one of the easiest dinner recipes on the blog so far! Let's just say it's to prove to you JUST how easy it is.
Enjoy!
This cast iron pot is perfect for this meal (affiliate link):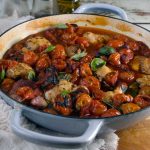 One-pan baked chicken with chorizo and tomatoes
The simplest of baked chicken meals, but also one of the tastiest. Just pile tomatoes, chorizo, garlic, basil and olive oil into a baking dish and bake until browned and bubbling. Delicious!
Ingredients
1.5

pounds

chicken thighs

boneless, skinless

1

bulb

garlic

split into cloves but unpeeled

salt and pepper

8

ounces

chorizo

(I used one 'ring' torn into smallish chunks)

1

bunch

basil

chopped or torn

2.75

pounds

tomatoes

I use cherry tomatoes for ease, but any small tomatoes or chopped larger ones will work

1

tablespoon

olive oil

1

tablespoon

balsamic vinegar

optional

toasted bread with olive oil and salt or mashed potatoes

to serve (optional)
Instructions
Pre-heat the oven to 180C / 355F.

Place the chicken thighs in a large baking dish. Scatter the garlic cloves in between/over them, then grind over a generous amount of salt and pepper.

Scatter the chorizo pieces over the chicken, followed by the basil and then the tomatoes.

Drizzle over the olive oil and balsamic vinegar (if using), then bake for 50 minutes until the tomatoes are slightly charred and bubbling and the chicken is cooked through and slightly browned where it pokes through the sauce (toss and stir once half way through cooking).

Serve in dishes with the toasted bread or over mashed potatoes, as you choose.
Recipe Notes
Feel free to use skin-in, bone-in chicken thighs and/or legs in this recipe instead, if you prefer. Just cook for 10 minutes longer if you use this option.
I leave the garlic unpeeled so it roasts in the skins – perfect for squeezing out into the tomato-ey sauce! You can peel the garlic though if you prefer.
This makes great leftovers! Simply serve into dishes, cover and reheat in a microwave for about 4.5 minutes.
Nutrition Facts
One-pan baked chicken with chorizo and tomatoes
Amount Per Serving
Calories 721
Calories from Fat 486
% Daily Value*
Total Fat 54g 83%
Cholesterol 216mg 72%
Sodium 847mg 35%
Potassium 1313mg 38%
Total Carbohydrates 14g 5%
Protein 44g 88%
* Percent Daily Values are based on a 2000 calorie diet.