Like me, do you love moussaka but don't love the hassle of making it? Then I've got the perfect quick meal for you … it's 'almost' one-pot, it's got all the flavours of a lovely Greek moussaka but it takes barely 30 minutes to make!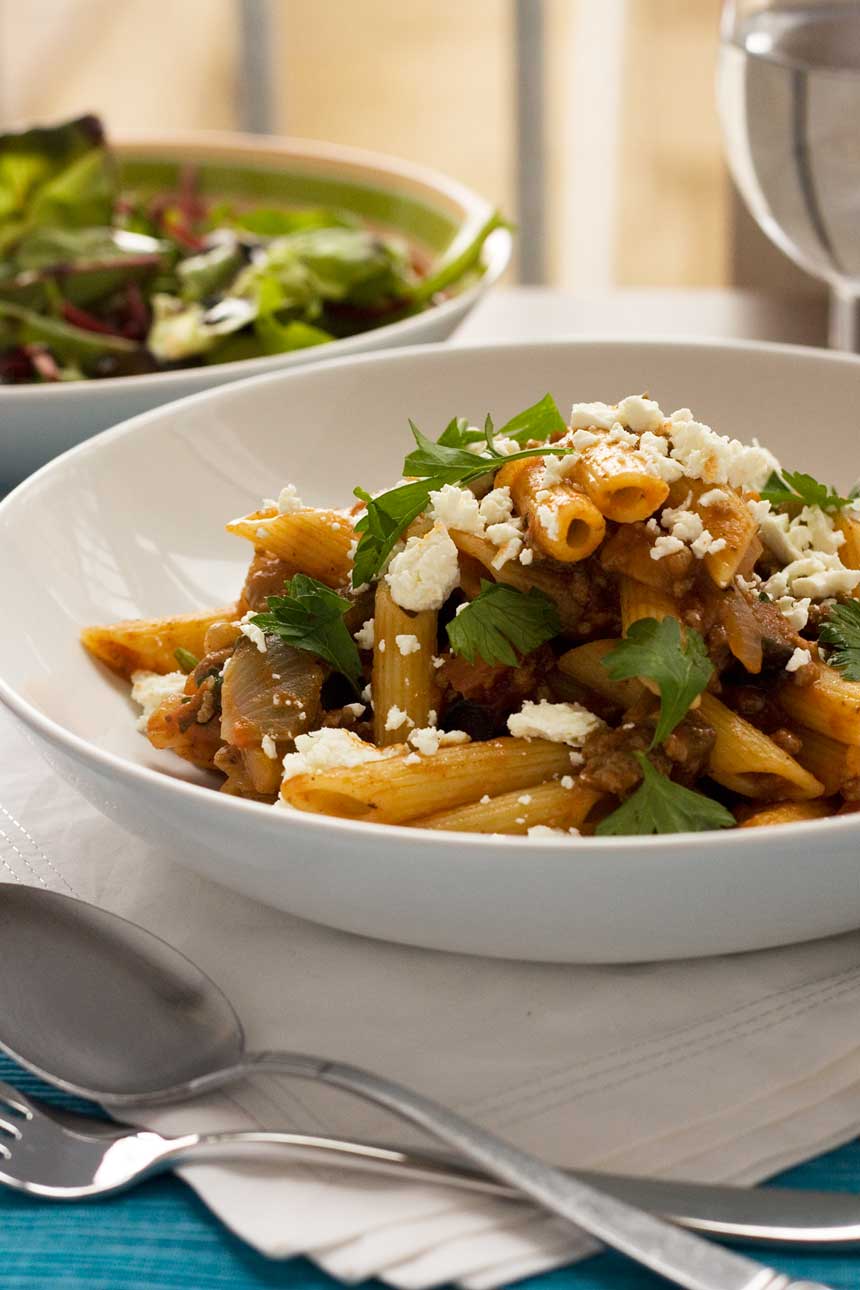 This past week, Mr. Scrummy and I were lucky enough to spend a few days in Paris. As usual when we go on a city break, we walked our legs off wandering through the streets around all the famous sights and then made a ridiculous amount of effort chasing down all the best food experiences. Maybe it's just me (surely not?) but I always hate the thought of visiting a new place and feeling like I haven't found the best food it has to offer!
Although we did have one dud meal (boo hoo), it isn't hard at all to enjoy great food in Paris. There are crowded bistrots on every corner, a whole street full of crepe restaurants (seriously), it seems almost impossible to find a pastry that isn't delicious and our hotel served macarons at breakfast, for goodness sake. We even managed to track down the restaurant where we got engaged on New Year's Eve, 2012. We enjoyed our happy memories and chatting to the owner who actually remembered us including exactly where we sat and had the best meal of our stay (awwww …).
So a great time was had by all (i.e. me and Mr. Scrummy) and when we got home of course I wished I was still there. I certainly wasn't ready to start cooking my own meals again, but second best was finding something easy and really tasty for dinner.
Enter this simple and delicious moussaka penne!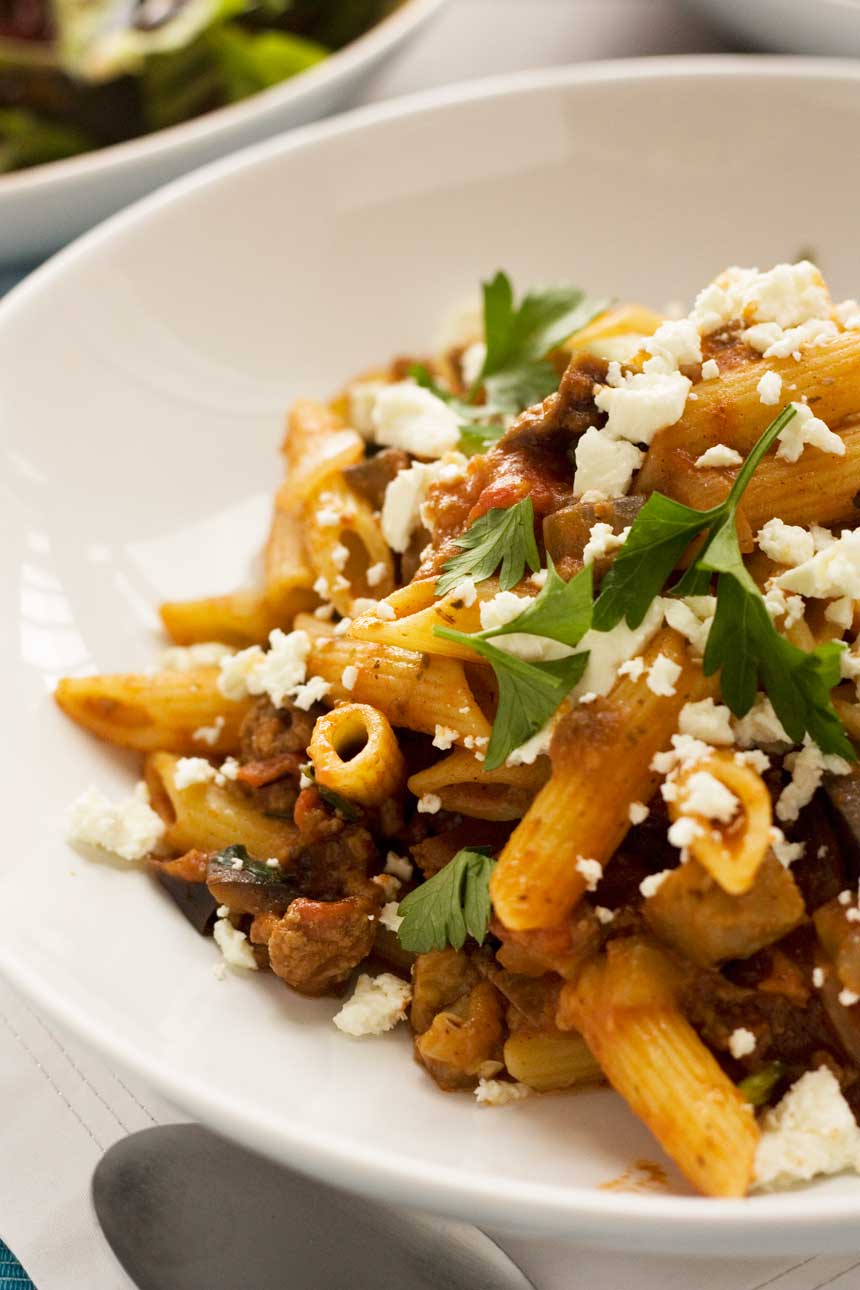 Moussaka has been one of my favourite meals for years. I love the combination of the rich cinnamon-infused meat sauce, the smoky aubergine (eggplant!) and cheesy béchamel topping. What I don't love though is the time it takes to make.
So how about combining all the FLAVOURS of a moussaka in a much simpler pasta dish? You cook up some diced aubergine and onion, add canned tomatoes and tomato puree, oregano and spices, then toss with penne pasta and sprinkle generously with feta cheese. Then hey presto, you've got a quick, hearty meal with classic Greek flavourings. There's no need to mess around pre-cooking aubergine and making a finicky sauce.
Apart from the other pot you use to cook up the pasta, this is essentially a one-pot meal. I loved it. Mr. Scrummy wasn't so convinced, I must admit, saying that it made him feel disappointed because it TASTED like a moussaka but wasn't. But to me that's the beauty of this easy meal, perfect for mid-week or any other time you want to whip up a quick but tasty dinner.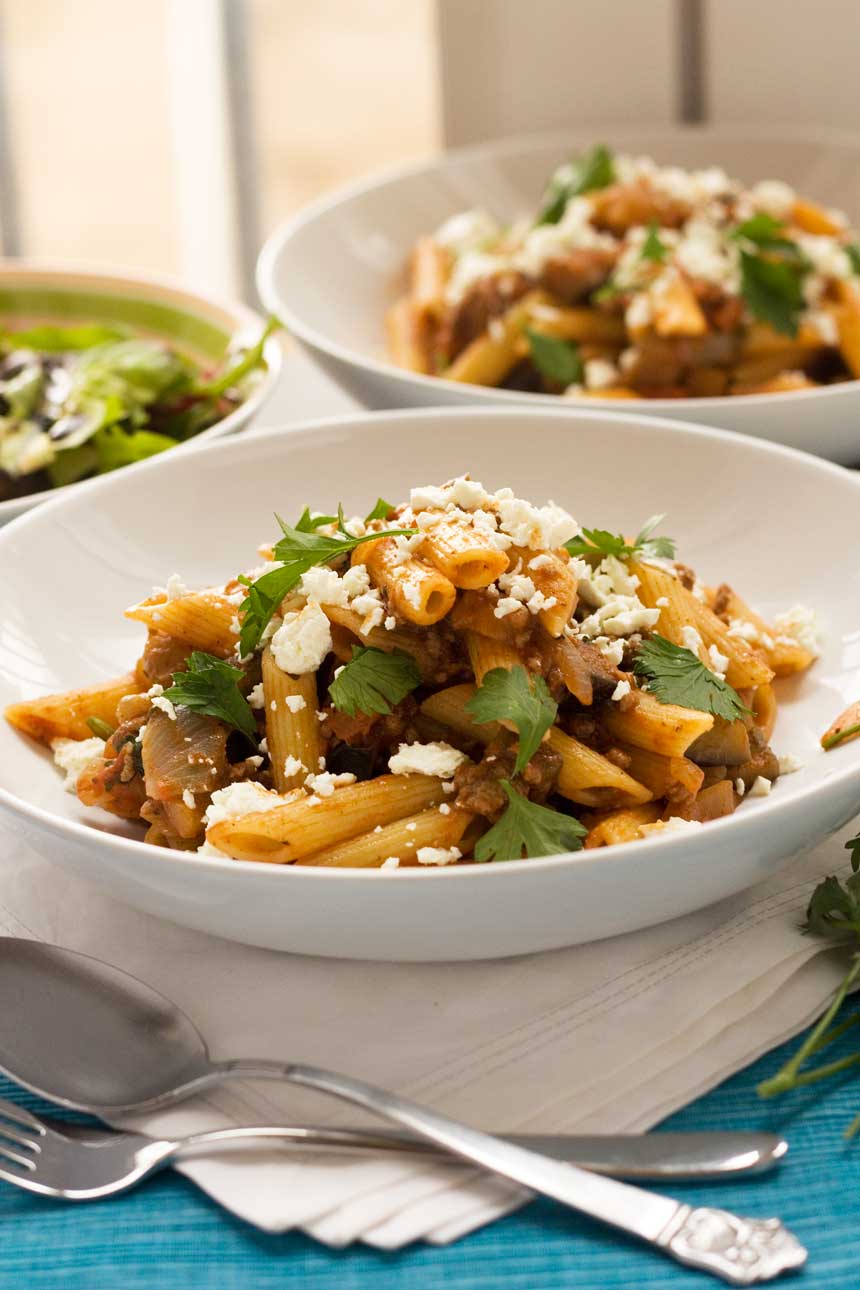 So what side of the fence do you sit on? Do you like the sound of this, or would you rather make a bit of extra effort and make the real thing? I actually like both, and will still go the extra mile and make this skinny chicken moussaka sometimes, too (which is in itself an easier version of moussaka with a yoghurt topping instead of a traditional heavier béchamel).
Having this again tonight as half of the sauce is still in the fridge. Mr. Scrummy reckons he isn't a fan of penne, though, so I might make it with a different kind of pasta to see if he likes it any better that way. 😉
Hope you're tempted to give this a go some time this week – I bet you've already got most of the ingredients you need! 🙂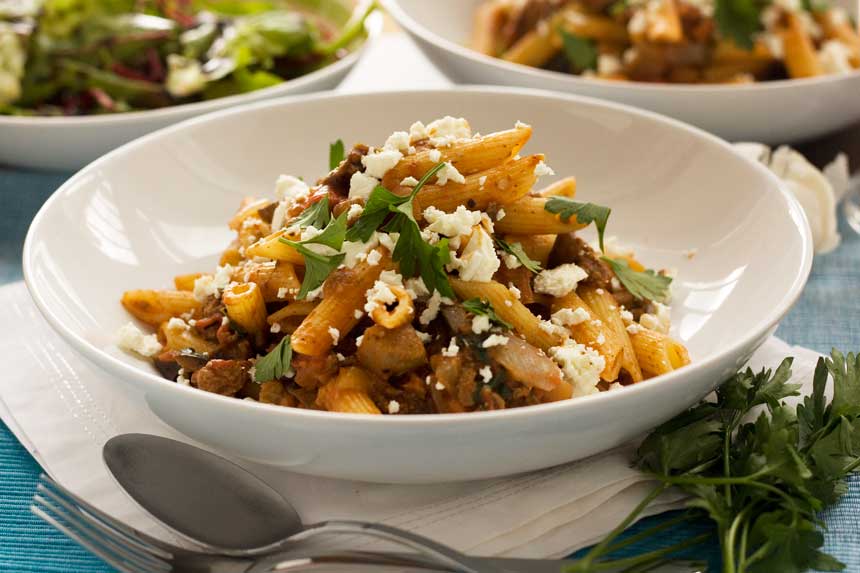 Moussaka penne (30 minute meal)
I'm a moussaka lover and I'm not ashamed to admit it! Unfortunately though I don't make it too often as I find it a bit time-consuming, especially for a mid-week meal. Enter this moussaka-style pasta! It's got all the flavours of a traditional Greek moussaka but it's a fraction of the hassle to make. Hope you give it a go!
Ingredients (UK/Australia? Click below for grams/ml)
a large drizzle of olive oil

1

large onion

chopped finely

1

large aubergine

eggplant, diced (about 1cm²)

8

ounces

lamb or beef mince

2

garlic cloves

crushed

3/4

teaspoon

ground cinnamon

1/4

teaspoon

allspice

1

teaspoon

dried oregano

14

ounce

can chopped tomatoes

1

tablespoon

tomato puree

small bunch of parsley

washed and chopped

10

ounces

dried penne

or other pasta of your choice

7

ounces

feta

crumbled
Instructions
Heat the olive oil in a large pan with a lid on a medium heat. Add the onion and aubergine and cook, stirring regularly, for 2 or 3 minutes. Then reduce the heat to medium, put the lid on the pan and cook for about another 5 minutes, stirring every now and again.

Add the meat and brown for a couple of minutes, then add the garlic, cinnamon, allspice and oregano. Stir for a minute, then add the tomatoes and tomato puree. Stir again, then leave to cook with the lid on for about ten minutes, stirring every now and again. Then stir in most of the parsley and season to taste.

Meanwhile, cook the pasta according to the packet instructions, then drain, reserving a bit of the cooking water.

Tip the cooked pasta into the meat sauce along with some cooking water to make the sauce nice and silky.

Serve out the pasta into bowls, then sprinkle with the feta cheese and the rest of the parsley. Enjoy!
Notes
Adapted from Tesco Realfood.
I use beef mince when I make this, as I prefer it to lamb and, in any case, moussaka in Greece is more often than not made with beef and not lamb, contrary to popular belief! The choice is ultimately yours, though. Both beef and lamb work well.
Nutrition
Calories:
616
kcal
Carbohydrates:
69
g
Protein:
28
g
Fat:
25
g
Saturated Fat:
13
g
Cholesterol:
85
mg
Sodium:
738
mg
Potassium:
821
mg
Fiber:
7
g
Sugar:
11
g
Vitamin A:
370
IU
Vitamin C:
14.7
mg
Calcium:
330
mg
Iron:
3.7
mg

You can also find more from Scrummy Lane on Facebook, Pinterest, Twitter and Instagram and follow me on Bloglovin! Thanks so much for reading!
*This post may contain affiliate links which means that if you click on a link and make a purchase I get a small percentage of the amount you spend. At no extra cost to you, of course! Thank you!*