Do you have leftover pizza? Lucky you!
You may love eating pizza cold for breakfast (hey, no judgment here). But if you want to recreate the crispiness and the bubbling cheese from the night before then look no further than using your trusty air fryer!
Yes, you could use your microwave (if you don't mind a soggy crust) and of course you could use your regular oven or even stove top. The great thing about an air fryer is that is will produce the same results as your oven but do it way faster!
Read on for a step-by-step guide of how best to use your air fryer to reheat your takeout or homemade pizza, some top tips and for more easy and quick air fryer recipe ideas…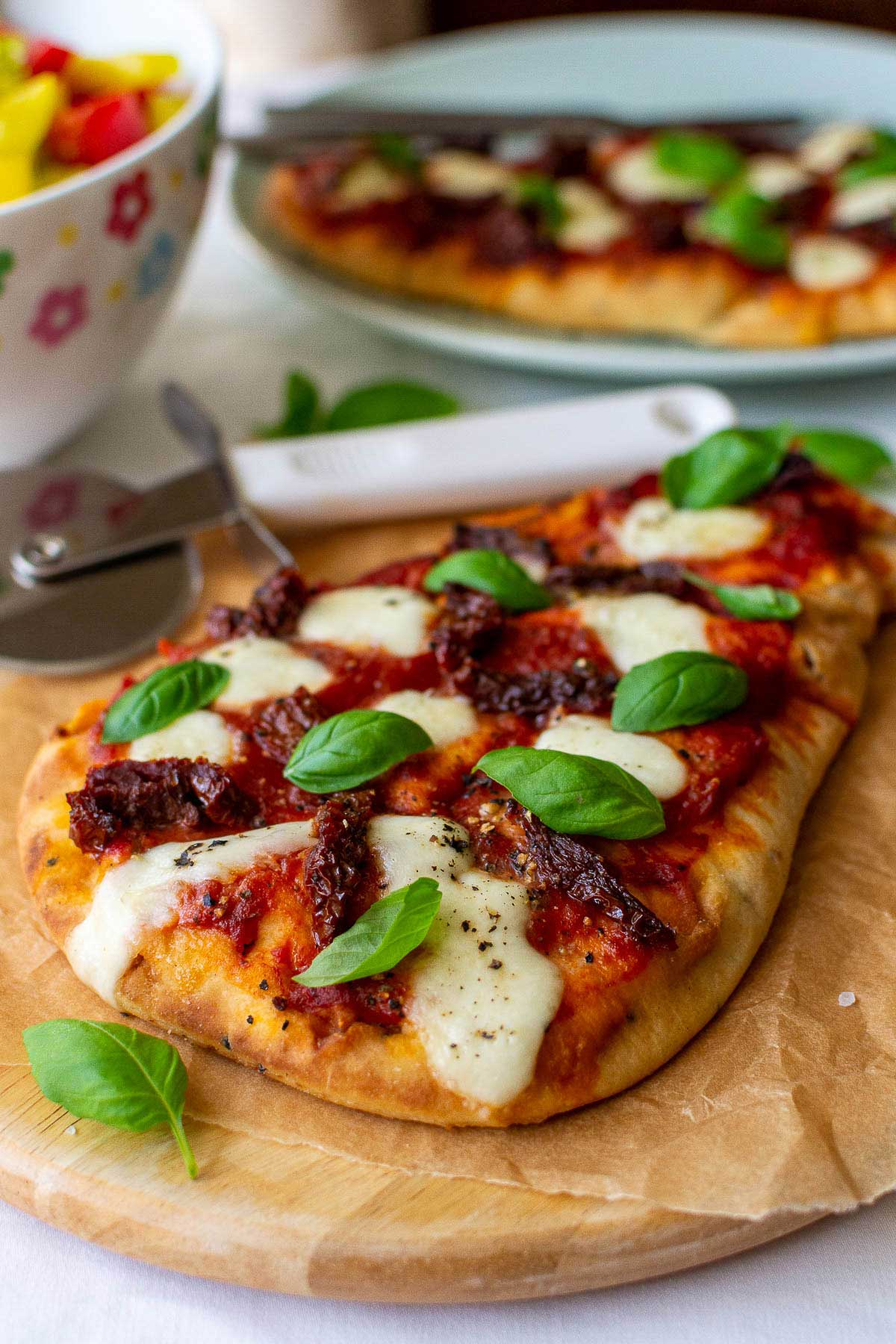 Why Reheat Pizza in an Air Fryer?
…and not just in the microwave?!
It will be as good as new again. You'll be amazed how your day-old pizza can be revitalised by your air fryer. You can reproduce the melted cheese, perfect crispy crust and fresh taste from the day before in a matter of minutes. Yep, say goodbye to microwaved floppiness!
Reheating in an air fryer is way quicker than switching on your oven and waiting for it to heat up. Plus, it seems a waste using your oven for just a few slices of pizza. With an air fryer your pizza will be ready in just 3-4 minutes (cooking times will vary depending on the thickness of your pizza base).
You're more likely to end up with a dry base if you use a conventional oven as it takes much longer to heat up the pizza. The air fryer heats rapidly using hot air that circulates evenly for that all important crispy-on-the-outside-tender-inside pizza!
It's so… hands off! You don't need to worry too much about keeping an eye on your air fryer like you would a conventional oven. Hands up if you've ever forgotten about something in your oven and discovered shrivelled and burnt food?
You can air fry any type of leftover pizza – takeout, homemade, deep dish, frozen pizza, thin crust, naan pizza, French bread pizza… literally any!
How to Reheat Pizza in an Air Fryer
You won't believe how simple it is!
Preheat your air fryer to around 350F (175C). If you want to prevent sticking, you could line your air fryer basket or tray with aluminium foil, parchment paper or these disposable air fryer liners which fit most basket style air fryers.
If you're using a basket-style air fryer, arrange the pieces in the basket. Ensure they are arranged in a single layer so the hot air can circulate around them and you get that all-important crisp! You'll probably only be able to fit 1 or 2 slices in each basket (depending on the size of your basket and type of pizza).
If you have an oven-style air fryer just arrange the pizza slices in the basket or on the baking sheet. Again, make sure there are spaces between each slice.
Cook the pizza for around 3 minutes and then check on progress. The pizza slices are ready when the crust is crisp (but not burnt!) and the cheese is oozy and bubbling again. You may find deep dish pizza or any thicker pizza will need a little longer than thin crust pizza. If necessary, pop back in for another minute or so before checking again.
As far as cook time goes, there'll be a bit of trial and error at first. Generally speaking, thinner slices will need about 3 to 4 minutes of cooking time, while thicker crust pizza may take around 5 to 6 minutes. But before you know it, you'll be warming up pizza in your air fryer completely on auto-pilot!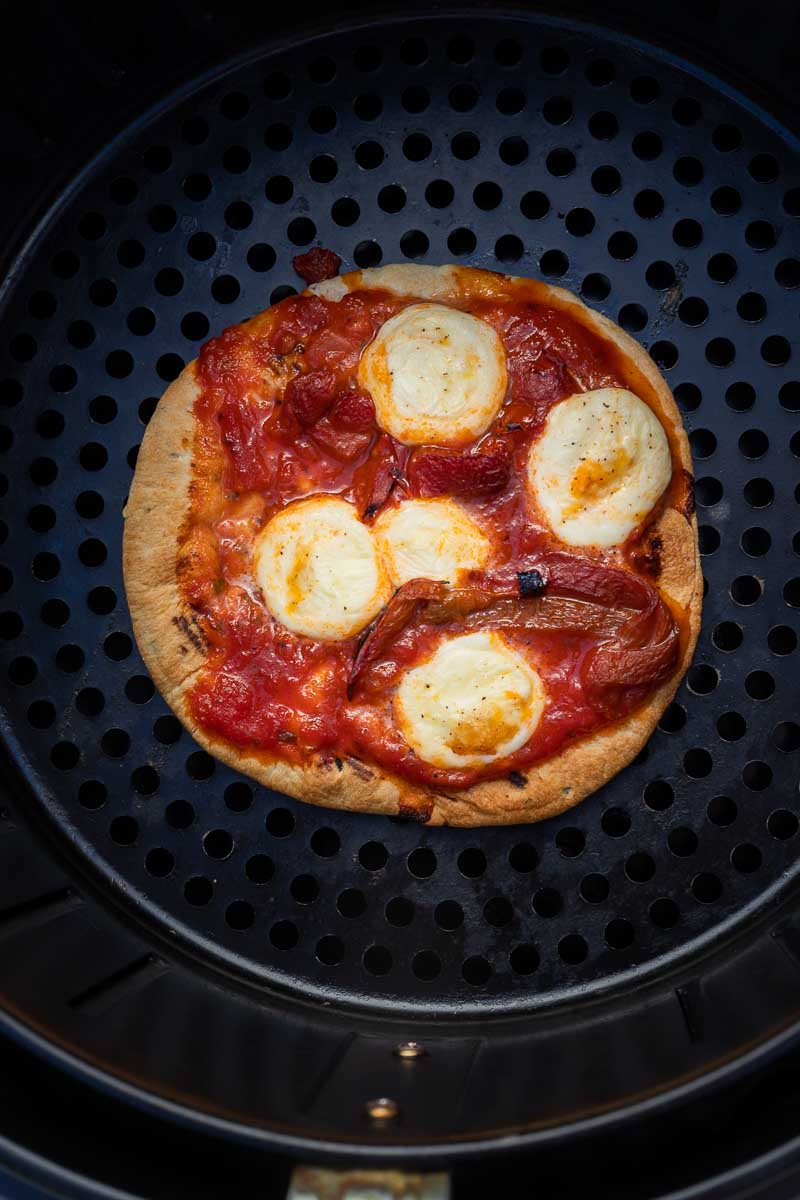 Helen's Top Tips
Before reheating in the air fryer, remove any toppings that might burn easily (pepperoni, fresh herbs, thinly sliced vegetables, sundried tomatoes, olives…). Put them back on closer to the end of the cooking time.
If you like to line your basket or tray (gooey cheese can be messy!), consider using perforated liners (either aluminium foil or baking parchment) to allow for that all-important air flow. Alternatively, use dedicated disposable air fryer liners!
If you want your air fryer pizza to be extra crispy, try spraying your pizza base with a light cooking before you put the pizza in the air fryer.
Don't overcrowd the basket (It's worth saying again!). You'll want the air to properly circulate around the pizza to make sure it gets nice and crisp again. Remember, when cooking in batches the later ones may be cooked faster as the air fryer is already at top temperature.
For the best outcome, only reheat pizza once!
Fun twist: Why not use your air fryer to transform your leftover pizza into a delicious sandwich? To make a pizza sandwich, simply place two slices of pizza with the toppings facing each other in the air fryer and cook until the crust is crispy and the cheese and toppings oozy and melty!
FAQs
Do you have to pre-heat the air fryer?
Not necessarily. If you choose not to, remember your pizza might take slightly longer to cook. Conversely, if you do pre-heat remember the air fryer will cook the pizza faster!
If I use baking parchment or foil liners, do I have to buy the special perforated variety?
Not at all! If you prefer to line your air fryer's baking sheet or drawer with parchment or foil you could easily poke a few holes in these yourself- no need to purchase special perforated liners. Alternatively, remember a light spray on your baking sheet/drawer with cooking oil should also stop any sticking.
Can I reheat frozen pizza in an air fryer, or do I have to defrost it first?
You can for sure reheat it straight from frozen! Simply pre-heat the air fryer to 375°F (190°C) for around 3 minutes. Place pizza slices in the air fryer and cook for 8-12 minutes, or until the cheese is melty and the crust is crispy. Check from 8 minutes and go from there.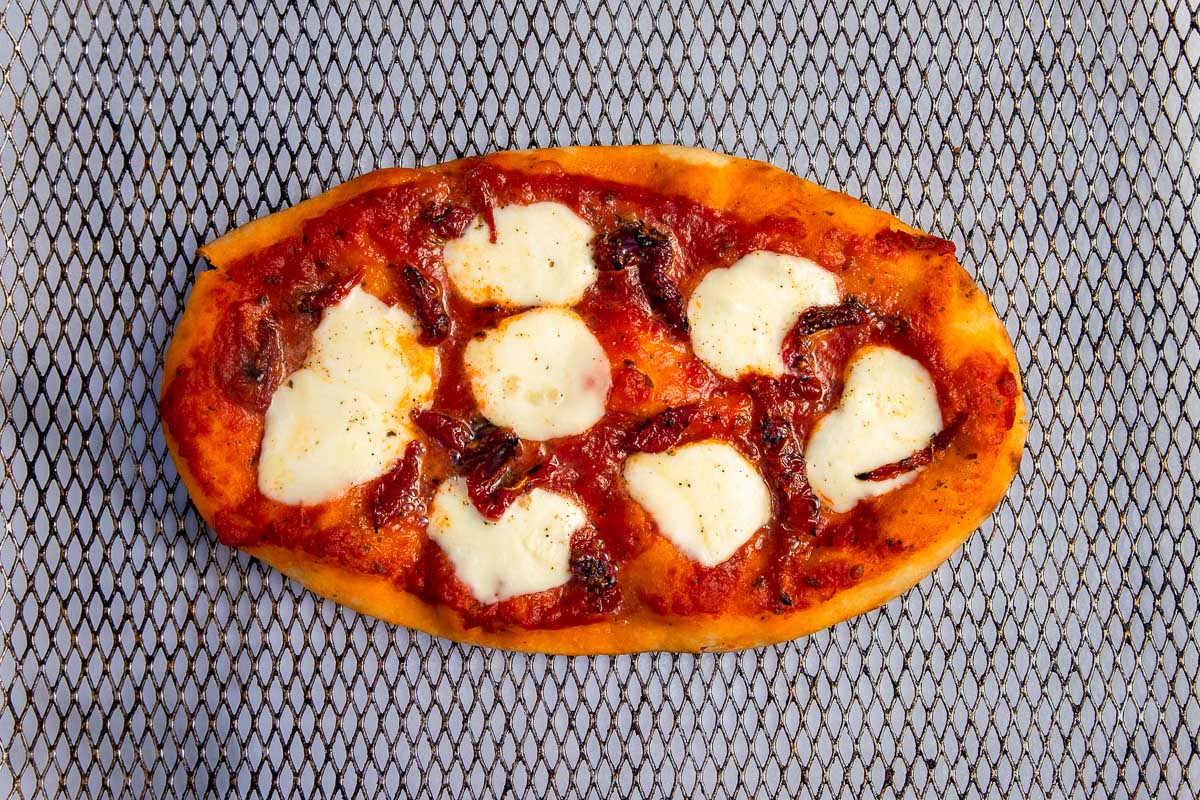 Recommended equipment
Air fryer
Air fryer liners
Kitchen tongs
In my humble opinion, every kitchen should have a few pairs of kitchen tongs in different sizes. I like the ones with silicone tips. They're so useful, and especially for putting food into an air fryer and then taking it out again.
More Super Easy Air Fryer Recipes
While you have your favorite kitchen gadget out, why not try some of these other mega-easy (and fast) recipes?
Your air fryer really is a great piece of kitchen equipment that can be used to make anything that you would normally use your conventional oven for- but in less time! There really is no end to what you can do with one.
Here's to the very BEST reheated pizza. Happy air-frying!
IF YOU TRY THIS, LET ME KNOW HOW YOU GET ON BY LEAVING A COMMENT AND RATING BELOW… AND DON'T FORGET TO SIGN UP TO RECEIVE ALL MY NEW RECIPES BY EMAIL!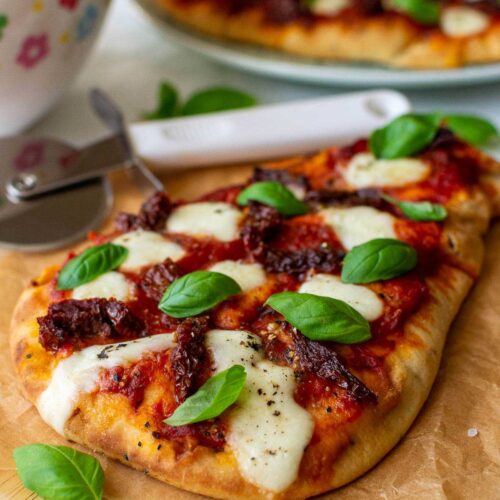 How To Reheat Pizza In An Air Fryer
Got leftover pizza? Don't switch on your oven! It's SO easy to reheat in your air fryer! Just pre-heat then air fry for just a few minutes until it's perfectly crispy and melty on the outside and moist and tender on the inside again.
Ingredients (UK/Australia? Click below for grams/ml)
2

slices

leftover pizza

homemade or takeout (or more slices or even a small whole pizza if it fits in your air fryer)
Instructions
Preheat your air fryer to 350°F (175°C) for 3-4 minutes. You can add your leftover pizza to the air fryer basket while preheating or wait until it's fully preheated.

Using kitchen tongs, place the pizza slices in the air fryer basket. Place them in a single layer, without overlapping. This lets the air circulate around them properly.

Air fry the pizza for 3-4 minutes or until the cheese is melted and the crust is crispy. Thicker pizza may need 1 or 2 minutes longer. If you added the pizza while preheating it will be ready faster. Check the pizza often to avoid burning it.

When it's crisp and bubbling again, use tongs to take the pizza out of the air fryer basket. Enjoy immediately!
Notes
Cooking time: This can vary quite a lot depending on the thickness of the pizza and your particular brand of air fryer. However, here's a rough guide.
For thin crust pizza, 2-3 minutes in the air fryer.
For thicker pizza slices or deep pan pizza, it may take 4-6 minutes to reheat properly.
Keep checking to make sure that your delicious leftover pizza doesn't overcook or burn. You want it browned, crisp and bubbling again, but obviously not burned.
Don't overcrowd the air fryer basket. For crispy (not soggy!) pizza, make sure there's room between each slice and they aren't overlapping.
Consider removing any toppings that burn easily and replacing them for the last minute or two of cooking e.g. sundried tomatoes, thinly sliced vegetables or meats.
Should you line the air fryer basket? It's entirely up to you. For cleaner cooking, you can line it with aluminium foil and poke a few holes in it to let the air through. Alternatively, you can use dedicated disposable air fryer liners.
If you like, lightly spray the air fryer basket or foil/liner with oil to prevent sticking.
Note on nutrition info: This is for 2 slices of takeout pizza. Obviously the nutrition info will vary wildly depending on the type of pizza you're reheating.
Nutrition
Calories:
625
kcal
Carbohydrates:
71
g
Protein:
26
g
Fat:
26
g
Saturated Fat:
11
g
Polyunsaturated Fat:
4.6
g
Monounsaturated Fat:
8.6
g
Trans Fat:
0.6
g
Cholesterol:
56
mg
Sodium:
1521
mg
Potassium:
432.9
mg
Fiber:
5.1
g
Sugar:
7.2
g
Calcium:
340
mg
Iron:
5.6
mg