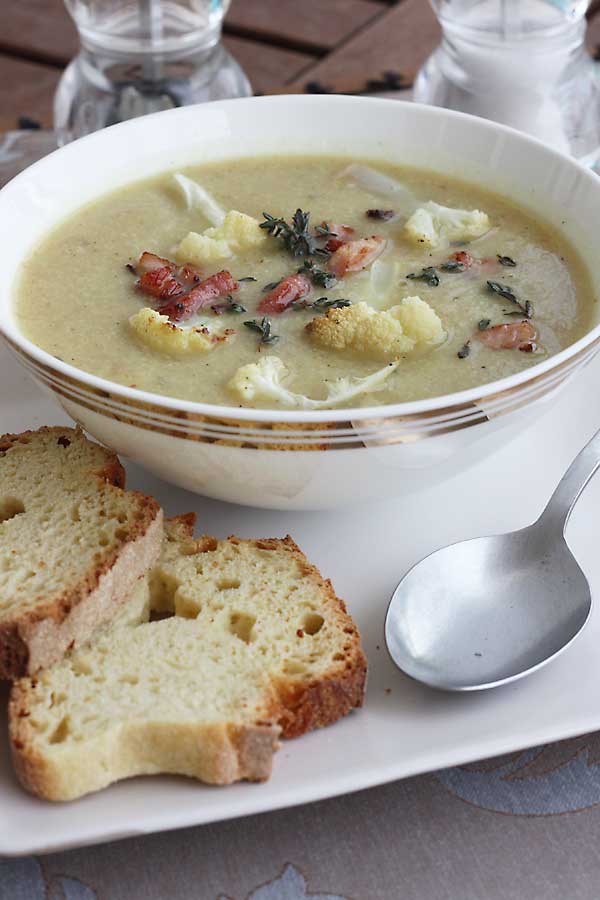 When you get a little too busy, do you find yourself eating too much junk? Come on, don't tell me it's just me!
I came to Greece from the UK last week full of good intentions in the form of half a suitcase full of healthy hard-to-find-here-in-Greece ingredients and magazine clippings with inspiration for wholesome homemade take-to-work lunches. OK, I admit it, plus a few not-so-healthy things. There was a stash of my favourite UK chocolate bars, for instance. And a jar of Marmite, which is a weird love it or hate it British breakfast spread which I happen to love (with cheese … mmmm) … oh, and a cute little jar of Canadian maple syrup. And I'd better stop there … but you get the idea.
And so what did I eat for lunch all week? A spinach-cheese pie here, a sort of Greek-style meat patty with (very salty) roasted lemony-oregano potatoes there. Plus a couple of undeniably yummy pitta breads stuffed with chicken souvlaki and fries. Doesn't sound too bad, you might think, but you should see how much oil, salt and mayonnaise they dump on all these things! Tasty, but not really all that virtuous.
I suppose there was that one healthy stovetop Mediterranean chicken casserole, but on the whole, naughty me in the eating department last week! The week was topped off with the half a heart-shaped biscuity caramelly cakey thing with, apparently, Ferrero Rocher chocolates in it that I shared with Mr. Scrummy while collapsing on the sofa with exhaustion on Friday night. (Hope you enjoyed your Valentine's Day by the way!)
Perhaps needless to say, I hadn't felt more in need of my Saturday morning slow start for a very long time. Which, I'm happy to report, I got. Mr. Scrummy brought me a cup of tea in bed (well, I am British, remember …), I lazily sat and read the newspaper online, then pottered around my apartment doing little jobs with the lovely pre-spring sunshine streaming in. That's really all it took to feel human again.
So then I gathered my thoughts and some ingredients and made this beautiful (although I say it myself!) roasted cauliflower and pancetta soup to get something a bit more wholesome and nourishing down myself and the hubs again!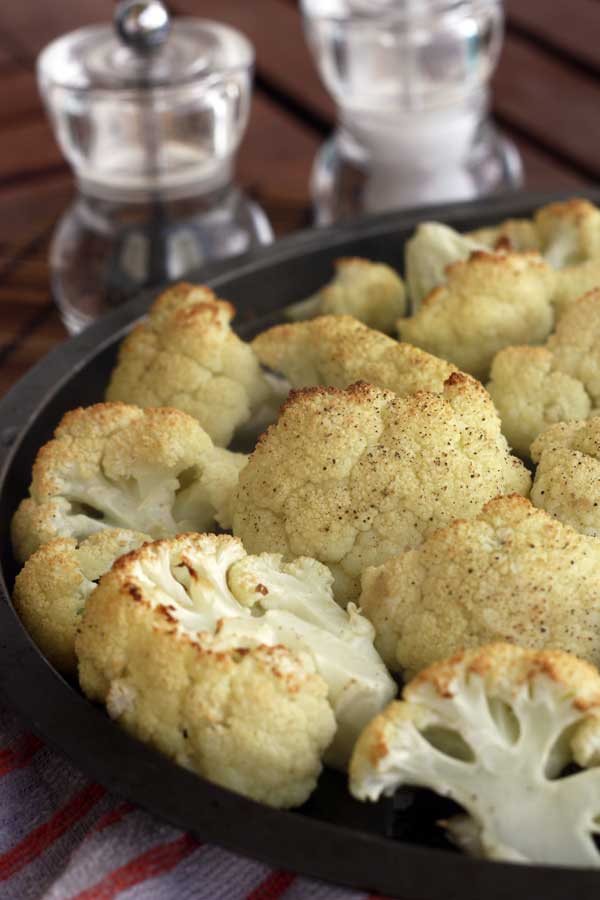 I thought I would hop on the roasted cauliflower bandwagon by, well, roasting the cauliflower for the soup! Roasting cauliflower really intensifies the flavour and in fact almost caramelises it, and I thought it would go perfectly with some of the pancetta I had left over in my fridge from earlier in the week. Which it certainly did. I decided to blitz most of the cauliflower and half of the bacon together in the food processor to give it a nice creamy quality but also left some of it a bit chunkier, too. I was going to add a bit of crumbled blue cheese at the end (which you could of course if you wanted to), but I decided in the end that the soup was already rich and flavourful enough. Instead, to serve I just sprinkled a little extra reserved roasted cauliflower, pancetta and thyme on the top. I also swirled in just a teaspoon or so of Greek yoghurt at the table which added just a hint of creamy tangy-ness.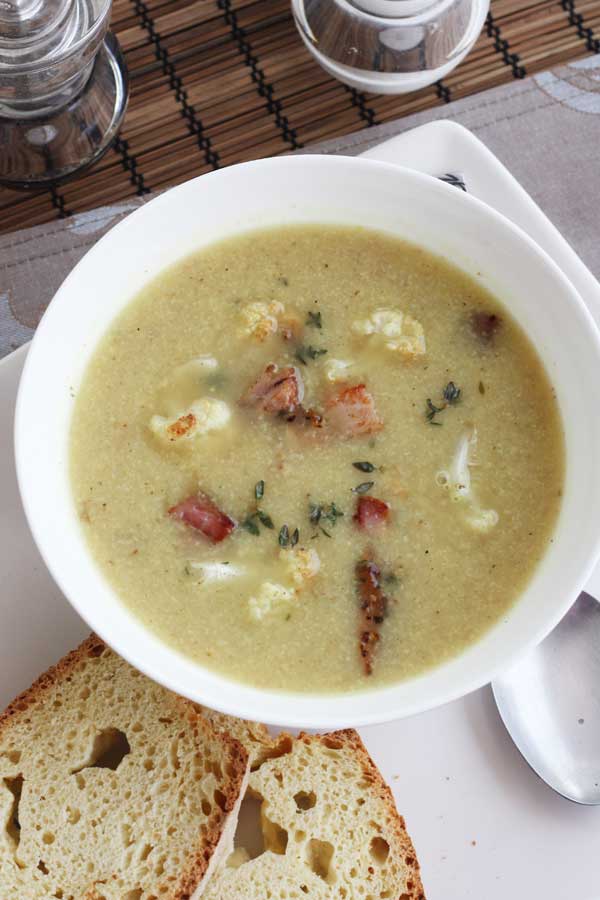 Tasty, warming, soothing, and definitely wholesome. So perfect to get me back on track after my crazy week!
So, I'm happy to report that I'm feeling a little more fortified and ready to face a new week again. Now you tell me … how do you like to spend your Saturday mornings? What foods from home do you like to take with you when you travel abroad? And what kinds of foods do you like to make when you feel like you've been eating too much junk?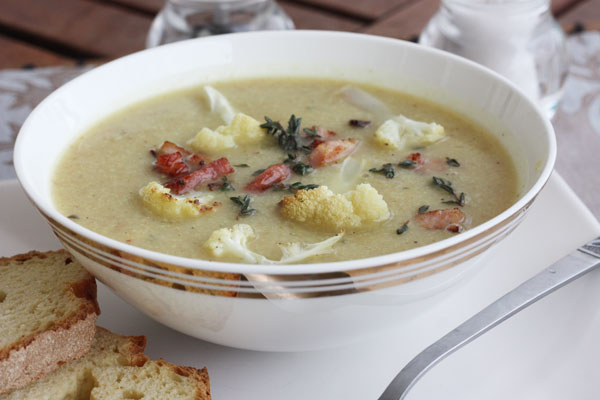 Roasted cauliflower and pancetta soup
A warming, flavourful and hearty soup with roasted cauliflower and pancetta - perfect for a weekend lunch on a cold winter's day. Roasting the cauliflower for this really brings out the flavour, as does the addition of the pancetta. For a vegetarian version, leave out the pancetta and add a little tangy blue cheese.
Ingredients (UK/Australia? Click below for grams/ml)
2

tablespoons

olive oil

1

small cauliflower

about 500 grams/1 pound & 2 ounces, chopped into medium florets

salt and pepper

4

ounces

diced pancetta

(or chopped bacon)

1

tablespoon

butter

1

large potato

about 275 grams/10 ounces, peeled and cubed

1

large onion

chopped

2

garlic cloves

chopped

4

or 5 sprigs of fresh thyme

4 1/2

cups

vegetable stock

1

bay leaf

a little Greek yoghurt or crème fraiche

to serve (optional)
Instructions
Pre-heat the oven to 220 degrees C/425 degrees F. Toss the cauliflower in about a tablespoon of olive oil and some salt and pepper and roast for about 15 minutes in a single layer until almost tender.

Meanwhile, fry the pancetta in a deep pan for a few minutes in the rest of the olive oil, then remove from the pan and set aside.

Add the butter to the pan, then add the potato, onion, the leaves from the thyme stalks and the bay leaf and cook, stirring regularly, for 10 minutes. Add the garlic a couple of minutes before the end.

Add most of the cauliflower (reserve a little to garnish at the end) and stock, bring to the boil then simmer on a medium heat for 10 to 15 minutes.

Throw away the bay leaf, then add about half of the pancetta and blend the soup in batches until smooth. Leave some of it a bit chunkier if you like. Then return to the pan and reheat a little. Add the rest of the pancetta, reserving just a little for your garnish, and salt and pepper to taste.

Serve in bowls garnished with the few reserved cauliflower sprigs and the rest of the thyme and pancetta. Swirl in the Greek yoghurt just before serving if desired.
Notes
A few ideas taken from this recipe on cottagelife.com along with a recipe for broccoli and blue cheese soup in the February edition of UK Good Housekeeping.
Add a little blue cheese to this recipe if you like, either as well as or instead of the pancetta for a vegetarian version.
You can easily make this soup using broccoli instead if you prefer. Just roast the broccoli for 15 to 20 minutes at step 1 then continue with the recipe as it is.
Nutrition
Calories:
270
kcal
Carbohydrates:
15
g
Protein:
5
g
Fat:
21
g
Saturated Fat:
6
g
Cholesterol:
26
mg
Sodium:
1285
mg
Potassium:
396
mg
Fiber:
2
g
Sugar:
3
g
Vitamin A:
700
IU
Vitamin C:
23.1
mg
Calcium:
35
mg
Iron:
2.2
mg
I hope you enjoyed this post! You can find more from Scrummy Lane on Facebook and Pinterest and you can also follow me on Bloglovin! Thanks so much for reading! It really makes my day!