Crispy fried chickpeas, where have you been all my life? Toss through herbs or spices and simply eat as a snack, add to a salad, or sprinkle over soup instead of croutons. These are delicious and, who would have thought it, healthy too!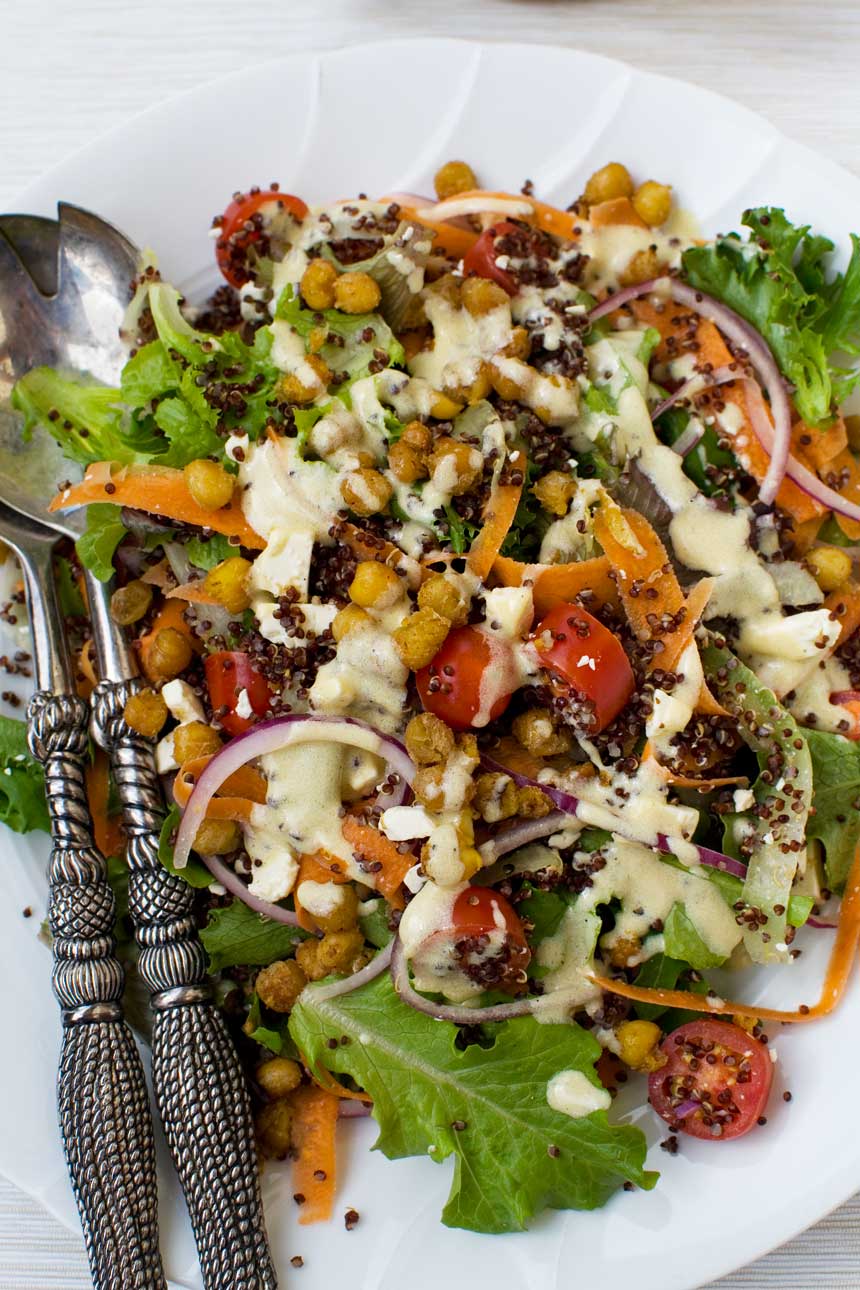 One of my favourite things to do in a foreign country is to eat. No surprises there. More specifically though I love to see what's popular. What do people eat in cafes and restaurants as an everyday kind of thing?
I also love to wander wide-eyed around local supermarkets, but that's another story… [weird!]
On a recent warm and sunny so-called winter's day in Perth Australia, I took little Benjamin for a walk in his stroller [translation – killed some time until he fell asleep].
Once the little monkey had dropped off, I dove into a restaurant and ordered a salad for lunch.
I ordered a simple but tasty sounding salad, and when it arrived I found myself enthusiastically picking out one particular component – some crispy fried chickpeas!
Delicious… but healthy!
Have you ever tried fried chickpeas? I hadn't before this occasion, but let me tell you – they are absolutely delicious and you've just got to try them if you haven't already!
I'm a big fan of crispy foods, but I must say I felt very smug to be eating something that tastes so delicious but also happens to be good for you. And I don't worry about the oil they're fried in – I only use a few tablespoons!
You can also air fry them! See instructions below!
Ingredients
1 can ready cooked chickpeas: Make sure you drain and dry well on kitchen paper for maximum crisp.
oil: I usually use olive oil but any is fine. You only need 3 tablespoons. Even less if you air fry the chickpeas instead of pan frying.
flavourings of your choice: Just 1/2 teaspoon or so of your favourite flavourings e.g. salt and pepper, paprika, onion or garlic powder, cumin, even chili…
How to make crispy chickpeas in a pan
This recipe is incredibly simple. You just let the chickpeas crisp up in the hot oil for about 15 minutes, shaking every now and again.
Toss with your choice of spices before cooking.
Note that these fried chickpeas have got a bit of spunk. They don't just sizzle nicely in the pan as they cook, they pop viciously like popcorn. So if you don't want oil and chickpeas splattered all over your kitchen, pop a lid or splatter cover over the top of your frying pan as they cook. The voice of experience speaks.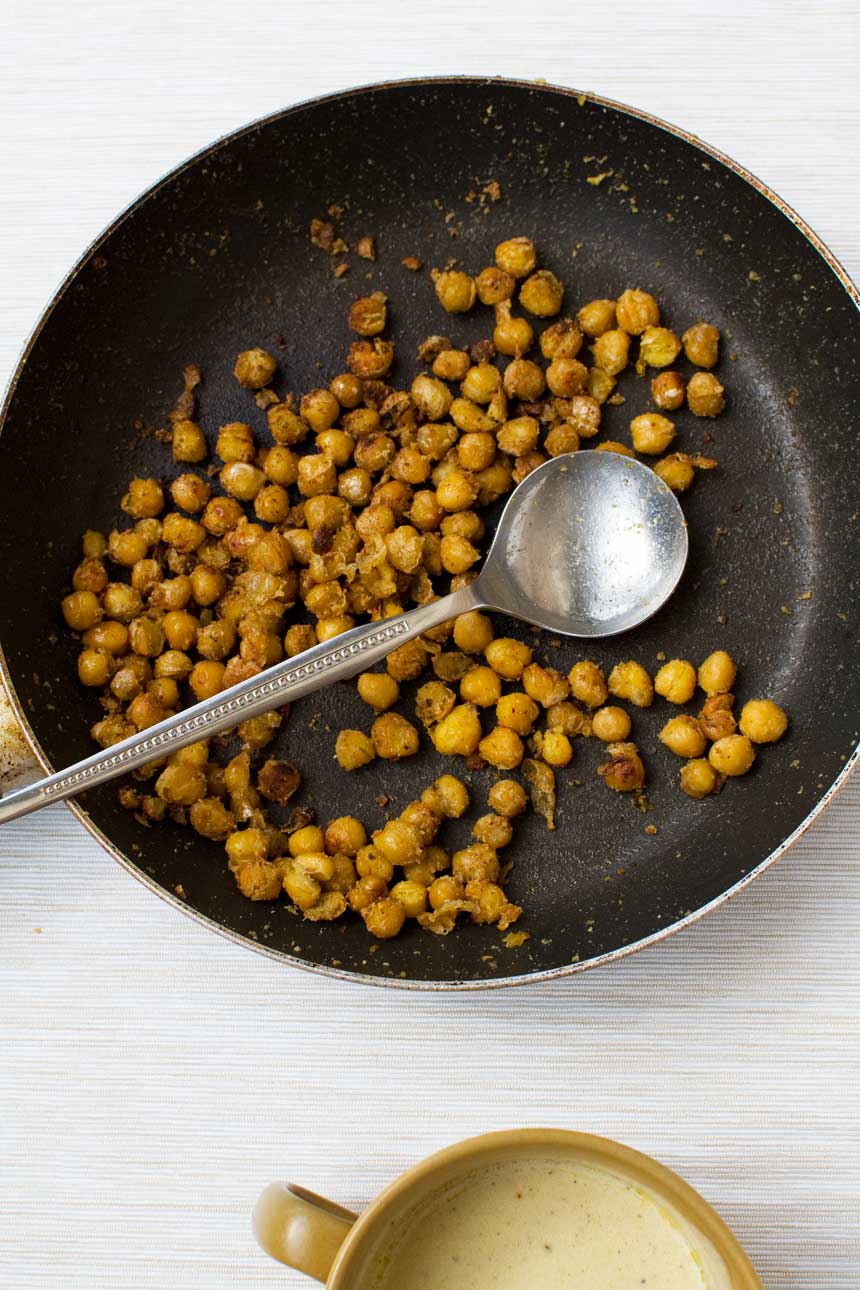 How to cook them in an air fryer
Your air fryer is a perfect way to cook crispy chickpeas – and far less messy!
Simply toss the chickpeas with just a tablespoon of oil and your spices. Cook at 390F/200C for around 15 minutes. Check and toss a few times while they're cooking.
They're definitely best eaten immediately while super crispy. If there are any leftovers store covered in the fridge. When you want to reheat, simply pop them back in the air fryer for a few minutes to heat/crisp up again.
How to serve crispy chickpeas
I can think of several ways to serve these.
Add them to the top of a salad at the last minute (so they stay nice and crispy!)
Hand them around at a party
Sprinkle them on top of a soup or casserole instead of croutons
Add them to a cooked pizza
My favourite: Add them to a lunch or dinner 'bowl'. As well as the yummy 'fried' chickpeas, I like to include some kind of grain like rice or quinoa, avocado, chopped tomatoes and maybe cucumber, beetroot and a blob of Greek yoghurt. Try it – it's addictive!
Can I bake them instead?
Yep! Just toss in a bowl with a tablespoon or two of oil, spread them over a baking tray in a single layer and bake for 45 minutes.
Check out this quinoa salad with crispy chickpeas!
More amazing Mediterranean recipes that you must try!
Or browse all my Mediterranean recipes here
IF YOU MAKE THIS RECIPE, LET ME KNOW HOW YOU GET ON BY LEAVING A COMMENT AND RATING BELOW… AND DON'T FORGET TO SIGN UP TO RECEIVE ALL MY NEW RECIPES BY EMAIL!
FOLLOW ME ON FACEBOOK, INSTAGRAM, PINTEREST AND YOUTUBE.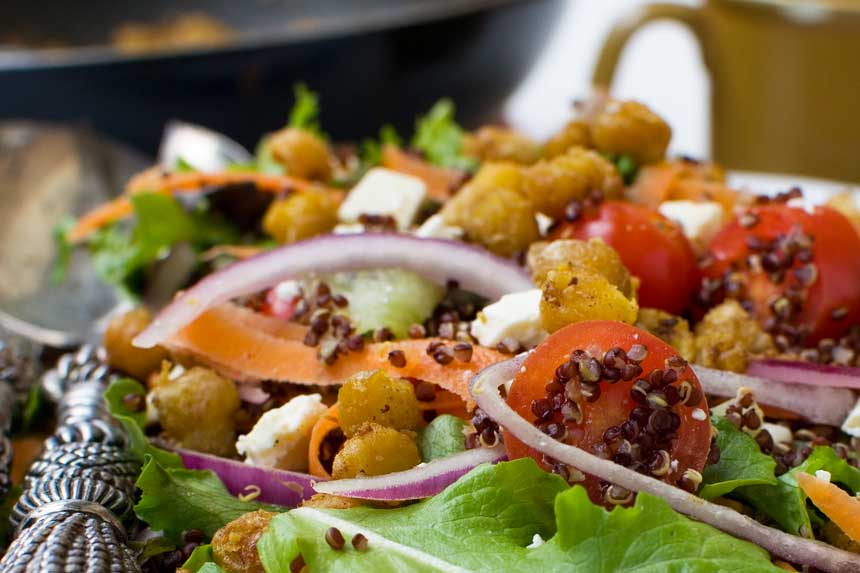 Crispy fried chickpeas (with air fryer version)
Are you a fan of chickpeas… and all things crispy? Then you're going to love these crispy fried chickpeas. They're very easy to make in a pan or oven, and there are multiple ways to use them! Enjoy!
Ingredients (UK/Australia? Click below for grams/ml)
3

tablespoons

oil

(canola or olive oil work well)

14

ounces

chickpeas

(cooked) drained out of a can and dried well on kitchen paper

flavourings of choice

e.g ½ teaspoon of salt, pepper, paprika, herbs, garlic or onion powder (optional)
Instructions
Heat the oil in a frying pan or similar until a chickpea dropped into it starts to sizzle.

Drizzle a tiny bit of oil over the chickpeas and toss with your choice of spices or leave plain.

Add the chickpeas to the pan, preferably in one layer, and mostly cover them with a lid or other pan cover. If cooking in air fryer, toss with about 1 tablespoon of oil and your choice of seasonings and cook for about 15 minutes at 390F/200C. Shake 2 or 3 times during cooking.

Let cook until golden and crispy, shaking the pan every now and again (about 15 minutes).

Drain briefly on kitchen paper, then scatter over the flavourings (if using).

Serve immediately on a salad, in a soup, on a pizza, or simply in a bowl for people to snack on.
Notes
Air frying the chickpeas
If you have an air fryer, you can air fry the chickpeas instead. Simply toss with about 1 tablespoon oil and your seasonings, then air fry for about 15 minutes, tossing 2 or 3 times during cooking.
Baking the chickpeas
You can bake the chickpeas if you prefer.
Simply dry the chickpeas, coat them in a tablespoon or two of oil in a bowl, then spread them out on a baking tray in a single layer. Bake at 355F / 180C for about 45 minutes or until golden and crispy, shaking the tray a couple of times during baking. Toss the chickpeas in any flavourings you'd like to use as soon as they come out of the oven.
Nutrition
Calories:
255
kcal
Carbohydrates:
27
g
Protein:
8
g
Fat:
13
g
Saturated Fat:
1
g
Sodium:
6
mg
Potassium:
288
mg
Fiber:
7
g
Sugar:
4
g
Vitamin A:
25
IU
Vitamin C:
1.3
mg
Calcium:
49
mg
Iron:
2.9
mg