Looking for another easy appetizer string to add to your bow? Allow me to suggest this Spanish version of bruschetta (known in Spain as pan con tomate). It's delicious, and the good news is that it's just as easy if not easier to make as the Italian version.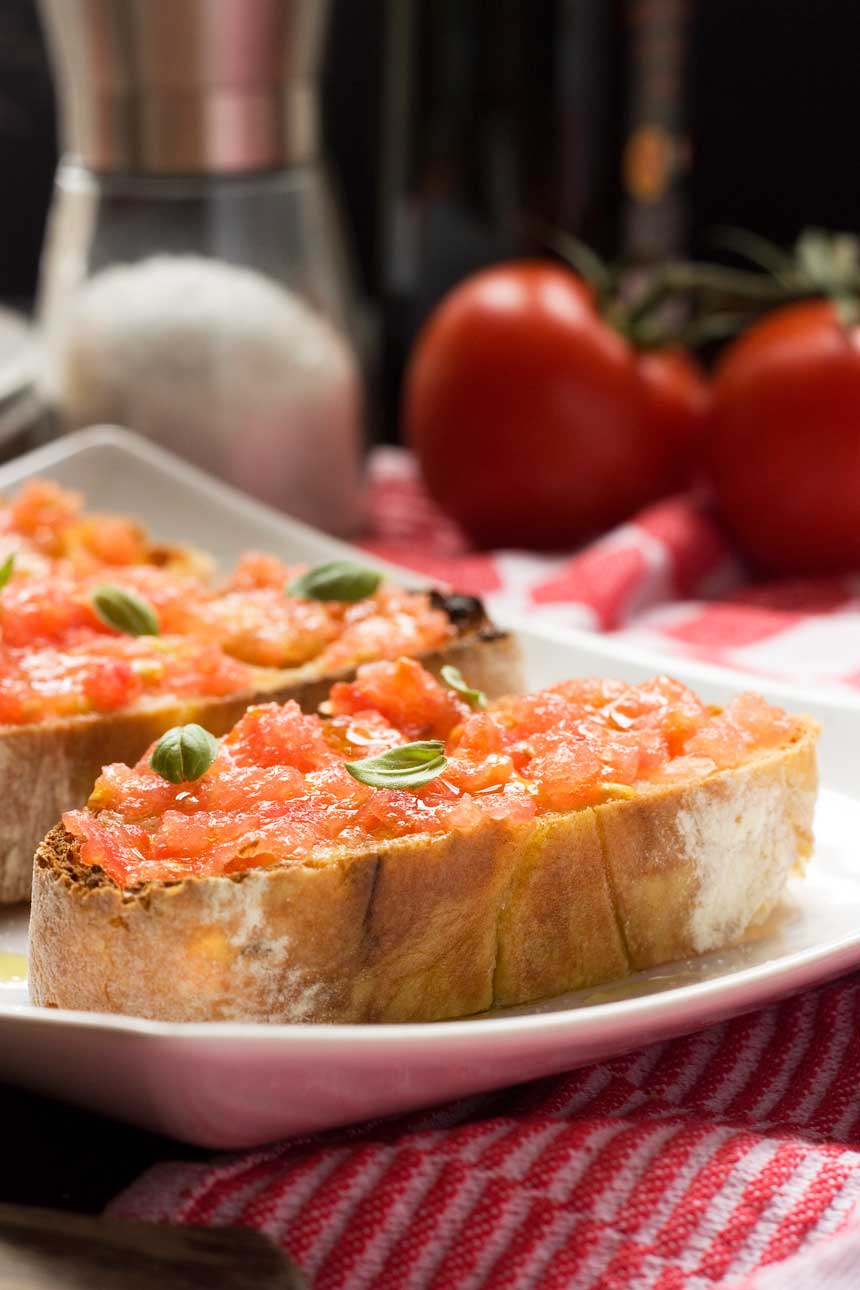 If I had to sum up this Spanish bruschetta, I'd say that it's far far tastier than the sum of its parts. For something with so few ingredients – just toasted bread slices, good tomatoes, garlic, salt and loads of olive oil – it's mind-blowingly good.
I first 'discovered' it on a 3-month stint in Spain when I was a student many moons ago, then 'rediscovered' it on a later trip there.
If you've ever been to Spain, you'll already know that you can get pan con tomate in pretty much any cafe. It's a really popular snack, and I've never had a bad one. This suggests to me that you can't go wrong if you make it yourself!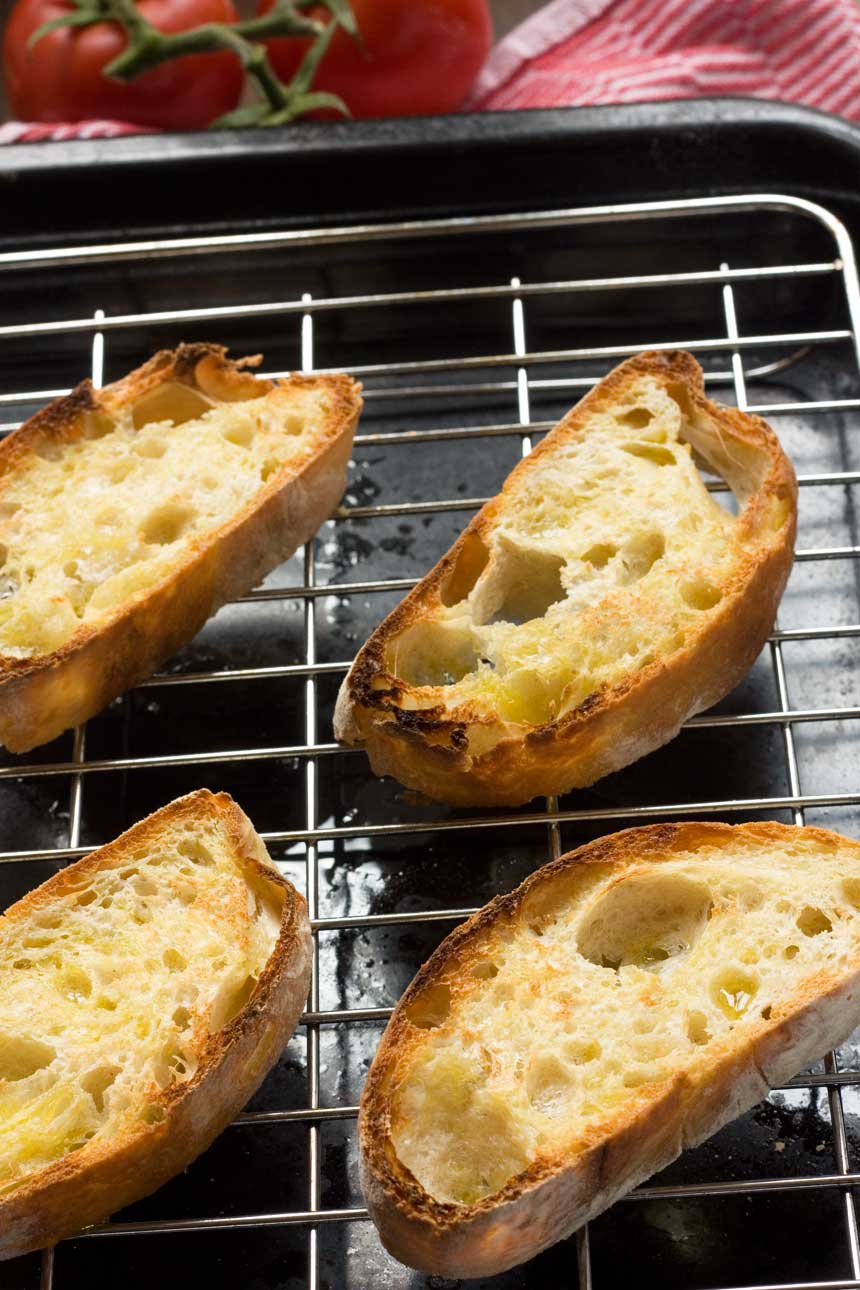 So how do you make pan con tomate?
You need very few ingredients to make pan con tomate – just 5 very basic ones:
fresh crusty bread
ripe juicy tomatoes
a garlic clove
good quality olive oil
salt
Most likely you already have these ingredients at home – perhaps apart from the bread which you can easily run out and get.
Use the very best!
So get freshly made Mediterranean-style bread that you love (ciabatta or French baguette is fine), try to find big, juicy, in-season tomatoes, and a really good quality olive oil.
Pay particular attention to that olive oil, because you're going to slosh quite a bit of it all over those gorgeous squished tomatoes.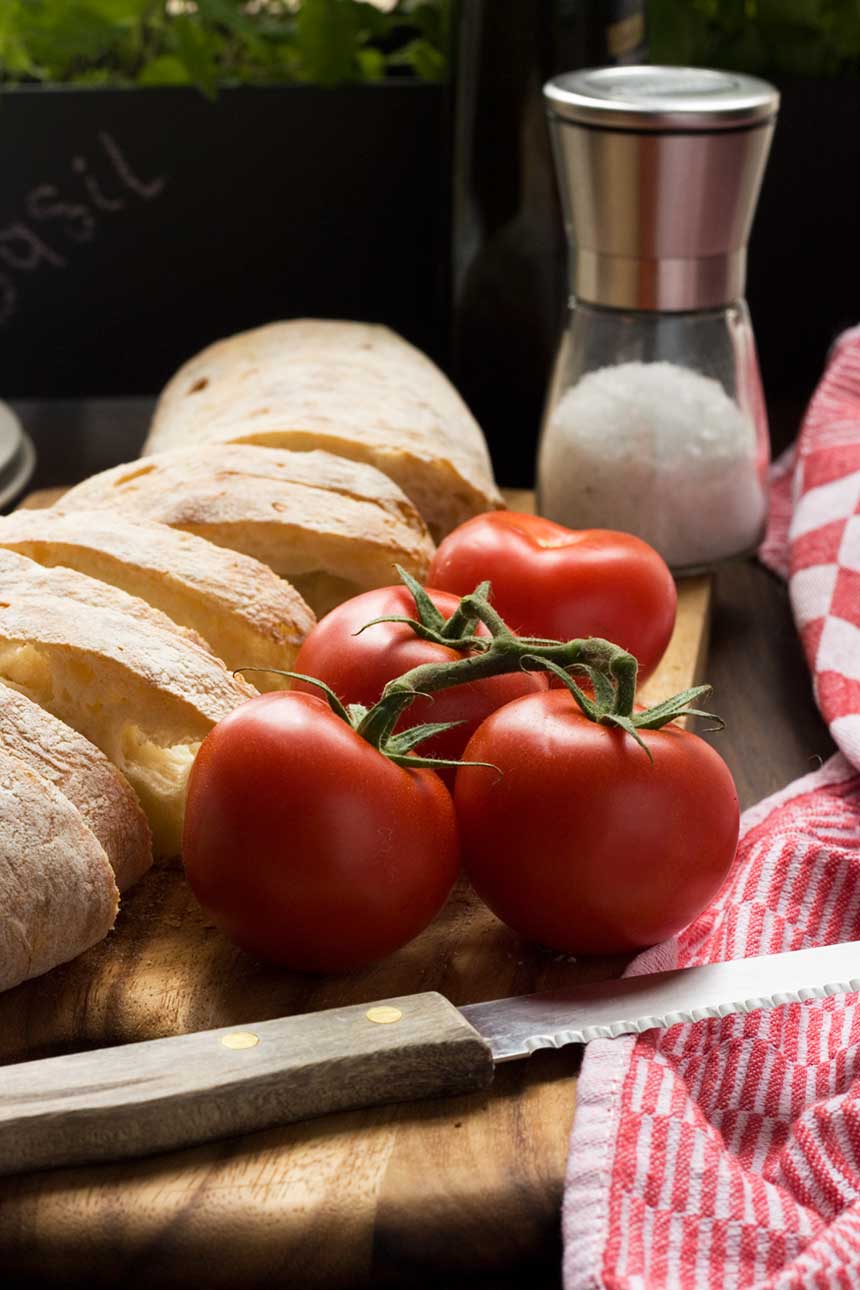 How to make Spanish bruschetta
So yeah, you have to squish the tomatoes! And get rid of the skin. But don't worry because it's the easiest thing in the world to do. Honestly, it is.
You just slice each tomato in half, then rub it through a box grater (standing in a bowl) with the palm of your hand. You'll end up with squished pulp that looks a bit like a simple tomato sauce, and the skin will be left quite neatly in your hand.
Just like magic!
Just like this: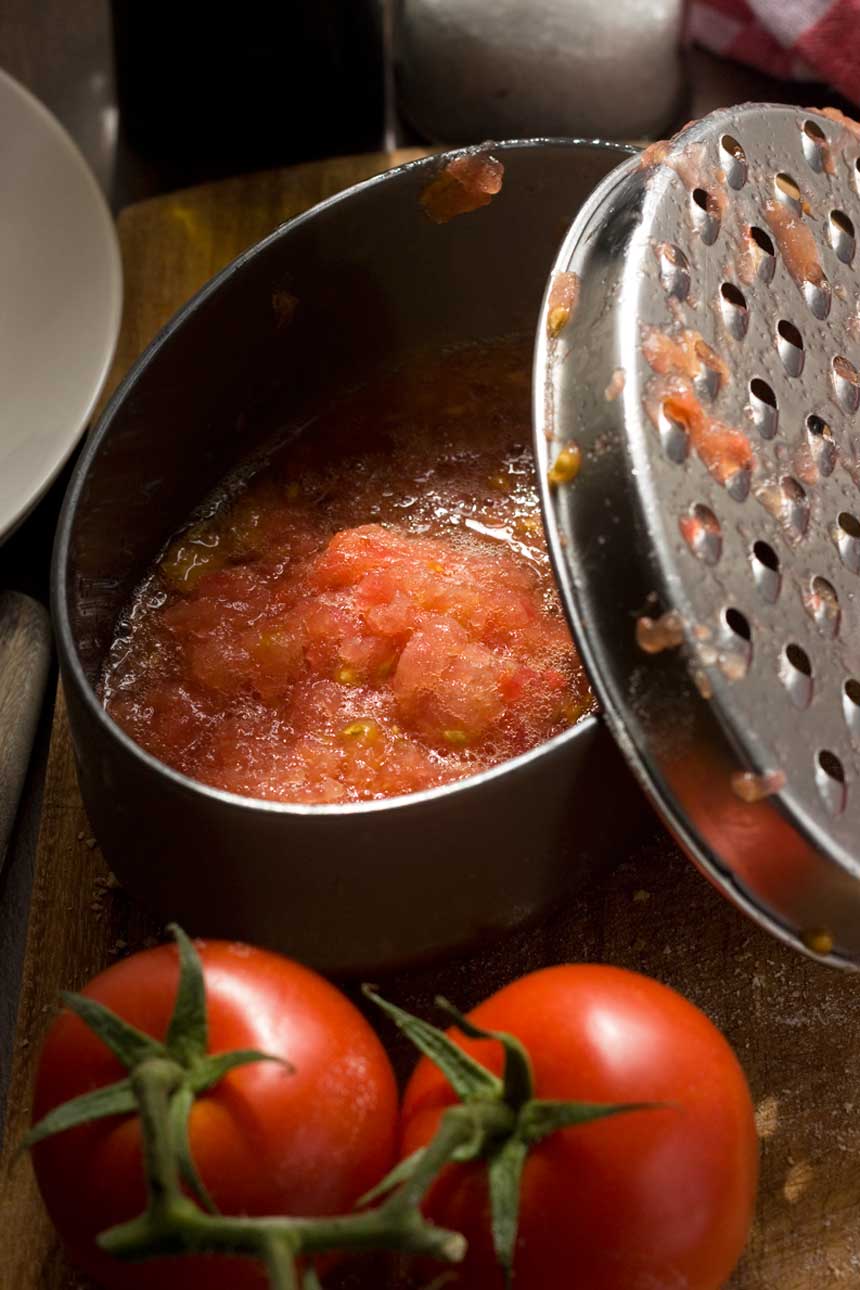 Once you've got your tomato pulp, there's hardly anything else to do. You literally just grill or broil your bread on both sides, drizzling a little olive oil over before you cook the second side.
Then, you cut a garlic clove in half and rub the cut side lightly over the bread, pile on the tomato pulp, grind over plenty of salt, and finally drizzle with more olive oil (don't miss this part out).
I like to finish with a few leaves of basil, but that's totally optional.
How to eat it
The Spanish eat this for breakfast, which might seem strange, but believe me – enjoying one or two of these and a good old café con leche at a pavement café in the sunshine can NOT be beaten.
But let's assume that you're not in the Mediterranean. You're at home, wherever in the world that may be. These are still GREAT – as a mid-morning or mid-afternoon snack for yourself, or as a really simple canape or appetizer for guests.
Treat these just as you would bruschetta, basically.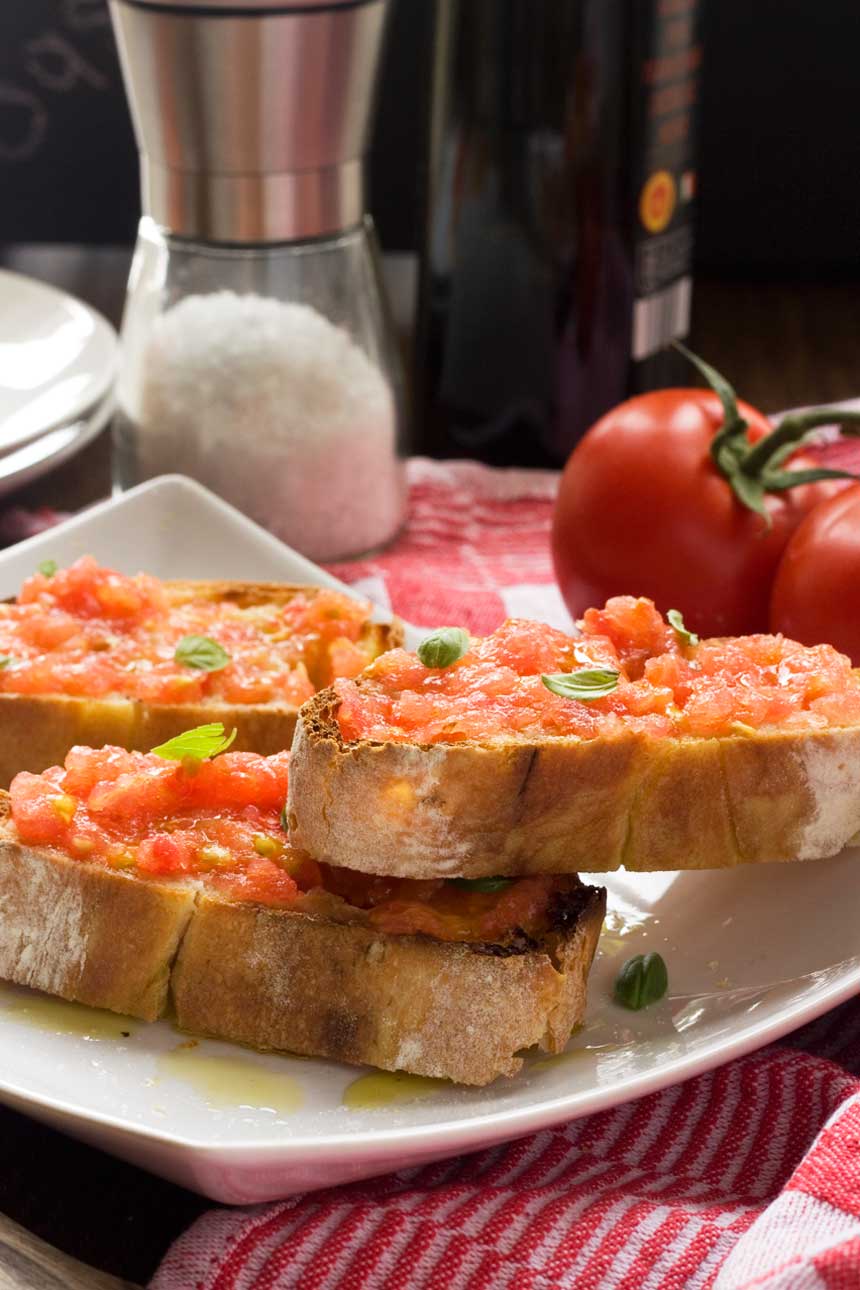 I'm going to make these tomorrow for a guest, along with these crispy halloumi fries (which, incidentally, after you've made once, you'll just keep on making!) 🙂
Fan of bruschetta in general? Try this smoked salmon bruschetta with smashed avocado and feta, this slow roasted tomato and ricotta bruschetta, or this sweet potato, chorizo and feta bruschetta.
More amazing Mediterranean recipes that you must try!
Or browse all my Mediterranean recipes here
IF YOU MAKE THIS RECIPE, LET ME KNOW HOW YOU GET ON BY LEAVING A COMMENT AND RATING BELOW… AND DON'T FORGET TO SIGN UP TO RECEIVE ALL MY NEW RECIPES BY EMAIL!
FOLLOW ME ON FACEBOOK, INSTAGRAM, PINTEREST AND YOUTUBE.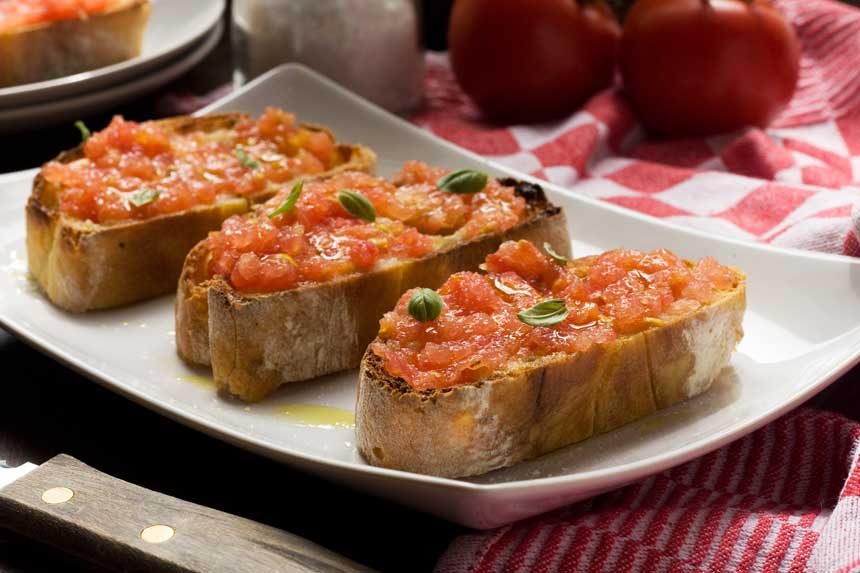 Spanish bruschetta (pan con tomate)
Who doesn't like a really well done bruschetta? This Spanish version, otherwise known as pan con tomate, takes just 10 minutes from start to finish to make, but tastes divine!
Ingredients (UK/Australia? Click below for grams/ml)
2

really good quality medium tomatoes

or 1 large

4

slices

of Mediterranean-style bread*

extra virgin olive oil

good quality

1

small garlic clove

salt
Instructions
Cut the tomatoes in half, then grate them coarsely into a bowl with a box grater by rubbing the cut side against the grater with the flat of your hand. Continue until you're left with just the skin.

Grill or broil the bread on one side, then drizzle a little olive oil over the other side and grill or broil that side too.

Lightly rub the top of each piece of bread with the cut side of half the garlic clove.

Pile the tomato pulp onto the bread (leaving behind any excess water), sprinkle with salt, drizzle with more olive oil and scatter over a few basil leaves (if using). Serve immediately while the bread's still warm.
Notes
*Double/Triple/Quadruple this recipe to make canapes. Simply use smaller rounds of bread e.g. French baguette.
Nutrition
Calories:
175
kcal
Carbohydrates:
32
g
Protein:
6
g
Fat:
2
g
Sodium:
297
mg
Potassium:
393
mg
Fiber:
3
g
Sugar:
6
g
Vitamin A:
1025
IU
Vitamin C:
17.3
mg
Calcium:
90
mg
Iron:
2.3
mg