Ready in around 15 minutes, this orzo salad with pesto is such an easy side dish for a midweek meal or summer BBQ. Made with just orzo pasta, basil pesto, fresh spinach and tangy parmesan, it may be simple but it's also beautifully fresh and flavorful.
Add toasted pine nuts for crunch, or why not make it a main dish by adding chicken or salmon? With the option to enjoy this Mediterranean orzo salad either cold or hot, it'll become a firm family favorite!
Why you'll love it
Fresh and flavorful, despite having few ingredients. Small orzo pasta easily soaks up the flavors in the salad.
Such a quick and easy pasta salad. Orzo cooks in around half the time as rice, so you'll only need around 15 minutes to make this.
Delicious Mediterranean flavors. The herby, garlic-y, fresh taste of the pesto and spinach contrast perfectly with the rich and salty parmesan and crunchy pine nuts. The splash of vinegar adds a little tang.
Versatile! Serve as an easy midweek side dish alongside chicken, fish or a vegetarian main. Or add meat, fish, beans, cheese and extra veggies to transform it into a tasty main.
Great for making ahead. Take along to a party, pot luck or barbecue. Also perfect for work or school lunch boxes!
About the ingredients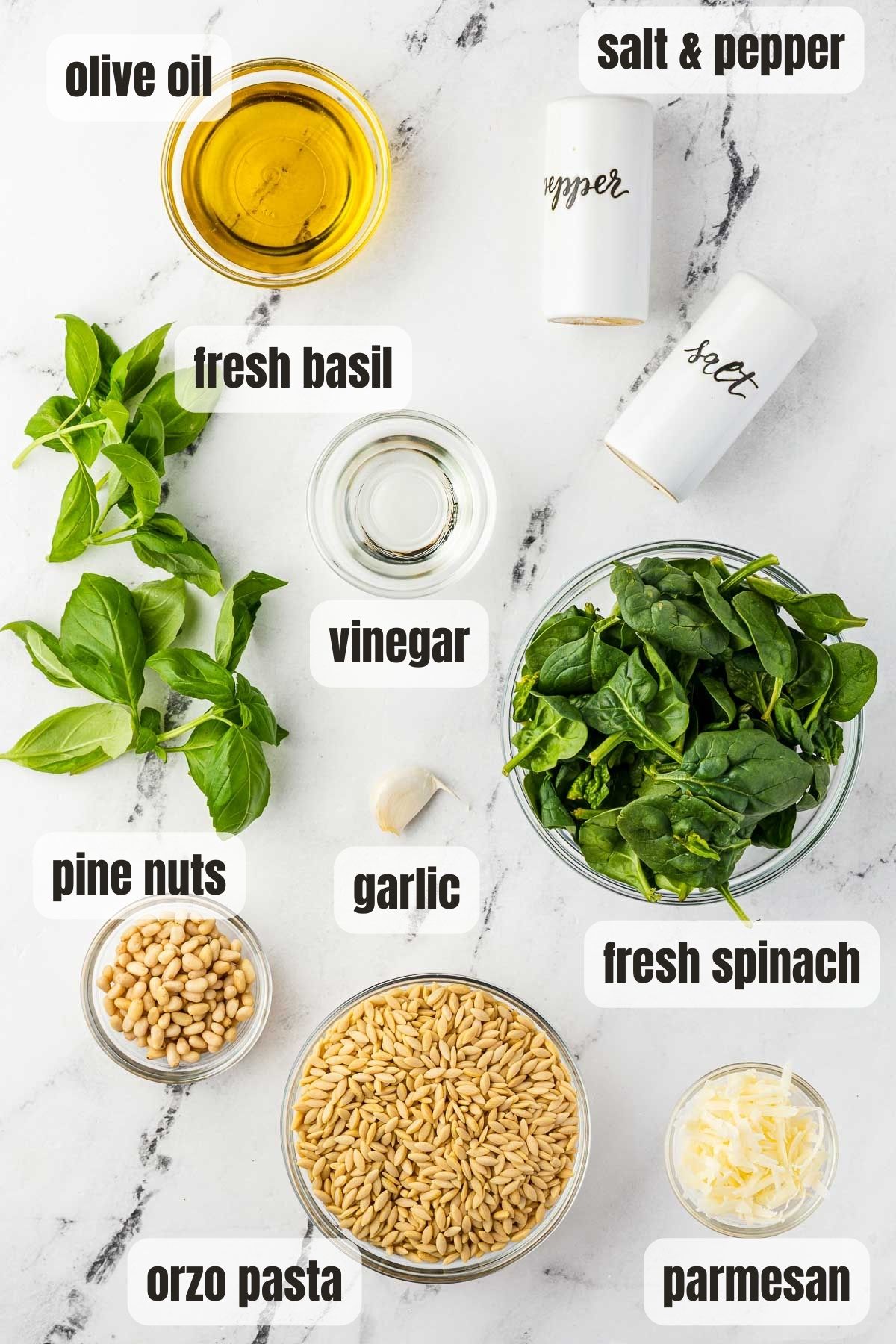 Dried orzo pasta: This small pasta looks like large grains of rice. But it's definitely pasta, not rice! You can find it in the pasta aisle of most grocery stores. Note that it's sometimes called risoni instead of orzo.
If you can't find it where you live, good substitutes would be pearl couscous or another small pasta shape such as ditalini, fregola, acini de pepe or even small macaroni.
For the pesto
Fresh basil: Try to grab a nice fresh bunch of basil to make the pesto for this salad.
In case you don't have a food processor, feel free to buy a good quality jarred pesto from a supermarket. Bear in mind that most commercially produced pestos these days contain cashew nuts rather than pine nuts, in case there's an allergy to consider.
Pine nuts: These can be on the expensive side, but you don't need many. You can sometimes buy them ready-toasted. But if you can't find them toasted it's worth spending the extra few minutes to toast them yourself, for extra flavor and crunch!
If you're finding pine nuts hard to come by, you can easily substitute with a tree nut such as almonds or cashews. Even peanuts will work.
A garlic clove: You'll only need a small clove, since the garlic will be added to the pesto raw.
Extra virgin olive oil: This is actually a key ingredient in the recipe, so it's worth going for a good quality brand.
Baby spinach: The fresher the better! Of course, you can substitute with regular fresh spinach – just chop finely.
Parmesan cheese: It's best to use either thickly grated parmesan or shaved parmesan in this recipe.
Vinegar: I use either white wine vinegar or cider vinegar, but any white vinegar is fine. Alternatively, you can use lemon juice instead for a hint of zesty flavor.
Salt and pepper: I usually season the finished orzo with pesto to taste. Since the parmesan is already salty, you won't need to add much salt.
How to make an orzo salad with pesto
The step-by-step guide below should help you make the recipe perfectly first time. Scroll down to the end for the full recipe including ingredient amounts.
The first step is to boil the orzo pasta in a large pot of water according to the packet instructions. Follow the instructions for 'al dente' pasta. Alternatively, simply take a minute or two off the regular cooking time.
When it's ready, drain and rinse in cold water. Then put the cooked orzo into a large bowl.
Meanwhile, you can toast the pine nuts (if they aren't toasted already). Simply toss them around for a few minutes in a dry pan (no oil needed!). Keep a close eye on them. You want them to be a golden brown color, but obviously not burned.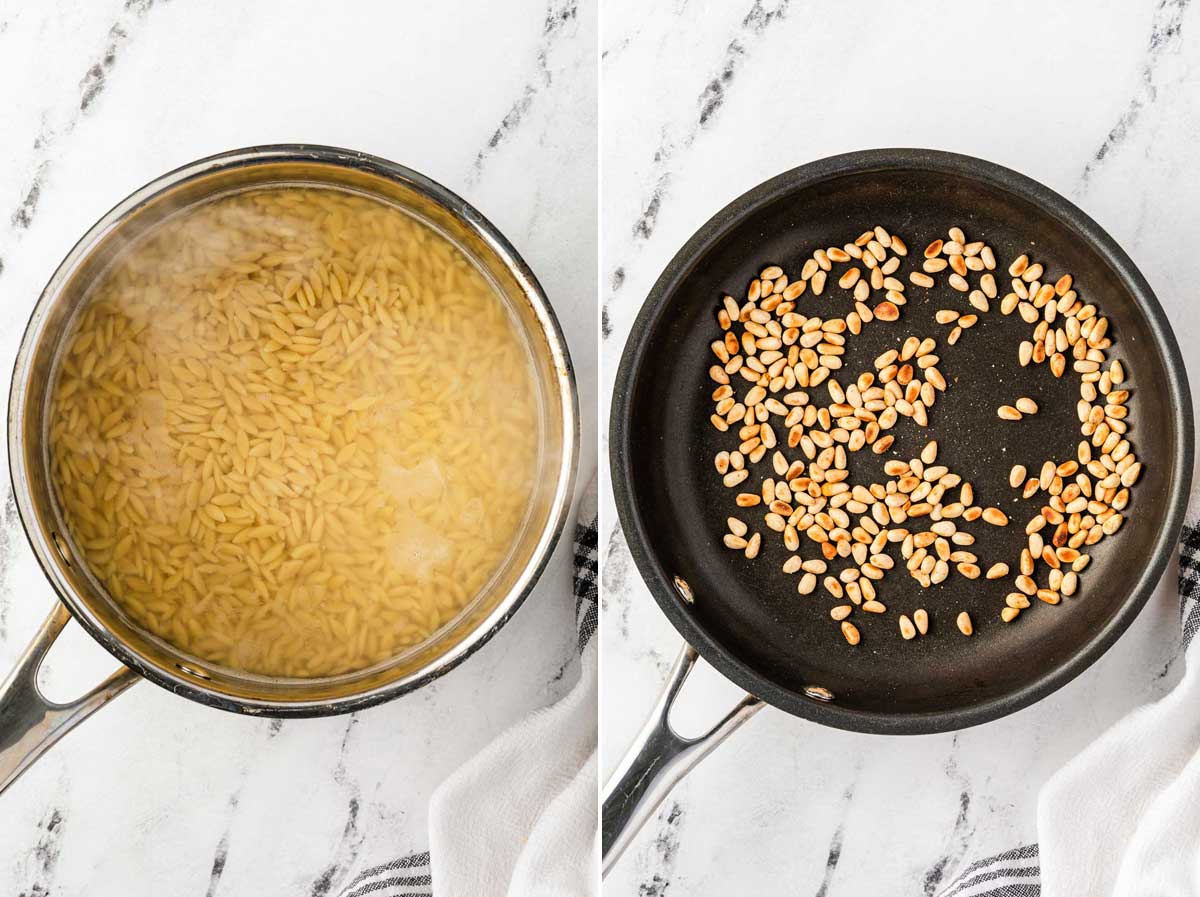 The next step is to make a batch of fresh basil pesto. It's so quick and easy! Just add all of the ingredients to a mini food processor (or any food processor) and pulse for a few seconds.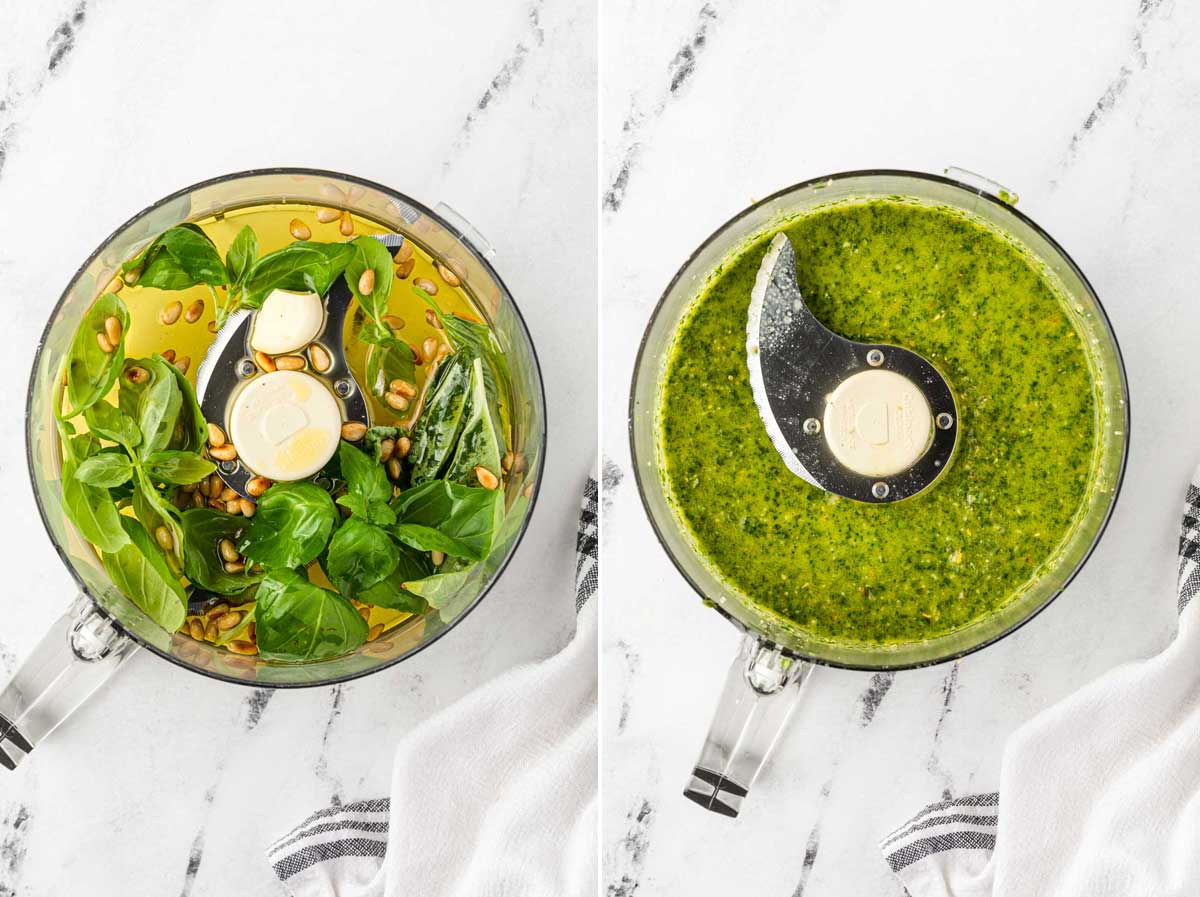 Then all you have to do is add the fresh pesto to the cold orzo pasta.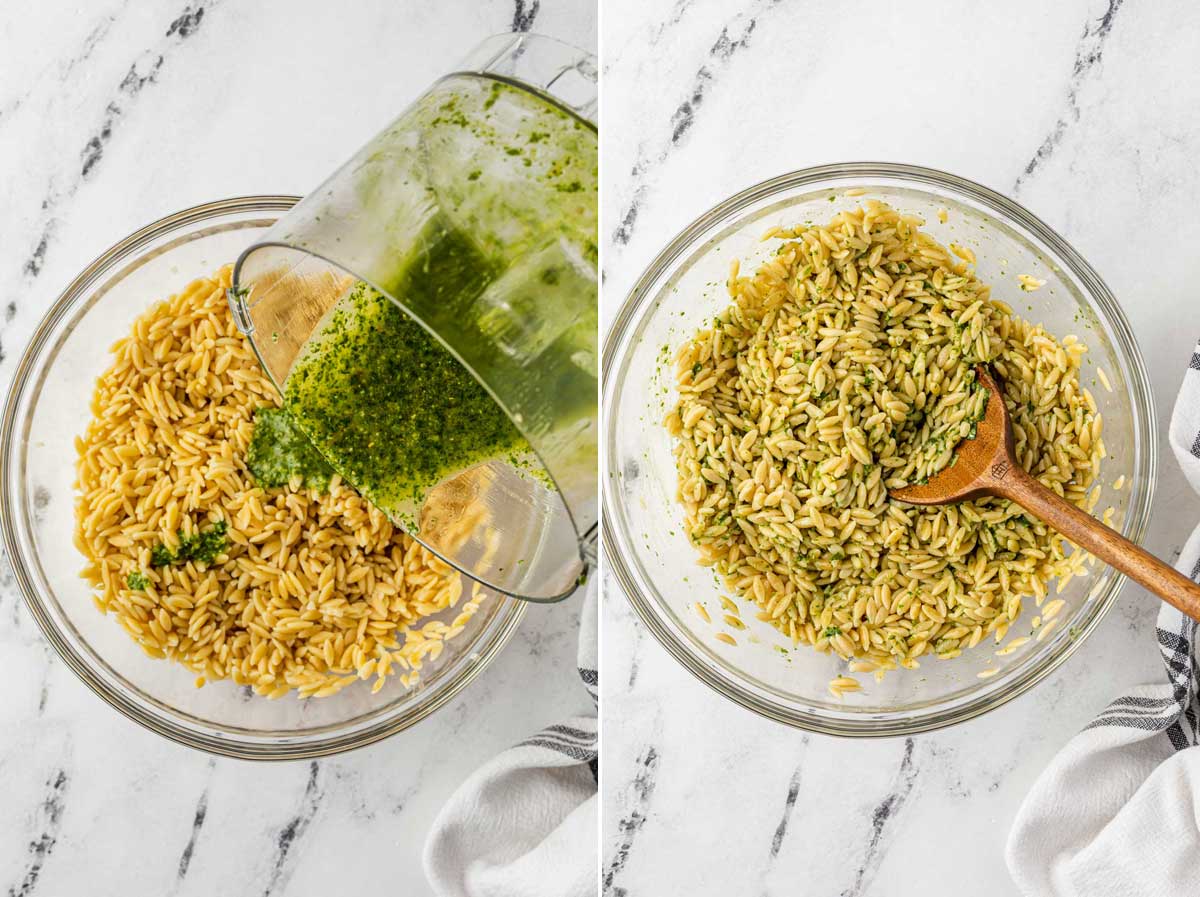 Then you can stir in the vinegar, along with the chopped spinach and most of the parmesan.
Pile into a serving bowl. If you like, you can drizzle over a little extra olive oil.
Look how green and fresh your pesto orzo salad looks!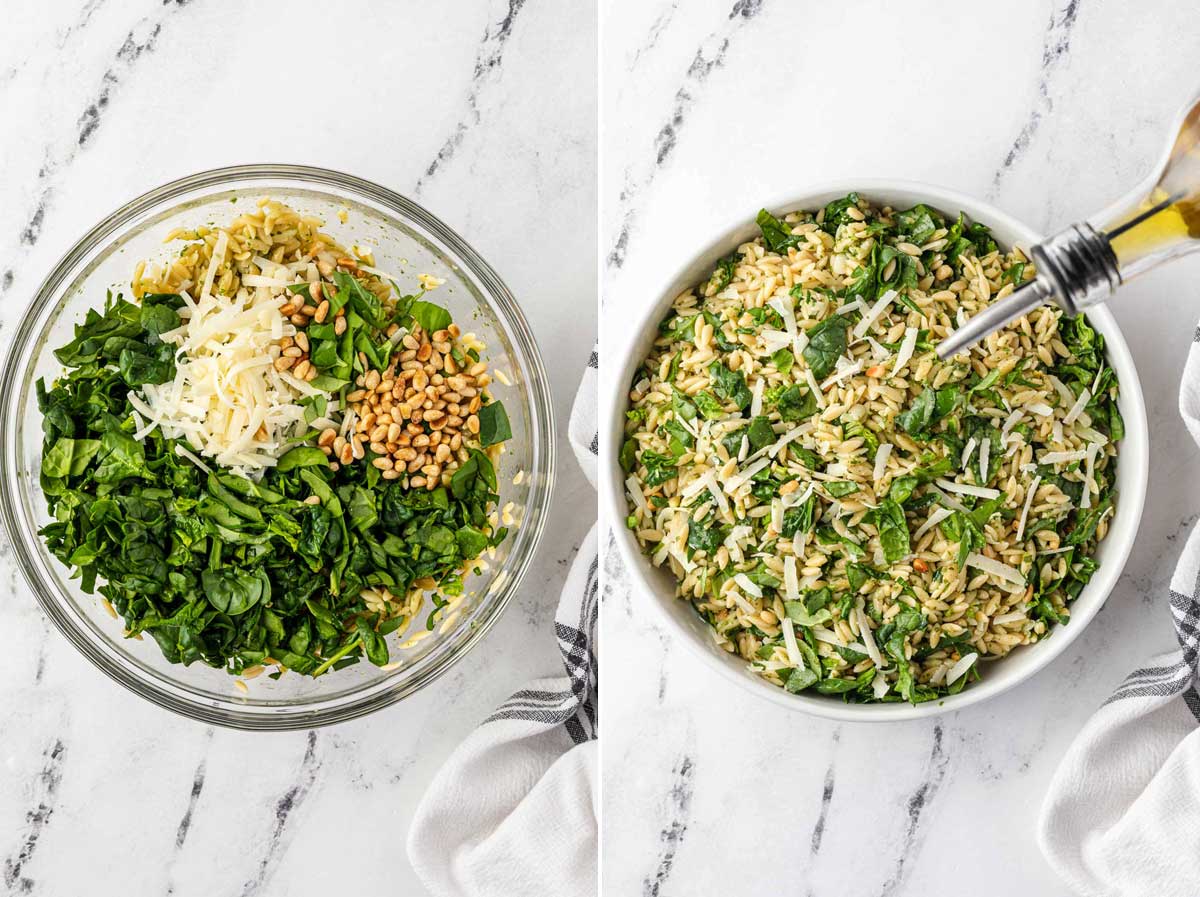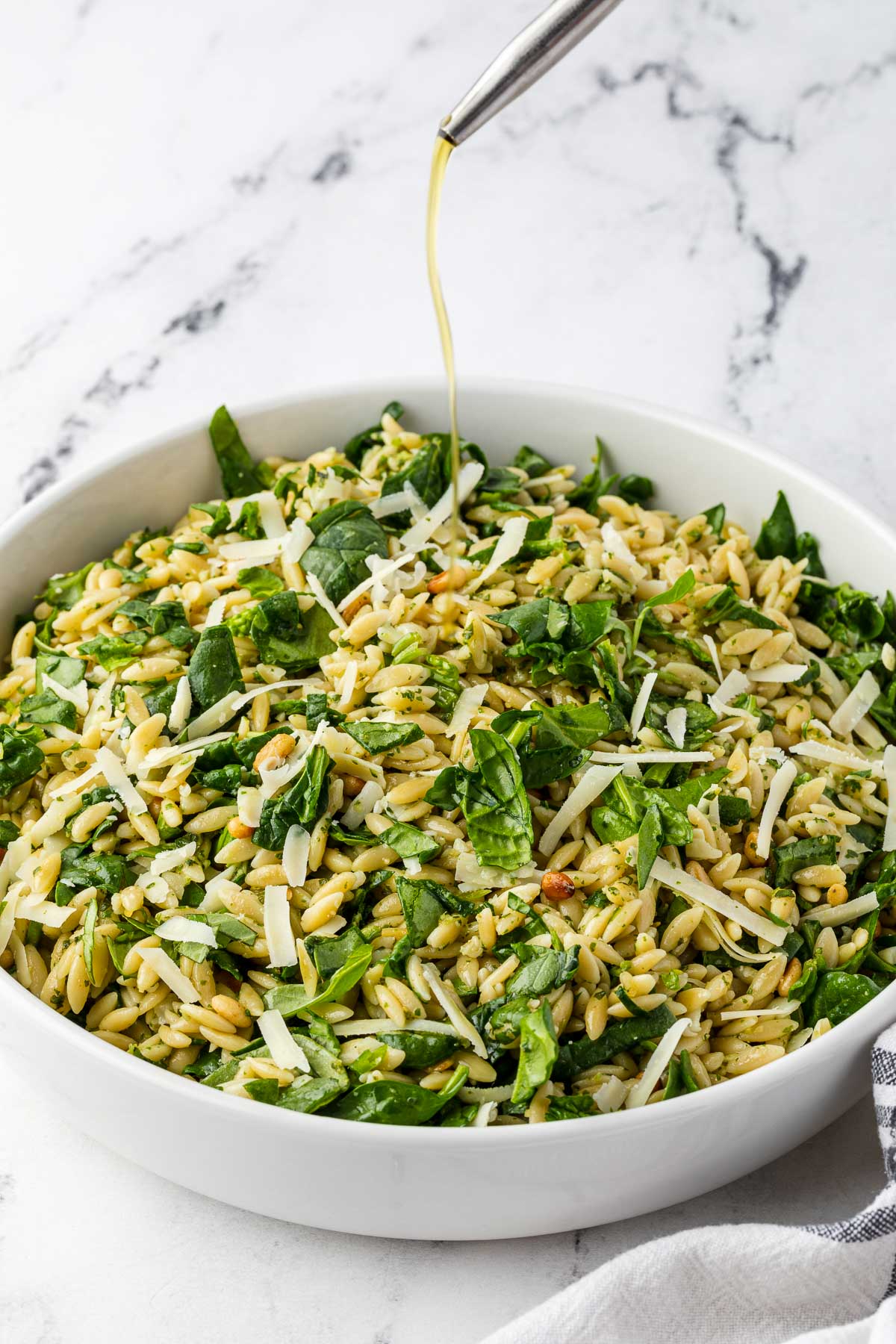 Helen's top tips
Only cook the orzo pasta until it's 'al dente' or 'still a little firm'. This literally means 'to the tooth' in Italian.
If serving your orzo pasta salad cold, cover and chill for around 4 hours in the fridge before serving. Prefer to serve warm? Don't rinse the orzo in cold water after boiling. Simply drain and stir through a little olive oil to prevent sticking.
It's worth making your own pesto sauce. Most shop-bought pestos contain substitute (usually cheaper) ingredients. A mini food processor or chopper is perfect, although any food processor or blender will do the job.
Also bear in mind that basil is quite easy to grow in a pot in summer! It's much more convenient (and more affordable) to grown your own.
How to serve
I think this pesto orzo salad is perfect on the side with any kind of grilled or barbecued meat or fish. Try it with this marinated Greek chicken, these easy air fryer chicken thighs (also possible in the oven!), or another simple chicken recipe.
You can serve it as a single side dish or together with other Mediterranean style sides. I like a classic Greek 'village' salad or Greek lettuce salad and perhaps a little tsatziki sauce as well.
If you want to serve it with a show-stopper, try this Italian burrata caprese salad.
To keep the meal vegetarian, this risoni salad would also pair well with this delicious baked eggplant recipe. Or how about cauliflower fritters, Greek zucchini fries, or perhaps the best crustless quiche you ever tasted?
Also, it's actually equally as delicious served cold or warm!
Variations
I love this pesto orzo pasta salad just as it is, for its fresh, refreshing flavors and simplicity. However, there are so many ways to make it your own. Here are a few ideas.
Add meat or fish. I'm thinking leftover rotisserie chicken (or any chicken!), flaked salmon, shrimp, bacon, chorizo, or any other protein you like. Serve as a main dish, or a work or school lunch.
Keep it vegetarian but add canned chickpeas (or another type of canned bean), crispy halloumi bites, tofu or chopped hard-boiled egg for added protein.
Add more veggie goodness. How about cubed bell peppers, cucumber, juicy cherry tomatoes or red onion? Or how about jarred sundried tomatoes, artichoke hearts or green or Kalamata olives? No pre-cooking necessary!
Add more cheese. Feta works brilliantly, as does sliced mozzarella balls, or really any cheese you like.
Try a different type of pasta. I know, it's an orzo pasta salad recipe, but you can achieve a similar result using pearl couscous or another type of small pasta.
Recipe FAQ
How long will this orzo salad with pesto keep?
If you keep it in the fridge in an airtight container, it will keep well for up to 3-4 days.
Why is my orzo mushy?
You've probably overcooked it. Keep an eye on it while cooking and make sure you only cook it until 'al dente' or just done. Take a couple of minutes off the regular cooking time and go from there.
Is there a difference between risoni and orzo?
They are so similar that you can use them in recipes interchangeably. They are both shaped like grains of rice, but orzo tends to be a bit larger than risoni. Just bear in mind that risoni may therefore cook a bit faster.
More easy orzo recipes
Got leftover orzo (risoni) pasta in the pantry? Here are some more ways to use it up.
Or check out this amazing list of 38 best risoni (orzo) recipes. There are more salads, but also one pan orzo dinners, orzo soups and more!
IF YOU MAKE THIS RECIPE, LET ME KNOW HOW YOU GET ON BY LEAVING A COMMENT AND RATING BELOW… AND DON'T FORGET TO SIGN UP TO RECEIVE ALL MY NEW RECIPES BY EMAIL!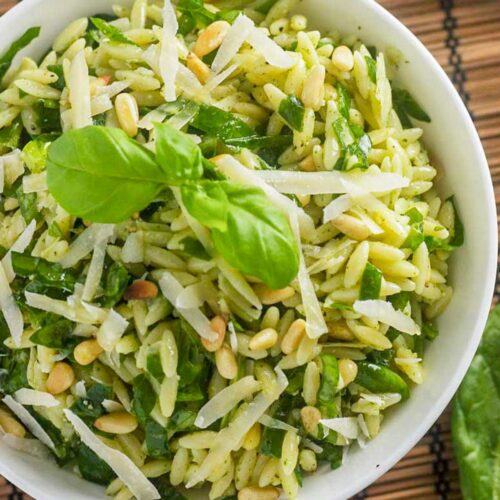 Simple Orzo Salad With Pesto
This 15-minute orzo salad with pesto is packed with freshly-made basil and olive oil pesto, toasted pine nuts, shredded baby spinach and parmesan cheese. This is a simple, subtle salad that would be perfect served with other 'little' salads, as an easy midweek side dish or for a party or summer BBQ side.
Ingredients (UK/Australia? Click below for grams/ml)
1¼

cups

orzo pasta

Sometimes called risoni.

1

cup

fresh basil

About 2 big handfuls or a small to medium sized bunch.

¼

cup

pine nuts

Buy ready toasted or follow instructions in recipe to toast yourself.

1

small clove

garlic

6

tablespoons

extra virgin olive oil

plus a little extra for drizzling (good quality if possible)

2

cups

baby spinach leaves

fresh, washed and finely chopped

2

tablespoons

parmesan cheese

grated (quite thickly)

2

tablespoons

vinegar

White wine vinegar or cider vinegar are good choices. Or use lemon juice.

salt and pepper

to taste
Instructions
Cook the pasta according to the packet instructions for 'al dente' or 'just cooked' (if no instructions for al dente then cook for a little less time than suggested). Drain and rinse in cold water and put into a large bowl. Unless serving hot in which case don't rinse in cold water.

Meanwhile, if not using ready-toasted pine nuts, toast the pine nuts in a dry frying pan on a medium heat. Keep an eye on them, tossing them around until they are lightly brown. Then set aside to cool.

Then make the homemade pesto. Put most of the basil, about half of the toasted pine nuts, the garlic and the olive oil into the bowl of a food processor (a small food processor is perfect). Pulse for a few seconds until well combined.

1 cup fresh basil,

1 small clove garlic,

6 tablespoons extra virgin olive oil

Pour the pesto over the orzo and mix well. Then add the chopped spinach, the rest of the basil (chopped a little), the rest of the pine nuts, the parmesan and vinegar and combine again. Season with salt and pepper to taste.

2 cups baby spinach leaves,

2 tablespoons parmesan cheese,

2 tablespoons vinegar,

salt and pepper

Spoon the pasta salad into a serving bowl, then drizzle over a little extra olive oil to serve.
Notes
Orzo: Sometimes called risoni. Find it in the pasta aisle at most supermarkets. You can sometimes buy it in different sizes. Any size orzo/risoni is fine. Be careful not to overcook.
Pesto: Since this recipe only has a few simple ingredients, I like to make my own quick homemade pesto with good quality ingredients. However, feel free to use a good quality store-bought pesto to save time or if you don't have a food processor (look for a pesto made with olive oil rather than a substitute).
How to serve: Serve this pesto orzo salad like you'd serve any cold pasta salad. It makes a great cold side dish either by itself with grilled fish or meat or with other simple sides. Great midweek or at a party or summer barbecue.
Alternatively, serve hot or warm. Feel free to add shredded rotisserie chicken, cooked salmon or chickpeas or halloumi for extra protein.
If serving your orzo pasta salad cold, cover and chill for around 4 hours in the fridge before serving. If you prefer to serve it warm, don't rinse the orzo in cold water after boiling. Simply drain and stir through a little olive oil to prevent sticking.
Variations: Add crumbled feta cheese, mozzarella or another cheese, cubed raw vegetables such as bell peppers, cucumbers or tomatoes, sundried tomatoes or cooked asparagus spears to this salad if you like.
If orzo/risoni isn't available, this pesto pasta salad will also work with another small pasta shape such as pearl couscous, ditalini, acini or elbow macaroni.
Nutrition
Calories:
413
kcal
Carbohydrates:
41
g
Protein:
12
g
Fat:
23
g
Saturated Fat:
3
g
Polyunsaturated Fat:
5
g
Monounsaturated Fat:
13
g
Cholesterol:
3
mg
Sodium:
145
mg
Potassium:
627
mg
Fiber:
4
g
Sugar:
2
g
Vitamin A:
7647
IU
Vitamin C:
23
mg
Calcium:
157
mg
Iron:
4
mg