Risoni (maybe you know it as orzo?) may look like large grains of rice, but it's actually a type of short-cut pasta!
You'll be amazed what satisfying and delicious dishes you can make with this versatile ingredient. It makes a fabulous bowl of comfort food, easy one pot dinners, warming soups or pasta salads to serve at your next summer BBQ.
Wondering what to do with that bag of risoni you picked up at the supermarket? Here are 38 of the best creative ideas!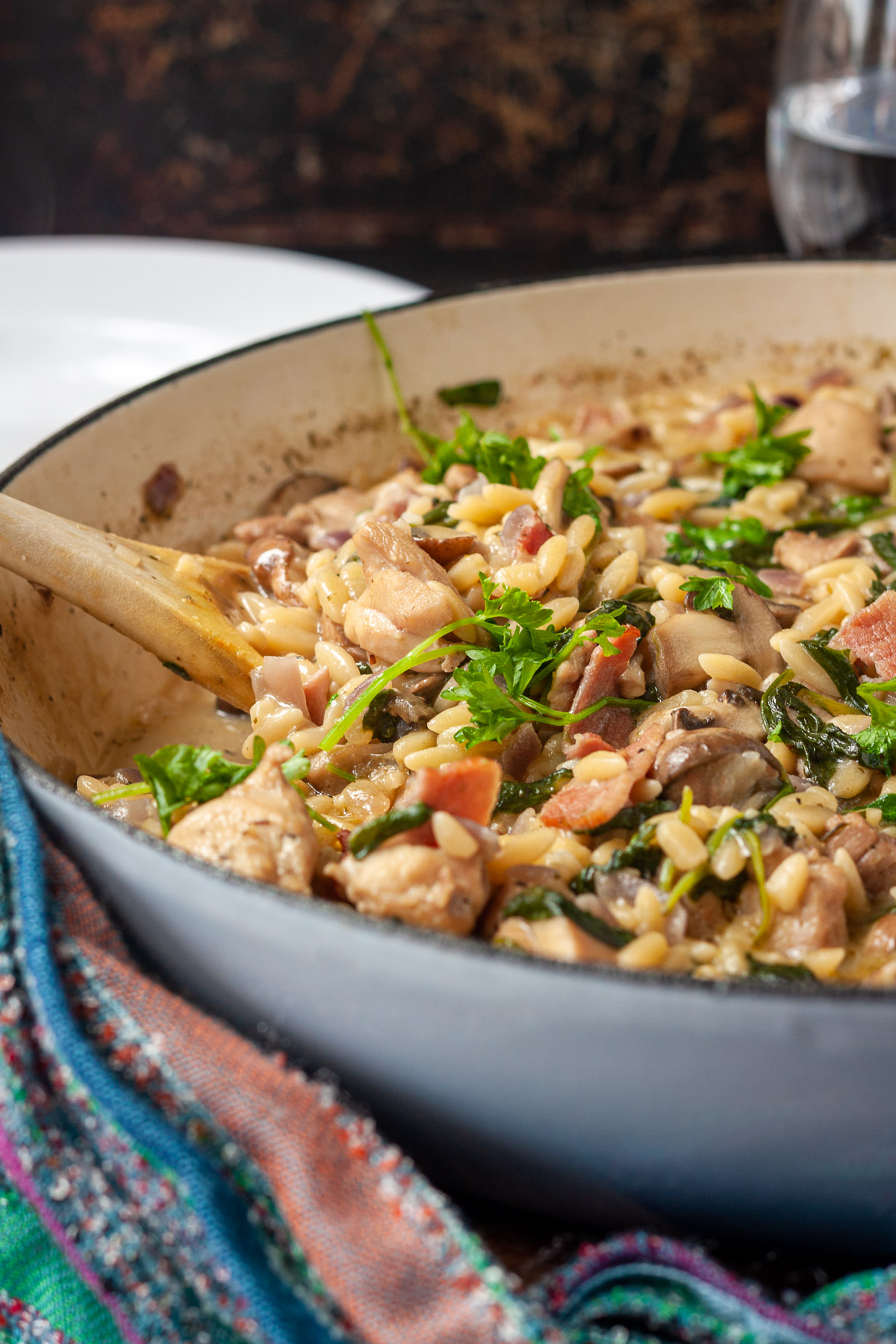 One Pot Dinners
Who doesn't love a quick and easy dinner made all in one pan? From risoni 'risotto' and simple orzo side dishes to a classic Greek dish, it's hard to know which of these sumptuous recipes to try first!
1 Creamy Chicken, Bacon and Mushroom Orzo
If you're looking for a cheesy, creamy bowl of comfort food (that actually doesn't contain much cream!), then this chicken, bacon and mushroom orzo dish is probably for you.
Imagine a risotto, but without the constant stirring. This one pan risoni pasta dish is pretty similar to a risotto, but so much easier to make.
2 Greek Baked Chicken and Orzo (Giouvetsi)
This is a really easy, crowd pleasing recipe that's perfect for busy weeknights. Giouvetsi is a classic Greek dish that you may come across if you ever visit Greece.
Cook chicken thighs with orzo, tomato passata, and a few more simple pantry ingredients, sprinkle with plenty of cheese and then bake (and put your feet up while the oven does the work!).
This is simple and comforting enough for the whole family to enjoy, from the grandparents to the kids.
3. One Pan Chicken Puttanesca
This incredibly delicious risoni recipe is from Killing Thyme. You get crispy seasoned chicken thighs nestled into creamy orzo with juicy tomatoes, Sicilian olives, and briny capers.
Another risoni dinner that's perfect for busy week nights as there's only one pot to wash!
4. Risotto Style Orzo with Pumpkin
Like many Neapolitan pasta recipes, this simple dish from Pasta Project originates from what Italians call 'la cucina povera', or the peasant kitchen.
But despite its simplicity, this is one of the most flavorful pasta and pumpkin recipes you can imagine. This one is great for sneaking more goodness in for the kids.
Move over mac and cheese!
5. Risoni Bake
This risoni bake from Every Little Crumb is oh-so-creamy. But it actually isn't too rich because it's made with milk instead of heavy cream.
There's just enough cheese in this to enhance the flavors without overwhelming the dish.
6. Greek meatballs and orzo
This risoni recipe from Recipe Runner is the perfect choice if you want something that cooks in one skillet… and you're a fan of Greek food!
fThis recipe uses ground turkey but works just as well with ground chicken, beef, pork and even lamb.
7. Oven Baked Sausage Orzo
This baked pasta with sausage and spinach from Chef Not Required elevates the humble sausage to the next level! The best part? The oven does all the hard work!
8. Herby Lamb with Orzo
What a stunning lamb dish from A Mummy Too. Juicy lamb sliced and served on a bed of herby, lemony orzo and garnished with herbs and fresh tomatoes.
9. Baked Orzo Pasta (vegetarian)
What's wonderful about many risoni recipes is that you don't have to precook the pasta. For this baked orzo recipe from I Heart Vegetables, simply add the pasta to the casserole dish and bake it in the sauce until tender.
Look at those delicious pockets of ricotta cheese!
10. Pan-fried salmon with creamy lemon orzo
This recipe from Kitchen Sanctuary uses beautifully seasoned salmon on a bed of creamy orzo with lemon and parmesan. Dinner perfection!
11. Apple Chicken Sausage with Orzo
This delicious one pan recipe from Howe We Live is on the table in under 30 minutes!
12. Slow cooker Greek lamb shanks
This comforting dish from Mrs Jones's Kitchen is perfect for cooking lamb on a budget- but it certainly doesn't skimp on flavor!
13. One Pot Shrimp and Feta Orzo
This one pot beauty from Dishing Out Health requires very little legwork and can be on the table in only 30 minutes. It's hearty but not heavy, rich yet virtuous, and has plenty of veggies in each serving.
14. One Pot Chicken with Orzo, Lemon and Feta
This easy dinner recipe from Craving California is complete in less than an hour. The risoni pasta soaks up all of the delicious flavors in the pot and creates a velvety risotto-like consistency (without all the work!).
15. Tuscan Chicken Orzo
Barley and Sage's Italian inspired meal will have your taste buds singing!
Tuscan chicken is often served over pasta, but by adding the orzo straight to the dish you can skip a step for this easy yet filling weeknight dinner.
16. Orzo with tomatoes and artichokes
This recipe by The Forked Spoon combines simple everyday ingredients to make something really delicious!
Soups with risoni
Risoni pasta is a great addition to soups. It's the perfect substitute for rice, cooks in no time and can turn an ordinary soup into a hearty dish that's just a little bit special.
17. Creamy Lemon Orzo Chicken Soup
This soup has it all- it's creamy, comforting and packed with flavor. The good news is there's actually not too much cream so it's not too heavy (only a third of a cup to serve around 4 people).
Plus it's full of veggie goodness!
18. Vegetable Orzo Soup
Love From the Table's hearty risoni soup is full of fresh ingredients like carrot, zucchini, peas, and spinach. It's a great way to get in your extra veggies on a cold day!
19. Tuscan Minestrone with Orzo
The Pasta Project has you covered for perfect winter comfort food with this beautiful take on minestrone soup. Full to the brim with veggies, it's a healthy but hearty meal.
20. Italian Wedding Soup
Everybody loves a wedding, right? Well, you're sure to love this cozy, comforting soup from The Healthy Epicurean– it's delightful! The meatballs work so well with the flavorful parmesan broth. Yum!
21. Buffalo Chicken Soup with Orzo
This hearty soup from Running to the Kitchen is quite the crowd pleaser, perfect for large crowds. It's very quick and easy to make too.
22. Butternut Squash and Coconut Orzo Soup – Vegan and Gluten free
This warming and nourishing soup from Eating By Elaine is something the whole family will love. The natural sweetness of butternut squash pairs so well with the garlic and onion. The coconut milk adds a creamy base to create a comforting and cozy meal.
23. Lemon Chickpea Orzo Soup – Vegan
This delicious lemony soup from The Stingy Vegan is very easy to make- use your food processor to do the work for you and you'll have a healthy and vegan-friendly soup in no time!
24. Cream of Tomato Soup with Orzo
This creamy tomato soup from Garlic and Zest is made with San Marzano tomatoes, a touch of vermouth and a swirl of cream for a velvety feel. Cooked orzo adds more heft to this super easy and tasty risoni soup recipe.
25. Vegetable Beef Soup with Orzo
Alyssa from My Sequined Life cooks this soup once a month, year round- it's that good!
26. Slow Cooker Greek Lemon Chicken Soup
This slow cooker Greek lemon chicken soup recipe, otherwise known as avgolemono, is by Flavor the Moments . It's packed with chicken, orzo and a creamy broth that's full of flavor.
This one's an easy and family friendly recipe that also happens to be dairy free.
Risoni side dishes
Orzo recipes can work so well used in side dishes, too. Why not give one or more of these a try? Something a little different to the usual rice, potatoes or bread!
27. Creamy Parmesan Spinach Orzo
This fabulous side from Life as a Strawberry is quick, easy and really easy to customize to make your own. It's a perfect accompaniment to vegetables, salad, chicken, fish or sausage.
28. Orzo with Peas and Parmesan
This lovely little side dish from Valerie's Kitchen cooks the orzo in a lemony, seasoned broth. It's finished with peas, Parmesan, and lemon zest.
29. Cheesy Butternut Squash Orzo
The sweet roasted butternut squash in this side dish from A Cedar Spoon is paired with savory, rich cheese and cream. This would pair so well with a grilled meat or fish, or just enjoy it by itself.
30. Spring Pea Orzo Fried Rice
Don't you just love this clever idea of orzo fried rice from It's a Veg World Afterall? This orzo dish with a difference would work so well as a side dish or a meal in itself.
Pasta salads
31. Orzo Pesto Salad With Spinach & Parmesan
There are just a few ingredients in this simple cold pesto salad with orzo, but they pack a punch in flavor. You'll love the range of texture, and it goes well with pretty much any protein on the side.
Got leftovers? You'll be the envy of the office if you pack some of this for lunch.
32. Orzo Salad with Feta, Asparagus and Chickpeas
Perfect as a side dish or even the main event, this delicious yet simple salad is ideal for using up the can of chickpeas hiding at the back of your cupboard (and makes a change from the usual hummus!).
33. Orzo pasta salad with black beans and corn
Molly from Vanilla Bean Cuisine has been making this salad for a whopping 25 years! Easy, filling and totally delicious. Give it a go to find out why Molly loves it so much!
34. Orzo Harvest Salad (Vegan)
35. Orzo salad with roasted vegetables
The options are endless for this pasta salad from That Skinny Chick can Bake. Add feta, zucchini and olives for a Mediterranean vibe or use lots of roasted vegetables to keep it super healthy.
36. Greek Orzo Salad
Joy, Food Sunshine has created this fabulous Mediterranean orzo salad recipe that's fresh, light and bursting with flavor. Orzo pasta, tomatoes, chickpeas, veggies and fresh herbs are tossed in a delicious homemade dressing for a healthy, flavorful side dish.
37. Zucchini Orzo Salad
This fresh zucchini salad from Dishing Out Health is hearty, filled with fresh herbs, and deliciously zesty from the pepperoncini dressing. It's also rich in heart-healthy fats from the walnuts and olive oil.
38. Orzo Arugula Salad with Grapes
This salad from The Forked Spoon has a harmonious combination of fresh, sweet, tangy and earthy. Don't you just love the look of the grapes juxtaposed with the feta?!
Risoni FAQ
Which risoni recipe/recipes do you most like the sound of? Let me know which ones you try!
Need more quick and easy meal ideas – especially at the weekend? Check out this mammoth list of 100 lazy Sunday dinner ideas!
IF YOU MAKE THIS RECIPE, LET ME KNOW HOW YOU GET ON BY LEAVING A COMMENT AND RATING BELOW… AND DON'T FORGET TO SIGN UP TO RECEIVE ALL MY NEW RECIPES BY EMAIL!